Malibu Farm Pier Cafe: Farm Fresh Food on the Malibu Pier
The Malibu Pier has been an iconic staple of this area of California for over a century. The pier was used for a private ranch when it was created, but over the years, it has been transformed into movie sets, a place for people to hang out, and now the location of the Malibu Farm Pier Cafe. This restaurant is located right on the end of the pier, and it serves up some great food that uses the freshest local ingredients. While it is pricey for a meal, you are Malibu, and that is par for the course here; if you are interested in a meal with a view, here is all the information.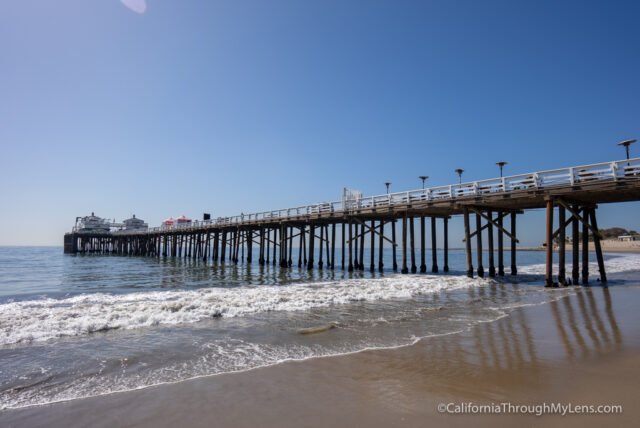 Details
Cost: $15 – $25 per person
Hours: 9 AM – 3 PM (as of April 2021)
Location: 23000 Pacific Coast Hwy, Malibu, CA 90265
Getting There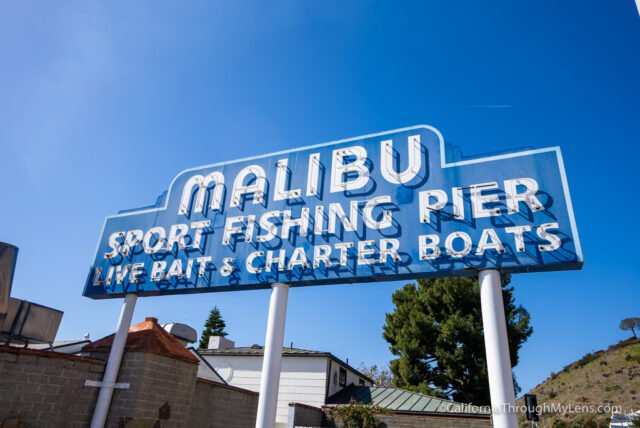 Malibu Farm Pier Cafe is located at the end of the Malibu Pier, right on Pacific Coast Highway in Malibu. Parking is limited, with free street parking if you can find it, or a lot with all-day parking for $10 right next to the pier. After parking, you simply walk to the end of the pier. There is also a Malibu Farm at the beginning of the pier, but this is a sit-down version of their restaurant, and we went to the end of the pier for this meal.
Malibu Farm Cafe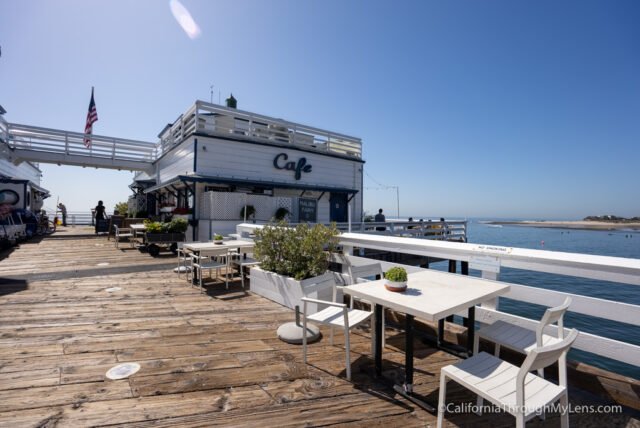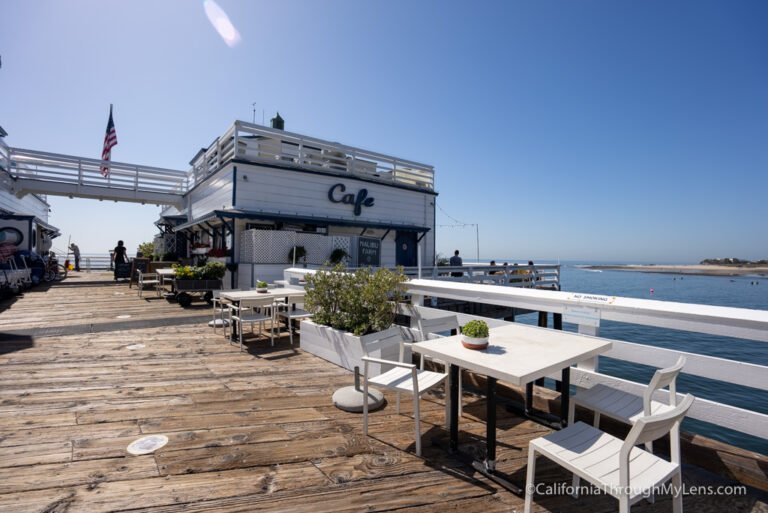 After walking to the end of the pier, you will see the cafe on the right. You will order at the inside counter and then find a spot to sit while waiting for your food.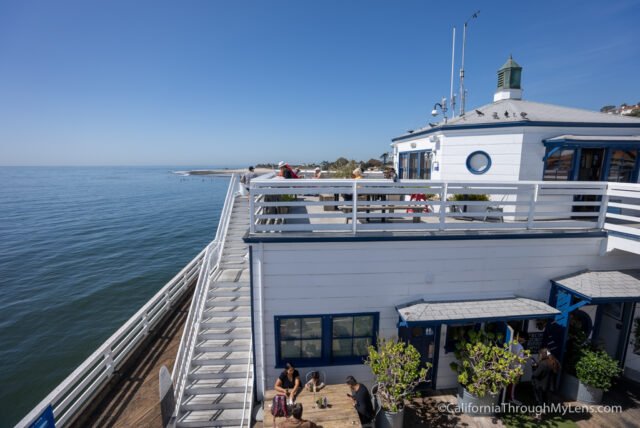 The tables were awesome as they were around the edge of the pier, and there is also a second story with bar seating that has an amazing view of the ocean.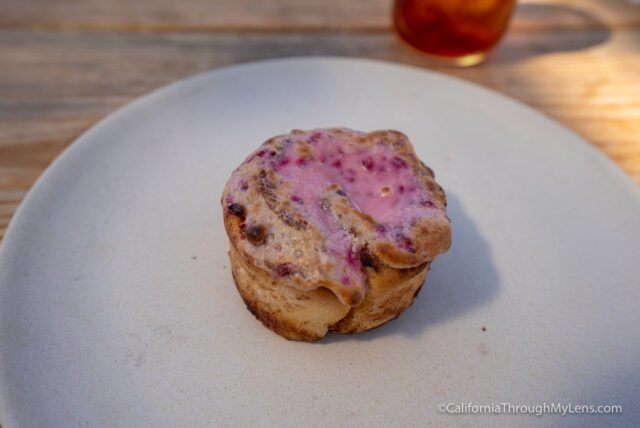 It took about 10 minutes for our food to come out. We got the fried egg sandwich, which is their most popular dish, and the shrimp sandwich, along with a pastry to start the meal.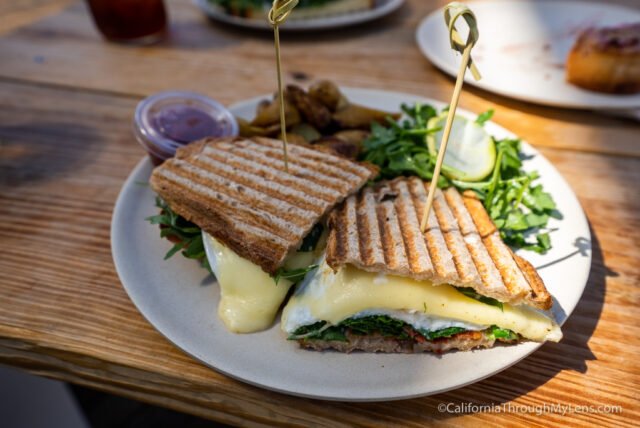 The fried egg sandwich was delicious as it is a nice light sandwich that tastes very fresh. The sandwich has egg, bacon, arugula, cheese, and lemon aioli. It was served with country potatoes as well.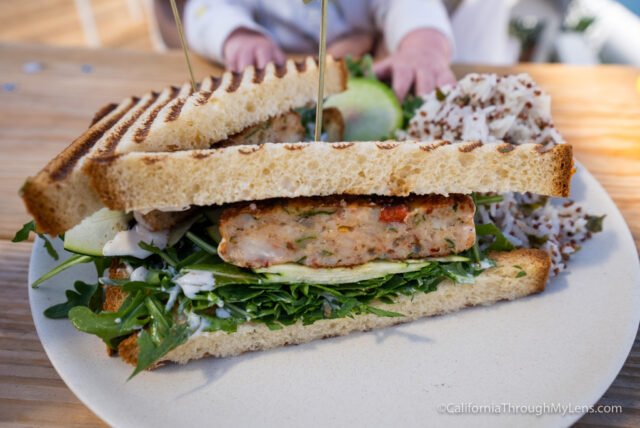 Amie got the shrimp sandwich, which is more of a crab cake consistency. It is served with a side salad, and she was thrilled with her choice.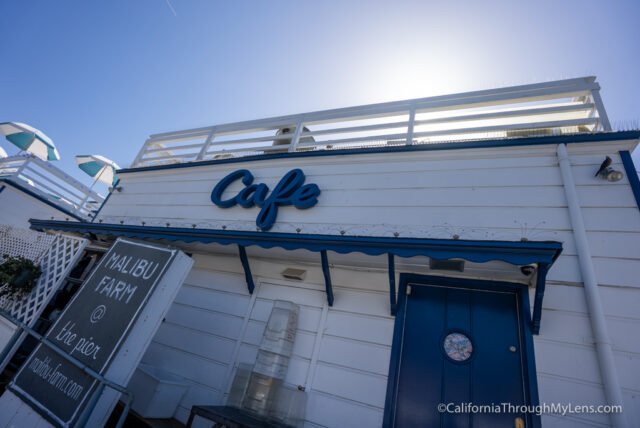 It is hard to beat good food and a view like this. I recommend you give Malibu Farm Cafe a chance if you are exploring the Malibu area. For more tips on my favorite spots in Malibu, check out this post, and let me know what you think in the comments.