Portola Coffee Lab: Coffee Done Scientifically
I love coffee. Because of that, I am always looking for a new bean to try or a new local shop to support that does not end with "bucks." When I heard about a coffee shop in Orange County that has "scientists" roast the coffee to perfection for you, I figured it was a gimmick, but never one to pass up a gimmick I decided to try it. When I walked in and saw the line, I knew I would be in for a treat, and here is all the information (this post was written in 2014).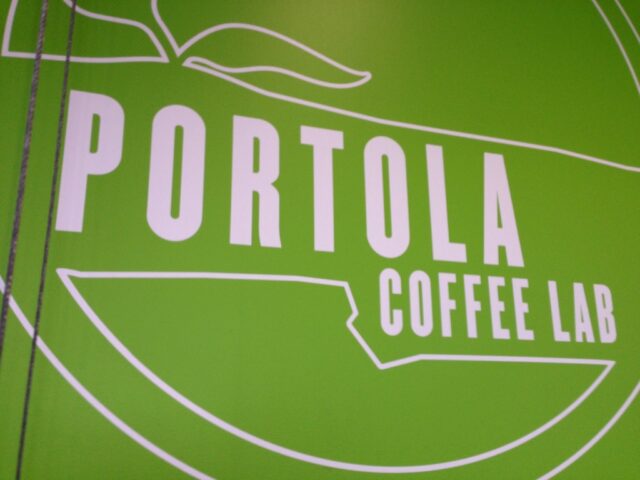 Here is a little history from their site:
What began as a selfish pursuit of delicious coffee turned into a decade long fanatic passion for roasting coffee. Owner and roaster Jeff Duggan fell in love with coffee while pursuing a degree in Chemistry. His natural inquisitiveness and thirst for quality led to the need to get under the hood to see what made coffee tick. Roasting meticulously sourced coffee beans and serving them ultra-fresh was not enough. Far too many great beans get destroyed at the hands of poor equipment, flawed technique, and coffee storage dispensers. Brewing science was and continues to be underestimated in our industry. Portola Coffee Lab, a 100% single-cup craft brew coffeehouse, was designed and constructed as a nod to craft, quality, and freshness.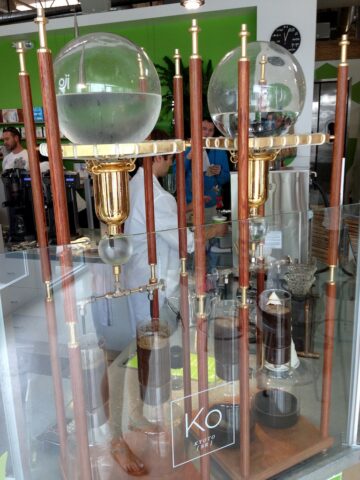 Inside the shop, you will notice a collection of specialty brewing equipment expertly controlled by some of the best baristas – period! We are home to a Slayer espresso machine, Trifecta single-cup brewers, a halogen heated siphon bar, and a V-60 pour-over bar – to name just a few. What this all means is your coffee will be brewed fresh when you order it, not a minute sooner, by a barista whose adornment of coffee is second to none, which we believe are the ingredients to a lasting impression.
Portola Coffee Lab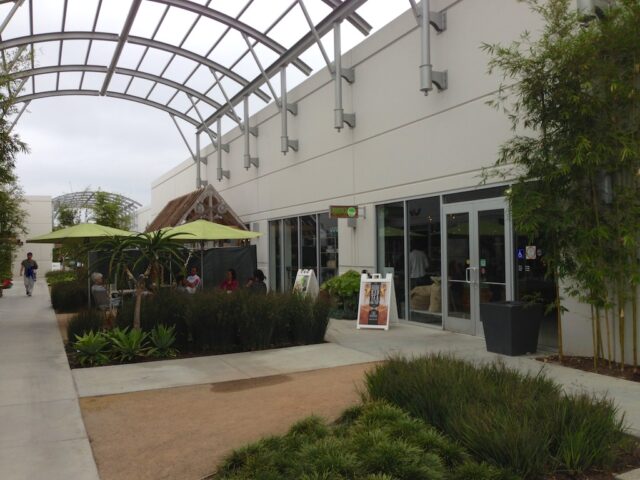 The lab is nothing more than a small bar in an upscale Orange County mall, but the line went around the outside of the bar, so I got in line and watched the different brew methods while I was waiting. I found this super interesting as there was a person whose sole job was to slowly pour hot water over a bag of beans in a circular motion, as that is one of the brew methods. The whole thing looks very scientific, and the vibe with the workers in lab coats is fun.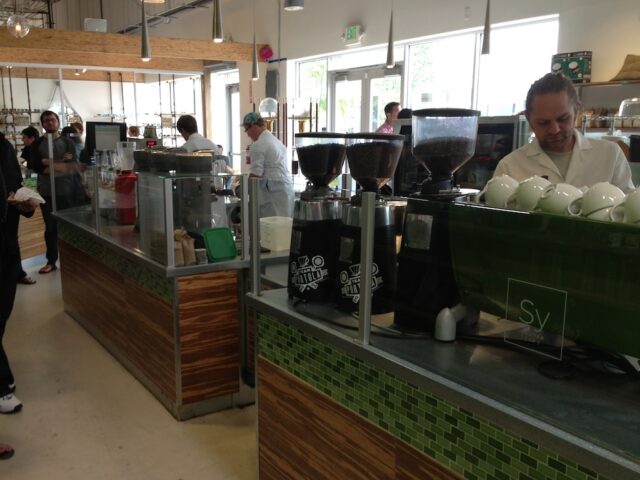 While waiting my turn, I looked over the different information that explained the brewing process of the coffee and what each of the three methods were designed to accomplish in the overall flavor. I would like to come back sometime and try the methods side by side for comparison, but I went with the V-60 and one of the three black coffees they had on special that day.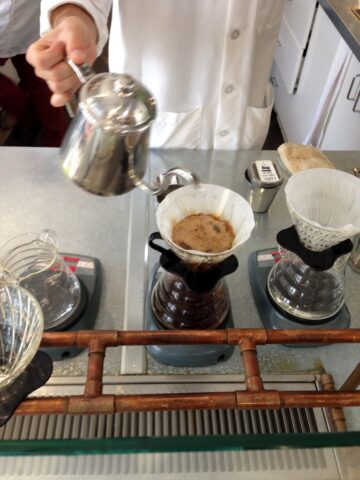 The coffee itself was the most flavorful black coffee I have ever had. It was unique in that there were a lot of different flavors you could taste in each sip. I would compare it to when you are trying different wines and can taste different flavors, that was what I got out of my coffee. This leads me to believe that there is a lot that I am missing out by not trying different brew methods like how it was presented here.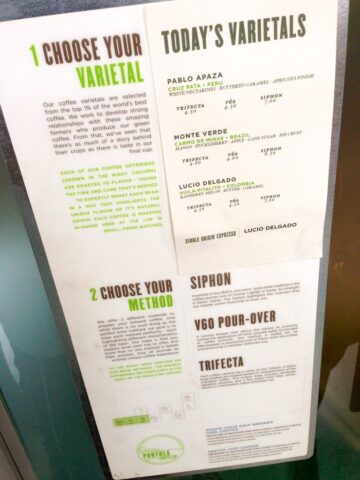 I loved my visit and it is one of those places I would have no problem recommending if you are a coffee lover. I let at least three other friends try my coffee when I got to the beach, and they all said they hadn't had a coffee as flavorful before. I can't wait to try out Therom, which is their reservation only "coffee experience" with a pre-done menu that is crafted to give you a better understanding of the drink.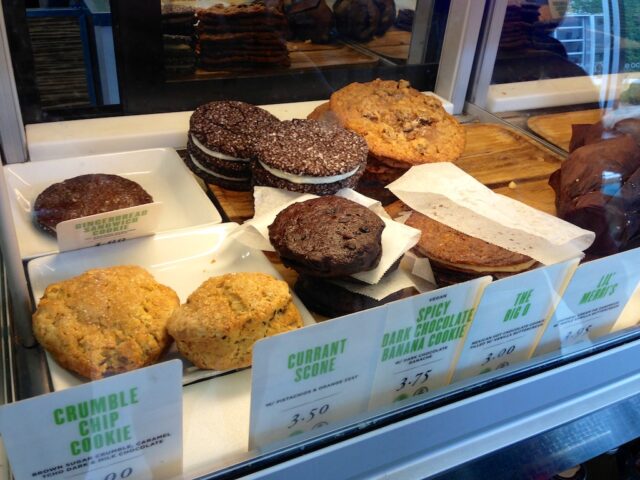 If you have time you should walk around the small shopping area that surrounds Portola Coffee Lab, there are a lot of different food shops such as a cheese shop and many vintage furniture stores that the wife loved but that had pillows that cost more than I made in a month.
If you have another coffee place you know of that I should try, make sure to leave it in the comments!