The Big List of 100+ Strange, Fun & Unique Attractions in Southern California
I love visiting unusual places and go out of my way to exploring them when traveling around California. Whether it is a hike, a restaurant, or just a collection of odd things, this list is dedicated to the unique stuff I have found in Southern California (from Kern County down). It will be an ever-expanding and growing list that will hopefully help you to find many fun attractions right outside your door. Also, please feel free to suggest new spots in the comments as well if you know of a spot I haven't been to. Browse the list by county and click the image to read about the places you are interested in. Have fun exploring! You can browse spots in Northern California here. Last Updated August 2021 – Click the pictures to read the posts.
San Diego County
Sunny Jim's Cave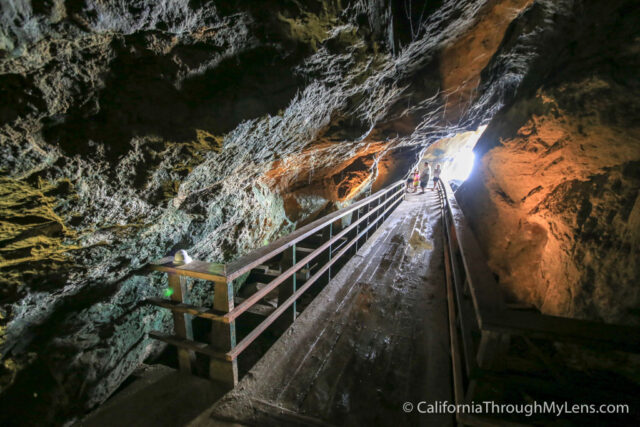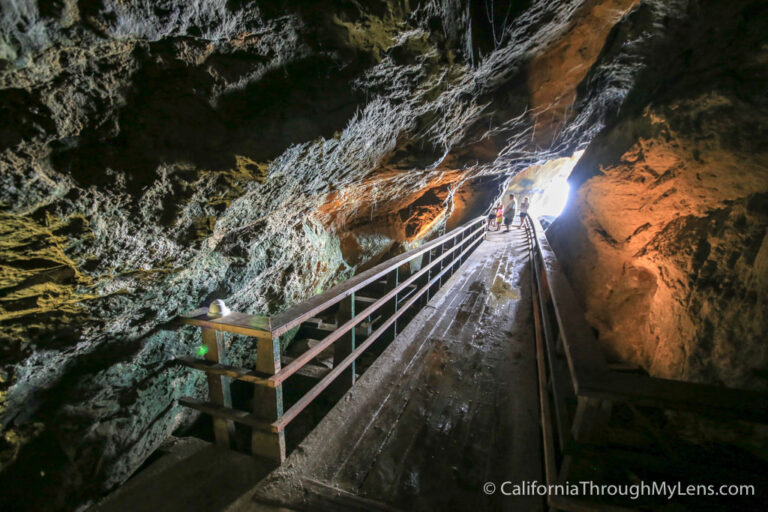 Located in La Jolla, Sunny Jim's Cave is a fun, historic sea cave that you can walk down to and explore.
UCSD Stuart Art Collection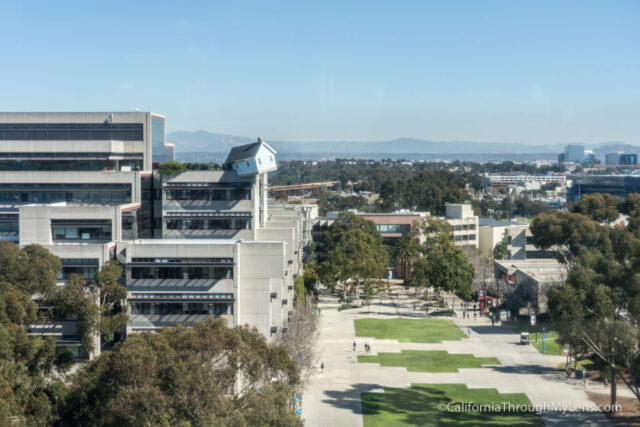 The UCSD campus in San Diego has an extensive collection of sculptures and art pieces all around campus. The most famous is the house built on the Engineering building, which looks like it is teetering on the edge.
Queen Califia Magical Circle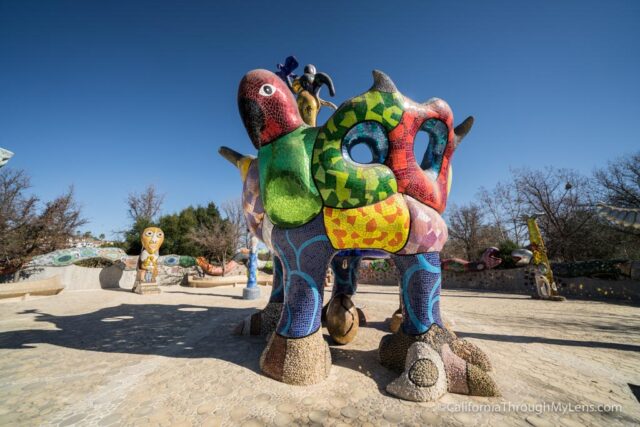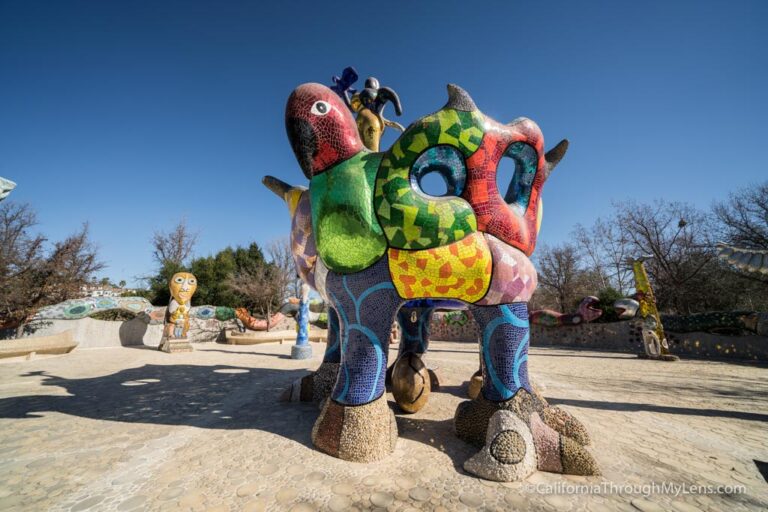 This sculpture garden located in the north part of San Diego County is only open a few days a week, but it is a blast to explore. In the middle of a park, there is a large collection of colorful sculptures that reminded me of something in Barcelona.
Belmont Park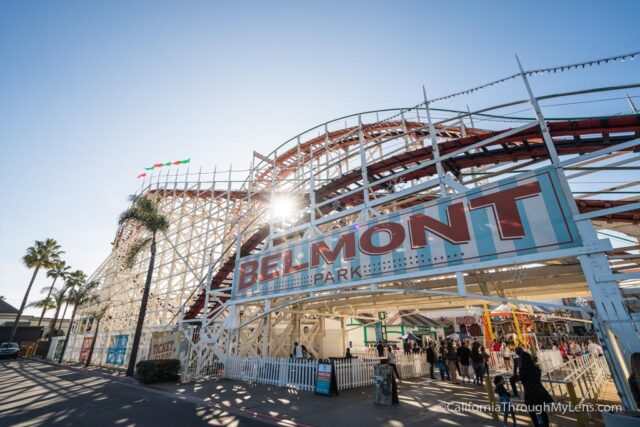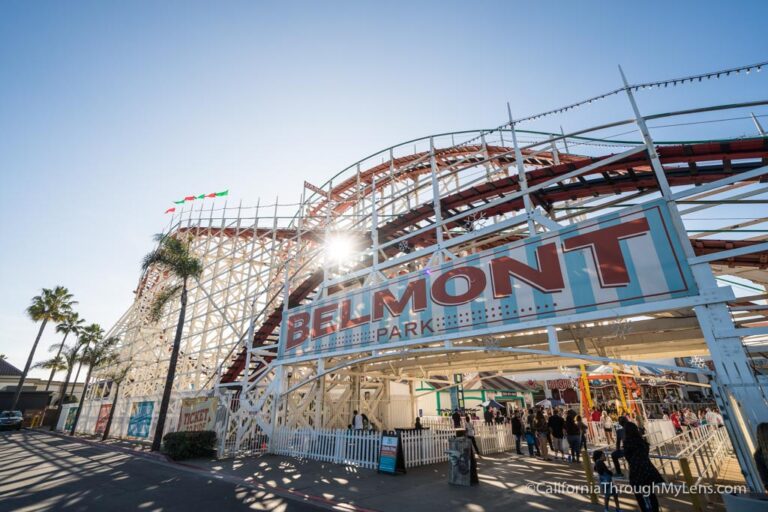 Belmont Park is San Diego's beachside amusement park, complete with fair games and an old wooden rollercoaster. It is a fun place for the whole family to spend a day in San Diego.
Harper's Topiary Garden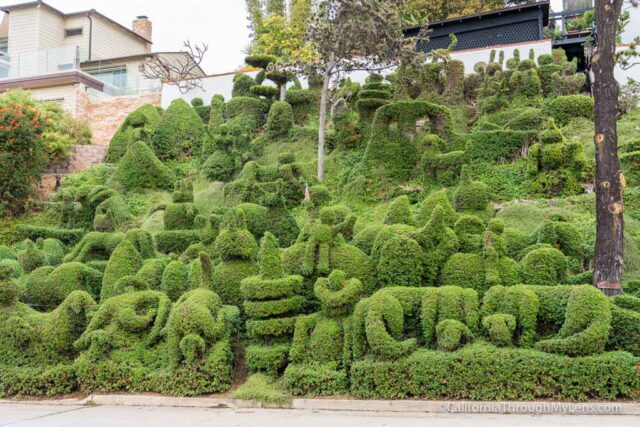 This private residence in San Diego has a massive manicured garden right in front of the house. While you can only admire it from the road, it is a unique spot to see in San Diego.
Snorkeling with Leopard Sharks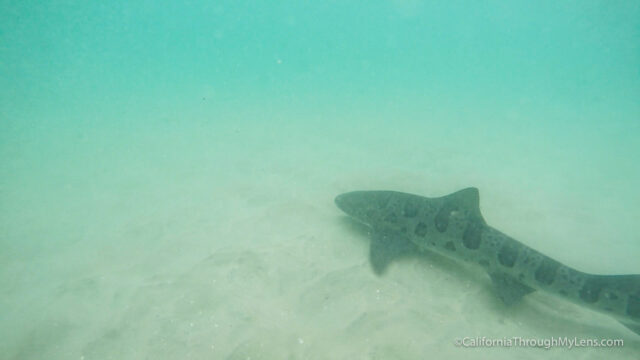 During the month of August, the Leopard sharks traditionally come to give birth in the cove of La Jolla. They are docile creatures, and you can actually grab some snorkel gear and go out and see them. It is a unique experience.
Annie's Canyon Trail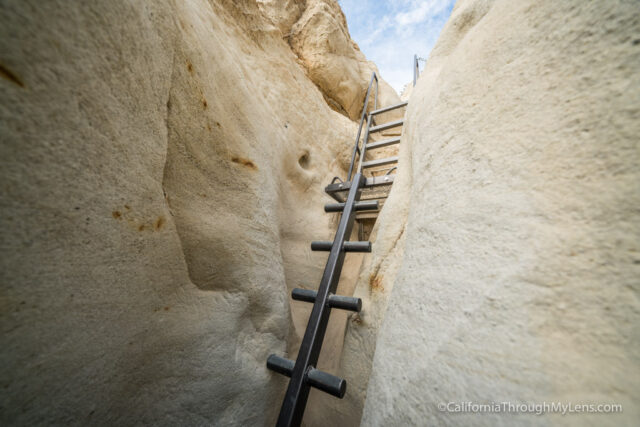 North of San Diego, this trail features a fun slot canyon that can be explored pretty much in the middle of Solana Beach. The short hike features some tight spaces, but it is a lot of fun.
San Diego Statues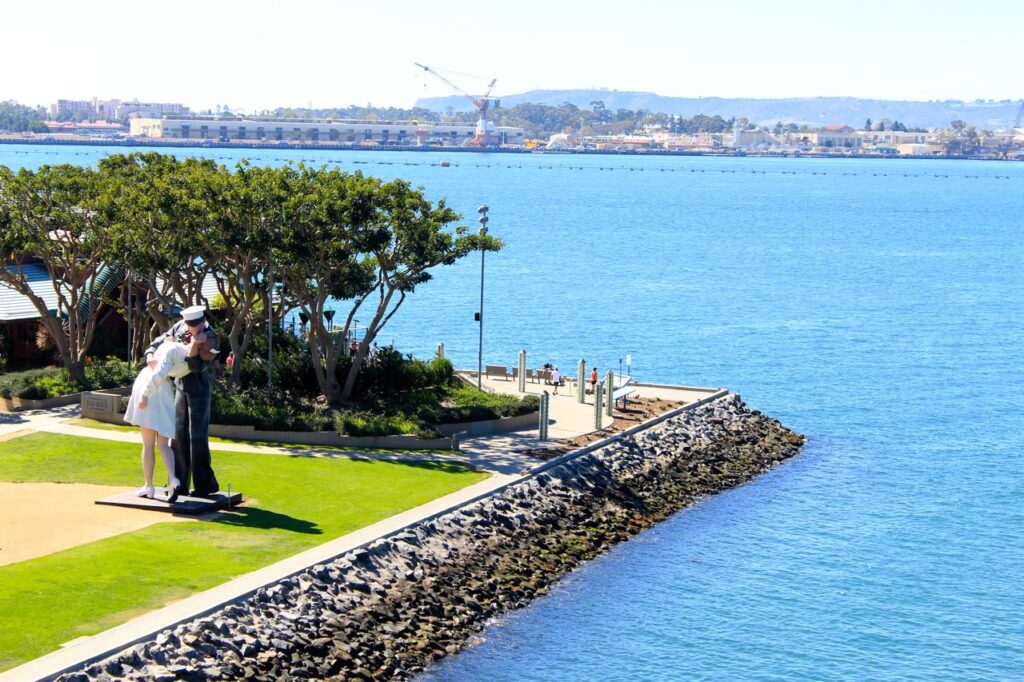 These statues are located right next to the USS Midway in San Diego, the highlight being the 30-foot tall Unconditional Surrender statue.
Crazee Burger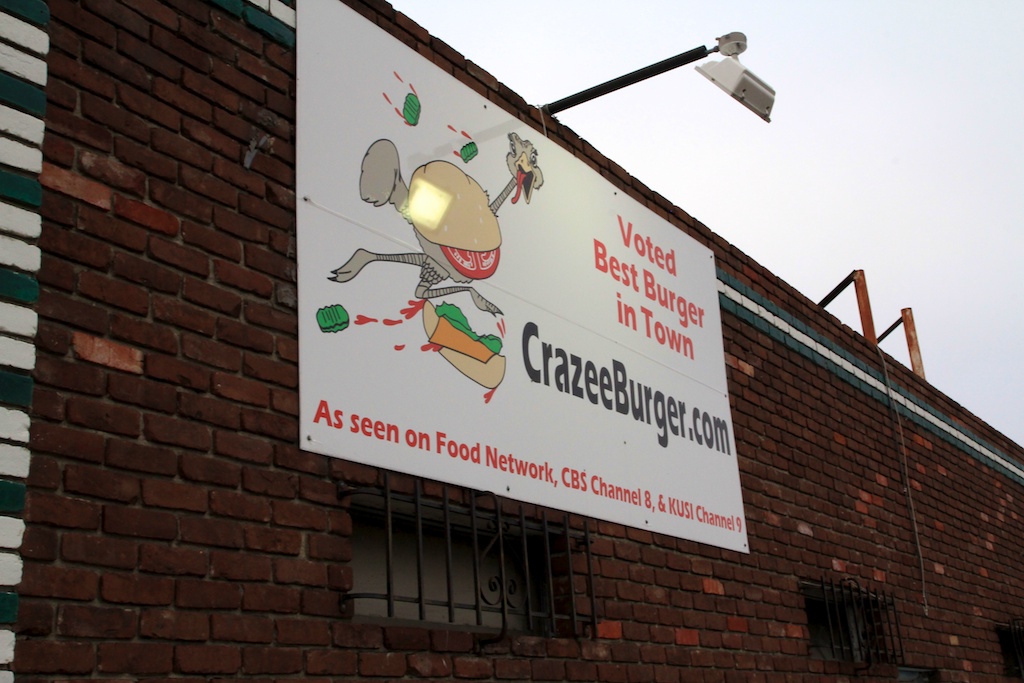 Ever wanted to eat alligator, kangaroo, or antelope? You can do that here.
Potato Chip Rock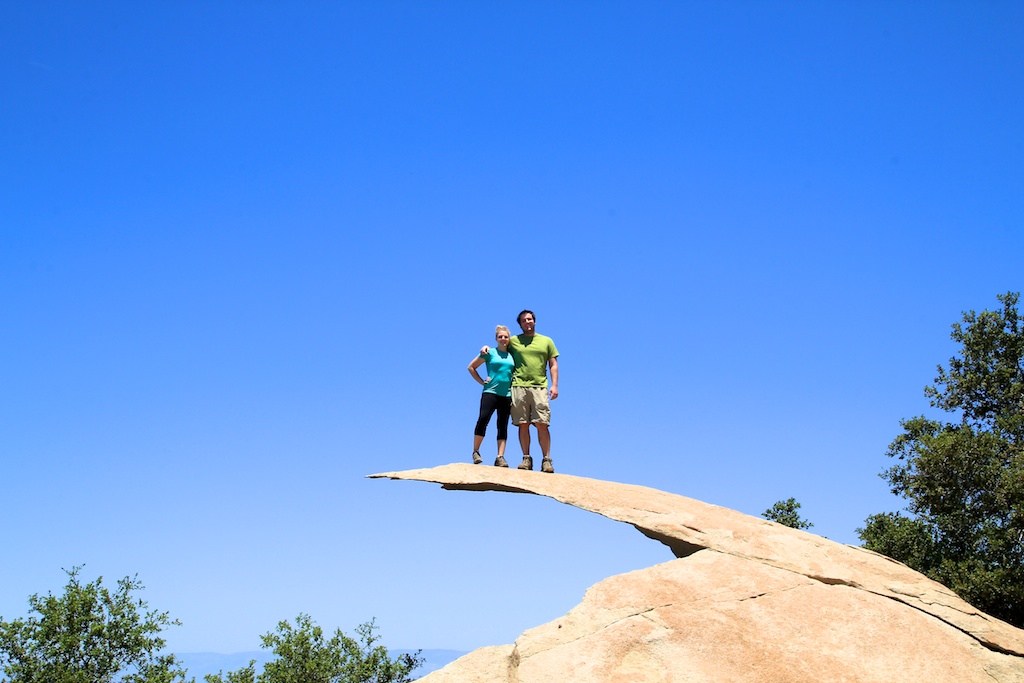 Hike to the top of this mountain and see the famous rock with its potato chip wing that you can stand on.
Slot Canyon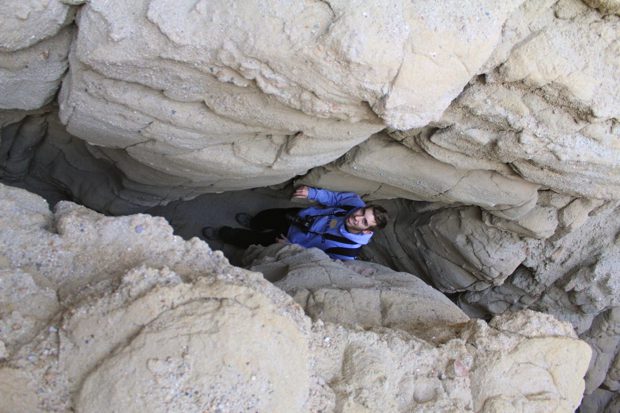 A deep slot canyon in the heart of Anza Borrego, the slot allows you access to a hike usually only possible in places like Arizona and Utah.
Whaley House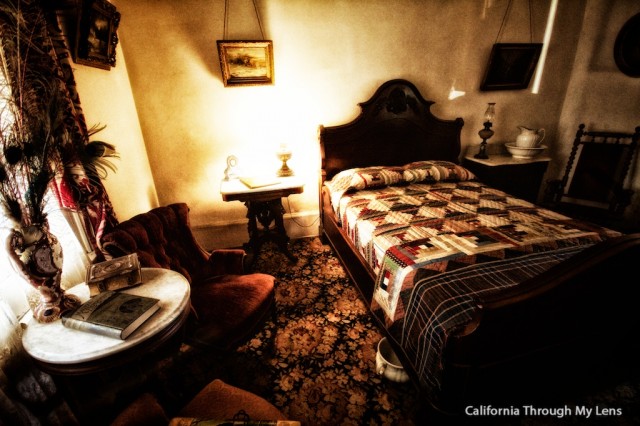 The Whaley House is considered by many sources to be the most haunted place in America. You can tour it during the day or chance a ghost encounter during a special night visit.
Creation and Earth History Museum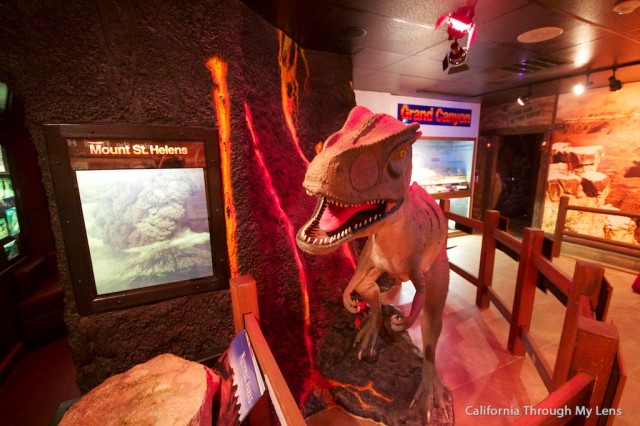 You can learn all about the creation of the Earth from the traditional Christian Biblical perspective when you visit this museum. It is pretty far outside of San Diego, but you can see the Giant Lemon on the way!
Worlds Largest Lemon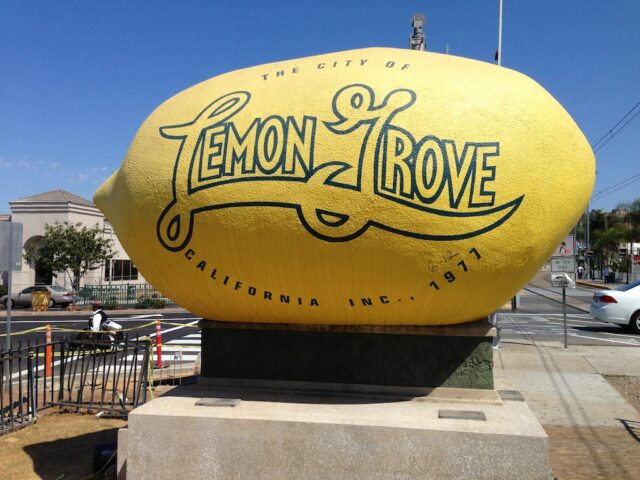 Not much here but to stop for a photo at the World Largest Lemon (not proven, but honestly who is arguing?) in the city of Lemon Grove.
Border Field State Park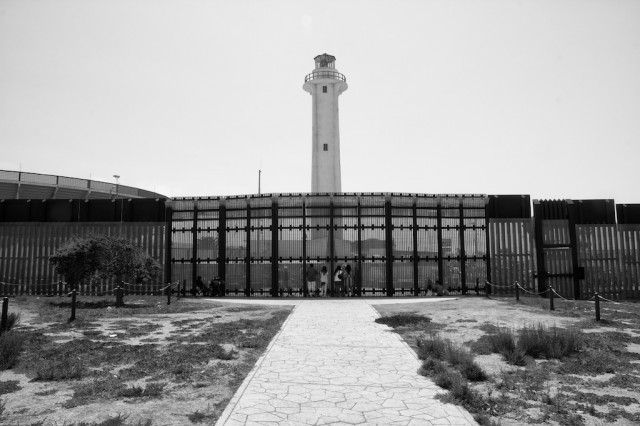 This place isn't strange like the others on this list, but it certainly is unique. It is a state park right on the southernmost part of California and right on the Mexican border. It is worth the trip to see the massive walls and cameras alone.
Churros El Tigre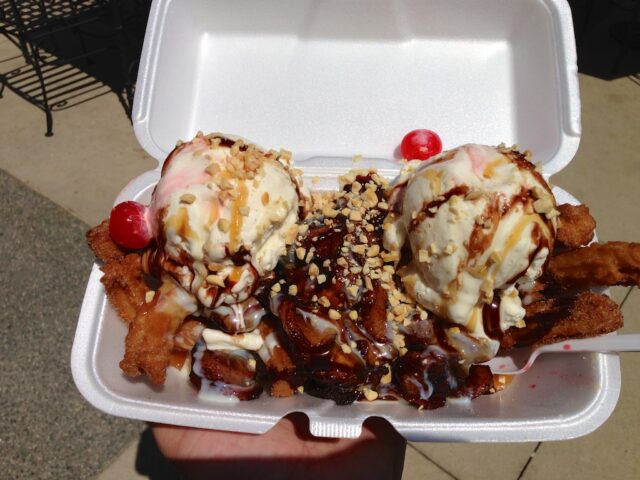 Do I need to say more than the above picture? If I do, then how about I mention that this small shop outside the food court, near the Mexican border, has a fantastic sundae with six churros! Bring a friend and try it.
Imperial County
Salvation Mountain
One man's journey to make a way to show the love of God to the world turned into an impressive painted mountain.
East Jesus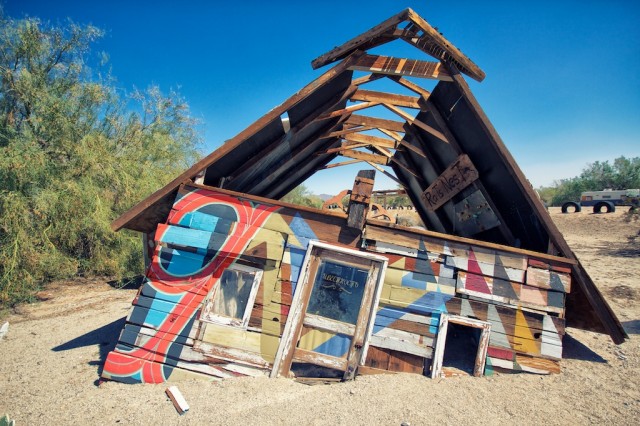 A collection of artists that live together and create very unique art pieces in the middle of the desert.
Mud Pools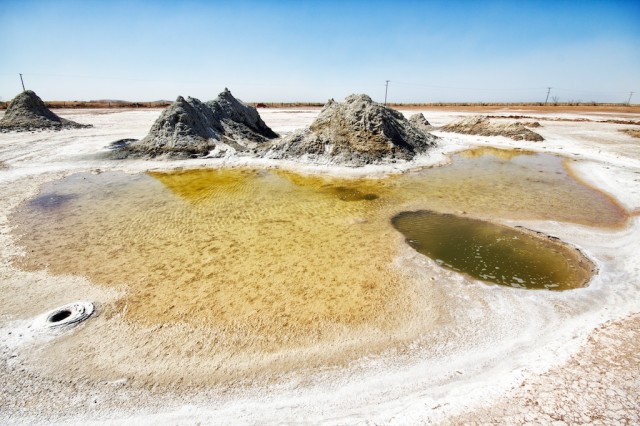 Bubbling pools of mud in the middle of a big field. You can hear them pop as you walk around.
Ruins of Bombay Beach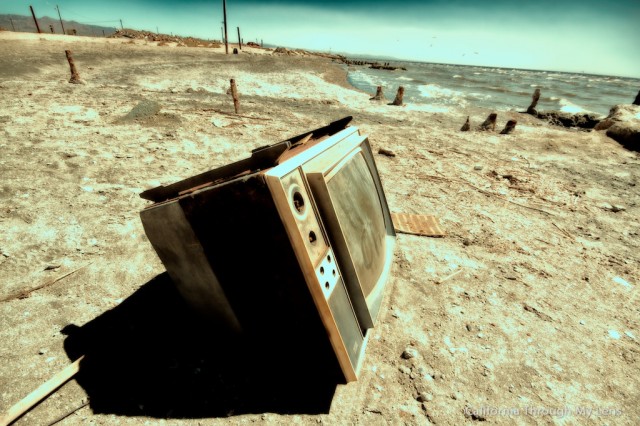 This is precisely how it sounds, ruins of an old Salton Sea town on the beach. A fantastic stop for urban grunge photographers.
International Banana Museum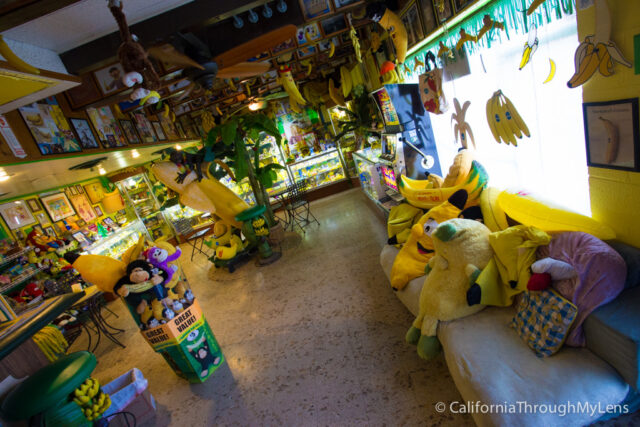 A small, one room museum overrun with thousands of banana related items. Make sure to get a banana shake while you are there!
Center of the World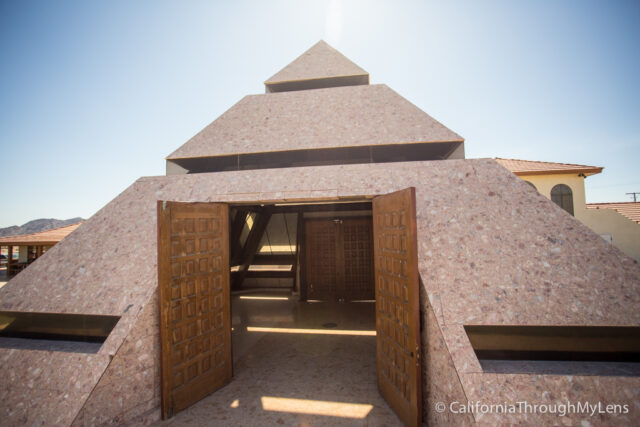 Who knew the "Official" Center of the World was in Southern California!? This fun roadside stop has everything from a church on the hill to an original staircase from the Eiffel Tower. It is worth the stop.
Goat Canyon Trestle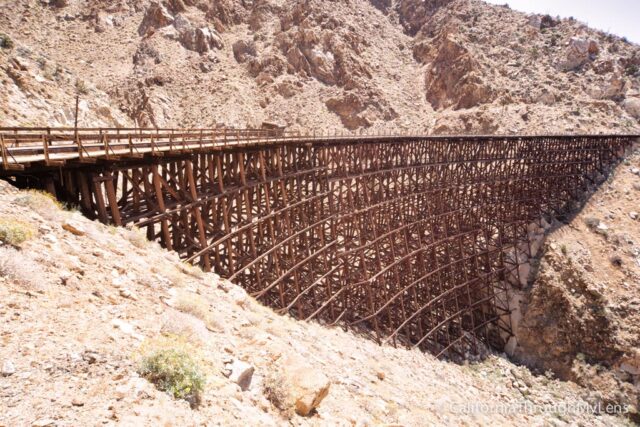 One of the largest freestanding wooden trestles in the entire world is located outside of San Diego, deep in the desert. I wouldn't recommend that many people go find it but read this post to learn more about it.
Desert View Tower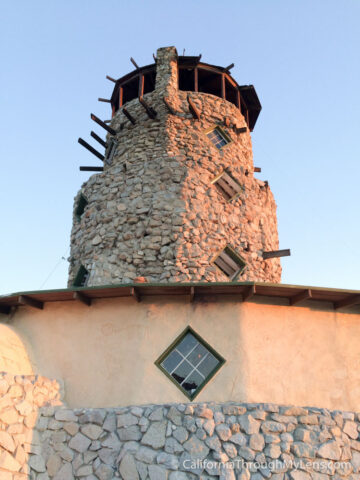 On the main highway through Imperial County sits this historic old tower on a hillside. It is a great spot to walk up and see the views or to visit the boulder park right across the parking lot.
Riverside County
Tios Tacos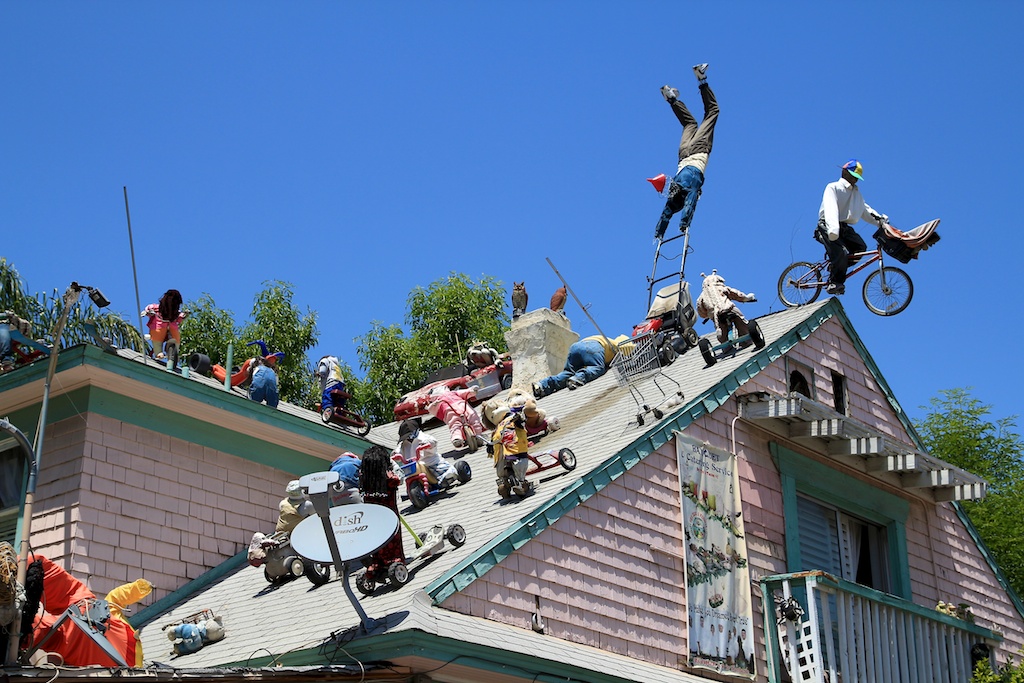 Tio's is a taco shop that is 15% food and 85% crazy art. It is always expanding with new structures, and you can walk around for hours and not see it all.
Shields Date Gardens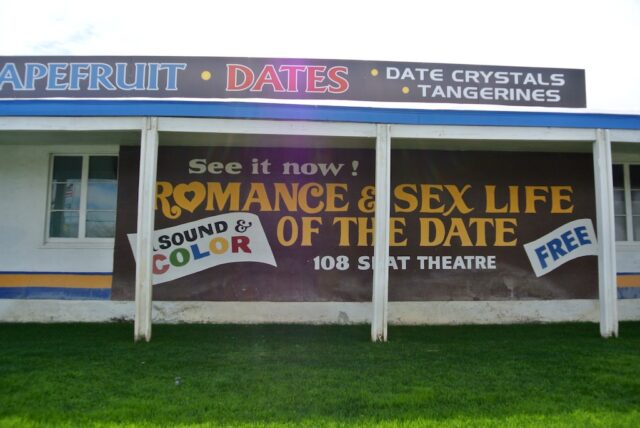 Grab yourself a date shake and watch a move on the romance and sex life of the polarizing yet beloved fruit.
Cabazon Dinosaurs
On the 10 Freeway near Cabazon are some of the biggest dinosaurs ever made. You can even go inside of them.
Pumpkin Rock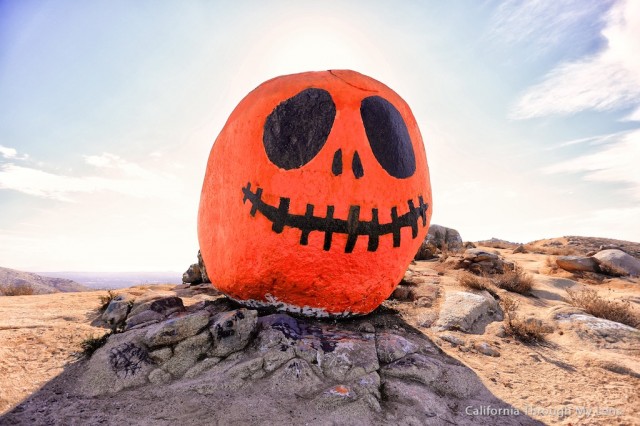 This pumpkin rock is overlooking the city of Norco and is kept up by some of its residents. If you go after it is repainted each year, then you are in for a Halloween treat.
Robolights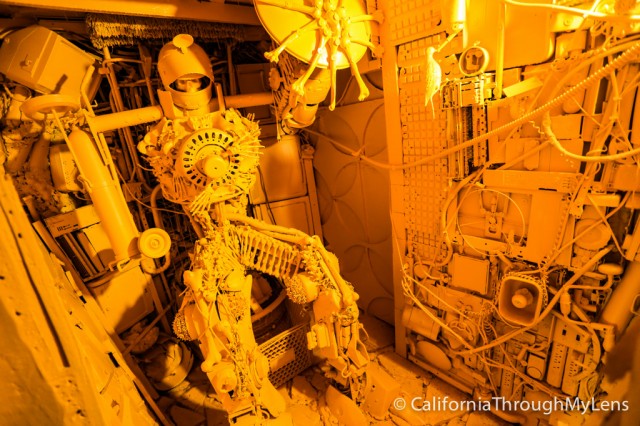 During the month of December, Palm Springs lights up with the fantastic creation that is Robolights. I have visited many times, but it is moving to a new location.
Noah Purifoy's Outdoor Desert Art Museum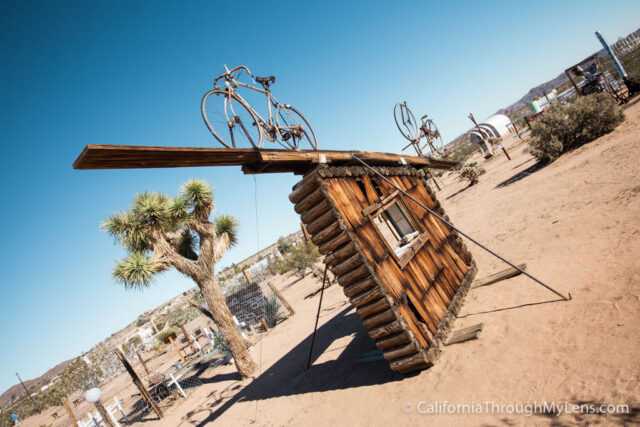 Located north of Joshua Tree National Park, this art installation is a fun and unique place to explore.
Ruddy's 1930's General Store & Museum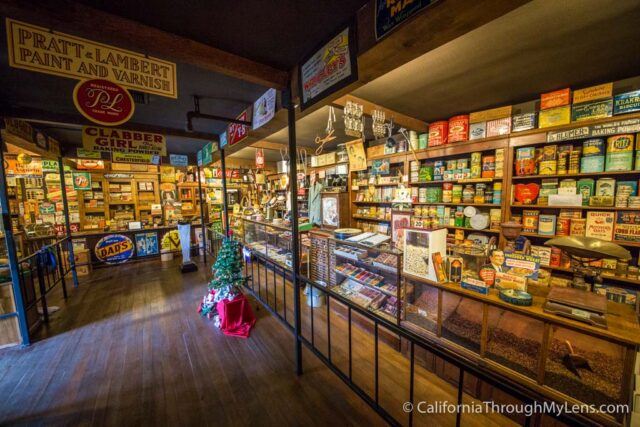 In the downtown area of Palm Springs, there is a one room museum that is designed to look like how a 1930s general store would have looked. All of the products are authentic, and the price to enter is 95 cents.
General Patton Museum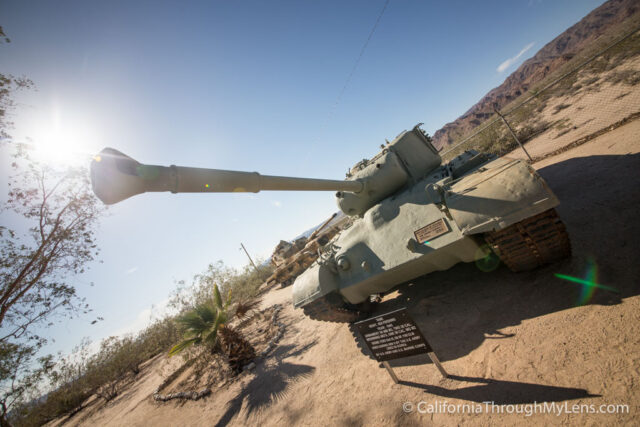 Built on the site of Camp Young, this museum was made to honor General Patton. It has lots of history and loads of tanks.
Orange County
Southern California Redwoods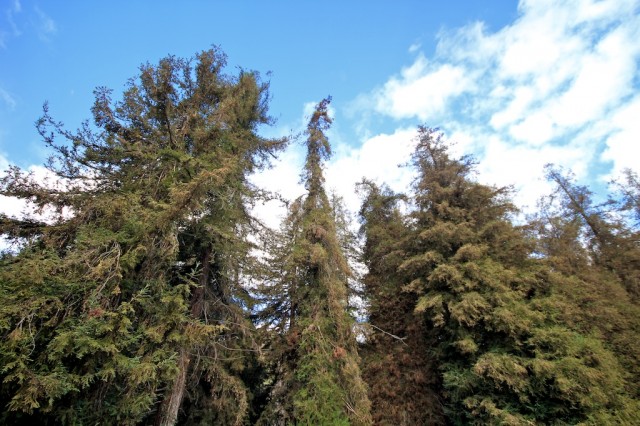 See redwoods without leaving Southern California by visiting this park in Yorba Linda. The trees here are only 25 years old, but they are still very cool to see.
Prehistoric Pets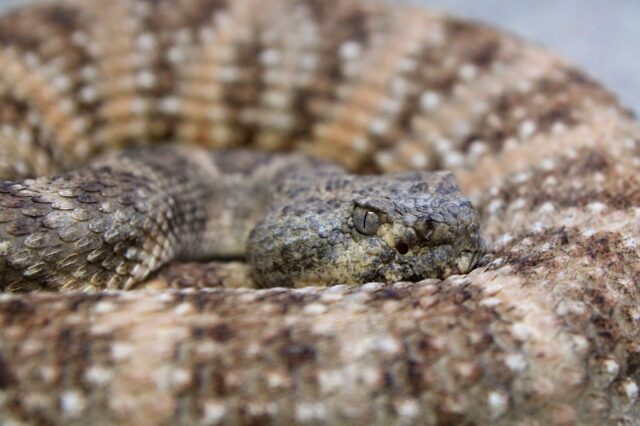 For a 5 dollar fee, you can see a crazy amount of reptiles from crocodiles to snakes. They used to have one of the biggest snakes in captivity named Twinkie before it sadly passed away.
Surfin Donuts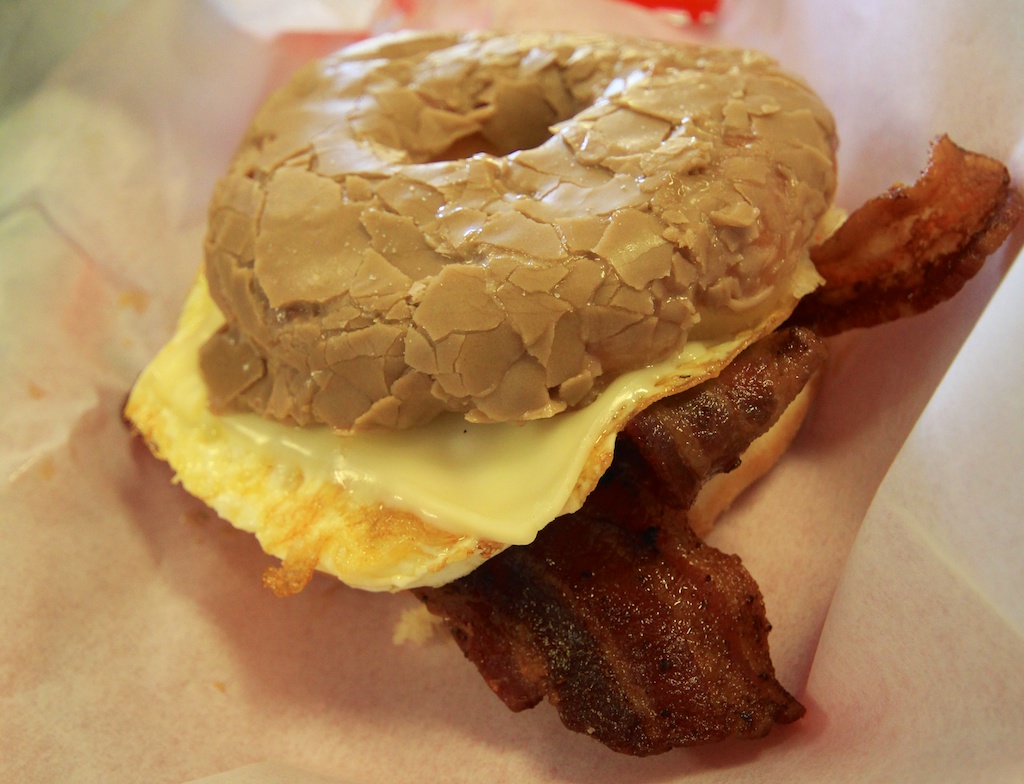 Want a maple donut with eggs and bacon in the middle of it? Check out Surfin Donuts.
Victoria Beach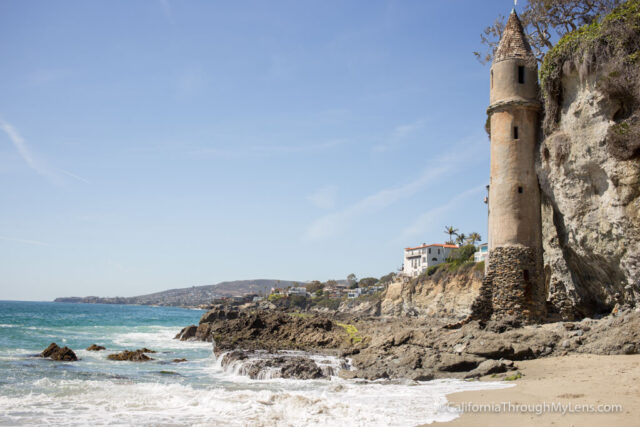 The famous pirate tower of Victoria Beach is one of those historic Southern California places that everyone has to see once. Parking can be tough, and directions are not always great to get to it, but when you find it, you will be happy that you did.
Medieval Times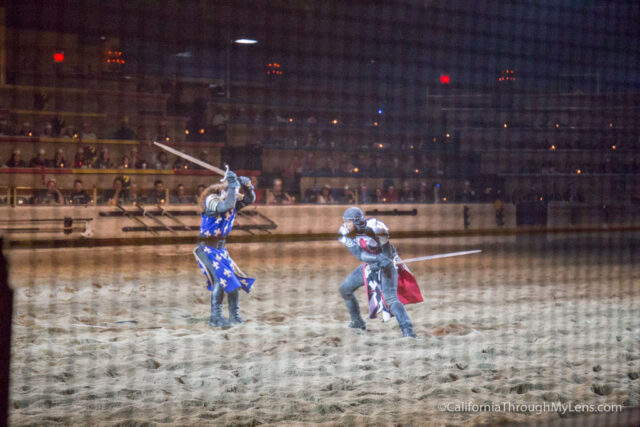 The campy goodness that is Medieval Times has not lost its charm. I remember being awestruck by the show when I saw it as a kid, and I had just as much fun when I went back a few months ago as an adult. It's a great whole family experience.
Pageant of the Masters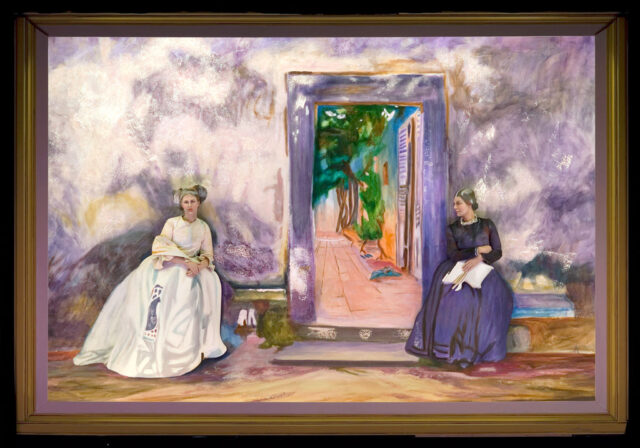 Pageant of the Masters happens in the summer every year, and it is a truly Orange County experience. This event features live recreations of famous paintings, and you can read more about it here.
Polar Playground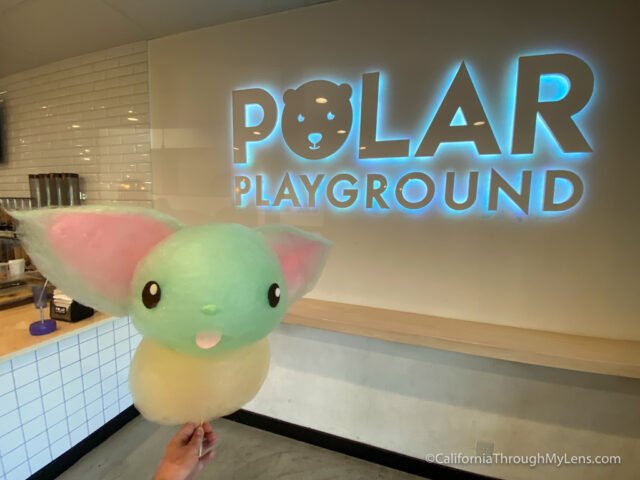 Interested in a fun cotton candy experience? Check out Polar Playground, which makes all sorts of characters out of cotton candy.
Los Angeles County
Bob Baker Marionette Theater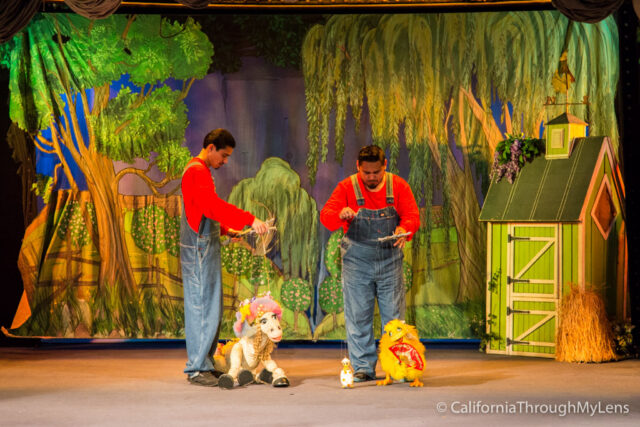 I love this place, and I recommend you make it a family outing. They put on shows with their marionettes a few times a week. The shows are similar to entering a time machine and visiting what a theater was like before technology. They are especially popular during the Christmas season.
Paramount Studio Tour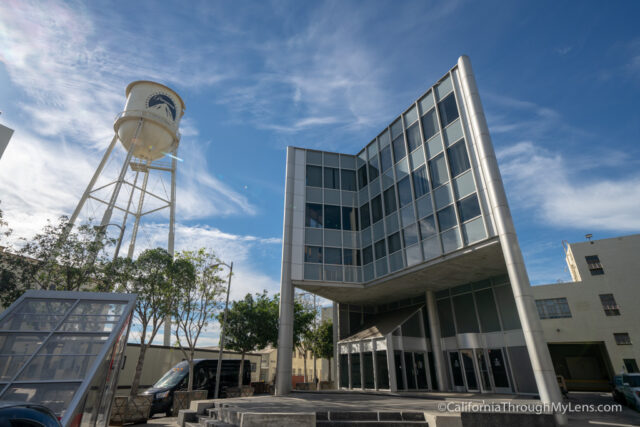 If you visit Los Angeles, then you really should consider going on a studio tour to see where the movies are made. This is the only one that I have been to, but it was a lot of fun and something I enjoyed.
Wurstkuche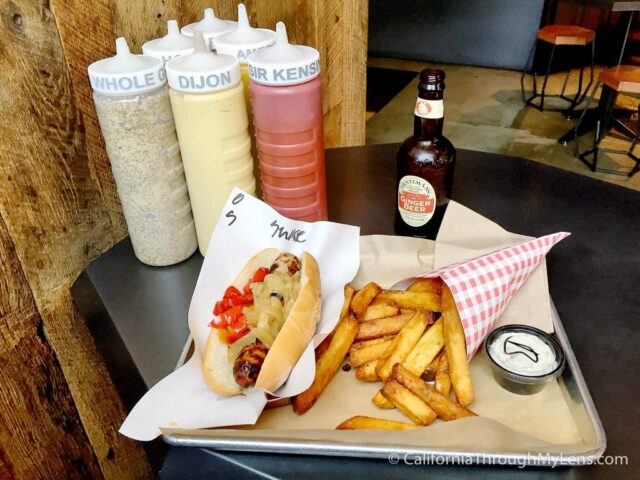 Indulge in specialty sausages in downtown Los Angeles, especially ones that are made of rattlesnake and rabbit (just a few of the available meats).
Phantasma Gloria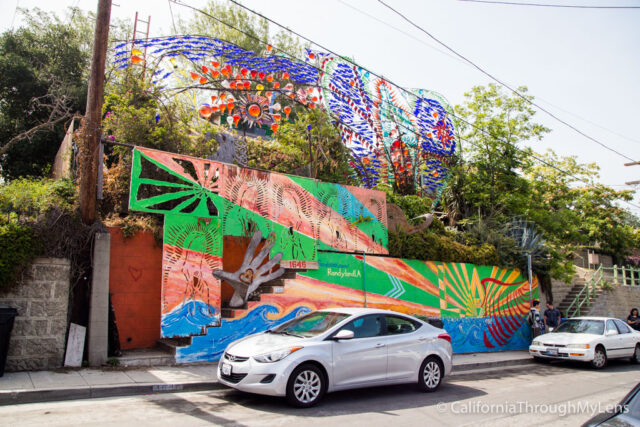 This is one man's art installation in Echo Park. Located right outside his home, and it is a great spot to drive by and check out. The way the light shines in the early morning sun makes this installation come to life in sparkling colors.
Clifton's Cafeteria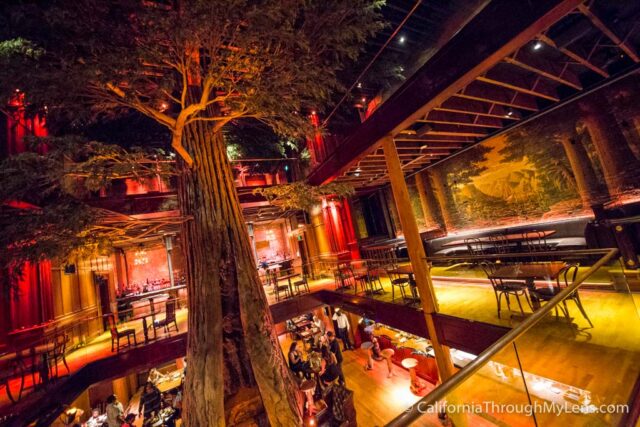 Clifton's Cafeteria is one of the oldest still running cafeterias in the entire USA. It has all of the food you would expect at a cafeteria, but the surrounding building has a two story Redwood, stuffed buffalos, and all sorts of other attractions you can eat next to.
Original In-N-Out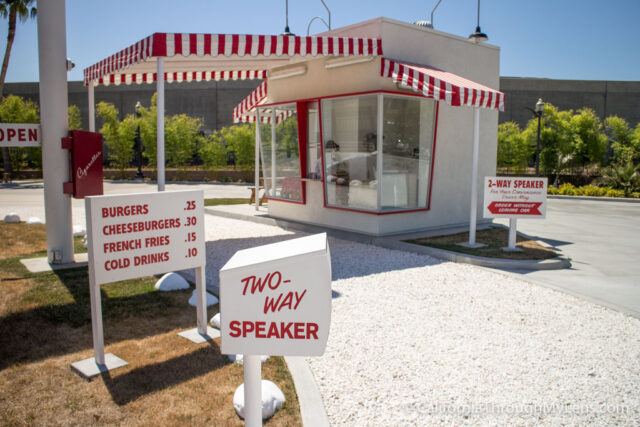 Check out the original In-N-Out in Baldwin Park, a super fun spot to stop by and learn about the history of this CA staple.
Dapper Cadaver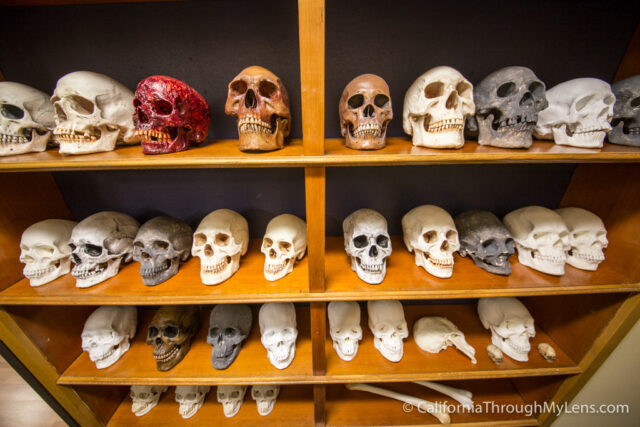 This unique store is home to all sorts of creepy-crawly things. It is one of the primary prop producers for Hollywood horror movies, but you can always tour/buy stuff from it as a consumer as well.
LA Observation Deck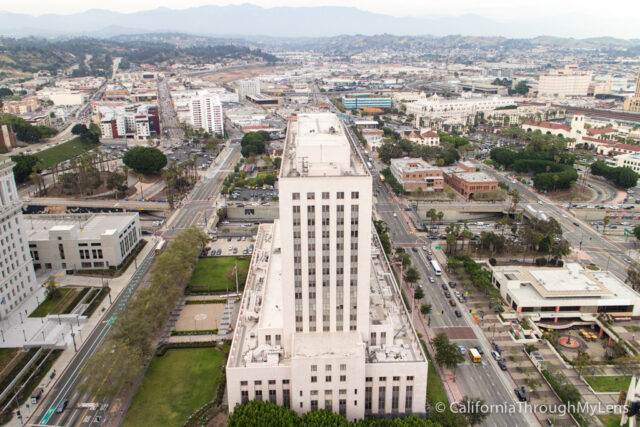 Head up to the top of LA City Hall for a fantastic view of downtown Los Angeles from an angle you haven't seen before.
Malibu Wine Safari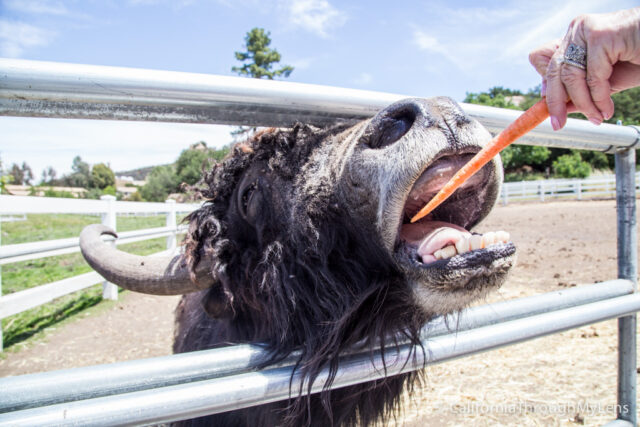 If you are looking for a fun way to spend a Saturday, why not take a wild animal safari at a Malibu Winery? Yes, you heard that correctly, you get shuttled around to see everything ranging from camels to water buffalo, and you can even feed a zebra. You can also hike it and meet Stanley the Giraffe as well.
Vasquez Rocks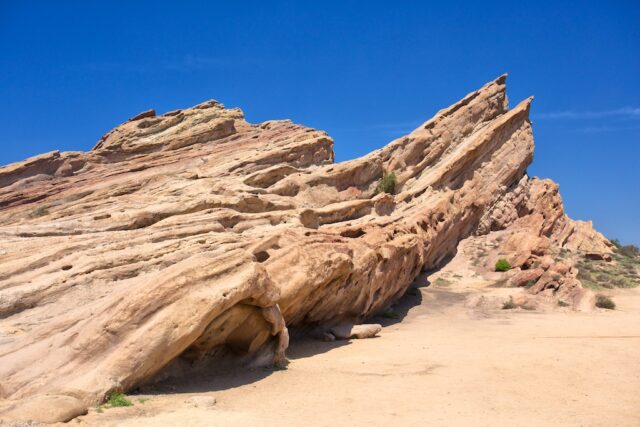 Explore these famous rocks, featured in many Hollywood movies. It is also a great place to spend a day hiking outside the city.
Velaslavasay Panorama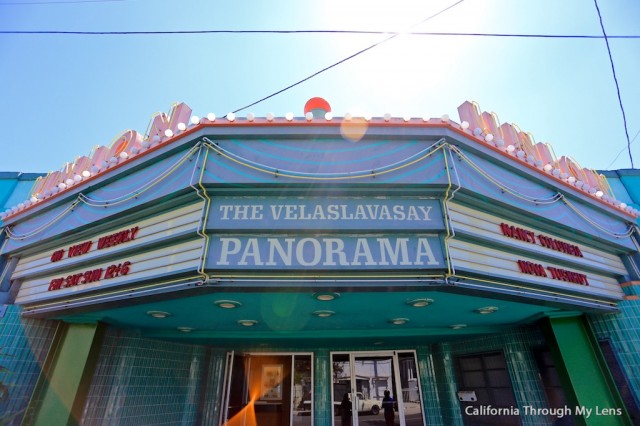 This awesome old theater harkens back to the old days of cinema when the movie was a cranked sequence of images or a panorama that you immerse yourself in. This is a unique spot in LA.
Charlie Brown Farms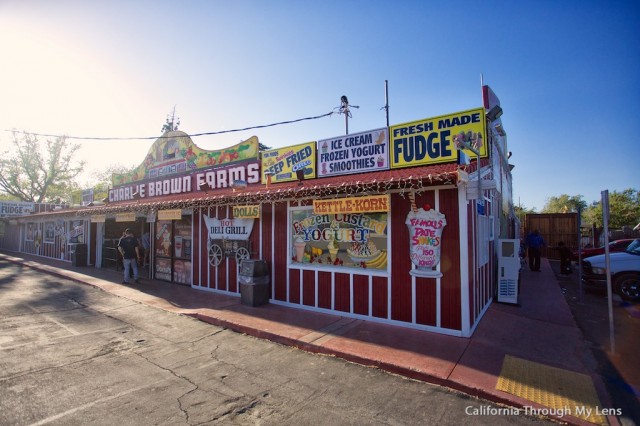 This roadside shop literally sells everything. They have the world's largest beef jerky, chocolate dipped jalapenos, and ostrich eggs. A great stop on any road trip.
Wayfarer's Chapel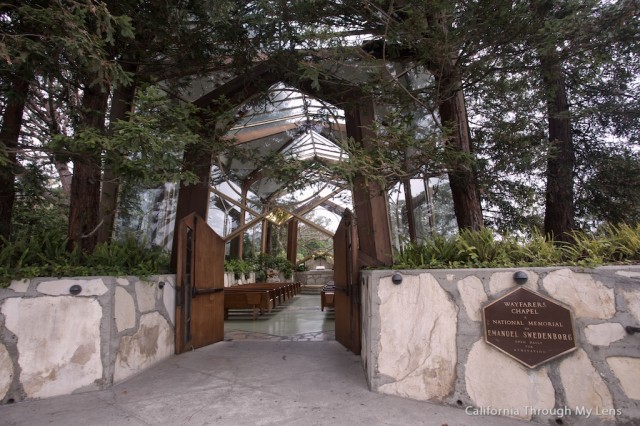 This glass cathedral is a beautiful and unique place to explore. Be aware that it is often used for weddings so it may be closed during popular times.
Shipwreck Hike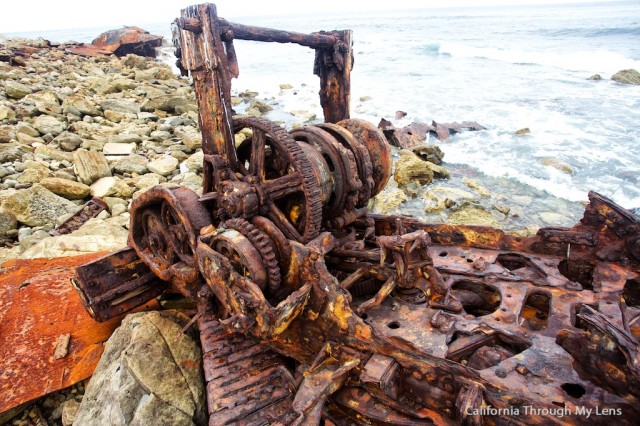 How often do you get to hike to an old shipwreck off the coast, especially one that is as preserved as well as this one? It is a relatively easy hike, but you will be walking over a ton of rocks. It's worth it to see the wreckage.
Time Travel Mart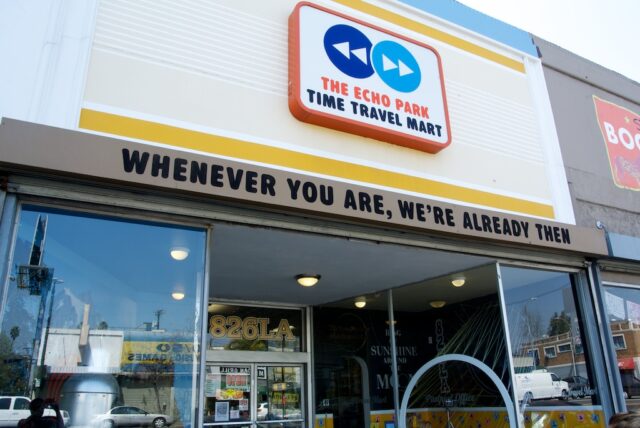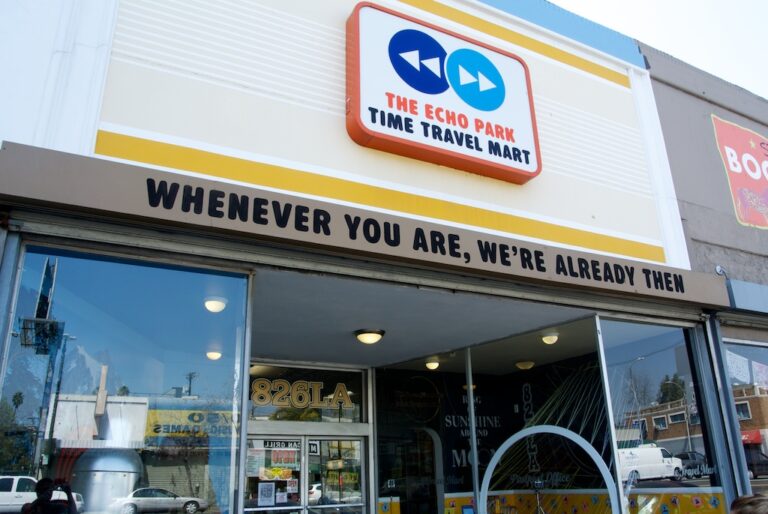 Step back in time with this store that caters to many different time periods and time travelers. You can even buy a shade tree (a seed), and all you have to do is go back in time and plant it!
Great Wall of LA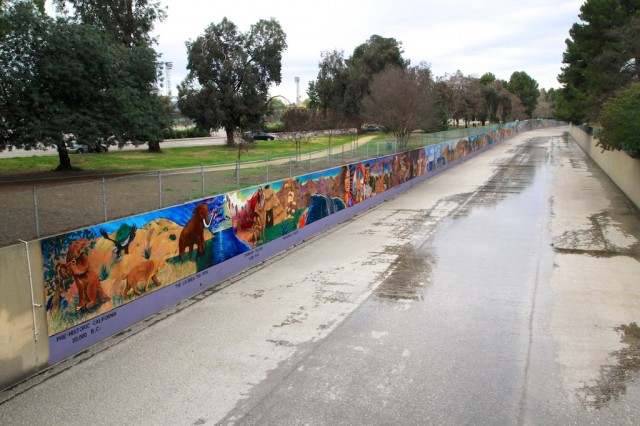 At about a half mile long, this wall has the painted history of California on it and is a great place for a walk.
Bunny Museum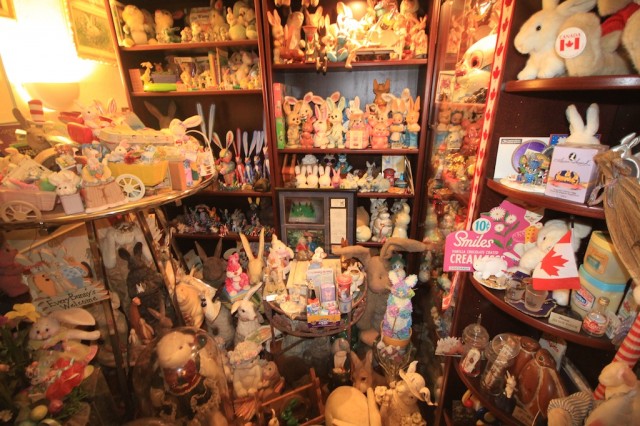 The couple that owns this "museum" has tens of thousands of bunnies and bunny related things. They are even the Guinness Book of World Records Holder for most bunnies. Call to set up an appointment to visit.
LA Coroner Shop (Closed)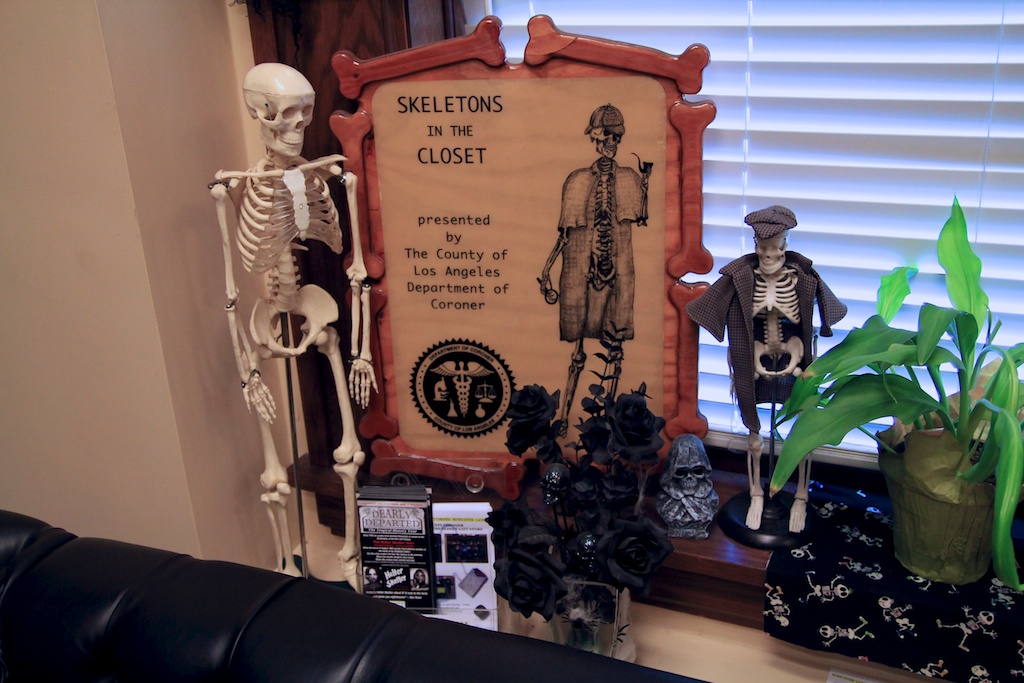 This small shop in the middle of the coroner's office has a lot of death related items you can purchase—everything from a pen to a chalk outline towel.
Museum of Jurassic Technology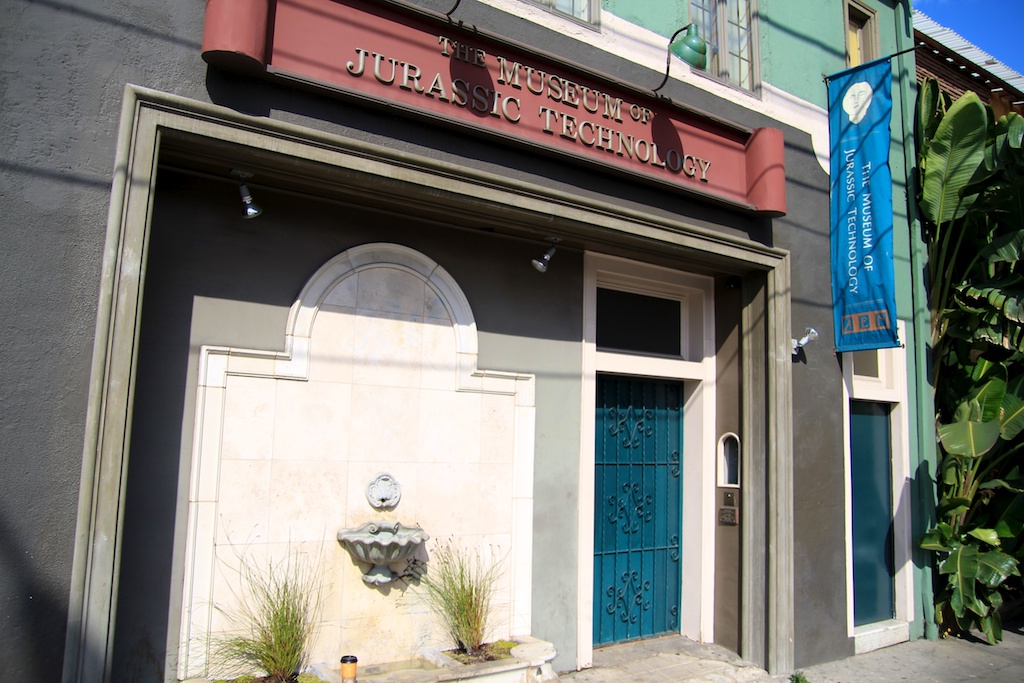 A museum that you will not be able to explain when you leave. Trust me; I still cannot describe what I saw there.
Wacko Soap Shop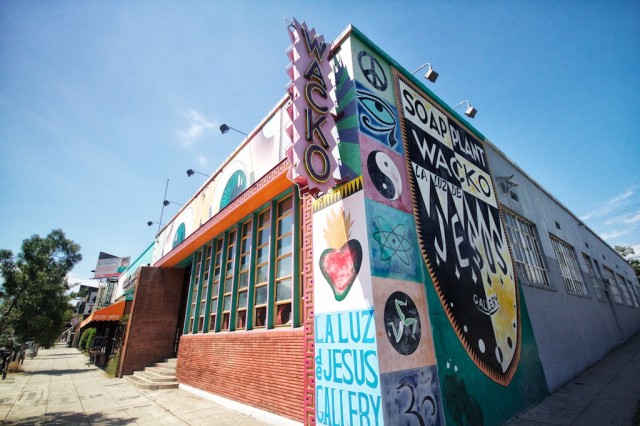 Another strange store in LA this one has a mind-blowing amount of stuff, everything from crocodile heads to books on steampunk. There is even a famous art area in the back.
Watts Towers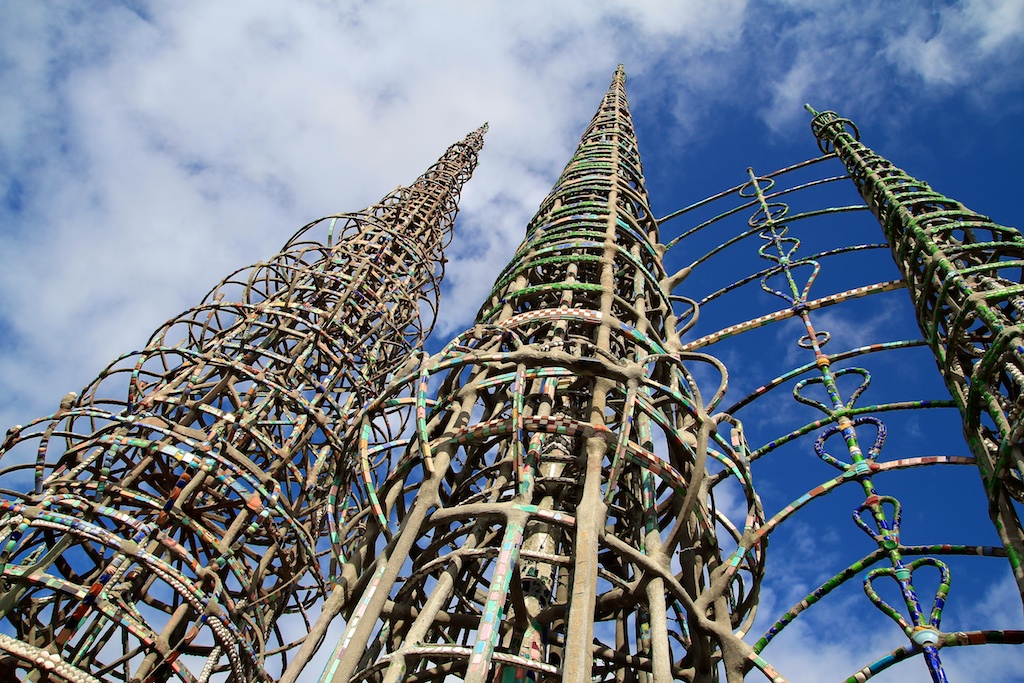 Watts Towers is an impressive piece of art in the heart of Watts. It is worth touring and hearing its unique history as it is on the National Register of Historic Places.
Old LA Zoo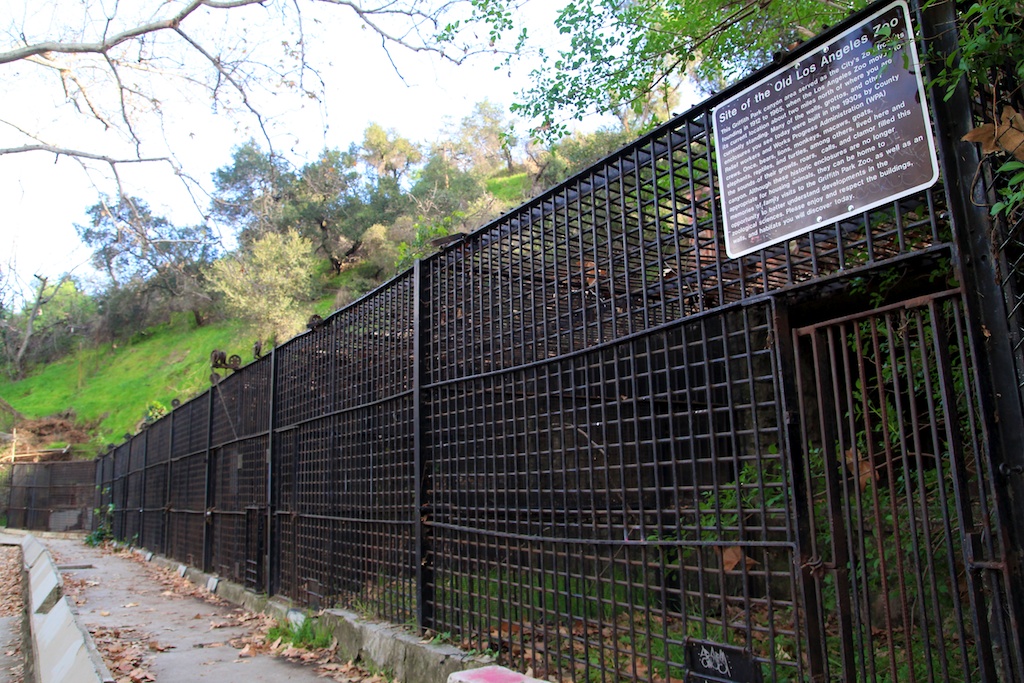 Hang out and have a picnic in the leftover old cages for what used to be the LA Zoo.
Murphy's Ranch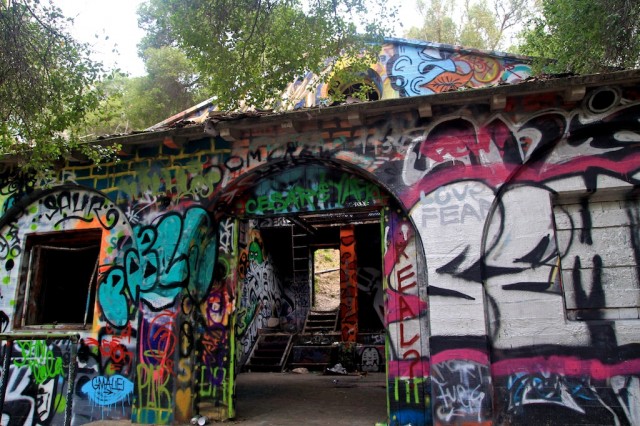 Visit a ranch that was created for when the Nazi's took over the United States. That clearly did not happen, but this unique structure still stands.
Bridge to Nowhere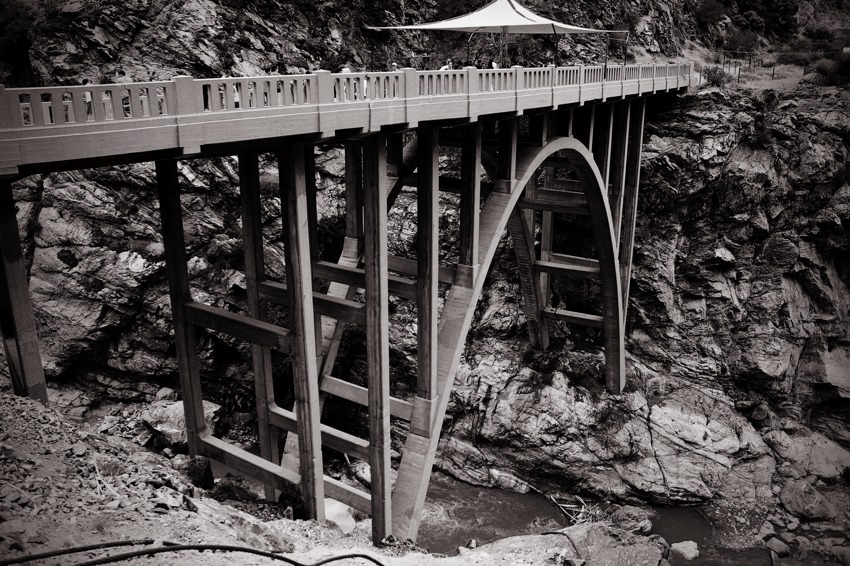 Hike 5 miles to a bridge that literally was built in the middle of nowhere and connects nothing. As an added bonus, you can bungee jump off of it.
Will Richards Studio in Catalina (Possibly closed)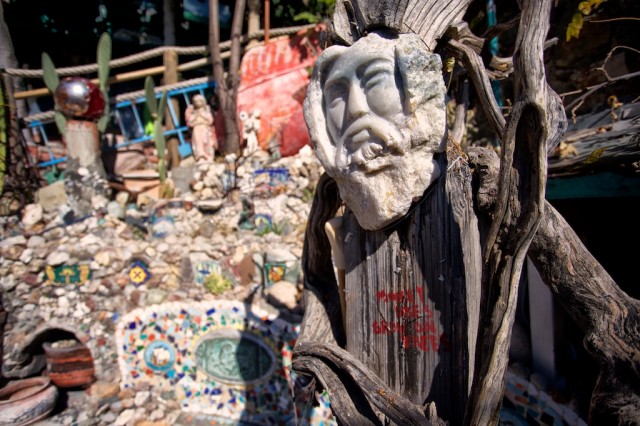 Located on the island of Catalina, this small art studio is a fun place to explore on a very touristy island.
Antelope Vally Poppy Reserve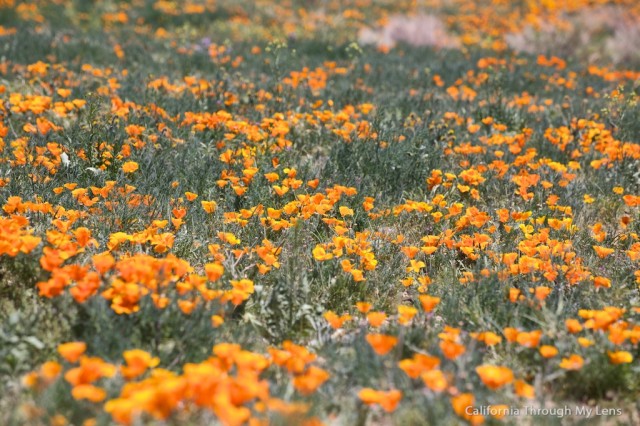 During the spring, the Antelope Valley Poppy Reserve becomes a carpet of orange as far as the eye can see. It is a beautiful place that you must visit at least once.
Twisted Oaks Tavern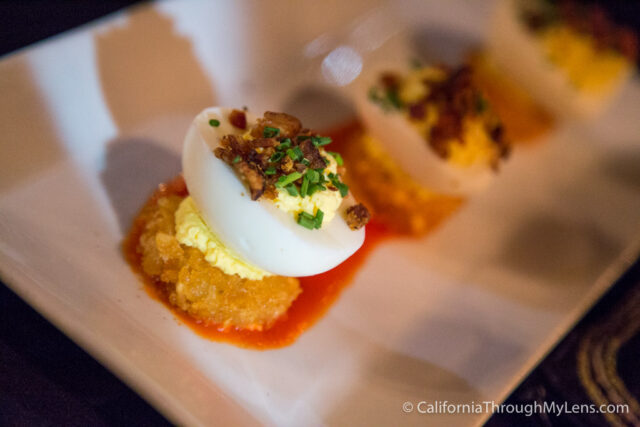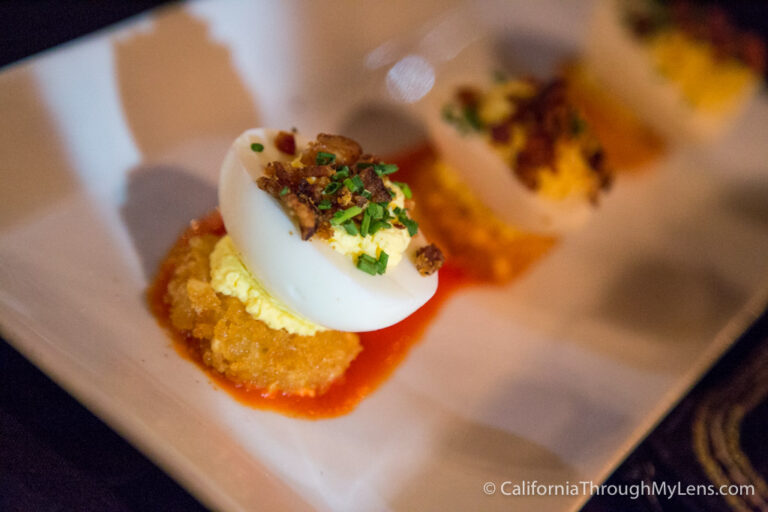 Twisted Oaks Tavern in Thousand Oaks is home to Hogzilla, which is a full braised pig head that you can order to share with 6-8 people.
Dodgers Stadium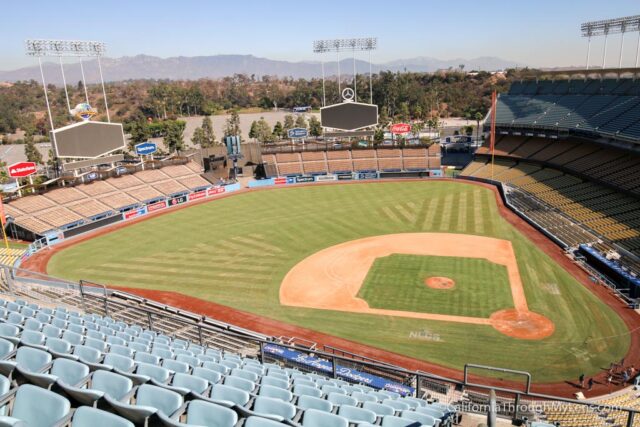 On days when there is not a game, you can still visit Dodger Stadium and shop at the store. This also allows you to look down on the field from above, which is kind of cool.
Santa Monica Pier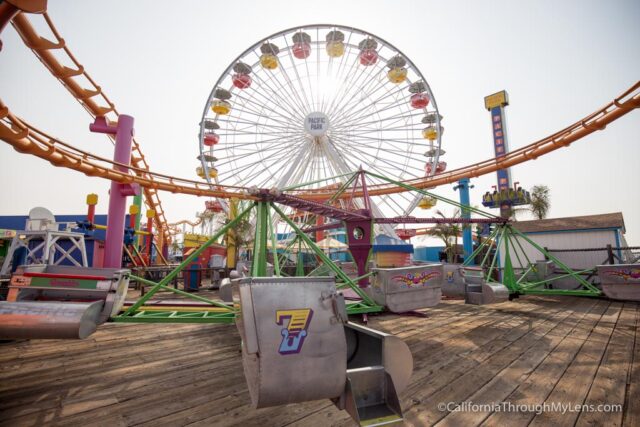 The Santa Monica Pier is home to rides, food, and attractions. It is also the endpoint of the famous Route 66, which makes it a great place to explore that is full of history.
King Hawaiian Bakery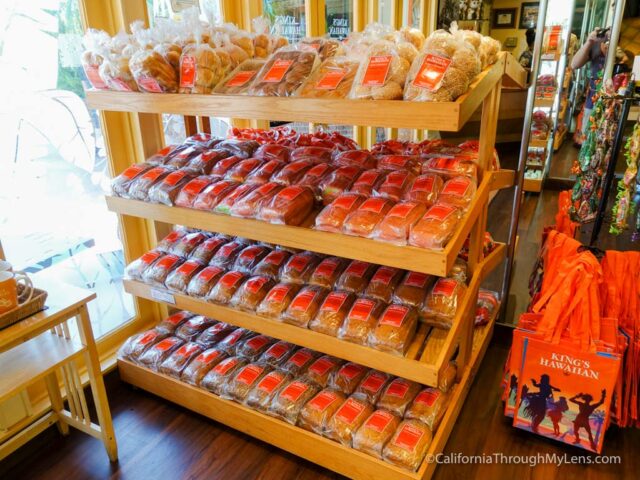 I am sure you have seen the King's Hawaiian bread in the stores. It is a staple of many family sandwiches, and the bakery is located in Los Angeles County in the city of Torrance. They have a diner you can visit with lots of different types of bread and pastries you can take home.
LA Waterfront Harbor Tour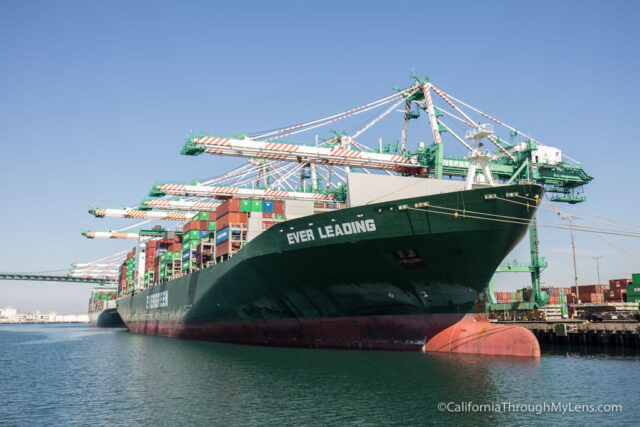 The LA Waterfront is located in the city of San Pedro, near Long Beach, and it is one of the busiest shipping areas in the United States. You can take a boat tour of the harbor, and it is enjoyable to see the boats being unloaded as well as the famous lighthouse and bridge.
Turtle Racing at Brennan's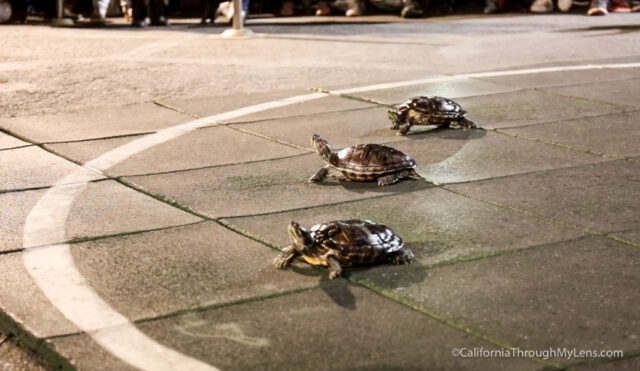 For over 40 years, Brennan's in Marina Del Rey has been doing turtle racing every Thursday night. If you visit the bar after 10 PM, you will see hundreds of people lining up to cheer on their turtles and partake in the craziness.
Queen Mary Haunted Ghost Encounter
The Queen Mary is just fun to explore in general, but the strange ghost history is what truly makes this boat unique. They have a tour that plays up all of that history, and that takes you into some of the inner parts of the boat that you can't usually see.
Tour the Sriracha Factory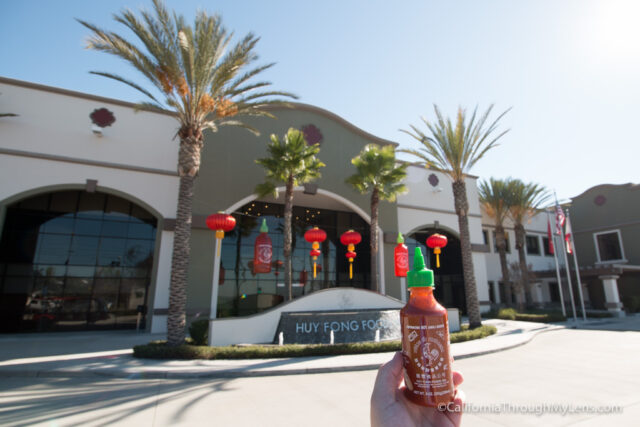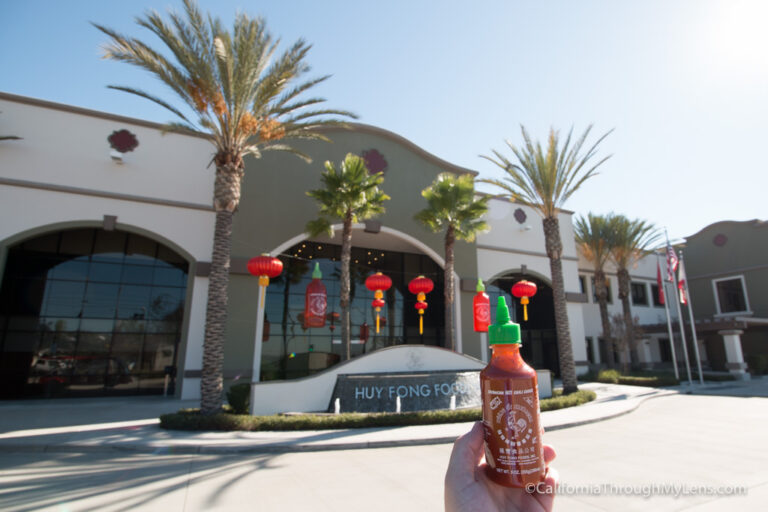 I am sure you have tried or at least seen the famous red bottle with the green top and the chicken on the front of it. It has been a condiment staple for years, and you can tour the factory daily. The best time to visit though is in the fall when they have the open house for chili grinding, do note that tickets can go fast though.
Catalina Casino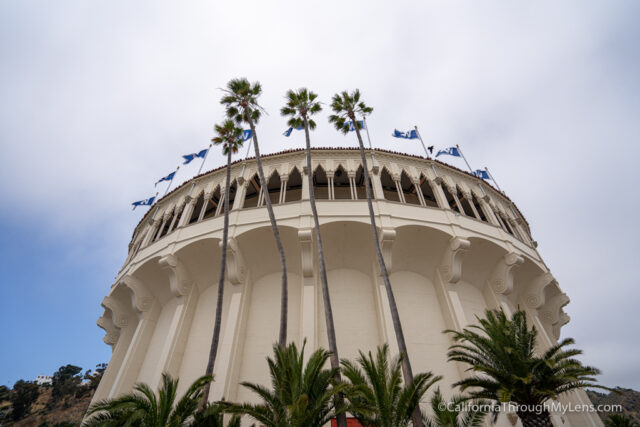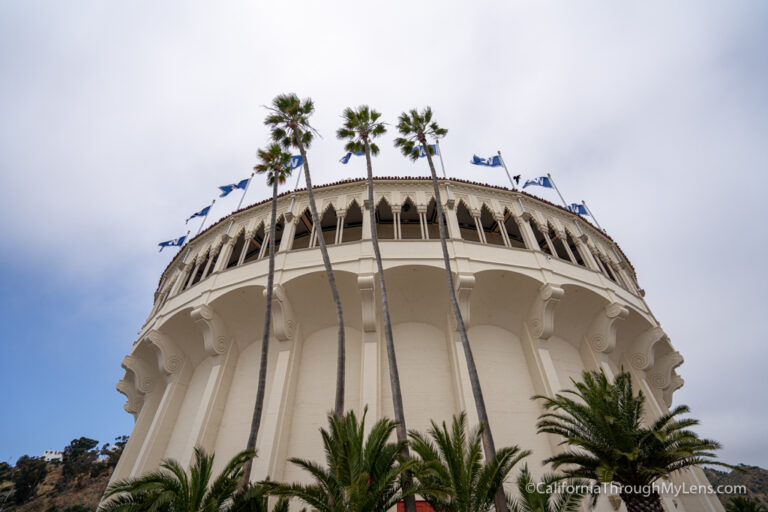 The Catalina Casino is a historic building on Catalina Island with a storied history. While it only has events occasionally now, you can still visit the theater to see a movie and can take a tour of the building daily.
San Bernardino County
Mitchell Caverns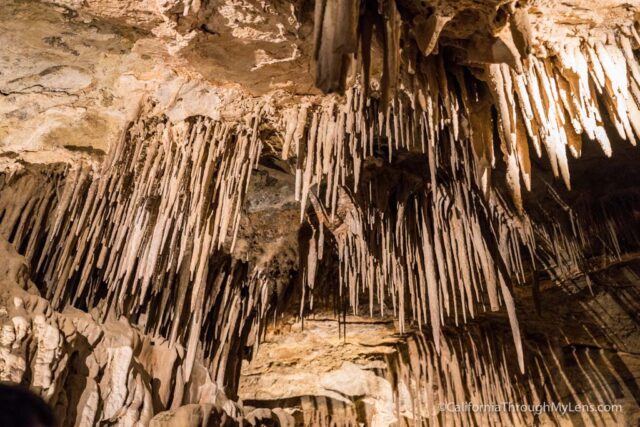 The Mitchell Caverns are the best show caves you can see in Southern California. This beautiful cave system was closed for seven years but has recently been reopened, and you can sign up to tour it again. Read more here.
Giant Rock in Landers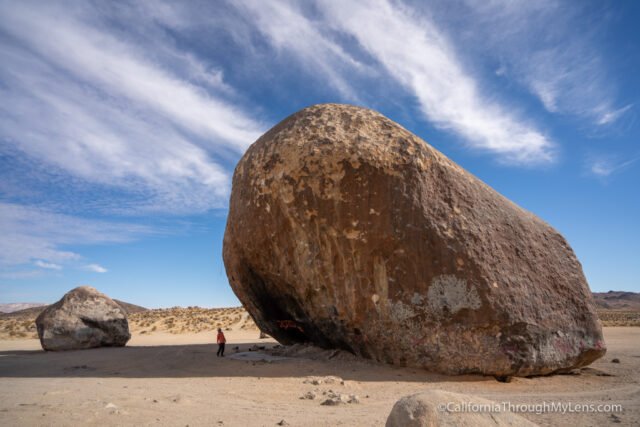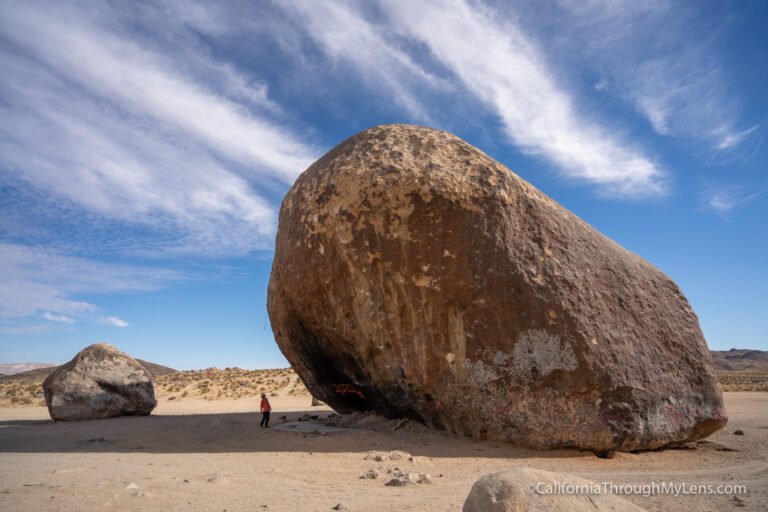 Giant Rock has been many things to many people over the years. It was a sacred spot for Native Americans, home to a German man who dug under it, and a spot for UFO conferences. You can read all about it here.
Alpine Slide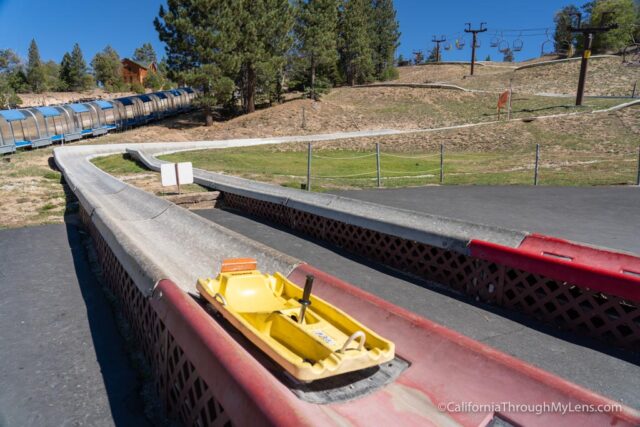 Big Bear's alpine slide is a blast for the whole family as it allows you to try out bobsledding on a large cement track. Read more about it here.
Elmers Bottletree Ranch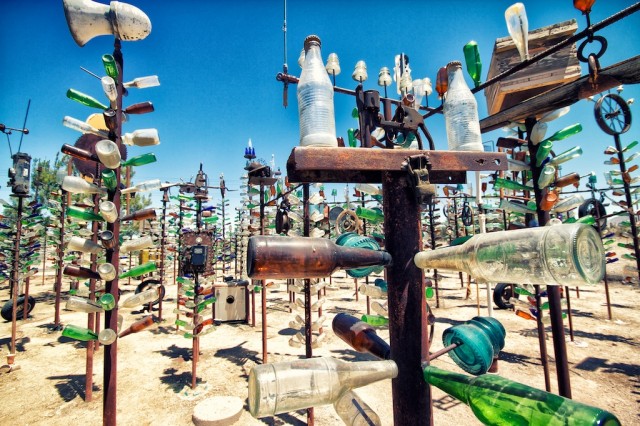 Elmer's ranch is a great place to take pictures and admire the dozens of metal trees made from poles and bottles. I, for one, love this place, and it is one of the best spots on California's portion of Route 66.
Desert Christ Park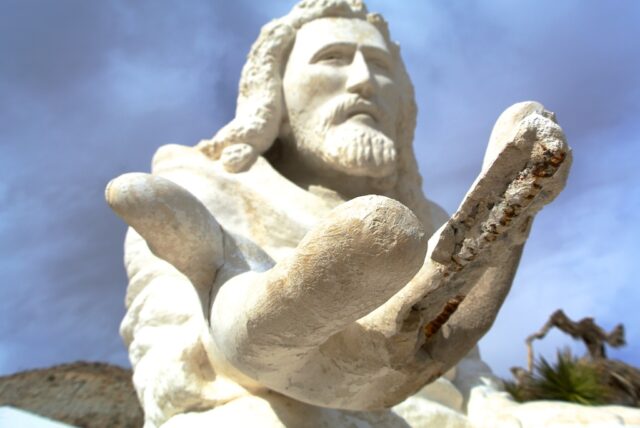 A collection of many different sculptures of Jesus' time on Earth, all made out of plaster. The main highlight being a massive "last supper" sculpture that you can add yourself into.
Original McDonalds Museum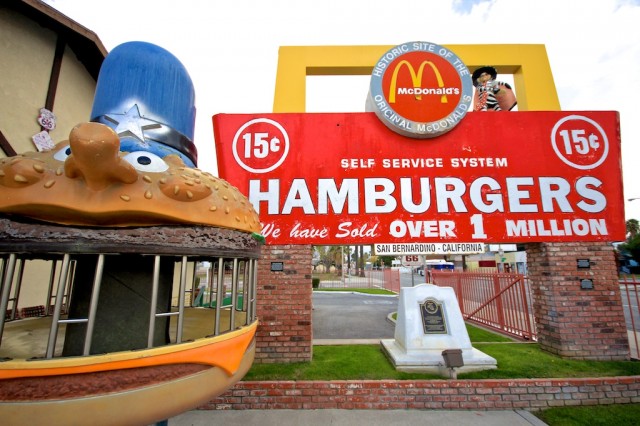 Located on old Route 66, this museum is the home of the original McDonalds. It has since been torn down, but the museum collects the history of this iconic food shop.
Zzyzx Road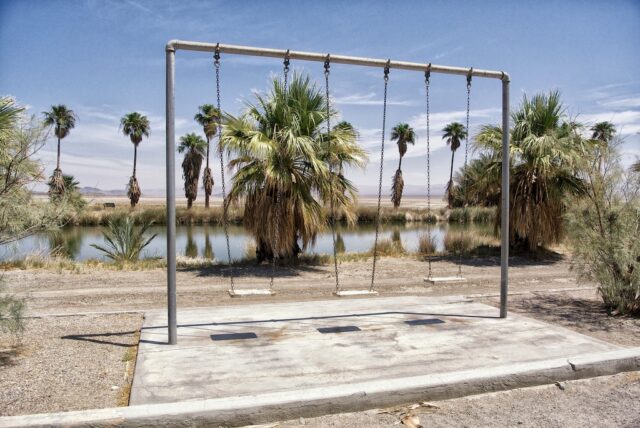 That road everyone sees, but no one stops at on the drive to Vegas. It has a unique history of once being a healing center.
Baker Thermometer and North Pole Discoverer Statue (Statue is now gone)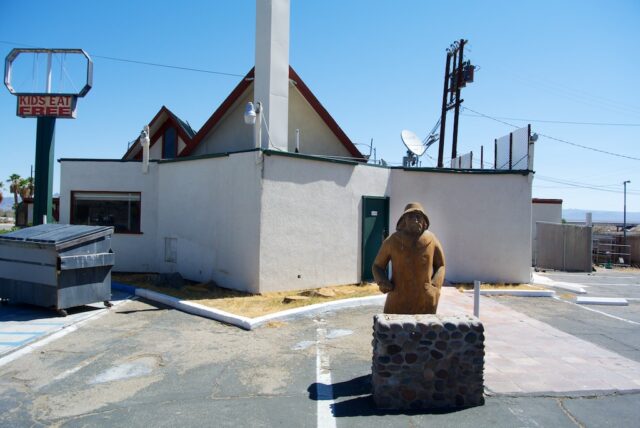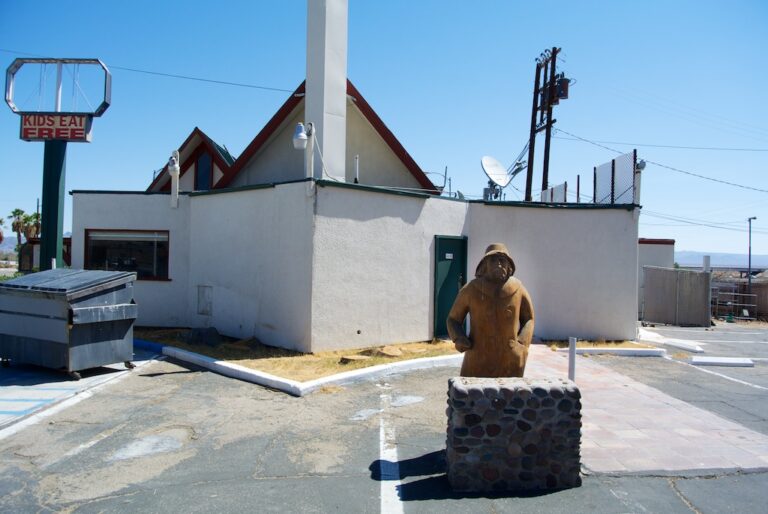 I know you were wondering…yes, you can check both of these off your bucket list in one stop in the town of Baker!
Logan's Candies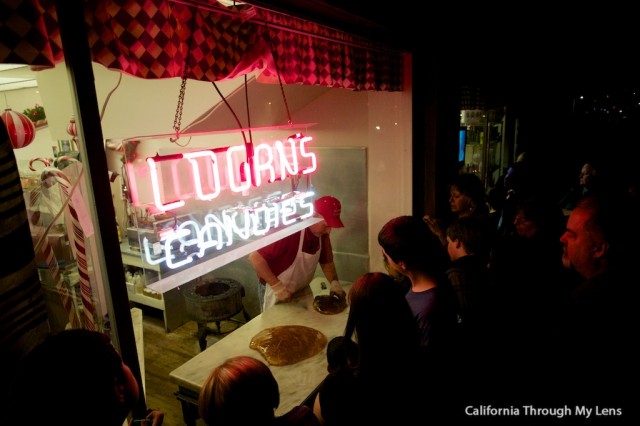 Who doesn't want to see how candy canes are made? During the Christmas season, this is the place to be for their nightly demonstrations on the art of creating a candy cane, plus you get a warm one afterward.
Randsburg General Store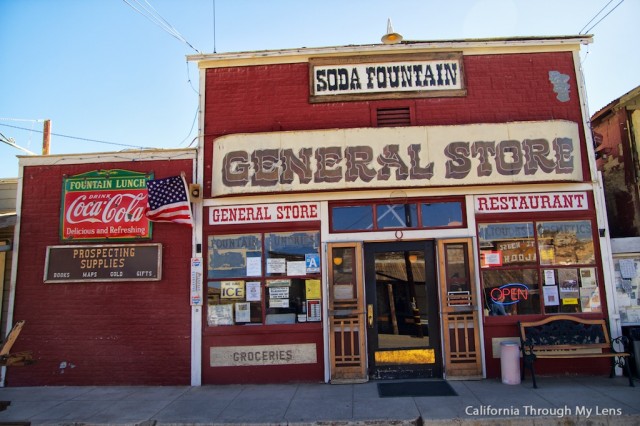 For a trip back in time, pull off Highway 395 and visit the Randsburg General Store. This small town has one main street, tons of abandoned mines, and a general store that sells soda the old-fashioned way, with phosphates.
Lava Tube in Mojave National Preserve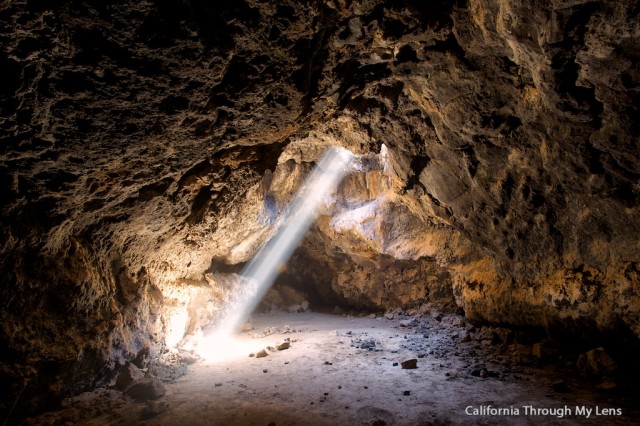 One of my favorite places for photography, the lava tube in Mojave is a crazy place to explore. It is one you will tell your friends about.
Amboy Crater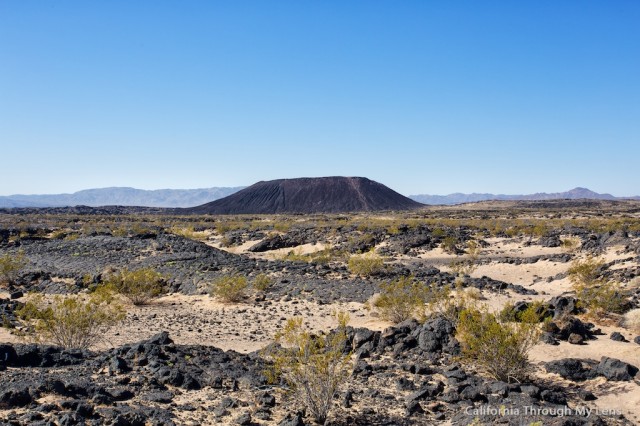 This hike is right in the town of Amboy, which is fun to visit in its own right, and crosses a lava field up to an old dormant volcano. It is a great hike, but not in the summer.
Big Bear's Gold Fever Trail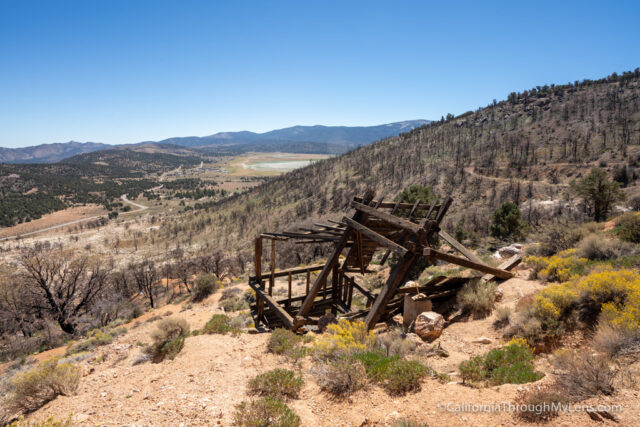 In the town of Big Bear, you can take an offroad adventure that takes you back in time to the gold rush history present in the mountains. While not a lot is left from the trail to see, it is still worth the trip if you have four wheel drive.
Santa Barbara County
Cold Springs Tavern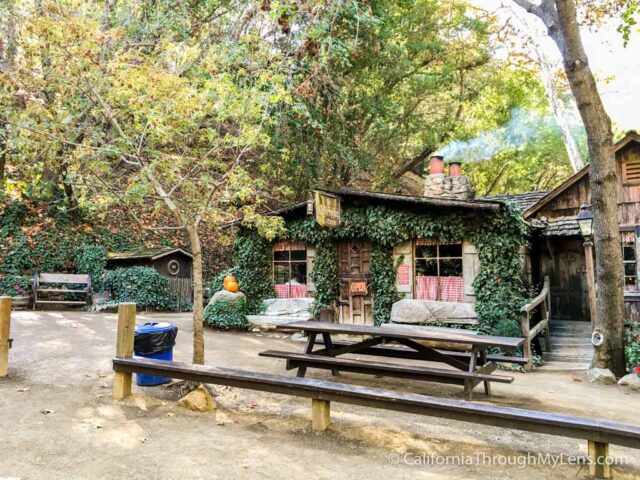 This little restaurant in the mountains above Santa Barbara has been here for over a century and is a fantastic spot to have a meal.
Ostrich Land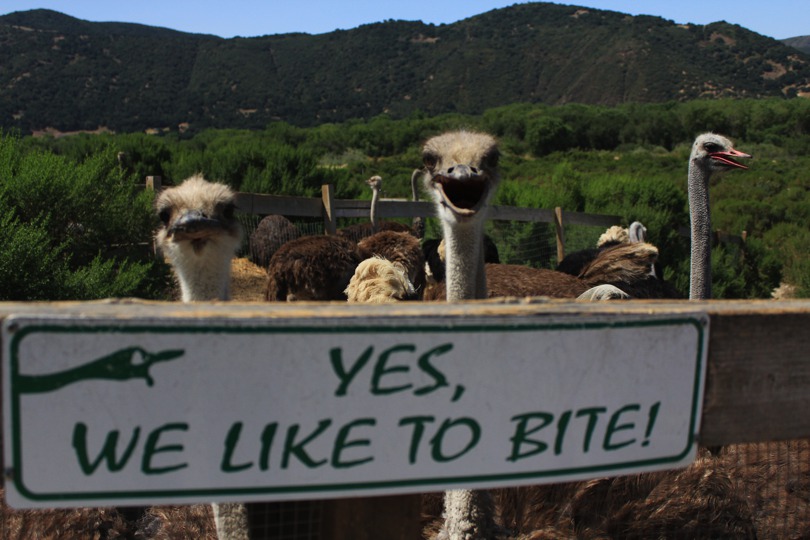 Who doesn't want to feed ostriches? You can do it here, and you can even take home ostrich jerky if you feel so inclined.
Gaviota Wind Caves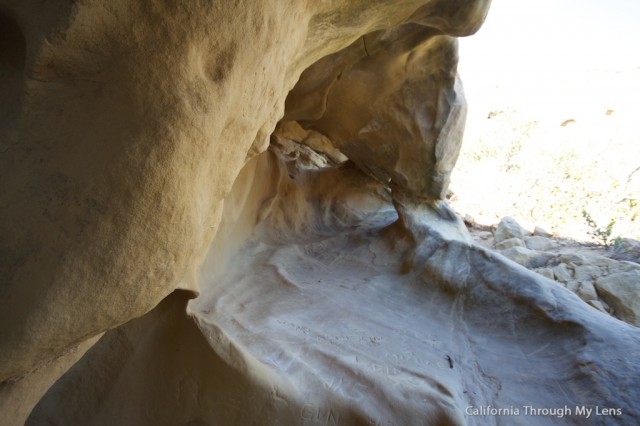 These caves overlooking Highway 1, about 45 minutes north of Santa Barbara, are a pretty crazy place for a hike. The wind has carved them over thousands of years.
Knapp's Castle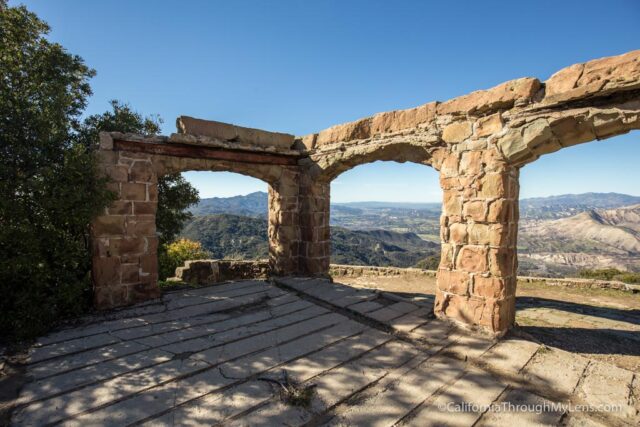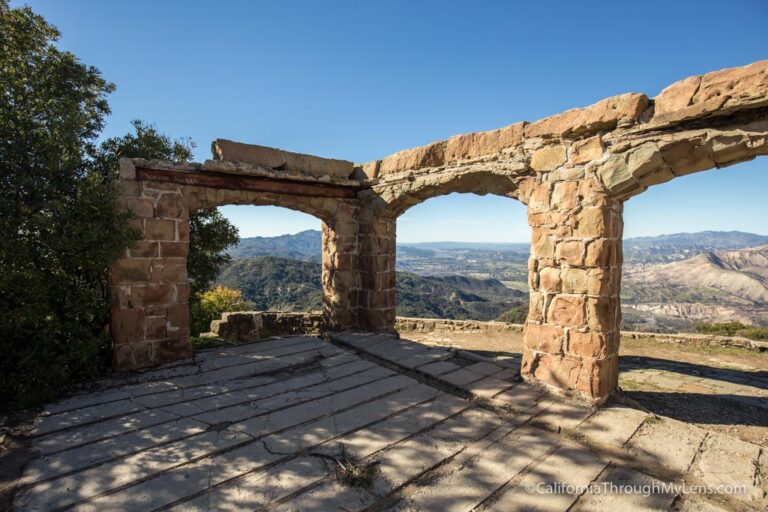 In the hills above Santa Barbara, Knapps Castle sits in ruins of its former majestic self. This mansion burned down in 1945, but what is remaining can still be hiked to and is a fantastic spot for photography.
One Thousand Steps Beach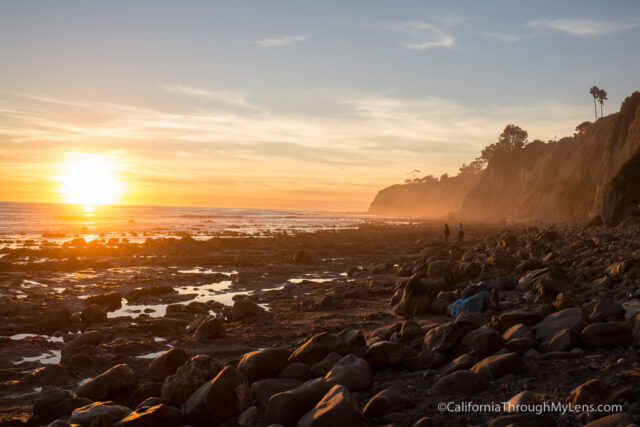 This beach is one of my favorite spots in Santa Barbara to watch the sunset. The horrible parking situation always makes it seem like a remote beach when you get to the bottom of the long staircase. It is a worthy adventure in the city.
Ventura County
Jolly Oyster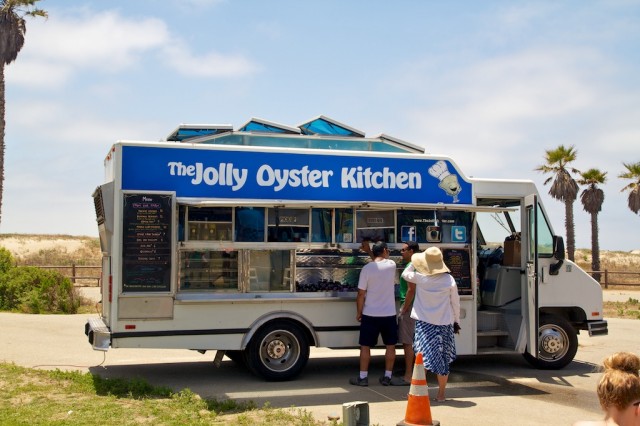 If you are getting hungry, why not bike up to this beach stand that sells fresh oysters? They are delicious, and I am a huge fan.
Santa Cruz Island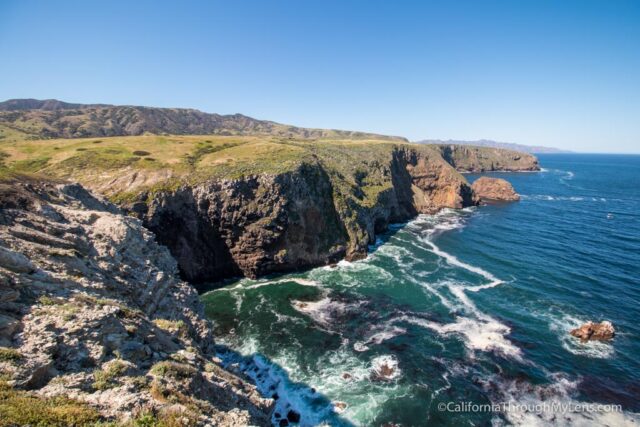 One of the most memorable adventures you can have in California is booking a trip over to Channel Islands National Park and taking the time to explore one of the many islands. Santa Cruz is the best for camping, and I have a ton of info on what to do if you click the above image.
San Luis Obispo County
Driving on the Beach in Pismo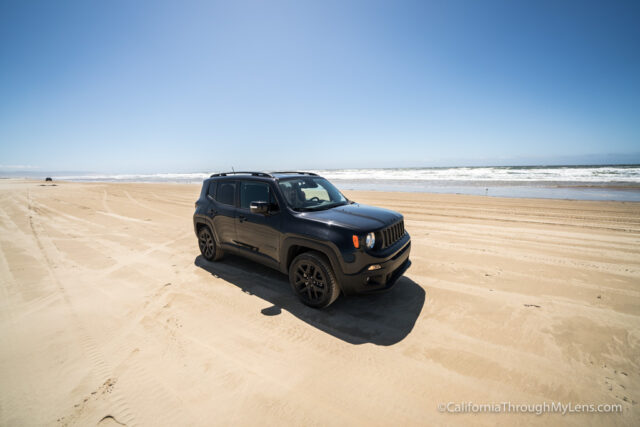 Driving on the sand is such a fun experience to have in California. One of the best spots to do it at is Pismo Beach. You can read all about it here.
Madonna Inn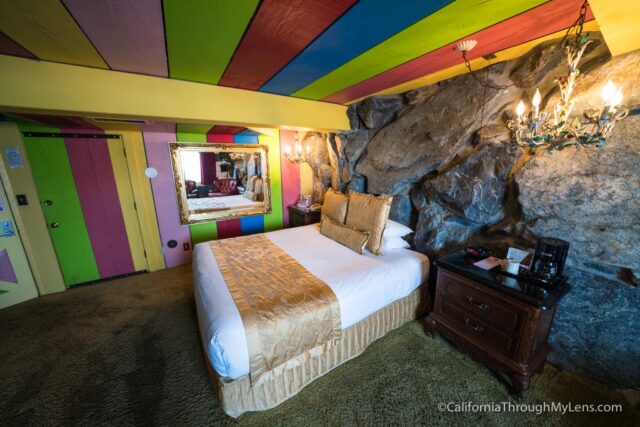 With no two rooms the same, a urinal fountain, and massive pieces of cake, there is a lot to love at this eclectic hotel.
Bubblegum Alley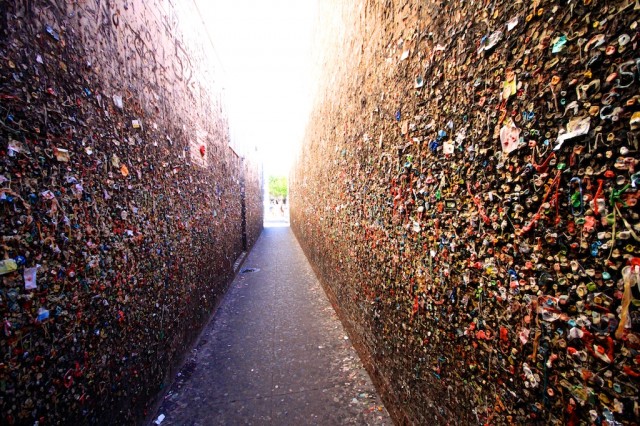 For decades this alley in San Luis Obispo has been collecting bubble gum from passersby. It is a unique place to leave your own chewed piece and to just marvel at the germs.
Monarch Butterfly Grove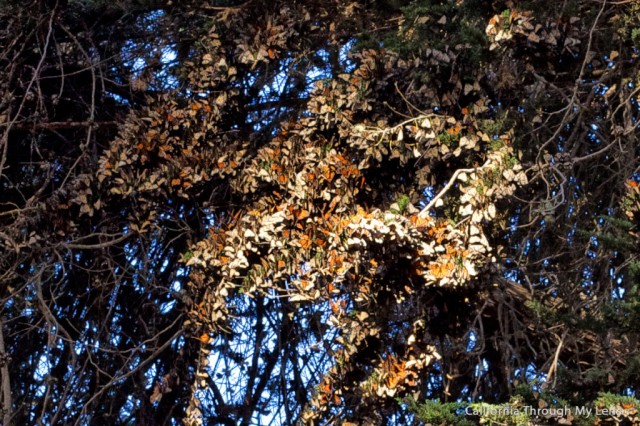 From December to January, this Pismo Beach monarch butterfly grove turns into a home for a massive amount of Monarchs. When I was there, it was estimated that 30,000 butterflies were as well.
Sea Lions in Port San Luis (stairs down to them are closed)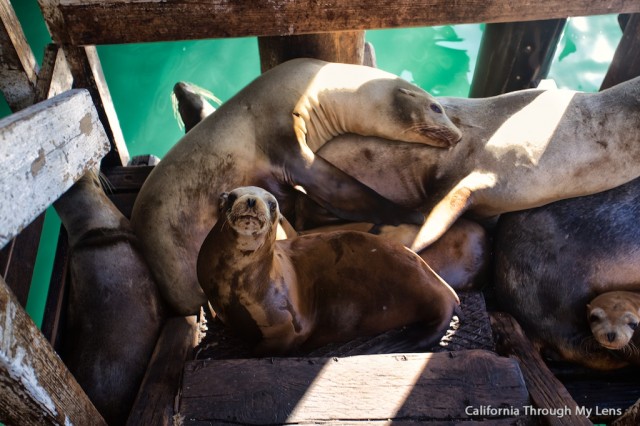 In Avila, right near Pismo Beach, you can get up close and personal with sea lions. This small staircase right at the end of the pier will get you as close as you want to be, but be careful they bite.
Nitt Witt Ridge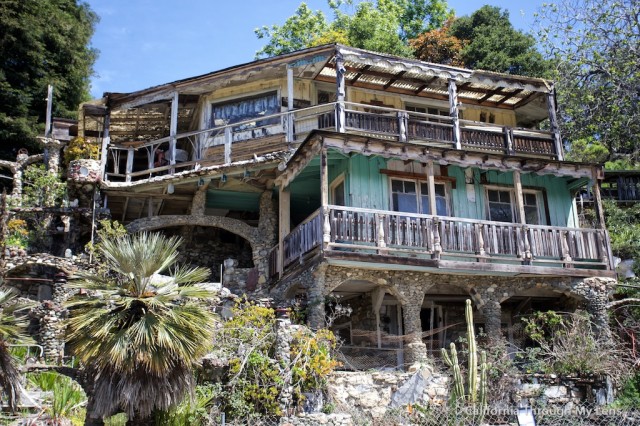 The Hearst Castle of trash is a fun adventure off Pacific Coast Highway that you can tour multiple times a day. It is exceptionally eclectic — making it perfect for this list.
Luffa Farm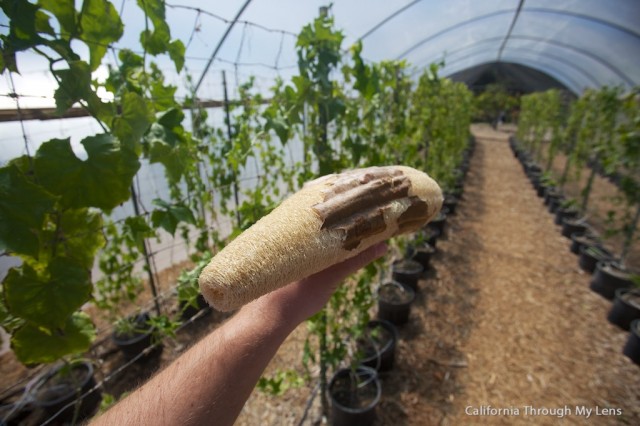 Learn about how this overlooked vegetable is grown and harvested on an actual luffa farm. You can even buy and take one home, making this a fun and unique spot.
Kern County
Tule Elk Reserve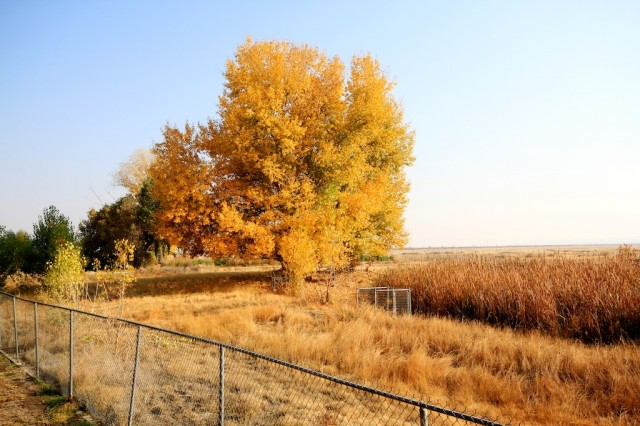 This gets added to the list just because I went to see the elk and simply saw nothing and no one, so I thought it was a pretty strange experience.
The Cat House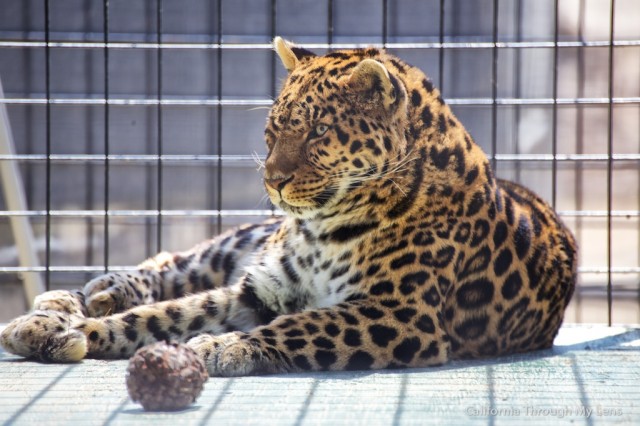 This rehabilitation center for cats is an amazing place to see these animals up close.
So there you have it, my massive list. I will be adding more often and would love to hear your suggestions in the comments. Browse Northern California spots here.