Pacific Coast Highway: Where to Stop on Your Road Trip
Pacific Coast Highway is easily one of the best drives in the entire world. With tons of beautiful coastal views, two of the most famous cities in the country, some of the best seafood you have ever had and plenty to see along the way, it is a drive you have to experience once in your life. I have driven the entirety of Pacific Coast Highway (PCH) in California three times and many individual sections countless times. One of the questions I am most often asked is, "What is the best place to stop along Pacific Coast Highway?" This question is difficult to answer as PCH is different every time I drive it and depending on how much time you have, you can stop at 20 places or 200 along the way. This post was designed to help you plan and get excited for your own Pacific Coast Highway road trip. I have included a guide for taking a seven-day journey on PCH, a detailed history of the highway, and my recommendations for food and hotels below. Plus, I did the drive again in 2022 with my dad and made a 2 hour video on the entire route which you can watch as well. Hopefully, this helps when you plan your trip, and don't forget to let me know what places I have missed in the comments.
Pacific Coast Highway 7 Day Road Trip Video
In June of 2022, I set out to drive all of Pacific Coast Highway with my dad over 7 days. I documented all of the stops along the way in a 2 hour video I made for my YouTube Channel. You can watch it below if you want to see how we explored Pacific Coast Highway.
24 Best Pacific Coast Highway (PCH) Stops
Here are my twenty five favorite stops on PCH from south to north. Click on the image to learn more about the stop.
Pacific Coast Highway FAQ
How long is the Pacific Coast Highway?
Route 1, AKA Pacific Coast Highway, is 655 miles.
Where does it start and end?
The official start of Pacific Coast Highway is in Orange County in the city of Dana Point. The end is at the intersection of Highway 1 and Highway 101 in Leggett.
When is the best time to drive Pacific Coast Highway?
The best time to drive the Pacific Coast Highway is in the spring or fall. If you're traveling during summer, prepare for high temperatures and heavy traffic on the road.
How long should I plan for a Pacific Coast Highway road trip?
Since the drive is about 650 miles long and it takes most people 4-5 days to do it depending on how much sightseeing they do along the way. It's not recommended to attempt it all at once because there are so many beautiful spots along the way that deserve more than a passing glance and you cannot drive fast on many of the narrow roads, so it takes longer than you would think. I recommend 7 days if you have it, but 4-5 days will allow you to see a lot as well.
How is the drive?
Driving along the PCH in certain sections like Big Sur is like driving on a roller coaster — there are lots of curves, narrow lanes and steep drop-offs. While most of this highway is two lane roads with limited shoulders and relatively straight, there are also few sections where it becomes four lane divided highways such as between Santa Barbara and San Luis Obispo, which allows drivers who want faster speeds access to passing lanes if needed.
Is it easy to follow?
Outside of the Los Angeles portion, which can be a little tough to navigate, the route is pretty straightforward and easy to follow.
What are the best sections of Pacific Coast Highway?
For me, here are the best sections from South to North
Laguna Beach: The region is known for its breathtaking beaches and some of the best Southern Califronia beaches can be found here.
Santa Barbara: An amazing California coastal town with great food, shopping and activities.
Big Sur: This is the quintessential PCH experience with some of the most stunning coastal views you will ever see.
Point Reyes / Tomales Bay: If you have the time to visit Point Reyes Seashore, do it. It has one of the most beautiful lighthouses on the drive and miles a hiking trails.
Mendocino: This small town has some of the best coastal views in the Northern California section.
Pacific Coast Highway (PCH) Road Trip Day Guides
If you are interested in driving the 600+ miles that makes up Pacific Coast Highway, then check out how I broke down each of my 7 days below. These day itineraries are designed to give you an example of how you can do the drive but you may want to do less or more spots each day than I did.
Continue the Journey (Oregon and Washington)
Interested in continuing up to the Oregon state line or even all the way up to Seattle? Check out these other posts I wrote to help make the most of your journey along the coast of both Oregon and Washington.
Pacific Coast Highway eBook
I created this ebook after my 2022 Pacific Coast Highway Road Trip. In the ebook it has FAQ, some of my top spots, a suggested itinerary and a link to the map with all of my stops on it. If you are interested, you can purchase it below.
Map of Pacific Coast Highway (PCH) Stops
The above ebook has a link to the map I created with all of the stops that I did on my last trip. It is a great resources for planning your trip along PCH since the stops are already added to the map for you.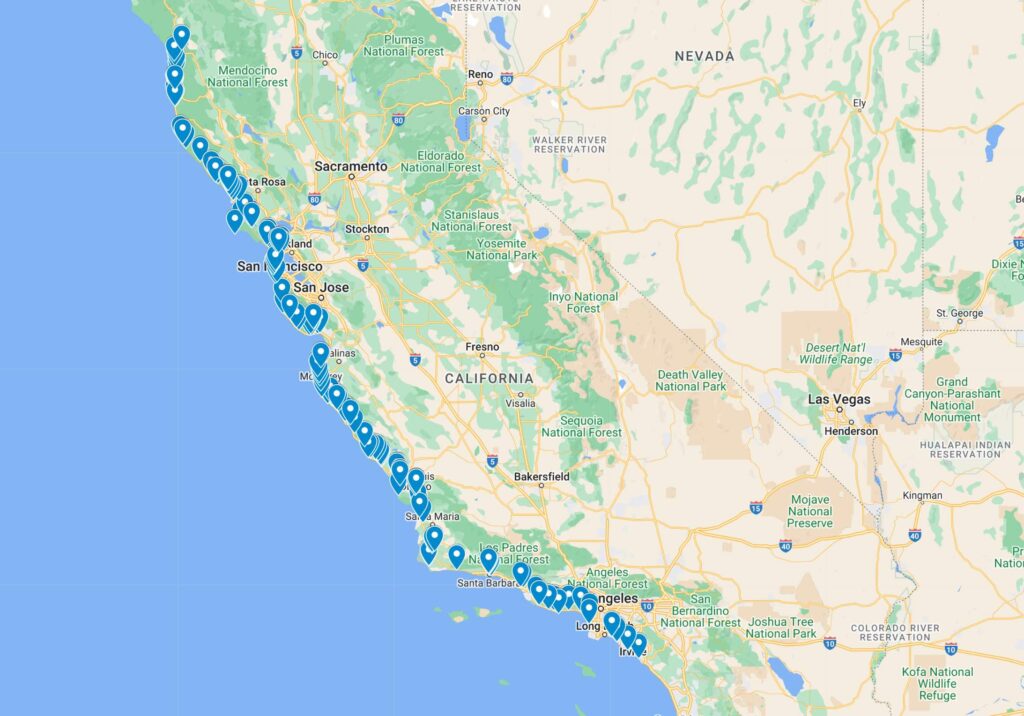 Food on Pacific Coast Highway
Here are a few of my favorite places for food on Pacific Coast Highway.
The Crab Cooker in Newport – Fresh shrimp cocktails and seafood. Review here
Schooner or Later in Long Beach- A great stop for breakfast, get there early as the wait can be long. Order "The Mess". Review here
Neptune's Net in Malibu – Seafood sampler and tacos with optional frozen yogurt after. Review here
Spencer Makenzie's in Ventura – You must have the Ahi Pockets, you simple must.
Johnny's Tacos in Ventura – Awesome deep fried crispy tacos at this tiny Mexican place.
Tupelo Junction in Santa Barbara – Amazing stop for breakfast, I recommend the Crab Cakes or Pumpkin Waffle. Review here
Santa Barbara Seafood Company in Santa Barbara– The onion rings are to die for, as are the oyster shots and great Cioppino, right on the pier. Review here
McConnell's Ice Cream in Santa Barbara – A must stop in Santa Barbara, try the Churros Con Chocolate and the Salted Carmel.
Splash Cafe in Pismo Beach and San Luis Obispo– Simply my favorite place for clam chowder, it is amazing. They have locations in Pismo Beach and San Luis Obispo. Review here
Black Cat Bistro in Cambria- Very high-end dinner spot, but amazing food if you are a foodie like me. Order anything with scallops. Review here
Linns Bakery in Cambria – You must go here for the Olallieberry pie, it is fantastic and not a fruit you see often.
Old Fish Grotto in Monterey – Great restaurant on the pier with fantastic clam chowder. Review here
LouLou's Griddle in the Middle in Monterey – Pancakes bigger than your plate. It's an amazing breakfast spot. Review here
The Little Chihuahua in San Francisco – Try the fried plantain burrito for something totally unique. Open late. Review here
Brenda's Soul Food in San Francisco – One of my favorite places in all of California, try the shrimp and grits and the crawfish beignets. Review here
Mama's in San Francisco – Another amazing breakfast spot, but you have to get there early it is small and gets so packed. Get the Eggs Benedict. Review here.
Hog Island Oyster Company – Fresh Oyster right out of the water, pretty much the only way to eat them. Review here.
Where to Stay on Pacific Coast Highway
This is not a definitive list of where to stay but here are some of the great state parks you can camp in (arranged from South to North) and hotels at the end.
Camping
Hotels
Here are my suggestions. I have either stayed at all of these myself or they have been recommended to me by people I trust. These links are affiliate links so if this post was helpful, consider booking a hotel through one of these links.
History of Pacific Coast Highway
Construction of the Pacific Coast Highway, California State Highway 1, started in the 1920's as a planned 1,400-mile link between the Mexican and Canadian borders. The road now runs nearly continuously from San Juan Capistrano in Orange County in the south to United States Highway 101 near Leggett in Mendocino County in the north.
The highway might not exist today had a single determined Malibu landowner prevailed in her long struggle to enjoin Los Angeles County from starting it. Since at least the 1890s, a primitive carriage road had run the rocky coast north from Santa Monica only to end at a barrier at her property line. A formidable opponent, in 1906 she forced the Southern Pacific Railroad to run its tracks around rather than through Malibu to reach Santa Barbara.
In 1907 when the county proposed to extend the coastal road through Malibu, she challenged the county's exercise of eminent domain and stalled it for years. The court in 1923 finally awarded title of the Malibu right of way to the government and $107,289 to the tenacious challenger as compensation.
Construction of California Highway 1 was piecemeal; the first part completed was the central segment that passes through Big Sur. This is probably the most famous for its scenery. Authorized in 1919 by a state bond measure and constructed over 18 years with some labor from San Quentin prison inmates (paid 35 cents per day), it opened in 1937. Although popular for its scenic beauty, the Big Sur segment can be hazardous. Landslides and erosion have caused several closures for repairs.
The rugged terrain of the 100-mile Big Sur segment of California Highway 1 between Carmel and San Simeon required construction of 32 bridges. The first, small timber structure over Salmon Creek about 19 miles north of San Simeon opened in 1928. The Bixby Bridge about 13 miles south of Carmel, completed in 1932, was the most difficult to build. Its deck, 356 feet long and 260 feet high, rests on two concrete abutments fastened to sheer cliff walls at a point 140 feet above the ground. The National Register of Historic Places lists seven concrete arch bridges between Point Sur and Carmel.
In 1925, construction began to extend Route 60 between San Juan Capistrano and Oxnard farther north to Ventura. At Point Mugu, the construction cut a path through the coastal mountains, creating Mugu Rock in the process. Then, in 1931, work on Route 56 progressed south from Cambria to San Luis Obispo.
A 1933 expansion of the state highway system extended Route 56 southward from Pismo Beach through Guadalupe and Lompoc to Las Cruces and northward along the coast from Carmel through Santa Cruz to San Francisco. Part of this segment between Pacifica and Daly City suffered major earthquake damage in March 1957 and unfortunately became unusable.
Several segments north of San Francisco completed the Pacific Coast Highway: one from the Golden Gate to Valley Ford in Sonoma County, a second from Jenner to Westport in Mendocino County, and a third from Westport northeast to Leggett, where California Highway 1 now joins United States Highway 101.
The Pacific Coast Highway and its segments have had numerous names and numbers. The Big Sur segment was initially the Carmel–San Simeon Highway or Route 56. The Highway 1 designation first appeared locally in 1939. After construction and joinder of all segments, the official designation of California Highway 1 followed in 1964.
Route 56 along Big Sur became California's first state scenic highway in 1965. In 1966, Lady Bird Johnson led an official ceremony at Bixby Bridge as the federal government designated the California Highway 1 as an All-American Road.
Make sure to leave a comment with your favorite spot below.