Pfeiffer Beach in Big Sur: Purple Sand, Sea Caves & Dog Friendly
After visiting the McWay Waterfall in Julia Burns State Park, I was looking over some pictures of Big Sur I had pulled up on my phone and noticed Keyhole Arch, the large rock that is a staple of Pfeiffer State Beach. I did some research and figured out how to get to this park, which is not well signed. Getting there is part of the adventure, though, and when you do, you will be greeted by one of my favorite spots in Big Sur. Here is all the information.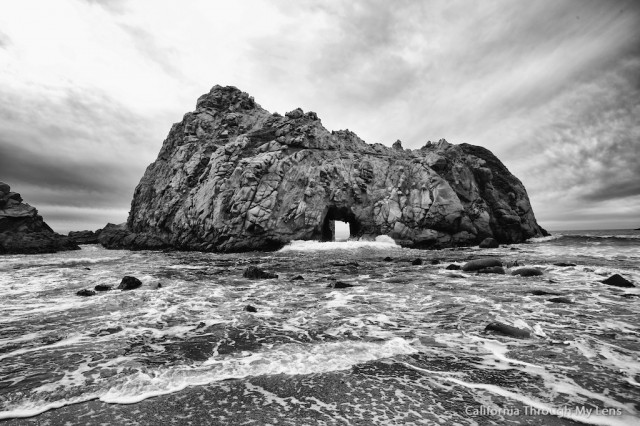 Details
Beach can be hard to find, but if heading south, it is the second road after Pfeiffer State Park on the right
$10 to park
Purple sand is best after rains
Dog-friendly
Location: I would recommend looking it up in Google Maps (before you get to Big Sur where there is no reception).
Video
Here is a video I made of my third trip here.
Having seen no real signs or roads, we pulled into Pfeiffer State Park and asked them where the beach was located. They said it was about a mile and a half back the way we came down a one-lane road. The road was less than two miles to drive, but it wasn't paved for most of it, and it made for a good twenty-minute drive. When we arrived, it was 5 dollars for parking, but since the lot was so small, we had to wait for people to exit before we were able to come in. The ranger told me this is especially true during the summer. We sat for about 20 minutes and were lucky enough to have a couple of cars exit at once so we could head in.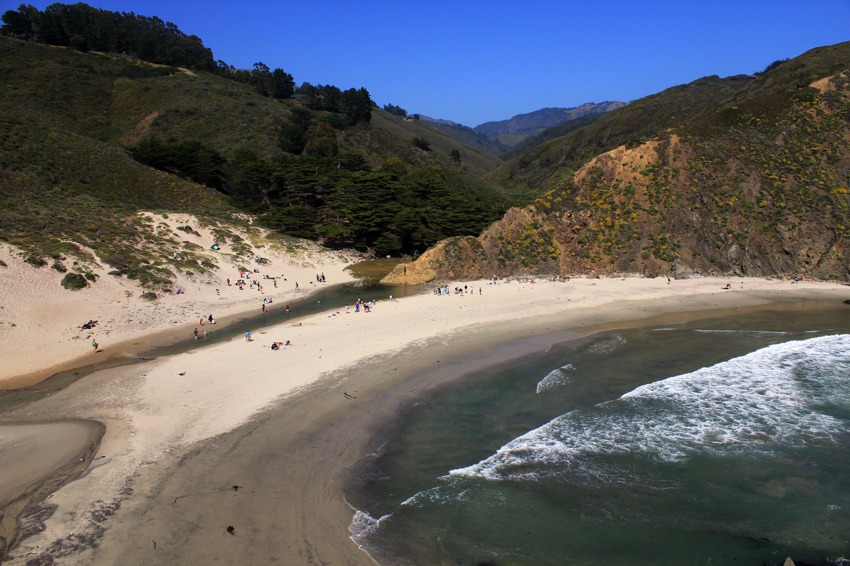 After parking, you walk through a densely covered area of trees before arriving at the opening to the beach (the middle area in the above photo).
Almost immediately, you are greeted with the fantastic views and sheer beauty of Pfeiffer State Beach. There were a good amount of people at the beach, but it wasn't crowded like a Southern California beach, and I'm sure the lack of parking helps with that.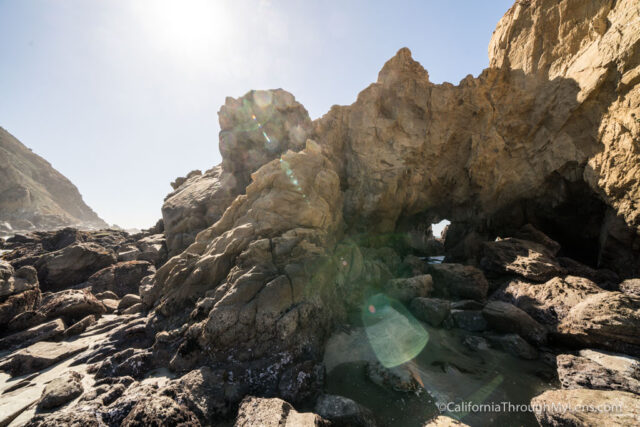 Once inside, you will see the Keyhole Arch on the right, and another considerable rock sitting in the cove on the left that you are allowed to climb on. I walked around for a while and took a lot of pictures of the arch.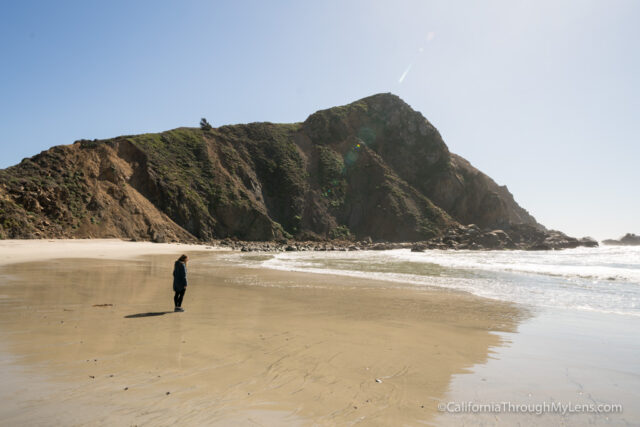 After walking around, we decided to scale the big rock that is right in the middle of the park. It was not too difficult, but many people were having trouble getting down as they were not in any shape for scrambling up the rock. Make sure you at least have shoes if you plan to do this. Once you make it to the top of the cliff, there are many beautiful views of the coastline and the rest of the beach. Also, there are many different flowers and rock formations.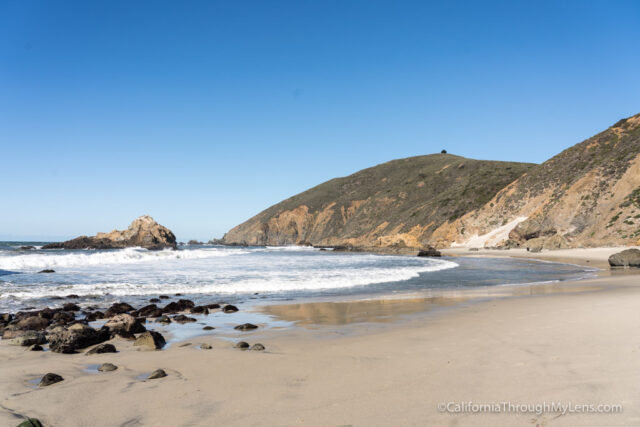 It was windy when we were up there, which was dangerous as you can quickly lose your footing, but all in all, it is a pretty fun rock to climb. After exploring for a while, we headed down and watched the waves through the little sea cave.
Purple Sand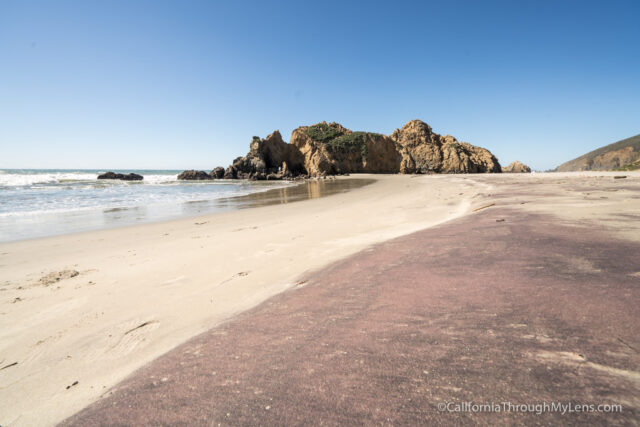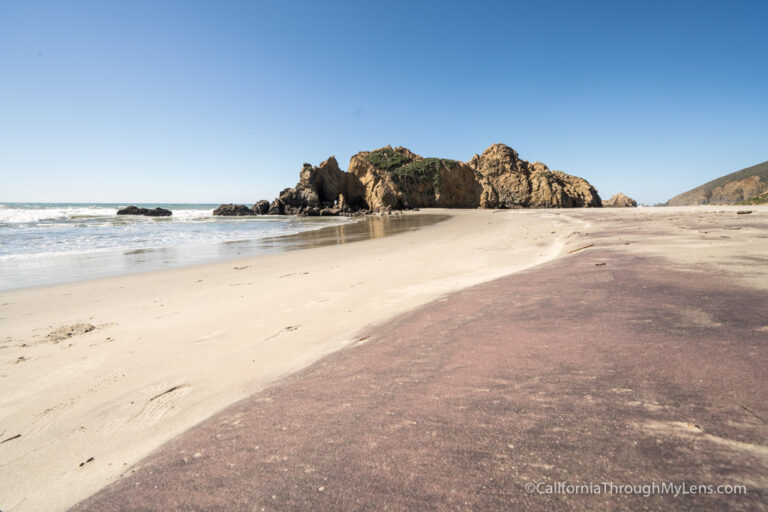 This beach is also home to amazing purple sand (washing down from the rocks above). You will not be able to see it every time you go, but after rain, there is a good chance you will see the below view.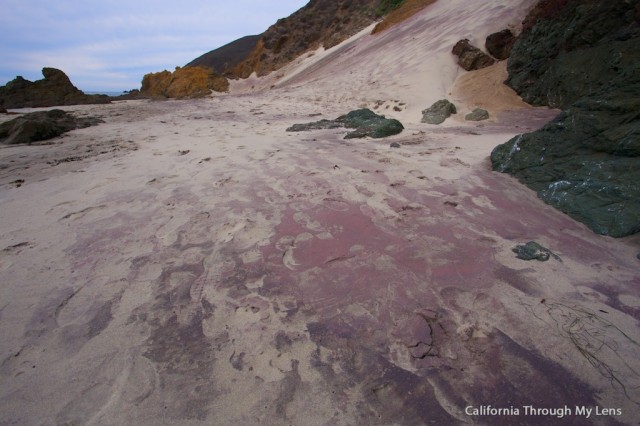 All in all, this beach is one of my favorites in California. It is away from the crowds, has an element of adventure and has the beautiful purple sand, what more could you ask for? If you are driving north on Highway 1, make sure to look for the turnout on your left, right before Pfeiffer State Park (not the Julia Burns one, there are two). Oh, and feel free to bring your dog too.
Let me know if you have been there before and enjoyed it as I did; you can also check out more of my favorite Big Sur spots here.