Los Angeles to Las Vegas Road Trip Guide (25+ Stops on the Drive)
The long stretch of road between LA and Vegas is basically a rite of passage for many a 21-year-old Californian. It takes about four and a half hours (if you go the speed limit), and many believe it is just a desolate desert with nothing to do. While a lot of travelers simply want the drive to be fast, there is actually a lot to do on the way if you have the time to explore. Use this post to make your next drive more of an adventure and less of a race. These stops are in order of the trip starting from Los Angeles.
Road Trip Details
270 miles

one way

4.5 hours at normal speed

but 8-9+ with all of these stops
Be sure to research the operating hours of any of the places you want to visit
How to get to Las Vegas from Los Angeles + Scenic Route Options
The fastest way to drive the route from LA to Las Vegas is to take Highway 10 to Highway 15 and then stay on that all the way to Las Vegas. This is the quickest route and it is mostly a four lane (two lanes for each side) freeway the entire way there. You can see all of my favorite stops below but here are a few scenic routes you can add on to your drive.
Scenic Route Ideas
Route 66 from Victorville to Barstow – Adds 10 miles and around 20 minutes of drive time
Mojave National Preserve – Adds 50 miles and at least 1.5 hours
Seven Magic Mountains – Adds 1 mile and 7 minutes of drive time
Top California stops on the drive from LA to Las Vegas
Since most people like to get out of the city before they make their first stop, this post purposely starts at the top of the Cajon Pass. Here begins your adventure.
The Mormon Rocks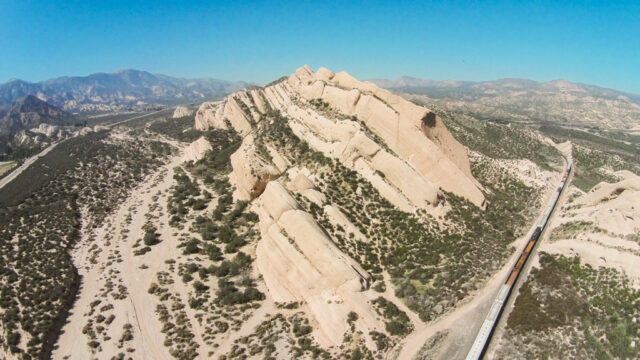 Right off the freeway as you approach the top of the pass, these rocks will immediately catch your eye because of their size. You don't have to travel very far off the road to see them because they dot the landscape for miles. The main visitor center and the walking area are about 5 minutes off the freeway, and the one-mile loop gives you a lot of great views of the massive sandstone giants.
Details
The trail begins at the Mormon Rocks Fire Station located on Highway 138 just west of Interstate 15.
Route 66 from Victorville to Barstow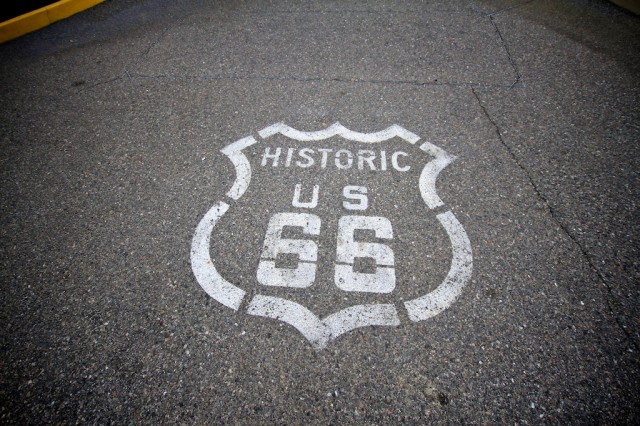 If you have time, I suggest you get off on exit 153a near D Street and take old Route 66 up from Victorville to Barstow. On this drive, you will see old diners, my favorite antique shop, and the most popular spot on the drive, the Bottletree Ranch.
Stop Examples:
Emma Jean Hollands Burgers
Mohawk Gas Station
Antique Station
Bottle Tree Ranch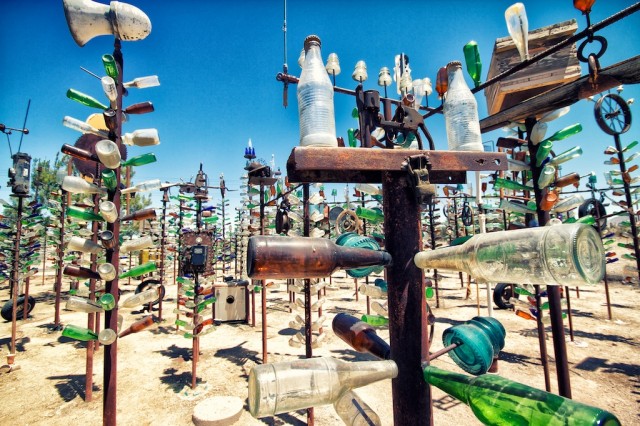 This ode to independent art is a beautiful and odd stop that you will not forget. Elmer's collection of metal trees full of old bottles and other vintage things is fun for a stroll or a photographic adventure. One of my favorite spots on the whole drive.
Details
Update 2021: I went by and it was not open. It is still really cool from the outside but I am not sure what the current status of this place is after the passing of Elmer.
Route 66 Museum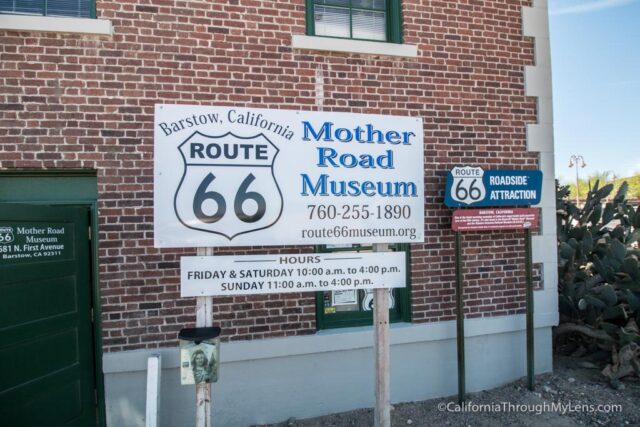 Located in the old train station in Barstow, the Route 66 Museum is a great stop when it is open (Usually Friday – Sunday, 10 AM – 4 PM). You can learn more about the historic route here, and there are lots of trains you can check out outside of the building as well.
Details
Location: 681 N 1st Ave, Barstow, CA 92311
Old Woman Meteorite (second largest in the USA)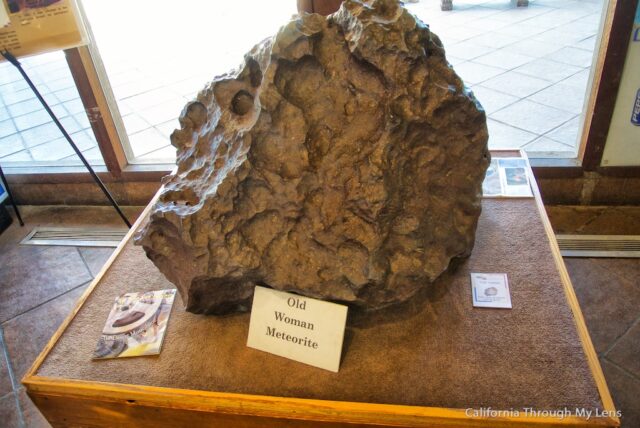 Within half a mile of each other, you have both the oldest meteorite in the USA and the original Del Taco. It will depend on your personality as to which you are more excited about, but you can always do both! I usually pick the meteorite and venture into the children's museum to see it. This stop will not take very long, but it's cool to see at least.
Meteorite – Inside the Desert Discovery Center in Barstow
Large Fireman's Helmet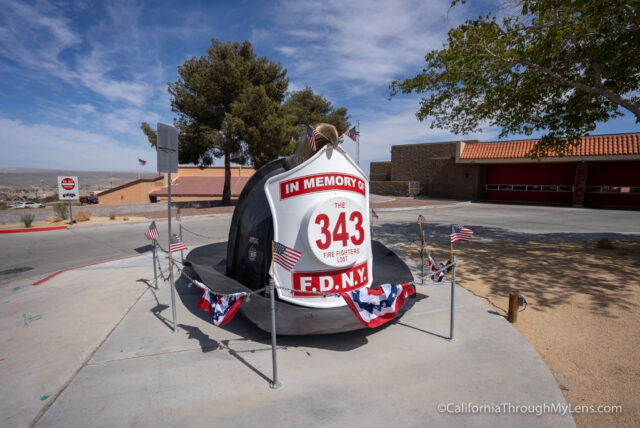 Right next to the Barstow Fire District Headquarters you can see this giant fire helmet. The helmet pays tribute to the firefighters that lost their lives on September 11, 2001.
Location: 861 Barstow Rd, Barstow, CA 92311
Scenic Drive Option
Mojave National Preserve
If you want to visit the Mojave National Preserve, you can take Highway 40 here and go towards the Kelso Dunes. Some stops you can see here are: Kelso Dunes, Kelso Depot, Lava Tube, & the Mojave Cross.
Note that it adds at least 2 hours onto your drive and that there is no gas or food in the preserve.
Eddieworld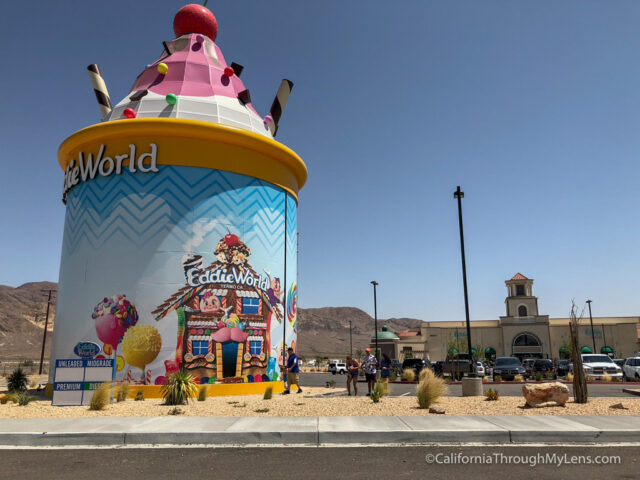 They call themselves the "Disneyland of gas stations," and it is easy to see why. This massive store has everything from ice cream and drinks to pizza and snacks. It is probably six times the size of a typical gas station. They also have a four-story ice cream sundae outside and a shrine to the Lakers basketball team inside. Be sure to make a quick stop there.
Location: 36017 Calico Rd, Yermo, CA 92398
Liberty Sculpture Park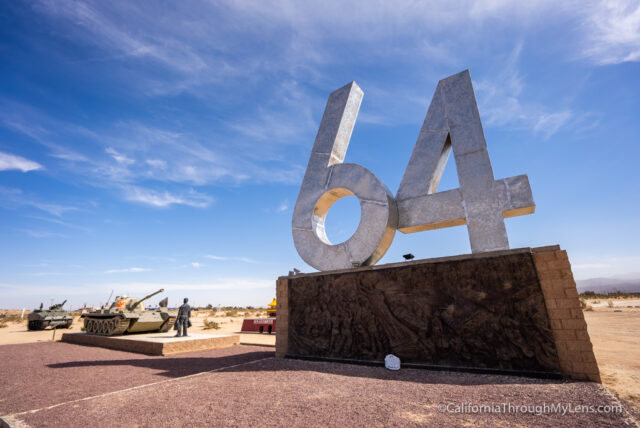 Liberty Sculpture Park is 15 acres right next to the freeway and Eddieworld in which sculptor Weiming Chen has made many different pieces condemning the oppression of communism in China. It is well worth your time to visit and to learn more about.
Location: 37570 Yermo Rd, Yermo, CA 92398
Calico Ghost Town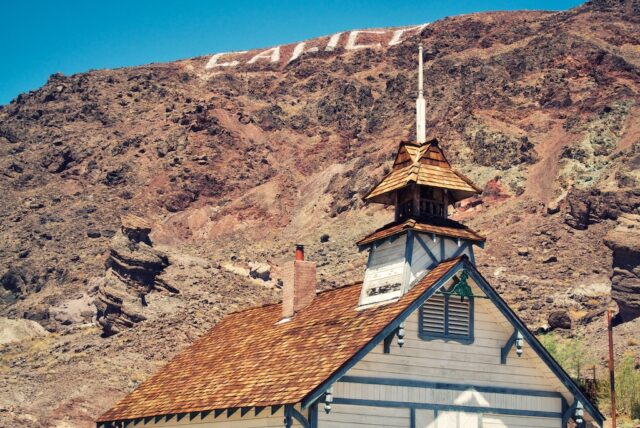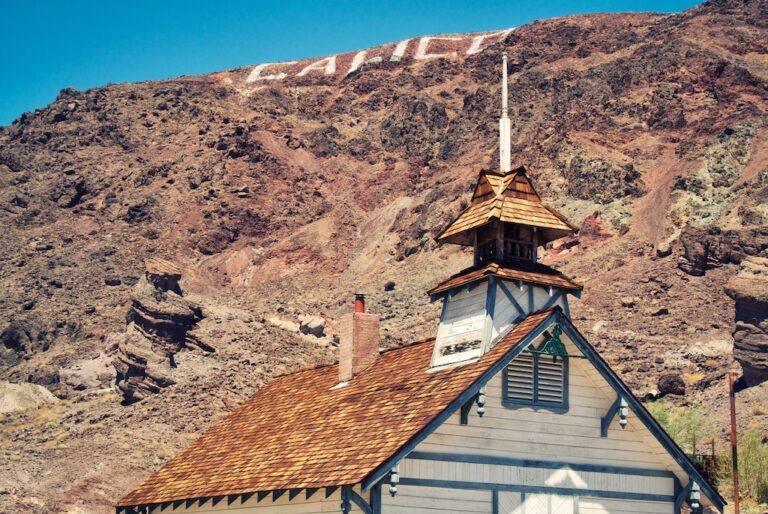 This commercial ghost town is not my favorite stop but is worth visiting at least once. There are a lot of great photo opportunities here, and lots of exploring for the whole family in this historic town. The highlight is a long mining tunnel you can walk through for a fee.
Location: 36600 Ghost Town Road, Yermo, CA 92398
Zzyzx Road
Everyone who has driven to Vegas has seen this road, but few actually get off on it. I got off to visit, and it is a pretty trippy place. You drive about 5 miles down half paved half dirt road, and there is an enormous dry salt lake bed and an old compound that has its own interesting history. This is a great stop once, but it is strange to be down there with literally no one else, so it may not be your thing. Update 2021: This area was closed and there was no update for when it would reopen.
Baker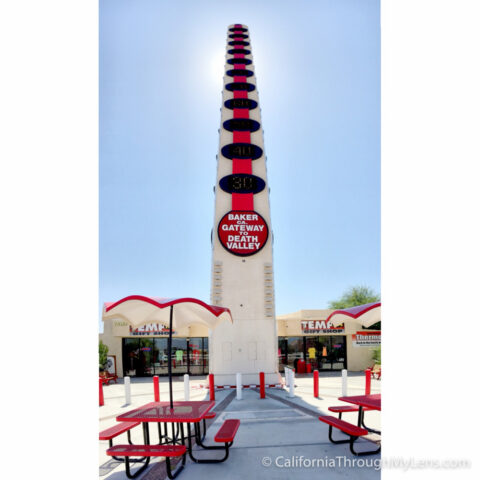 The town of Baker is a popular stop for gas, especially since there has been nothing for the last 60 miles of the drive. There are a lot of restaurants and fast food spots here. I recommend a strawberry shake from Mad Greek, Beef Jerky from Alien Jerky, and then a picture of the world's largest thermometer.
Scenic Drive Option
Death Valley National Park
If you have an extra day, you can head into Death Valley from Baker as well. I wouldn't recommend rushing it though, so if you don't have at least 24 hours, then go to the park at a different time. Here is a video I made on how to spend 24 hours in Death Valley.
Note that it adds at least 2-4 hours onto your drive and that there is no gas or food in the preserve.
Valley Wells Rest Stop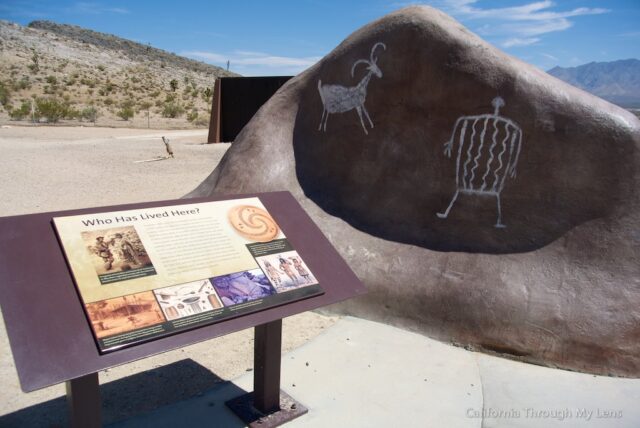 I know it is strange to call out a rest stop, but there isn't much left in California on this drive. This rest stop is nice because it has some history on the surrounding area and a "Welcome to California" sign.
Lotto Shop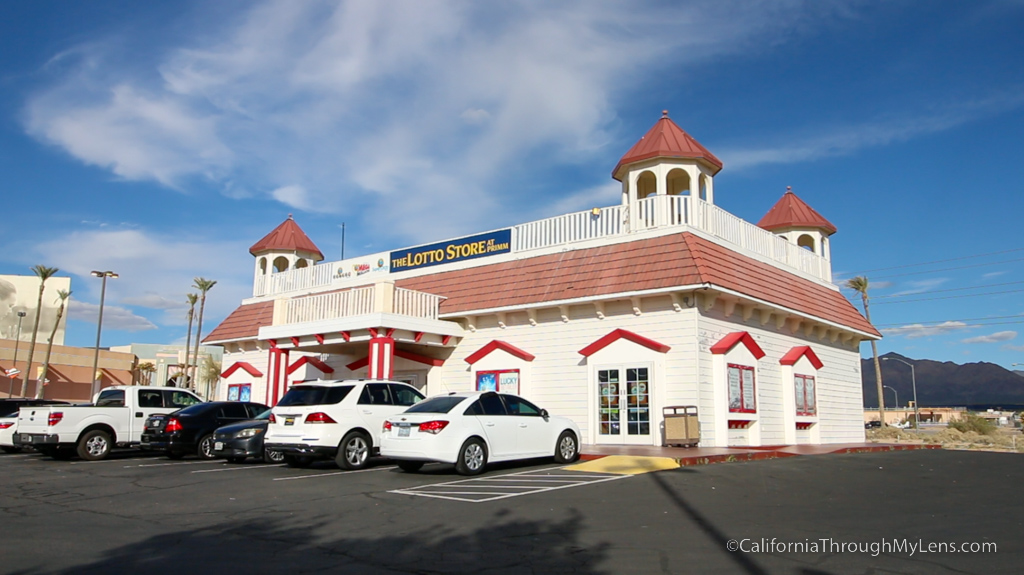 Literally, the last place you can stop on this drive (in California) is the lottery shop. This shop on the outskirt of Primm is a stone's throw from the border and was put in specifically on the California side for the Nevada residents to buy California lottery tickets when the pot is big. I have heard the lines can get pretty long, but I am not much of a lottery player, so I am not positive.
Top Nevada stops on the drive from LA to Las Vegas
Bonny Clyde Death Car – Buffalo Bills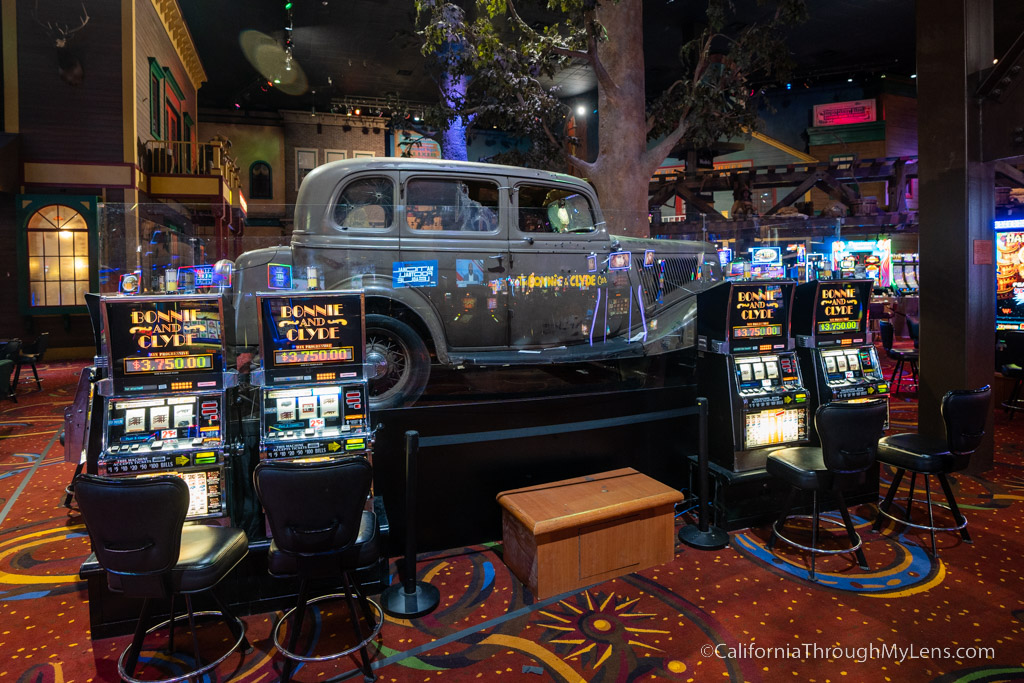 Inside Whiskey Pete's casino at Stateline is this exhibit dedicated to Bonny and Clyde, complete with the car they were shot in, which still has a bunch of bullet holes. Update 2023: The car is now at Buffalo Bills and no longer at Whiskey Petes.
Location: 31700 S Las Vegas Blvd, Primm, NV 89019
Largest Chevron in the World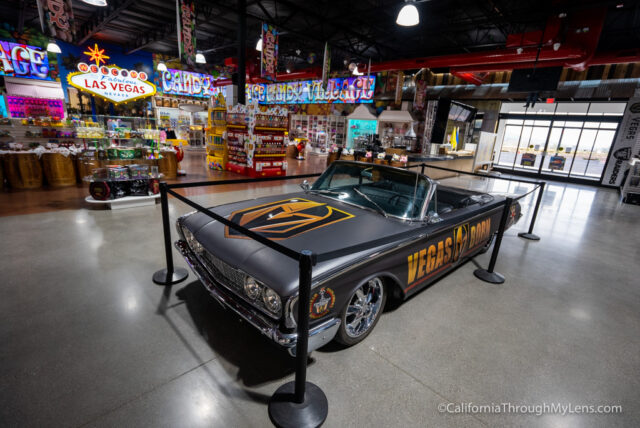 Located in Jean Nevada, this Chevron gas station is the world's largest. It is over 50,000 square feet and it has over 95 gas pumps. It is something you need to see when you are driving to Las Vegas and a good spot to get out and stretch your legs.
Location: 1 Goodsprings Rd, Jean, NV 89019
Pioneer Saloon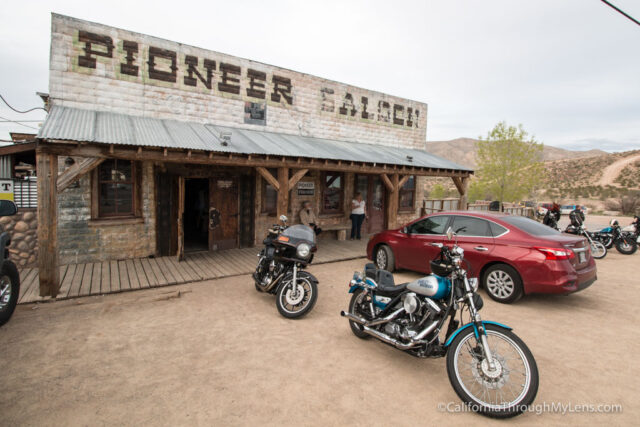 Pioneer Saloon is one of the oldest bars in Nevada (about 15 minutes off the freeway). Clark Gable and many other celebrities frequented it, and it is a good spot for food and drinks.
Location: 310 NV-161, Goodsprings, NV 89019
Seven Magic Mountains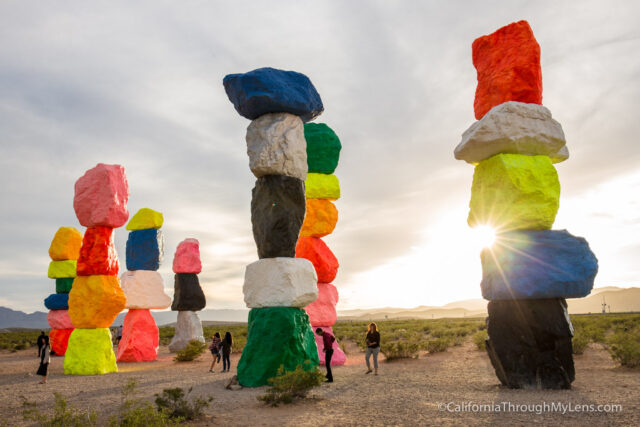 This art installation is one you have no doubt seen before on social media. It should be here until sometime in 2022, so be sure to check it out.
Top Food stops
Oldest Running Del Taco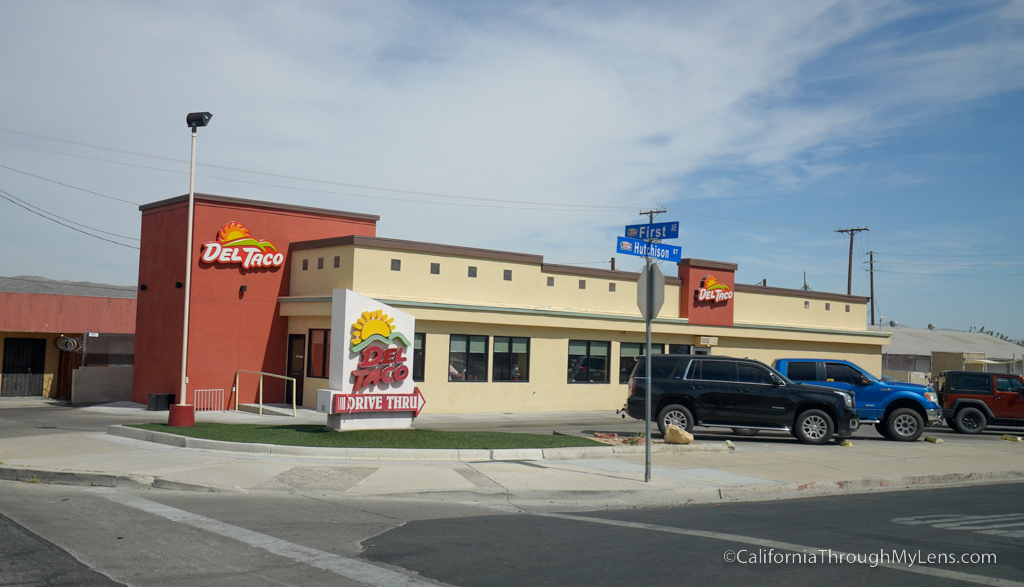 While this is not the original Del Taco location (more on that later), this is the longest-running Del Taco. They have items here that they don't sell anywhere else, like the Barstow Taco and Carrot Cake. Check it out if you are hungry.
Location: 401 N 1st Ave Barstow, CA 92311
Train Car McDonald's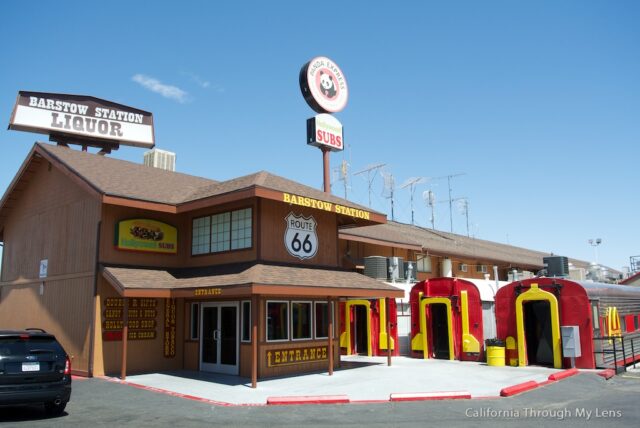 If the last two were not your thing, you could stop at the train car McDonalds, on the last exit in Barstow. This spot is on Route 66 as well, and it provides a fun stop for the whole family with lots to see and eat. Keep in mind that it is popular, so it's always packed on the weekends. Basically, it is an old railroad station that is now a series of stores and food options.
Location: 1611 E Main St Barstow, CA 92311
Peggy Sue Diner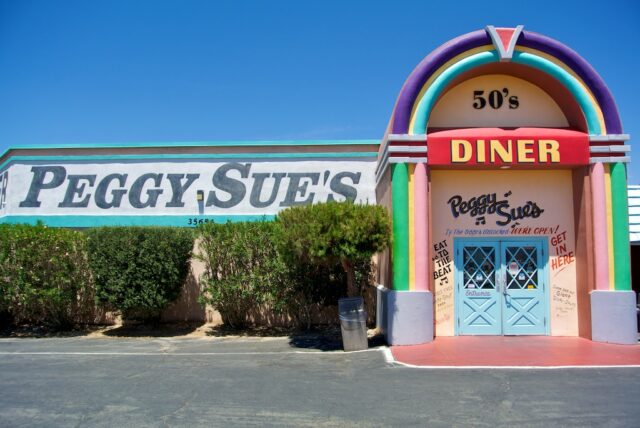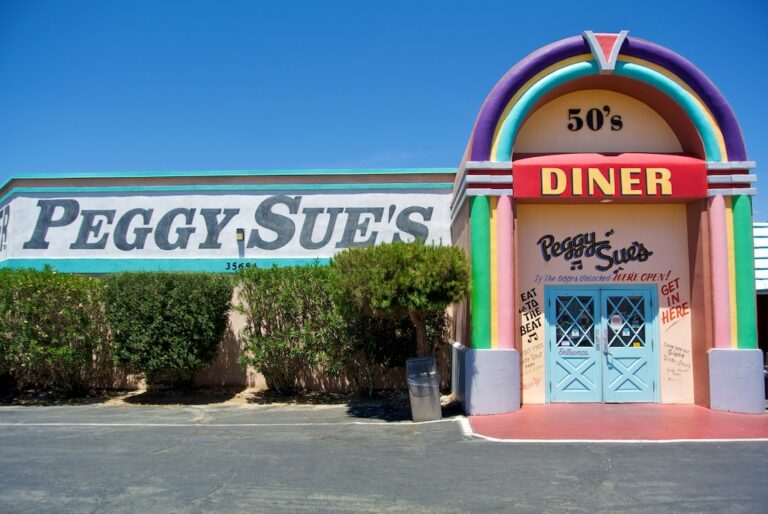 If you are looking for a place to eat, this is a great stop. They have all the food you would expect from a diner such as hamburgers and apple pie. When you finish eating, there is a large garden outside, complete with metal dinosaurs and a shop where you can buy 1950-60s memorabilia.
Location: 35654 Yermo Rd, Yermo, CA 92398
Mad Greek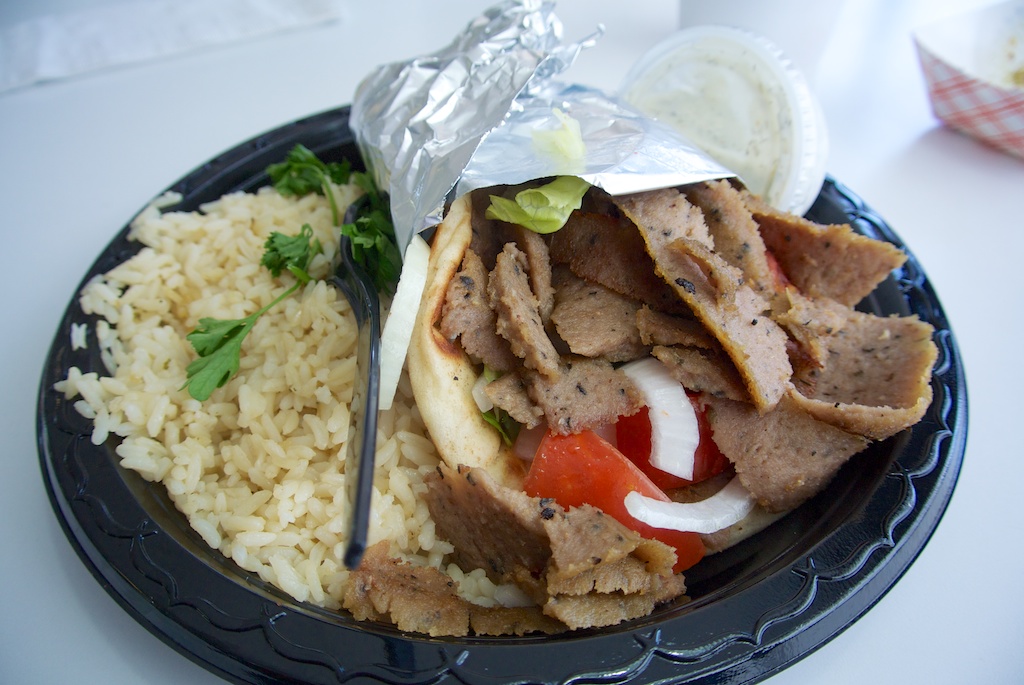 In the town of Baker, the Mad Greek is my favorite stop. This restaurant has awesome gyros and milkshakes, which is not what you would expect in the middle of the desert. Check it out and let me know what you think.
Location: 72112 Baker Blvd, Baker, CA 92309
Video's on the road trip
Here is a video I made on my most recent drive to Las Vegas in 2022.
Here is the original video I made in 2016. I recommend watching the updated one but feel free to watch this one to see how much my videos have changed!
Map of road trip stops
If you use Google Maps, you can check out all of my favorite stops right on the map by clicking the below image. Hope that helps make your road trip great!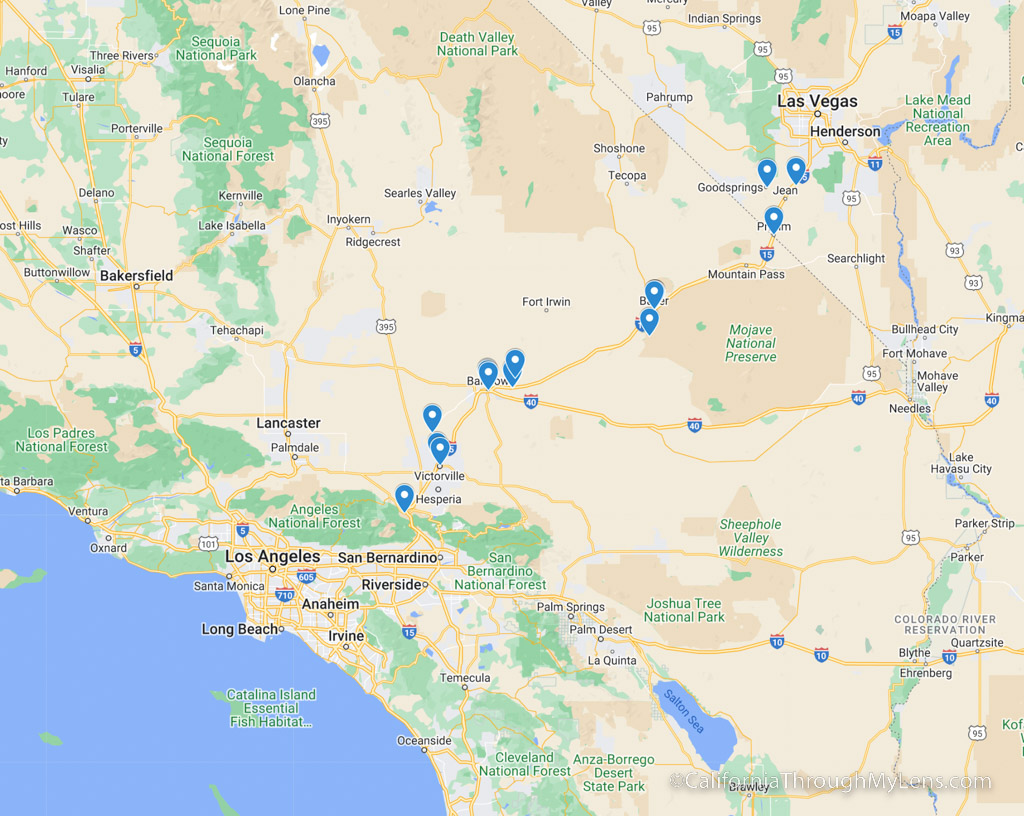 Great Stops Around Las Vegas + 14 Free Locations
For more spots to visit in and around Las Vegas, check out these recommendations and click the image to learn more.
25 Free Stops in Las Vegas
Here are some of my favorite spots in the Las Vegas area that are free to visit. Check them out and let me know if you have any more you recommend!
So there you have it, my list of stops on the drive to Vegas. Hopefully, this helps you have more of an adventure on your next trip, and at least if you lose all your money when you are there, you can see something fun on the way home. Feel free to comment on anything I left off below.