Pygmy Forest of Mini Trees in Van Damme State Park
Have you ever wanted to see a forest of 100-year-old trees less than a few feet tall? If you have, then you must check out the Pygmy Forest in Van Damme State Park. This coastal gem is a 1/4 mile, wheelchair-accessible platform that winds its way through the mini forest and gets you up close to these strange trees. It is an easy short hike off Pacific Coast Highway and is worth a stop, especially since these types of forests are relatively unique. Here is all the information.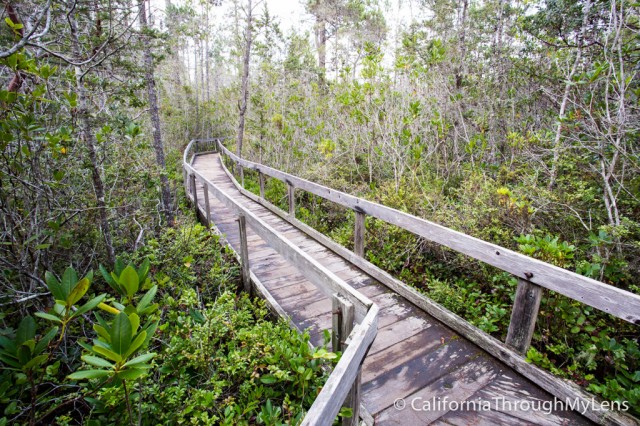 Details
1/4 mile
Wheelchair accessible
Does not require an entrance fee for the park
Address (Approx): 42500 Little River-Airport Rd, Little River, CA 95456
Information as of 2017
How to Get There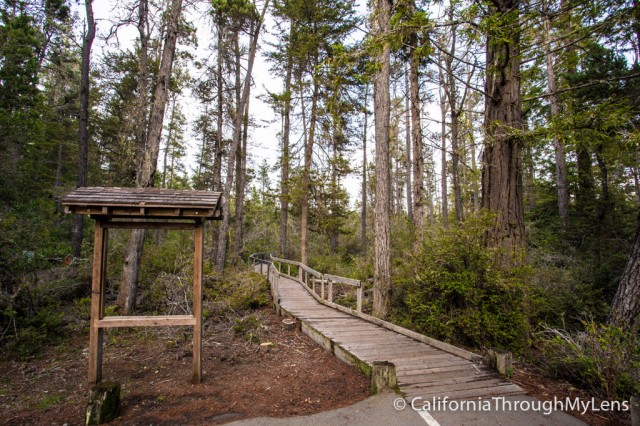 If you are looking for the short 1/4 mile trail, then you will want to turn right (if you were heading north) off Pacific Coast Highway onto Little River Airport Rd. After about 3 miles you will see a small sign that points you to a left hand turn into a small parking lot where you will meet up with the trail.
You can also access this trail by driving through the park itself and then parking where the road ends and walking 2.4 miles through Fern Canyon to the Pygmy Forest. I have not done that trail, so I cannot comment on if it is worth it, but it does make the hike about 6 miles round trip.
How the Forest Started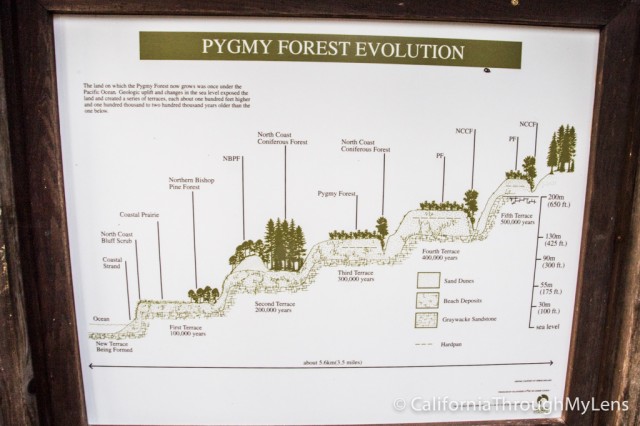 A pygmy forest is created through something known as an ecological staircase. It begins with the formation of a series of marine terraces that are created by a combination of uplift and changes in ocean level, creating a terrace, with each terrace older than the one below it and supporting a distinct association of soils, microbes, plants, and animals. Analyses of pygmy forest soils show low levels of macro and micronutrients, and high levels of exchangeable aluminum, which limits the ability of plants to grow. This creates a natural bonsai sort of effect for the plants in the area.
The Forest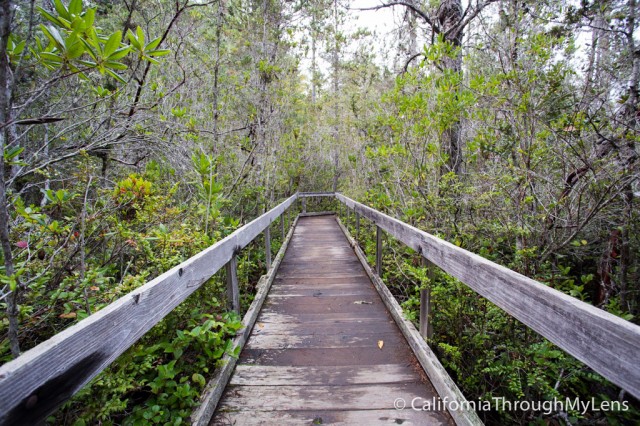 Even with all of that said above, if you are going into the forest thinking you will see a whole bunch of bonsai-like trees, you will be disappointed. This trail is beautiful, and I highly recommend it, but to the untrained eye like mine, I would not have known this was a pygmy forest if the sign hadn't of said it.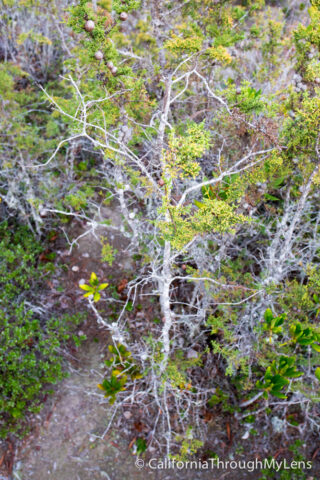 The trees in the area are small, but there are so many different types of plants to look at it is hard to know how old they are. I would have loved to go here with a ranger so I could get more information on the entire thing.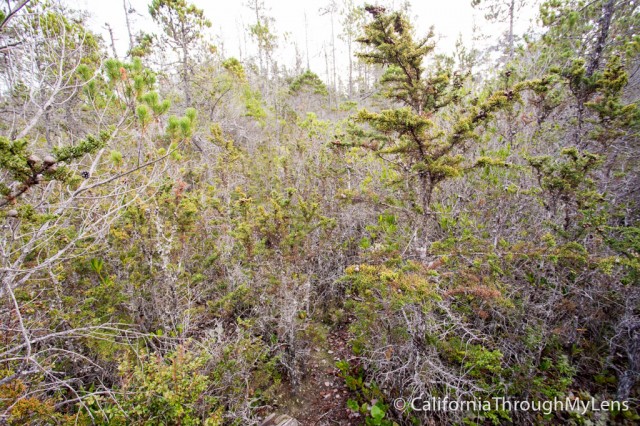 The trail is an elevated platform that creeps through the forest and allows you to see both the small and large plants from above. It is fantastic to see the redwoods in the park below and come up here to see almost nothing taller than 10 feet though.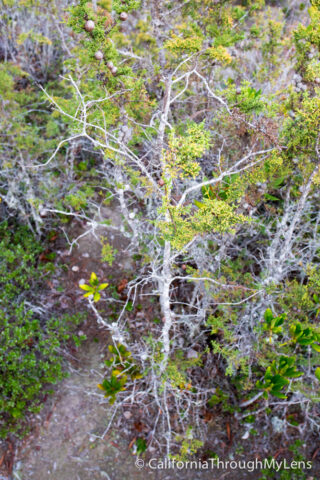 Along the way, the trail has lots of signs that tell you about the different types of plants you are looking at.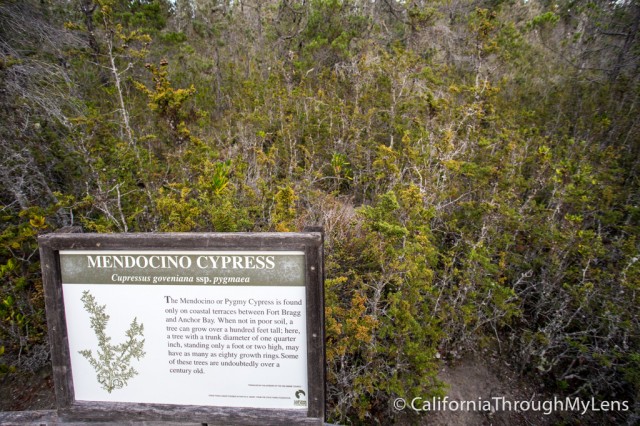 Also, as you wander through the woods, you will genuinely feel alone since the path is always bending around corners, and there were no other people where when we were.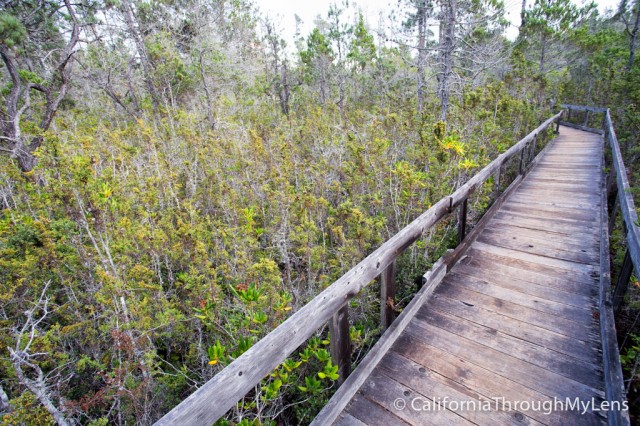 I did manage to see a tree that had been cut, and you can see the tree rings in the below picture.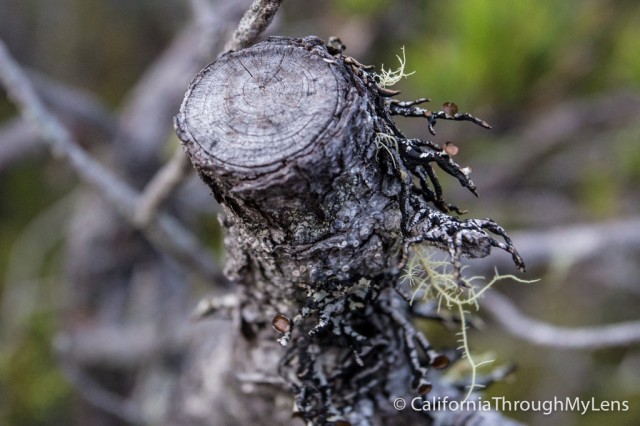 Here is Amie standing next to the tree to get a sense of size.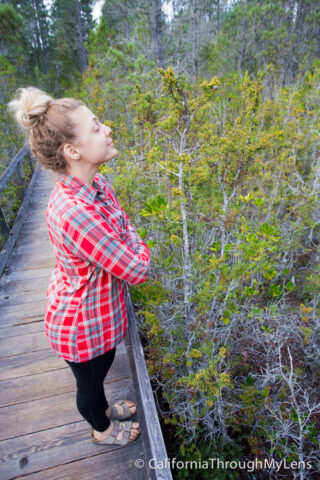 I really enjoyed this short and beautiful stop on our road trip, even if the small plants were lost on me. It is an excellent place for the whole family to explore and is a beautiful example of the non-redwood trees in the area. Feel free to leave a comment below and let me know if you have been to one of these forests.