Limekiln State Park and Limekiln Falls in Big Sur
I am continually shocked by how amazing the Big Sur coastline of California is. Every time I visit, I stumble on something new that takes my breath away, such as Partington Cove, and while Limekiln State Park is certainly not a hidden place, it is still not given the recognition it deserves. On my most recent trip up the coast, I set out to hike some of the trails and to visit the famous limekilns themselves. To Limekiln State Park may be one of the most beautiful parks in the Big Sur area.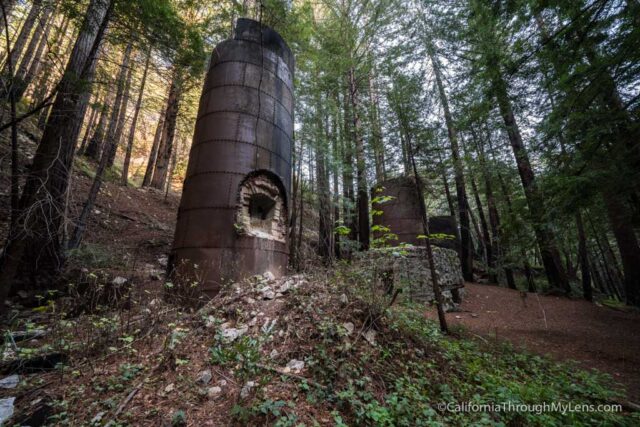 Details
Cost: $10 (as of 2018)
Hours: 8 AM to Sunset
Camping is available
Watch out for poison oak
Video
Here is a video I made on the park during my last visit.
The Park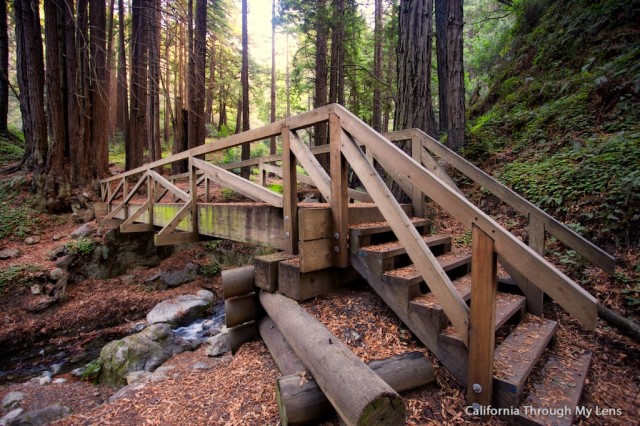 Established in 1994, this 710-acre park is home to redwoods, a beach, a waterfall, and four 100 foot tall lime kilns used in the late 1800s. It is shrouded in a beautiful and lush forest and often feels like you have been swept away into a dream world as you shuffle down the hiking trails along the forest floor. I was blown away by the history and beauty of the park, and when I was there on a Sunday afternoon, I was the only person in the parking lot. After paying the 10 dollar entry fee, I made my way to the trailhead to hike to both the limekilns and Limekiln Falls, but the first thing I passed was the campground.
Camping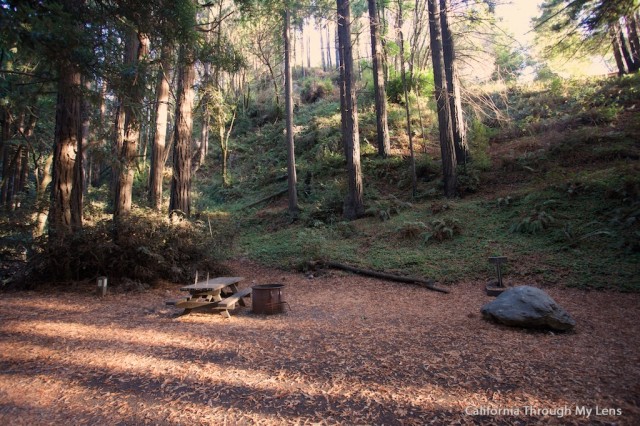 There are 24 campsites at this state park, and each of them is nestled up against the hills, under the shade of the massive redwoods. The sites are well-kept up and have fire rings, parking spots, and even a bathroom. At $35 a night, this is a great place to stay while in Big Sur, especially since it also has a beach within walking distance.
Limekiln Falls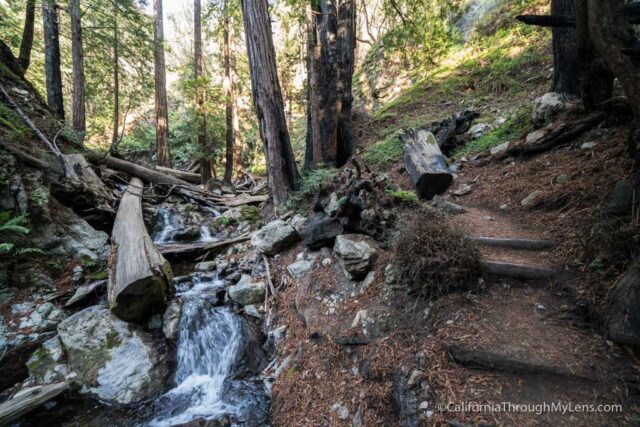 When heading out to the trailhead, you will quickly see a fork in the road. You will want to head left to visit both the falls and the kilns. About a quarter of a mile later, you will see another fork, and this time the right trail leads to the falls and the left to the kilns.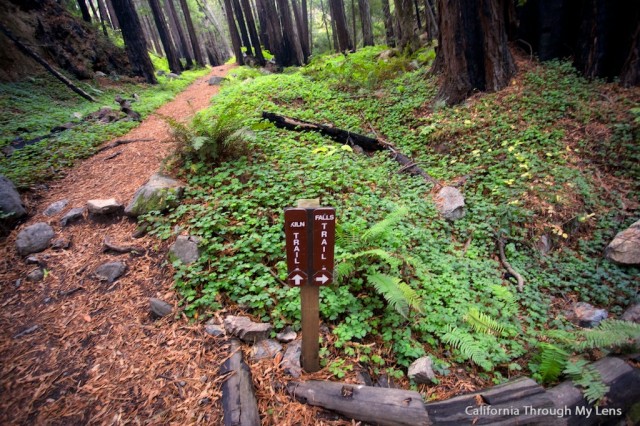 Heading to the left, you will cross a series of creek crossings on your way up to the stunning 100-foot Limekiln Falls.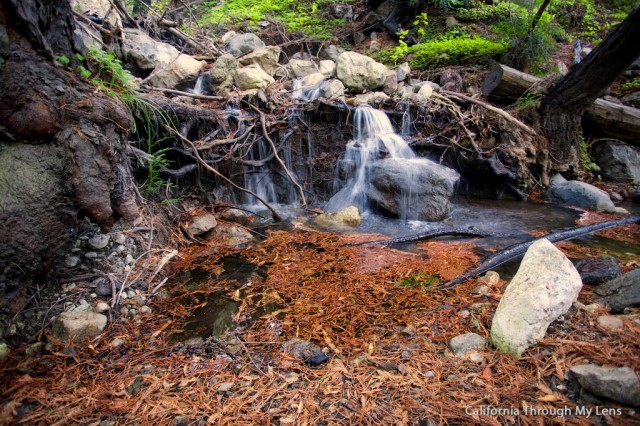 Even though the water was lower than usual when I was there, the falls were still majestic. They cascaded over the limestone rocks and debris of fallen trees on their way into the creek. You can scramble over some rocks to get a better view, but be careful as it can be slippery.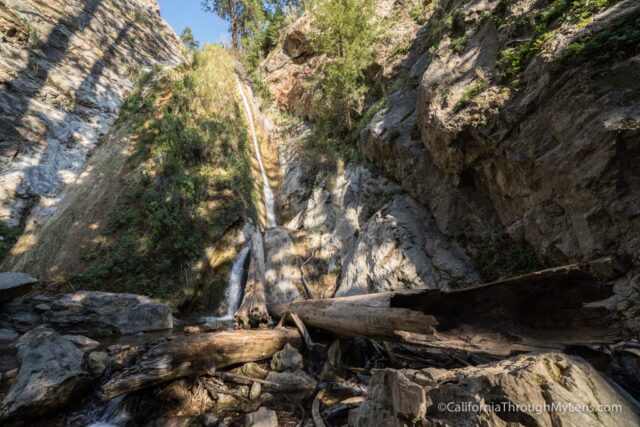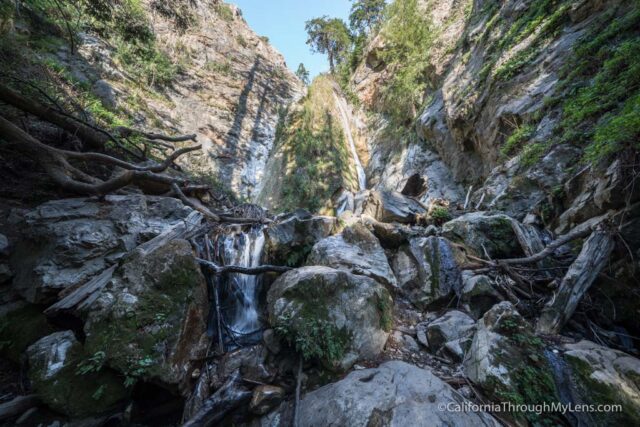 I took a lot of pictures of the waterfall before heading back to the kilns trail. I can't overstate how amazing it is to be surrounded by the flowing water and the lush greens.
Historic Limekilns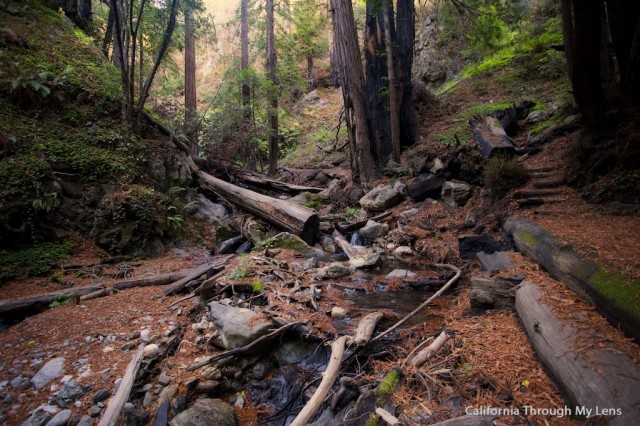 From 1887 to 1890, this area was a premier spot for harvesting limestone; because of that, Rockland Lime and Lumber Company built four massive 100-foot kilns that were used to heat and extract the lime. After only three years in use, Rockland had used all of the resources in the area (redwoods and limestone) to remove the lime and moved its operation elsewhere. Fast forward to the current day, and even though this park was scheduled for closure, you can still visit it and see the well maintained historic kilns.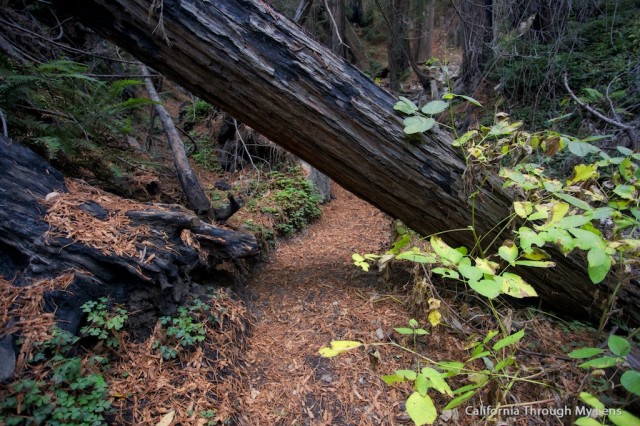 So after you arrive back at the fork in the trail, you will proceed along the second path for about another quarter-mile along another creek to the kilns above.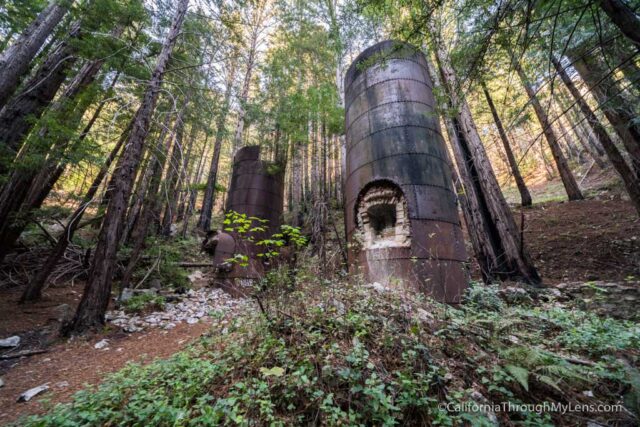 When you see them for the first time, you will be in awe of the size. I expected them to be much smaller and to also be in worse shape.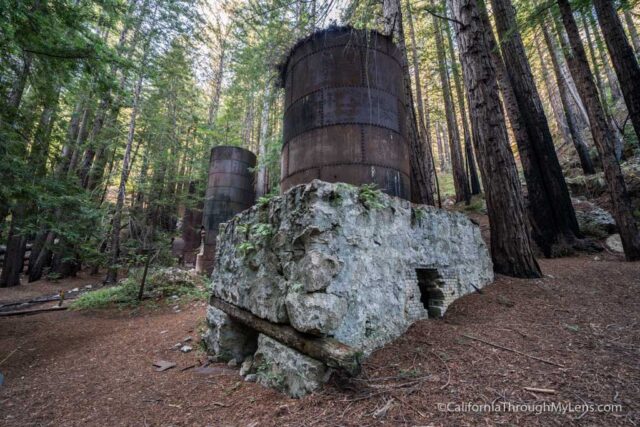 They were well maintained with only a small amount of graffiti and a couple of pieces falling off of them. The first thing I noticed was how unique it was to see these 100-year-old structures and how the plants and earth had grown up around them. It felt as if you were stepping into a place where humans hadn't been for decades.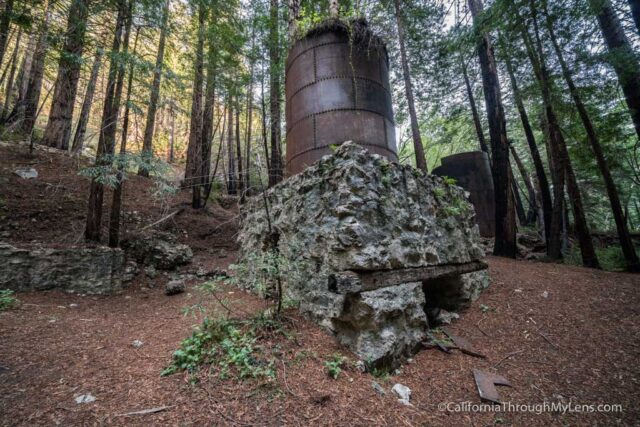 I loved just exploring and looking at all of them, a sort of urban decay against the beauty of nature. I took so many pictures I had to cut myself off.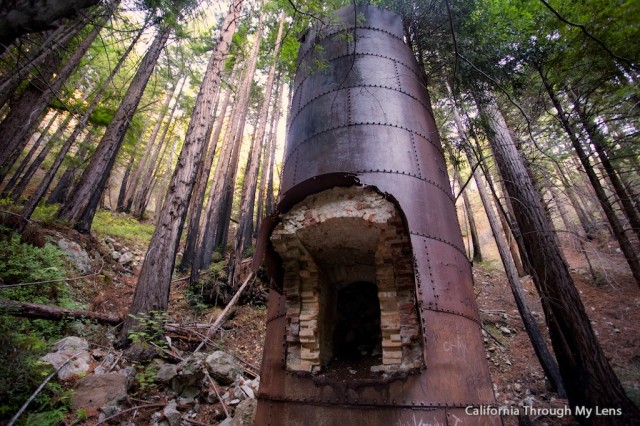 After seeing the kilns, you can head back and take some of the other small trails, or go under the bridge to see the pristine beach that is near the parking area.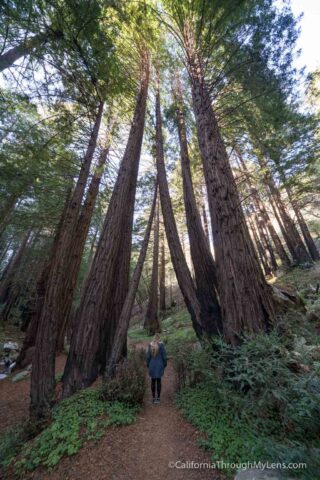 Always remember to look up when in this park as you don't want to miss views like this.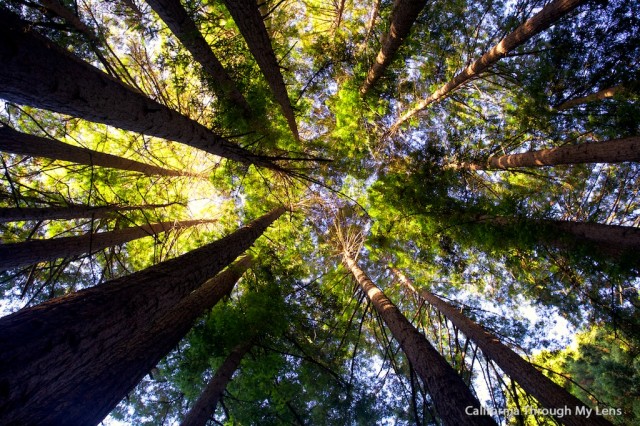 I know for myself I am glad this park escaped closure. I wish more people would visit it as it is such a fantastic place to hike and to see history. I would love to hear your comments below and make sure to add it to your list as well.