Swan Oyster Depot: 100 Years of Epic Seafood
When I walked by Swan Oyster Depot for the first time, I was amazed by two things, how small the place was and how many people were in line. It was a Friday afternoon at around 1:30 PM and there was about 50 people waiting for the 12 seats at this restaurant. I was immediately intrigued and when I asked the front of the line how long they had been waiting I was told "2 hours, but its worth it." After hearing that, I knew I needed to try it.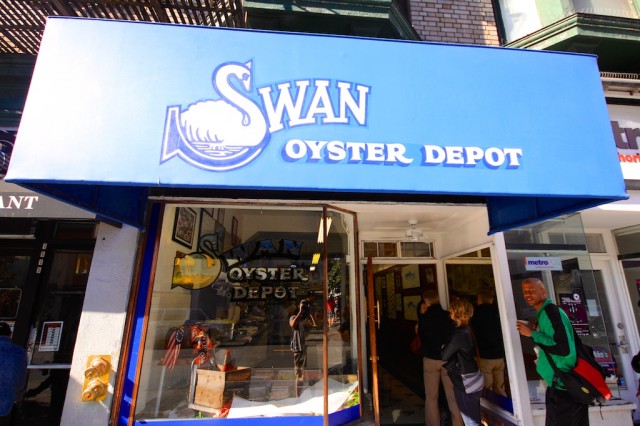 History
Swan Oyster Depot was opened in 1912, in its present location by four Danish brothers. Using horse-drawn carriage, the brothers delivered fresh seafood throughout San Francisco. They operated the business until 1946, when it was purchased by Sal Sancimino and cousins. In 1970, Sal's children took over the business and have made it into what it is today.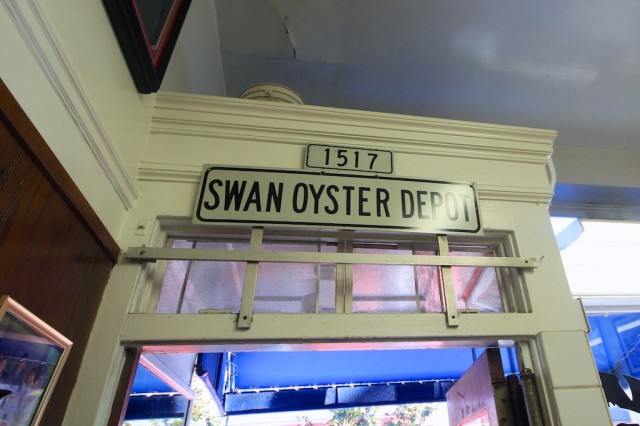 After a little research online I found that not only do people consider this one of the best seafood places in San Francisco, but many consider it one of the best in the United States.
The Line and the Best Times to Go
The next day we arrived around mid-afternoon to get a spot in line and wait for our lunch. With about 30 people in front of us, we sat in line for about 45 minutes without any movement other than people getting out of the line in front of us. I decided to do some research and found that if you want to go without a line, get there right before it opens at around 10:15 AM, so we jumped out of line and settled on coming the next morning.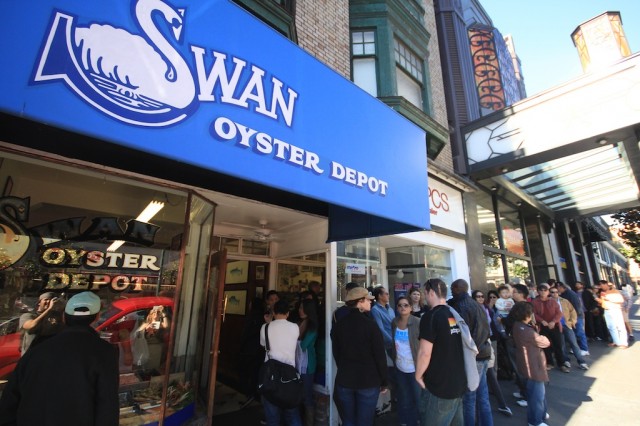 At 10:20 AM we arrived and there were only two people in front of us. 45 minutes later we were finally sitting down to eat. Now while this seems like a lot of work I assure you it is worth it and I recommend getting there early like we did to avoid the rush. By 10:45 AM only 15 minutes after it opened there was already 20 people in line. At least you can check out this amazing display of fish while you are waiting.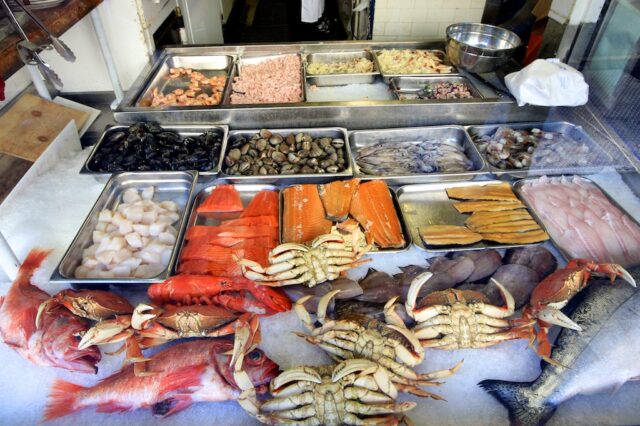 The Atmosphere
This small little restaurant has a lot of charm with the twelve bar stools and the six cooks working behind the counter. I like that it has never grown out of the old world style and loved having a meal in a little place with so much history.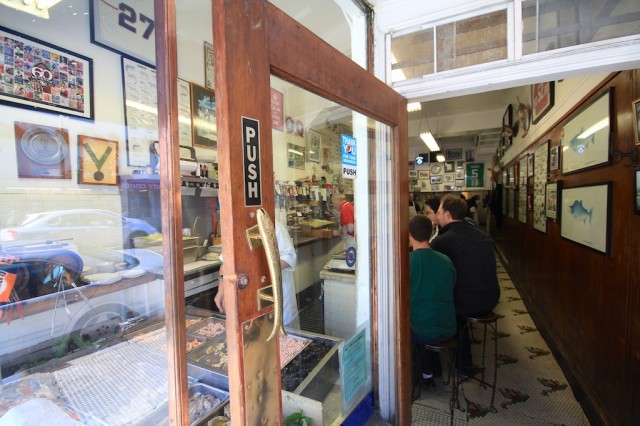 People were taking pictures and enjoying themselves up and down the bar with the onlookers in line just waiting for someone to leave. It also had a lot of old photos and souvenirs that no doubt showcased its rich history.
The Food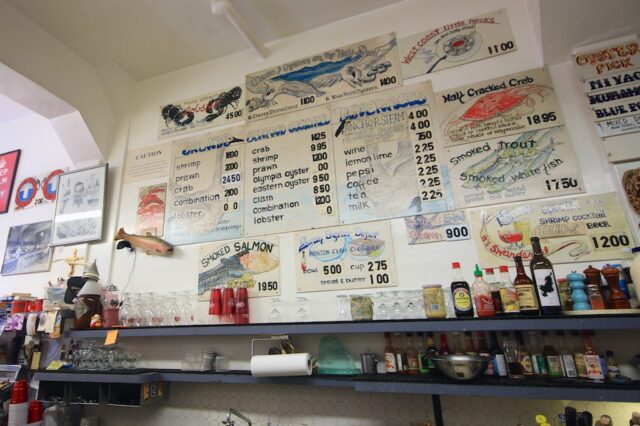 Here is an example of the menu that will greet you when you sit down. They have everything from seafood by the pound to shrimp cocktail and various salads. We opted for the crab salad, clam chowder, and the shrimp cocktail along with a pint of Anchor Steam (my favorite San Francisco brewery).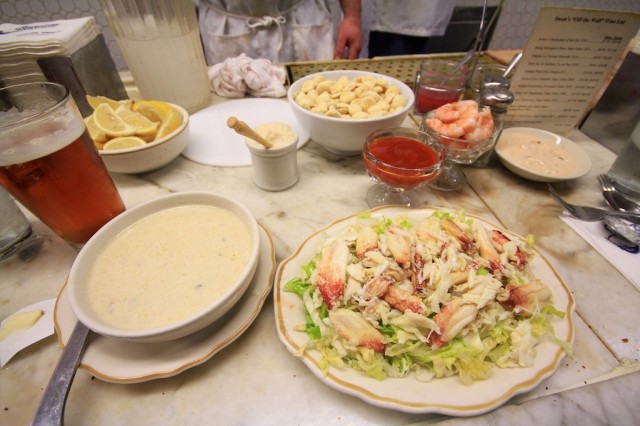 The seafood really was amazing. The salad was loaded with some of the best crab I have ever eaten and it was piled high. The shrimp cocktail had a plethora of shrimp and cocktail sauce and the clam chowder was light and flavorful. The standout for me here was the crab salad though.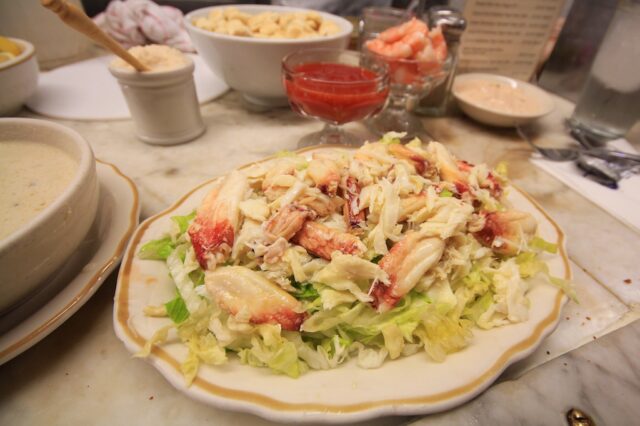 The other highlight was, believe it or not, the horseradish. I am a huge fan of spicy food and love putting horseradish on steak, but when it came out with my seafood, I was apprehensive. It is homemade though, and man was it good, I ended up putting it on everything.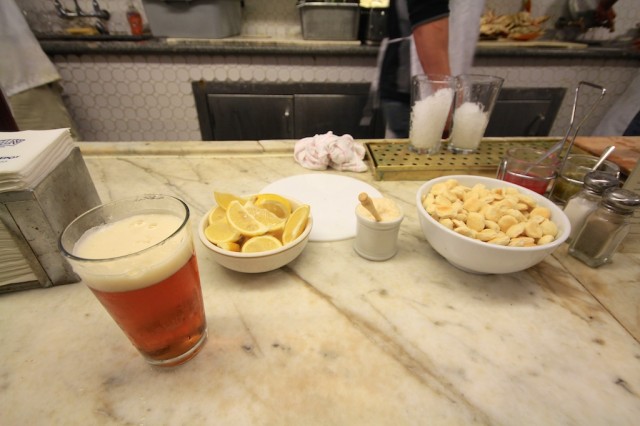 Swan Oyster Depot was a huge hit in my book. While I prefer the clam chowder of Splash Cafe, the seafood and the shrimp cocktail were some of the freshest and best-tasting fish I have ever had. I would have to agree that if seafood is your thing, then Swan Oyster Depot is worth the wait.
You can get directions below, and if you have a better seafood place you know of in California I would love to hear about it.