The Monterey Hotel in Historic Downtown Monterey
This room was provided free of charge; all opinions are my own.
The Monterey Hotel is situated right in downtown Monterey, a stone's throw from Fisherman's Wharf. It is a beautiful old Victorian building that is actually part of the Monterey Historic Park, and it was a great home base for two days of exploring both Monterey and the Big Sur coastline. Here is all the information about this hotel.
Details
Continental breakfast included
Parking offsite or valet for an added charge
Location:

407 Calle Principal

,

Monterey

,

California

93940
This information was from my visit in 2018
Getting There
Take Highway 1 towards Monterey and exit 401A for Aguajito Road. Turn left onto Aguajito and then left on Fremont St. You will continue onto Alvarado St, and the hotel will be on the left. There is no parking lot, so you must valet or park downtown.
The Hotel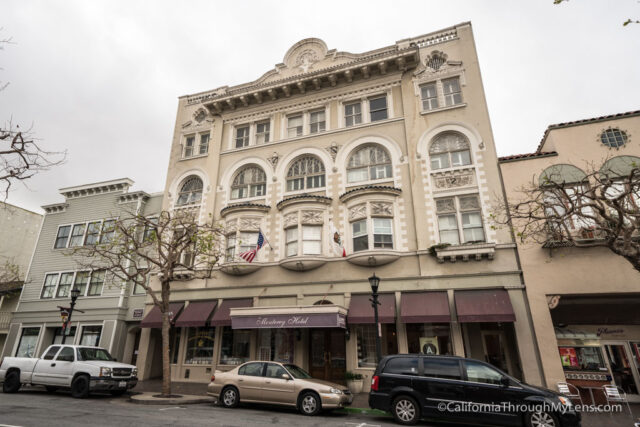 When I first saw this hotel while exploring the historic park, I loved the beautiful exterior with its Victorian charm. The inside retains that historic vibe, but with many of the modern amenities you have come to expect from upscale hotels like this.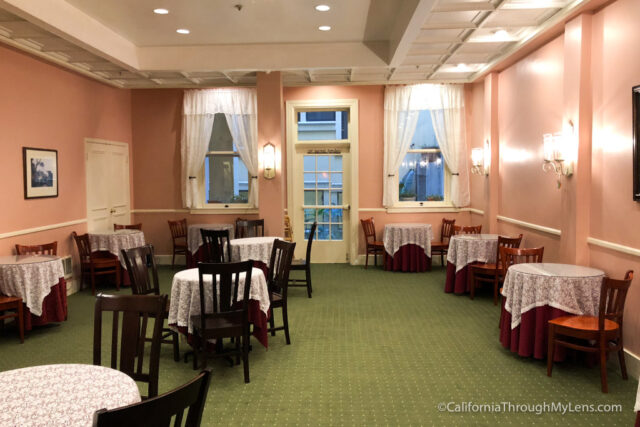 Since we were gone most of the day exploring the area, we elected to valet park each night when we got to the hotel. It is a delightful experience as the car was always waiting for us when we needed it.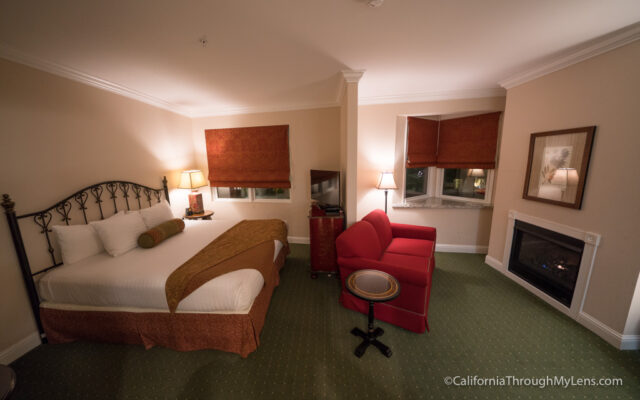 We booked a king room in the recently redone part of the hotel, and it was a large, spacious room complete with a bed, couch, and fireplace.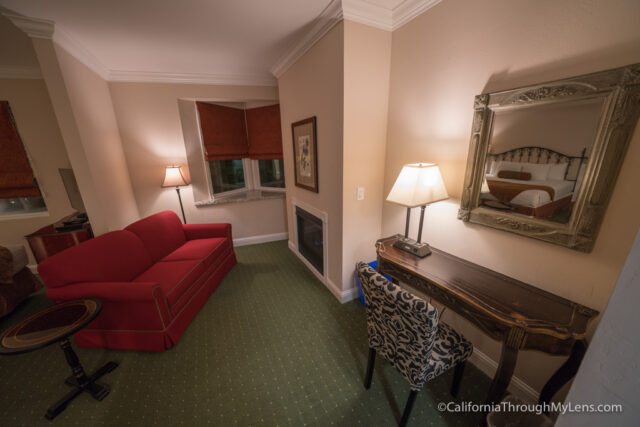 The bed was comfortable, while the included couch and fireplace (activated with a light switch) made it a good place to relax with a glass of wine.
The bathroom was large and well lit with a nice shower that got hot fast. The included continental breakfast was a great addition to the hotel experience as it had lots of pastries and fresh bagels, as well as large bowls of fruit and coffee.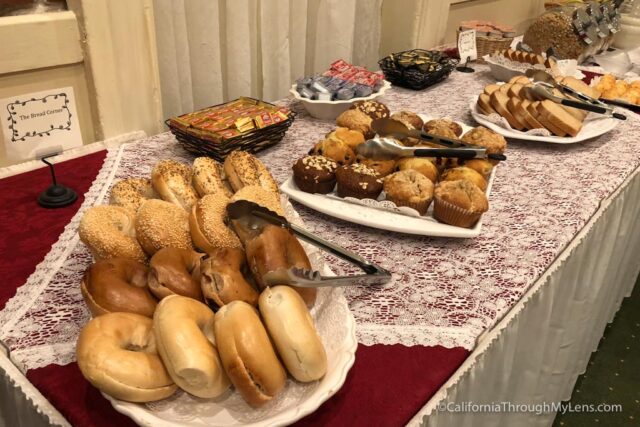 Once you got your food, you dined in a historic room right off the hotel lobby.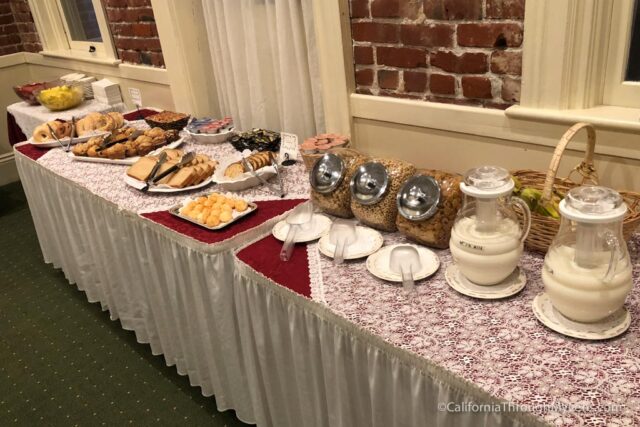 The hotel proved to be an excellent spot for exploring the Monterey area as you could easily walk to Fisherman's Wharf for restaurants like LouLou's Griddle in the Middle and the Old Fisherman's Grotto.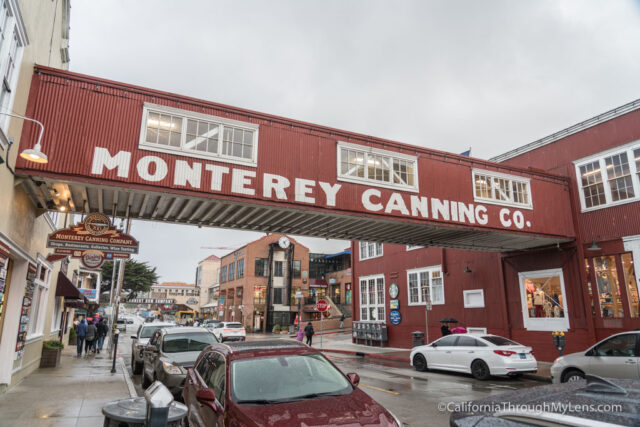 You could drive to Cannery Row in about 5 minutes as well, which has the aquarium and is a great place to walk around and explore the city.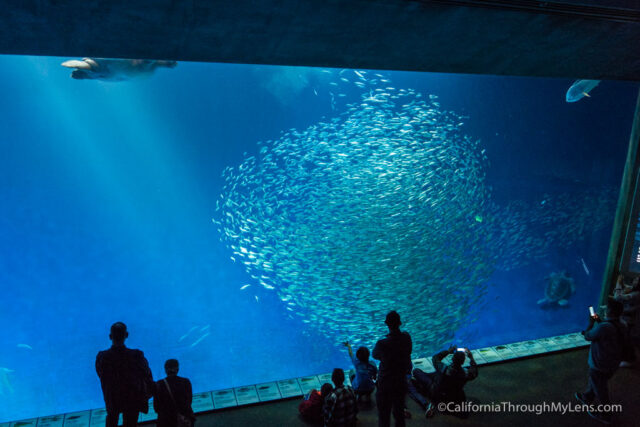 The Big Sur coast was only about 25 minutes south, and Carmel is about that distance as well.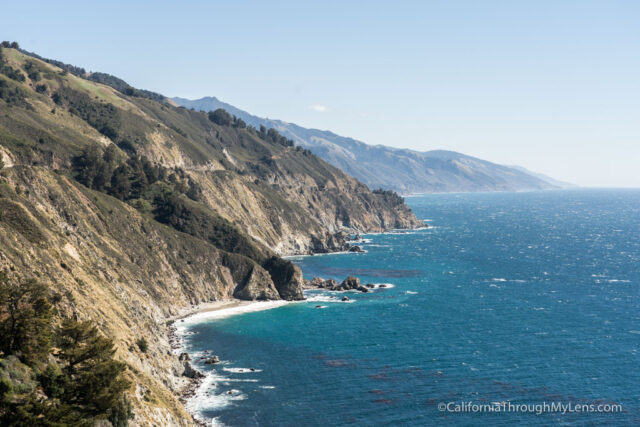 All in all, this was a great home base for our two days of exploring and fun hotel to relax at. Check it out if you are in the area and let me know what you think in the comments.