How to Have a San Francisco Day Trip From Southern California via Plane
Do you want to take a day trip from Southern California to San Francisco via plane? This post will show you how to do it and what it costs (at the bottom). The reason why I did it this way was that hotels were costly when I wanted to go, and Southwest had cheap direct flights, so I paid for the flight and tried to see as many of the tourist spots as I could in one day. This is a busy day, but it's not horrible, and you can always pick and choose what you want to do from the list. Here is all the information.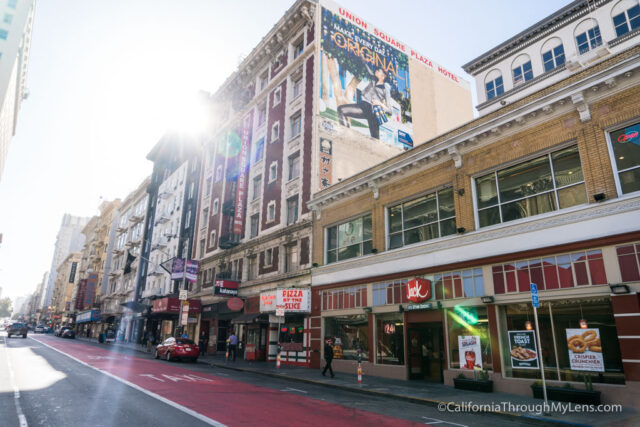 Getting There
Southern California has direct flights from Orange County and Los Angeles to San Francisco on Southwest, which is my preferred airline (not a paid endorsement). Orange County is the easier of the two to get out of, so that is where we flew from. There are multiple direct flights in the morning, but we went with the 8:05 AM, which is not too early but still gives you a decent amount of time in the city. We just took public transportation / Lyft while in the city and then flew home on the last flight back to Orange County, which was at 8:30 PM. Getting around the city is easy with public transportation and Lyft / Uber, so that is what we used the whole time. Here is the detailed literary and there is cost info and a video at the end. Have fun!
SFO (San Francisco Airport) – 9:30 AM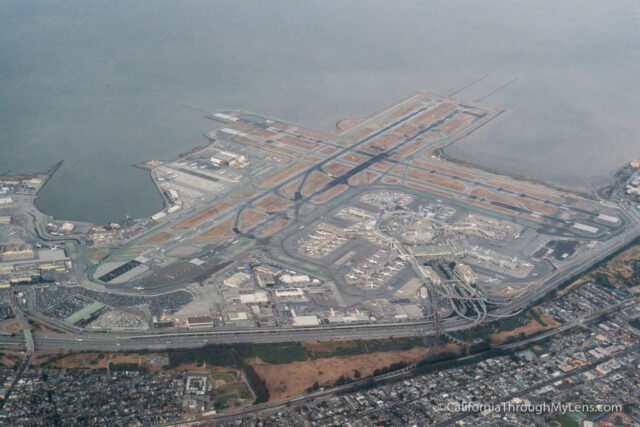 After arriving in San Francisco, we made our way to the AirTram that takes you from the terminals to the Bart station right near the airport. From here, it is a 40 minute Bart ride to the city, and it costs $8.75 each way.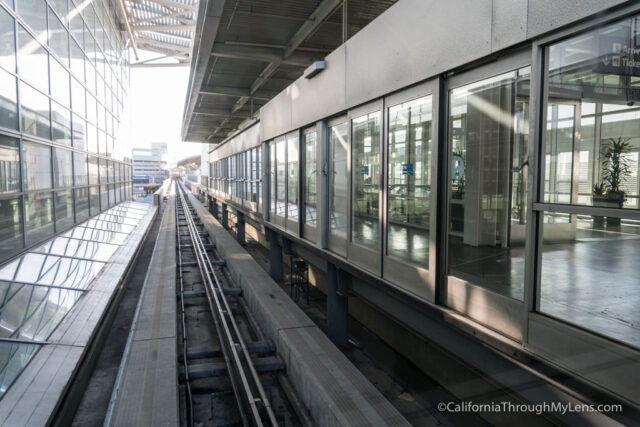 We got off at Embarcadero so that we could catch the Muni to our first stop, Rincon Park, but you can get off at Powell if you want to skip the park and go right to the cable cars.
Rincon Park – 10:30 AM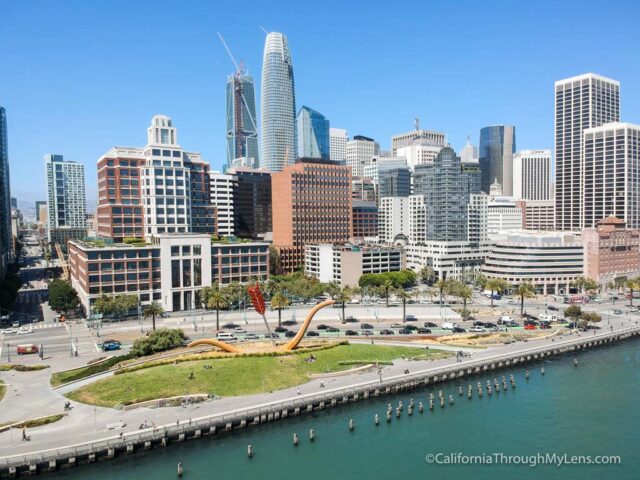 From the Bart drop off, you will proceed up to the Muni and buy a new ticket $2.75 each way to go one stop to the park. It is a half mile walk each way if you don't want to pay for the ticket. The N or T train will take you to the stop, but do double check that when you go.
This park is fun to see as it has a huge bow and arrow in the grass and great views of the Bay Bridge. We stayed here for about 20 minutes. From Rincon Park, get back on the Muni and go to the Powell Street exit.
Cable Cars – 11:15 AM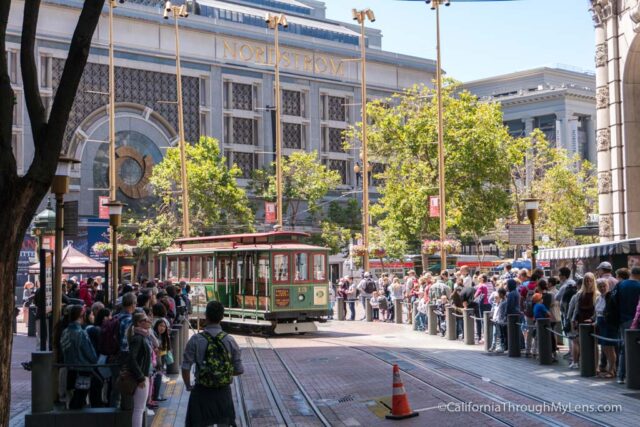 At the Powell St exit, you will leave the subway and be close to where the cable cars pick up. Grab a ticket and wait in line for the cars. Pro tip, you can go up a street, and they do pickups there as well, which lets you skip the line. Usually, they can only pick up a couple of people though, so if you go with a big group, you need to wait in line. Also, you want to ride the Powell / Hyde line as that is the one that goes to Lombard.
If you can, grab a spot on the edge so you can ride by hanging on to the outside, which is the most fun. Ride this for about 15 minutes, until you get to where they stop for Lombard St.
Lombard St – 11:45 AM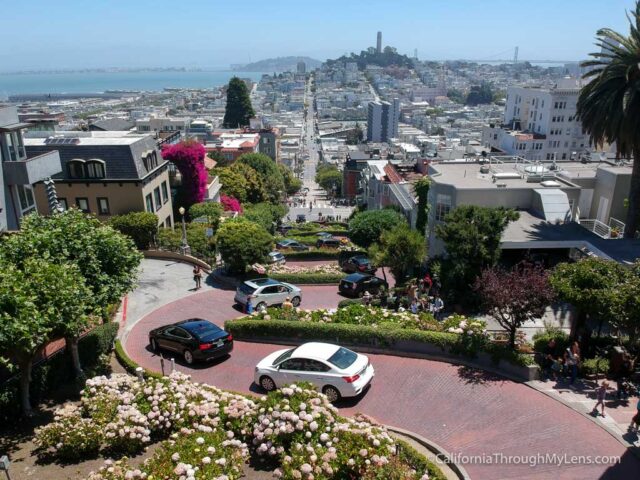 This is the crooked street that is a famous San Francisco stop. I recommend getting off here and walking down the street, since it drops off at the top.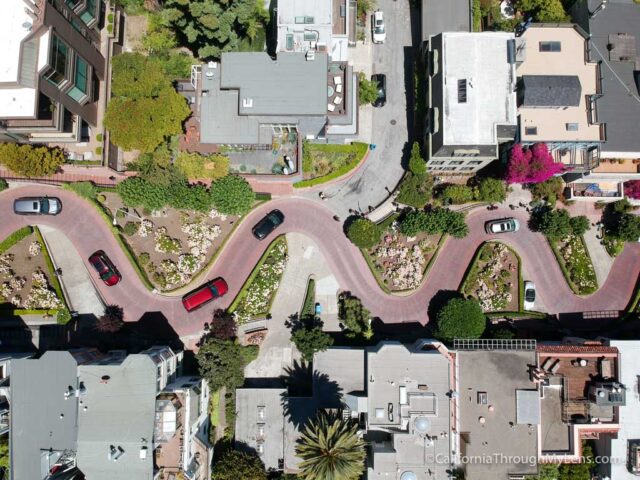 When you get to the bottom, I recommend grabbing a Lyft as it is easier than public transportation. Pro tip, if you ask nicely, sometimes they will even drive you back up and go down Lombard St for a tip.
Pier 39 – 12:15 PM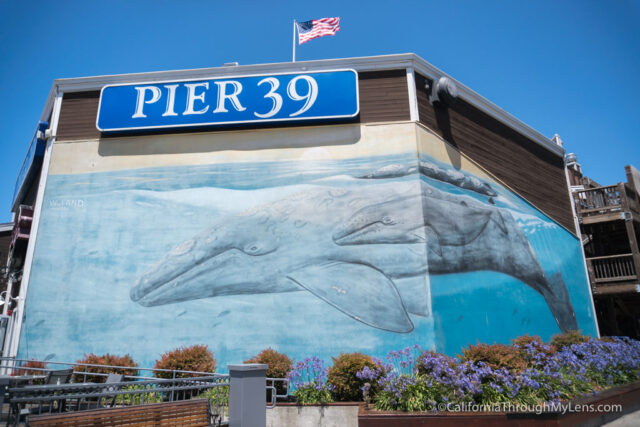 Take the Lyft to Pier 39, which is the super touristy area of SF. I don't usually spend much time here, but there are a lot of chain restaurants if you are into that. I recommend going to the back left of the pier though, and checking out the seals that are always sunning themselves on the platform. Also, the carousel at the end is fun too.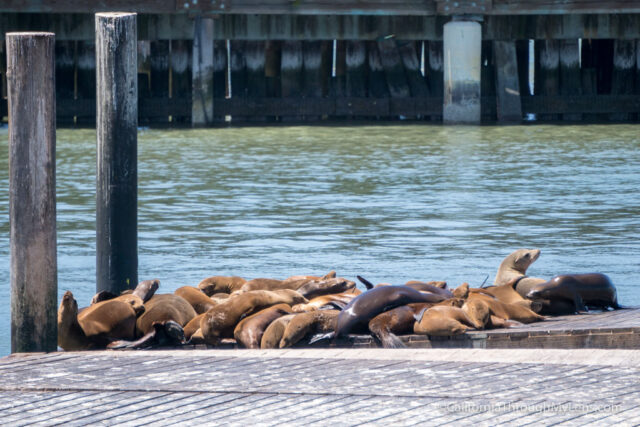 Boudin – 12:45 PM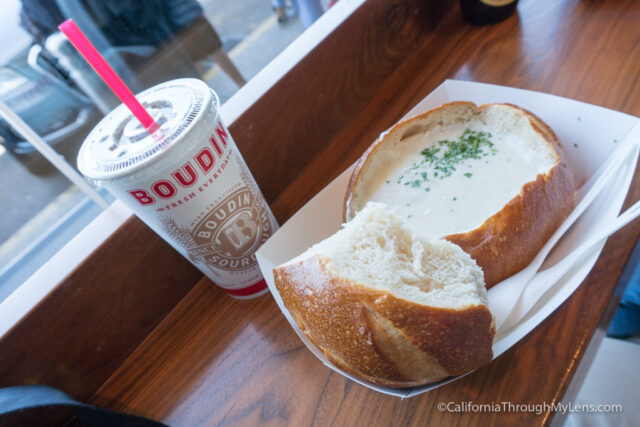 After seeing the seals, walk down to Fisherman's Wharf and grab a clam chowder bread bowl from Boudin. This place is touristy as well, but it has great food. You can sit up top for a full-service dining experience or just order from the counter on the bottom floor and grab a table.
Fisherman's Wharf – 1:30 PM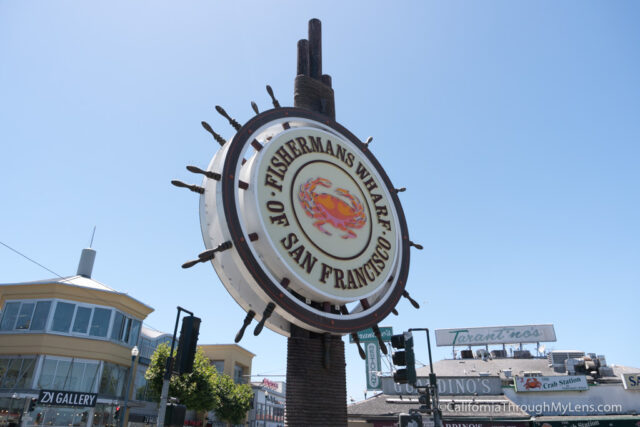 After lunch, I like to walk around Fisherman's Wharf a little, seeing the famous sign and then going out to Hyde St Pier. If you have time, you can go to the national park here as well, which is awesome.
Ghirardelli Square – 2 PM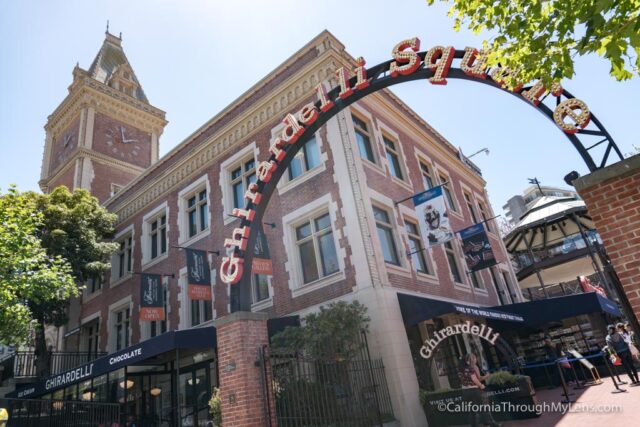 Next, walk up to Ghirardelli Square, which is one of the most popular attractions along the wharf. They will give you free chocolate when you go in, and you can get an ice cream sundae if you want. The desserts are expensive though. I like skipping the main shop and heading to the smaller one a little further down as is less busy and only like 100 feet away. Also, it has a view of the water from where you sit.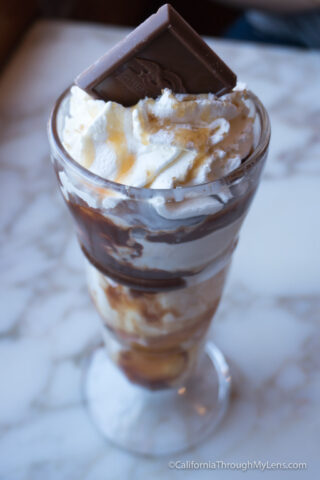 I would recommend grabbing a Lyft from here as it is easier than public transit and take it to Lucasfilm if you are a Star Wars fan. If not, skip this and take it to the Palace of Fine Arts.
Lucasfilm – 2:45 PM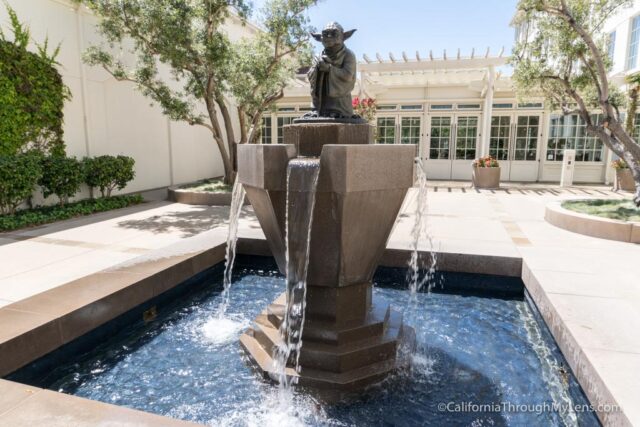 Lucasfilm is the famous company behind Star Wars, and it has offices right in the Presidio. They have a fountain with a statue of Yoda that's popular for fans to visit. You can also go into the lobby where they have a stormtrooper and Darth Vader, along with a bunch of other fun little pieces of memorabilia. It's not a long stop, but as a Star Wars fan, I loved it.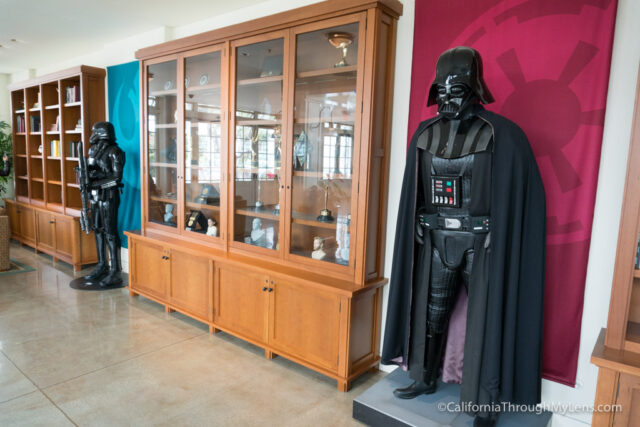 You can walk to the Palace of Fine Arts from here, and it takes about 10 minutes.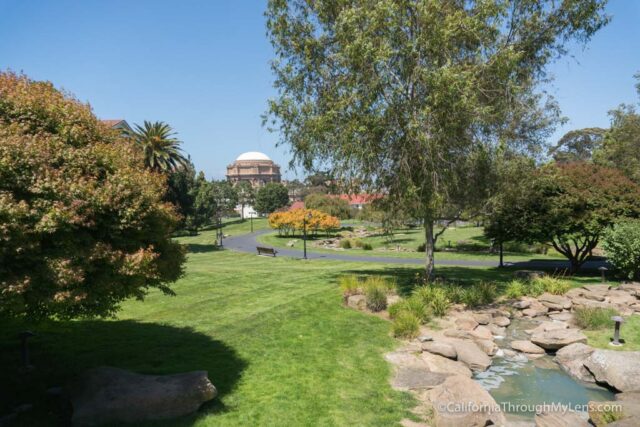 Palace of Fine Arts – 3:15 PM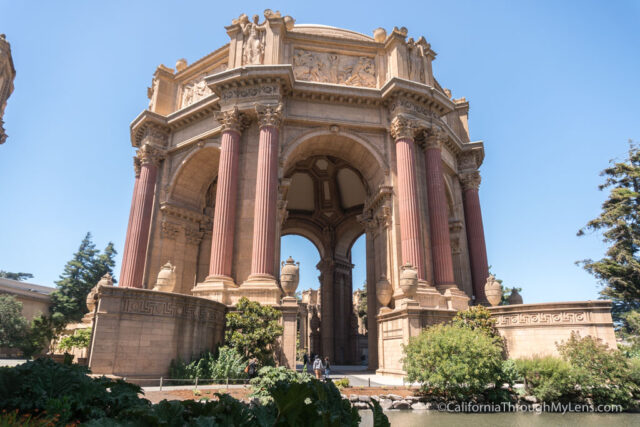 The Palace of Fine Arts is a historic and beautiful set of buildings from the early 1900s. It's one of my favorite spots in the city, and you can read more about it here. Just walk all around the park and take it all in.
After exploring, you can either grab another Lyft or take the 28 bus up to the Golden Gate Bridge Welcome Center.
Golden Gate Bridge Welcome Center – 4 PM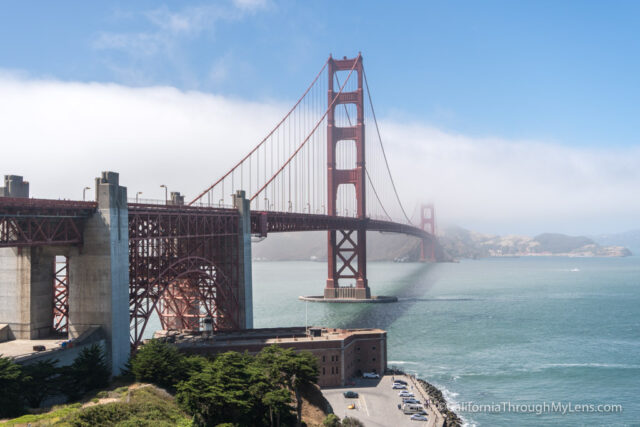 Golden Gate Bridge Welcome Center has a gift shop for the Golden Gate Bridge, amazing views of the bridge itself, and it's where you can walk out onto it if you want. If you are going to walk across it, you will need a couple of hours, but even spending 30 minutes up here is worth it as the views are amazing.
From here, you can get a Lyft or take the 28 bus back into the city. We were pressed for time, so we got a Lyft again all the way to Chinatown.
Golden Gate Fortune Cookie Factory – 5:15 PM
The Golden Gate Fortune Cookie Factory in Chinatown makes the fortune cookies right in front of you, and you can write your own message and have them put it in a cookie. Also, they have giant fortune cookies for 6 bucks, which are fun to buy as well.
Chinatown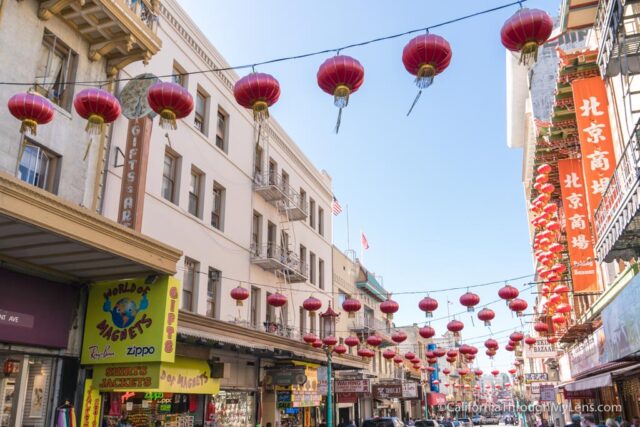 From here, just explore Chinatown. You can walk down Grant Street, which is the main street and has all the fun buildings and the hanging lanterns. There is shopping to be had here and food if you want it.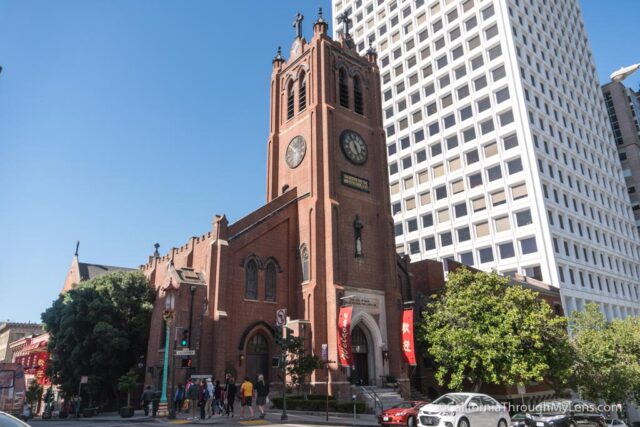 Also, be sure to see the old church right in the middle.
Dragon's Gate – 5:45 PM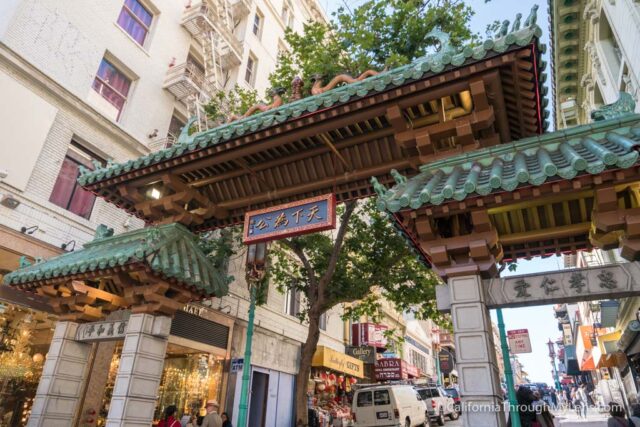 As you get to the end, you will see Dragon's Gate, which is the big arch that welcomes you into Chinatown.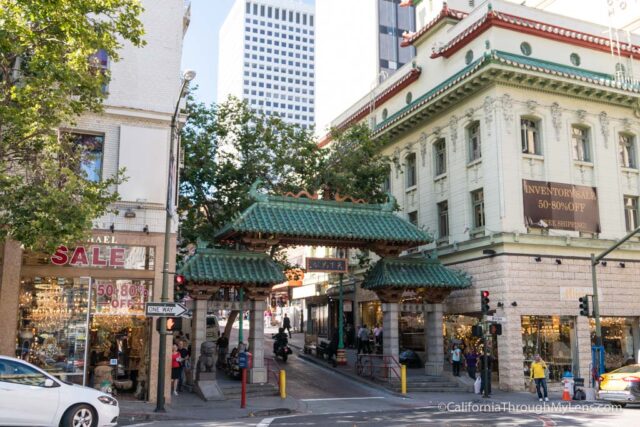 For us, we were getting close to when we needed to leave for the airport, so we walked back from Dragon's Gate through Union Square.
Union Square – 6 PM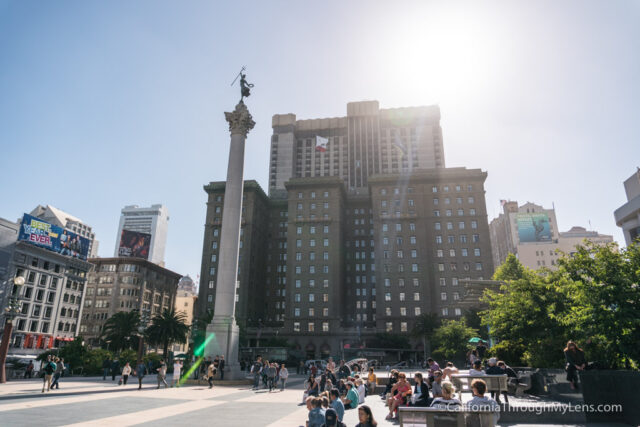 Union Square is a shoppers paradise, so if you are a shopper, then you might want to skip some of the other places on this list and spend more time here. If your not a shopper, just go to the square and check out the famous hearts around the exterior. You can also grab some food here if you have time to kill.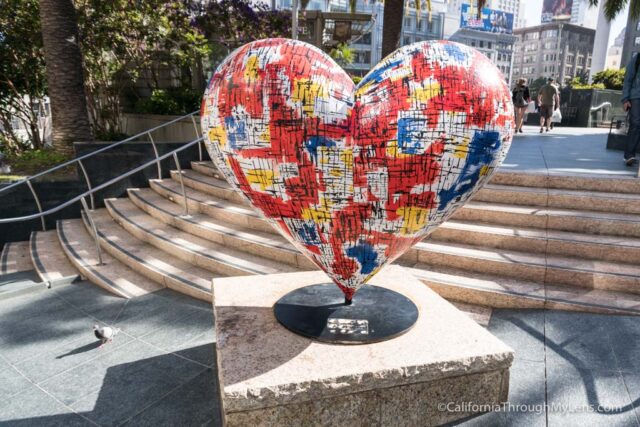 When you are done, get on the Bart at Powell Street and take it towards the airport.
Getting Back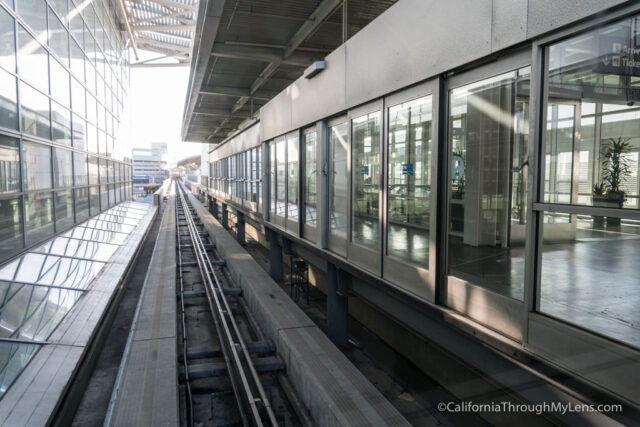 Depending on what Bart you get on, they may make you get off and wait for another airport one at the last stop. The conductor let us know this though, and when we got off, we just waited till the sign said the Bart coming was for the airport. We left at 6 PM from Powell Street, and it took us an hour to get to the airport because we had to change Bart's since we got on one that didn't go all the way to the airport. I would plan on at least 45 minutes to get there from downtown.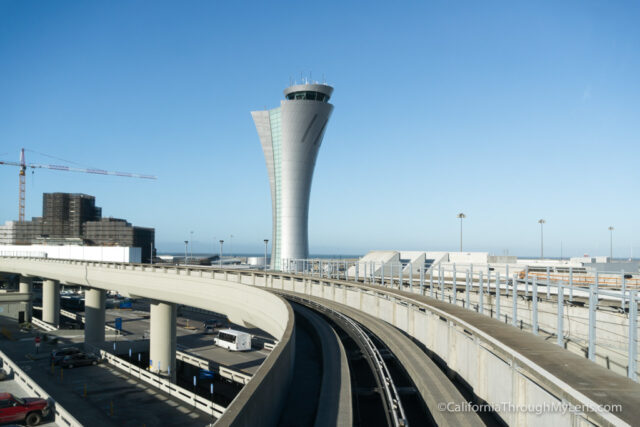 Once you are back at the airport, you will take the AirTram to your gate, completing your time in SF.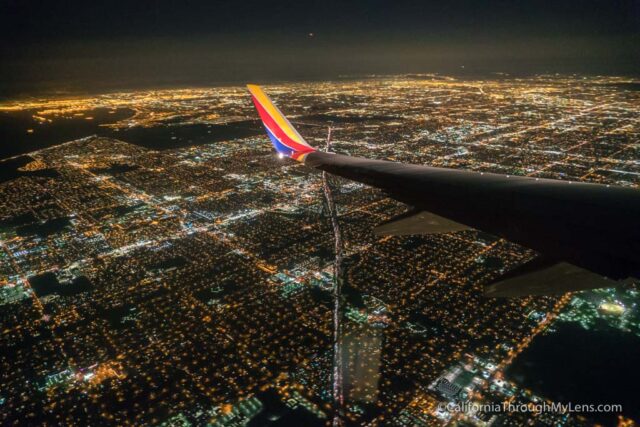 Cost
Of course, everyone wants to know how much it all costs, and here is the breakdown. We had credit card points for the flight, but Southwest often has sales where it is around $59 each way for the flight. Not super cheap but not as expensive as even one night in a hotel in SF.
$18 round trip for Bart
$2.75 each way for Muni (two tickets to get to Rincon Park)
$7 for cable cars
$20 for Boudin
$13 for ice cream at Ghiradelli Square
$6 for fortune cookies
$34 for Uber / Lyft (4 Rides)
Total = About $105 for food and transport for one person (can share the Lyft costs though). Add to that about $130 for the flight if you get a sale and that makes the total cost about $230 for a person. For comparison, most decent hotels were $200 – 300 a night in the summer when I looked.
Video
Here is a video I made for the trip as well.
Hopefully, you enjoyed this trip and let me know if you have any questions in the comments.