Clouds Rest Trail: A Hiking Guide to One of Yosemite's Best Viewpoints
Sitting at over 1,000 feet above Half Dome, Clouds Rest is one of the quintessential hikes in Yosemite National Park. Sure, it doesn't have the grandeur that Half Dome has, but having been up both of them, I can say that the view from Clouds Rest is the better of the two. This is a strenuous, no joke hike though, so don't take it lightly if you choose to do it. Here is all the information on this truly fantastic hike in Yosemite National Park.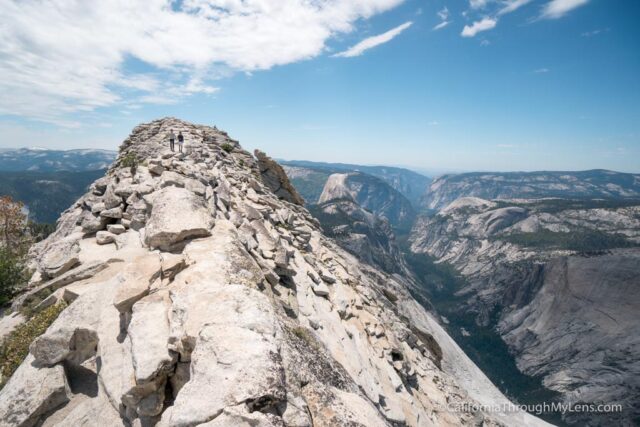 Details
12.5 miles
2,700 feet of elevation
Lots of exposed sections, so it's not a great choice if it is hot
Location: Sunrise Trailhead near Tenaya Lake
I did this hike in 2017
Read about all of my favorite Yosemite National Park attractions here
Getting There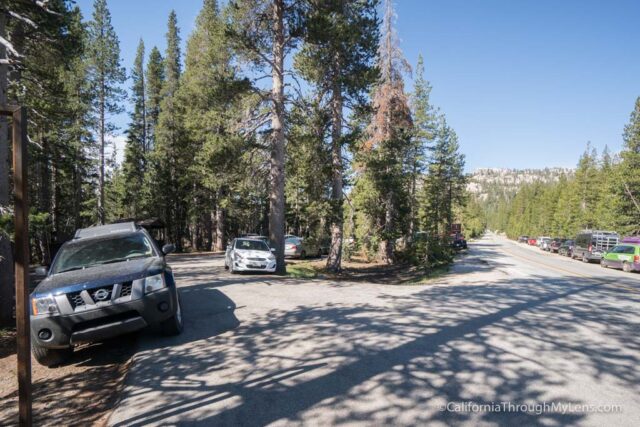 From Yosemite's east entrance at Tioga Pass, you will proceed about 18 miles into the park. After passing Tenaya Lake, you will see the small parking lot for Sunrise Lakes on the left-hand side, and this is where the trail to Clouds Rest leaves from. If the lot is full, you can park along the road as well just abide by the signs.
The Trail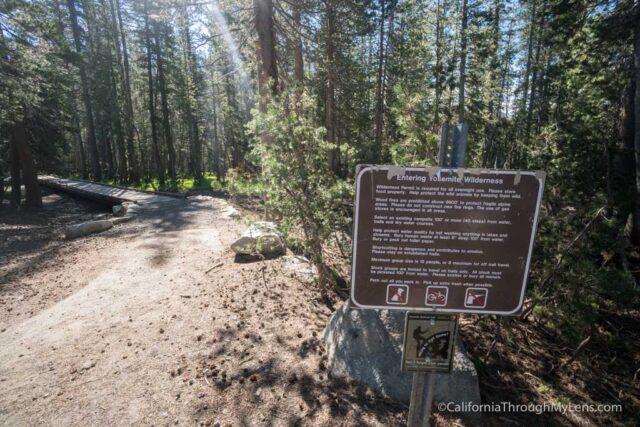 I want to give a few warnings on the trail before we jump in.
This is not an easy trail; it is a strenuous 12+ miles with some steep elevation gains, so make sure you are prepared with 3 – 4 liters of water.
I would probably not do it if it is a hot day in the park. The trail has a lot of sections without shade, and it can be pretty brutal with that heat blazing down on you for miles.
Wear hiking boots as there are lots of loose rocks to roll an ankle on, and if you go after a good snow year, you may need a change of shoes for the initial river crossing like I did.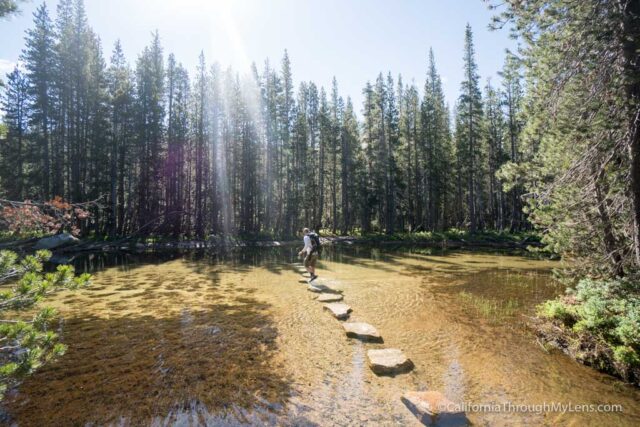 Now that we have that out of the way let's jump into the trail. You will find the trailhead right next to the pit toilets in the parking lot. It heads out on a wooden bridge before it bends and goes into the forest.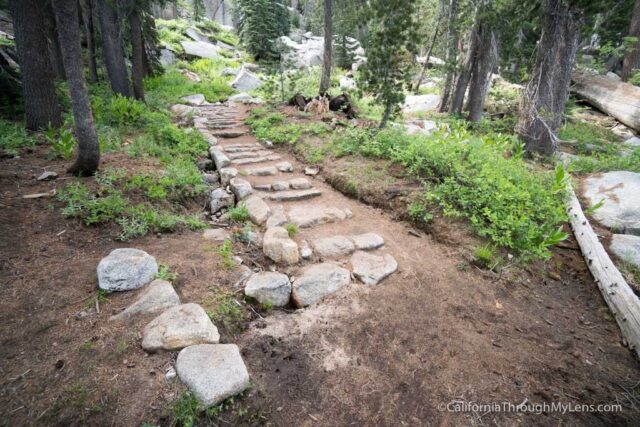 After a tenth of a mile, it reaches the river crossing that you may need a change of shoes for. I brought my Crocs as they are lightweight and can be attached to my pack with a carabiner. The crossing was knee-high when I went, but that is not always the case. Generally, you can look at the location tag on Instagram to see what people are saying about the trail if you are worried, or you can call the rangers to ask.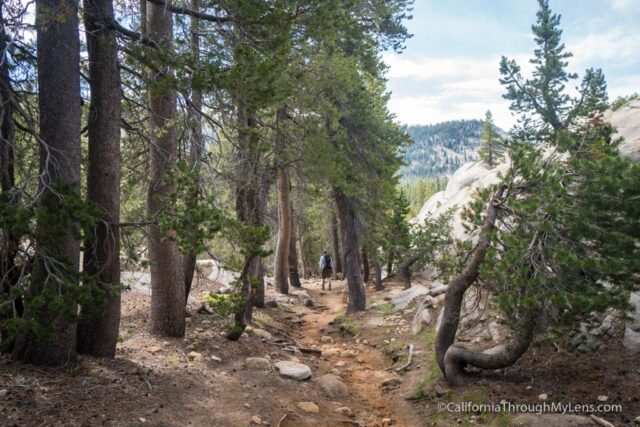 After crossing the river, you continue following it as you head back into the forest.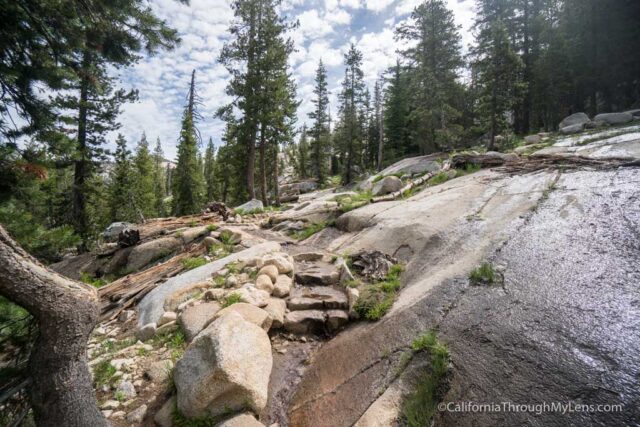 Enjoy this first mile as it is nice and flat, which is not something you often have on this trail. Do bring insect repellent though, we got bit a lot by mosquitoes during this section.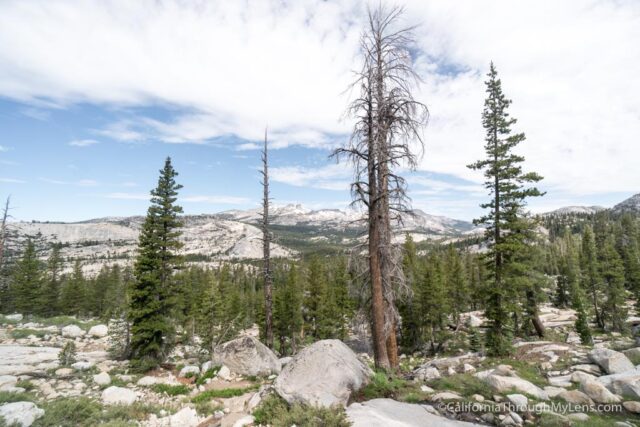 At about 1.5 miles, the trail heads into a brutal, steep uphill. Over the next mile, you will gain 1,000 feet, which means it is up the entire way. This section was harder than I anticipated it being, and I recommend you take your time.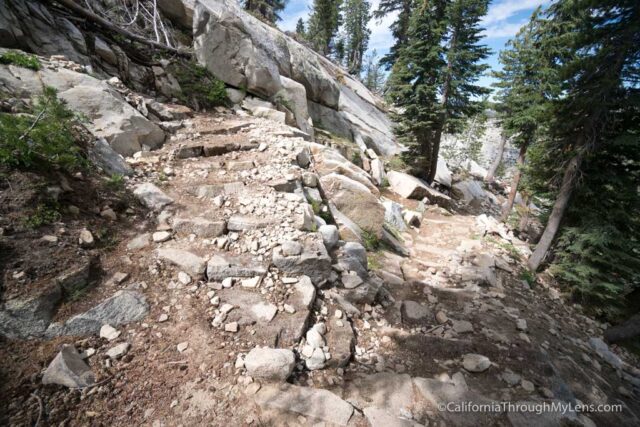 The views get better and better as you climb and look back on the valley below you.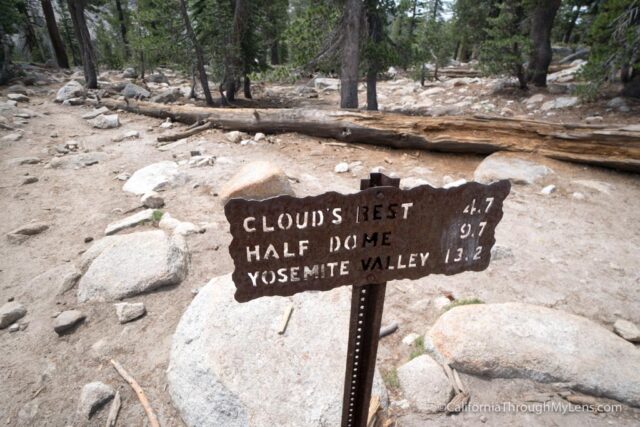 After what seems like an eternity, you will make it to the saddle where the trail breaks off to Sunrise Lakes and Clouds Rest.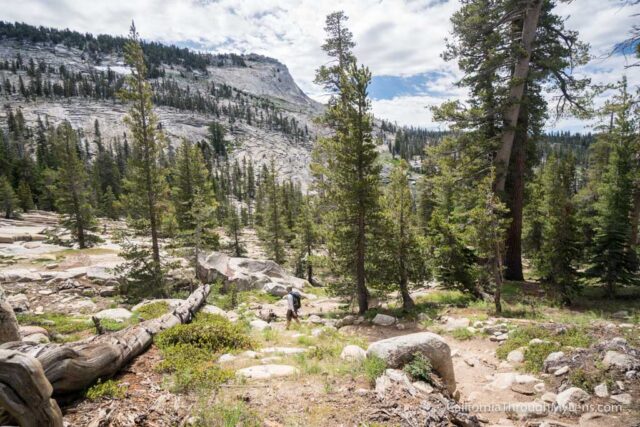 Heading towards Clouds Rest will take you down about 300 feet. This is nice when you are going this direction but tough when you are heading back after summiting.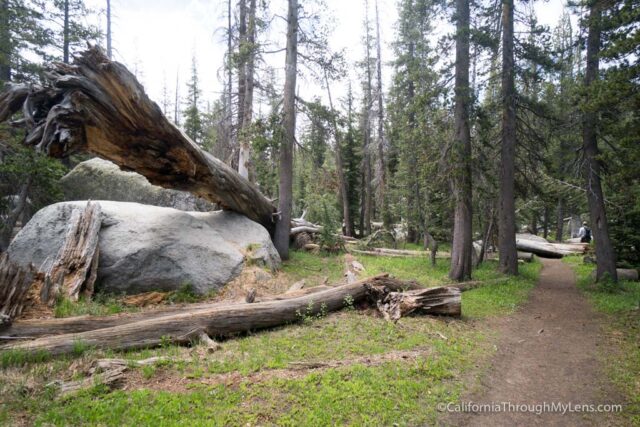 When you flatten out, you will be on rolling ups and downs for the next mile and a half. The area is beautiful with views of Sunrise Peak, water crossings, and lots of plants and trees.
Eventually, you will reach a large pond / small lake, and this is the mid-way point for the trail.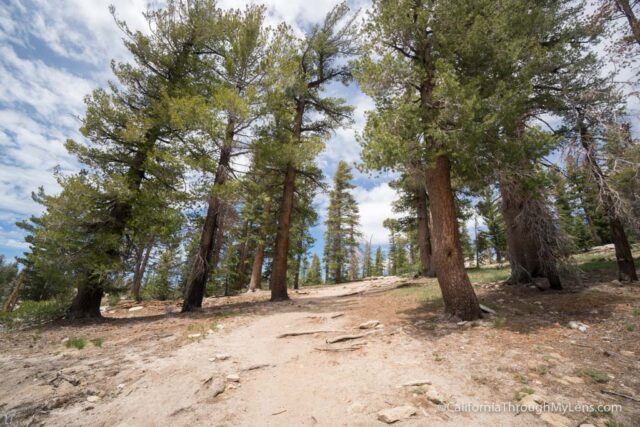 Continuing on, you will start to go uphill again, but it is more gradual for the next mile or so until you hit another junction, which is an excellent place to rest.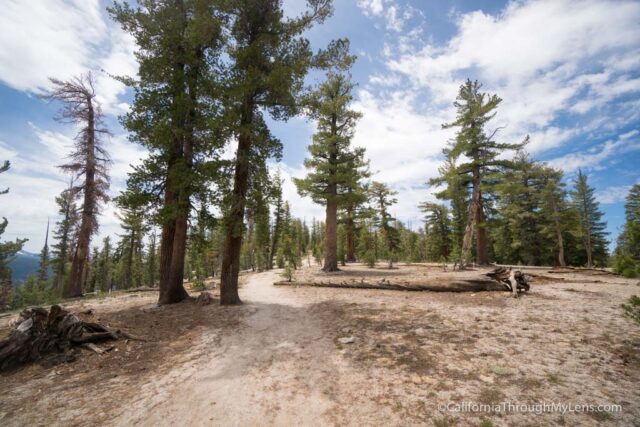 From here, you will have another steep climb that you will wish had switchbacks but instead goes straight up. This is where you will get some excellent views of your destination, but it is still 2 miles away. Reaching the top of this section, you will have a nice flat portion before going downhill once again.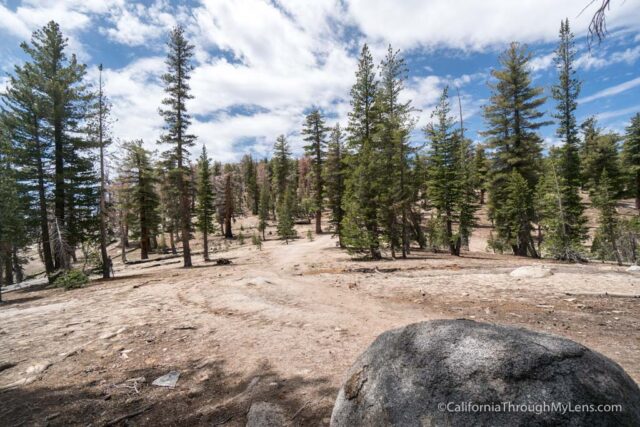 When you reach the bottom of this part, you will be facing the last climb that takes you up the base of the granite. This section is steep, and you are at 9,500 feet of elevation, so you will be feeling it.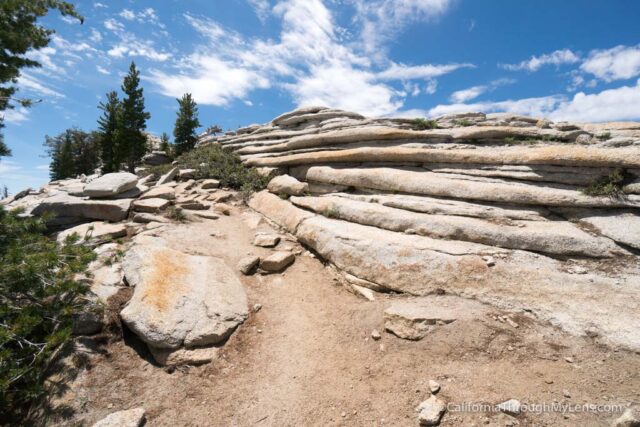 As you climb, you start to get past the trees and get views out both directions that will surely give you the adrenaline needed to finish the hike. Eventually, you will reach the granite base of Clouds Rest and start the last 100 feet of scrambling till you make it to the top.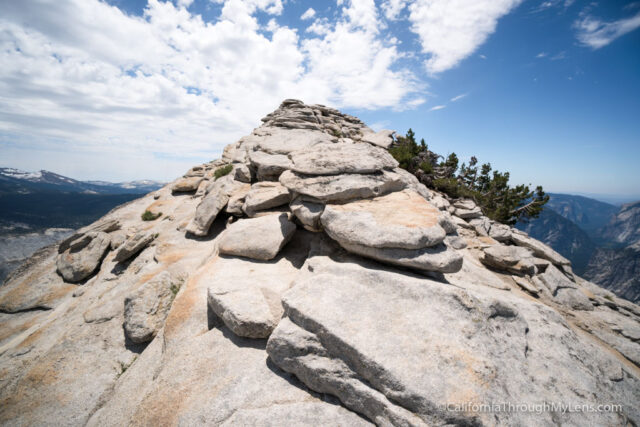 This section does require some rock hopping, but it is not too bad, and the views make it easy to push on.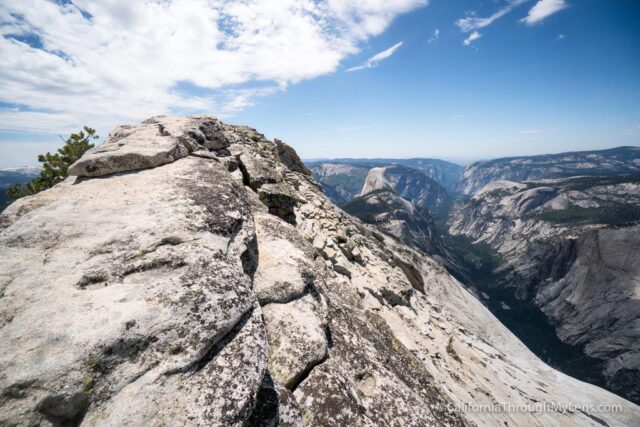 You will reach a section of the trail that is about 15 feet wide, and the drop-offs are pretty intense on both sides, so do note that if you are afraid of heights.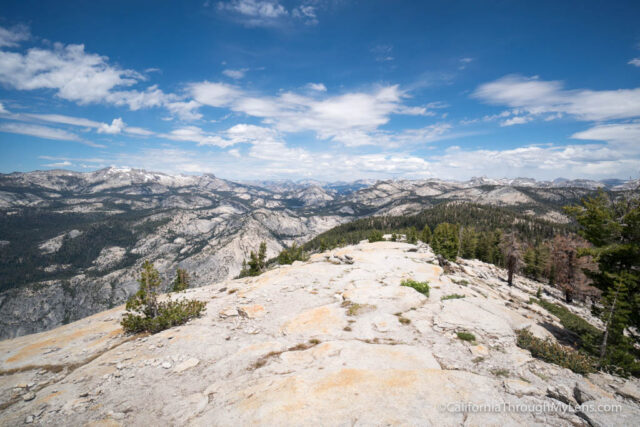 From here you reach the highest point of the hike and can officially say you made the summit.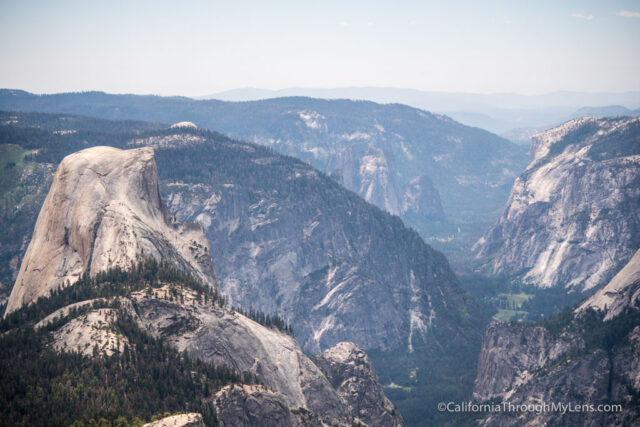 The views from up here are mind-blowing, looking down on Half Dome, Yosemite Valley, and many other parts of the park.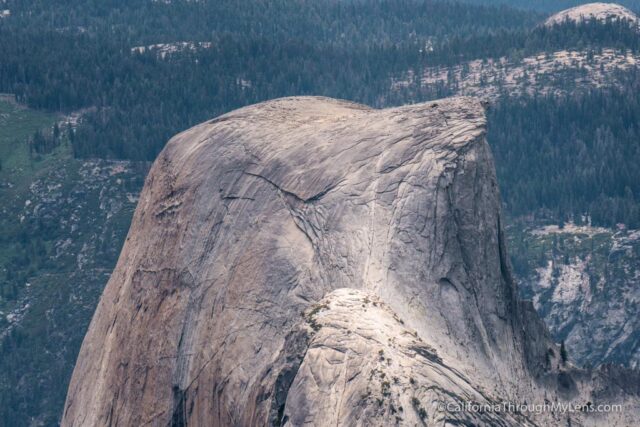 If you have a zoom lens, you can even see people climbing the cables of Half Dome below you.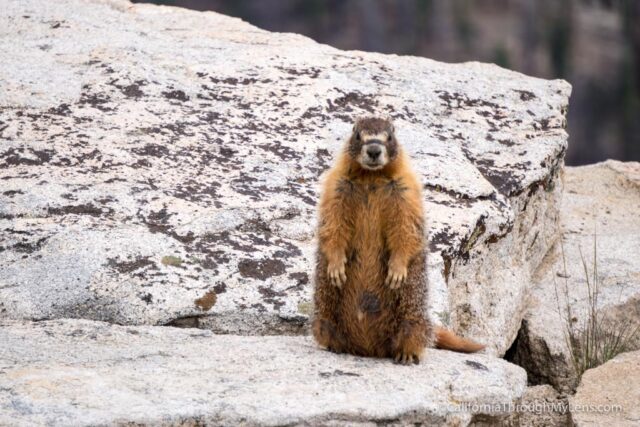 Watch out if you leave your pack lying around when you are up there, the marmots are scrappy and will grab food if they see it.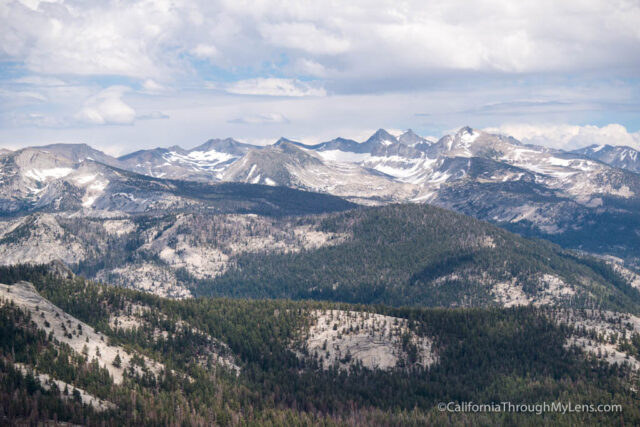 I sat up here for about 45 minutes as the views were just so spectacular it was hard to want to leave. I guess the six miles back made me not want to leave as well.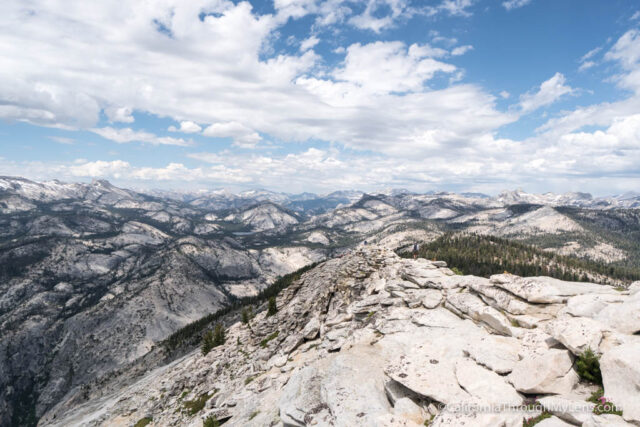 Video
Here is a video I made on the hike.
When you take it all in, head back the way you came and make sure to save energy for the few uphill portions you still have to do on the way back. Congratulations on taking down this impressive peak. Why not try Half Dome next? Here is some information on it.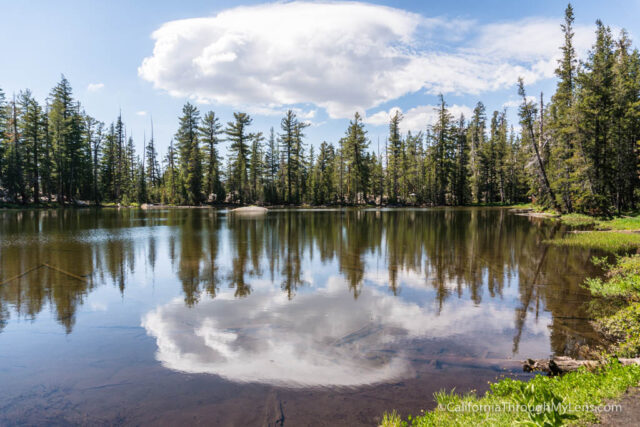 Let me know if you have done it and what you think in the comments.