Descanso Gardens: Enchanted Forest of Lights Christmas Lights Display
I had so much fun at the Descanso Gardens Enchanted Forest event that I wanted to share a quick post. This event began at the end of November and runs through January 9th. A visit to the garden at night lives up to the name; it feels like you are visiting an enchanted forest where you will see fairies and other mythical creatures as you explore the grounds. It felt more like an art show than the traditional light-up holiday experiences you can see around Southern California. I enjoyed it, and here is all the information so you can check it out.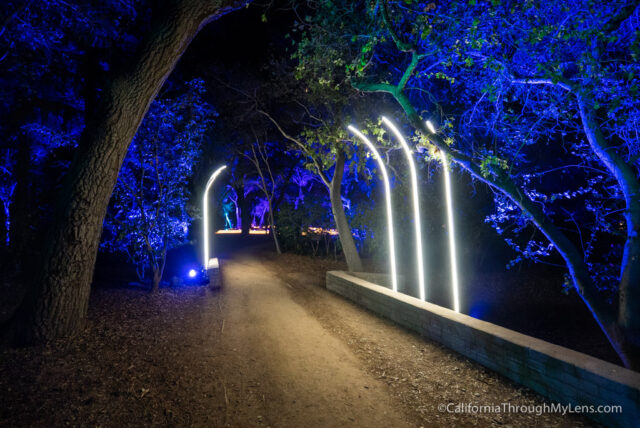 Details
Cost: $32 – $36 per person
It runs until January 9th
Location: 1418 Descanso Dr, La Cañada Flintridge, CA 91011
Video
Here is a video I made on the experience.
Enchanted Forest of Lights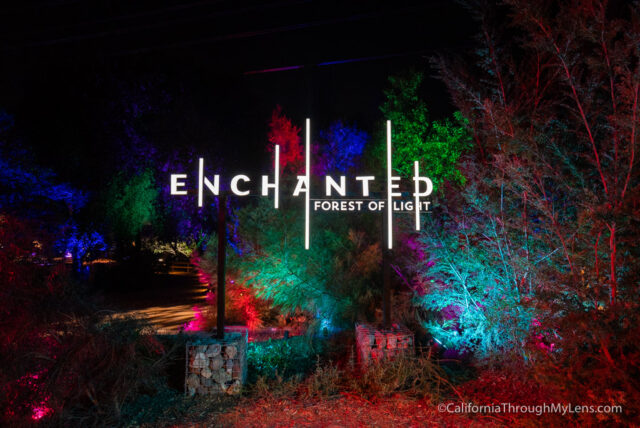 The one-mile trail takes you on a walk through the gardens, and there are ten different experiences, each noted with a number that you can see while exploring. Here are some of the experiences, but believe me, this place needs to be experienced, and photos will not do it justice.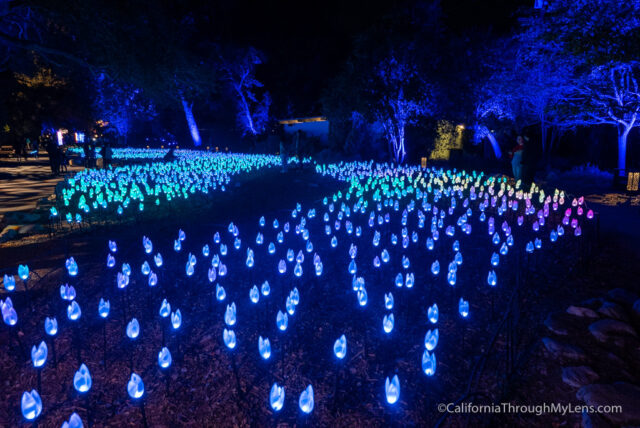 After you enter the gardens, the first experience you will see is flower power. This installation features hundreds of tulip-shaped lights on the ground that change colors and dance to music. It is beautiful and one of the better exhibits.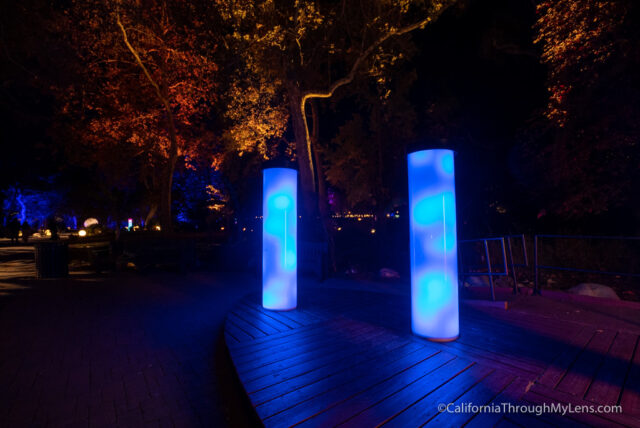 Heading on, you will see Rainbow Sycamores, a series of lit-up columns that react to touch and change colors. Many of the exhibits here are interactive, which is fun.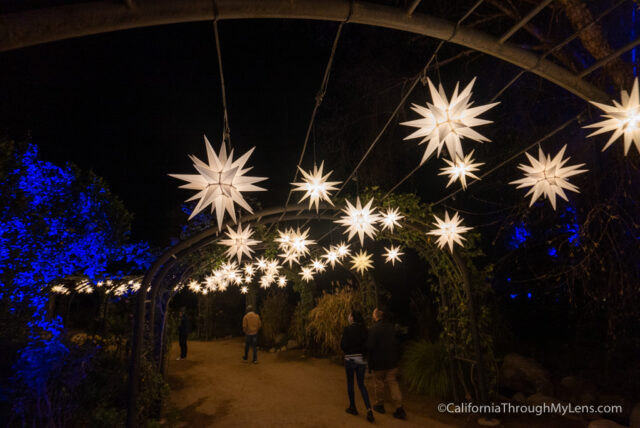 Next up is Starlight Garden, which has a walkway of stars that leads you into one of the best areas, a collection of houses made out of what looked like stained glass.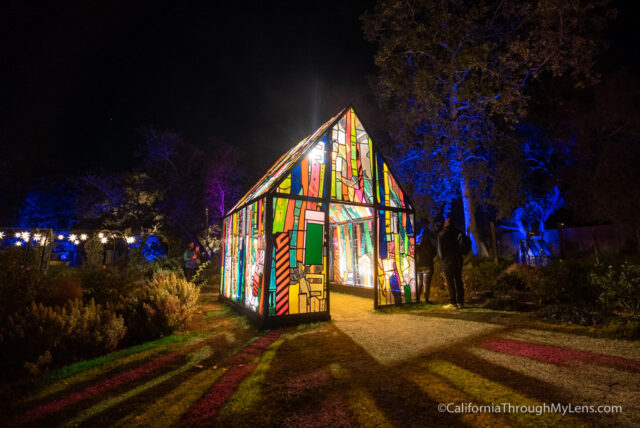 I liked this one because the light created beautiful shadows coming off the houses as you walked around to see them.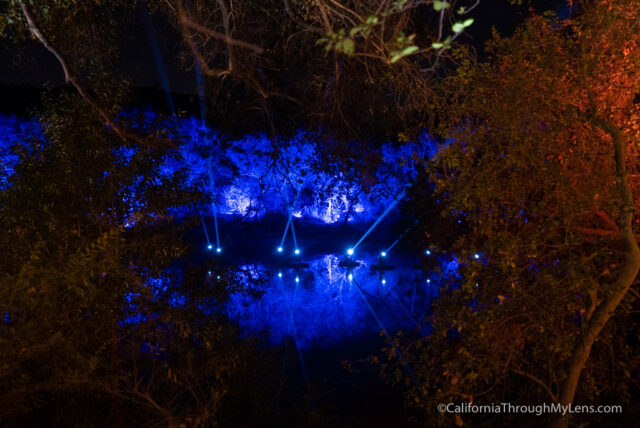 Lightwave Lake was next. This one was a little hard to see as the trees have grown up around the lake, making it difficult to see the lights on the water. It had a fun interactive element though, where you could change the color of the lights on the trees to different hues with a spinning knob.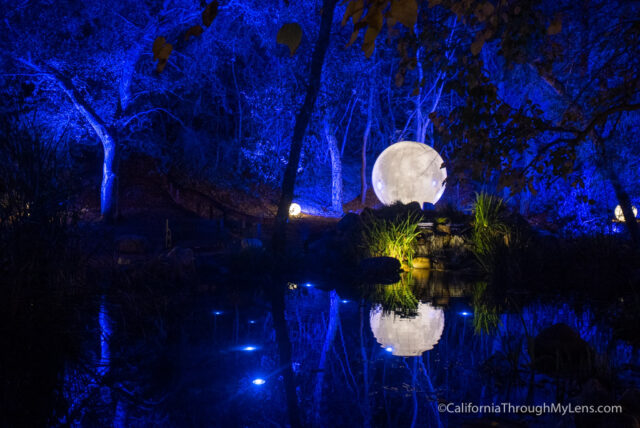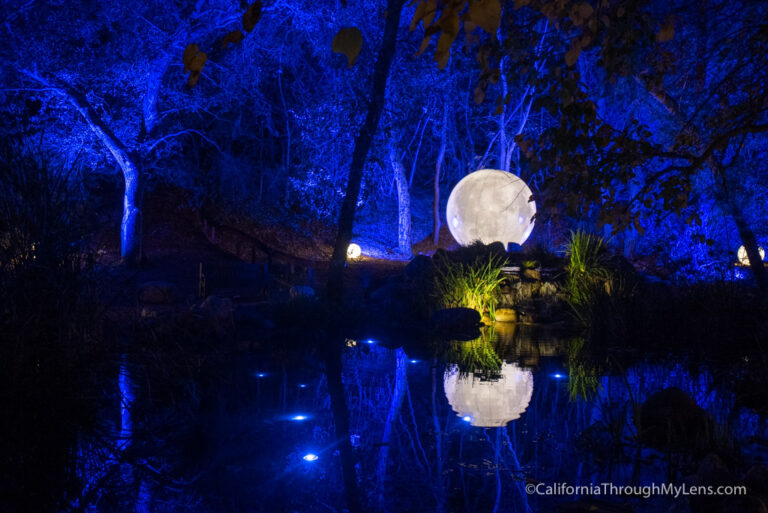 As you walked from experience 4 to 5, a small pond had a large light that looked like a moon reflecting on the water. This was not even an experience but was just a random display, and it was easily one of the most beautiful things in the garden. I sat here for a while on the benches by the water, just soaking it in.
The last five exhibits are more large-scale installations than the previous few, and they are ones that you have to experience yourself.
The first was the symphony of oaks, which had these raised platforms at the base of the oak trees and allowed you to walk on them and create music by standing on the lights.
The next was the fantasy forest. This was another favorite of mine as it was beautiful curated lights and ambient sounds as you walked through towering trees. The trees here were majestic on their own, and it was peaceful to see the lights slowly change color as you walked through them. There were many pathways and areas to explore here, and I probably missed things in this section as it seemed so big and immersive.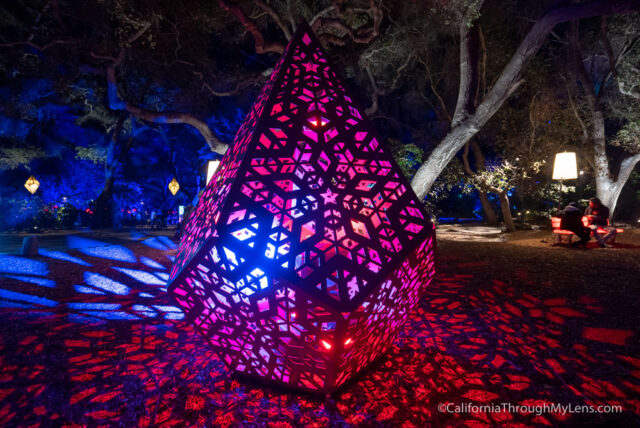 The forest gave way to the luminous lawn, which had large art pieces scattered around it, many with lights that rotated inside them. A few allowed you to go inside as well. This seemed to be a popular Instagram photo spot, and it was also where I realized that I had already been here for an hour, and it felt like time was flying by being able to see all of these unique experiences.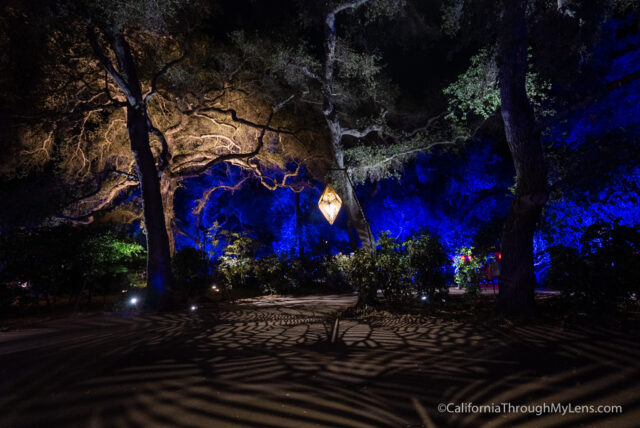 As you continued, you made it to another forest, much like the first in the experience but with different types of trees and stunning light displays.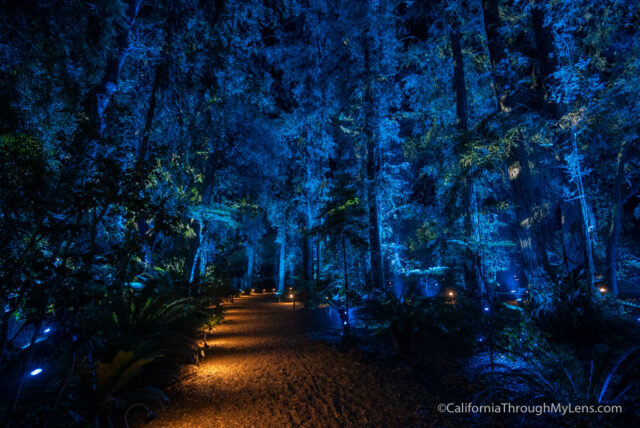 This section had many other trails that you could stroll down as well.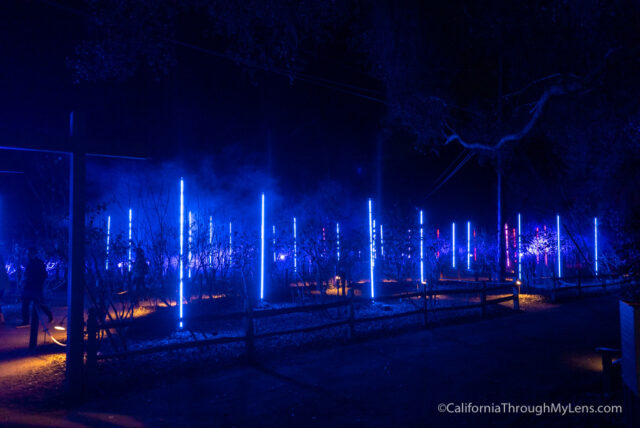 With only two experiences left, the next was pixel grove. This area is more psychedelic with its linear lights and fog. It was a maze-like path, and you could walk through the lights, which were changing colors as you walked through them.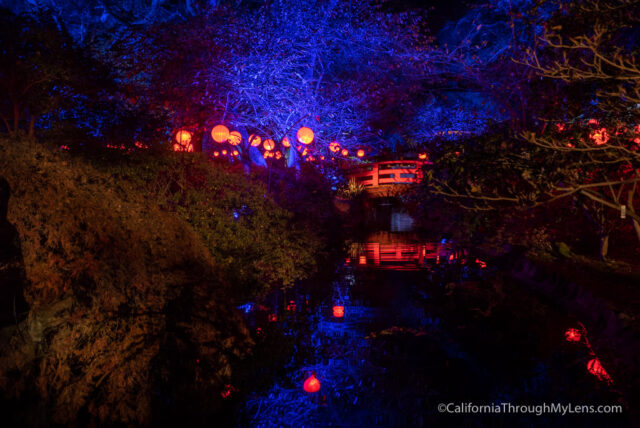 The last experience took you to the Japanese garden for what they called the garden of good fortune. There were hundreds of red lanterns all along the water and throughout the garden. It was a fitting end to the experience as there were so many different photo opportunities, and it was fun to stroll through the garden soaking it all in.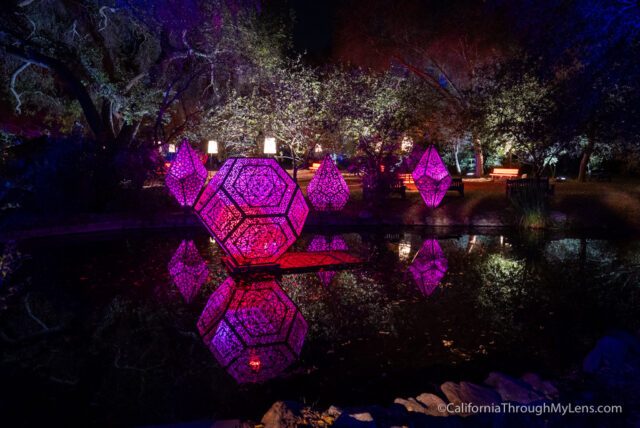 Leaving here brought your back to the entrance, completing the mile loop, and about 2 hours in the gardens for me. It was a little pricey at $32 a person when I went, so you would have to decide whether it was worth it for your family. It is one of the most unique holiday experiences I have been to in a while, and I loved every second of it. I think it will probably become a yearly tradition for me to visit. Let me know what you think in the comments.