Giant Rock in Landers: A Massive Boulder with a Unique History
Traveling California has been a fun way for me to connect with all of the crazy and unique history this state has to offer. Places like Salvation Mountain, the center of the world, the Cabazon Dinosaurs, and the tower at Victoria Beach all are a part of what makes California what it is today. I can now add the Giant Rock in Landers to that list as well. While it is not man-made, it has been an essential site for Native Americans, home to an eccentric German who lived under it, and the location of a UFO conference. Today it is basically just a giant boulder that people offroad to, and here is all the information on the rock and its history if you want to check it out.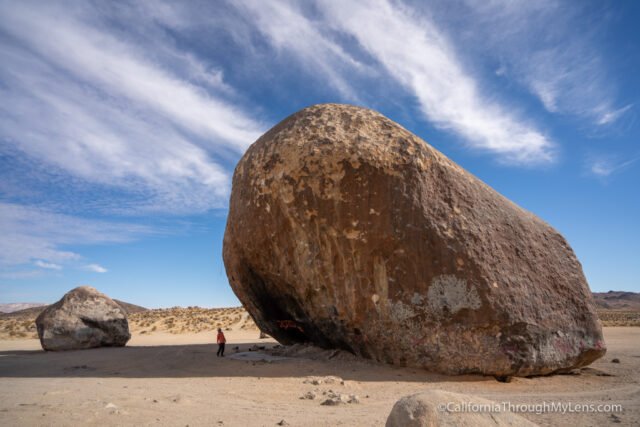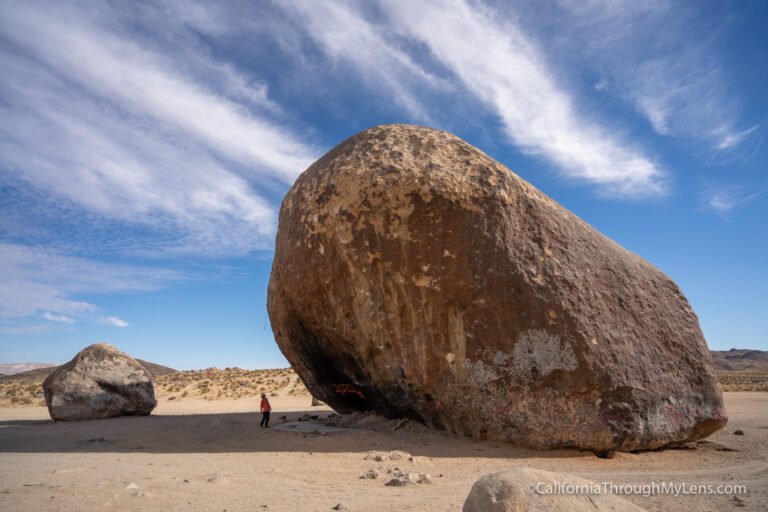 Details
4WD highly recommended

The rock is 7 stories tall

Please pack out what you bring with you
Getting There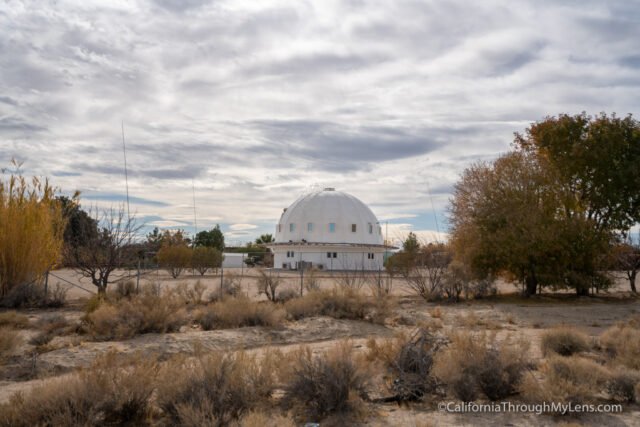 Believe it or not, there is a Google Map location for Giant Rock in Landers that I used to drive out to it. Once you pass the Integratron, you will be on an unmaintained dirt road. While it is passable without 4WD it is very sandy and had some huge bumps when I went; be careful if you choose to drive out there.
Giant Rock's History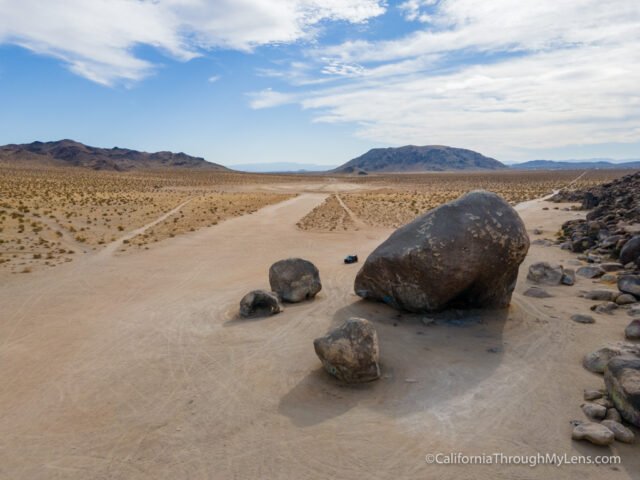 According to Wikipedia, here are some nuggets of history.
Giant Rock was considered sacred to Native Americans who lived in the area for most of its history.

Frank Critzer dug out the underside of Giant Rock in the 1930s and lived under it until a dynamite explosion killed him in 1942. He was also thought to be a German spy during WWII, but that turned out to be false.

In the 1950s, the rock became a meeting place for UFO conferences and was thought to be a place to commune with aliens.

In the early 2000s, a piece split off the rock, making it what it is today.
Giant Rock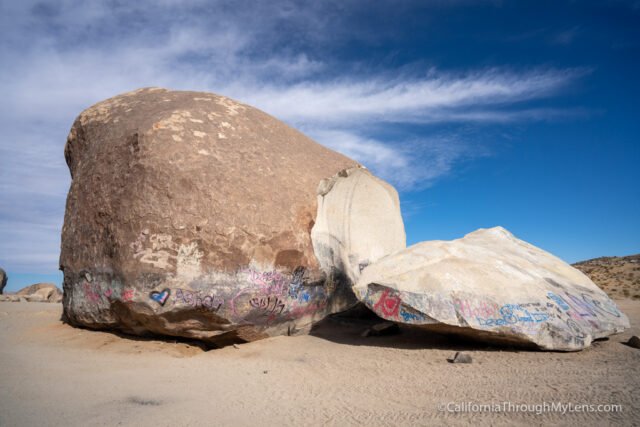 Driving out to Giant Rock was an adventure itself. We had to go through the town of Landers, past the Integratron and over a rough dirt road for a few miles. Eventually, as we rounded an extensive collection of boulders, Giant Rock came into view.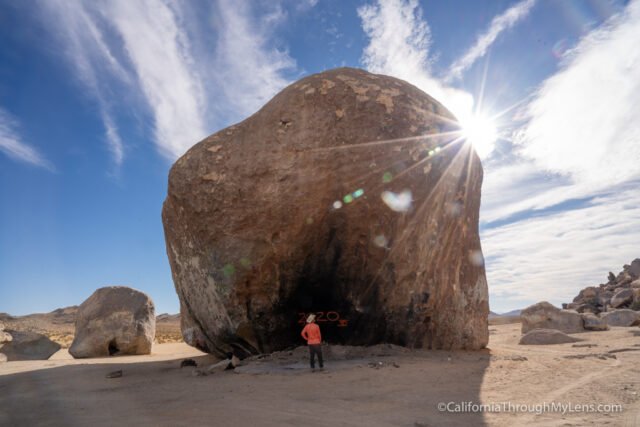 There is no information plaques or anything here to tell you about the rock, so do your research beforehand. It is also not visited very often during the day so you will probably be by yourself if you come on a weekday.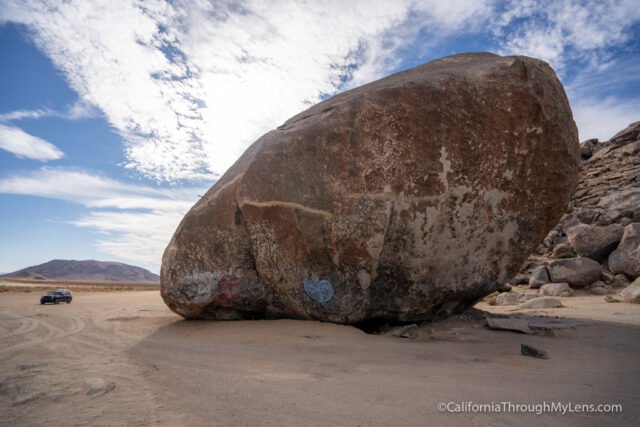 At the rock, you can walk all around it, climb some of the nearby hills to see it from above, and look at the filled in hole that once was Frank Critzer's home.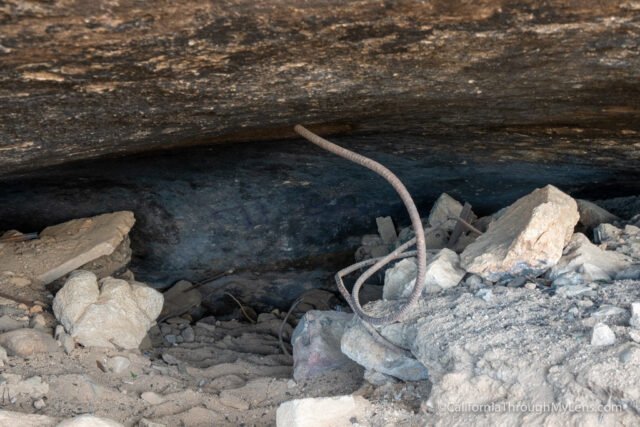 There were anchors on the rock, so I guess people do some rock climbing here.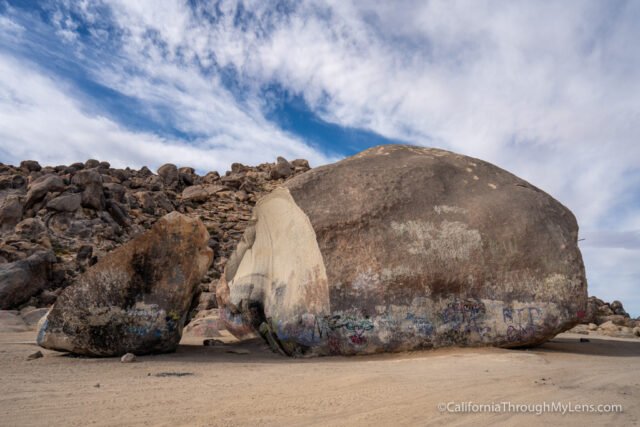 That's basically it for this spot. It is undoubtedly a massive rock, and the history makes it a fun place to explore. Check it out if you are on the way to Joshua Tree, and let me know what you think in the comments.