Hard Rock Hotel in Palm Springs (Closed): A Fantastic Spot for a Weekend Away
Unfortunately, this hotel has closed and is no longer there.
The Hard Rock Hotel in Palms Springs is a great place to spend a few days while visiting this famous California desert city. It has all of the amenities you have come to love at a Hard Rock property, including rock memorabilia, guitars you can check out to play in your room, excellent decor, and a great pool. All of this mixed with a delicious restaurant, full spa, and perfect location in downtown Palm Springs makes it an easy recommendation for where to stay in Palm Springs. Disclosure: This trip was provided free of charge; all opinions are my own.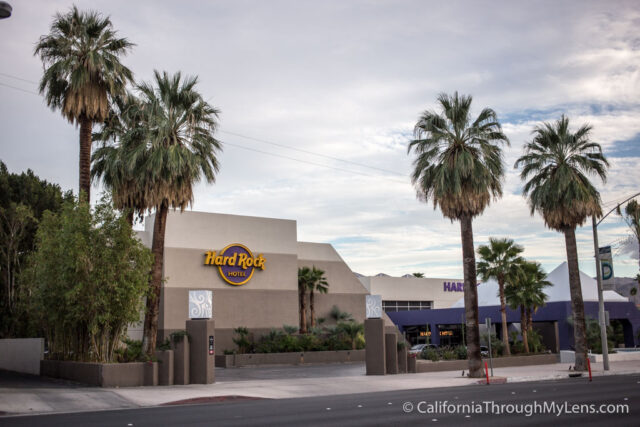 Details
Location: 150 S Indian Canyon Dr, Palm Springs, CA 92262
Amenities: Valet Parking, Wifi, Guitar Check-Out, iPads in Lobby, Pool, Spa
The Property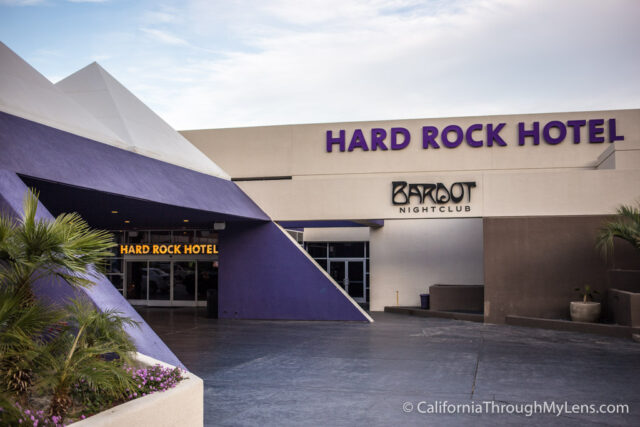 When I first pulled up to the property, I noticed that the exterior has the same style as other mid-century modern properties scattered around downtown. It has a pyramid type shape that transitions to the rooms and balconies inside the hotel as well.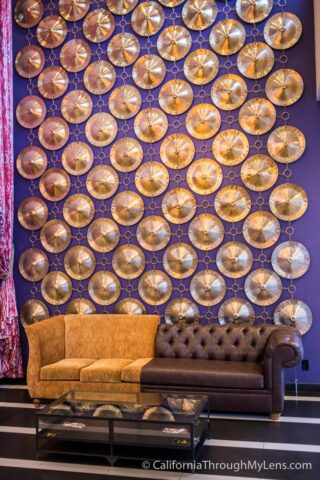 The only parking options is valet, which is nice as it is included in the added-on resort fee. The valet was always fast when I needed my car, so I had no complaints there.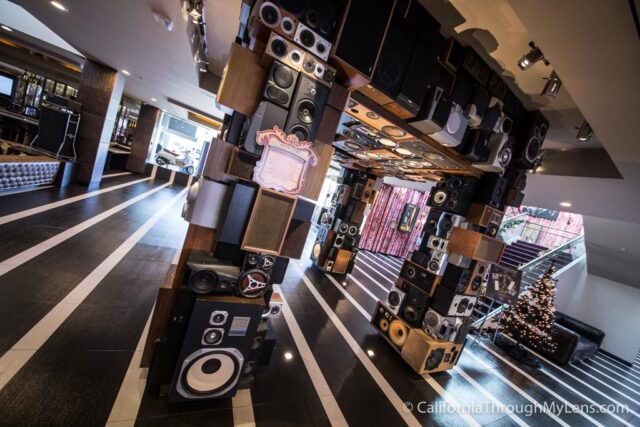 When you enter the hotel, you are whisked away to a magical rock star world with drums from the Red Hot Chili Peppers, a motorcycle from Velvet Revolver, and lobby pillars covered in old speakers. I found this to be a fantastic welcome to my stay and came down to the lobby to relax on multiple nights while I was at the hotel.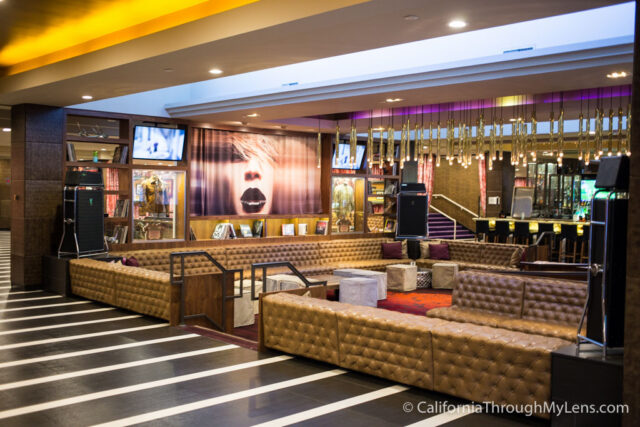 The lobby also has a pool table that you can check out balls for and iPads for getting business done.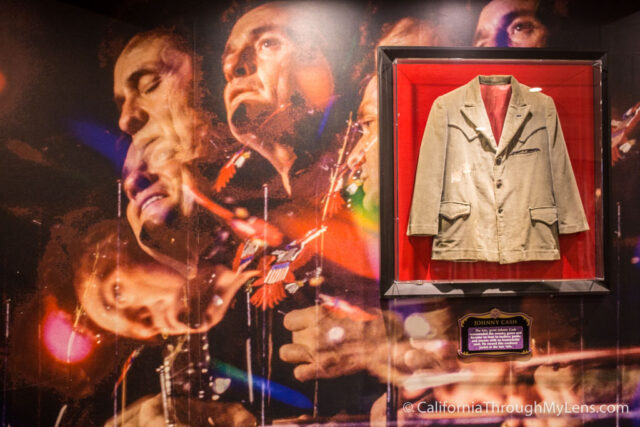 The staircase from the first floor to the second is my favorite spot in the hotel though as it is wall to ceiling rock memorabilia with the crown piece being a big sign that says "fun." from the band Fun lit up at the top. I came back to this area a few times during my stay here to get some photos in front of this backdrop.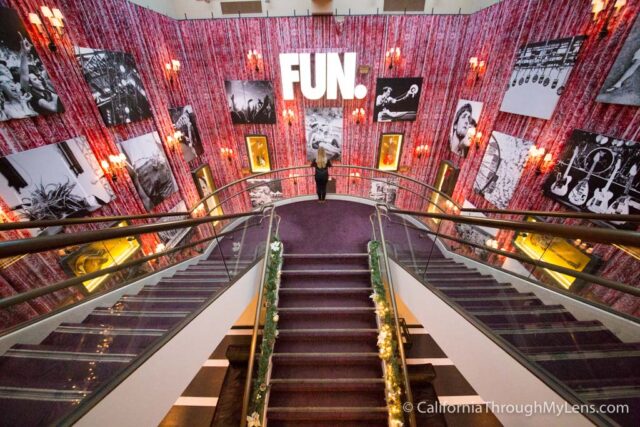 On the second story, they also had some awesome black couches, more memorabilia, and an exterior patio.
The exterior patio leads to these fun paintings, which were 20-30 feet tall and another fun background for photos.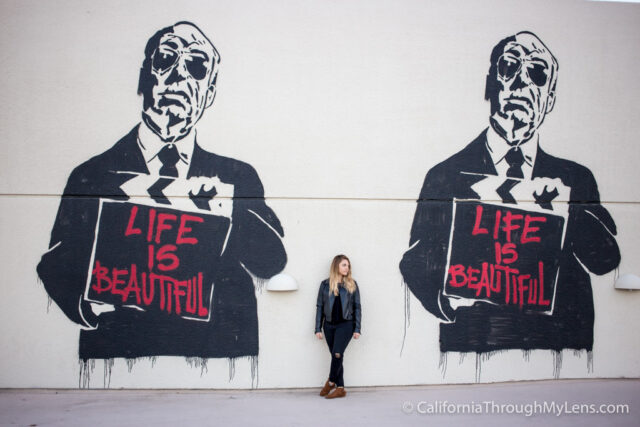 The whole hotel revolves around the pool, and I imagine it being a crazy spot during the summer. I went during the winter though, so I did not end up using the pool at all.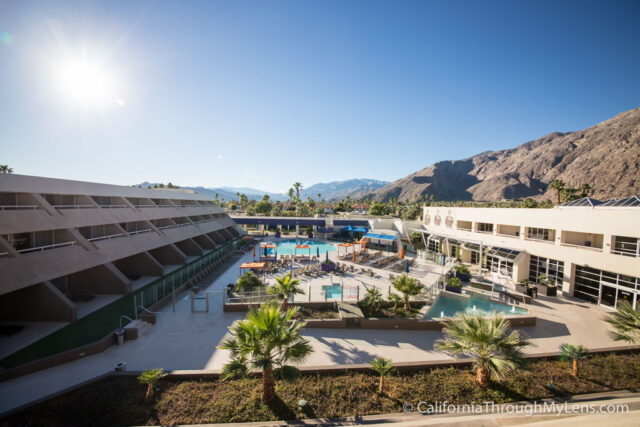 The Interior
The interior of my room was impressive, just like the exterior. It had a large central area with an office chair, lounge chair, king-sized bed, retro lights, and graphic print purple floor.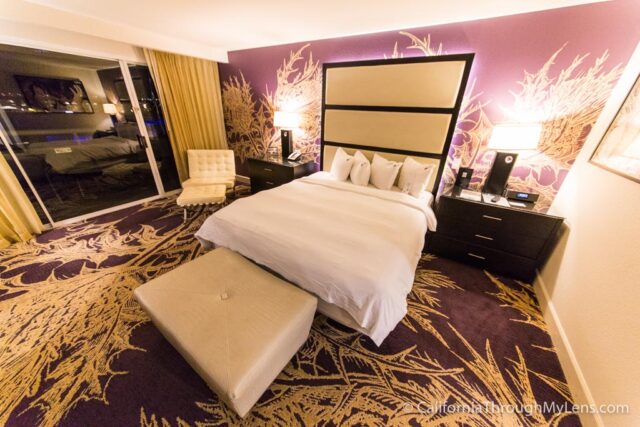 The art in the rooms matched the style of the hotel, which was fun, complete with a concert print that matched up with the TV.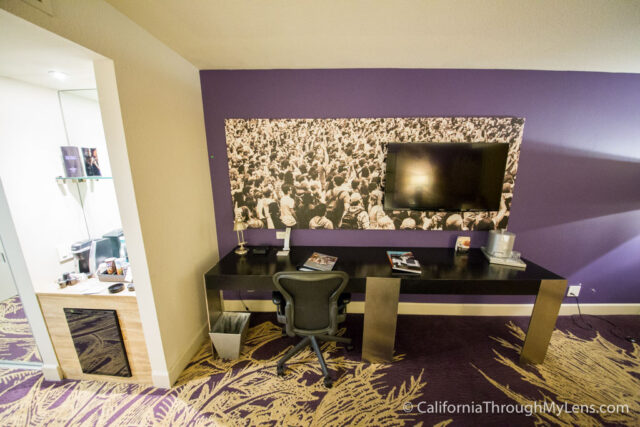 The bathroom was large, with beautiful mirror lighting and a full bathtub.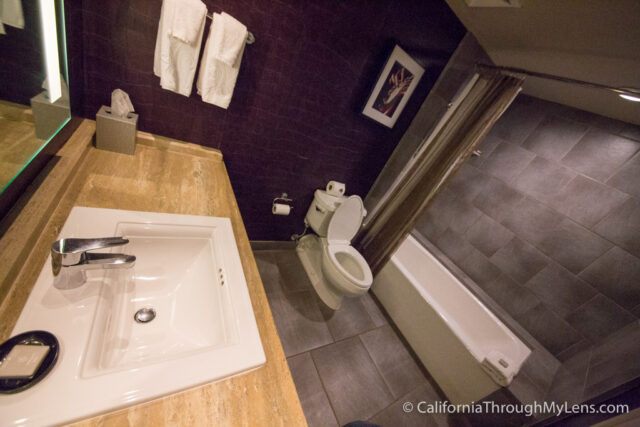 The balcony itself was my favorite spot in the room as it overlooked the pool and the mountains in the distance, and it included two chairs and a small table.
The Sound of Your Stay Program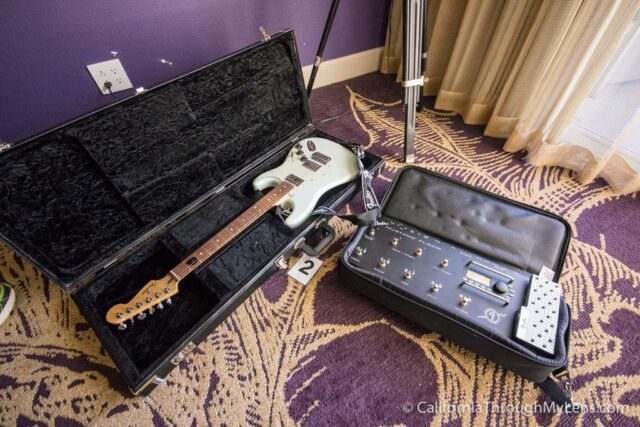 The best part of staying here though, is that you can walk down to the front desk and check out a guitar to use while you are in your room. There were 20 options to choose from, and I loved being able to do this. Jamming in my hotel room is something I now wished every hotel offered. This is called "The Sound of Your Stay Program," and it also includes checking out a turntable if you want to be a DJ and downloadable tracks they give you when you check-in.
The Food @ Simon Kitchen + Bar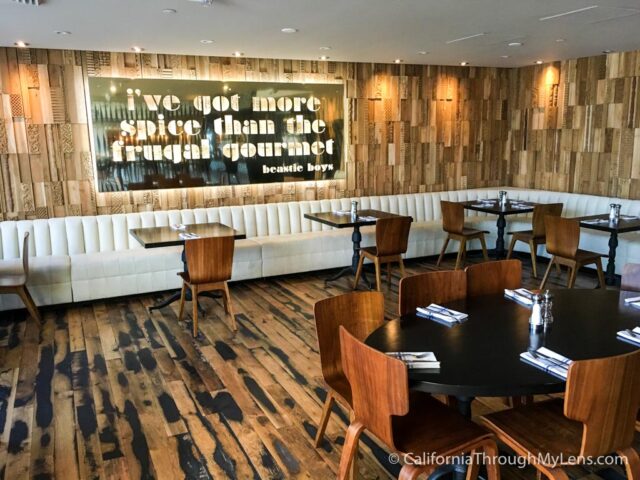 While Palm Springs has so many great options for food, I wanted to make sure I tried the restaurant in the hotel as well, called Simon Kitchen + Bar, since it was created by the famous chef Kerry Simon. I stopped by for breakfast and was pleasantly surprised by how good it was. Here is what I got:
Chile Verde Hash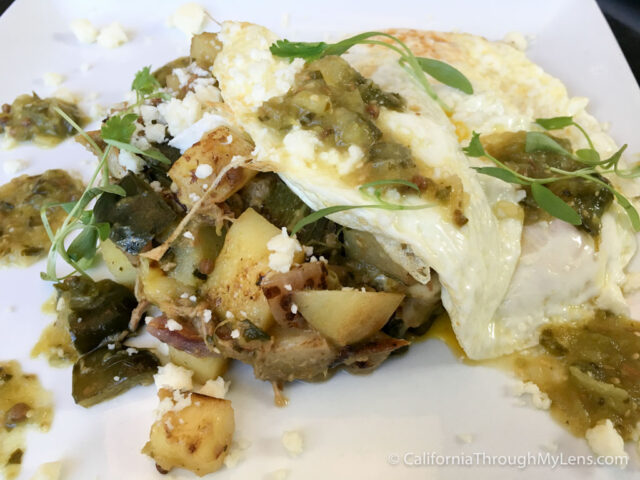 This dish had a great flavor with eggs, pork, and Cotija cheese. I really liked it as it was a traditional take on Chile Verde but done in a completely different way. The poblano chiles add an excellent flavor to the dish without the spice.
PB & J Pancakes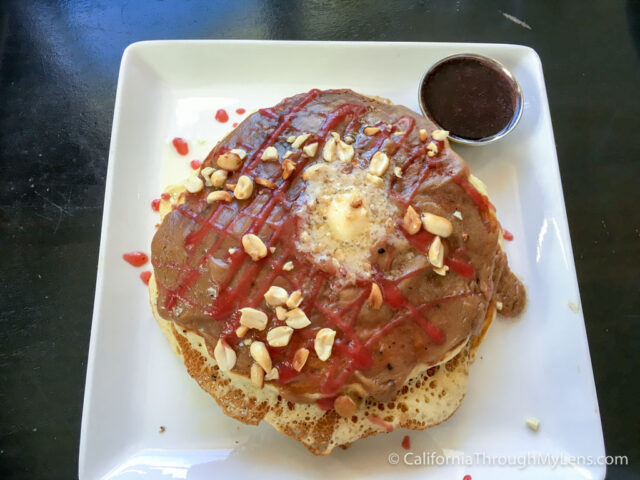 Three moist and fluffy pancakes with smooth peanut butter on top and a blackberry syrup to dip it in. It tasted like dessert for breakfast and was fantastic.
They also have a Sunday brunch that they were setting up for,while we were there, but I did not try it.
The Spa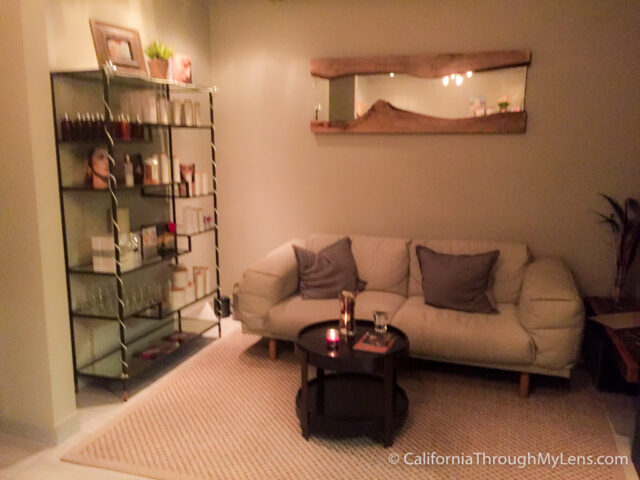 The hotel offers a full service Rock Spa, one of the brand's signature offerings. Most notable is the brand's Rhythm & Motion spa menu, which features music based massages that are available at select Rock Spas around the world. My wife did the 50-minute Synchronicity massage, and she had this to say about her time there.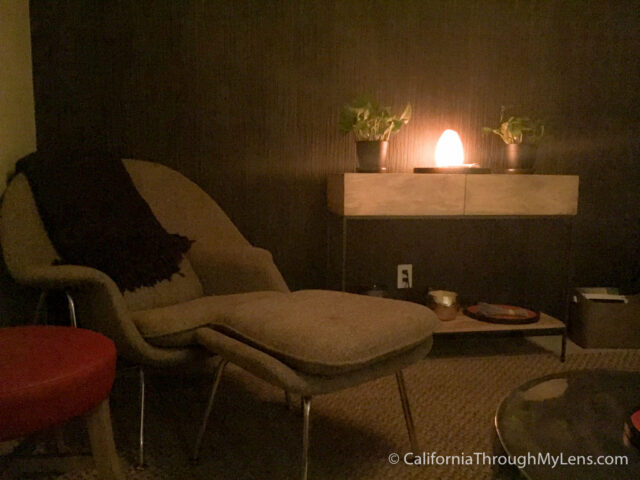 The Rock Spa at the Hard Rock Hotel in Palm Springs is a modern yet cozy place that instantly calms the spirit when you walk in. Upon arriving, I was escorted to the locker room where I could store my things safely and change into a comfy robe. From there, I waited in the softly lit lounge for my treatment to start. I started to unwind in this retro yet inviting space, with the glow of a rock crystal and completed with water, fruit, and little bundles of sage that smelled amazing.
My therapist, Tiffany, lead me to the room to begin the experience. After asking me about any areas that needed attention, she got started by having me breathe in a blend of essential oils. This instantly relaxed my mind and allowed me to take in the musical experience that was going on around me. As the music plays above you, the bed vibrates softly from the base putting you in a music-induced trans. As my sore muscles were relieved of tension, I was mentally unwinding from the rhythmic lullaby of musical vibrations that felt like I was in a private, intimate, and relaxing concert.
As my experience sadly came to an end, Tiffany gently sprayed a mist of lavender that left me feeling refreshed and rejuvenated. I continued this feeling in the lounge where a detoxifying tea shot was waiting for me to complete this transforming time. Huge fan of this massage, even though I was not sure what to expect initially with the music-based experience, it was fantastic.
Nearby Attractions
Of course, the location right in the middle of downtown Palm Springs is a huge selling point for this hotel as well. If you are looking for what to see nearby, then consider a few of these.
Bills Pizza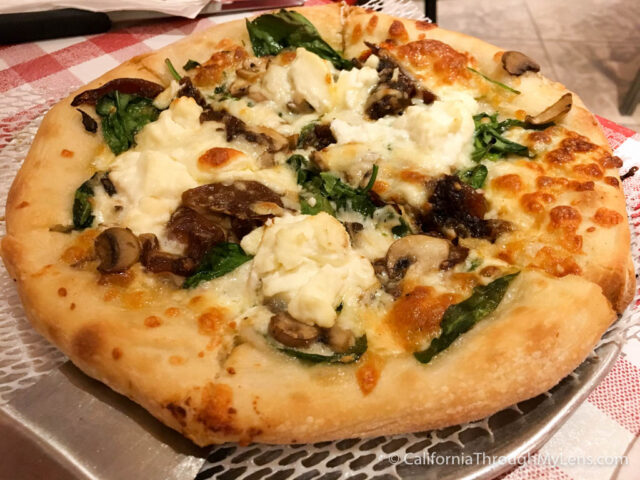 Right across the street and voted one of the best pizza places in the United States. Go for the Elton John pizza.
Airplane Museum
About 10 minutes away, this is a fantastic museum is one that you need to visit if you are into airplanes at all. They have a lot of great installations and great docents to answer any of your questions.
Elvis Honeymoon House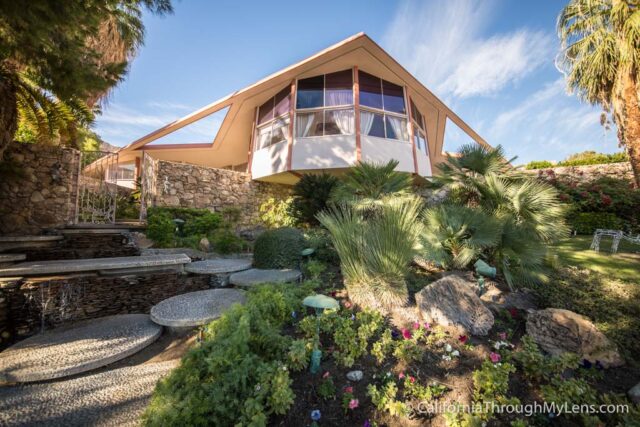 As the only celebrity house that is open to the public in Palm Springs, this is a great way to see a historic home that has been preserved, and that was tied to Elvis, one of the most famous singers of all time.
Sandwich Spot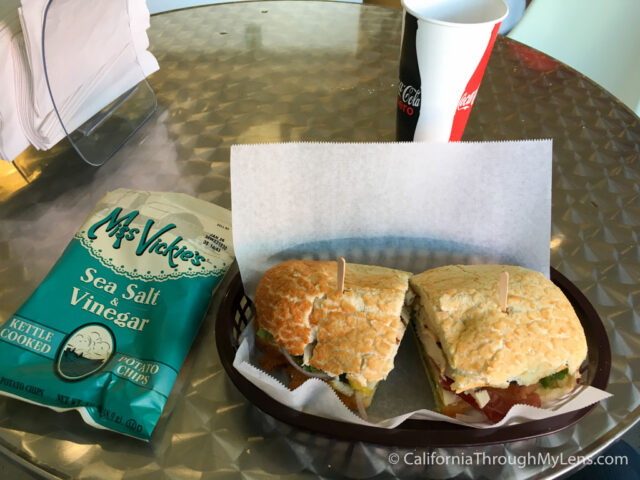 If you are looking for an excellent cheap lunch, consider The Sandwich Spot, which is hard to beat for both flavor and cost. It is about an 8 – 10 minute walk.
Ruddy's General Store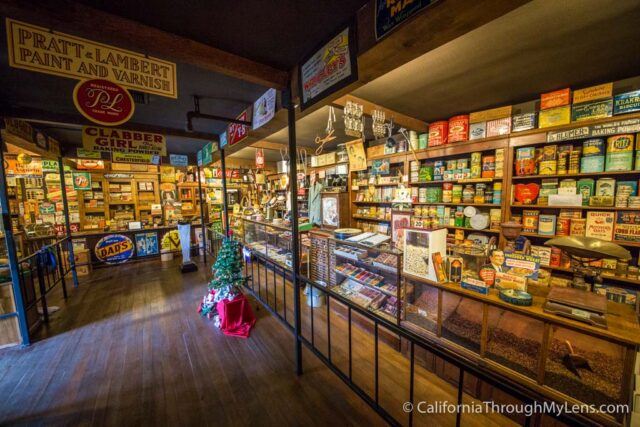 I always like to find a few fun and unique places when I visit a city, so for Palm Springs, check out Ruddy's General Store. This small building is a perfectly preserved general store from the 1930s. All of the items are from the time period, and the museum only costs 95 cents to enter.
All in all, this is a fantastic hotel to stay at in the city. I loved my time here as it was an overload of your senses in a good way, and it had such a fantastic location that it was easy to walk around and explore the city. If you are in the area, then you should consider staying at the Hard Rock Hotel Palm Springs. Let me know what you think in the comments.