High Peaks Trail to Bear Gulch in Pinnacles National Park
Pinnacles National Park is primarily known for the two caves that it has, but if you visit without hiking the High Peaks, then you are missing out. The High Peaks Trail is one of the best hikes I have been on in a while; it is just so unique and beautiful at each turn. If you want to do it while in the park, then read on for all the information.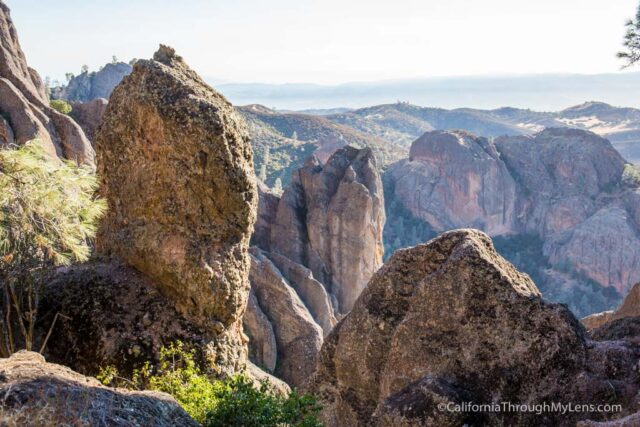 Details
This particular loop is 6.5 miles
1,800 feet of elevation
Cost: $15 to enter the park
Leaves from Bear Gulch Day Use Area
This information is from my visit in 2017
Read all about Pinnacles National Park here.
Getting There
After entering the park on the east side, you will want to proceed to the Bear Gulch Day use area and find parking. Yes, there are many ways to hike the High Peaks, even from the west side as well, but this is my favorite since it takes you through Bear Gulch Cave on the way up.
The Trail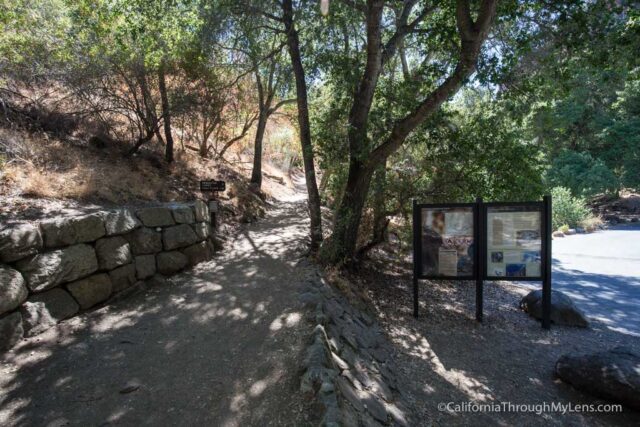 Leaving from the Bear Gulch day use area, you will want to head towards Bear Gulch Cave. This trail will take you through the cave if it is open, and you can read all about the cave in this post, so I won't rehash it all here.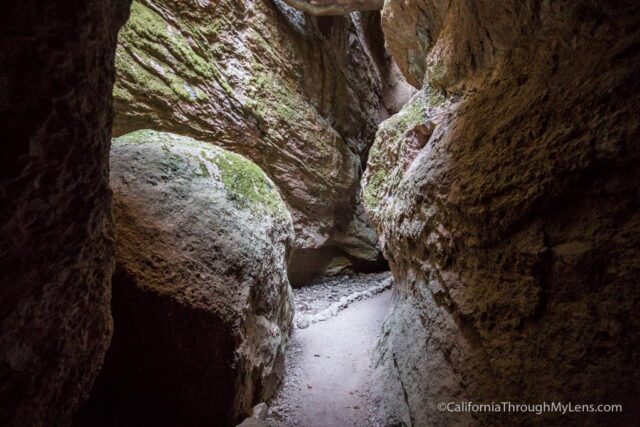 Assuming the cave trail is open, you will proceed that way, but if it isn't, you can take the split and go around the cave.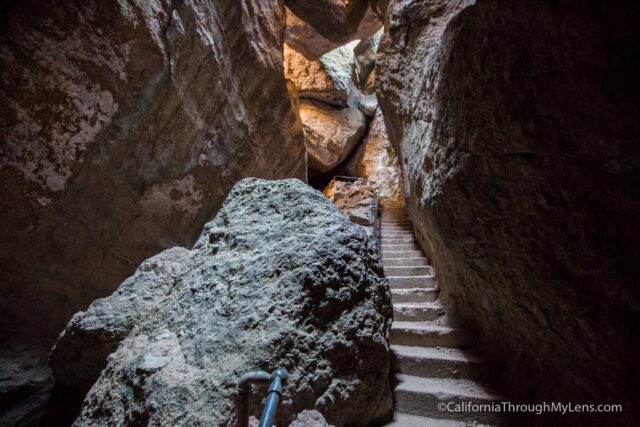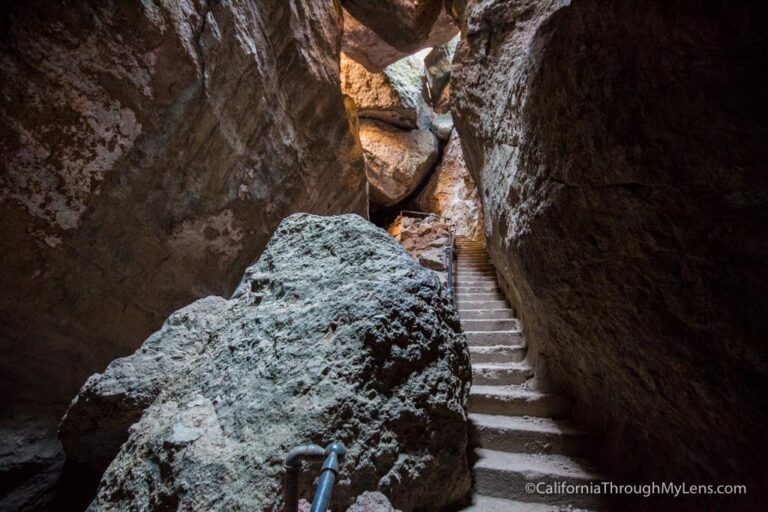 The cave is impressive though; you climb a bunch of stairs to go up and through it. Bring a flashlight as it is dark.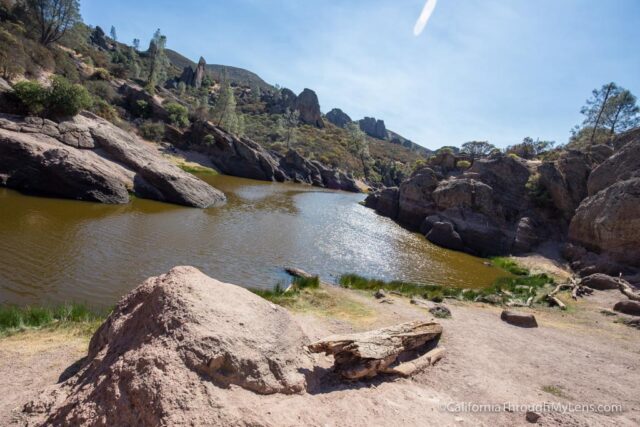 Once you exit the cave, you will continue on the trail to the reservoir, another great spot to see in the park.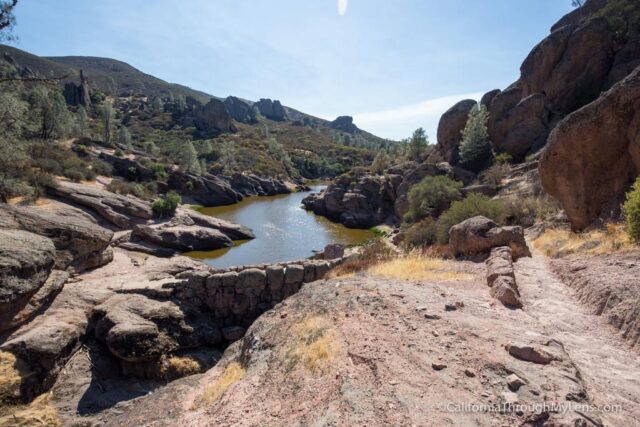 The steps that lead up to the reservoir are my personal favorite as they provide an excellent photo opp.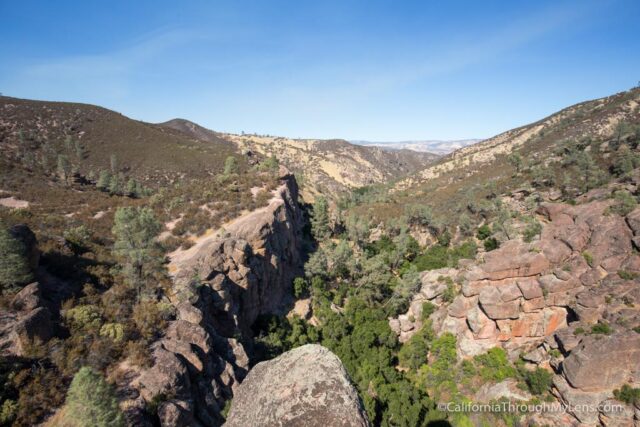 From the reservoir, you will want to take the Rim Trail for about a half-mile. This trail takes you uphill on a series of switchbacks before heading back downhill as it wraps around the mountain.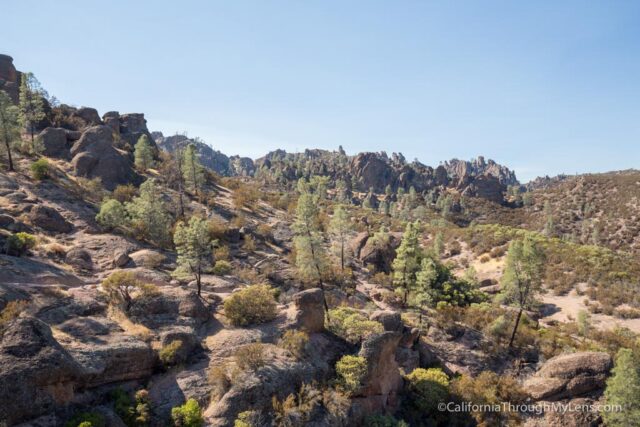 This is where you will get your first view of the High Peaks from as well.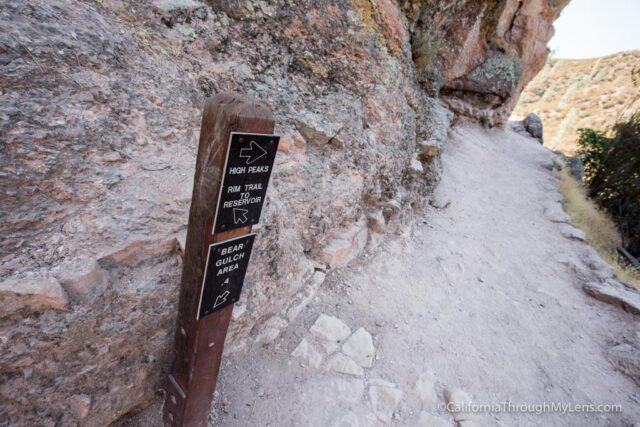 The trail then connects with the High Peaks Trail, and you will want to stay on that as you continue to climb up in elevation towards the rocky peaks.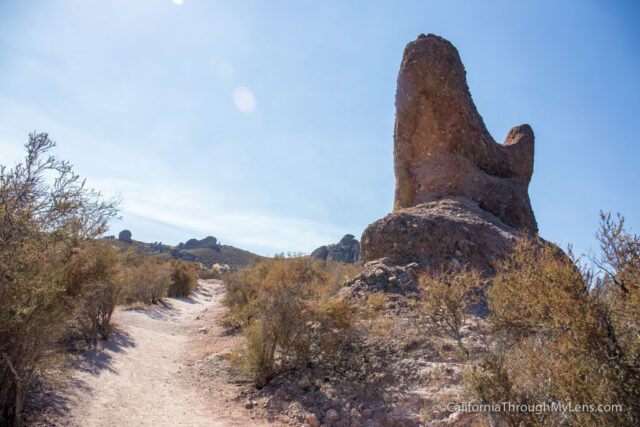 These peaks are where Pinnacles gets its name, and it is easy to see why. You will immediately notice all of the crazy rocks jutting out in front of you along the top of the ridgeline.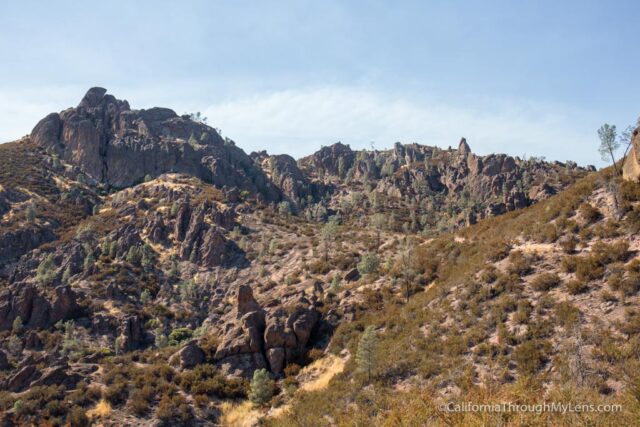 This area has almost no shade, so be sure to have water and sunscreen, and I wouldn't hike it in the summer.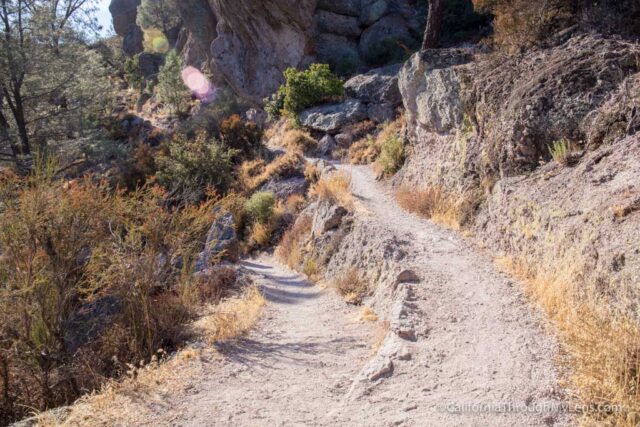 As you continue to wind around, you will get closer and closer to the rocks themselves.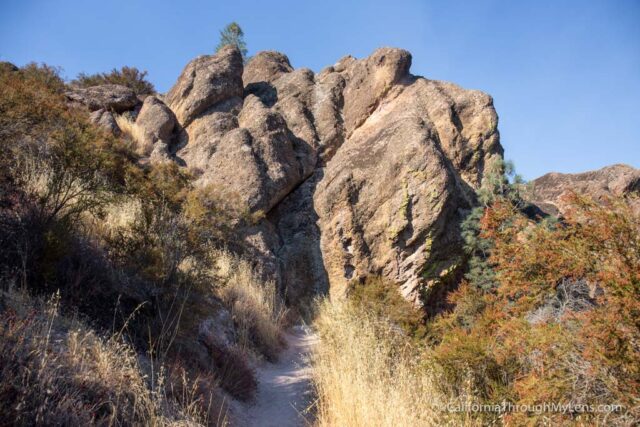 Finally, the trail crosses a small saddle, and you will enter a more shaded area as you make your way up the last series of switchbacks.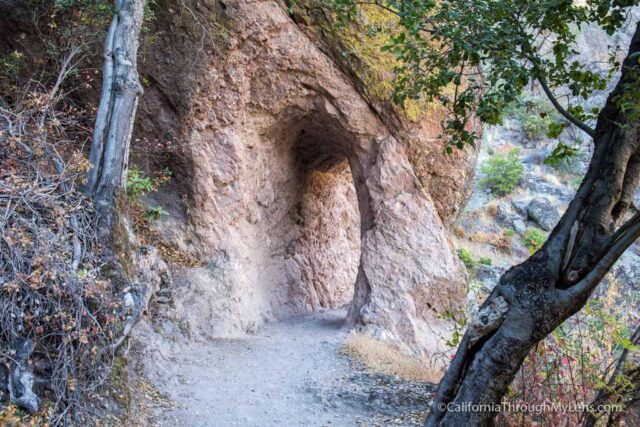 This is also where there is another tunnel rock you walkthrough, which is fun to see as well.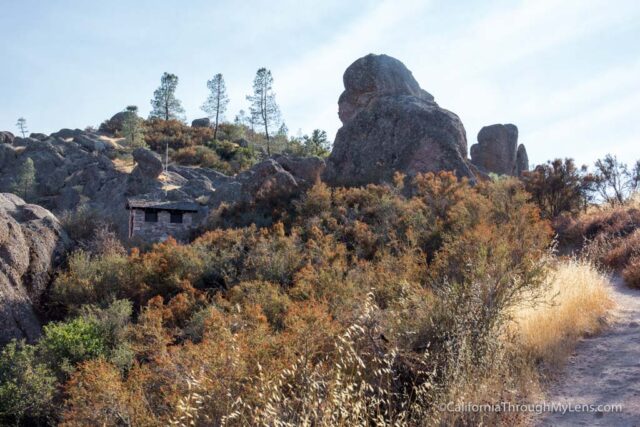 The switchbacks continue, and while it is tiring to gain all of this elevation at once, it's nice to be able to see the ridgeline and know how far you have left.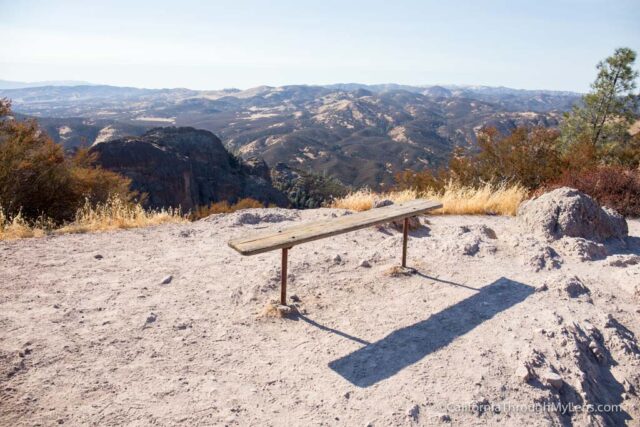 Once you get to the ridgeline, you will notice a bathroom built up here and a bench. It is hard to think of a bench with a better view, so be sure to take a moment and relax.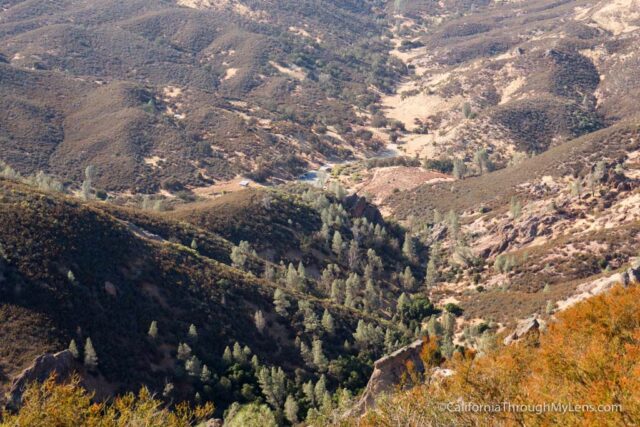 You can even see down into the west entrance parking lot from here as well.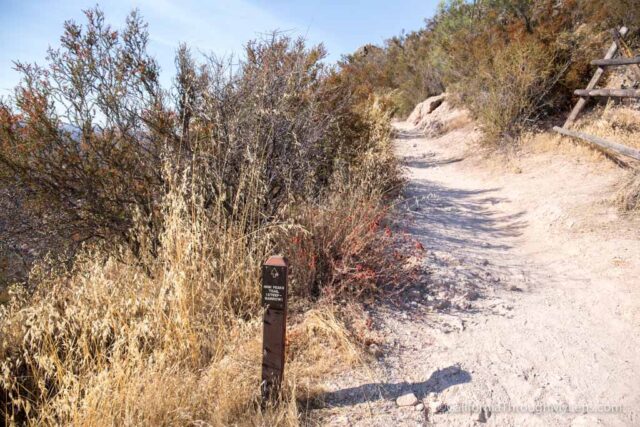 When you are ready to continue, you will head to the right on the High Peaks Trail. This section is steep and a little narrow, so if you do not like that, then it is probably best to skip it.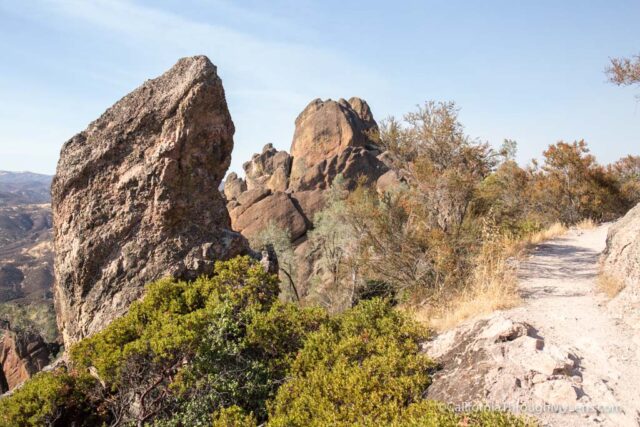 The section starts with gradual uphill, beautiful views, and looming rocks.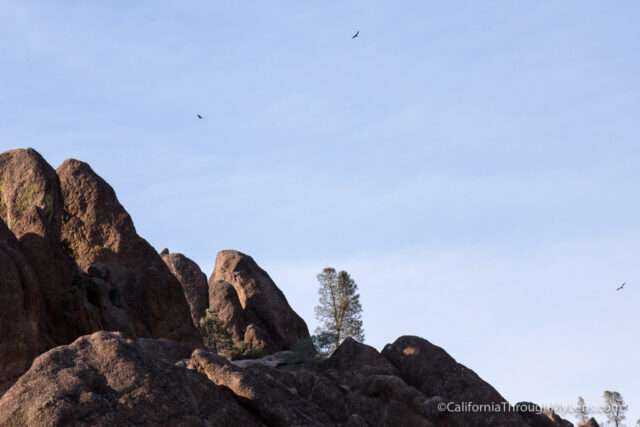 You will then cut in and down the opposite side of the mountain for a little while. This is an excellent place to see condors as they are all over this area. I saw birds circling, and I just assumed they were condors (visitor center worker told me this), but I am not 100%.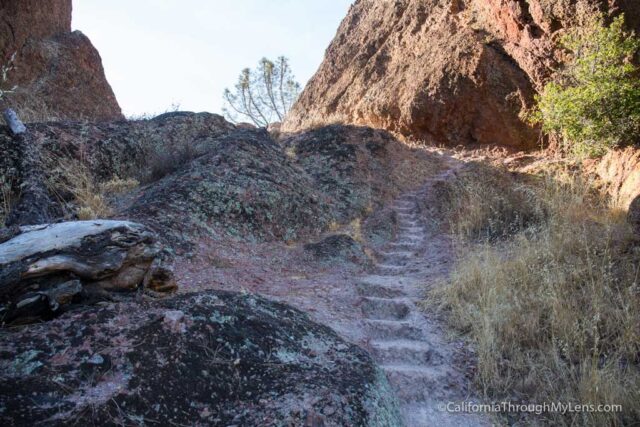 Eventually, you will reach a long rock staircase that will take you back up to the ridgeline.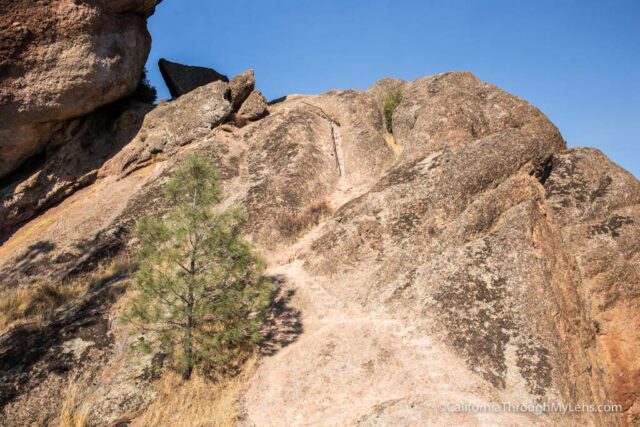 This is where the trail gets narrow and has some sketchy stairs cut into the rocks.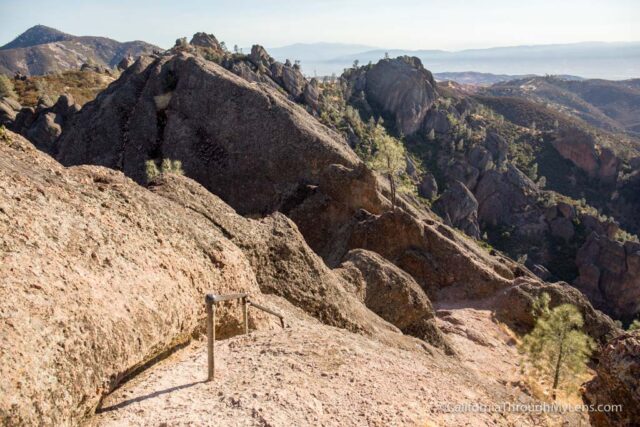 I never felt unsafe on this trail as they have handrails on the sketchy parts, but you will have to judge for yourself whether or not you want to do this trail based on the photos.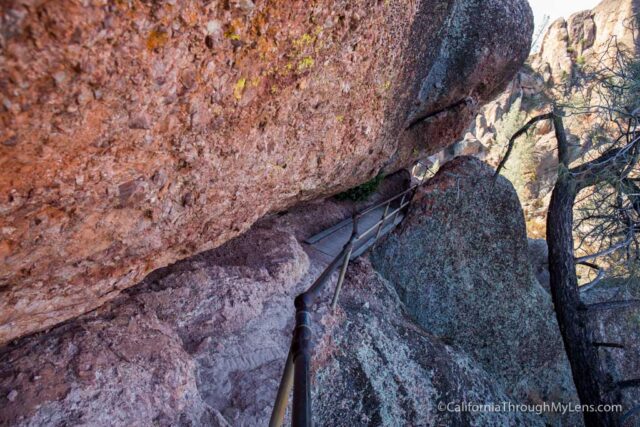 When you make it to the top of this section, you will have one of my favorite views.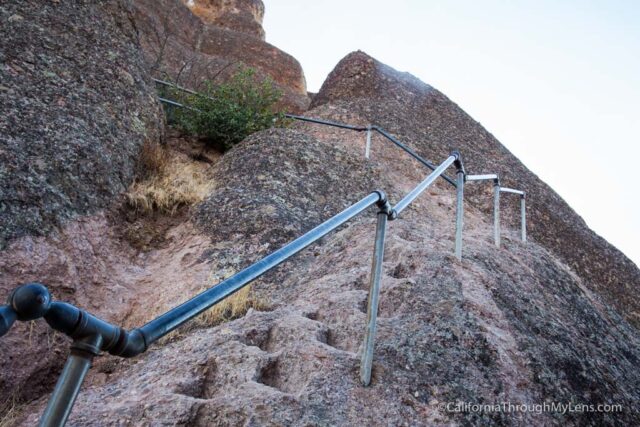 You then head around the backside of the big rock and walk on a narrow path along the rock's backside. When you pass the small bridge, you will begin climbing down the rock, which is fun and gives you adrenaline. This is the last section of the crazy hewn rocks, so after this, you will be walking on a typical dirt path again.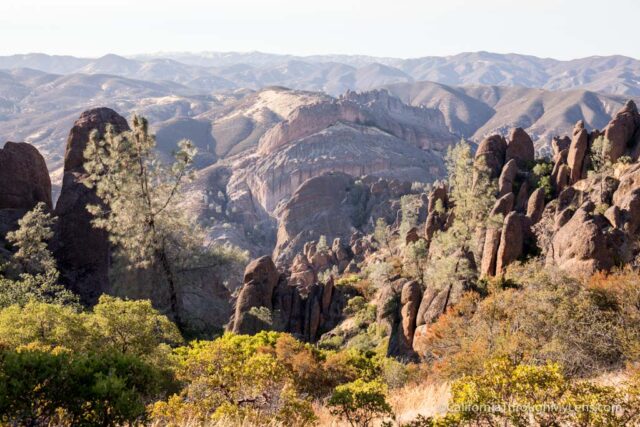 The trail then heads behind another rock, and you get your last few glimpses of the High Peaks area before starting to head east and back to where you started.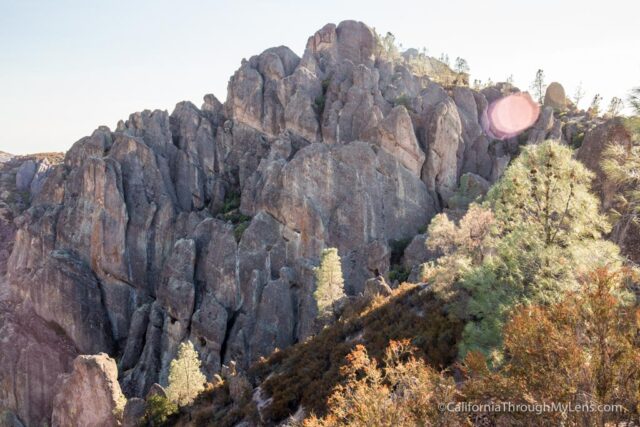 The rest of this trail is relatively uneventful, but you will want to make sure you are looking out for the split that takes you back to the Bear Gulch area.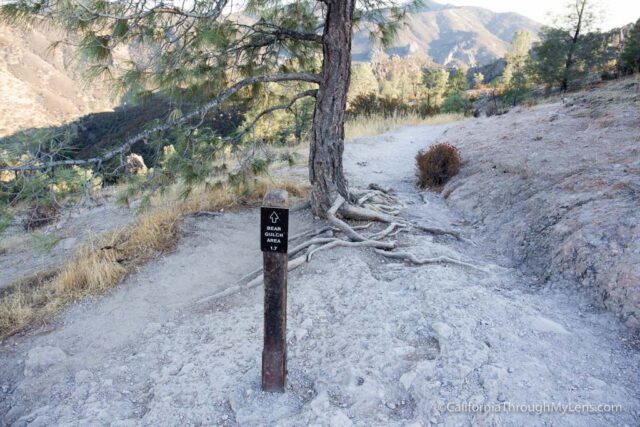 From the split, you are basically walking downhill on switchbacks and losing all of the elevation that you gained on your way up.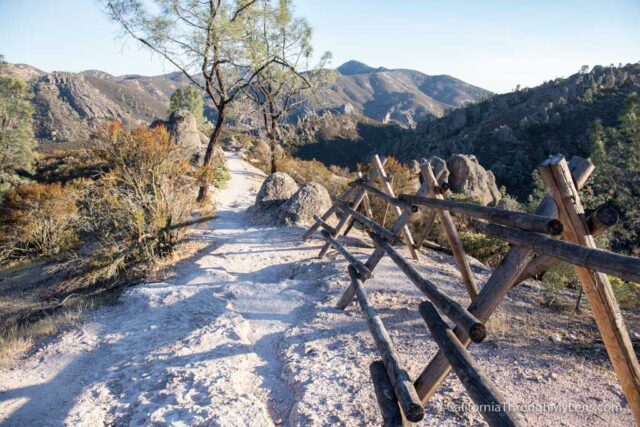 About halfway down, you will reach a viewpoint for Condor Gulch, but after seeing the High Peaks area, it is not that impressive.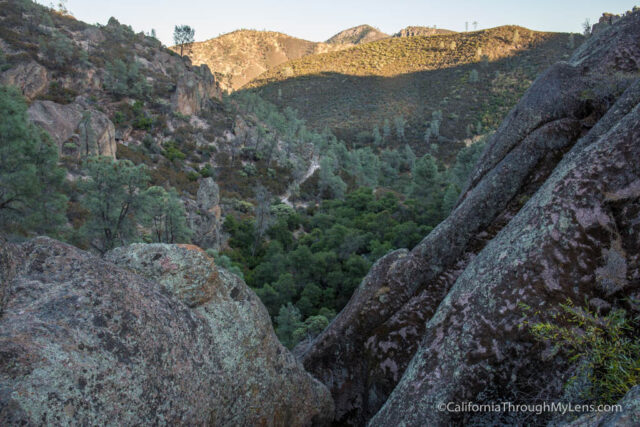 Continuing down, you will reach the day use area, which may be where you parked. I parked up a little further near the Bear Gulch Cave trailhead, so I had to walk the quarter-mile path from here.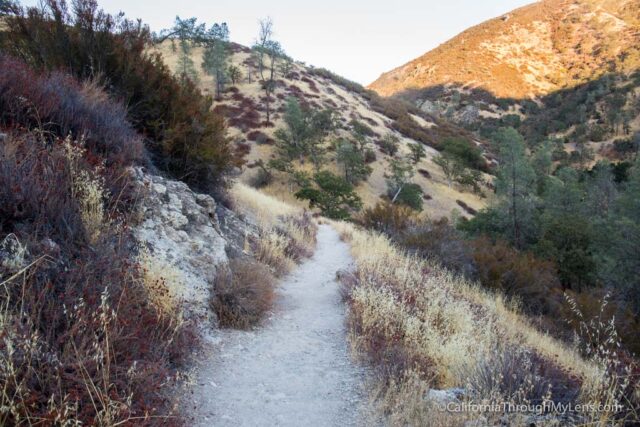 This path is nice though, as it takes you through a shaded picnic area before you reach the parking lot.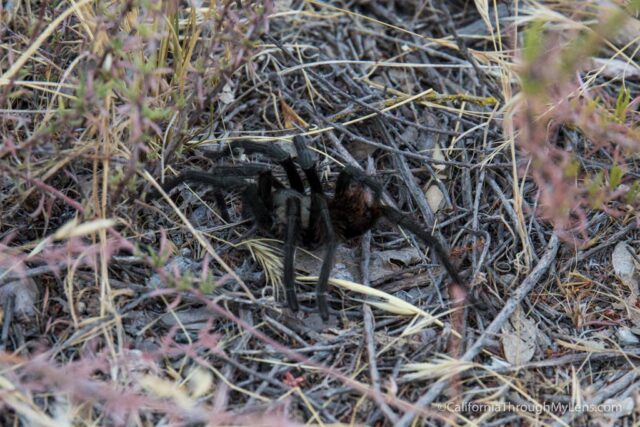 Also, watch out for tarantulas here as I almost stepped on one while I was walking back to the car.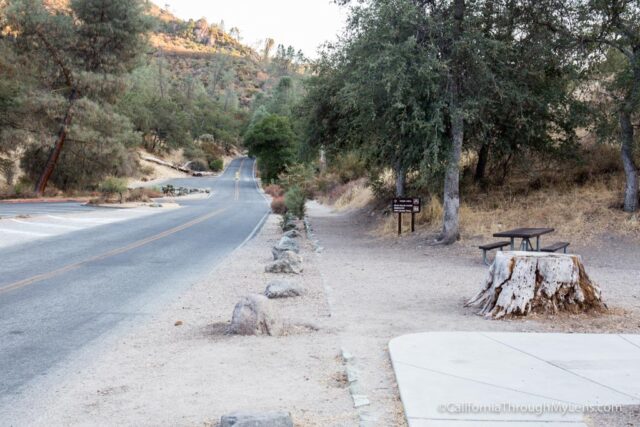 Video
Here is a video I made of the trail as well.
All in all, this trail is one of the best in a park with a lot of great trails. I highly recommend you make your way to Pinnacles National Park and be sure to see the High Peaks when you do. Let me know what you think in the comments.