Big Basin State Park: Hiking Berry Creek Falls, Silver Falls & Golden Cascade Falls
In California's oldest state park, Big Basin Redwoods State Park, the Sunset / Sky to Sea Loop is one of the park's most popular hikes. This hike is not for the faint of heart though, as it is around 11 miles, and it gains almost 2,000 feet during that time. On the trail, you will see redwoods, banana slugs, and three waterfalls, so it is worth getting tired to experience something this unique. Here is all the information.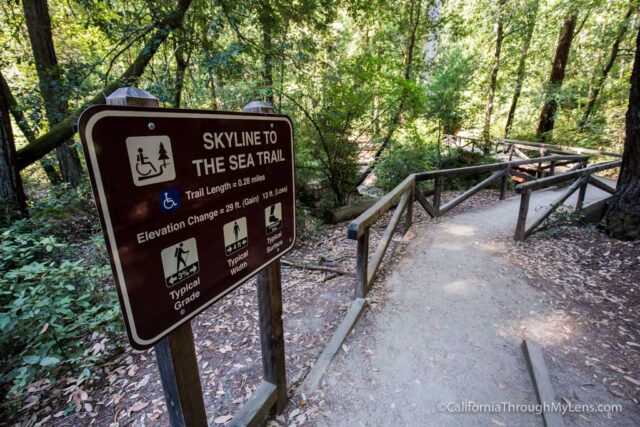 Details
$10 to enter the park
11 miles, .6 more if you do the Redwood Grove as well
1,900 feet of elevation gain
Bring at least 2-3 liters of water as you will go through a lot.
This information is from my hike in 2016.
Getting There
The trailhead for this hike is located directly across the road from the visitor center. After arriving at the center, you can park in the lot across the street then head over to the center to pay your fee. The parking lot can fit around 50 cars, but it can fill up on busy summer weekends.
The Trail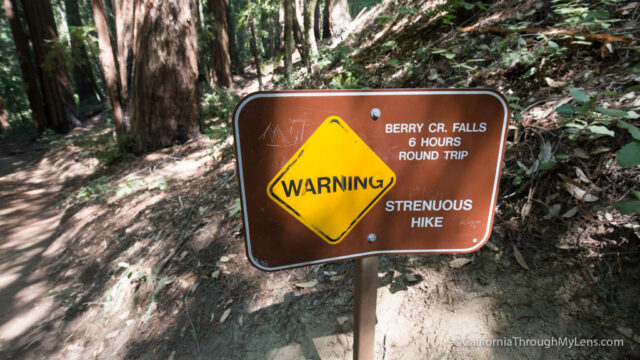 Since the trail is a loop, you can do it either clockwise or counterclockwise. I asked the ranger which way they recommended, and they said counter-clockwise since it spaces out the hiking. Doing it this way does make your last 4 miles of hiking pretty much a constant uphill though. Regardless, I took their advice and headed out on the counterclockwise trail. The trail is relatively easy to follow, but do talk to the ranger before you go as there are a few splits that you need to navigate. You can also download my GPS trail if you want to follow along that way. I am not going to talk about the peculiarities of how to follow the trail as the GPS above should help you with it, but here is what to expect on the trail.
Also, I recommend hitting the Redwood Grove before you start as it is flat and only .6 miles, you won't want to do it when you come back, and it has some amazing trees, so it is worth your time. Here is my post on that trail.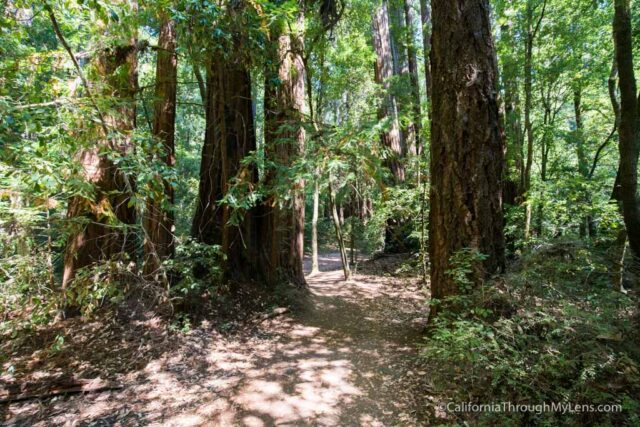 After crossing the small creek and starting the trail, you will head right and follow the signs for the Sunset Trail.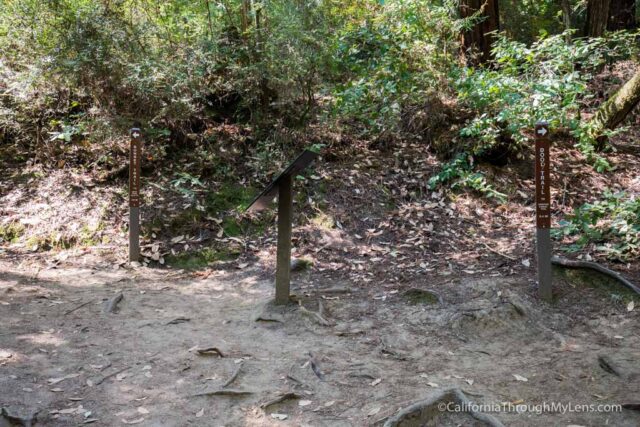 The trail starts going up almost immediately, and you will be going uphill for most of the first mile before it flattens out. Do note that most of the trail is rolling ups and downs, so there is a lot of both.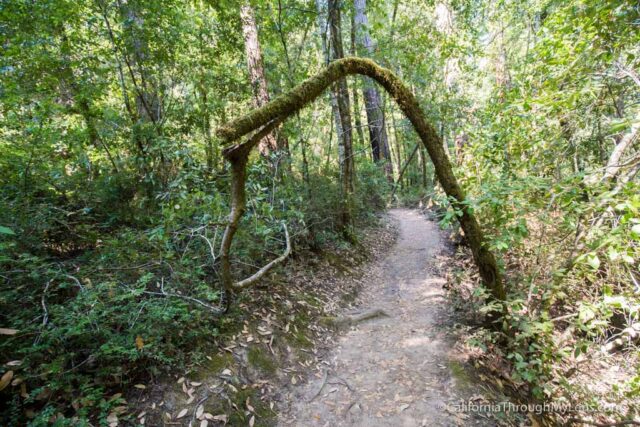 This section is well shaded and has a lot of beautiful and towering trees.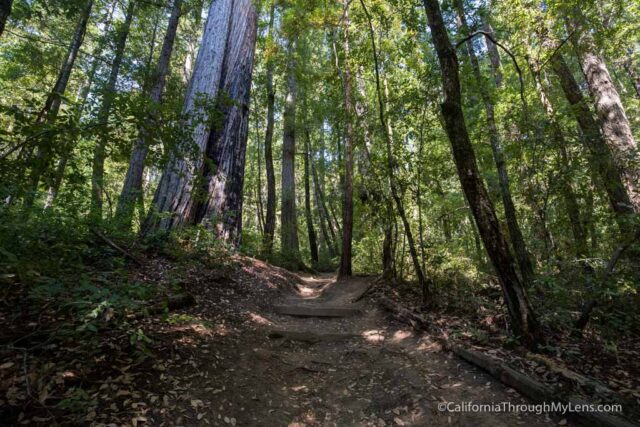 There are also a lot of bridges that are there to provide safety over water crossings, but this late in the season, there was not much water to cross.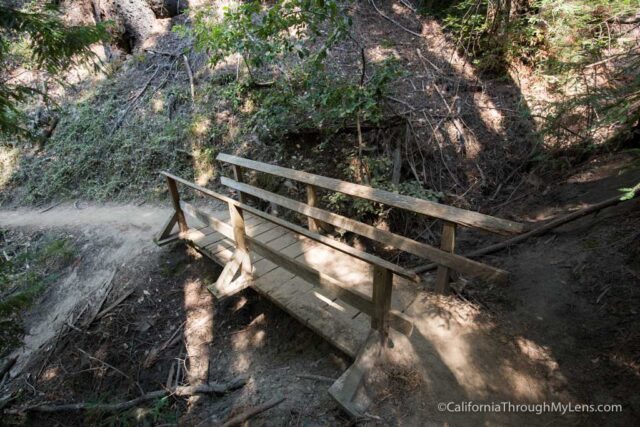 The next section is relatively fast paced since it is downhill. I was chugging along, so I did stop a lot to take photos. I also didn't see anyone for most of the trail.
At around 3.5 miles, there is an excellent large rest spot with lots of logs if you have a group and want to make use of it.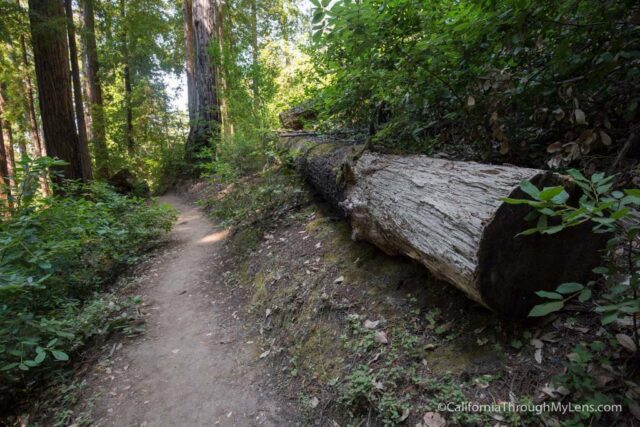 Also, note that you need to take a hard right to stay on Sunset at the intersection with Tims Creek Trail, I almost missed this, and it would have been sad to go the wrong way.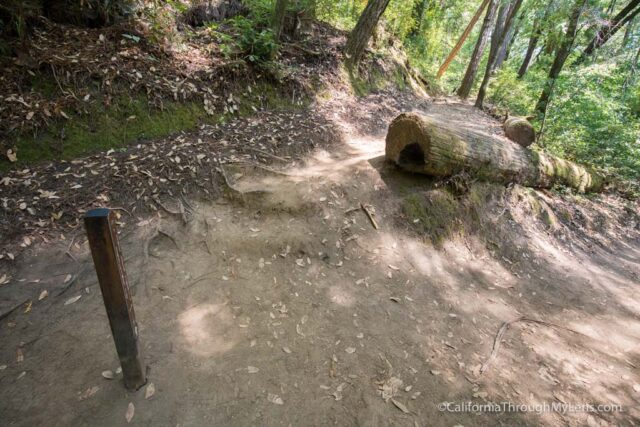 Here are a few more photos for this part of the trail.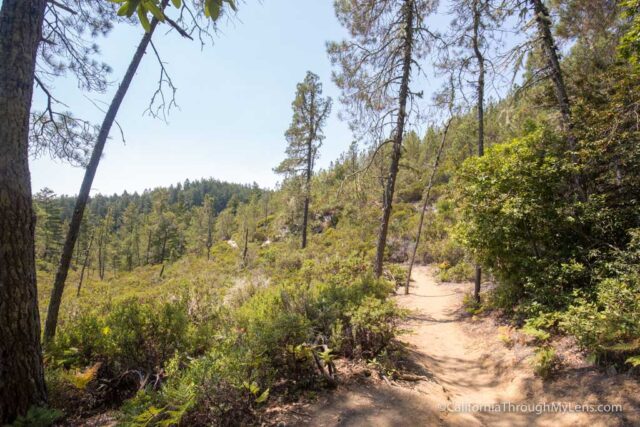 After exiting the forest for a bit and then heading back into it, you will start to hear the rushing water that designates the first set of falls, Golden Cascade.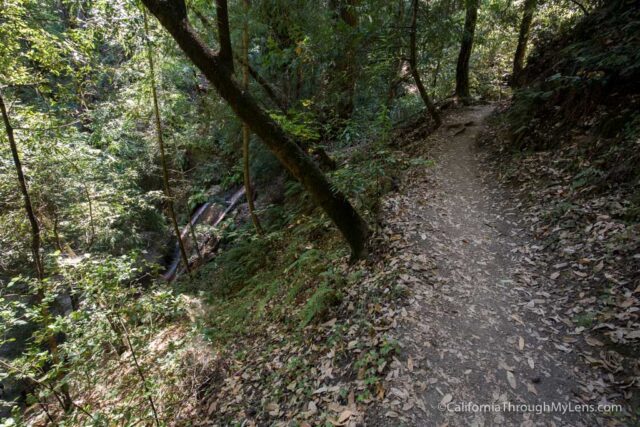 Golden Cascade Falls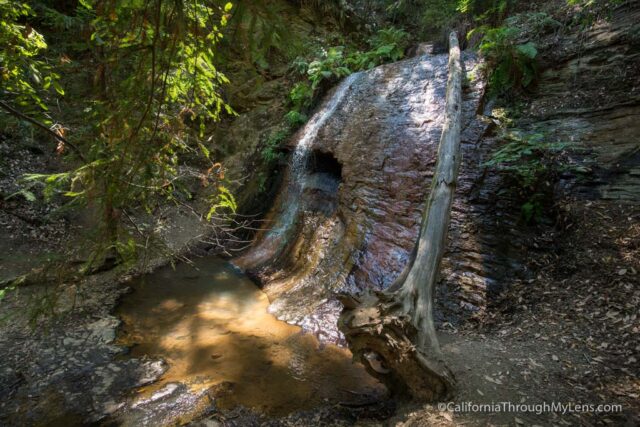 Golden Cascades may have been my favorite of the waterfalls as it is the most unique. The rocks are smooth and have a yellow/orange hue that makes them stick out and provides impressive photos.
There are three levels of these falls, and the top was my favorite, but the middle is the most like a cascade with multiple levels for the water to flow over.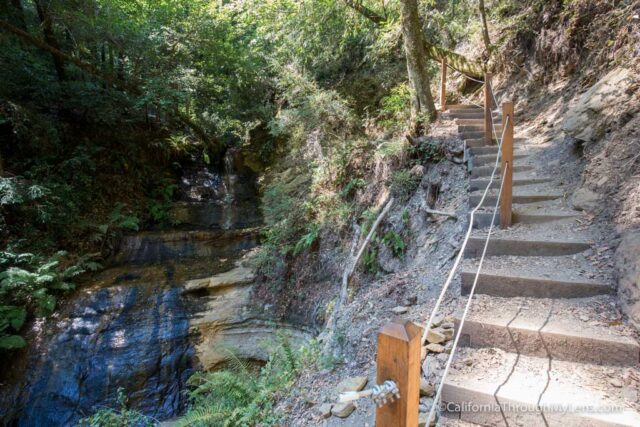 The bottom is a 10-foot waterfall that drops into a pool. It is pretty but has nothing on the other two.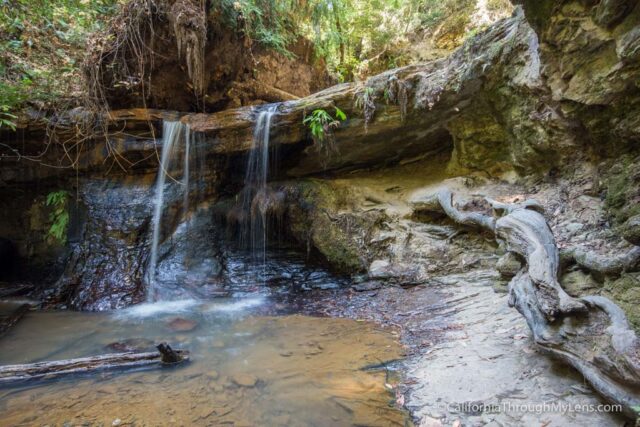 After passing Golden Cascade, you will quickly be at the top of Silver Falls.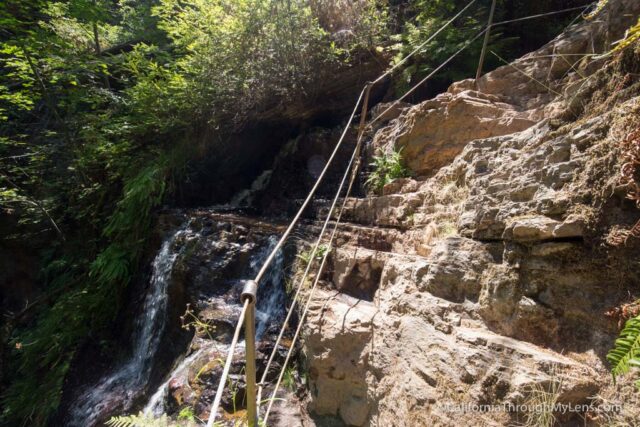 This part is a little sketchy as there are rudimentary steps carved into the rock and a small chain you can hold that keeps you from slipping off of Silver Falls. I liked it as it got my blood running a little bit.
Silver Falls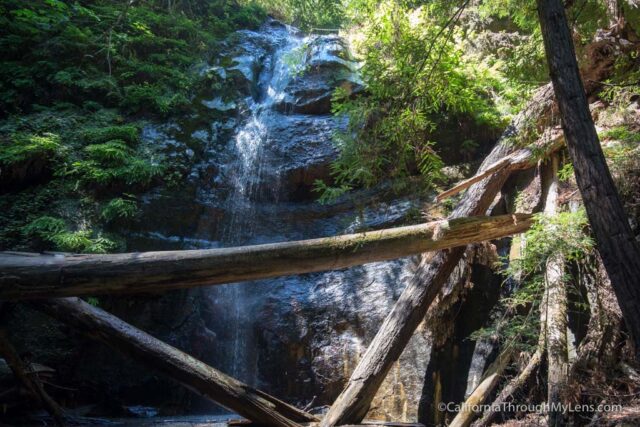 Silver Falls is amazing, but it is my least favorite of the three. As you walk down the stairs, you will get better and better views of the falls. There was a short dirt trail that got me closer, but someone was sitting on the large downed tree, so it was hard to get a good photo.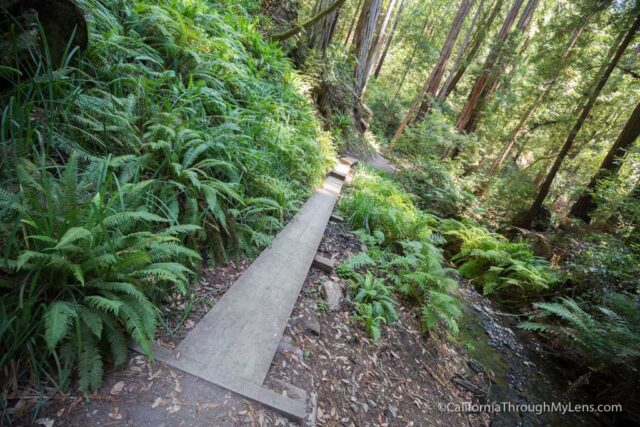 I only spent 5 minutes or so here before heading on. The trail from here is about 3/4ths of a mile to Berry Creek Falls, the main draw in the park.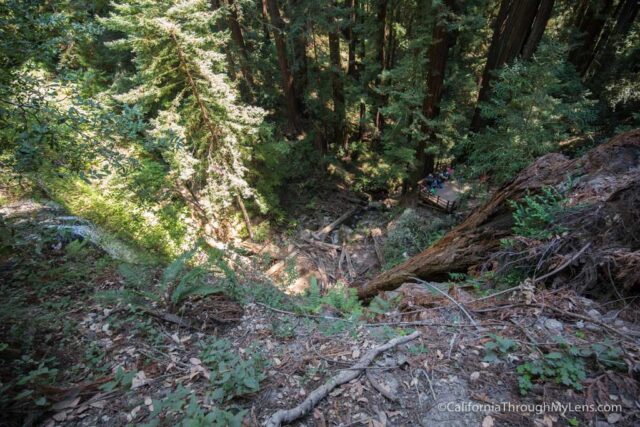 It is a beautiful trail as it follows the creek and has lots of large trees on both sides. I kept taking pictures here as well, and I probably have way too many photos of this area, but it was just so majestic.
Eventually, you will make it to the top of Berry Creek Falls, much as you did with Silver Falls. There is a trail that takes you down to the right and drops about 75 feet to the observation deck for the falls.
Berry Creek Falls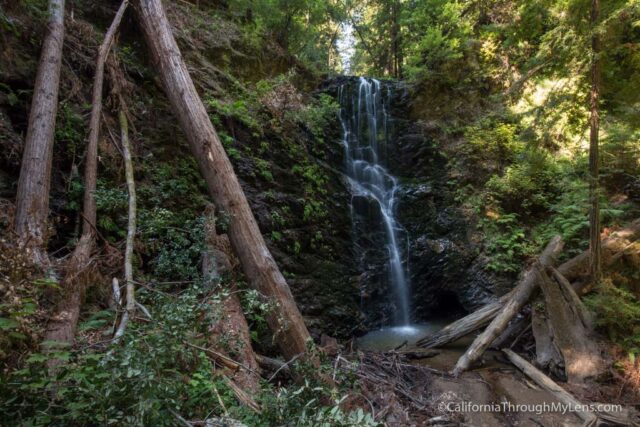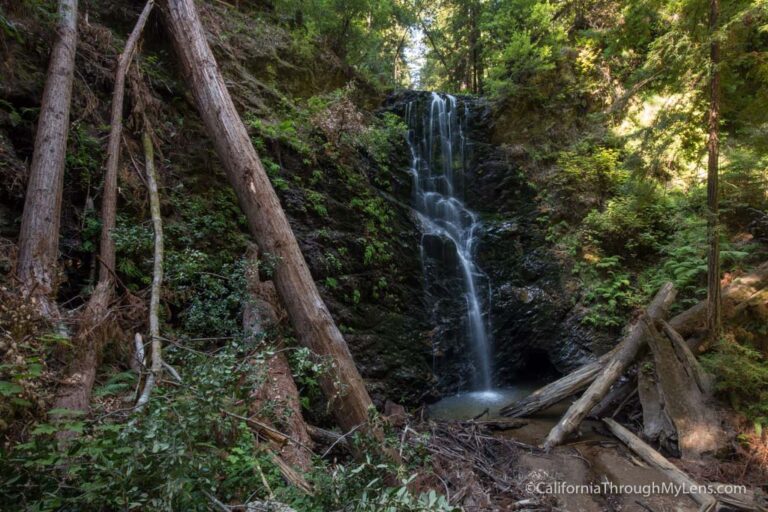 Berry Creek Falls is one of, if not the most popular views in the park. When I was there, it was incredibly busy, so it was hard to grab a spot to see the falls. There is a bench you can sit on though, and I sat there to eat my sandwich and wait for a turn to photograph the falls.
I wanted to get closer to the falls but was told by the ranger that it was off-limits, so I didn't.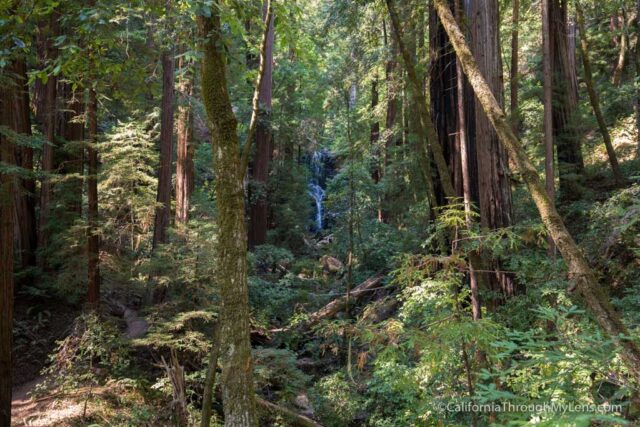 After hanging out for about 30 minutes, I started my ascent back up the trail. You are technically only 4 miles from the parking lot here, but it is 4 miles that are pretty much 100% uphill.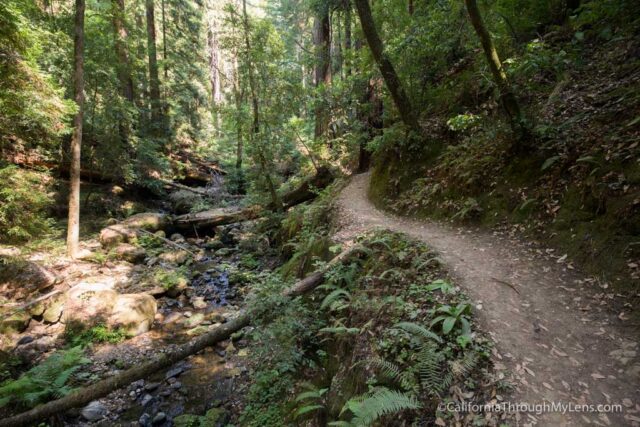 The area is beautiful with lots of creeks, massive trees, and even a few banana slugs if you keep your eyes peeled.
I was hoping to see a banana slug, so I was looking all over for them and finally stumbled on one. It was awesome to see, and I think they are one of my favorite creatures now. From there, I kept putting one foot in front of the other and passed a half dozen or so people on the trail that were complaining about what they got themselves into.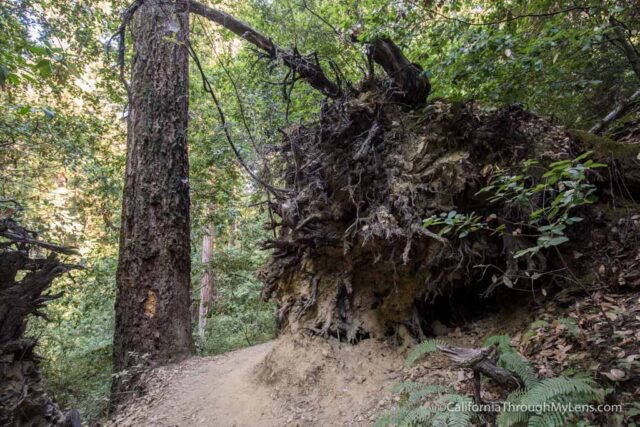 Remember to note that this is not an easy hike, so if you are making the trek, then take lots of water and give yourself a lot of time to complete it. After finally rounding out the last hill, I was excited for the final 3/4ths of a mile downhill. There were a bunch of impressive downed redwoods at the end, which made me wish that I was more energetic to take photos of them.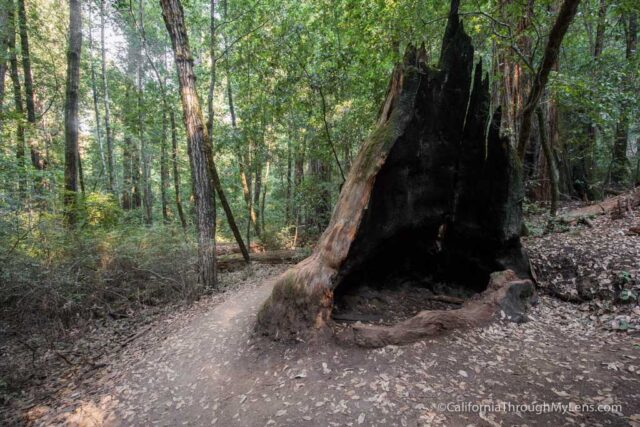 After connecting with the first trail, I was finally back at the visitor center and my car. I loved my time in Big Basin, and even though the path is hard, it is beautiful, shaded, and has a bunch of waterfalls. I am going to be sore tomorrow, but it is the soreness that comes from knowing you accomplished something awesome.
Video
Here is a video I made on the hike.
Let me know what you think in the comments, and be sure to check it out if you are in the area.