California Trail Blazers Interview: Author Tom Courtney
California Trail Blazers is an idea I had to showcase people from California that are doing unique things for or in the state. If you have a suggestion of someone you think should be featured here please contact me.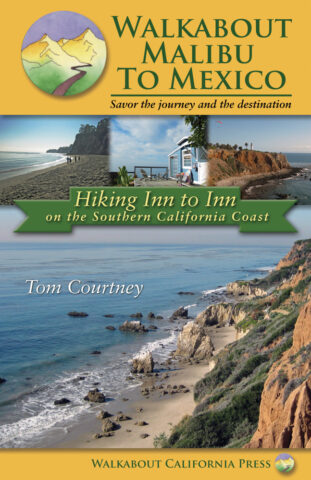 The first time I heard about Tom Courtney's book "Walkabout Malibu to Mexico" was after I had completed my own walk on the Camino De Santiago in Spain. This type of walk is where you stay in a hotel at night, have a good meal for lunch and dinner but are still hiking dozens of miles during the day. It is popular in Europe but not as much in the United States. Tom is setting out to change that by creating long hikes that you can do as a whole or in pieces and that end each night with a nice meal and hotel. He has a book for hiking along the coast from Malibu to Mexico and one for Northern California as well. I got a chance to catch up with Tom to talk about these books and about why he is trying to bring this unique adventure to California.
Tell us a little about yourself, how did you develop a love for the outdoors?
I developed a passion for wilderness growing up in Minnesota, where we canoed and camped on rivers and lakes. After college, I moved to California and fell in love with the Sierra Nevada Mountains and the Pacific. I have been hiking them ever since.
What was the inspiration for an inn to inn hike in Southern California and Northern California?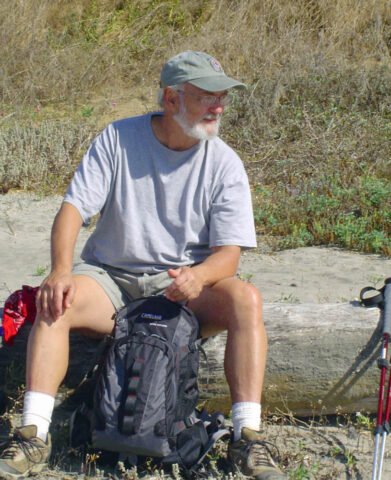 Like so many Americans, I took my first inn-to-inn hike in Europe. It was in the Cotswolds, in south-central England. What a great joy it was to hike the English countryside, stopping each evening at an inn, sharing a pint and some fish and chips with the locals at the village pub.
Hiking from inn-to-inn was almost unheard of in the U.S., but in 2006 I was working in the Marin Headlands, just north of San Francisco. On a lunch time hike I reached a ridge and looking north, thirty-five miles along the Pacific coastline, I could see all the way to Point Reyes National Seashore. It was all green space, state and national parkland. I wondered, could I hike from the Headlands to Point Reyes? Could I stay at inns along the way? That evening, I pulled out my maps and started making reservations.
That first walkabout took four days and covered 38 miles, hiking a spectacular coastline, through redwood forests, and along the grassy flank of Mt. Tamalpais with my wife, Heidi. We stopped each night at an interesting seaside village, staying in charming inns and B&Bs for a comfortable bed, a good meal, and a glass of wine.
Before that hike was over, I was thinking of other places we could hike from inn-to-inn through the wilds of California. That led to Walkabout Northern California: Hiking Inn to Inn published in 2011 by Wilderness Press. The response was amazing, and the Walkabout movement was launched.
I wanted to explore the Southern California coast, so we hiked from inn-to-inn on the Malibu Coast, north of L.A. It was a hike filled with expansive swimming beaches, fun seaside towns, and delightful inns. I was surprised to also find sections of rugged, untamed coastline and amazing wildlife – sea lions, harbor seals, dolphins, and migrating whales. That hike inspired a 200-mile adventure and my recently published book, Walkabout Malibu to Mexico: Hiking Inn to Inn on the Southern California Coast.
What are the main differences between the walkabout in Southern California and Northern California?
There is so much variety and so much wilderness to explore in California. The inn-to-inn hiker on the Southern California coast will stroll seductive beaches, explore wildlife preserves teeming with shorebirds along the Pacific Flyway, and hike the coastal bluffs and rocky shores of isolated peninsulas. You can walk miles of secluded shoreline that you may have all to yourself as well as bustling beaches filled with volleyball games, roller bladers, joggers, and families settling in for the day. Along the way you'll enjoy charming coastal villages, great art scenes, wild people-watching and enchanting inns.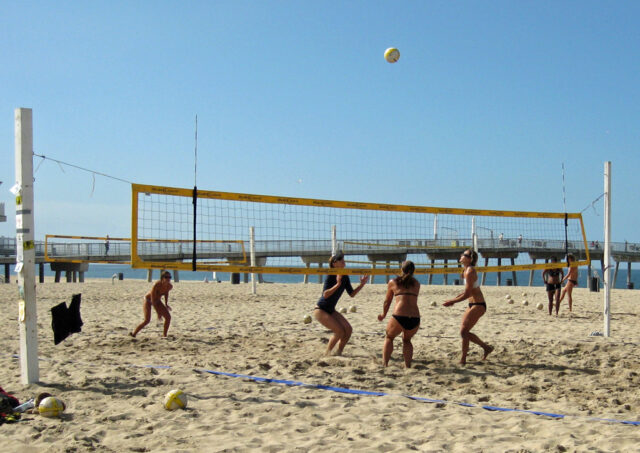 Walkabout Northern California: Hiking Inn to Inn features twelve self-guided multi-day hikes. There are several coastal hikes from the rugged Mendocino Coast to a four-day walk on the endless beaches of Monterey Bay. There are also walkabouts in the Sierras near Lake Tahoe and the Southern Cascades in Lassen Volcanic National Park, ending each day at a mountain resort.
If someone wanted to hike the Malibu to Mexico portion from end to end how much time would you suggest they do it in?
We have heard from several people who are planning to hike the entire 200 miles from Leo Carrillo State Beach to the border with Mexico in 2015. Some are hiking in stages; some are through hikers. Walkabout Malibu to Mexico: Hiking Inn to Inn on the Southern California Coast is divided into seven chapters – seven multi-day hikes with 22 hiking days, mostly in the 6-12 mile range. One hardy group is planning to hike the entire route this fall with 16 hiking days and 2 rest days. They will average almost 13 miles a day!
If they only had a few days, which section of the trip do you feel is the best example of what California beaches have to offer?
Tough question. The hike from Newport Beach to San Clemente is probably the most popular walkabout, a 3-4 day 27 mile journey. It hikes some of the most alluring swimming and surfing beaches in the world as well as rugged, rocky shores under steep cliffs where the hikers' only companions will probably be sea birds, seals, and dolphins. Stop the first day at Crystal Cove State Beach, and stay the night if you are lucky enough to get a reservation.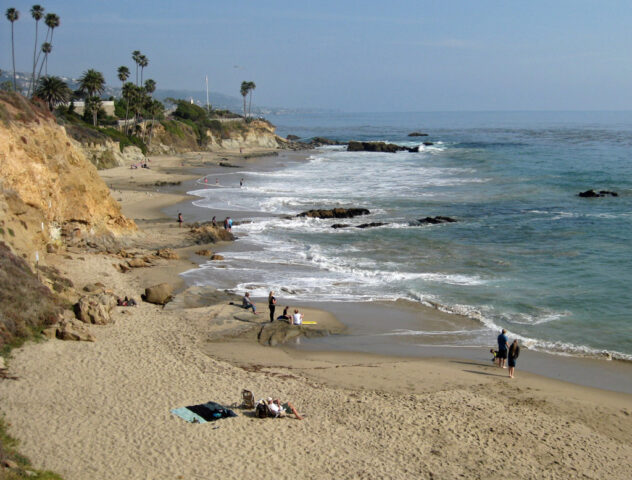 The state park and Crystal Cove Alliance have meticulously restored a community of beach cottages from the 1930 – 50s. Otherwise, savor a lunch on the beach at the Beachcomber Café and push on. Each seaside town along the way is unique and fun. Enjoy the night life and live music of Newport Beach. Delight in the fine cuisine and art scene of Laguna Beach. Explore Dana Point's magical coastal preserve. Then end your hike at the intimate village around San Clemente Pier with its fun inns, taverns, and restaurants.
I love unique food, what was your favorite food spot on the trip?
Actually, it's hard to beat a couple of fish tacos and a cerveza after a day's hike on the beach, but there were many culinary highlights along the journey, and here is one that stood out. My friend, Scott, and I hiked the last leg of the adventure, a five day hike from La Jolla to the border. We stopped for the night along the north shore of San Diego Bay and dined at Umi Sushi. Sitting at the sushi bar, we struck up a conversation with the chefs. A couple joined us. The guy had lived in Japan, and he knew his sushi. I think he was also showing off for his date. Not bothering with the menu, he ordered delicacies that were new to me. We joined the feast – urchins, surf clams, and other exotic sea creatures – so fresh and delicious. The sake flowed for the four of us and the chefs, and the restaurant rang with laughter. Finally, we could eat no more. We bid good night. Stepping out into a balmy Southern California evening, sated and happy, we headed back to our inn.
What was your favorite beach on the trip?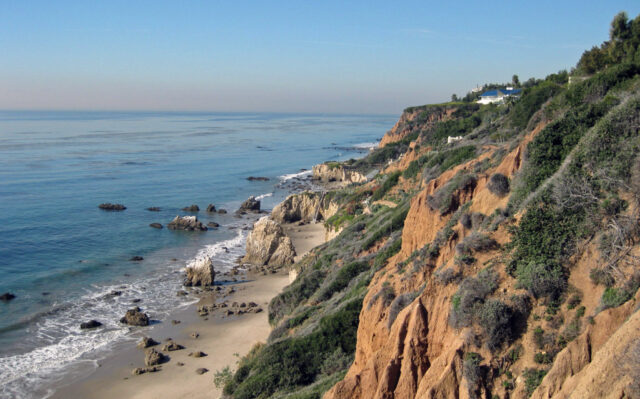 Another tough question, but let me tell you about a wonderful morning on beautiful Carlsbad State Beach. Heidi and I started hiking in the early morning. A handful of surfers, stand up paddle boarders, and a kayaker rode gentle three foot swells. The flat water, stretching to the horizon, was suddenly alive with a pod of dolphins. Black dorsal fins rose and fell with each breath. They circled to feed and the sea roiled just beyond the breakers as they darted and dove. One leaped, slapping the surface with her tail. Seagulls swooped in, hoping for scraps. Then the dolphins swam slowly south at our pace, occasionally stopping to feed. We traveled together, along the shoreline, for half an hour before they disappeared.
The wilderness is often about escaping people yet this hike seems like it would be very busy. Did you find moments when you were alone on this trail?
This journey changed my definition of wilderness. We hiked along the edge of a densely populated urban center that was mostly out of sight and mind, cut off by high coastal bluffs. The dominant force is always the powerful, untamed, and untamable Pacific. The wildlife is astounding – migrating whales, harbor seals, sea lions, dolphins, and literally millions of birds migrating along the Pacific Flyway.
There are long beaches that the distance hiker might have all to herself – San Onofre, Torrey Pines, Silver Strand, and Imperial Beach to the border. I quickly discovered that people like to set up for a day at the beach as close as possible to their cars. So, it is crowded near parking lots, and fairly empty of people in between. Almost every hiking day offers a combination of delightful people-watching and serene solitude.
What made you decide to include Catalina?
I wanted to avoid the uber industrial eight miles along the L.A. and Long Beach harbors. Instead, we took the ferry from San Pedro to Santa Catalina and returned on the ferry to Long Beach. It was my first visit to the island, and it was a revelation. Leaving the ferry, a gentle breeze refreshes. The air is sensual. You find yourself relaxing a few notches and slowing down. You are on island time.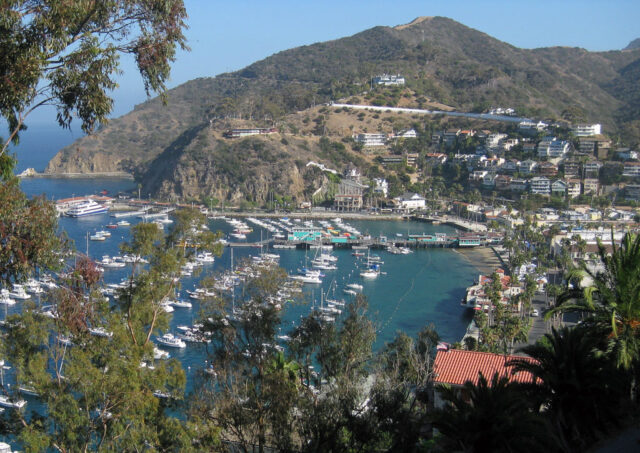 There is much to do. Avalon is a walking town with old world charm. Hike a mile to beautiful Wrigley Memorial and Botanical Garden, a serene sanctuary with cactus, trees, and plants unique to the Channel Islands. From there, hike Garden-to-Sky Trail, a four mile loop that climbs to 1,206 feet and a breathtaking viewpoint overlooking both sides of the island. Rent kayaks and explore the bay along a rugged coastline. Snorkel in the clear waters of Lovers Cove, and swim in kelp forests along with thousands of fish. If you have the time, obtain a permit from the Catalina Island Conservancy and spend a day hiking or biking the backcountry.
Is the trail safe?
There were a few times when I was daydreaming, and my boots got soaked by a surprise wave. The Pacific is wild, and the hiker needs to pay attention. A rogue wave can knock you down and drag you out to sea. I always try to keep one eye on the waves. It is important to get a tide schedule before you set out. The book identifies spots that will be challenging at high tide and suggestions for when to set out so you reach those spots when the tide is low.
What level of difficulty would you rate the hiking?
Most hiking days are moderate. There are some more challenging sections, such as some of the rugged shorelines of the Malibu Coast, where you need to bolder. If these sections are too challenging, you can leave the beach and hike the bluffs or through the neighborhoods. Walkabout Malibu to Mexico includes directions for hiking these alternative routes.
How did you feel when you finally finished the 200 mile Malibu to Mexico journey?
Elated! We were fortunate. The last 1.6 miles to the border is often blocked by the Tijuana River, but we hiked in the dry season when it was running low. The U.S. and Mexican governments have worked together to clean the river. We easily waded across and hiked the last stretch by ourselves.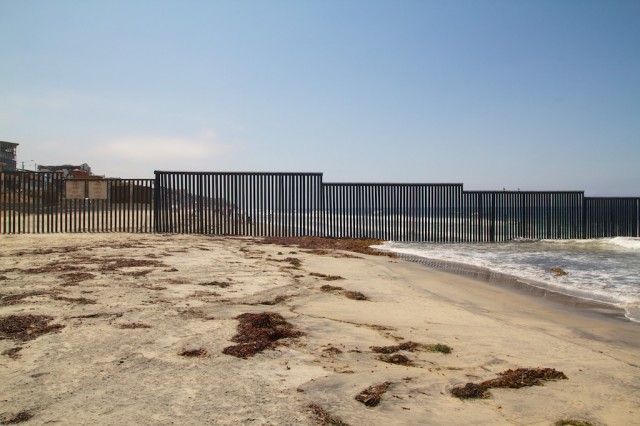 The border fence is constructed of closely placed, 20 foot metal posts extending 100 yards into the sea. As we approached, we saw Mexican families on the other side enjoying a beautiful day at the beach. A man stood by the fence with a toddler in his arms. We greeted him and spoke briefly. His daughter reached through the fence and took Scott's hand, a sweet gesture of our natural desire to reach across artificial boundaries and a nice way to end a 200 mile adventure.
It looks like your books include everything hikers need to plan and enjoy their inn to inn hike. What is covered?
For each hike, there is a description of the trail, what to expect along the way. When I take a multi-day hike, I always find myself asking, "Who lived here before? What were their lives like?" So, there is often a bit of history, human and geological. There is a detailed route with directions for when you need to leave the shoreline. A transportation section tells how to get to the trailhead by private and public transportation and how to get back when the hike is over. There is a sketch map for each day and directions for where to get more detailed maps. Information on the inns includes location, contact information, and pricing to help you plan your trip. There are also reviews of inns and restaurants along the hike.
Where can people connect with you to get more information if they want to take a hike like this?
Come to our website, www.WalkaboutCalifornia.com. It is a good place to purchase books and guides for individual hikes, to learn about inn-to-inn hiking in California and around the world, to get your questions answered, and to share your experiences from the trail. Also, check out Walkabout California on Facebook.