Surf City Surf Dog: Founder Interview & Event Information
California is known for its beautiful beaches, breathtaking coastline and awesome events on the waves. Dog- surfing is no exception. From the 27th of September, Surf City Surf Dog will be hosting the 5th annual Surf Dog competition down at Huntington Beach. What could be more awesome than a dog on a surfboard? Jessica from the Chillisauce blog checked in with the founder of the event, Lisa Scolman to get the scoop on the cutest competition out there.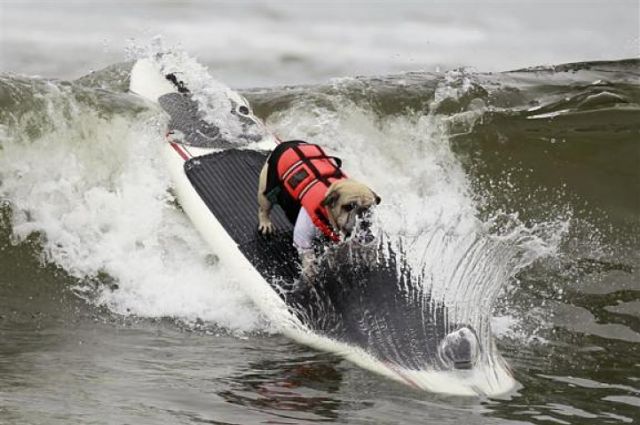 Where did the idea come from to start Surf City Surf Dog?
I am a massive dog lover and have been doing special events for 15+ years. When I started a new company with my business partner, we knew we had to do a doggy event. We do many events in Huntington Beach, the surf capital of the US, known as Surf City USA and in 2009 also named by Dog Fancy Magazine, DogTown USA.
Though we are not the first dog surfing competition (Loews Surf Dog Competition was the first 7 years ago), we wanted to bring a surf dog competition to Huntington Beach. It was embraced by both the surf community and the dog lovers!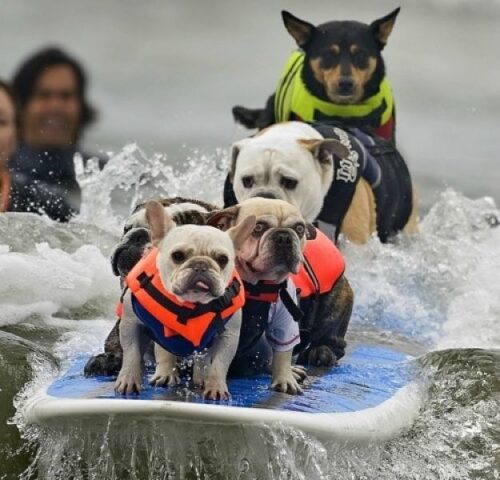 How did people react when you first announced that dogs would be surfing?
The image of dogs surfing, brings a smile to everyone's face! We have had people far and wide travel to the event to capture the look on their faces. Though there are only about 80 surfing dogs in the world, everyone comes out for the fun and curiosity of it all.
What makes a good surfer dog?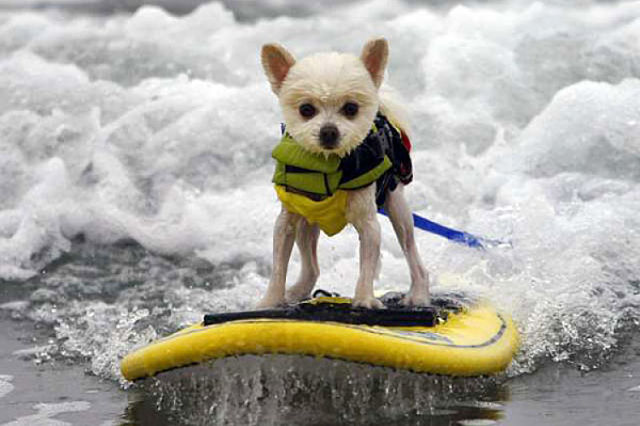 It's a team sport between the dog and the owners so there has to be a joint effort. The dogs must trust their owners and have good obedience training to prepare. Of course, the dogs must like the water or at least not be afraid of it and enjoy the motion of surfing. An Athletic dog is definitely a plus!
What do the dogs do to train before getting on the board?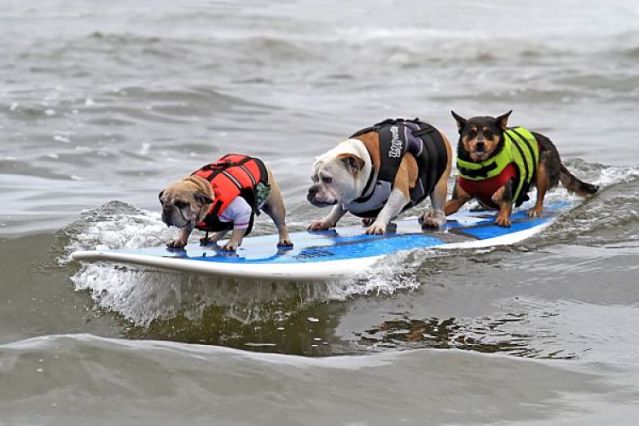 The dogs head down to get accustomed to the beach, try the board before going in the water with it, and try their hand at wearing a life-vest.
Do you have any plans to take Surf Dog to other locations?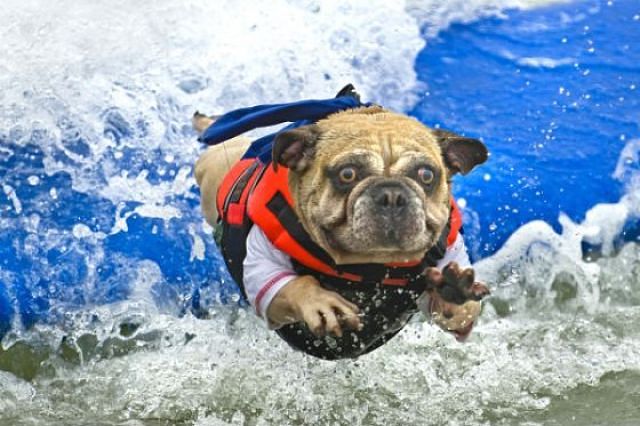 Not the Surf City Surf Dog™ event, but there are other dog surfing events popping up in Australia, Florida and of course the two in San Diego. So if you get a chance, check them out!
What is the craziest thing you have seen at the event?
At one of our events, two dogs collided and switched boards mid-wave! Everyone was pretty gobsmacked. It just looked totally awesome. Another funny moment was when two dogs were competing against each other in the "outside" waves (see below).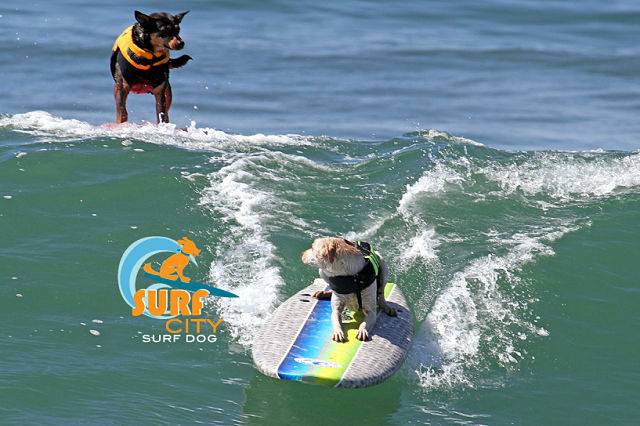 Have any of the dogs had any injuries?
No that hasn't happened so far. We have some pretty huge waves though which always carries a risk. But we try to run a very safe contest, with volunteers assisting to catch the surFURS as they hit the shore. Also, we do have a veterinarian on-site, just in case, as well as lifeguards.
What are the most amounts of dogs you have had on one board?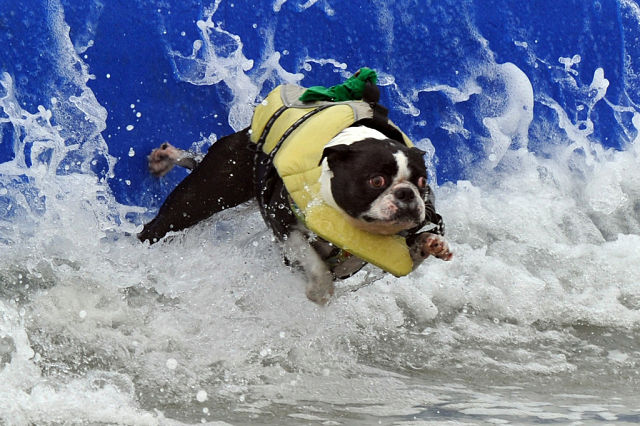 Our record is Six, though in San Diego (Loews Surf Dog) they did have like 12 for an unofficial record. Last year, we had Guinness World Records on site for most dogs on a given wave on their own board. We were to have 20 or more dogs surf on one wave for 5 seconds or more. We didn't set the actual record, but the BBC & Lion TV did film a show – 'That's Amazing' of the attempt.
What has been the best outfit you have seen on the dogs that compete?
Hands down, it has to be Hanzo the Ninja Surfdog. The picture says it all. Although all of the outfits are brilliant!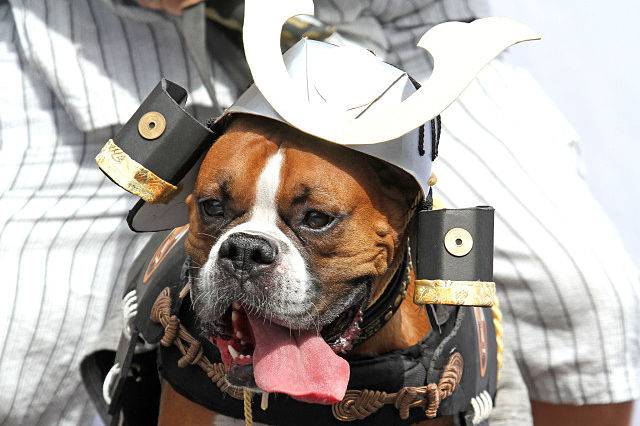 If you are in the area, the event is definitely worth checking out, I plan to go myself if I am able to, as the pictures look like they would be fantastic.
About the author:
This article was written by Jessica Hall who works for events company Chillisauce.co.uk. She also writes over at the Chillisauce blog, dedicated to 'Discovering A Life Less Ordinary'. Jessica is always on the lookout for cool, fun and wacky events from around the world to blog about.