Belly Left Coast Kitchen & Taproom in Santa Rosa
While staying in Santa Rosa, there is no shortage of great places to eat; however, if you are looking for a fun atmosphere with good, upscale pub food, then look no further then Belly Left Coast Kitchen.  At only a few blocks from Russian River Brewery, you can come over here for dinner then head there for a drink. Here is all the information so you can check it out for yourself.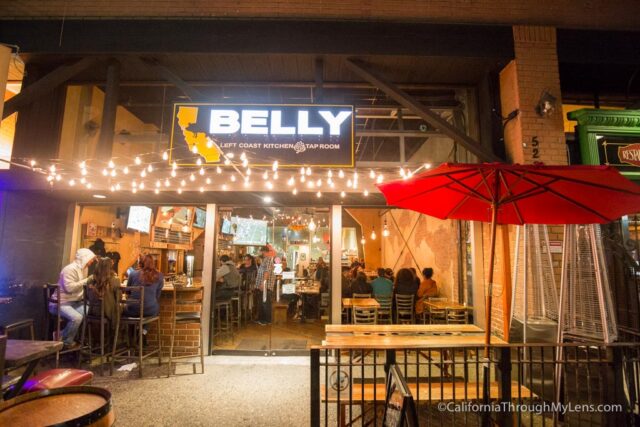 Details:
Cost: $10 – $20
Location: 523 4th St, Santa Rosa, CA 95401
Recommendations: Cheese board, fish tacos
Getting There
After getting off Highway 101 at 3rd St, you will make your way up to B St and then onto 4th St. The restaurant is on 4th St on the left after you turn. There is parking along the street and in a few lots around the downtown.
The Restaurant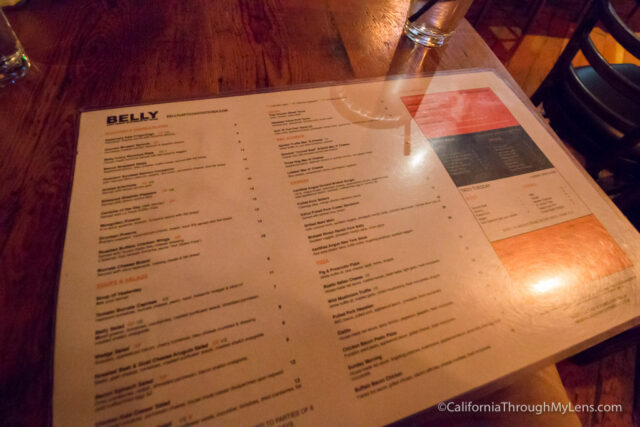 Belly consists of one large dining room with overflow tables on the patio. During the warm summer months, the front of the restaurant can open up so that the fresh air flows through. It is well lit with lots of wood tones, and there are a bunch of TVs with whatever games you want to watch on them.
The food runs the gauntlet between pub standards like fish tacos to fine dining staples like cheese and charcuterie boards. It was overwhelming with all of the good options they had; here is what we ordered.
Burrata Cheese Board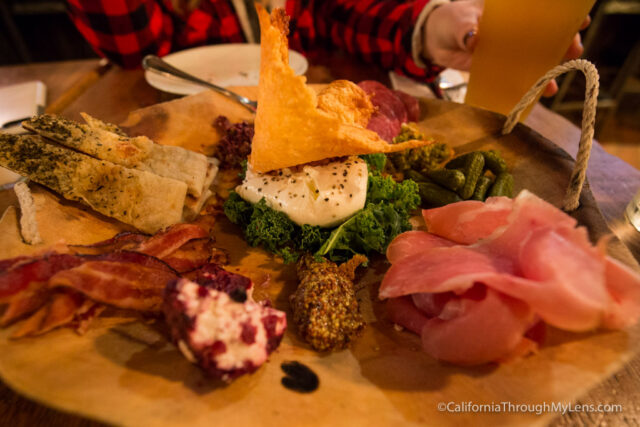 This is one of those dishes that comes out, and everyone around you is jealous of what you got. It has three types of meat and three kinds of cheese which makes it a perfect dish to share.  There is also an olive tapenade and a few different mustards to mix in with the cheese and meat. The cheeses ours came with were particularly good. The two goat cheeses (the highlight was the blueberry goat cheese) were a great addition to the smooth Burrata. This is a lot of food, so you want a couple of people to help you with it.
Pork Belly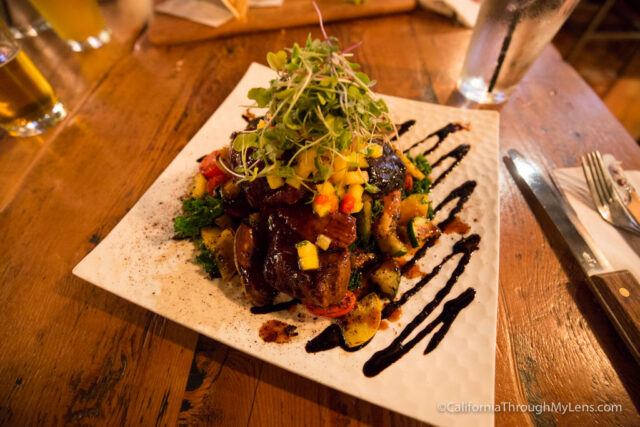 This dish has a generous portion of perfectly cooked pork belly. It is smothered in hoisin sauce, which is a great sweet addition to the salty meat. The pork belly is so thick you have to cut it with a knife, and it is served grilled veggies around the side. I especially liked the Brussels Spouts.
Surf and Turf Fish Tacos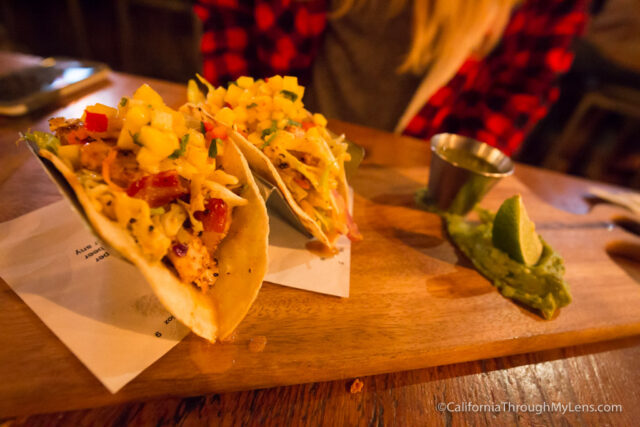 The tacos have a fresh and tender mahi mahi, served with bacon and crunchy mango salsa. The tortilla itself is grilled to an almost crunch, and it is the perfect holder for the fish. Add to that the guacamole bacon and the salsa, and you have a delicious taco. This was one of the highlights of the meal, and I highly recommend it.
Dessert
We tried all three desserts, and here is what we thought of them.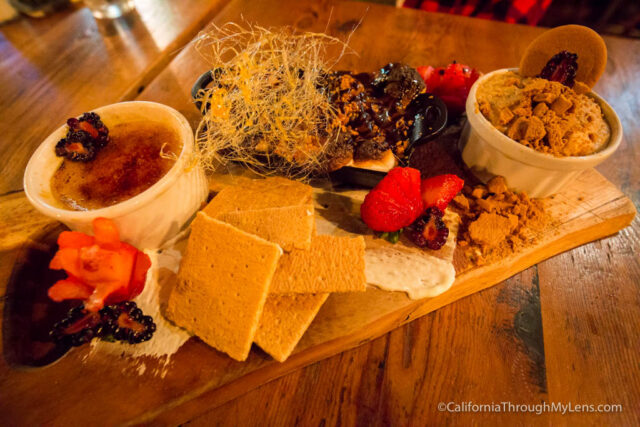 Butterfinger S'more
Super rich but incredibly tasty. The marshmallows are baked in the oven till they grow then brunt on top. Add to that crushed Butterfinger, chocolate, and caramel on top, and it is one decadent dessert. They serve it with graham cracker on the side so you can dip it in. Spun caramel is stuck on the top to complete the dish.
Creme Brulee
A nice, light Creme brulee with a lot of flavor and not too rich. They put a few pieces of fruit on top, which is a fresh addition. I'm not a huge Creme brulee fan, but I liked it here.
Gingersnap Pumpkin Mousse
This mouse tastes like a deconstructed pumpkin pie. It was light and airy with a great pumpkin flavor and light ginger. I was not a huge fan because I am not much of a pumpkin person, but my wife devoured it.
Overall, Belly is an excellent spot for a meal in Santa Rosa. I was impressed with the food and the service from our server Lincoln. Be sure to check it out if you are in the area and let me know what you think in the comments.