Bistro 29: French Inspired Food at one of Santa Rosa's Best Restaurants
Disclosure: This meal was provided for me, but all opinions are my own.
As far as fine dining goes in Santa Rosa, it is hard to beat the fantastic Bistro 29. Located right in the heart of downtown Santa Rosa, this upscale French-inspired eatery has a quaint, warm atmosphere, and it serves excellent food ranging from mussels and buckwheat crepes to pork belly and scallops. Be sure to grab a reservation next time you are in the area and read all about it below.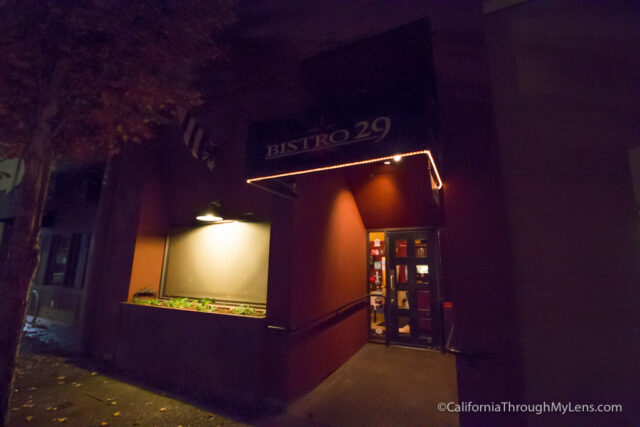 Details
Cost: $20-$30
Location: 620 5th St, Santa Rosa, CA 95404
Recommendations: Mussels, Sticky Fig Cake
This information is from my visit in 2017
Getting There
Bistro 29 is located on 5th St in downtown Santa Rosa. It is only a few blocks from the famous Russian River Brewery, and there is parking along the street and in designated parking lots for the downtown businesses.
The Restaurant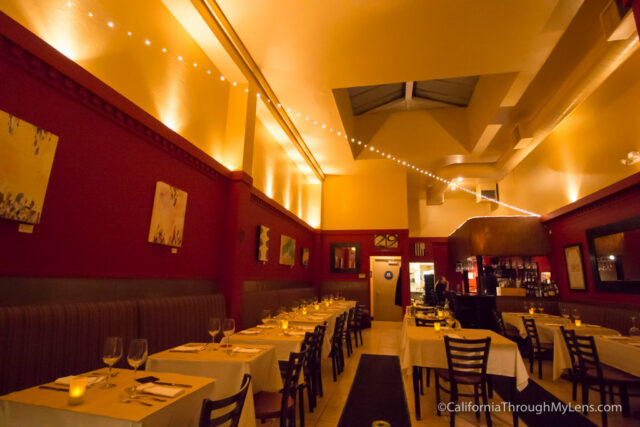 The restaurant is relatively easy to walk by as it blends in with the surrounding buildings. There is a large window that lets you peek into the main dining area and marvel at the dishes. The small one-room building seats about 15 parties, and we got a place next to the window after making a reservation.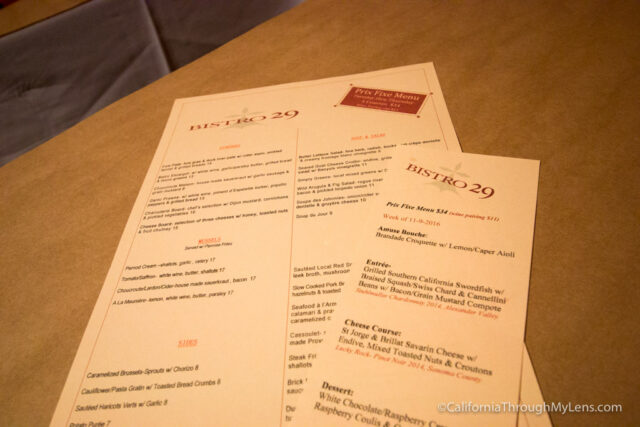 The menu has a lot of options, and it can be a little overwhelming when you first sit down. Our waitress was great, providing recommendations, letting us know when we ordered too much, and helping pair wines with the dishes we selected. It was an excellent experience from start to finish.
Here is what we got:
Mussels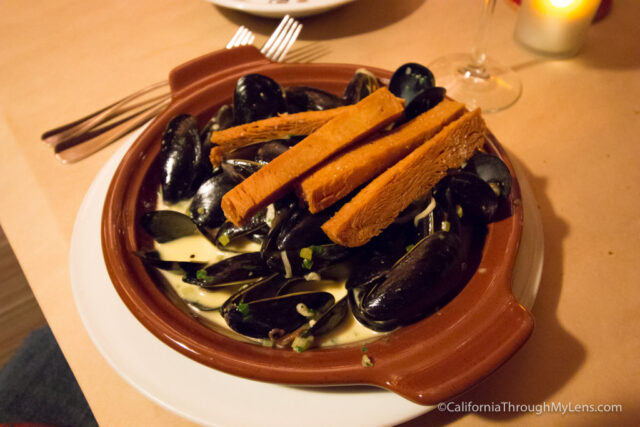 The mussels here are prepared four different ways, and they are always trying to think of more. I chose the Pernod cream way, which came with a shallots garlic and cream sauce. The portion of mussels was very generous, and it was flavored well. The sauce is savory, and the light garlic and shallots swimming in the sauce continue to flavor it as you eat. The garbanzo bean Panisse Frites on top were a standout as well. They were almost like a homemade crouton or a high-class French Fry, which was fantastic. This is an excellent appetizer for two people to share; it has a ton of flavor without being too filling.
Wild Arugula and Fig Salad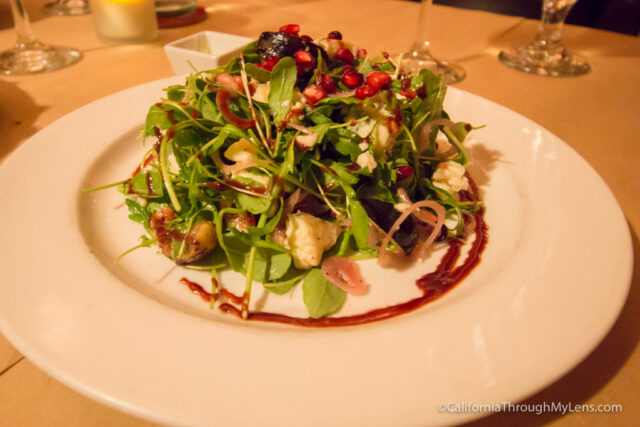 This is a fantastic salad that gets better as you eat it. The fresh arugula pairs well with the strong blue cheese and the sweet fig to complete the flavor profile. I love it when a salad starts the meal on a high note, as this one did.
Pork Belly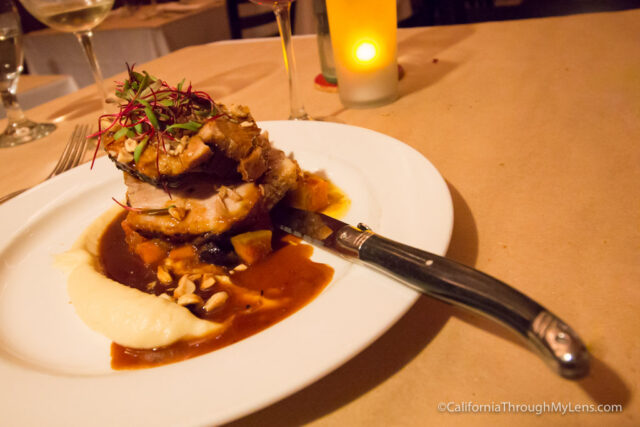 It's hard to beat pork belly for me, and this dish was no exception. The pork belly practically melts in your mouth as you eat it. It is not prepared the typical way, which is a seared selection of meat, this is more of a pot roast style, and it was fantastic. It was served on a bed of roasted pumpkins and local figs. I especially like the way they prepared the pumpkin, which was much different than I would expect and it accentuated the savory and salty meat well.
Seafood a la Armoricaine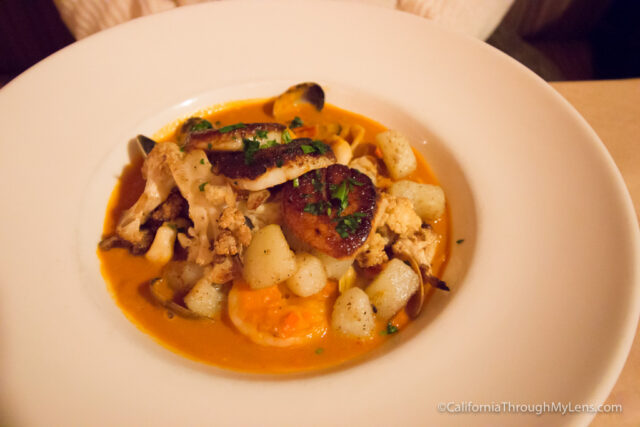 This dish featured seared scallops with clams, calamari, and prawns cooked in a lobster cognac sauce with potatoes and caramelized cauliflower. The sauce was sweet, and it paired well with the seafood. It is more of a reduction then the stew type sauce you would expect with this dish. The potatoes and cauliflower are a nice little break from the seafood, and it helped to neutralize your palette as you continued to eat. Often a stew dish like this is not prepared in a way that lets you taste the individual differences between the seafood but this was not the case here. My wife was pleased with her choice.
Sticky Fig Toffee Cake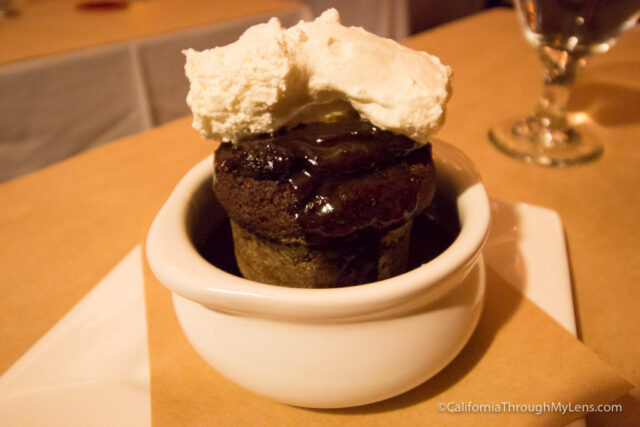 This dessert has a light and airy cake with a toffee sauce and fig compote on top. I love fig already, so I was in love with this. It's sweet but not rich like chocolate cake is. It was the perfect way to end a fantastic meal, especially when you used the cake to soak up the decadent caramel sauce.
All in all, Bistro 29 is probably the best meal I had in Santa Rosa, make sure it's on your list and let me know what you think in the comments.