California State Fair in Sacramento
The California State Fair is held annually every summer in Sacramento, the state capital. This massive fair features rides, shopping, and all of the deep fried food you can imagine (deep fried watermelon anyone?). I like going to the LA Fair each year, so I was excited to get a chance to go to the California State Fair in 2018, and while I ended up spending more money then I planned to, I had a lot of fun. Here is all the information and let me know what your favorite thing about the fair is in the comments.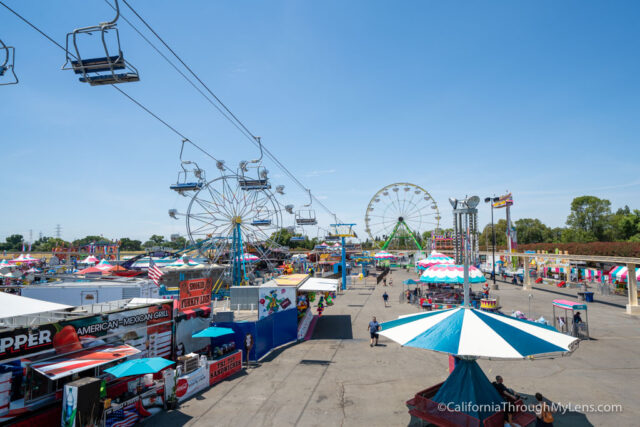 Details
Cost: $14 for tickets, $10 for parking
Dates: July 13 – 29, 2018
Location: Cal Expo in Sacramento
This information was from my visit in 2018
Getting There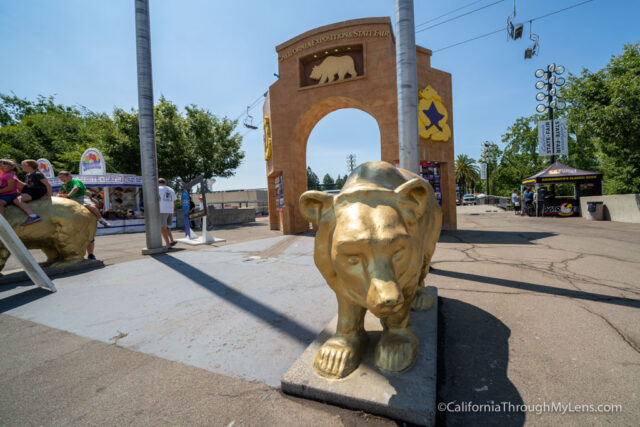 From Sacramento, head north on Highway 80, get off on Exposition Blvd then follow signs to enter the Cal Expo area. From there, you will pay your parking fee and make your way around the lot to the first available parking spot.
The Fair
After parking, we started the long walk to the entrance. On the weekend, I would recommend getting there early as the parking lot can fill up fast. The entrance has the same California letters that you can find outside of California Adventure in Disneyland. I am not sure who had them first, but I was surprised to see them when I walked up.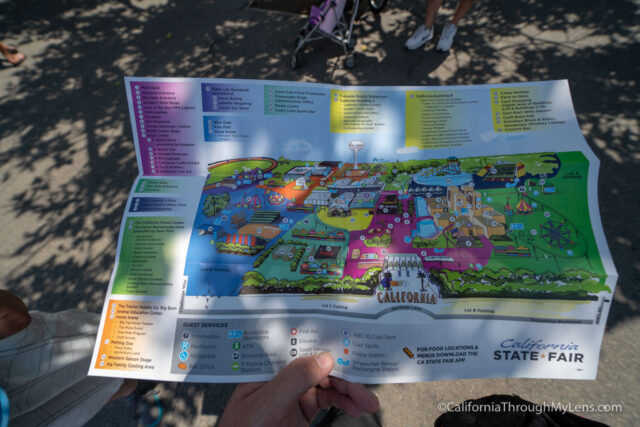 We grabbed tickets online, so we skipped the line and headed right into the fair. Be sure to grab a map as it is a large area, and you want to be able to see it all.
The Food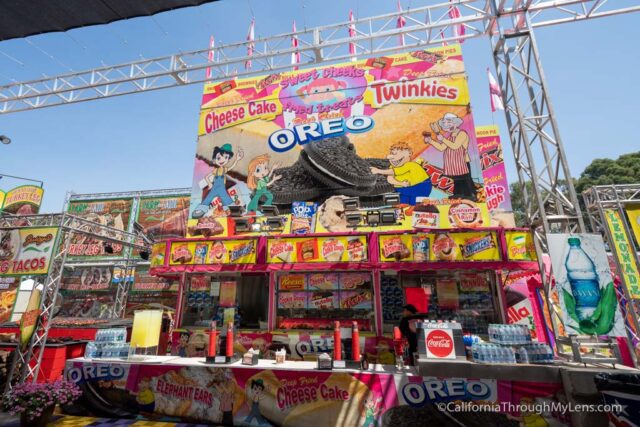 It was lunchtime, so our first stop was at the food. There were three of us, and we all tried to find unique items to eat.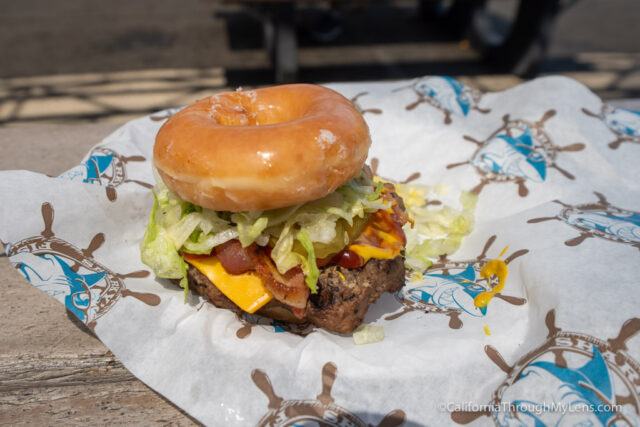 First off was the Krispy Kreme donut burger. I have seen this at previous fairs but never took the time to try it. My friend ordered it this year, and I have to say I was actually impressed. It had a good combination of sweet and savory, and while I wouldn't order it as my meal, it was much better then I thought it would be.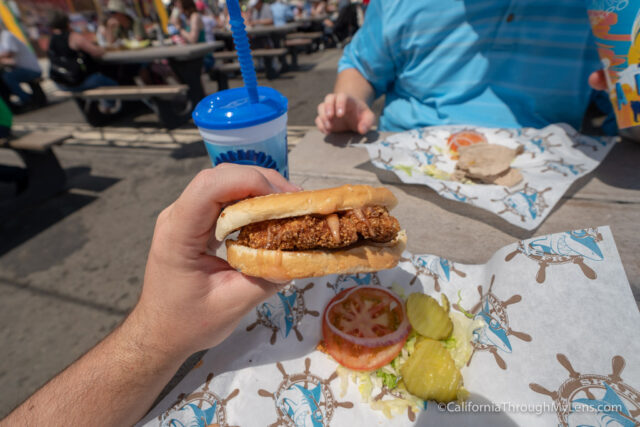 Captain Crunch Chicken Sandwich – This sandwich caught my eye because it was unique. Basically, they take crumbled up Captain Crunch cereal and use it to cover the chicken patty as it cooks. It was a nice subtle sweet flavor and a pleasant crunch that made it an enjoyable sandwich.
Fried Zucchini – Amie just went with the fried zucchini for her meal, and she enjoyed it, but what is not to like about a deep fried vegetable?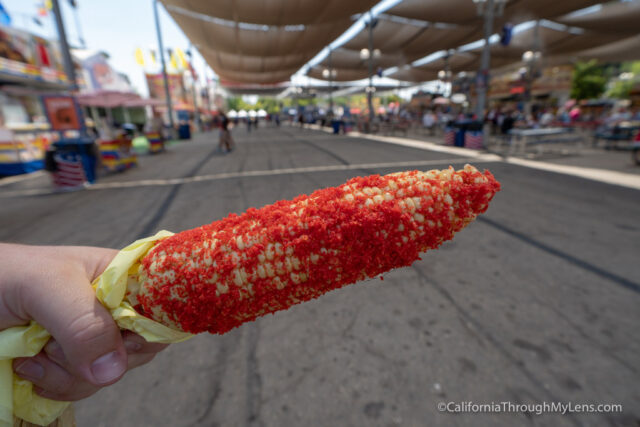 Corn on the Cob with Hot Cheetos – This is the one I really wanted to try as I love Hot Cheetos, and I love corn. They dip the corn in butter then roll it in Hot Cheetos; it is as simple as that. Both my friend Jerrod and I got it, and both of us thought it was terrific. As you can tell, you don't go to the fair for health food.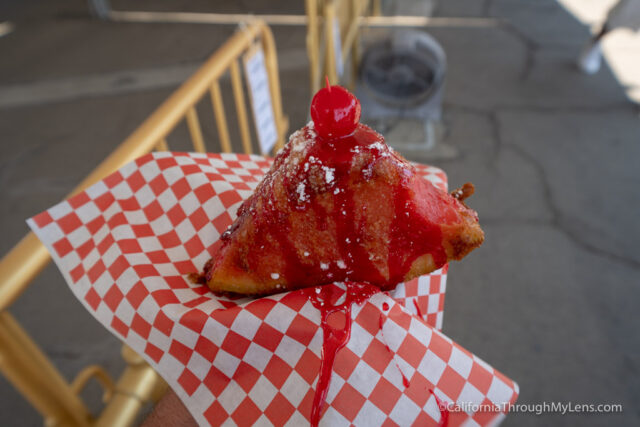 Deep Fried Watermelon – This was the last item we tried, and I figured it would not be great before I even ordered it. I can say that, after having it, it was not great. I ate most of it, but I would not recommend spending the $10.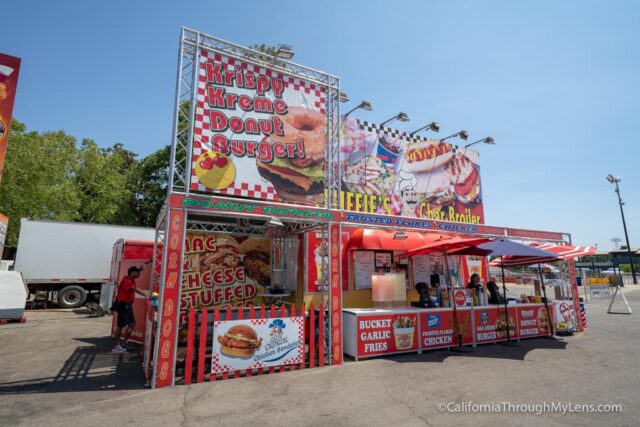 The Attractions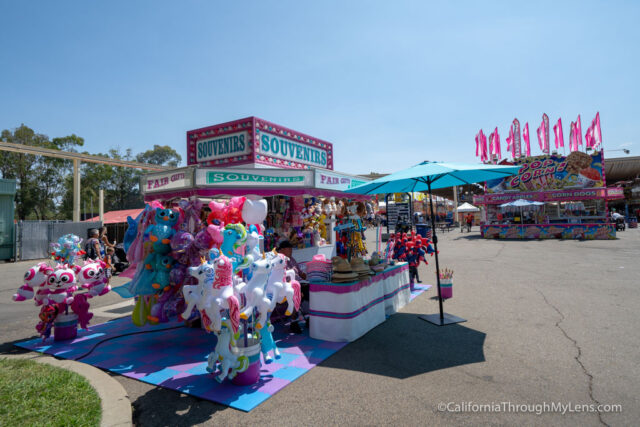 Like the other fairs you have probably been to, the California State Fair has many of the same attractions.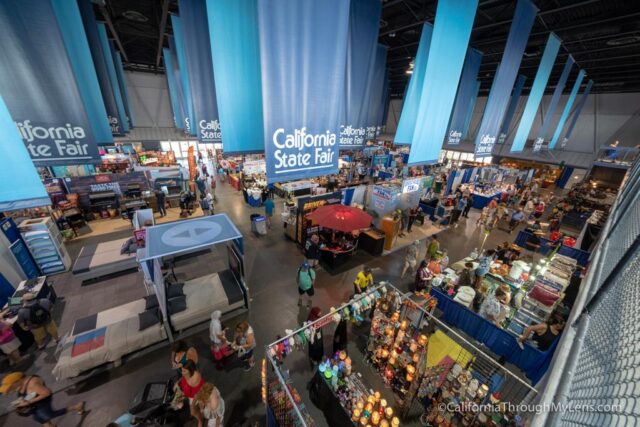 You can shop in the air conditioned buildings for trinkets and As-Seen-On-TV products.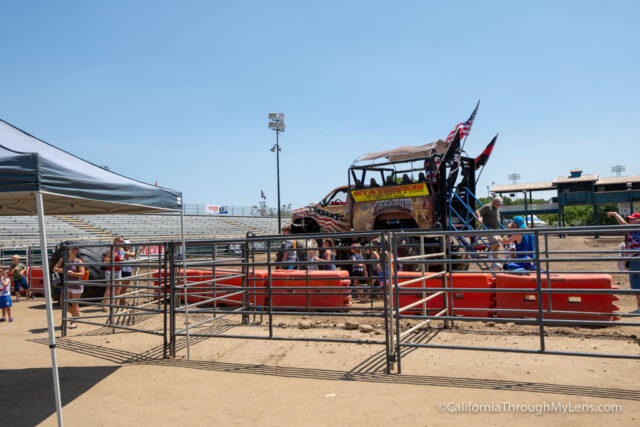 You can also pet the animals, ride the ponies, and go on a monster truck ride. There were many other things you could do, but we skipped most of them this time.
The Rides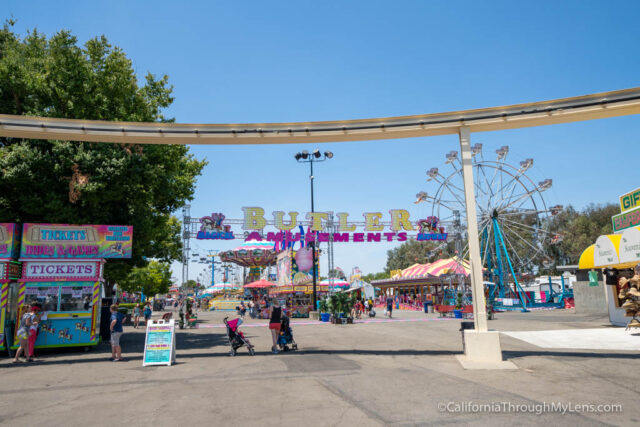 After walking around, we headed over to the amusement rides to finish our time at the fair.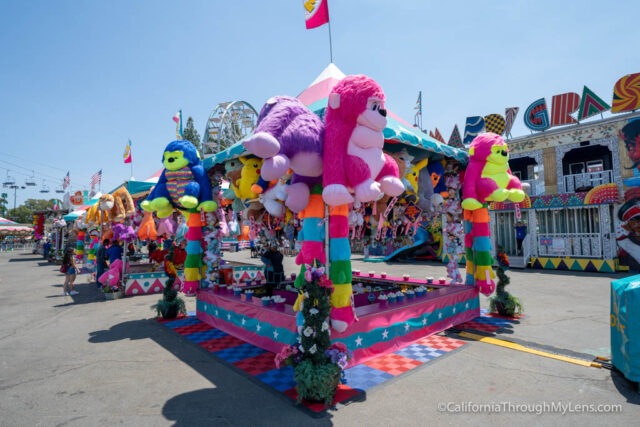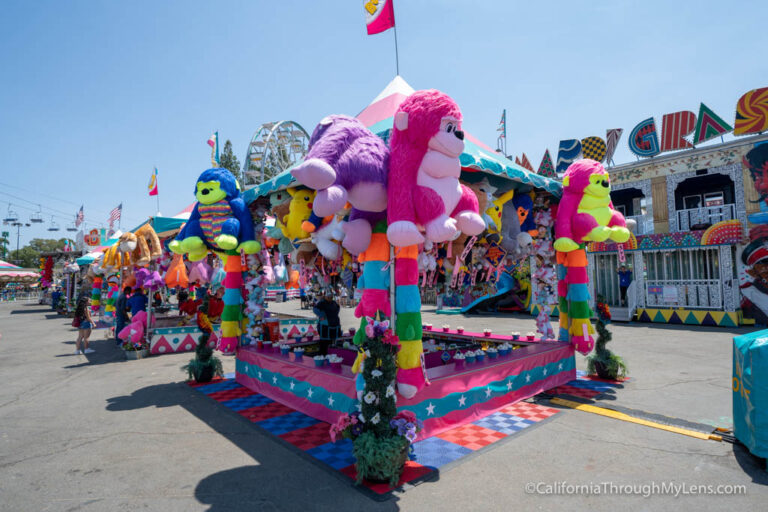 Even though I know I won't win, I still like dropping a few bucks at the fair games to try and shoot a basketball or throw darts. I didn't win, but it was fun.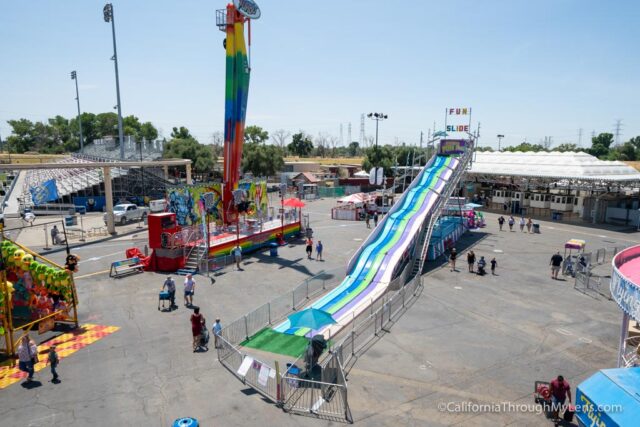 Also, I am always a fan of riding the giant slide with whoever I go with, so the three of us rode the giant slide here as well, and Amie won the race (I think she cheated though).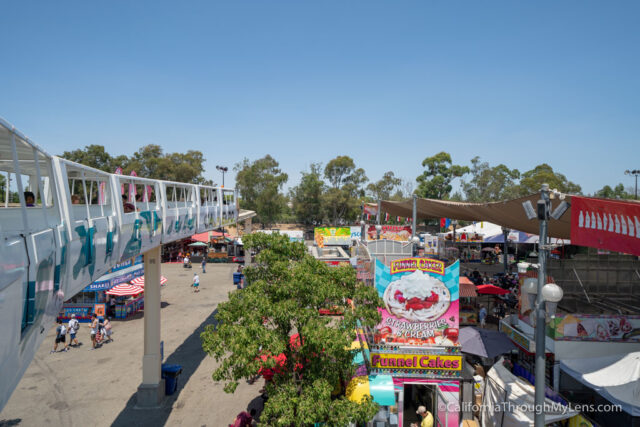 Lastly, there was a monorail that took you around the entire fair. I rode it so I could get a lay of the land, and it was a nice ride that showcased how big the fairgrounds were.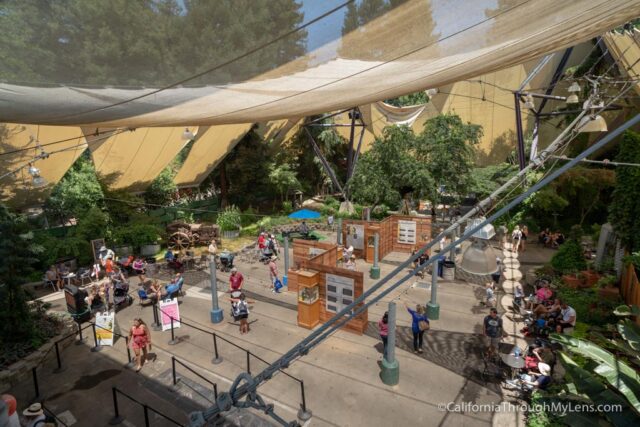 After about 3 hours and $100, the three of us left the fair and headed on to our next stop in Sacramento. We all agreed that it's good the fair only comes around once a year. It is a ton of fun each year to go to, but I wouldn't make it a monthly excursion.
Check out the California State Fair if you are in the Sacramento area and let me know what you think in the comments.