Stand Up Paddle Boarding in South Lake Tahoe
On a recent trip to South Lake Tahoe, I decided to take my wife stand up paddle boarding as it has always been something she has wanted to try. I don't have great balance myself, but it was a hot day, so I figured it was worth a try, especially since a dip in the water would not be too bad. We headed over to El Dorado Beach in South Lake Tahoe, grabbed a few boards from South Tahoe SUP, and set out on the water. Here is all the information.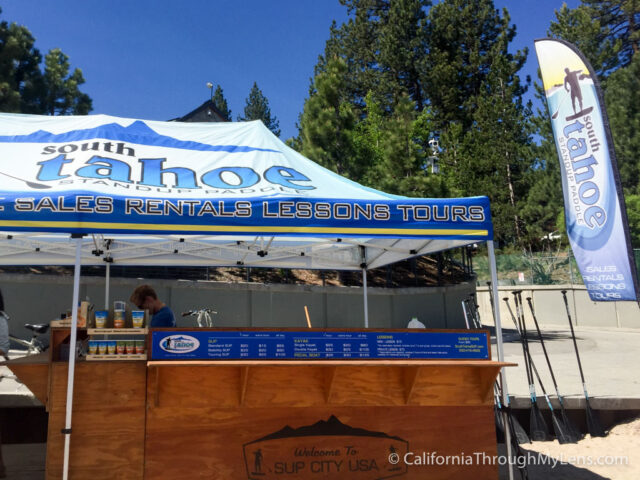 Details
Free parking in the small lot across the street

Prices were $30 an hour when we went, but it could change

Weekdays in the morning is the best time

Information from 2017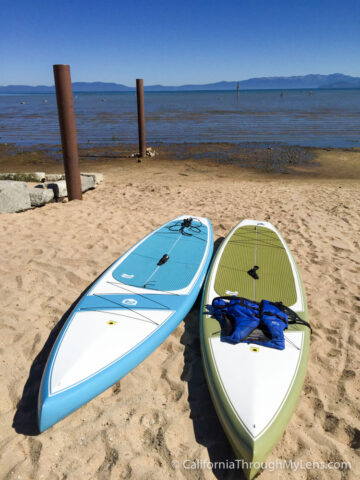 I got outfitted with a board that worked for my size, and my wife got a smaller board. They gave us about 5 minutes of information than just set us loose.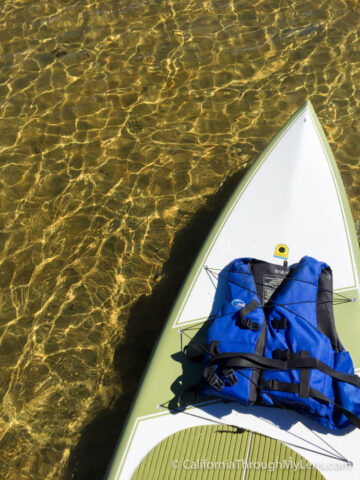 The best thing about testing out SUP with South Lake Tahoe Stand Up Paddle is that the water is only 2-3 feet deep here, so if you fall off, you can hop right back on. You do have to walk the board out for about 50 feet before you can get on due to the depth.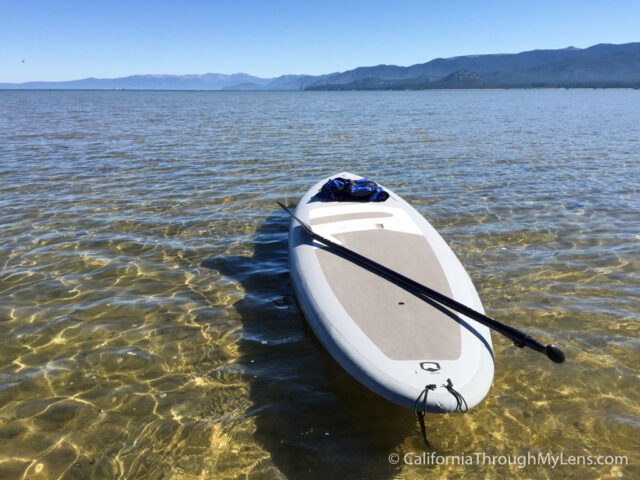 When I jumped on the board, I was able to paddle around for about 10 minutes before I fell in. All that to say, as an uncoordinated 250-pound man, I only fell in when I looked down, and it threw off my balance. So if you heed my advice and look forward, it is much easier.
After my initial fall, I was able to paddle around like a pro for the rest of the hour I was out. It was a blast as it was a peaceful way to explore the water, and you could move along pretty well without a lot of paddling effort.
My wife was a gymnast, and she had no problem doing it at all. She even went over a wake that had been created by a boat without falling.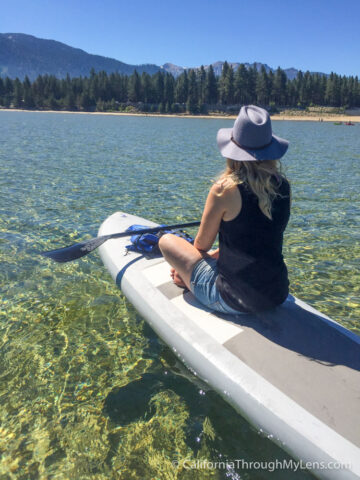 There wasn't a lot to explore on the water here, but it was a beautiful spot just to paddle around and look at the mountains all around you. Toward the end of my time, I opted to just lay down on the board, and the peaceful waves pretty much put me to sleep.
All in all this is a fun activity that I am sure I will do again and if you are on the fence about trying it, I would say go for it. You can't do any worse than I did, and you will have a fun story to tell after you go. Also, I recommend the spot I went with as it was great to test this out in shallow water, which puts you much more at ease. Let me know all of your SUP stories in the comments.