How to Experience Yosemite National Park's Firefall
Yosemite National Park's Firefall is probably the most popular natural phenomenon that happens each year in the park. This "event" usually occurs during the last two weeks of February, still, it is dependent on the water levels feeding the seasonal Horsetail Falls and having a clear sky so that the sun can reflect off the water and create the appearance of lava coming down the side of El Capitan. I tried to view it in 2018, but there was not enough water to feed the waterfall, so when I heard it was happening in 2019, I packed up all my stuff and made the 6 hour road trip to the park from Southern California. It was one of the best experiences I have had in the state so I took my dad to experience it in 2021 as well. Based on those two trips, here is all the information on how to make the most of your visit to Yosemite National Park for Firefall.
Before jumping in and helping you to best experience this amazing phenomenon, here are a few videos to encourage your visit from my two trips to see Firefall.
2021
2019
1 Hour Unedited Video
If you just want to see it for yourself, you can watch this video which is one hour unedited footage that shows the whole firefall experience.
Details
Usually only happens from around Feb 14 – 28
Must have enough snow to melt and feed the waterfall
Must have clear skies in order for the sun to shine into the valley as it sets
This information is from my visit in 2019 and in 2021 they are implementing new changes on where you can park and where you can shoot it from. You will not be able to shoot it from Southside Drive. More information on this year here
Parking for Firefall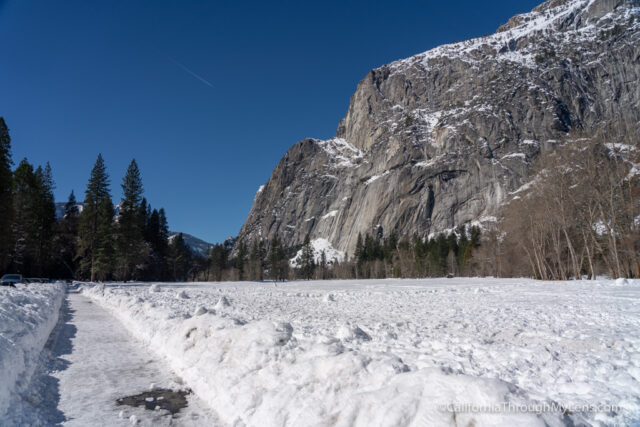 In 2018 they had a permit system for parking near the falls, but in 2019 they did not. In 2019, a lot of roadside parking was not available due to snow, so the closest parking was at Camp 4 / Yosemite Lodge and then you had to walk through the snow to viewing locations. This is the normal parking area now for firefall and note that it fills up in advance and takes a long time to clear out after the experience is over.
How much hiking do you have to do?
There is no close parking (outside of a few spots for those with Disabled Person Parking Placards. So for most people you are looking at 1-1.5 miles of hiking each way from the parking area.
Firefall Reservations
In 2023 you will need to get reservations in order to enter the park to view Firefall (if you don't already have a hotel reservation in the valley). They will be required for the last three weekends in February. You can get more information on reservations here.
Viewing Locations
There are a few main viewing locations for Firefall, which are as follows.
El Capitan Picnic Area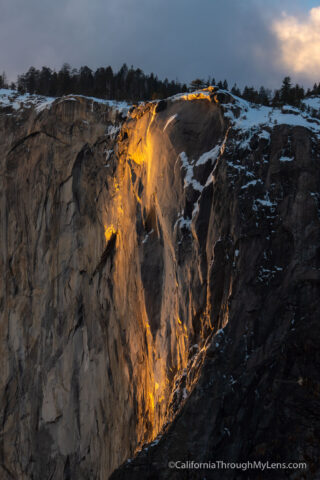 El Capitan Picnic Area is the most popular viewing location, and it is where you will see most of the up-close photos of the waterfall. The area does not usually allow parking though (unless they do the permit system again), so you need to park near Camp 4 and then walk about 1.5 miles to get to the viewing spot. This view is not exactly like the photo, it is more looking up then across.
Southside Drive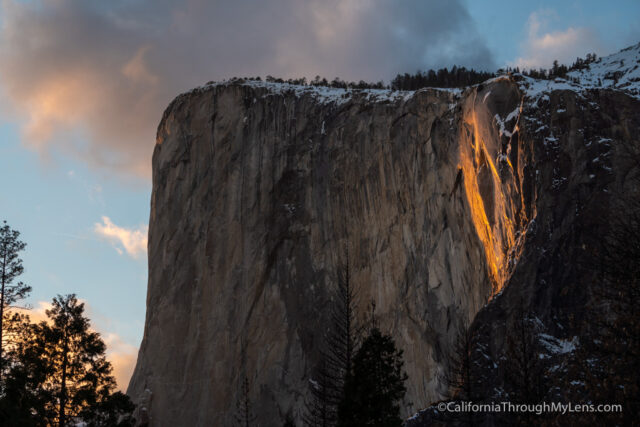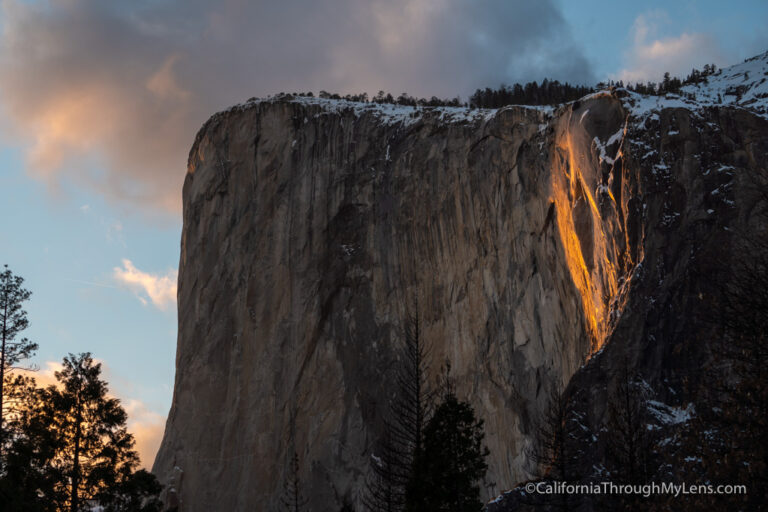 Southside Drive is the other popular location and the one I was planning on going to but didn't because of how many people were there. Thanks to Berson Photos for sharing the above photo with us. This area is accessed via a footpath that runs along Southside Drive to the bend in the Merced River. The location provides a great view of the waterfall with El Capitan right behind it, giving that iconic view. The trees block a lot of the viewing areas here though so most of the photographers hang out in one central spot, which can be really busy. This area is no longer allowed for viewing.
Northside Drive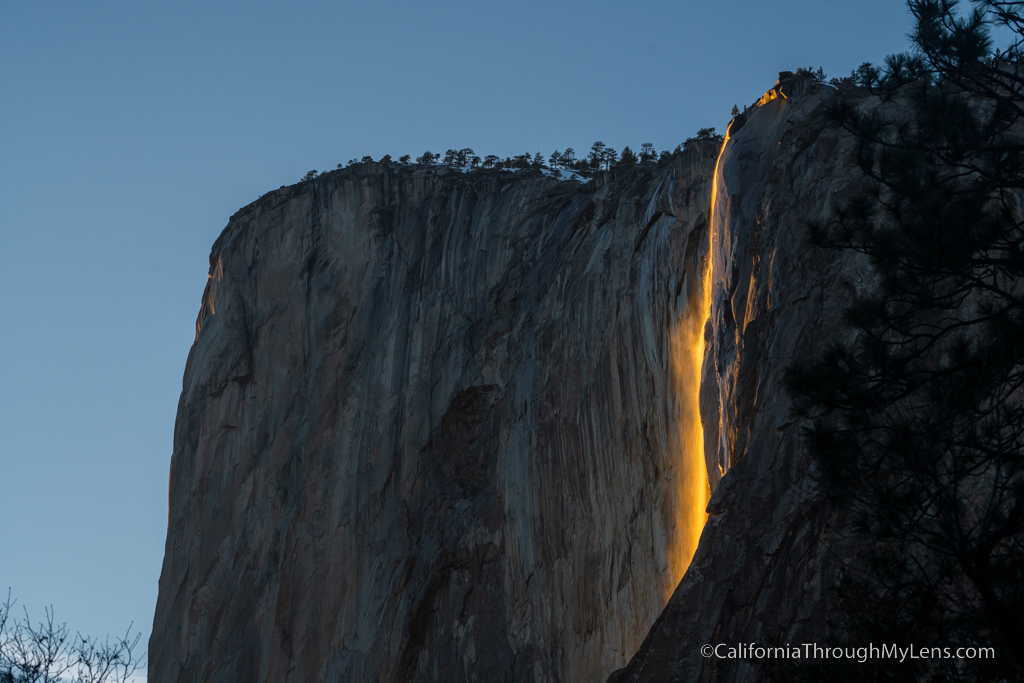 Northside Drive is the main viewing area for Firefall now. You can walk along the road from Yosemite Lodge to get to many of the cutouts that people set up at for viewing the falls. I found a great spot when I went in 2021 and set up early in the day.
How to experience Firefall
Once you get set up (I was set up by about 3 PM), then it is a waiting game till the sun goes down (for us it was around 5:30 PM). It's fun waiting and chatting with all of the other photographers though, and I actually enjoyed the camaraderie of just hanging out and getting excited with the other people.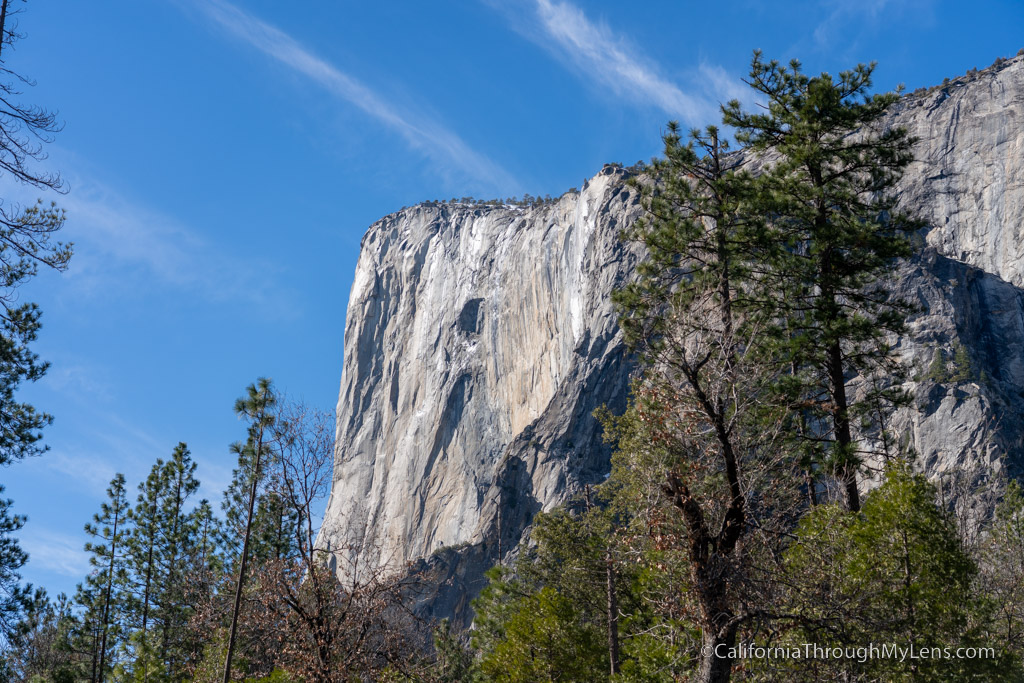 The clouds can stop the light from shining on the falls though, so it is stressful to see the clouds start to come in. Many people have made the drive and set up for Firefall, only to have the clouds roll in right at sunset and block the show.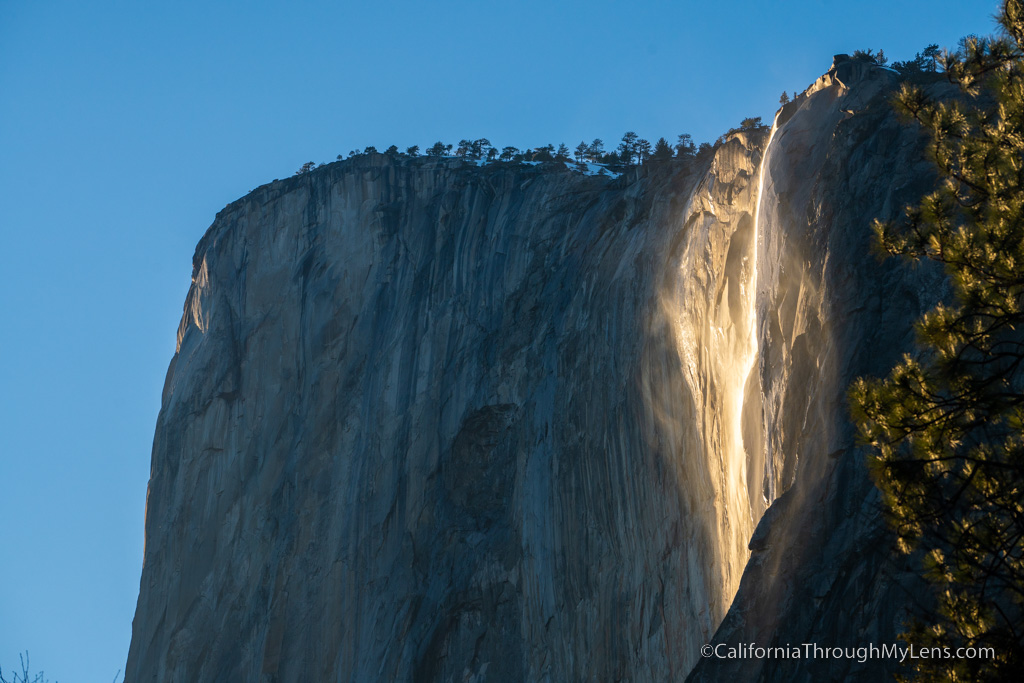 We were lucky, and this did not happen to us. About 10 minutes before sunset, the light hit the falls at just the right angle, and it changed the water to a dark orange, which was amazing to see in person and a beautiful spectacle even without looking through a zoom lens. It was one of those rare times where I was blown away by the beauty of the experience, and it is something I will never forget.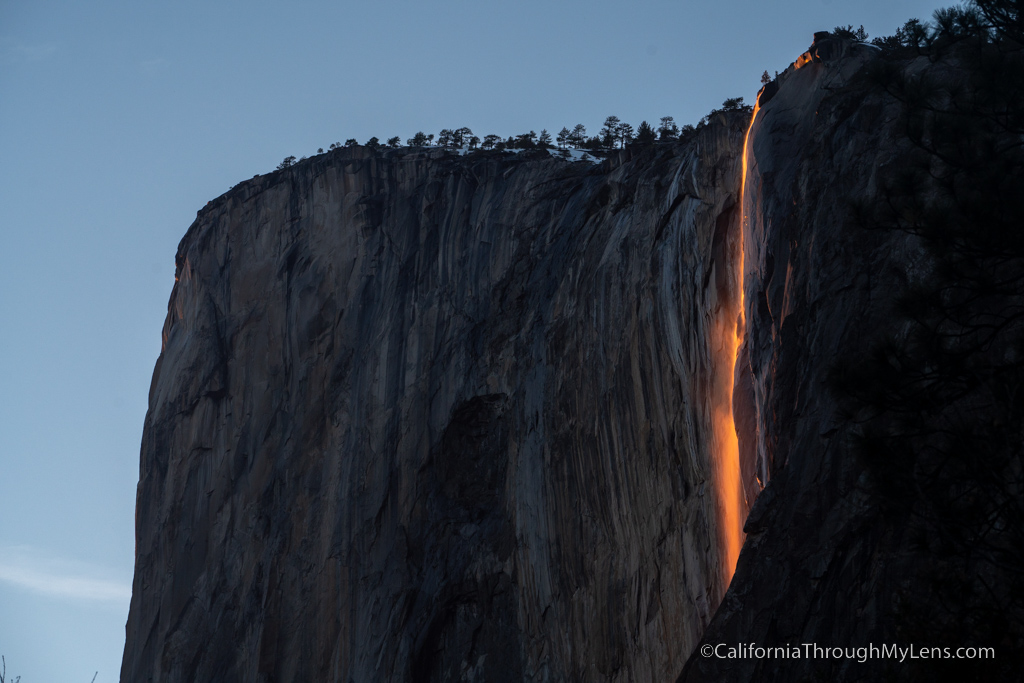 After the sun sets, the crowds begin to walk back to the parking area and it can easily take 2-3 hours to drive out of the park since it is so busy. I highly recommend booking a spot at Yosemite Lodge if you can as it is much nicer to walk back to a hotel instead of waiting in your car.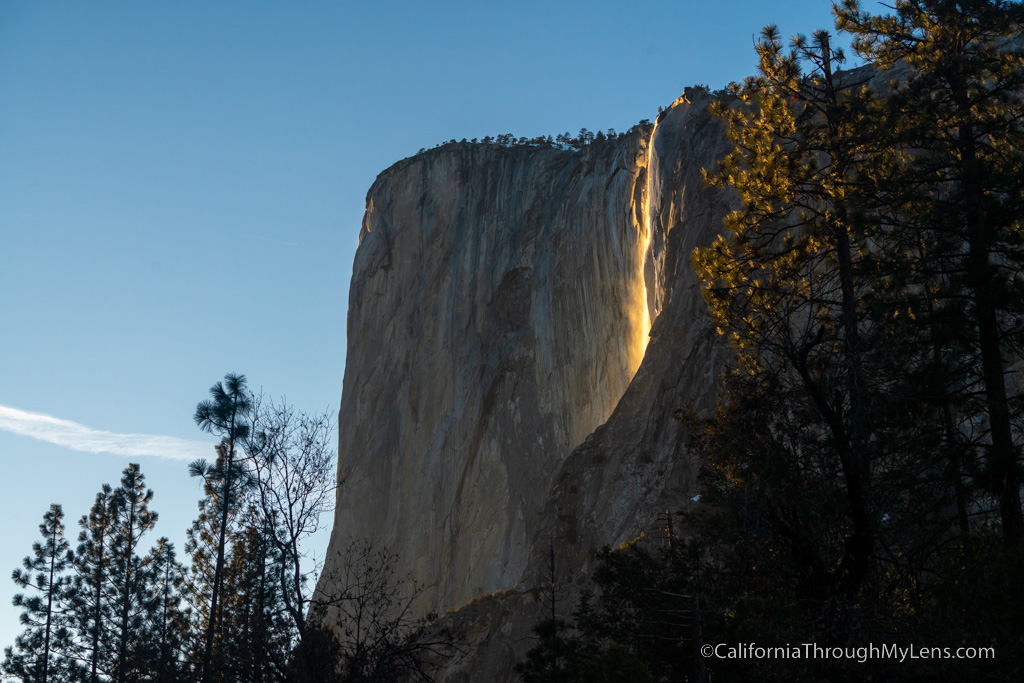 More Yosemite Firefall Tips
So if the weather is good in 2023 and you decide to go, note these things.
Look at the weather in advance for a day where clear skies are predicted.
Get into the park as early as possible to find a parking spot and stake out where you want to shoot from. Find out where you are allowed to shoot from here.
Bring snacks, a small chair, and whatever else you need to wait for the 3-4 hours before sunset.
Make sure to take a few minutes just to enjoy the show and not watch it all through your camera's viewfinder.
Plan to walk in the snow, bring warm weather gear, and a flashlight on the way back.
Bring a zoom lens; I used the 70-200 zoom lens for these photos.
I hope that helps you see this amazing natural phenomenon. Let me know if you have more questions in the comments.