Twisted Oak Tavern in Agoura Hills: Home of Hogzilla
The Twisted Oak Tavern is one of those spots that I wish I had gone to earlier. From the atmosphere to the food, everything has been prepared in a way that makes it easy to approach and fun to visit. Add to that the unique menu which includes things like the Hogzilla (full pig head) and you have the recipe for a fun spot. Here is all the information.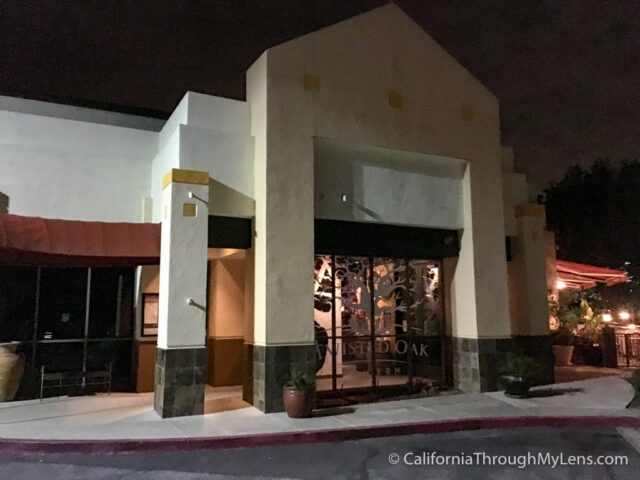 Details
Cost: $15- $20
Hours: 11:30AM – 10PM
Location: 30105 Agoura Rd, Agoura Hills, CA 91301
Located right across the street from the Sheraton Hotel, in an unassuming business lot, Twisted Oak is a must visit in Conejo Valley. The exterior of the restaurant is relatively plain but as soon as you walk in you will be overtaken with large chalkboard walls, a full bar and even a projector playing football games if you go during the right time.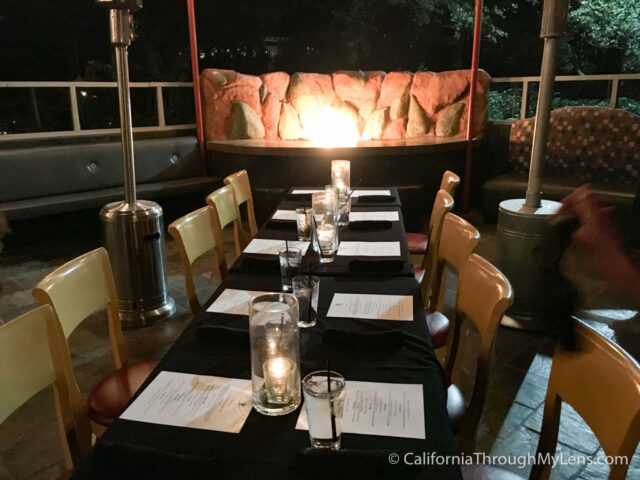 We headed to the back patio and sat in a large open table right next to a fireplace. You could see the vats of beer they brew on site right through the window across from our table.
I was there with a large group so we decided to keep it communal with a bunch of different appetizers to share then culminate the meal with the aforementioned brazed pig head known as Hogzilla. Here is what we got and my thoughts on it.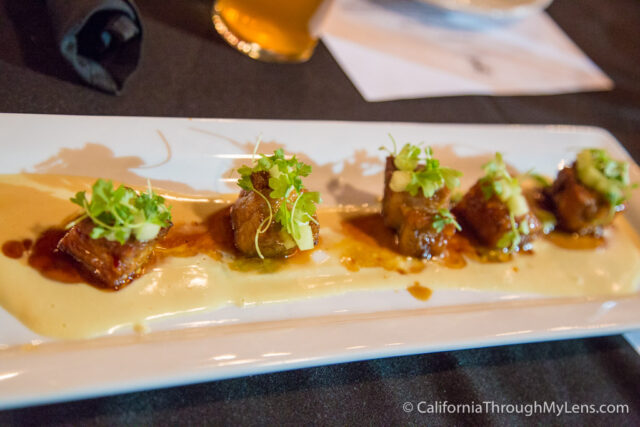 Pork Belly – Melt in your mouth good with a huge flavor. You have to order this and you will not want to share.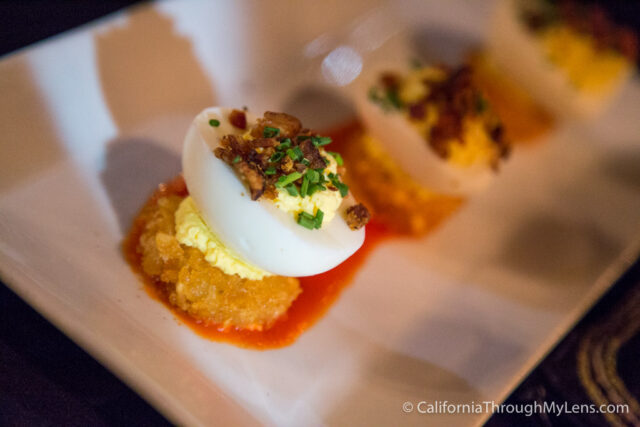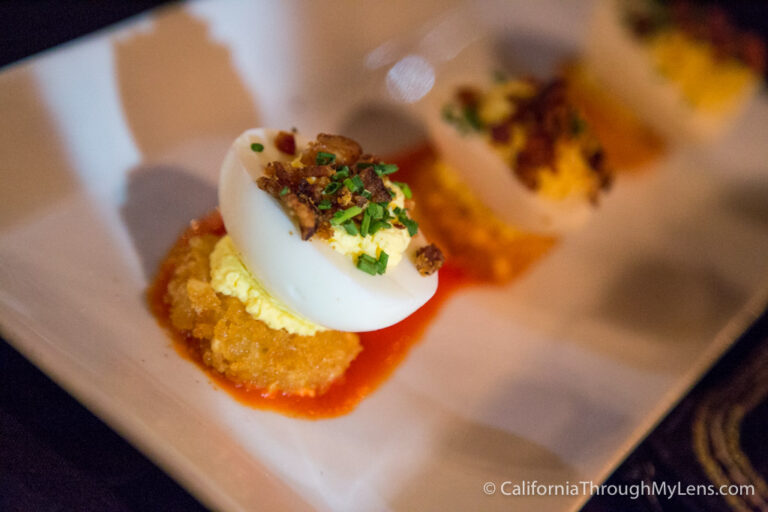 Deviled Eggs – Like a full breakfast with eggs, bacon and hash browns on the bottom. This unique take on the famous finger food is great.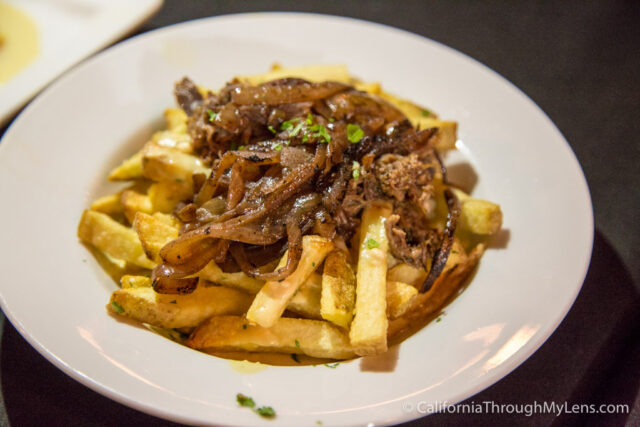 Fries – Really strong blue cheese flavor and pretty spicy, I am not a huge blue cheese fan myself but it was good. The grilled onions and meat on top add a lot to the flavor, but be warned it is spicy.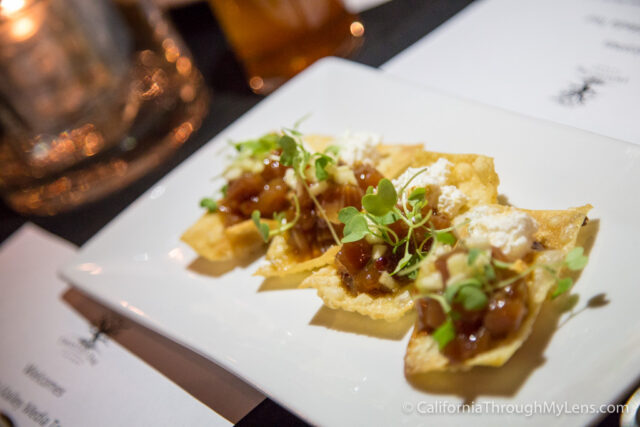 Ahi Poke – Fresh cut ahi with ricotta cheese on a cracker. The ricotta cheese that goes with it is such a good flavor to mix with the ahi, and one that I have never had before.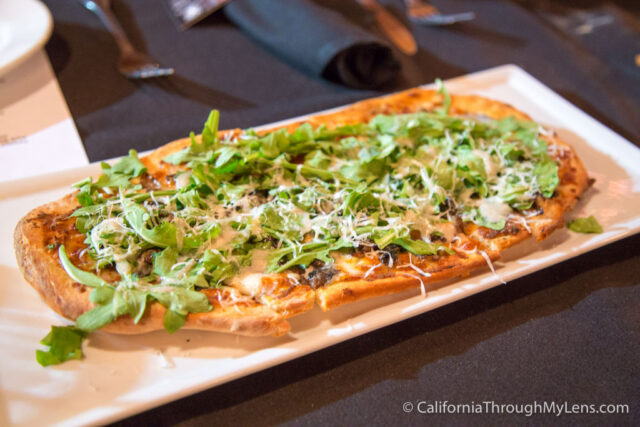 Mushroom Flatbread – Easy to eat with a strong mushroom flavor. You can really taste the garlic and the truffle cream. It is a nice relatively subtle taste that is a good flavor, my least favorite of the appetizers though.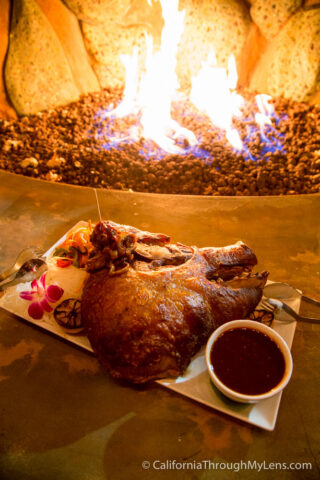 Hogzilla – When this thing arrived we were all blown away by how it looked. I know people think ordering this is really weird but I for one am happy that they are not just wasting all of the meat because of the way it looks. The hogs head is braised overnight then slow cooked and it has a big flavor but you do have to work for it. The meat is served with tongs and you are pretty much left on your own to literally dig in and pull out whatever meat you want. It also is served with bread and lettuce wraps so that you can make a taco with the meat you scavenge. Lastly, the skin is a form of fresh chicharones, so if you like those than you will be at home with this meal. Honestly, I was surprised by how good the meat was as I was thinking it would be more for show then for eating but I really enjoyed it.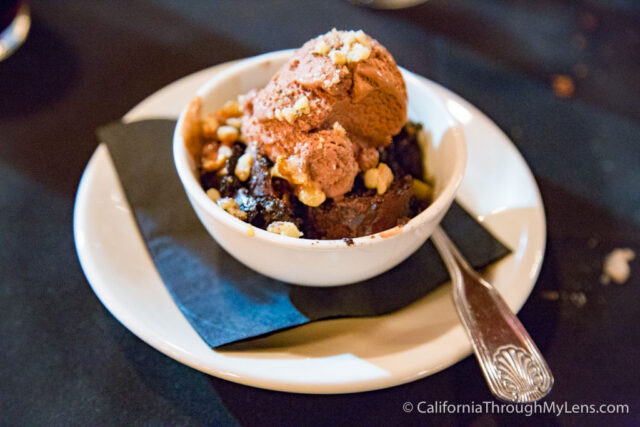 All in all Twisted Oak is a fantastic spot in the Conejo Valley. Everything that I ate here was really great and the people and atmosphere complimented it well. I recommend you give it a try if you are in the area, when else can you say you ordered a full pigs head for dinner?