Fern Canyon: A Majestic Hike in Northern California
Let's get this out there in the beginning; Fern Canyon is one of the best 1-mile hikes you can do anywhere in California, if not the entire United States. It is a cornucopia of lush plant life, a slow-moving stream, and a canyon that has been featured in movies ranging from The Lost World to Tree of Life. It is not super easy to get to, but the 8-mile drive, which features multiple stream crossings will lead you to a variable paradise and should be on your California bucket list.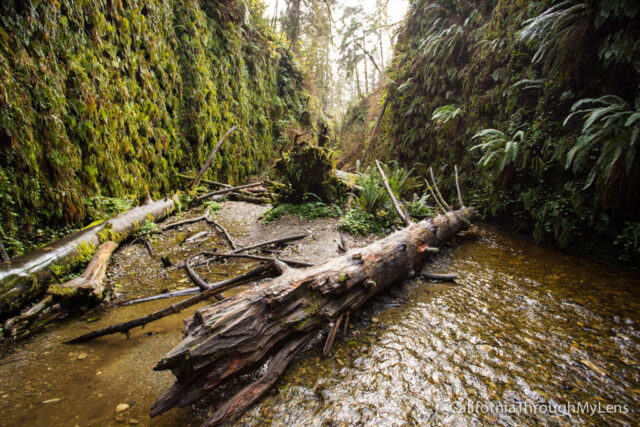 Details
8-mile drive to the trailhead on a dirt road

1.5 mile hike

You will probably get wet
The Road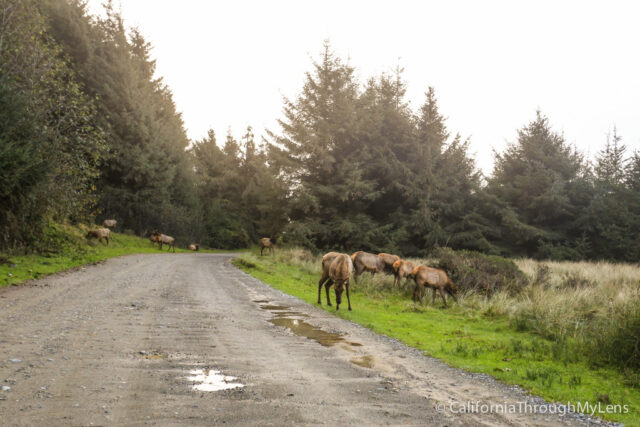 After pulling off Highway 101 on Davidson Road, you will be driving 8 miles on a semi maintained dirt road. The road itself is pretty smooth, but there are a lot of potholes along the path that you need to be wary of, and it can be slow going. I did it with a two wheel drive car though and it wasn't too bad. Make sure to watch the video at the end for an example of a stream crossing.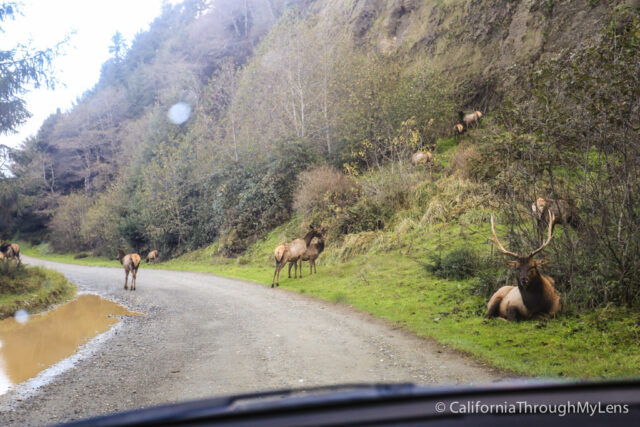 Two stream crossings need to be done in your car. The first of them is the worst with about 6 inches of water when we drove through it. You can choose to park here and not drive through the stream if you want, this will lead to an extra mile of walking but is better than not going at all.
The Elk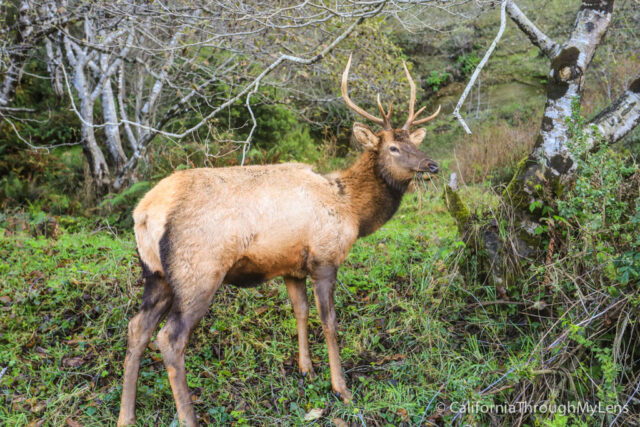 Since this drive is pretty remote, there is a good chance you will see an elk, or multiple elk, on this drive. When I went, there were so many elk at the end of the drive that they actually blocked the road. They left us alone though, and of course, we didn't try to approach them on foot or anything. We just drove slow, and they moved out of the way until we finally reached the parking lot.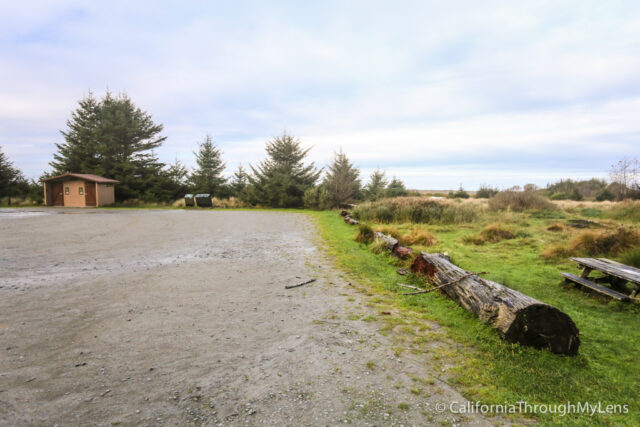 The Trail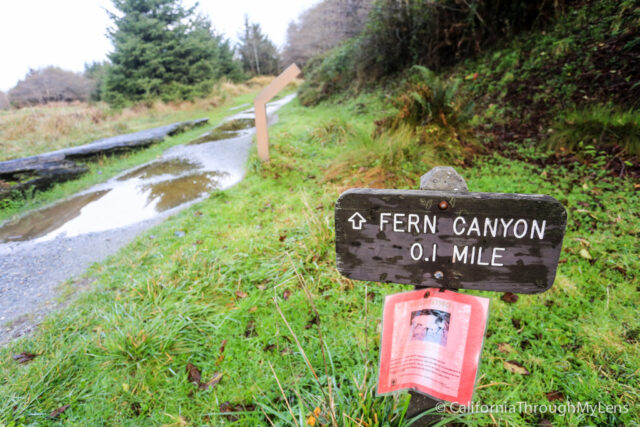 After the adventure that is driving to the trailhead the trail itself is mild in comparison. There is a parking lot with a pit toilet and information about the area. The trail itself starts from the top of the parking lot and makes its way through a small forest of moss-covered trees before heading into the canyon.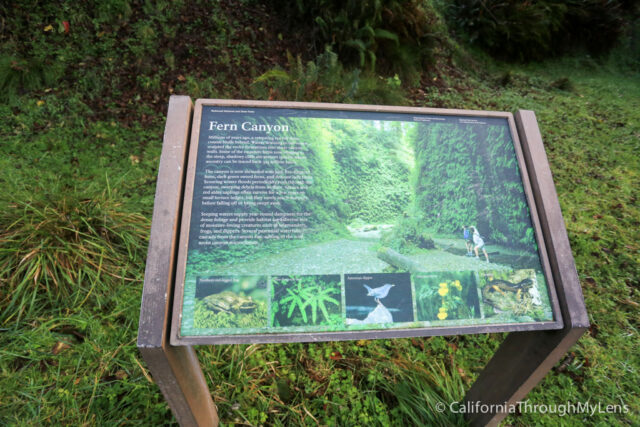 About .1 mile in, you will cross your first stream, and when I went, I tried to stay out of the water for a few crossings but quickly realized it was a lot easier just to start walking in the water. It is much less stressful, and it lets you focus on the beautiful surroundings instead of trying to stay dry.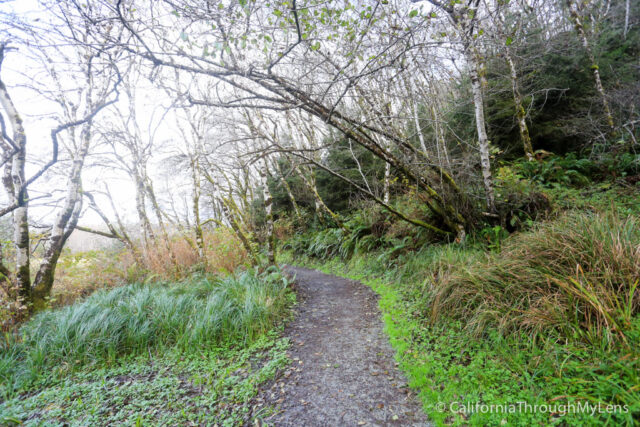 After that, the trail bends, and you will get your first glimpse of the canyon.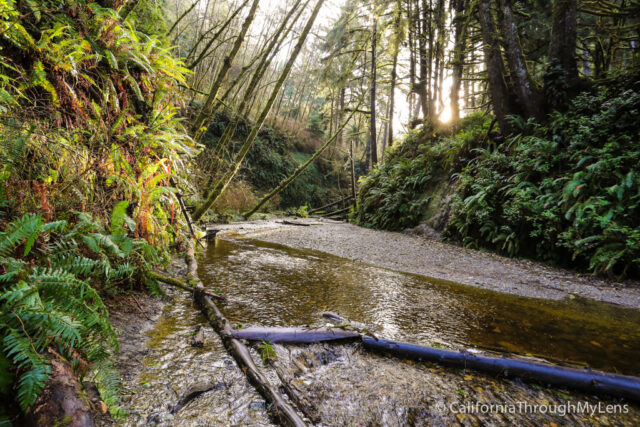 It is mind-blowing in how amazing it is. Lush green plants cover every bit of the 50-foot canyon walls. The browns and golds of the water cascading over rocks and the fallen redwoods add a feel to this canyon of something in the rain forest. It is easy to see why Jurassic Park: The Lost World was filmed here.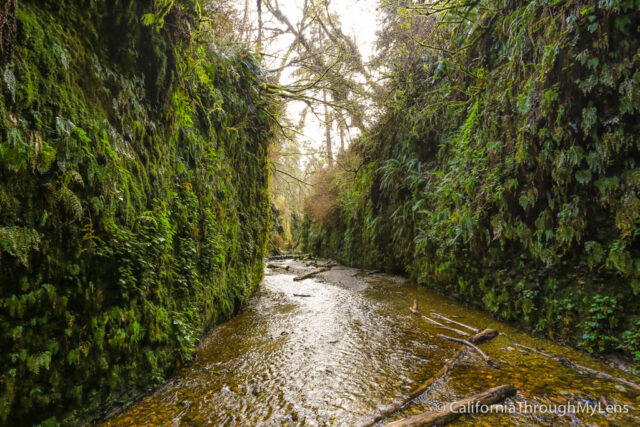 The trail from here is about a half-mile of just walking through the canyon itself. Like I said, it is easier to just walk in the water as you will have to cross the stream a dozen times if you don't. Update 2019: When we went back, it was pretty easy not to get wet as the water level was lower.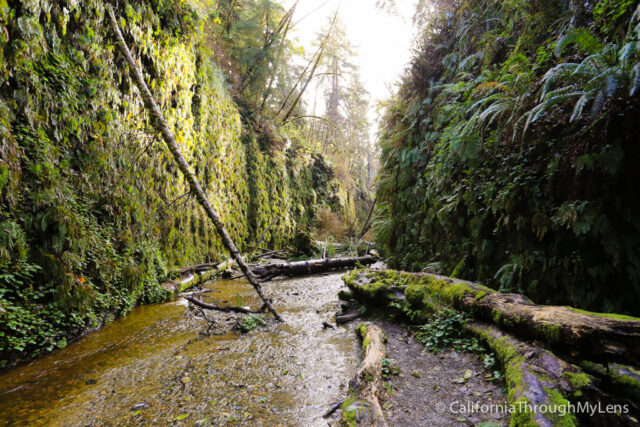 Along the walls, there are even mini-waterfalls of small streams of water that fall slowly through the plants.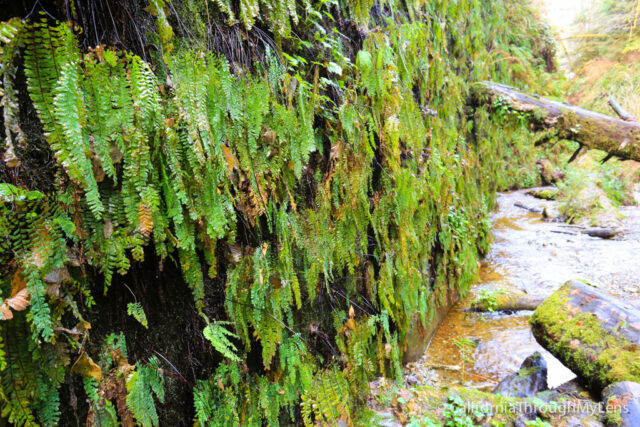 My wife and I could not believe how amazing it was to climb the fallen branches, take photos, and wait in awe for what is around the next bend. Here are some of my favorite images.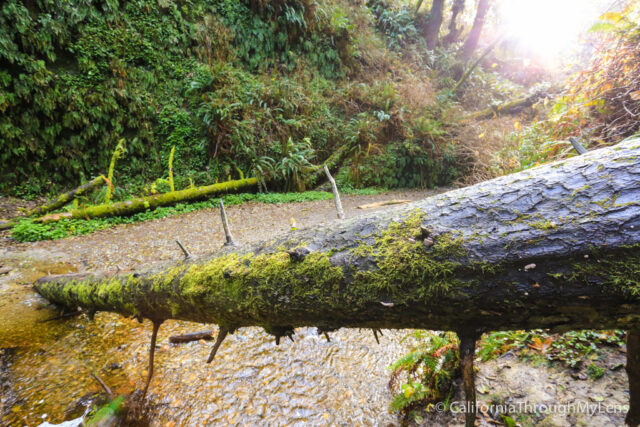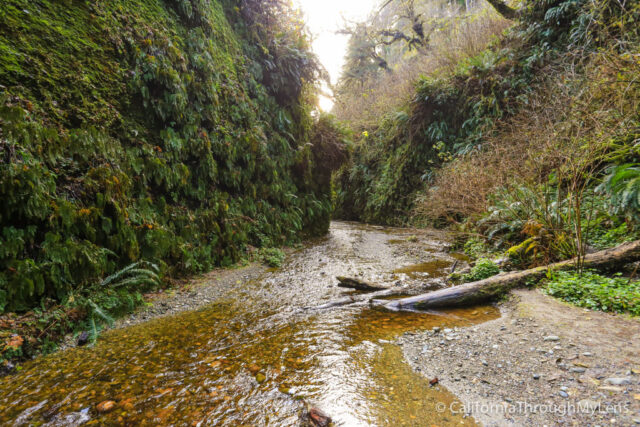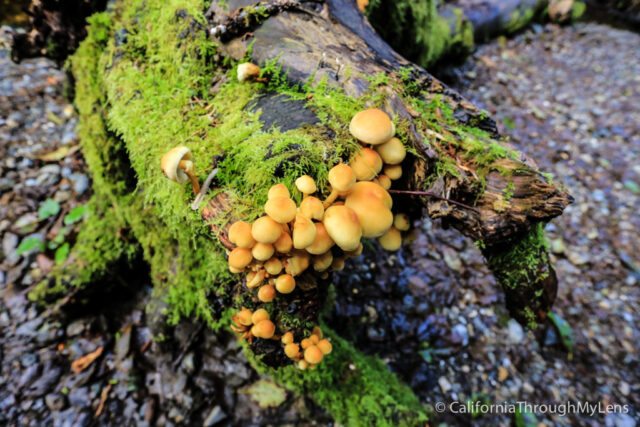 After that half-mile, the canyon flattens out again into an area that is still amazing but pales in comparison to Fern Canyon itself. I have been told you can make a loop out of it, but I wanted to walk back through the canyon again to see all of the things I missed the first time.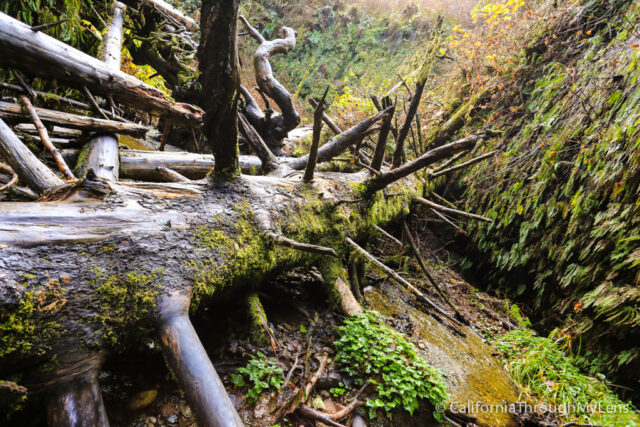 When I came to the mouth of the canyon, I was sad to leave this magical place. Also, I should mention that we arrived at around 9 AM and had the entire canyon to ourselves. When we left at 10:30 AM we passed at least a dozen cars. Make sure you go early for the best viewing.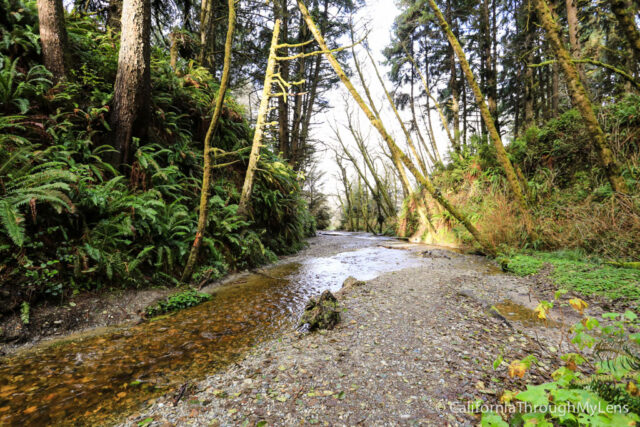 Here is a video I made of the trip as well.
All in all, this one of the best hikes in of California. Your jaw will drop multiple times, and you will probably tell everyone you know about it; it is that good. I would love to hear what you thoughts about it in the comments if you have gone.