Five Great Coffee Shops to Visit in LA's Fashion & Art's District
It turns out Downtown LA's Art District and Fashion District boast of more than just warehouse boutiques, urban murals, and sidewalk sketches; they are also home to several craft coffee shops. Within blocks of each other, coffee aficionados and hipsters alike have their pick of everything from Blue Bottle to Stumptown Coffee. Situated on street corners and in the middle of industrial buildings, these spots cater mostly to the pick up and go cup of joe kind of people, or to those iconic 70 degree and sunny LA days when sidewalk cafe seating is at its best. This information is from 2017.
Blue Bottle Coffee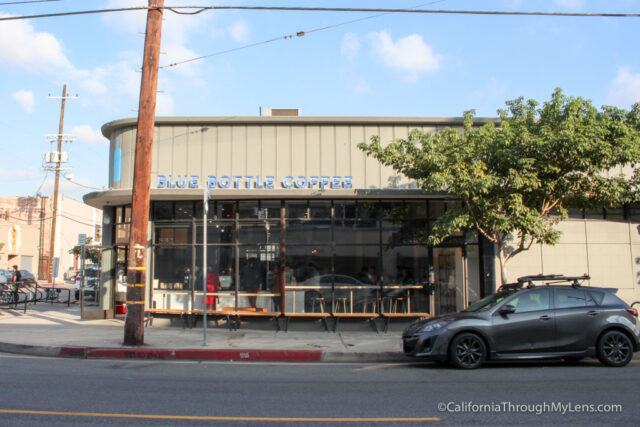 Located on Mateo and Willow, Blue Bottle is easy to get in and out of, making it an ideal spot for those who need a shot of artisan espresso, or a craft cold brew. Regarding ambiance, Blue Bottle is minimalist, sporting a few long bar tables, one that faces the street and offers excellent daytime lighting. No wifi makes it a bit of a troublesome place for long-term workspace, but a nice area for a quick coffee break or chat with friends.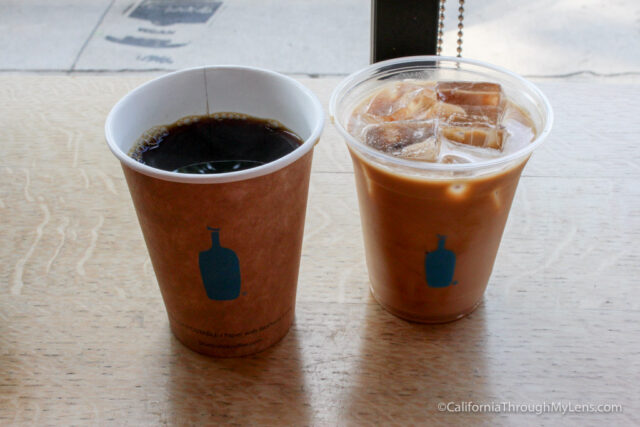 We sampled the pour-over blend of three African beans and found it a quite excellent medium roast: smooth, a little acidic, sweet, and fruity. The iced latte was equally on par. There was a strong espresso presence that cuts through the creamy milk, and yet it was smooth and refreshing, well-flavored, not heavy. The prices were reasonable, perhaps even on the lower end for a craft coffee roaster, other snacks were available, and the menu had plenty of coffee and espresso options from which to pick.
Stumptown Coffee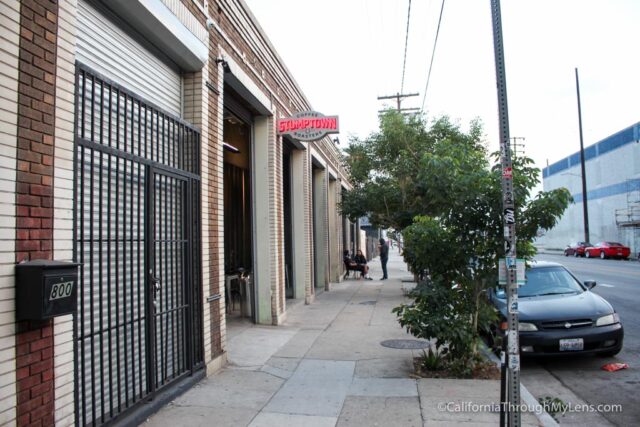 About a half mile down the road, on South Santa Fe Ave, Stumptown Coffee situates itself between other industrial spots and art studios. Like Blue Bottle, seating is limited, but patrons can enjoy a seat at a bar with windows opening into the roastery. Those who enjoy the mechanical, scientific art of coffee roasting can watch as the massive machine roasts the beans and even voyeuristically gaze into a room adjacent where it appears barista training occurs. An industrial, transparent space, Stumptown does offer free wifi, snacks, and lots of hipster presence.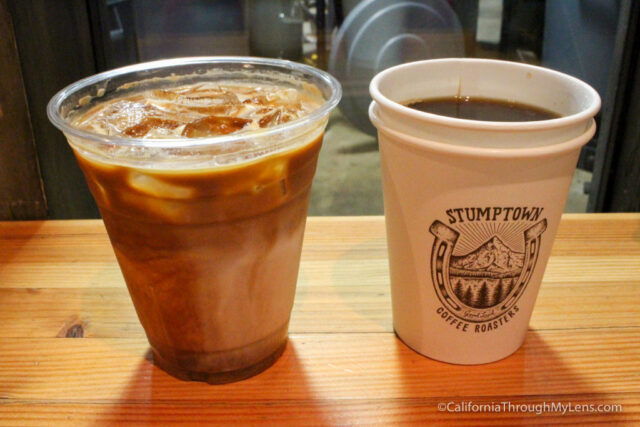 We tried out just a drip coffee as there were less single brew options than at Blue Bottle, and an iced latte again. Both were great; the latte was rich, smooth, light, and easy, and the coffee was more of a dark roast, acidic, with some nutty and chocolatey flavor notes. For those interested in cold brew, they had a lot more options for coffee. Prices seemed a bit lower here than at some craft coffee shops.
Black Top Coffee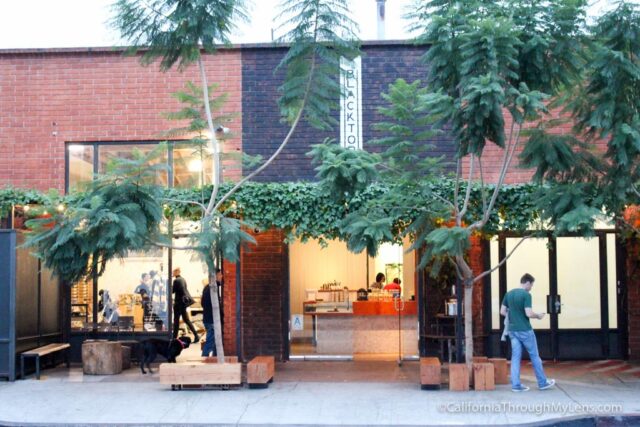 The last stop of the day was the most quaint and best oriented for people looking to score a quick cup in a rush. Located on East Third St, Black Top is a small bar with a straightforward menu that offers cold brews, drip coffee, and a few espresso drinks. Their stand opens up to a decor boutique next door, and down the street were some novelty/souvenir shops with lots of modern charm.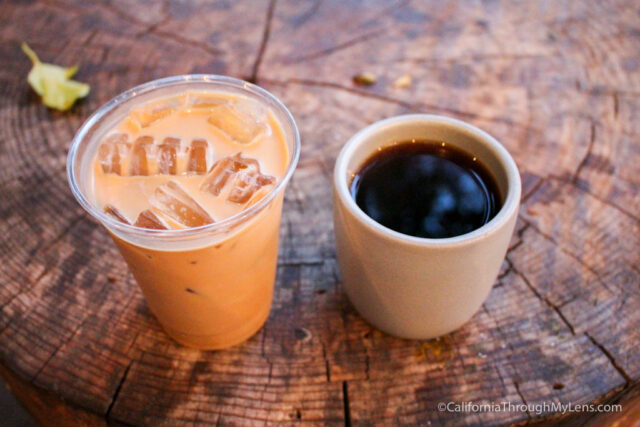 We ordered another drip coffee and an iced latte and sat on some wood chairs with finished wood stumps as a "coffee table" outside under a vine-covered trellis with twinkle lights. It was a beautiful outdoor space, and were the weather a bit warmer, one could easily see this being quite the dreamy spot on an early fall evening or summer night. The coffee was balanced, flavorful, and a bit acidic. The latte seemed a bit lighter and less strong in its espresso taste, but that could be because we ordered it with whole milk instead of 2% as at Blue Bottle and Stumptown. Both were fantastic. Food is available, but only in the mornings and until 2 PM. The price seemed a bit more than Stumptown and comparable to Blue Bottle, perhaps a bit more.
Not far from Downtown LA's Arts District sits its equally or perhaps even more famous Fashion District, host to another slew of great artisan coffee shops.
Coffee Co Lab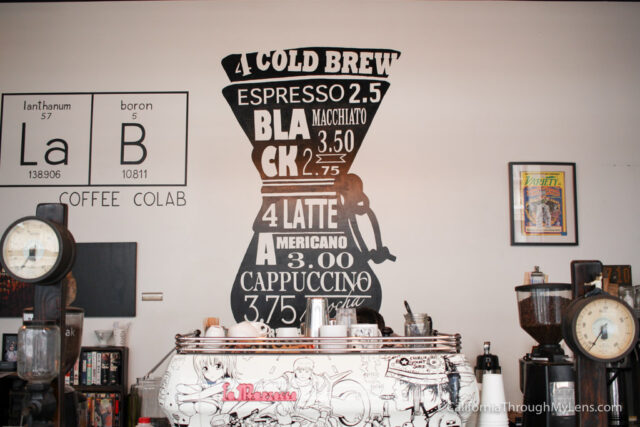 On the corner of Eighth Street and Santee, just a few doors down from the intersection is a subtle black coffee sign for Coffee Co La B (as in the abbreviations for several of the elements found on the chemist's periodic table). It's just a simple stand with a roll down door, a few chairs, including an old teal rocker and rustic tables outside. The menu is painted artistically in the shape of a pour over set on the wall behind the counter. While it does not offer any pour over options or snack items for noshing, it does have the basic espresso and drip selections. The interior space is littered with a menagerie of antiques interspersed with some seedy street decor, like suggestive artwork and one hanging bra. It's the sort of downtown, urban, gritty feel you expect to find in the middle of a major metropolitan fashion district.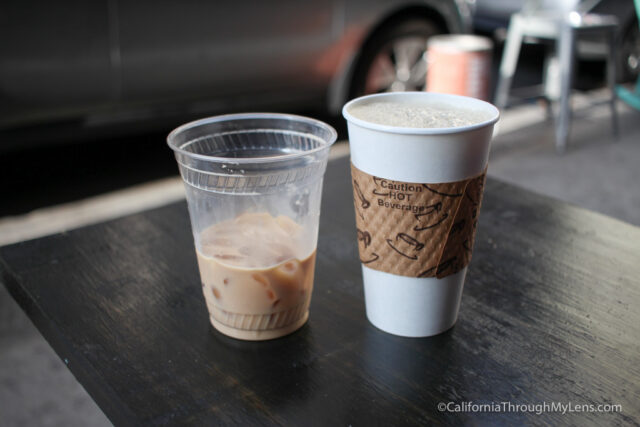 We ordered the usual: a latte and black coffee, $4, and $2.75, respectively. My favorite part about my latte was the foamy head, frothy from its time being shaken in the tumbler. Zac enjoyed his mild to medium roast coffee, with hints of chocolate, and a bit of acidity; all in all, it was a good cuppa joe for a batch brew coffee.
Verve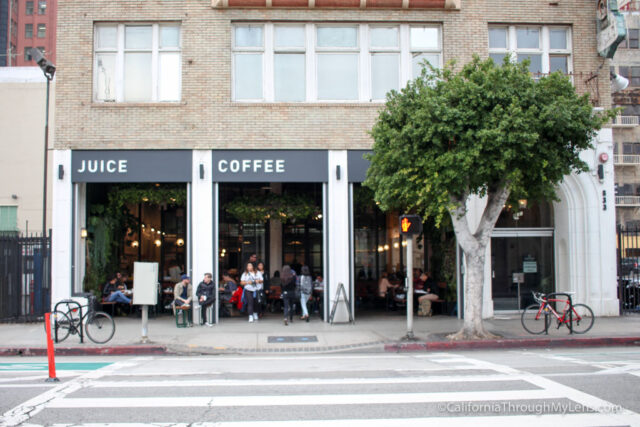 Just a five minute walk from Coffee Co La B is Verve, a very different sort of venue for caffeine addicts. It's a much larger space, with plenty of seating both outside and inside the shop. Outside, the tucked away alcove-like seating peeks out from a vine-covered, Pacific Northwest-sort-of-feeling green porch. Meanwhile, the indoor space is much more like a well lit loft setting with exposed warehouse ceilings. The menu includes all of the usual coffee options as well as a vast juice selection that has a strong appeal to the LA, hipster, I-just-went-vegan- last week clientele. In addition, there are many tasty treat options (may I recommend the cookie to you), some soup, sandwiches, and even other sundry items like soaps for sale.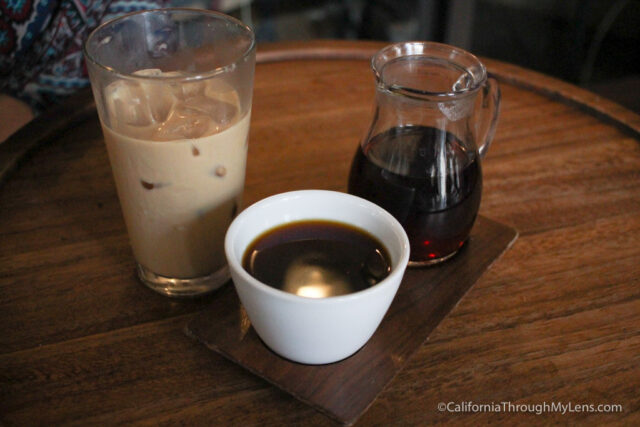 We settled in with our iced latte and pour over, similarly priced to the other places. The iced latte was smooth, balanced, a tad earthy, and quite delightful. The pour-over was a light, fruity roast with good acidity. The cookie, did I mention that already? Well, it was the icing on the proverbial cake. The vibes here, in addition to the great coffee, just felt like LA: there was good energy, the sort of busy, but let's stop to enjoy the palm trees before we go to a photoshoot and film on a set for the rest of the day kind of vibrancy.
Demitasse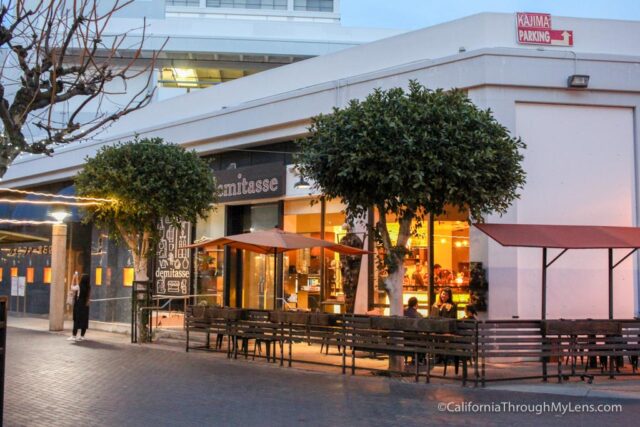 After camping out at Verve for a bit, we headed to our last stop in the Fashion District: Demitasse, in the middle of Little Tokyo on the corner of E. Second St. and San Pedro. Demitasse was very different from the other two as well, with a sort of "fancy" cafe feel, almost bordering on a touch of New York sophistication, with a subtle pairing of Asian colors and flavors (like the white miso in the butterscotch cookie I ordered). The place had flair and class, yet it was simple too.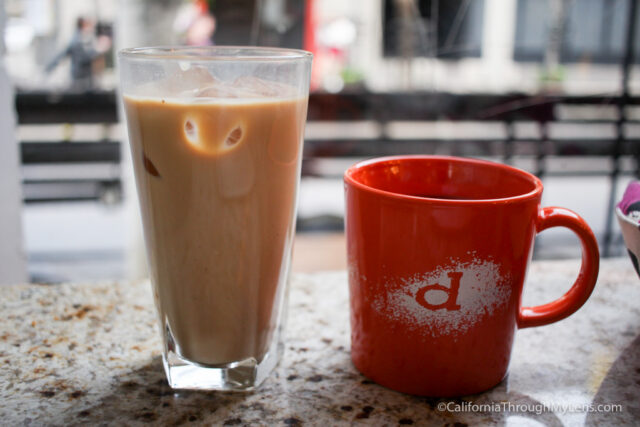 My standard $4 iced latte was rich, creamy, and smooth, and Zac's $4.25 Costa Rican pour over was full-bodied, a little bit fruity, and sweet. Although we chose an indoor bar seating area overlooking a plaza, outdoor seating was available as well, next to a large sign that read: "Friends don't let friends drink Starbucks." Two more points to the New York attitude. Demitasse also sold chocolate and tea, some previously mentioned cookies and pastries, and offered a few different ways for one to enjoy their coffee, such as through a siphon versus a pour over.
And so, while one typically thinks of Los Angeles as the home of the Dodgers, Hollywood, and some of the West Coast's most iconic beaches, it turns out it's also home to some pretty killer craft coffee shops.
What's your favorite spot? Be sure to leave it in the comments.