French Laundry in Napa: What it is like to eat at the World's Best Restaurant
The French Laundry is one of California's most coveted restaurant reservations and has been voted the best restaurant in the world in the past. If that doesn't convince you to visit, famed chef Anthony Bourdain said it was one of the best dining experiences of his life and praised the tasting menu for its perfect marriage of flavors and made an entire episode on it. For the past decade, I have been traveling California, and it has always been a dream of mine to dine in these hallowed halls. However, the cost and the difficulty of securing a reservation have always kept me away, that is until my wife and I finally saved up the money and secured a reservation in October 2023. Spoiler alert: the experience blew us away and impressed us both on a food and hospitality level. While I don't know if I would ever eat there again (merely from a cost prospect), it is something neither my wife nor I will ever forget. If you are interested in what it is like to dine at the French Laundry and tips for how you can do it if you are interested, then here is all the information.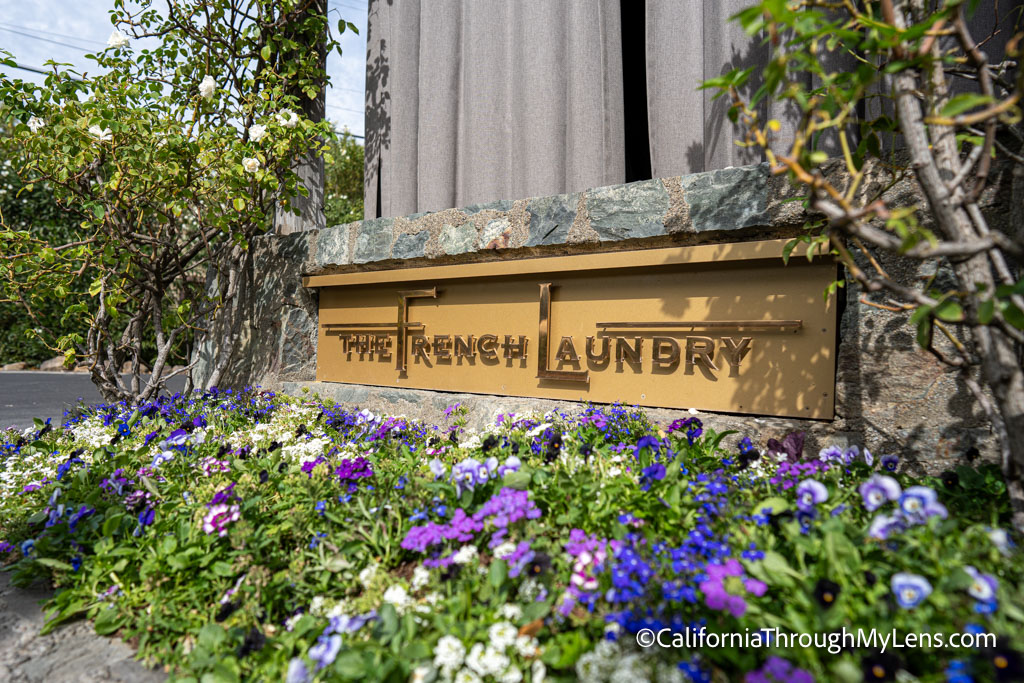 Details
All information is as of October 2023 and may change
Cost: $390 a person for the tasting menu (includes tip but does not include additional add-ons like wine or upgrades)
Reservation: Released on the first of the month previous to when you want to dine (September 1st for October dining)
Plan to be there for around 3 hours for the dining experience
Location: 6640 Washington St, Yountville, CA 94599
Video on my time at The French Laundry
Here is the video I made when I visited in 2023.
How to get reservations to French Laundry
Reservations are released on the first of the month at 10 AM for the following month. They sell out within 1-2 minutes, so you must be ready exactly when they are released. The hardest reservations to get are for two people, so it is generally more manageable if you have larger parties. Once you select a date online, it will tell you if there are any available seatings, and from there, you can choose and pay for your reservation. The reservation must be paid in full at the time of booking and cannot be canceled. You can transfer the reservation if needed (double check this as it could change), and people will often sell reservations they cannot attend on Reddit or Facebook Groups. The hard part is done after you secure a reservation and pay the fee.
Planning your trip
While the French Laundry can be the cornerstone of your trip, I recommend doing a few other things in Napa while visiting. Here is a video of how I spent a few days there with my family and a few of my favorite wineries.
Dining at the French Laundry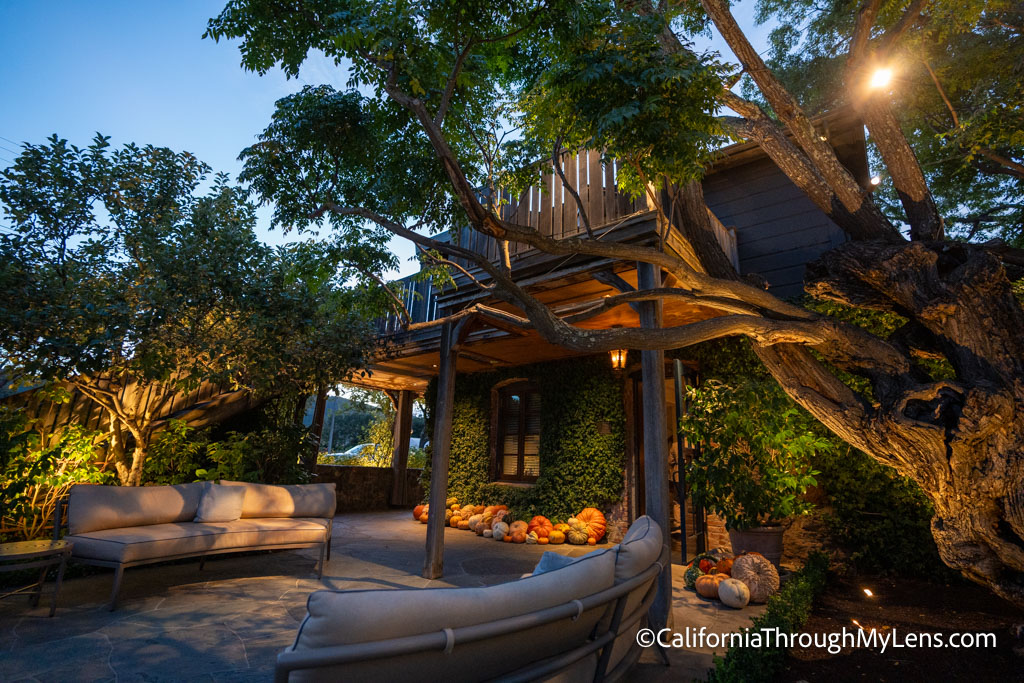 Once your reservation date arrives, I recommend getting to the restaurant 30 – 45 minutes early, as the property is immaculate, and there are lovely outdoor seats to enjoy. Plus you can walk across the street and look at the gardens, where much of the food comes from.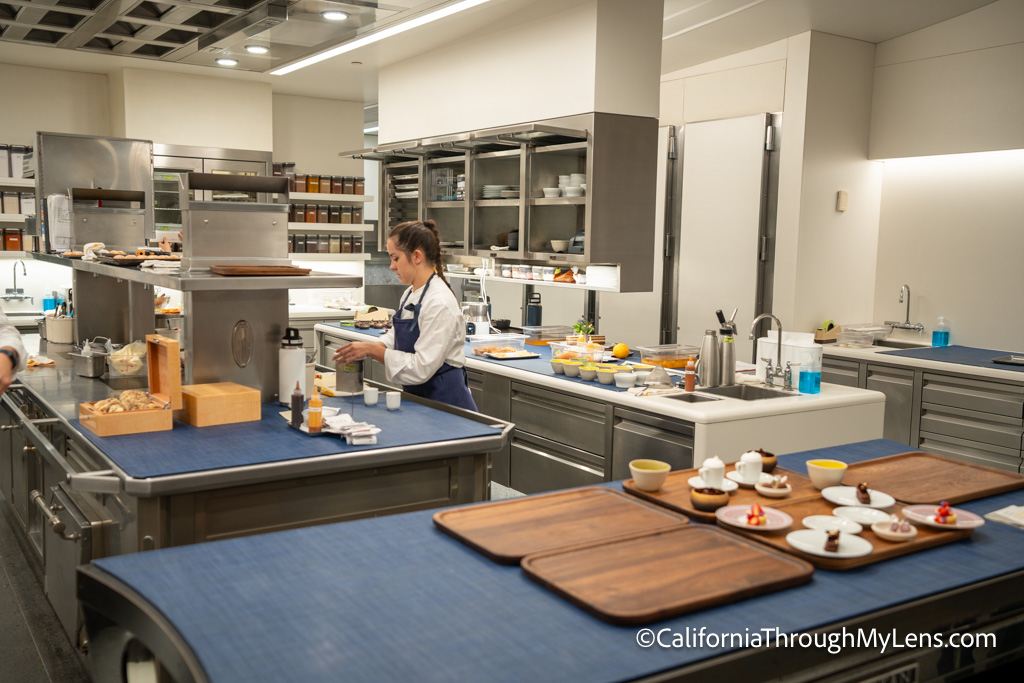 When we arrived, they checked us in and gave us a welcome glass of champagne while waiting for our table. We sat in the courtyard, relaxed, and took a few minutes to walk around and watch the kitchen work (there is a large window from the courtyard). Right on time, we were ushered into the main dining room and shown to our table.
The Tasting Experience at French Laundry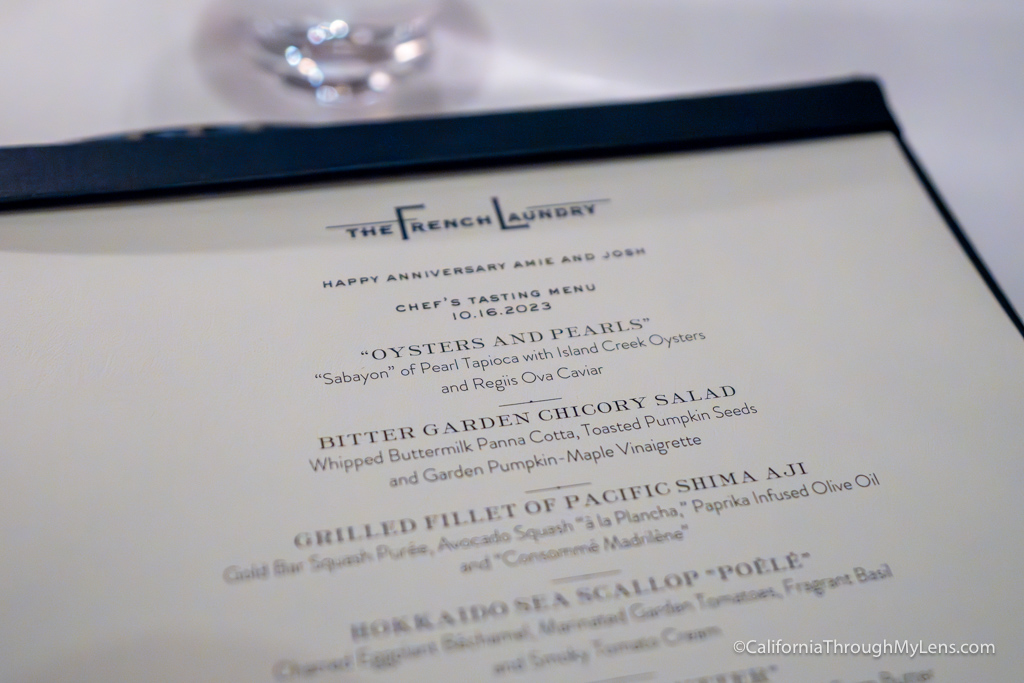 I have not done a lot of high-end dining, so I am very new to this world and don't have much to compare it to. That being said, the experience was more like a dance than a typical dining experience.
We were given just the right amount of time between courses to let the food digest before the next round came out. Our water never reached the bottom before a staff member refilled it, and the wine we ordered arrived with a dish they thought was a good pairing with that particular wine (we only ordered one glass and didn't do a tasting to accommodate courses).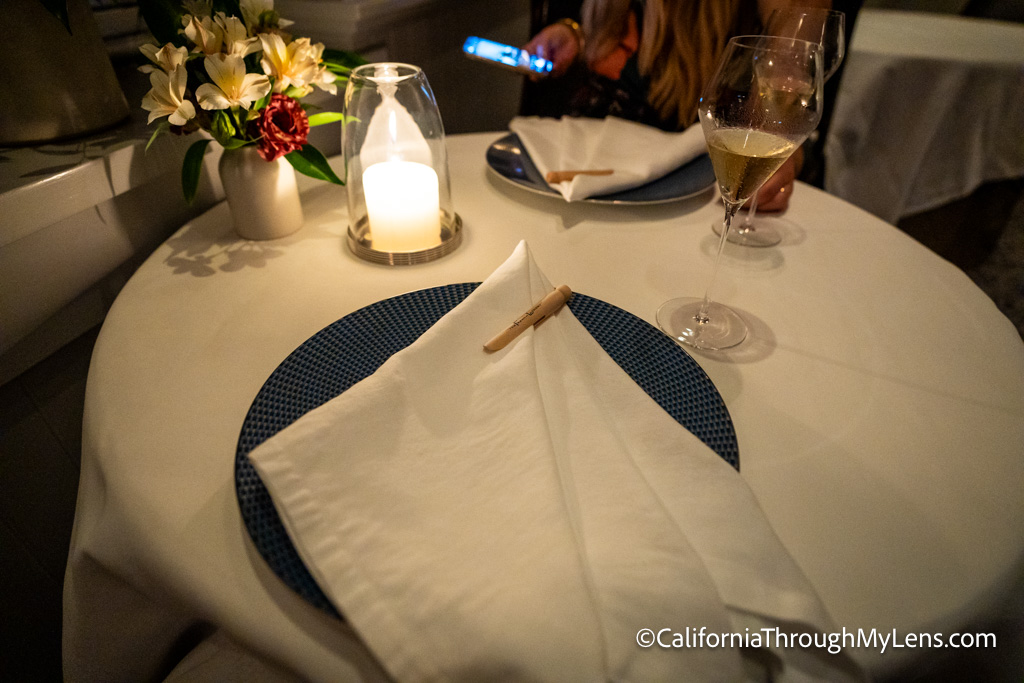 The attention to detail was supurb; my wife and I were celebrating our anniversary and greeted with Dom Perignon from the year we were married. We were even given a bottle of champagne engraved with our names and happy anniversary on the way out. Plus, every staff member who interacted with us wished us a "happy anniversary," which was just such an elevated hospitality experience. We were even invited to see the kitchen after we dined, and staff members greeted us as we walked in. Of course, that wouldn't matter if the food were not good, and luckily, that was not the case.
The Food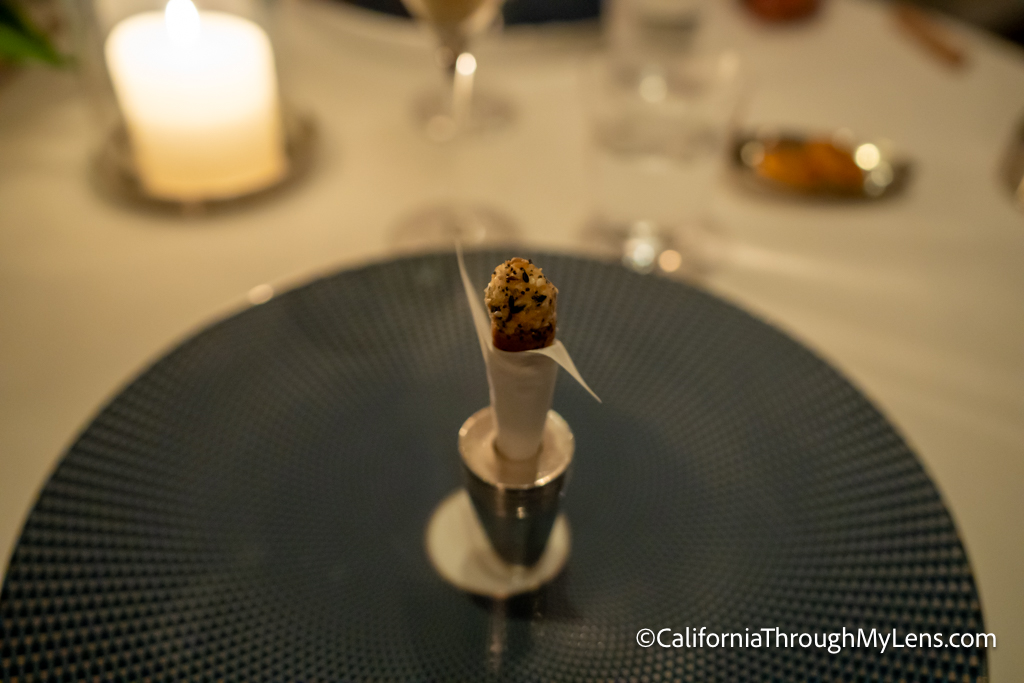 I am by no means a luxury food reviewer, so I will show an image of each course we got to try and a few notes on them. By far, the standout for me was the Oyster and Pearls. That is what they are known for, so I had high expectations, but I did not know how good it would be.
Oysters and pearls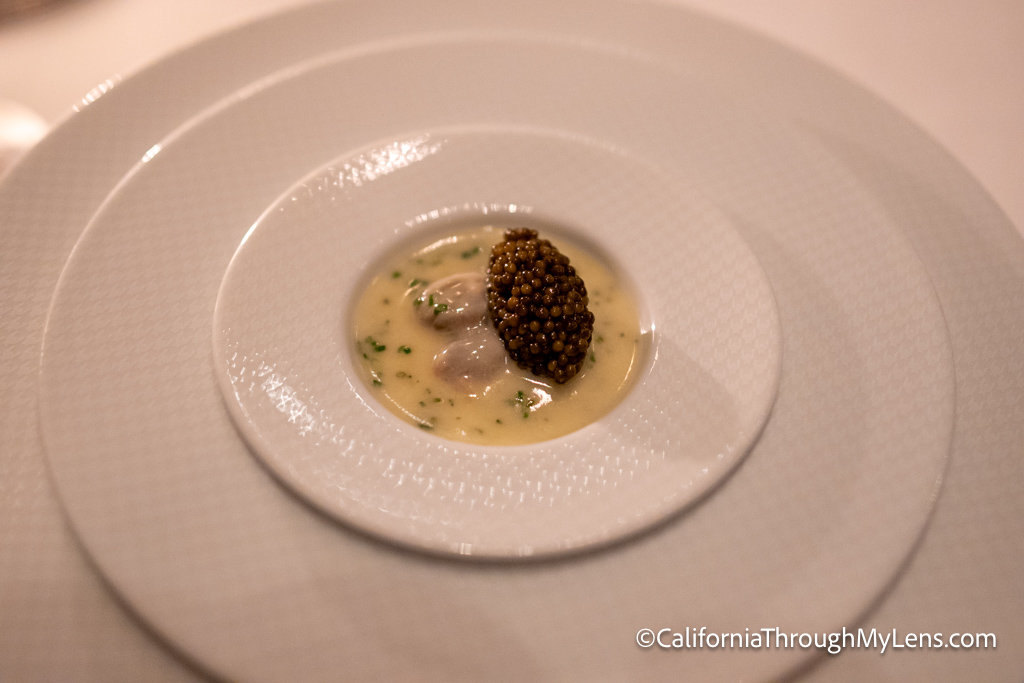 "Sabayon" of pearl tapioca with island creek oysters and regis ova caviar.
Bitter garden chigory salad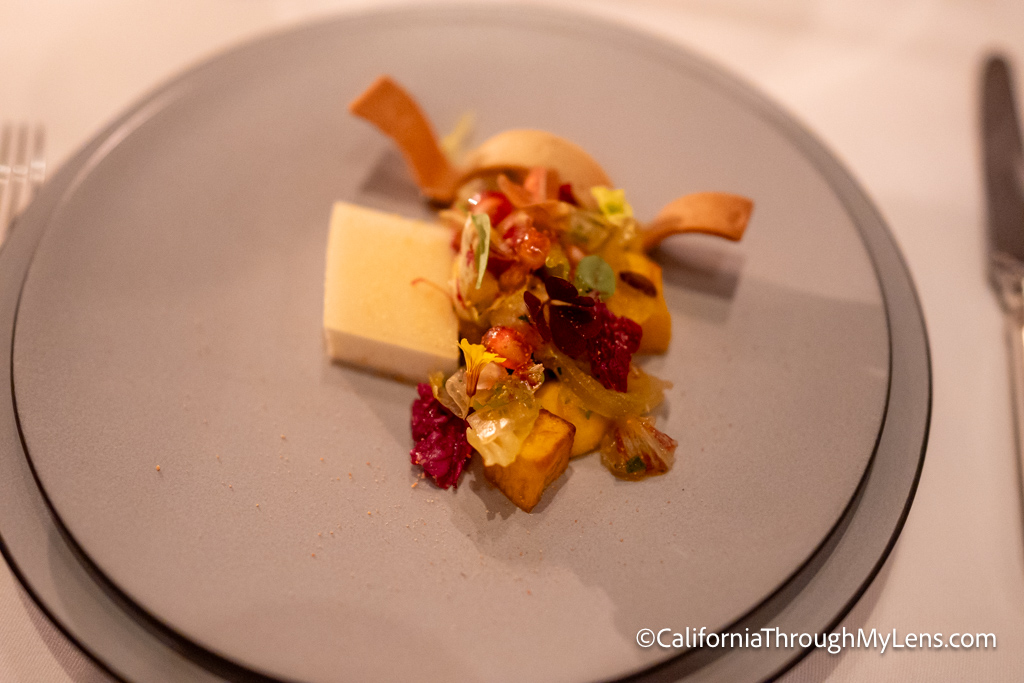 Whipped buttermilk panna cotta, toasted pumpkin seeds and garden pumpkin-maple vinaigrette.
Grilled fillet of pacific shima aji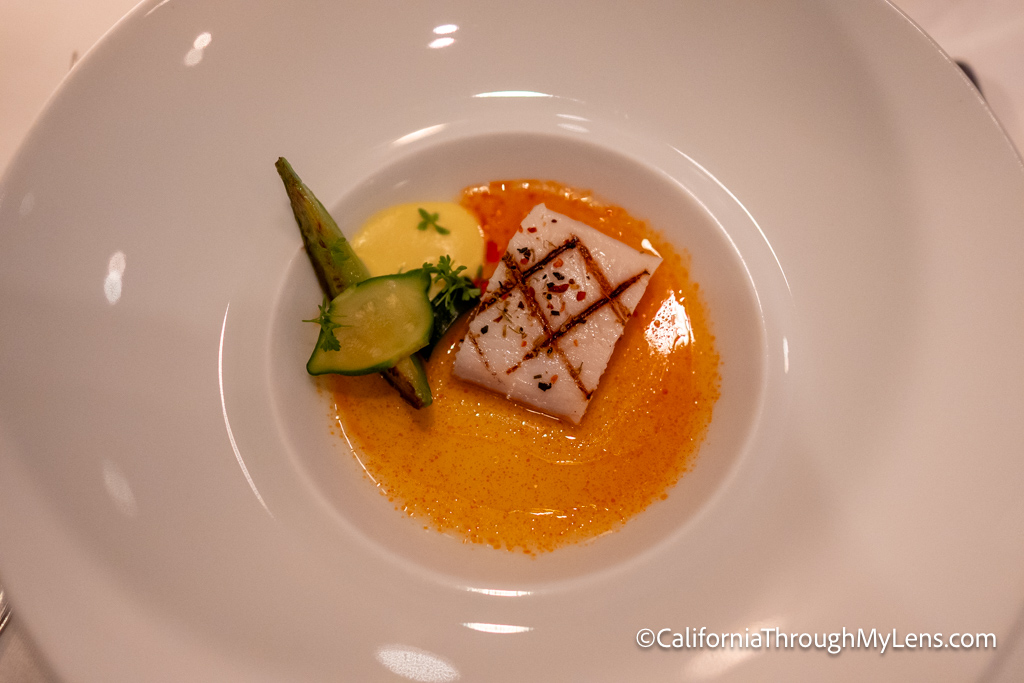 Gold bar squash purée, avocado squash "à la plancha," paprika infused olive oil and "Consommé madrilène."
Hokkaido sea scallop "Poélé"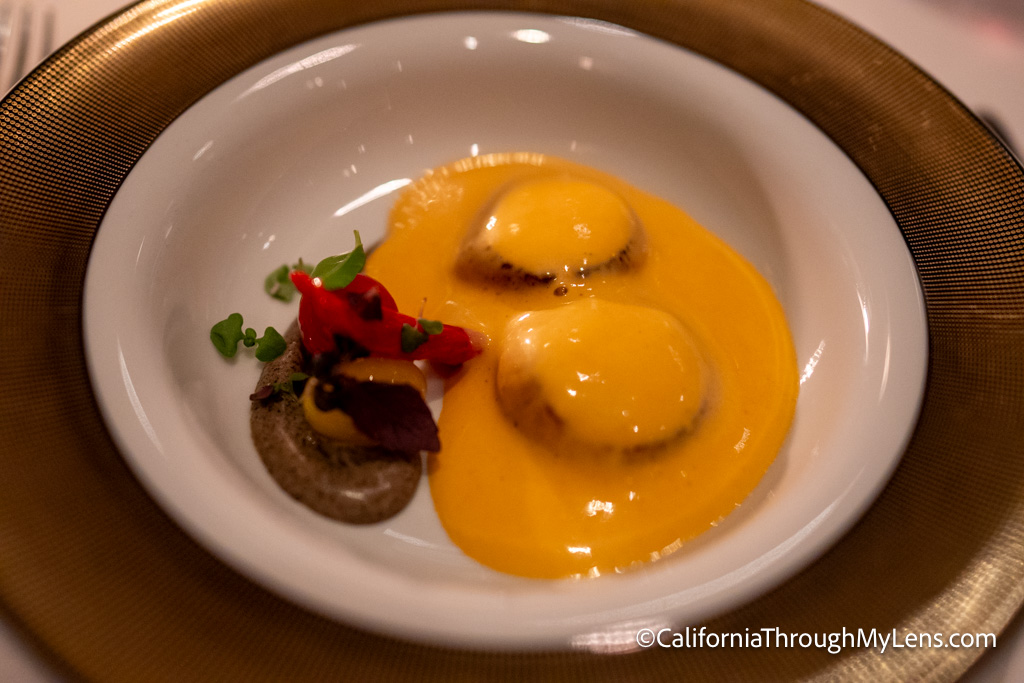 Charred eggplant béchamel, marinated garden tomatoes, fragrant basil and smoky tomato cream.
Bread and butter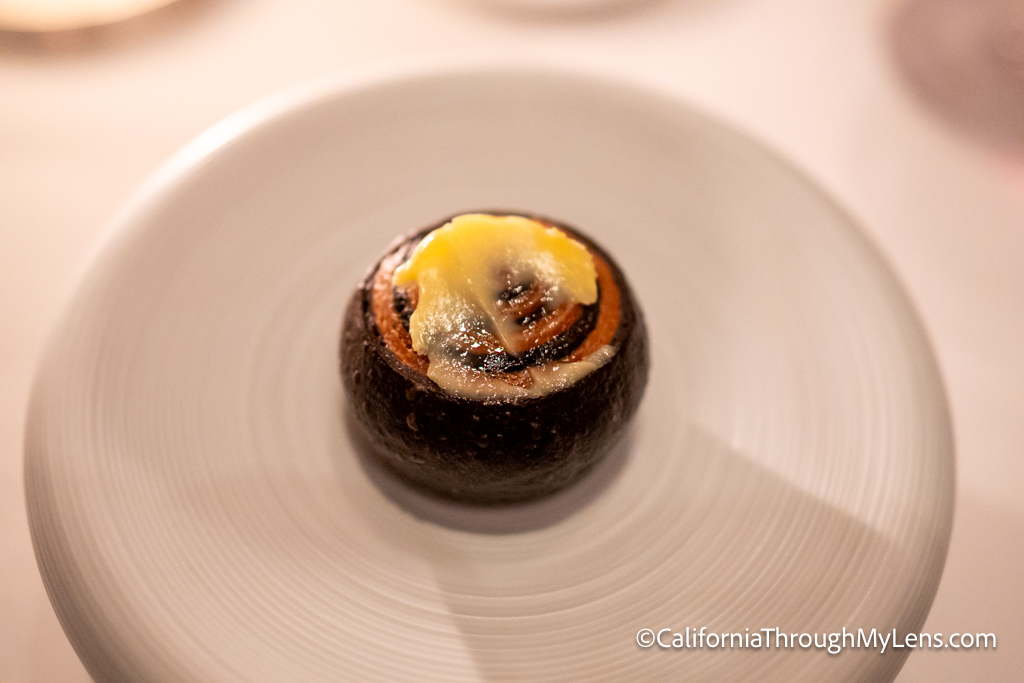 Bitter cocoa laminated brioche and hilary haigh's animal farm butter.
Applewood smoked wolfe ranch white quail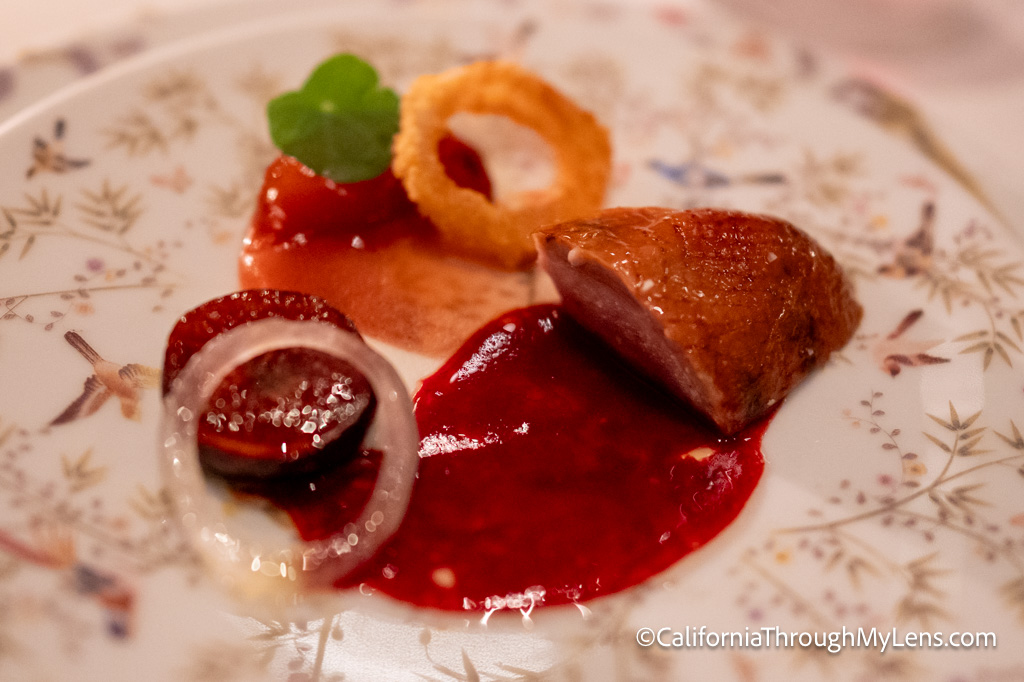 Spiced garden apple purée, black mission figs, crispy cipollini onion and elysium reduction.
"Prime rib" of elysian fields farm lamb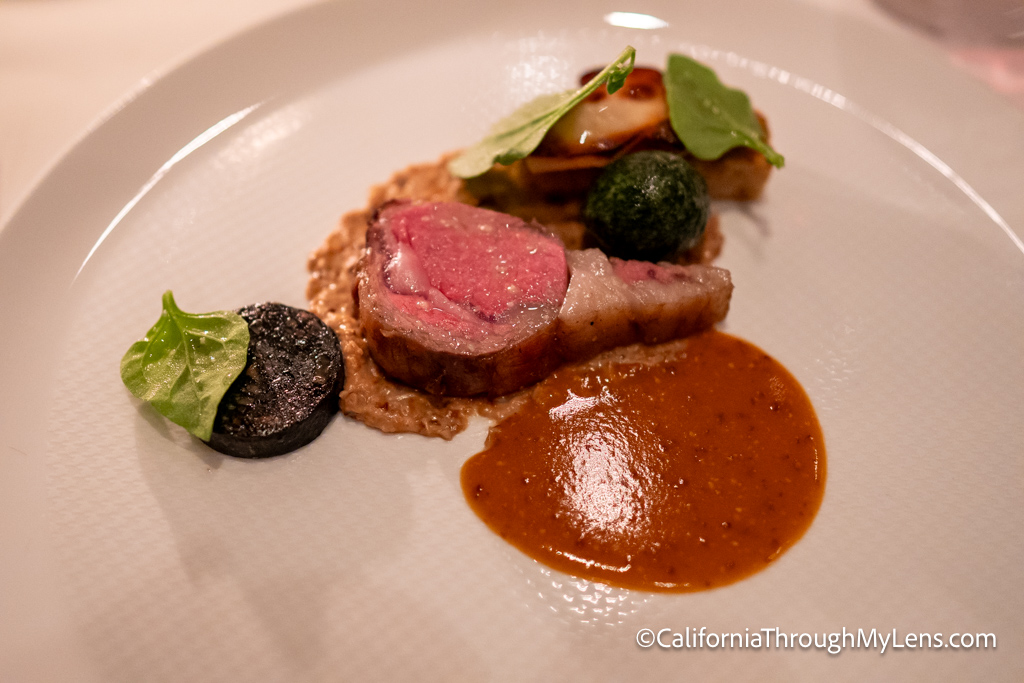 Roasted chanterelle mushroom "Tapenade," wilted arrowleaf spinach, "Boudin noir" and whole grain mustard jus.
Grilled steak and green salad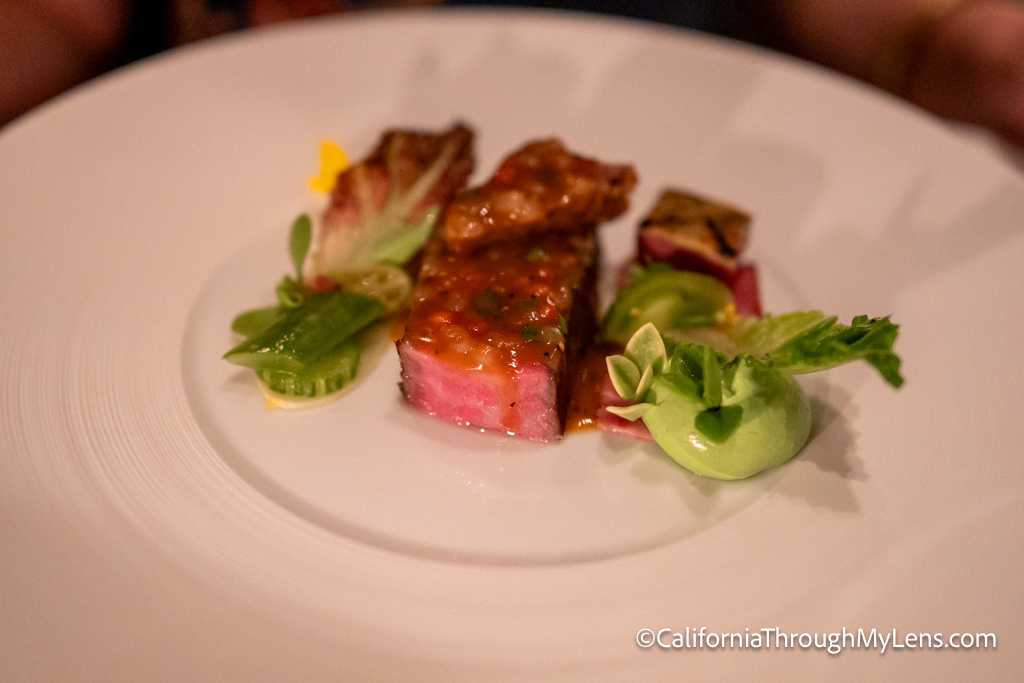 Japanese wagyu, brokaw avocado mousse, cured garden cucumbers, little gem lettuce, Compressed green zebra tomatoes and "Béarnaise gastrique" (135.00 supplement).
Gougere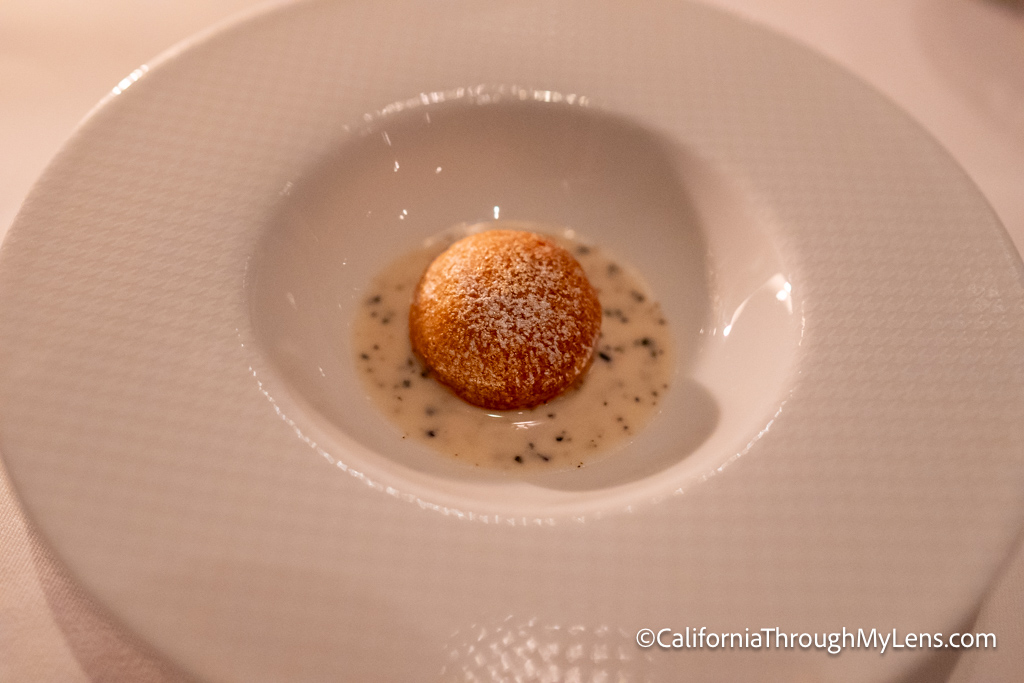 Cave aged "Comte" and black winter truffle "Fondue."
K&j orchards pears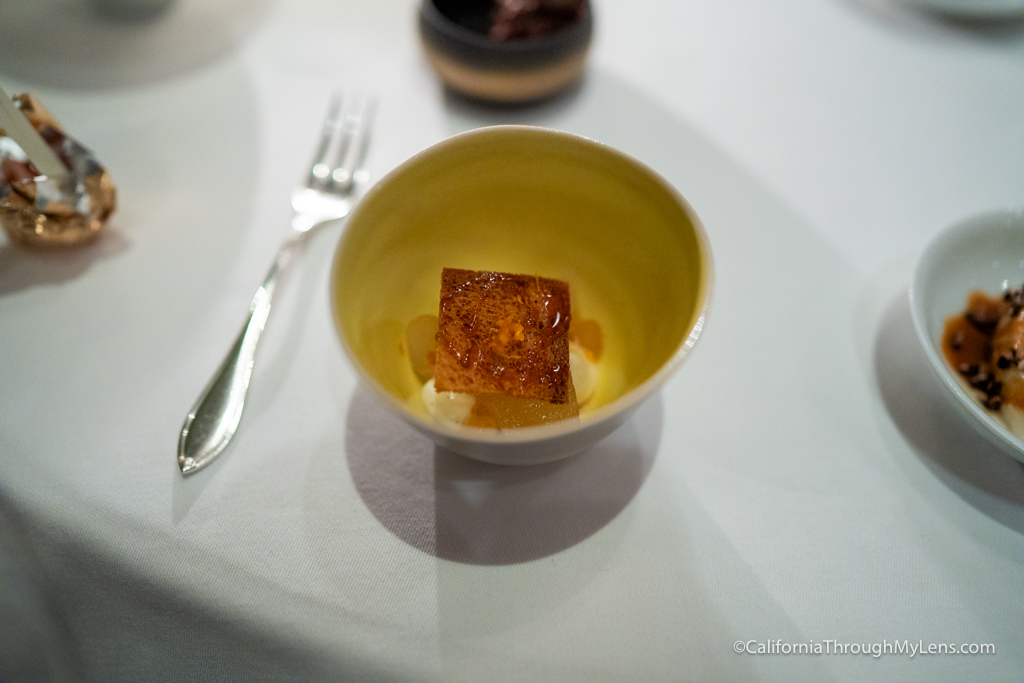 Vanilla crémeux, madeira purée and toasted brioche
Hojicha tea ice cream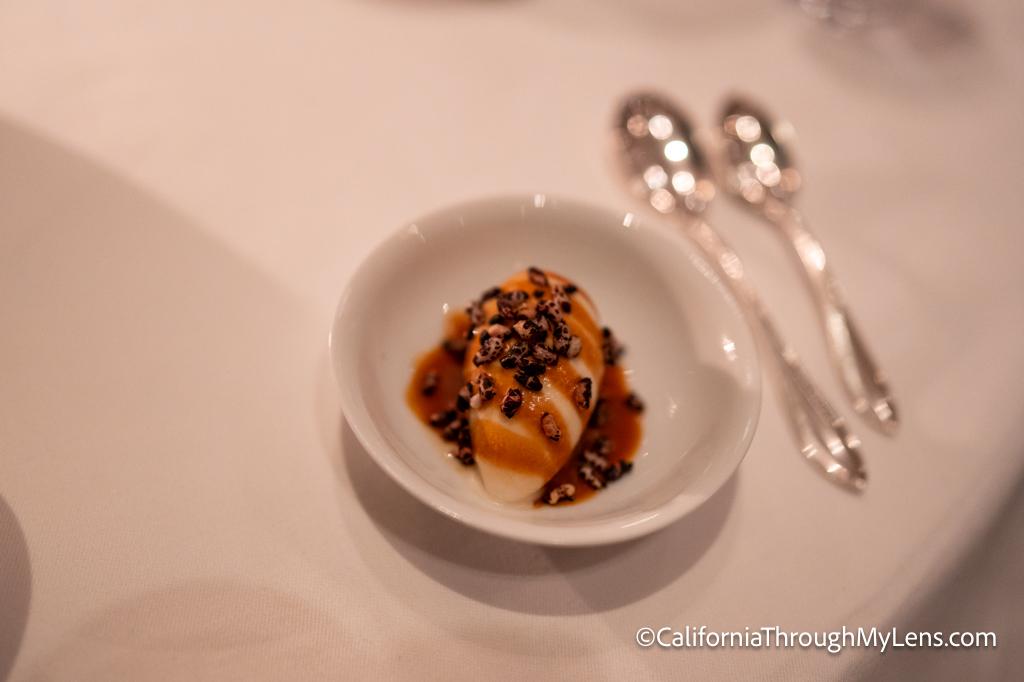 Salted toffee and puffed forbidden rice
K+m "Rocher"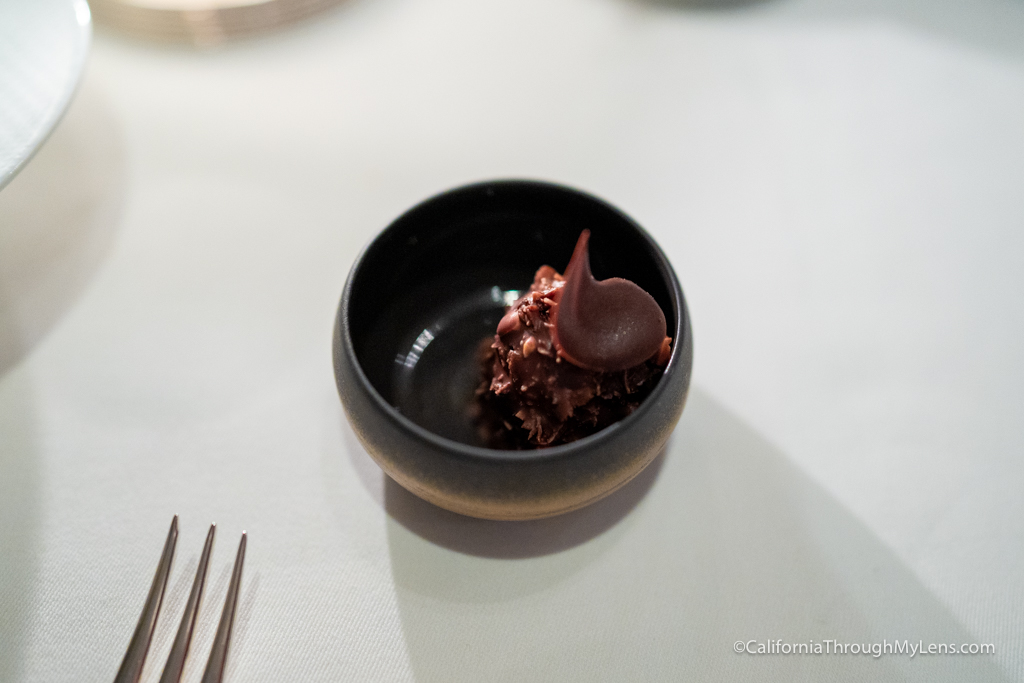 Hazelnut praline and vanilla-chocolate cream.
Coffee and Donuts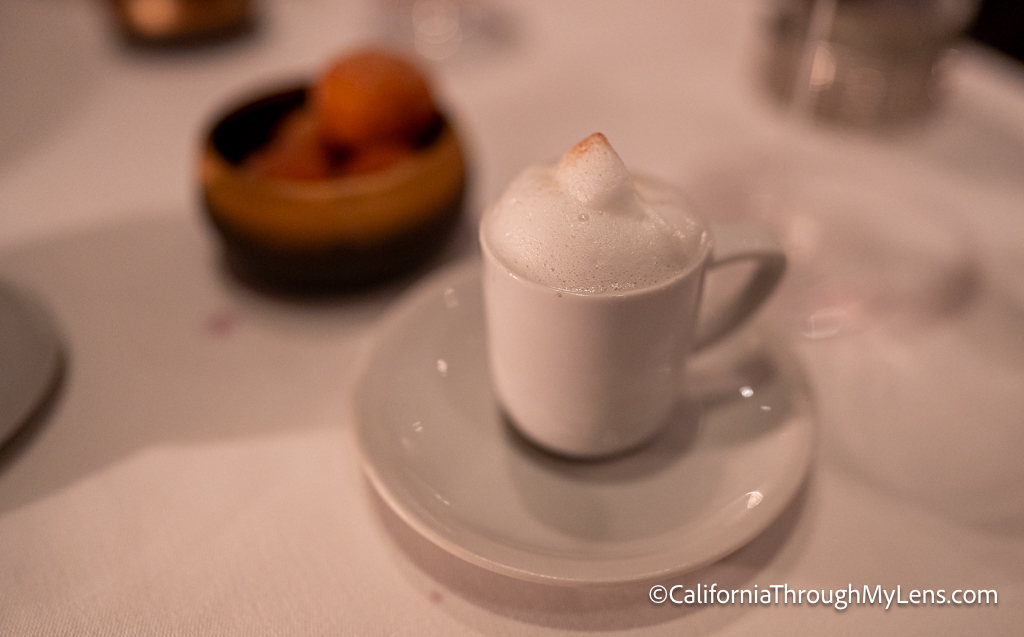 Mignardises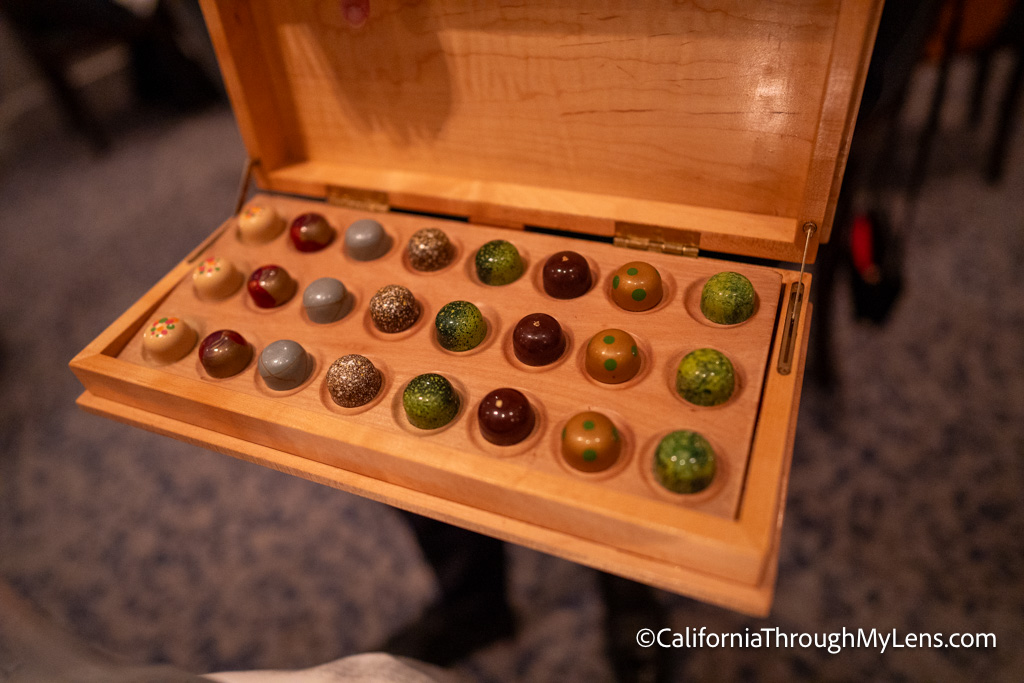 The Kitchen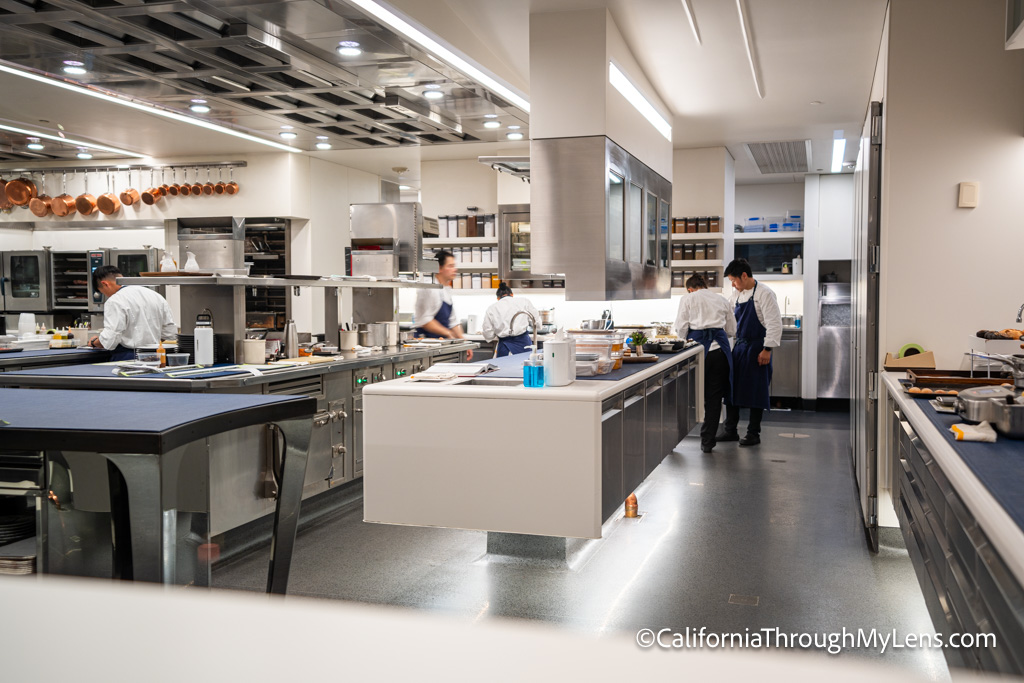 When we were just about finished with our meal, they offered us a tour of the kitchen. It was an awesome added experience and it was fun to see how immaculate the kitchen here was.
Is French Laundry Worth it?
So, with all of that, the next question will inevitably be, "Is it worth the price?" For my wife and I, the answer is undoubtedly yes. The food was prepared with flavor combinations I had never experienced before, and I was genuinely excited to see what would come out next. Add to that the hospitality from the staff, which was unlike anything I had encountered before, and my time at the French Laundry was a bucket list trip that did not disappoint. I don't know if I will ever be back, but neither my wife nor I will ever forget it. Be sure to let us know what you think in the comments.