Johnny Garlics: Mac & Cheese Burgers in Bakersfield (Closed)
Unfortunately, this restaurant closed in 2018.
I haven't spent much time in Bakersfield, but I do usually end up stopping there on the way up to Yosemite, so I have eaten at a good amount of its restaurants. Some of my favorites are Salty's BBQ, Lengthwise Brewery and Moo Creamery, and I can now add Jonny Garlics to that list. I was brought to the restaurant by its association with Guy Feri from Diners, Drive-In, and Dives, but I found that it can stand on its own as an above average burger joint. Here is all the info.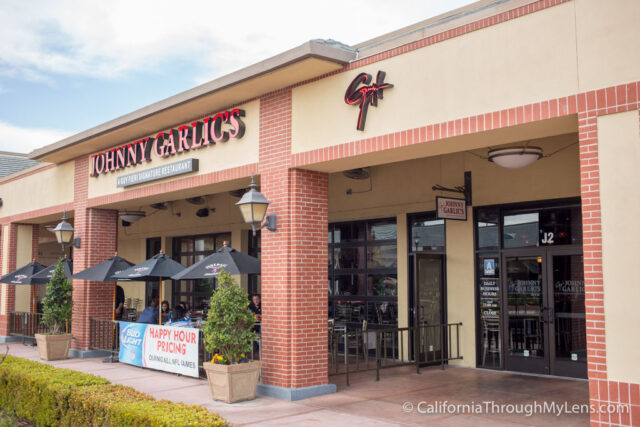 Details
Cost: $10-$15
Hours: 11 AM – 11 PM
Location: 9000 Ming Ave, Bakersfield, CA 93311
Getting There
When you get off on the Ming Road exit from Highway 99, it is about 4 miles off the freeway to the shopping center that houses Johnny Garlics.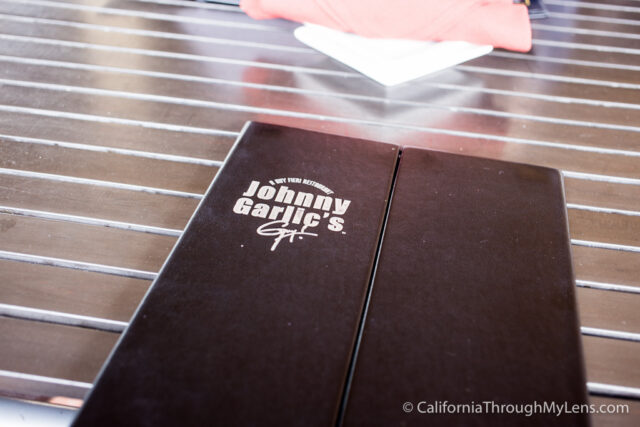 I usually go for lunch, which is an excellent time to go since they have a lot of $10 sandwich and fry deals. The restaurant is modern, with a prominent central bar and a good amount of interior seating. I opted for the patio though, as it was a nice day. Here is what we ordered.
Food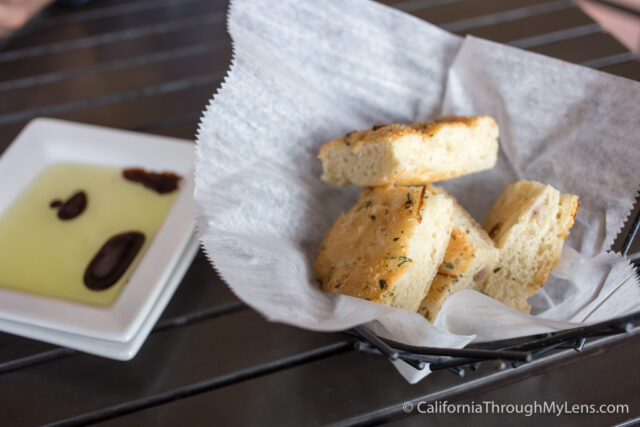 When we sat down, we were greeted with Focaccia bread and oil and vinegar to dip it in. It's not amazing but a nice free option.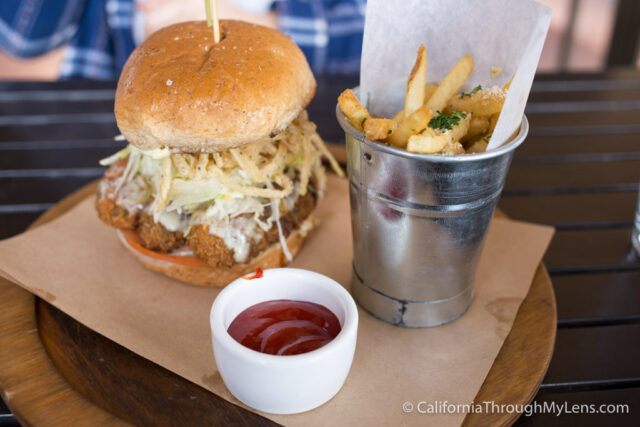 Panko crusted mushroom sandwich – Being the vegetarian that she is, my wife ordered the mushroom sandwich. She stated that the crunch of the Panko crusted portobello mushrooms are great, and the mushrooms themselves have a well-marinated flavor that goes good with the crispy onions and donkey sauce (their aioli like sauce). She described it as a great vegetarian option that is still good for meat-eaters. I will say that I tried it and was impressed, so this is a correct statement.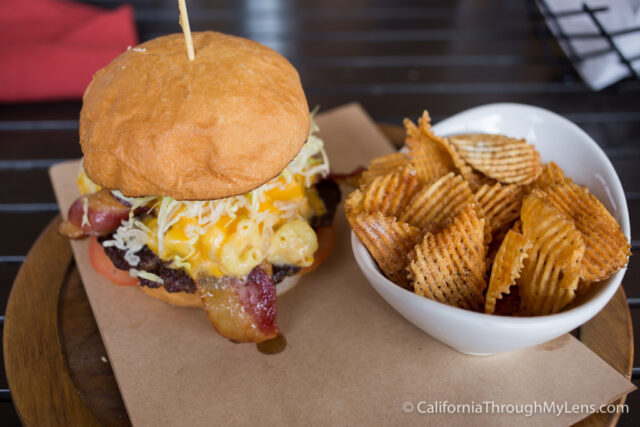 Mac and cheese, bacon burger – I ordered the decadent mac and cheese, bacon burger as the menu told me that it was an award-winning burger, so I wanted to see what the fuss was all about.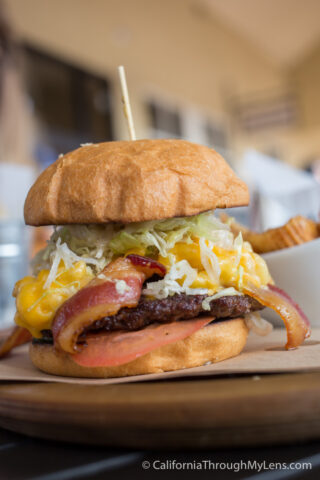 It was a well-prepared burger that had a crust-like texture on the meat from how it was fried and ample portions of macaroni on top. I was impressed with the macaroni as it was not too rich as to overpower the flavor. The bacon puts it over the edge though in a good way. I did end up taking off the pickles and lettuce though, as I didn't like the way it changed the flavor. The fries are covered in garlic, so if you like that then you'll love them, if you don't, then stay away. The chips were a good side to munch on but nothing to write home about.
All in all, I liked this spot, it was an above-average burger, and it had a pleasant relaxed atmosphere. I would say that the sides could use a little more thought, but overall it is a great lunch stop on your next road trip.