Lucky Penny Public House (Closed): Great Food, Drinks and Atmosphere in Murphys
Unfortunately, readers have told me that this location closed in 2019
The Lucky Penny Public House is one of those restaurants that I instantly fell in love with. Even though it has only been around for four short months, it is cooking up some truly unique food, has a fantastic chef and staff, and makes you feel at home from the minute you walk in. I got a chance to spend a few hours there on my last trip to Murphys, and I suggest you do the same next time you are in town, here is all the information.
Details
Cost: $15-$20
Location: 75 Big Trees Rd, Murphys, CA 95247
Information from my visit in 2016
The Interior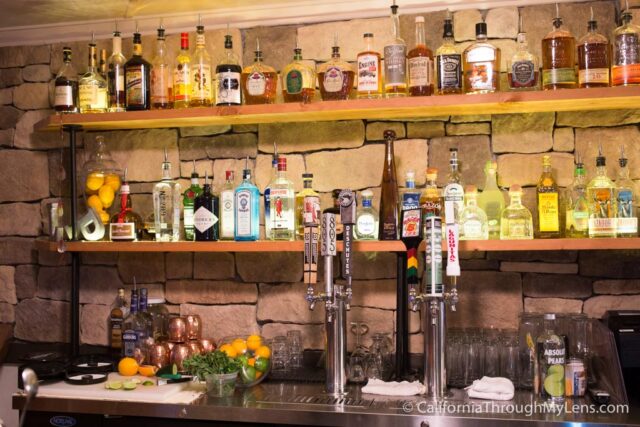 Located right off Main Street in Murphys, on the east side of town, Lucky Penny Public House is across the street from another fantastic eatery called Alchemy. The interior is like an upscale pub with a large wooden bar, walls lined with alcohol, a wall jukebox, and an attached room for more relaxed dining.
I went in on a Sunday night, and there were a good amount of locals chatting it up with the staff and just enjoying their last night of the weekend.
The Food
Of course, the main reason for coming to any restaurant is the food, and I set out to try many of Chef Steve Rinauro's dishes. The chef has been a staple in the area for years, having commanded many popular kitchens, most recently for a vegetarian restaurant he created a few years prior. I got a chance to talk to him a few times, and he was a great guy with a down to Earth take on cooking and using locally sourced ingredients. Anyways, here is the food we ordered.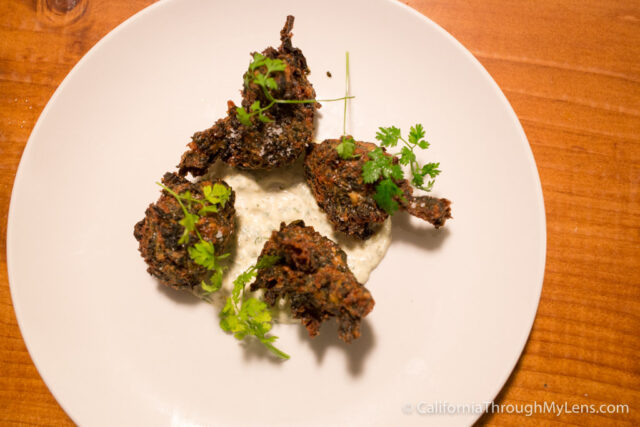 Spinach cheddar fritters – Incredibly flavorful but not overpowering, the spinach and cheese strings off of the fritter and melts in your mouth. The outer coating provides a light crunch, and the small shaking of sea salt completes the flavor profile.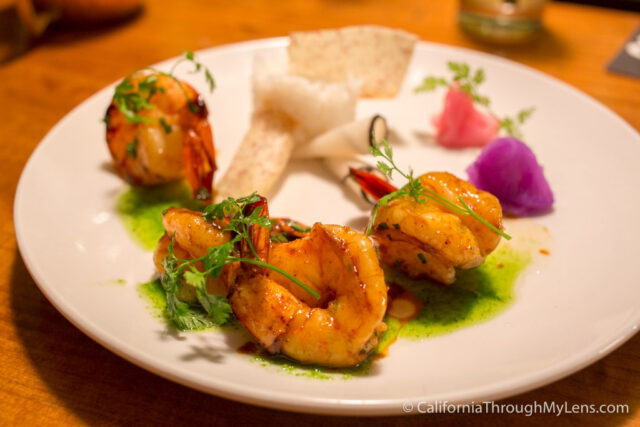 Red curry shrimp with rice taro root and radish – Succulent shrimp with a fantastic red curry sauce. The style is Thai inspired but with a unique twist. Adding the pickled radishes and taro root to the shrimp makes a wonderful savory appetizer.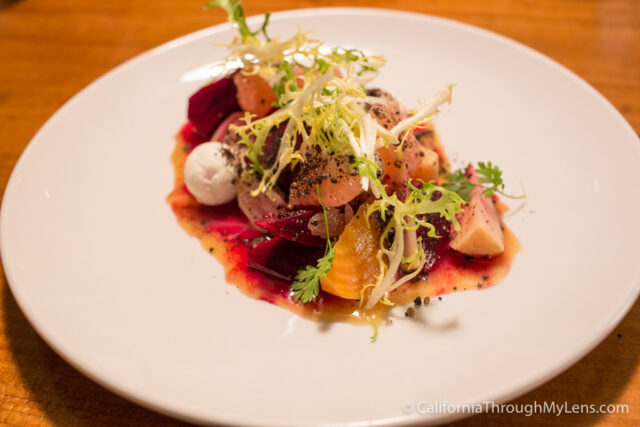 Pink grapefruit, beet, mozzarella, salad – I hate beets, I have always hated them, but when a talented chef makes them, then they become a lot more manageable. This salad had a nice tart flavor with the grapefruit that brought out the rich cheese and made the beet flavor more subtle. They top it with a "dirt" made of ground chocolate and espresso, and I pretty much forgot I was eating beats as I devoured it.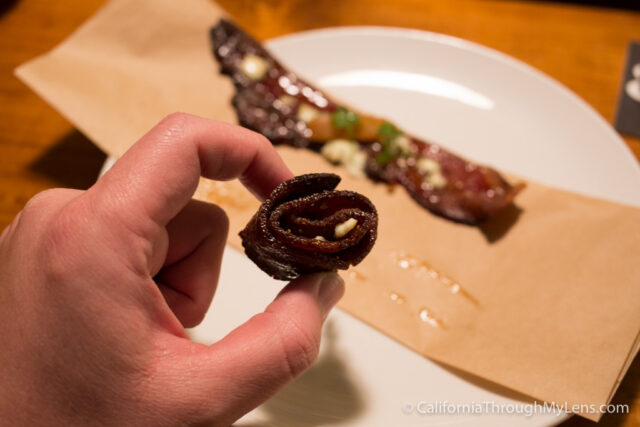 Stout Lacquered bacon – My favorite of the dishes I ate. The bacon has just the right amount of sweet and savory, and the thick slices are recommended to be rolled up so you can get all of the flavors in one bite. I could just eat this as my meal.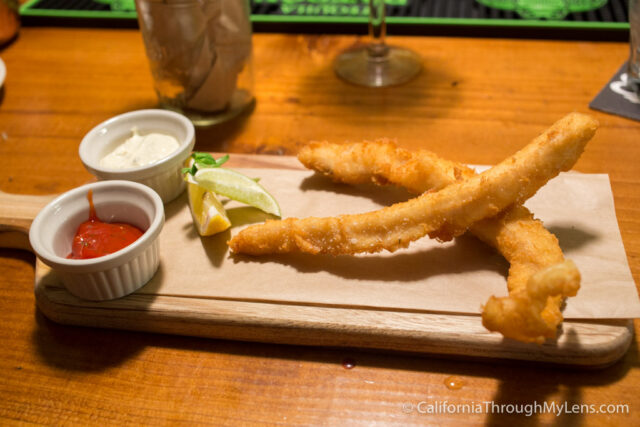 Fish and chips – Hard to go wrong with fish and chips, and these had a good light breading without all of the dripping oil you can often find on fish and chips. Came with two sauces that were both home-made and good for dipping.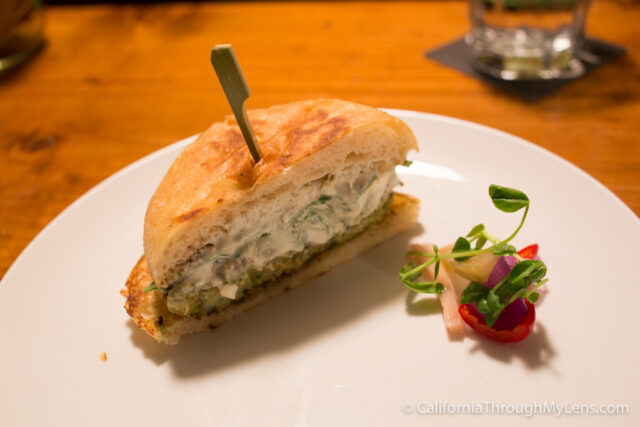 Chickpea burger – I split this with my wife, who is a vegetarian, and as one, she was incredibly impressed with the dish. The falafel patty is super moist just like it should be, and the tahini mint sauce is light and fantastic. Of course, I still prefer meat, but this was rich and full of flavor.
The Drinks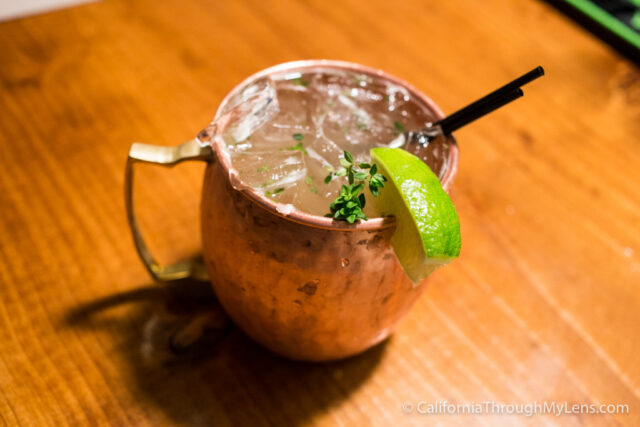 I do have to mention that they are doing some unique things with drinks here. Cierra, who worked behind the bar, had created a lot of fun cocktails and was always coming up with new ideas. One of the main highlights is the Bloody Mary, which has been taking the Instagram and Yelp world by storm.
Basically, it is a massive Bloody Mary with three different types of bacon on top and with bacon-infused vodka. I am not a Bloody Mary fan myself, so I didn't try it, but I saw may other people enjoying it.
All in all, Lucky Penny Public House is an excellent spot in Murphys for a meal. I loved both the food and the atmosphere when I went, and I can't wait till I am in the area again to give the rest of the menu a try. Let me know your thoughts if you have been in the comments and make sure to tell me what you liked/disliked.