Nepenthe Restaurant in Big Sur: Best Cafe View on the Central Coast
Nepenthe is a fantastic restaurant located along the Big Sur coastline. The staggering views and great food have been making it a staple of Highway 1 travel for decades. I finally got a chance to visit it a little while back, and I can say that it easily lives up to the hype, with incredible coastal views and good food. It is a bit pricey at around $20 a person, but you are paying for the high-quality ingredients and excellent ambiance, which makes the price worth it at least once. Here is all the information.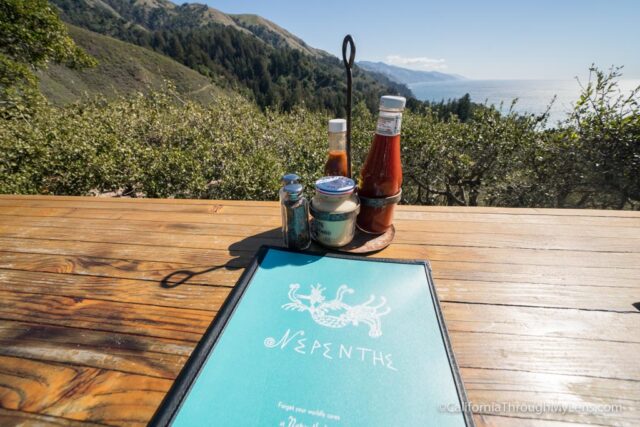 Details
Cost: $20 for most meals
Hours: 11:30 AM – 10 PM
Location: 48510 Highway One, Big Sur, CA 93920
This information is from my visit in 2018
Read about all my favorite Big Sur spots here
Getting There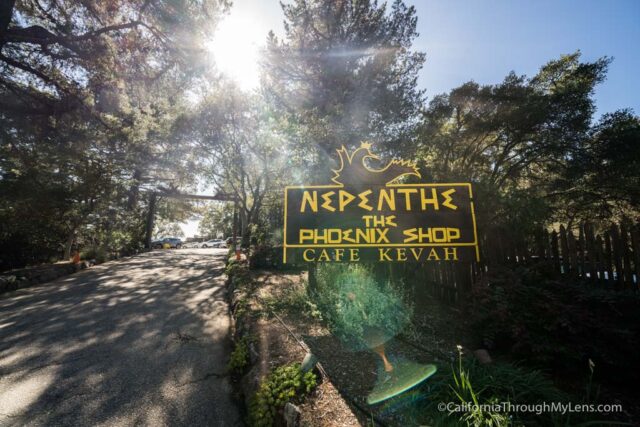 If you are driving along the Big Sur coastline on Highway 1, then you will not miss Nepenthe. It is south of Pfieffer Beach and the state park; there are signs as you approach it. There is parking in the small lot about halfway up the hill and overflow parking along the road if it is full. Nepenthe is a popular spot, so expect it to be full on the weekends.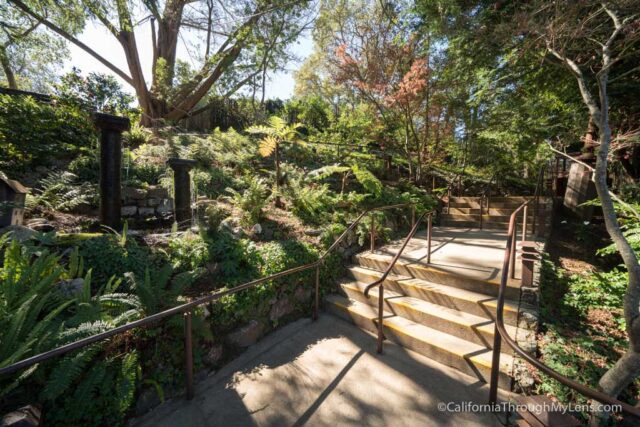 From the parking lot, you will see the Pheonix shop, which sells all sorts of trinkets ranging from jewelry and art to toys and plants. I would recommend checking in first and then if there is a wait walk around the shop a little bit.
The Restaurant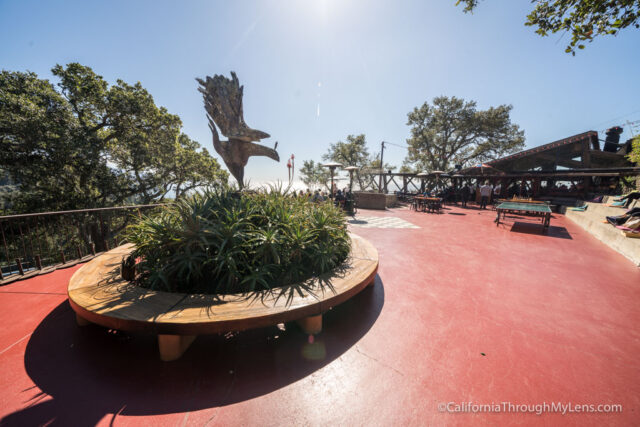 Walking up to Nepenthe is along a shaded cement path with stairs. It is beautiful, and there are fun spots along the way, like the old telephone booth.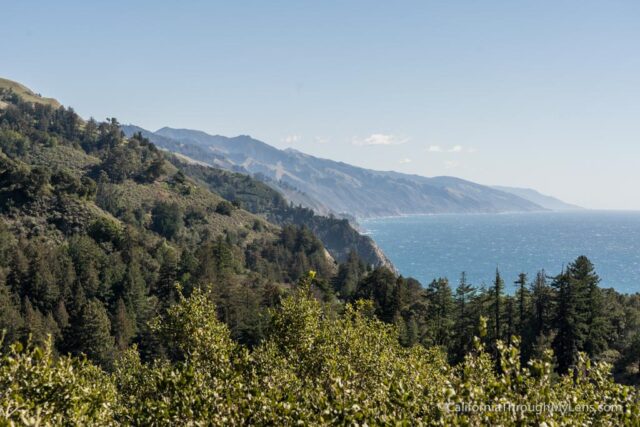 Getting to the top will give you your first look at the amazing view you have from this vantage point. I would recommend trying to get an outside seat along the long counter that overlooks the coast as these are the best spots for sure, but you may have to wait. The inside seating is great as well if you choose that.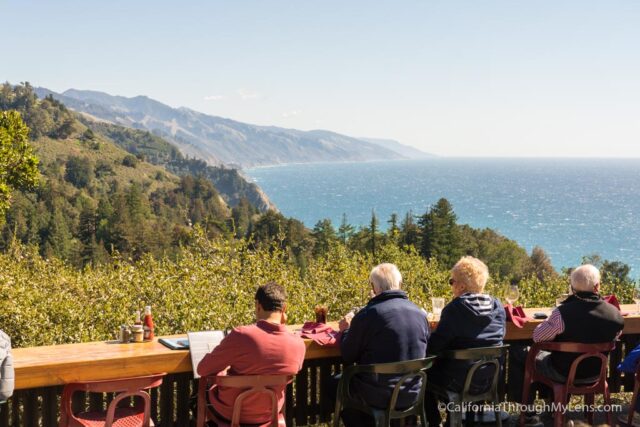 While you are waiting, there is a ping-pong table, and even a giant chess set to keep you entertained.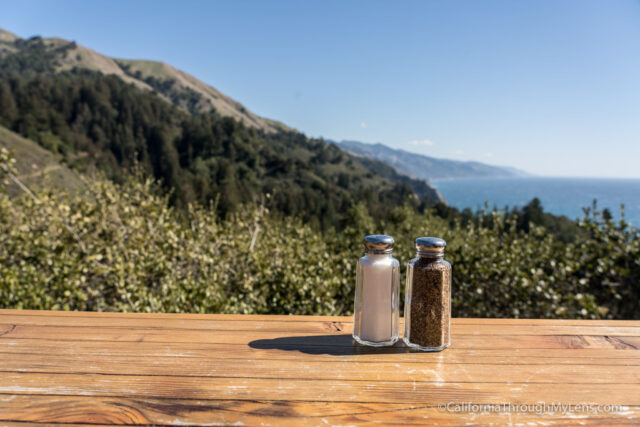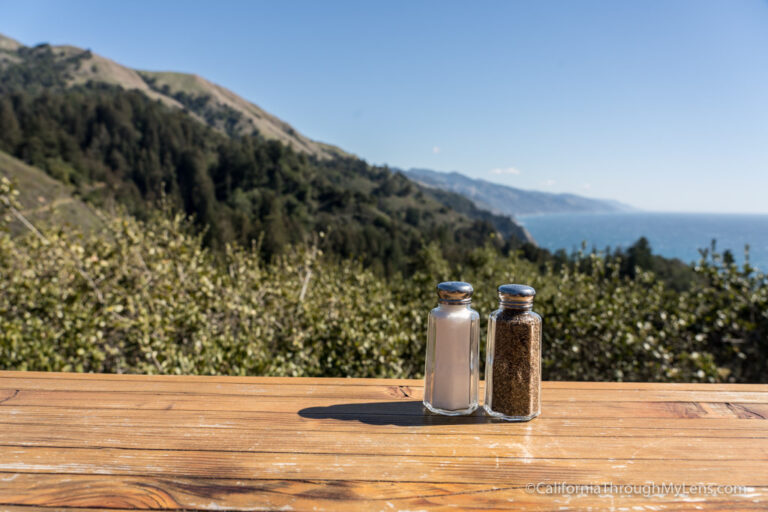 Once we were seated and looked over the extensive menu, we decided on the following items.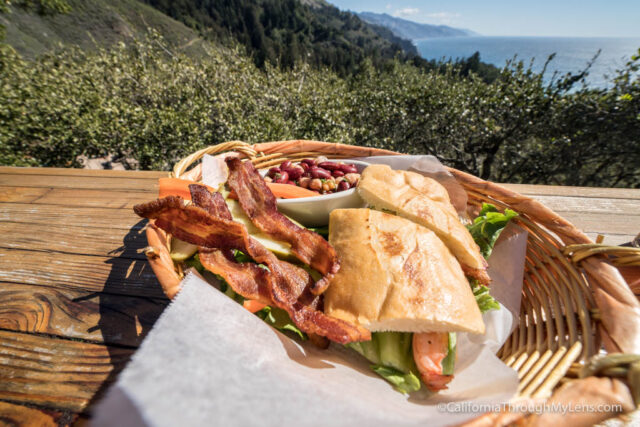 Shrimp BLT – Large pieces of shrimp, served with bacon, lettuce, and tomato jam on a French roll. It has a basil aioli to go with it, and it is a great sandwich if you want to get something other then the famous Ambrosiaburger.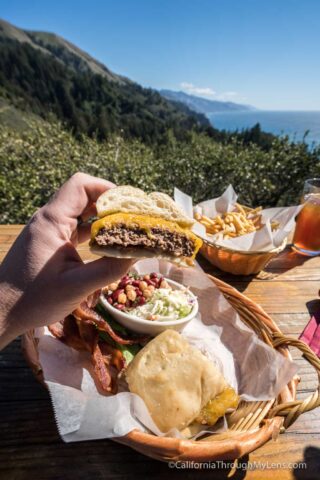 Ambrosiaburger – Served medium rare with their homemade "ambrosia sauce" and nothing else on a french roll. It lets the meat shine and makes for a great burger. I added cheese to mine, and since Amie is a vegetarian, I got her bacon as well. It's a fantastic burger that lives up to the hype. The ambrosia sauce tasted like a healthier thousand island to me.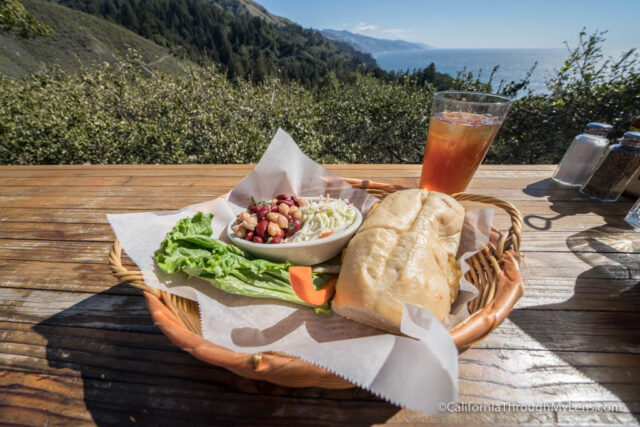 Side options are garden salad, bean salad, or coleslaw. I like getting half coleslaw and half bean salad. The coleslaw is not a heavy mayo type slaw, and it feels like they are going healthier with it. The bean salad is kidney and garbanzo beans with a red wine sauce, and it is an excellent side to go with the burger.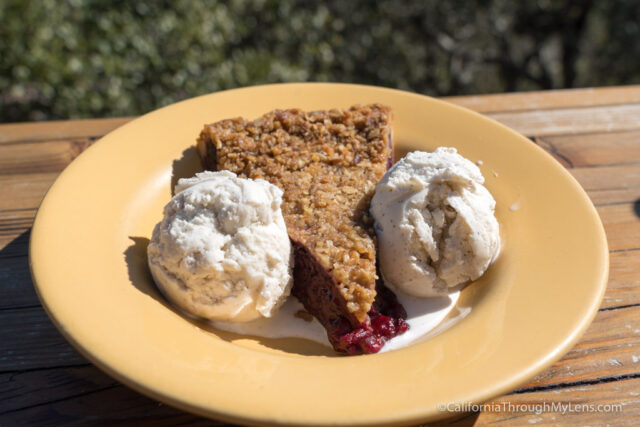 Triple berry pie with vanilla ice cream – Raspberry, Strawberry and Boysenberries warmed and served with an oat topping. Make sure you ask for ice cream added on, as you are going to want it. It's a great subtle flavor that's not too sweet and is a little tart with the berries. It does get sweet with the vanilla bean ice cream, but who wouldn't want that? This pie is a great way to end your meal and stay a little longer. It's nice to share with two people as well.
We sat here for about an hour eating and marveling at the view. It is truly one of the best views you can have while enjoying a meal in California. Check it out and let me know what you think in the comments.