Hugo's Restaurant: Healthy Food, Green Tea Lattes & Heavenly Sticky Buns
Unfortunately, this Hugo's closed in 2017, but there are still two other locations.
I don't even know where to start when writing about Hugo's; it is like every other traditional diner yet entirely unlike every other diner as well. Their menu options may look the same, but their food is thought out and tweaked to a level of detail you would not expect from a traditional diner. They strive to have tons of vegetarian and vegan options alongside their meats, source everything locally with as little processing as possible, and attempt to accommodate all types of diets. When I went, I was able to sit with the owner and understand more about the restaurant and let me tell you I am happy to support someone who is trying their best to have a sustainable and health-conscious restaurant, especially when the food is as fantastic as Hugo's is. Here is all the information.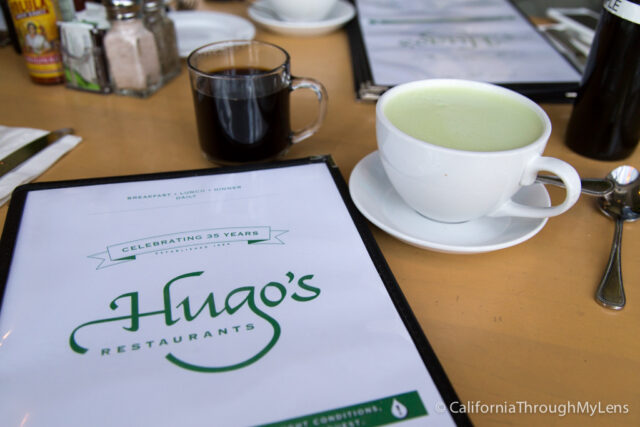 Details
$10-12 for breakfast

Hours: Mon-Fri: 7:30AM – 10PM, Sat-Sun: 8AM – 10PM

I visited in 2016
History
Hugo's began as a meat market over 35 years ago. In the early years, they started to branch out and have things to go with their meats, and in doing so, they decided it would be best just to open a restaurant. Now they have three locations and two taco shops across Los Angeles County. Every week they have to order over 600 items for the 400 recipes that they make to complete the 70 menu items; it is a huge undertaking but one they do not take lightly. They pioneered things like pasta in their scrambled eggs, freshly roasted coffee when it wasn't being done, and tea pairings to go with meals over the time they have been in business.
The Atmosphere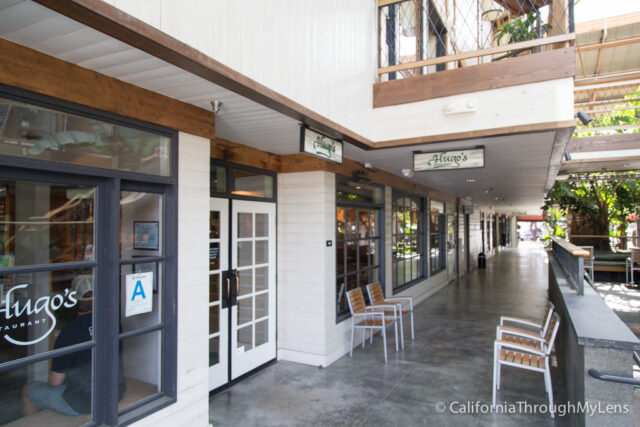 We went to the restaurant in Agoura Hills, which has a fantastic place to sit outside and admire the views of the Lady Face mountain off in the distance. It was in a cute little shopping center, and the restaurant itself resembled a clean but traditional diner.
The Food
Since I went with a large group, I got the opportunity to try a lot of things. Here are a few of my favorites.
Churro Sticky Buns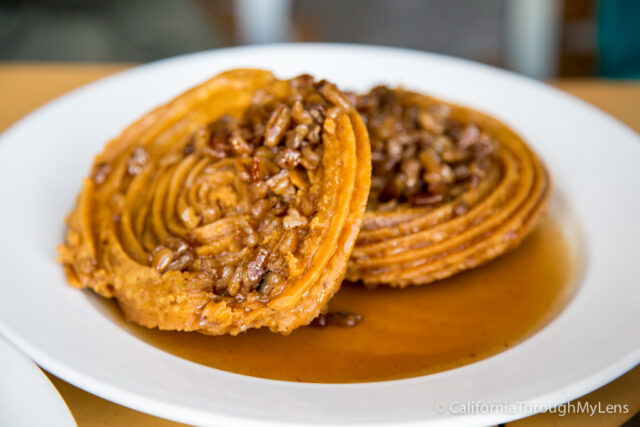 These little bundles of joy are a fantastic thing to share with a group of people. They are made in the same way that the churros are made at the taco shop and covered in walnuts and syrup, it was fantastic. Technically they are not called Churro Sticky Buns on the menu, but that is what they reminded me of, so I took liberty in this post.
Almond Energy Pancakes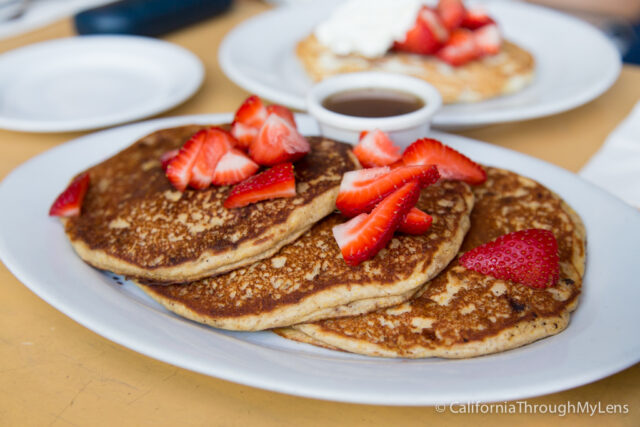 Another one of my favorites were the pancakes that are made from nuts, seeds, quinoa, coconut, rice, and cherries. They have a hearty taste and come with home-made spiced organic cane syrup and an ample portion of strawberries on top. I really like the unique pancake flavor, and we were told this is one of their more popular options. It was easy to see why, and it is a great choice here.
Vegan Florentine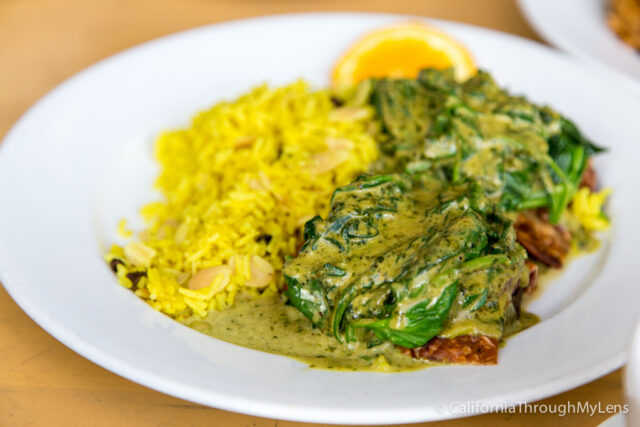 This unique take on an Eggs Benedict combines two slices of grilled eggplant layered with house-made spicy vegan salami, garlic spinach, and sliced tomato. Topped with vegan pesto hollandaise, which was mind-blowing good, and it went well with the flavors without being overpowering.
Green Tamales and Eggs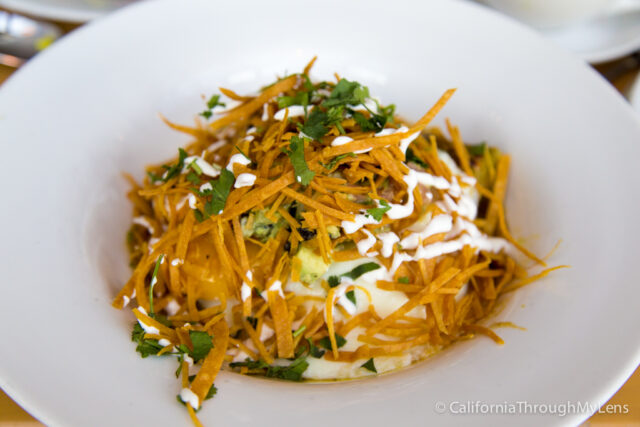 I had my eye on this dish as it was not something I usually see on a breakfast menu. When it came out, even the attention to detail on the presentation was fantastic. It was covered in two eggs, any style, a green salsa, avocado, and thin slices of chips. It's a unique and hearty dish that I would recommend.
There were a lot of other unique dishes on the menu as well, such as breakfast salad, oatmeal frittata, and pasta omelet (I must try this next time). Based on the spread that we had, I would assume they are good as well.
The Drinks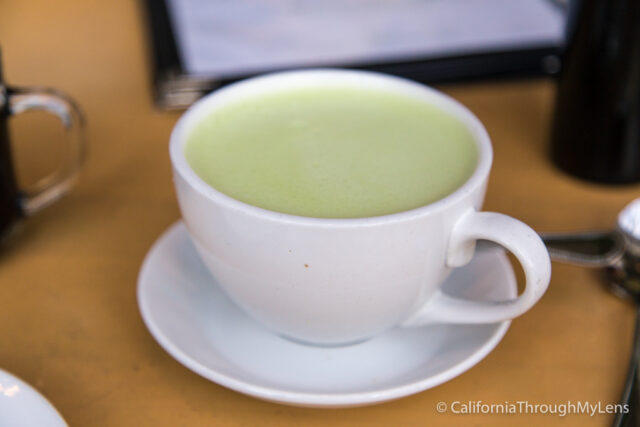 Not to be outshone by the food, they also have a lot of unique teas and coffees. The owner has roasted his own coffee beans for over 15 years, so you know the coffee is good. Also, they have a matcha green tea latte, which I tried as well. It was not an overpowering matcha flavor, and I liked it a lot.
So to sum up this post since there are so many options I would recommend the sticky buns or the almond meal pancakes and a coffee for a fantastic breakfast at Hugo's, now I can't wait to go back and try lunch and dinner.