Peterson's Donut Corner in Escondido is the quintessential hole in the wall donut shop that defines the California beach lifestyle. It has been around for over 25 years and sells cheap, massive, home-made donuts to eagerly waiting customers 24 hours a day, year round (except Christmas). It was my first stop on my birthday tour of San Diego and suffice to say I was happy with my choice.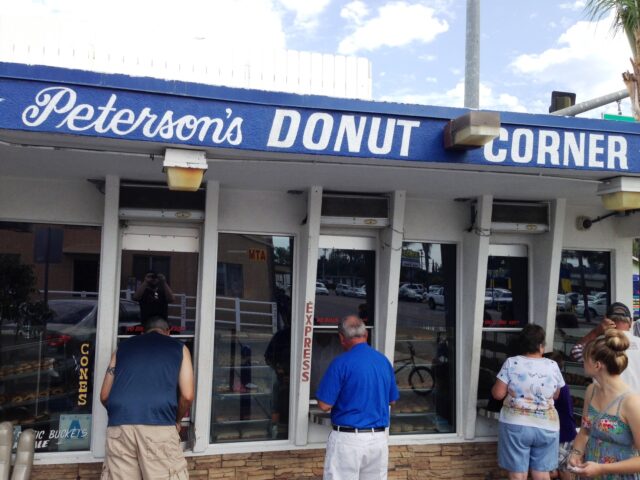 Details
24 Hours a day

364 days a year, except Christmas
Small parking lot for the donuts
Three tables for eating there
No bathrooms
The Location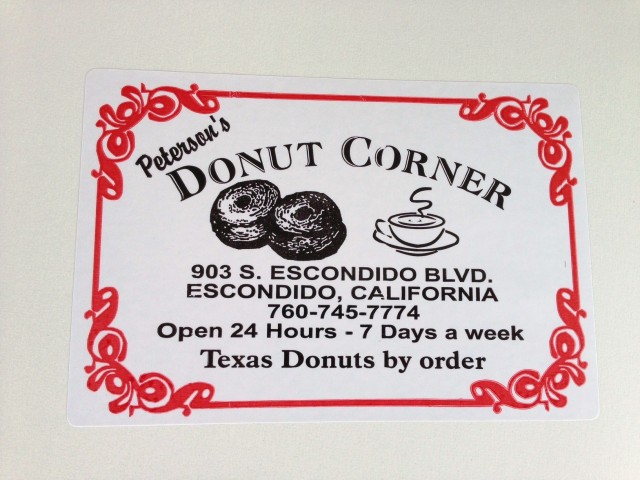 About 5 minutes off the 15 freeway, Peterson's is an easy stop on the way down to San Diego. Add to that the ten spot parking lot (not easy to find a space in actually San Diego) and the three lines to order from and you have a great breakfast stop.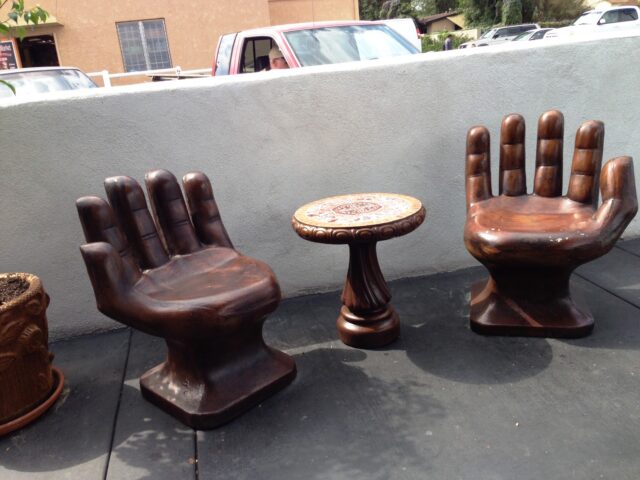 The exterior design is very electric with its three slab tables and a multiple chairs in the shape of giant hands.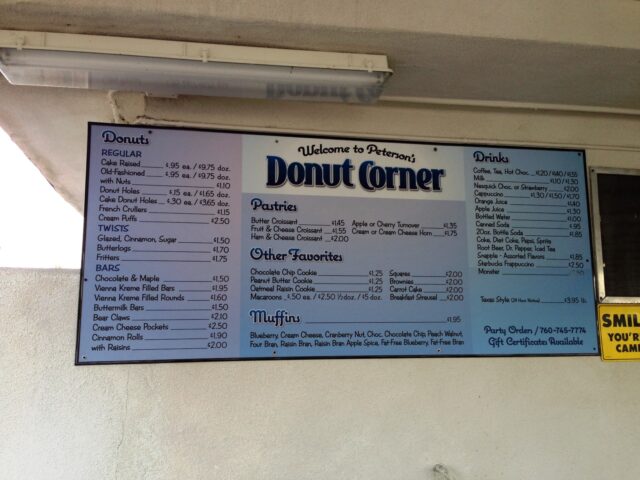 The building has a long display of donuts though which actually wraps around the shop. I would have to say there were over 50 different types of donuts here with the thing that stood out most to me being how massive they were.
The Donuts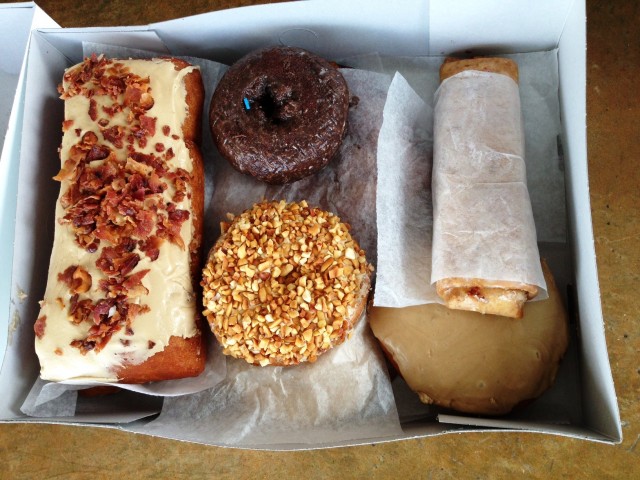 There were six people with me so a lot of donuts were ordered, that being said our total was only 13 bucks so this place is cheap as well.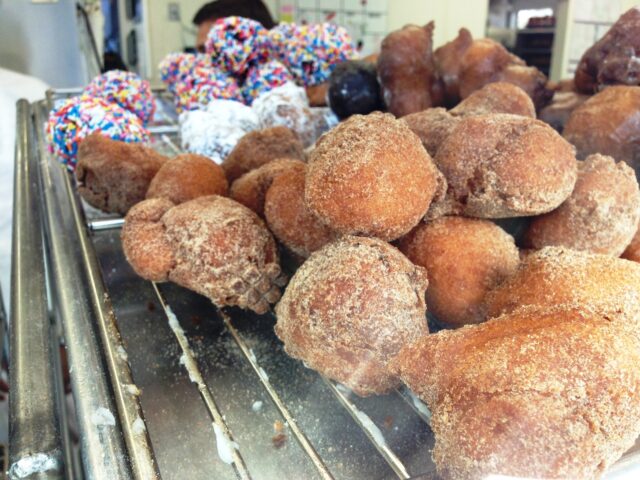 The stand outs here are anything with maple frosting. I settled on the maple bacon donut and it was as big as a water bottle.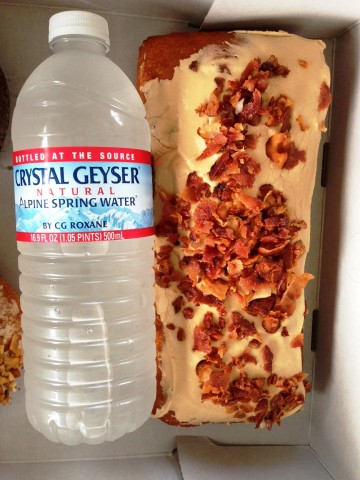 The maple old-fashioned and the maple with creme were equally excellent. The maple is more like a frosting for a cake then a frosting for a donut, which was awesome for me but super sweet. I really couldn't recommend it more.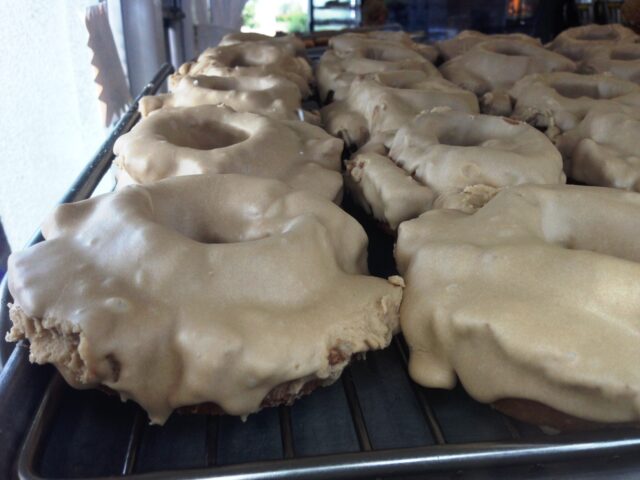 The bacon donut was a little bready but it added well to the rich maple and bacon pieces. The glaze donut was the worst of the group as it was massive but not really anything special.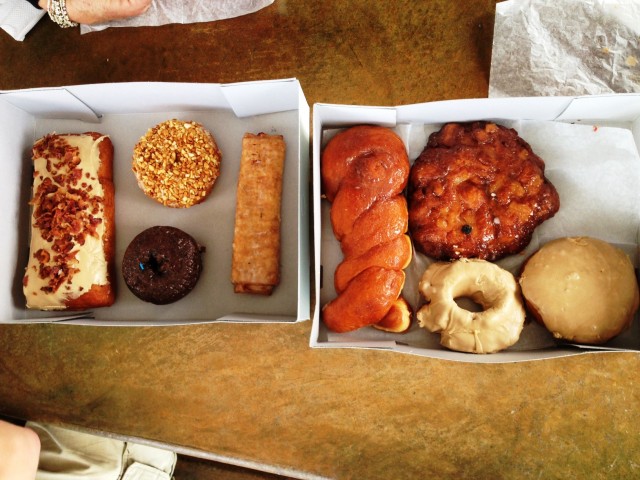 All in all this is a great place for a donut that I would have no problem recommending. Make sure to pick something with the maple frosting on it as I am sure it will not let you down and let me know if you have been in the comments.