Best Places for Christmas in Southern California
While Southern California doesn't have the snow and cold that ushers in the Christmas spirit for most of the United States, there are still a ton of great events that allow you to get into the holiday spirit. While I cannot speak for the epic celebrations in Northern California, here are my favorite ways to enjoy the holiday season in Southern California. I revisited a lot of these spots in 2021 and made a video, check it out at the end of this post. Also, you can read about Christmas spots in San Francisco here too. Update 2022: Be sure to check on these attractions as they may be different this year with all of the new requirements in California. I updated any of the ones I could find information on.
San Diego Christmas Attractions
Balboa Park December Nights (According to their site it is Dec 2 – Dec 3, 2022)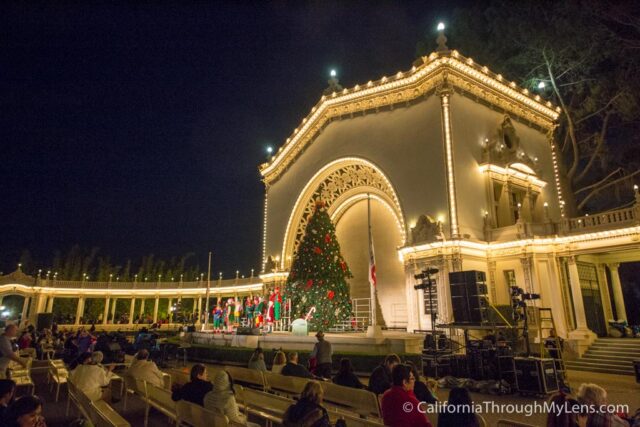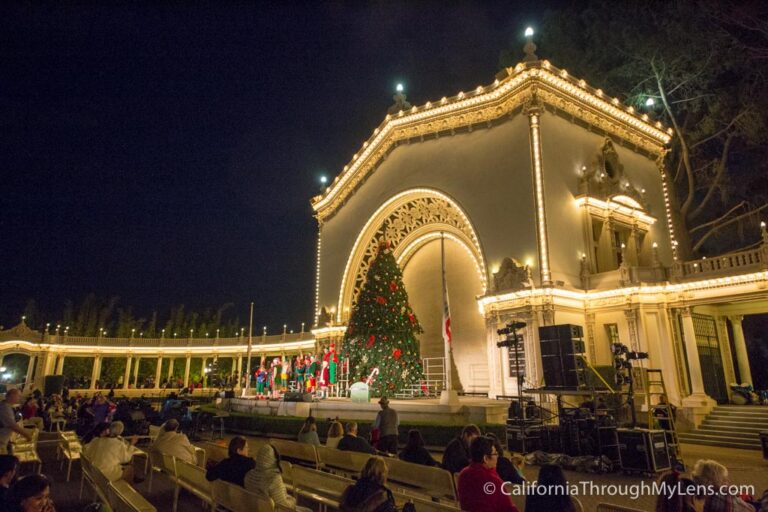 For the 40th consecutive year, Balboa Park becomes a beacon for Christmas in San Diego. Located in El Prado, this event is visited by over 300,000 people each year and features dozens of vendors, concerts, food, and entertainment. Add to that the fact that the museum themselves usually open their doors free of charge for a few hours during the event, and you have the recipe for a fantastic night full of holiday spirit. Read more about it here.
Seaport Village in San Diego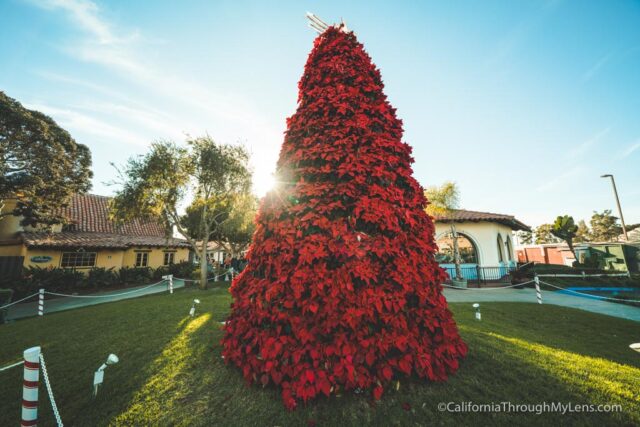 Seaport Village is a fun little shopping area in downtown San Diego. During Christmas though, they put up a 25-foot tall Poinsettia Christmas tree and have some lights decorating the shops. It's a lovely time to walk around the area.
The Forward House in Bankers Hill, San Diego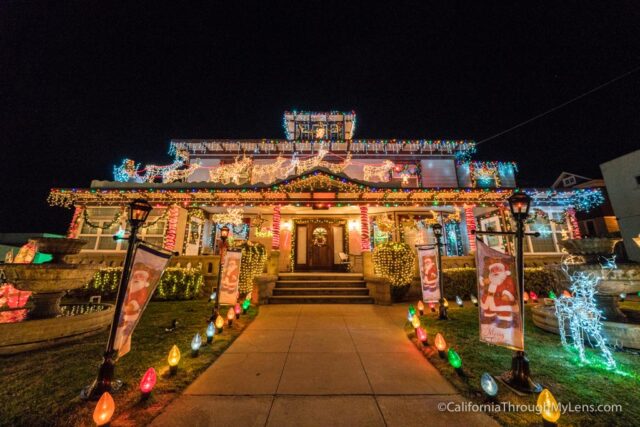 This 100-year-old house is a real estate office during the day and a Christmas masterpiece at night. The house is extravagant with its lighting display, and even though you look at it from the street, it is still worth the visit.
Little Italy Christmas Trees in San Diego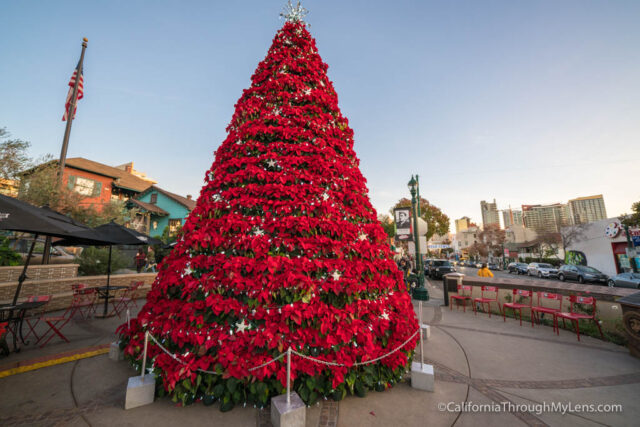 Little Italy is in the north part of Downtown San Diego, and they have two of the Poinsettia Christmas trees that you can find along the street. They also have nutcracker statues along the sidewalk and white Christmas lights in the trees.
San Diego's Liberty Station Ice Rink and Tree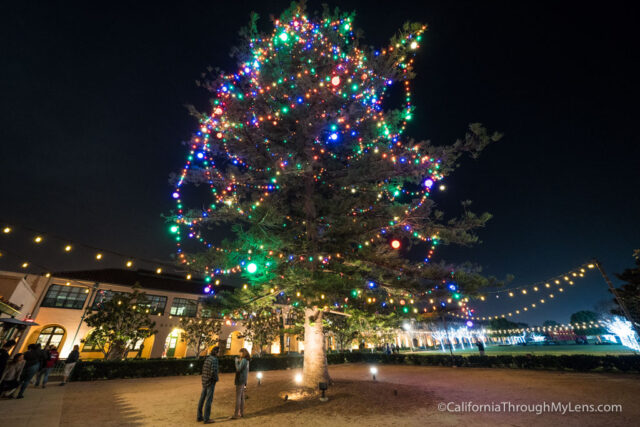 Liberty Station in San Diego is a great spot to explore any time of the year, but during Christmas, they have an ice rink that they set up as well as a large tree that they add lights to near Stone Brewing Company.
Hotel Del Coronado – Ice Skating & Upside Down Tree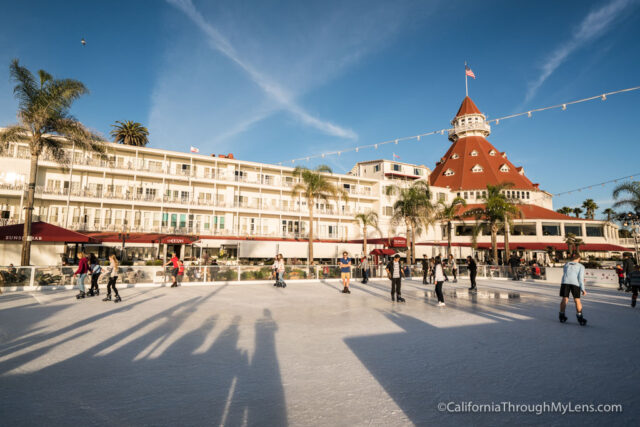 In San Diego, you can ice skate overlooking the beach and ocean at the famous Hotel Del Coronado. It is a very California Christmas thing to do to combine the beach with ice skating. The ice rink will run from Nov 27, 2022 – Jan 2, 2023.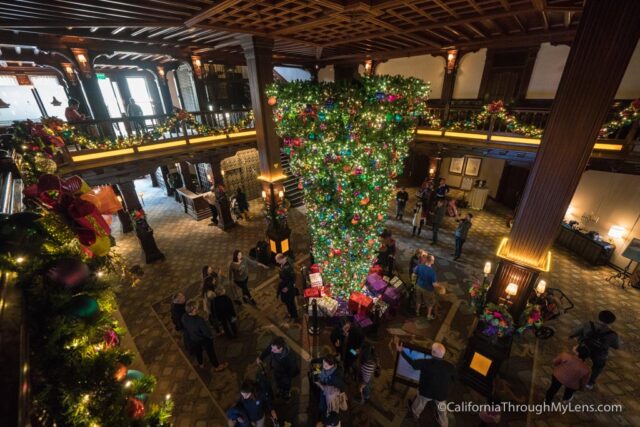 They also have a beautiful upside-down tree in the lobby that you should check out as well.
Los Angeles Christmas Attractions
LA Zoo Lights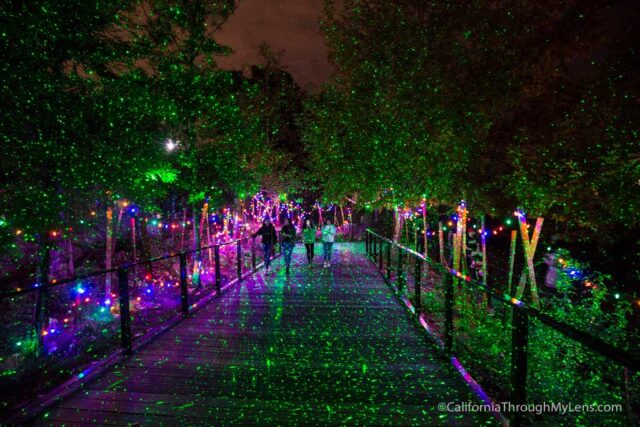 LA Zoo Lights was an event I went to for the first time in 2016, but I have to say it was pretty impressive. The zoo itself is large, and there are a lot of areas to explore. Many of the walkways are filled to the brim with lights, and there is music and a water show on the property. Add to that the fact that you can see some of the reptiles on display, and you have the recipe for a fun Christmas adventure. Read more about it here. According to their site, this will run from November 18, 2022 – January 22, 2023.
Griffith Park Holiday Train Ride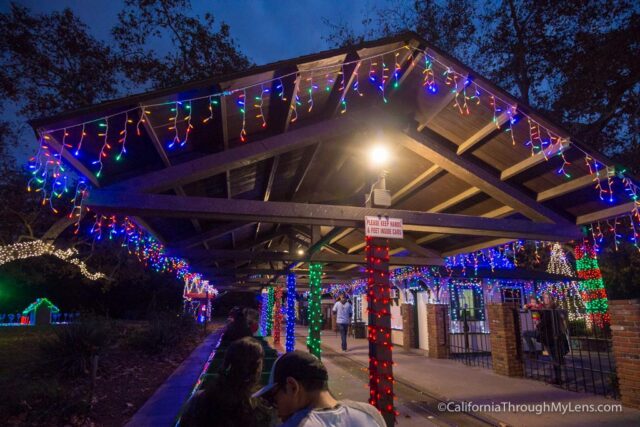 For a small fee, you can head over to the Griffith Park Trains and take a 10-minute ride around the 1-mile track. The track is filled with Christmas lights and other things to look at, and the train goes slow, providing a lot of time to look around. The train is a super fun thing to do for the whole family that is less than the price of a movie ticket. Check out the video below of the entire train ride so you can see what it entails.
Read more about the train ride here. The train will run from November 25, 2022 – January 6, 2023.
Christmas Tree Lane in Altadena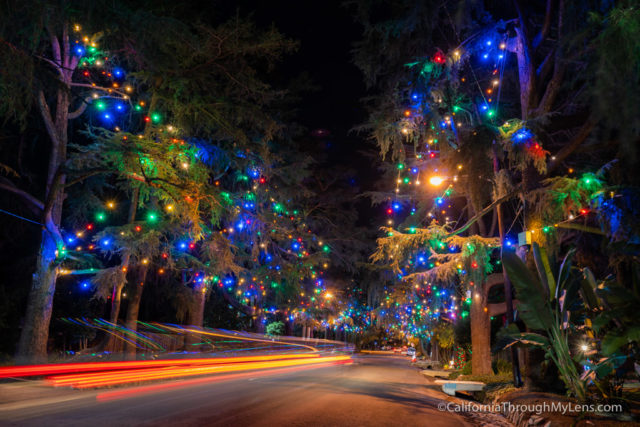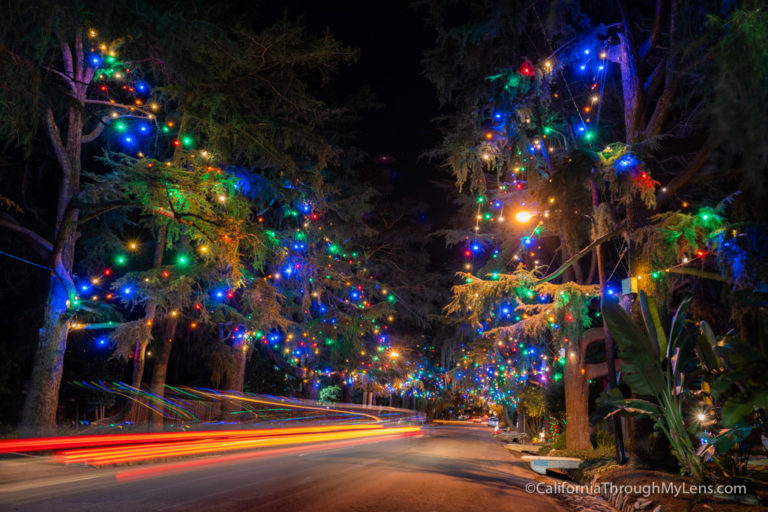 North of Pasadena, in the town of Altadena, Christmas Tree Lane is a holiday tradition that has been running for over 90 years. This street comes alive every Christmas with its massive cedar trees getting beautiful lights strung on them for people to drive under and see. Read more about it here.
Universal Studios Hollywood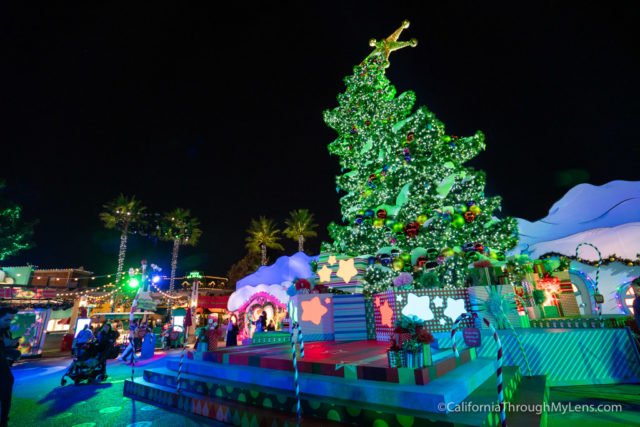 Universal Studios celebrates Christmas with an entire area dedicated to the Grinch called Grinchmas. It is a lot of fun as they have a Who-biliation celebration at night where the Grinch comes out and the light the tree. Harry Potter's Wizarding World also has Christmas decorations and there is a Christmas light show as well. Read more about it here.
Ice Skating at Pershing Square in Los Angeles (Opening Nov 23, 2022)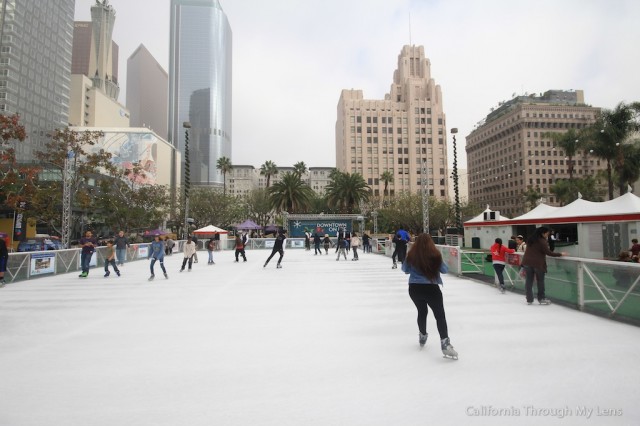 Usually open from mid-November to mid-January, this large ice rink right in the center of LA is in its 17th season of bringing a little cold weather fun to sunny Southern California. This is a great place to hang out with friends, enjoy Christmas Concerts and events, and ice skate. I love making the trek down here as it's a fun way to pretend like you live in a city where ice actually does freeze on the ground, without having to drive in it.
Downtown LA Walking Tour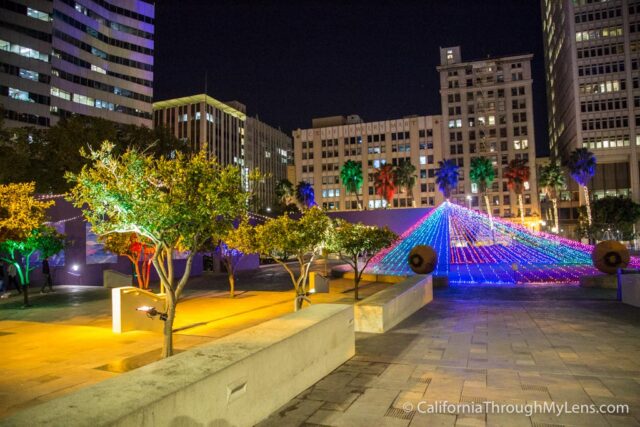 If you are looking to get the blood moving, then consider a walking tour of downtown Los Angeles which can take you to a lot of the spots that light up for Christmas. You can read about my time on the tour here.
Hydro Bike in the Long Beach Harbor to See the Lights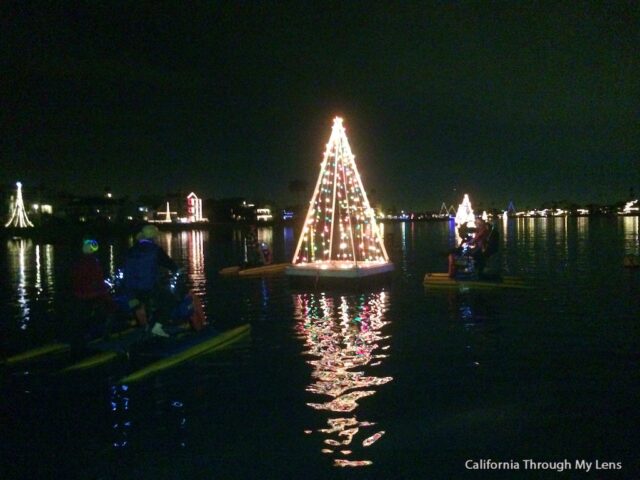 Another super unique way to see the California Christmas lights would be to take a hydro bike along the harbor in Long Beach. This is an active and fun experience that lets you see all of the houses up close. I was surprised by how much I enjoyed it and how easy it was to learn (your legs will be tired, though).
Queen Mary Christmas (I believe it is closed for 2022)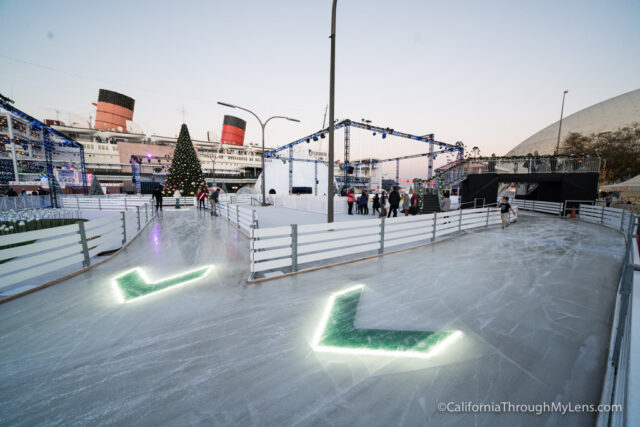 Chill is a winter wonderland located right next to the Queen Mary. Each year they have a different theme, and it has ranged from A Christmas Carol made of ice sculptures in 2015 to an immersive digital exhibit on Alice and Wonderland in 2016. Most years they also have ice tubing, ice skating, a North Pole village, and a giant rocking horse, among other attractions. Read more about it here, but I think they may be changing it up for 2019. I believe this is closed for 2022.
Orange County Christmas Attractions
Disneyland
Disneyland is especially fun during December as the park goes all out with lots of different Christmas decorations. The Haunted Mansion gets transformed with Nightmare Before Christmas add ons and It's a Small World becomes very festive as well. Go early in December to avoid the lines though. You can read more here.
Knotts Berry Farm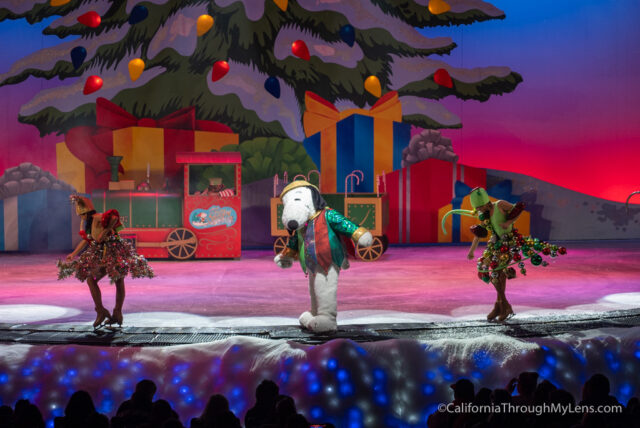 Knotts Berry Farm is also a great spot to get in the Christmas spirit. This amusement park in Orange County has lots of fun Christmas attractions in their Camp Snoopy area of the park. It runs from November 18 – January 8. Read all about it here.
Newport Boat Parade (December 14-18, 2022)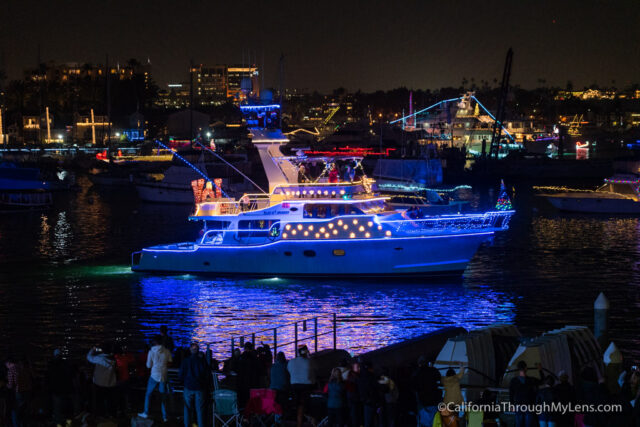 Called one of the ten best holiday happenings in the United States, the Newport Boat Parade is a truly unique event. Every year for the last 100 people have participated by designing their million-dollar yachts to enter them into this four-day parade. It is not even crazy to hear people have spent over 50,000 dollars just decorating their boats. While this is seems a little excessive, there are some fabulous decorations. You can read my post about how to watch it here.
Southern California Christmas Piers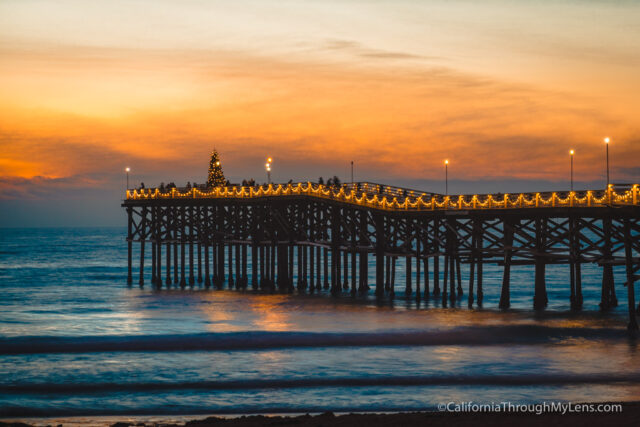 Nothing says California Christmas like a visit to the beach. Luckily a few of the beach towns decorate their piers for Christmas. The two main ones are the Pacific Beach Pier with its wreaths and tree (above) and the Manhattan Beach Pier with its tree made of lights.
OC Winter Fest (Now Nights of Lights OC)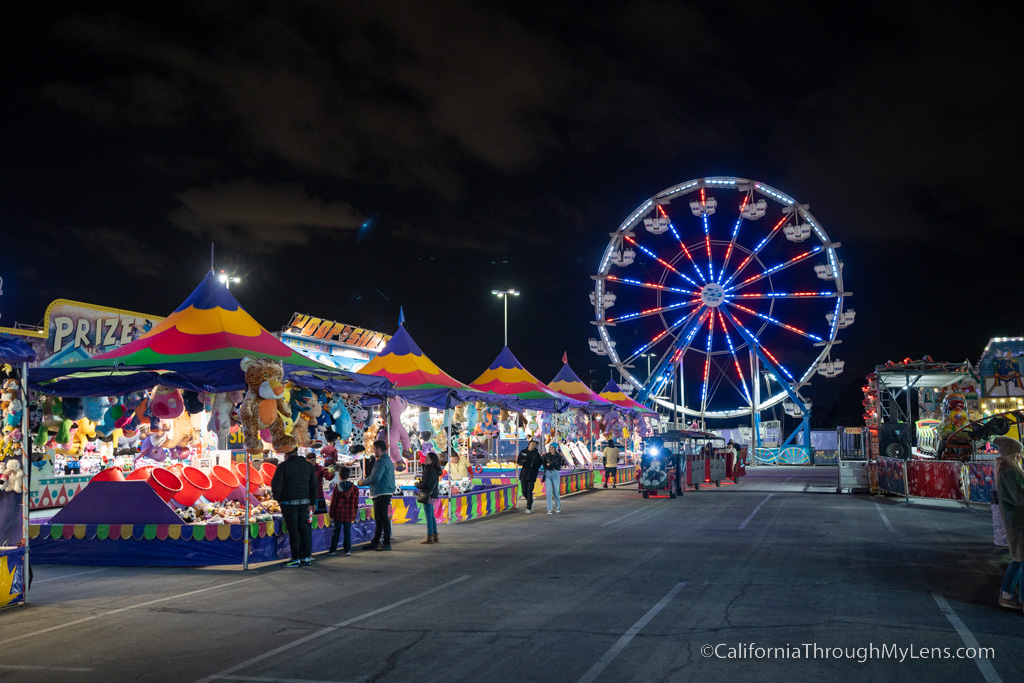 Orange County takes over one of the fairgrounds for this annual winter event that usually features ice skating, food, performances, and ice tubing. Read more about it here.
Inland Empire Christmas Attractions
The Mission Inn Festival of Lights (Riverside, CA)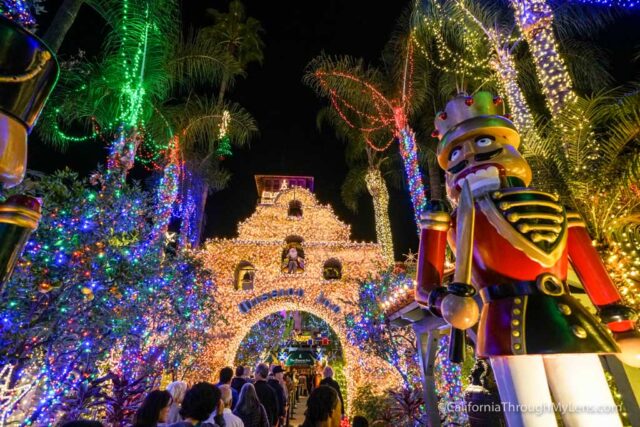 The Mission Inn is one of the premier holiday light events in Southern California. Every year this famous hotel gets wholly decked out in Christmas lights, and it is a unique and free night for the whole family to enjoy called The Festival of Lights. You can walk through the hotel and see their inside decorations or simply walk around the outside and up Main Street to enjoy pictures with Santa, and all of the festive food treats you can eat. This is a great holiday tradition to create with your family as it is a free event that you can make as long or as short as you would like. On display from November 22, 2022 – January 6, 2023.
Logan's Candy Cane Making Demonstration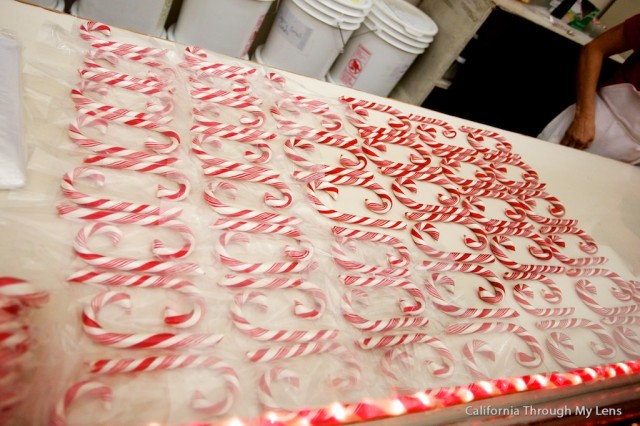 You have eaten a candy cane I am sure, but have you ever seen how they are made? Logan's Candies is a unique shop with 80 years of history that is still making candy canes the same way they were in 1933. During the Christmas season, they have excellent free demonstrations that will show you how the candy cane is made from start to finish. After the presentation, for $1.50, you can even get a warm candy cane that you can mold however your heart sees fit, it is sure to be a fun adventure for the whole family and may also become a new tradition. More information here. According to their website, it seems like they will still be doing demonstrations.
Thoroughbred St in Rancho Cucamonga (Driving only, pedestrian access closed)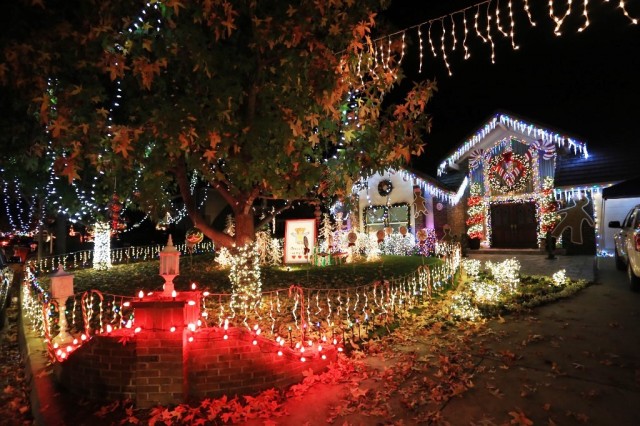 As many have mentioned in the comments, Thoroughbred St in Rancho Cucamonga is a great free way to get into the Christmas spirit. Every year after Thanksgiving, the neighbors start to decorate their houses, and people begin flocking to this small street. The neighbors are out interacting with all the passers-by, and some even sell hot chocolate and churros. You can take the whole family and have a pleasant stroll, but make sure to respect people's properties as they do this out of the kindness of their hearts. Not sure about 2022.
Live Oak Canyon Christmas Tree Farm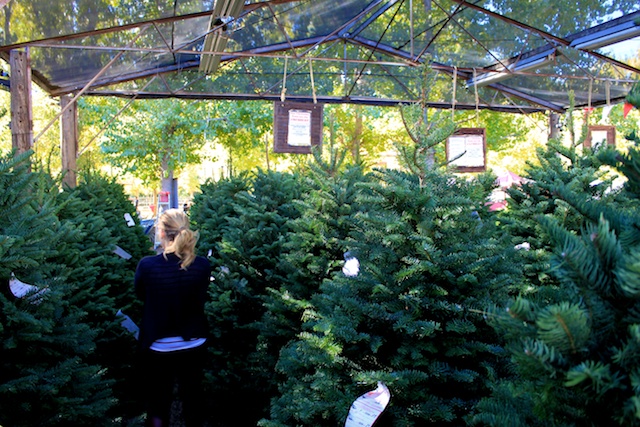 Live Oak Canyon is a loved spot in Yucaipa, CA that has thousand of Christmas trees to pick from for purchase. It is more than a farm though and it has tons of rides, a petting zoo, and other Christmas attractions, all for an added fee. It is a fantastic spot in the Inland Empire but note that it can be very busy there and that it can cost a decent amount for a family to take part in all the activities. It runs November 25 – December 23.
Take the Lift to Mt Baldy
If you are looking for a traditional day in the snow, buy a lift ticket up to the top of Mt Baldy. At over 8,000 feet of elevation, this area has snow for the family to play in (weather permitting), snowboard, hiking, and even a restaurant if you want to relax and take in the views. I love heading up here to snowboard, but even if you are playing around in the snow or watching a sunset, it is a fun way to get a white Christmas in Southern California.
Santa's Village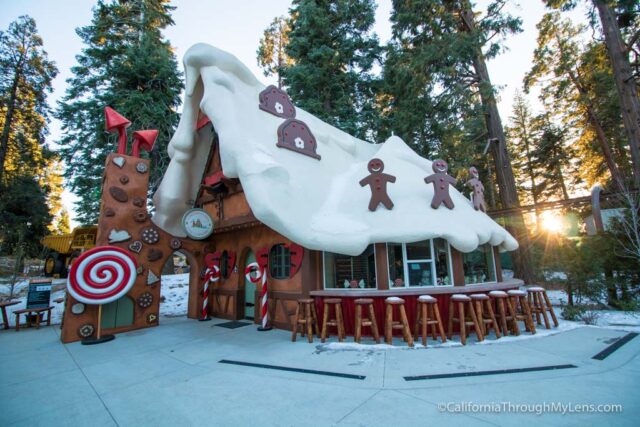 I got a chance to walk around it before it opened, but I haven't seen it in all its glory with guests yet. I added it to this list as it gives me nostalgia for the fun times I had in the old park growing up. I will be updating this post when I get the chance to visit it when it's open.
Palm Springs Christmas Attractions
Christmas at the Cabazon Dinosaurs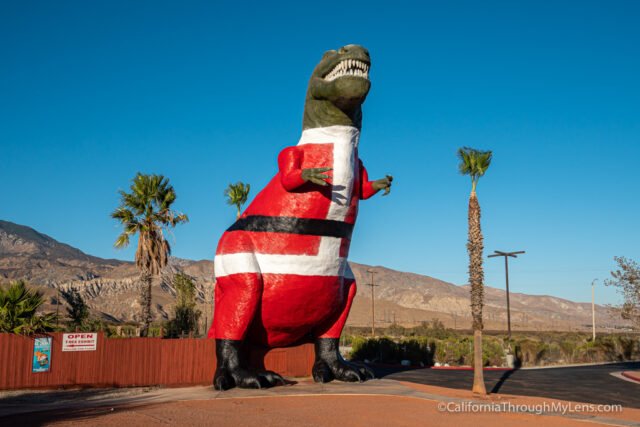 They painted the Cabazon Dinosaurs to give them Christmas spirit, with the T Rex being Santa Claus. They also have a paid walk-through with the dinosaurs that have Christmas lights on them and photo options with Santa Claus. Read more about it here. The lights are on Friday, Saturday, and Sunday according to their website.
Santa Visits the Palm Springs Air Museum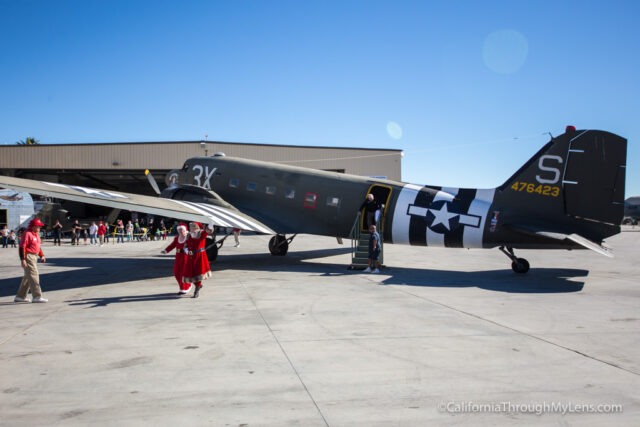 Each year Santa "flys" into the Palm Springs Air Museum to visit for two days. It's fun to see the old plane land with Santa and Mrs. Claus on board. Check the dates, so you don't miss it.
Palm Springs Christmas Parade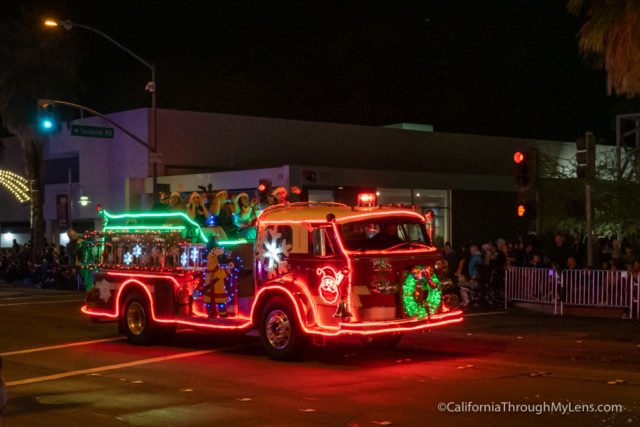 Palm Springs also has a Festival of Lights Parade that happens one day each December (normally early in the month). Check their site for more information on the parade. We went in 2019 and it was actually a great parade with about 30 minutes of things to see. According to their site, this will be December 3rd, 2022 at 5:45 PM.
Robolights in Palm Springs (closed for good)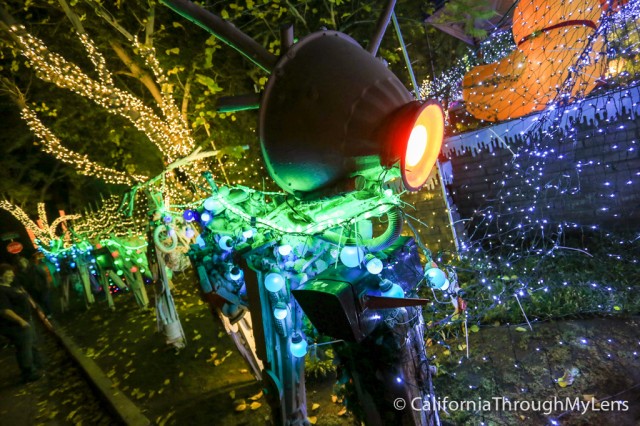 Robolights is an 8.4 million light display on 4 acres in Palm Springs. It is full of strange statues and impressive creations. I loved visiting this spot, and while it is an unusual place for sure, I can easily say it was an entertaining way to spend a California Christmas night. Read more about it here.
Wildlights Holiday Festival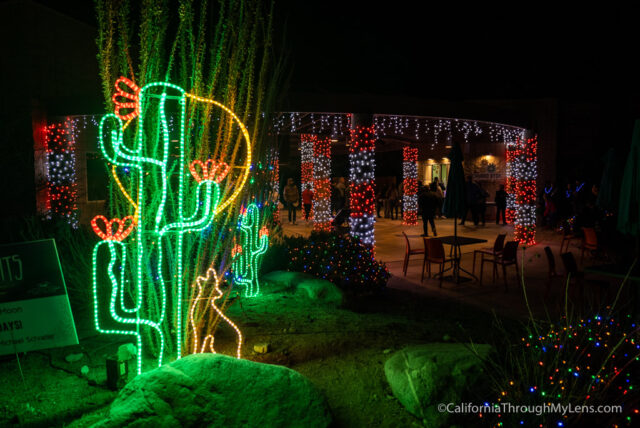 The Living Desert, which is outside of Palm Springs, is a great spot to get a unique Southern California Christmas experience. Full of creatures from the desert, the park adds thousands of holiday lights for you to stroll under as you explore. More info here and check their website for the nights it is open.
Southern California Christmas Videos
7 Christmas light events you can see in Los Angeles
16 Christmas spots in Southern California (Video from 2021)
7 Fun Christmas attractions in Southern California Video (Video from 2016)
Southern California Road Trip Ideas
If you feel like you want an adventure, here are two Christmas road trips you could go on.
General Grant Grove: The Nations Christmas Tree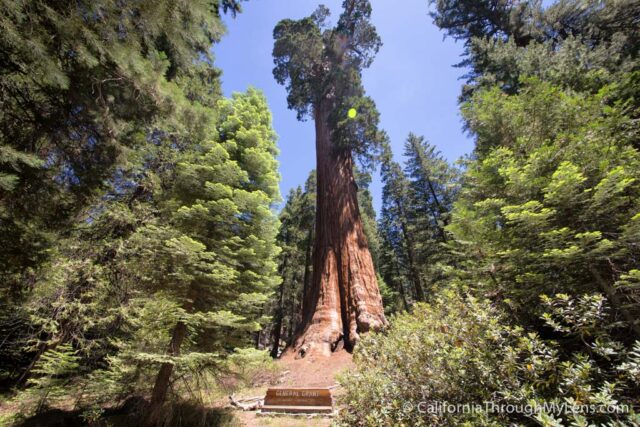 The General Grant Tree in Kings Canyon National Park was deemed the nation's Christmas tree in 1926. So a real Christmas adventure would be making the trek up to the national park to pay homage to this massive tree. Here is a video I made of visiting the tree for Christmas.
Solvang: California's Danish Town at Christmas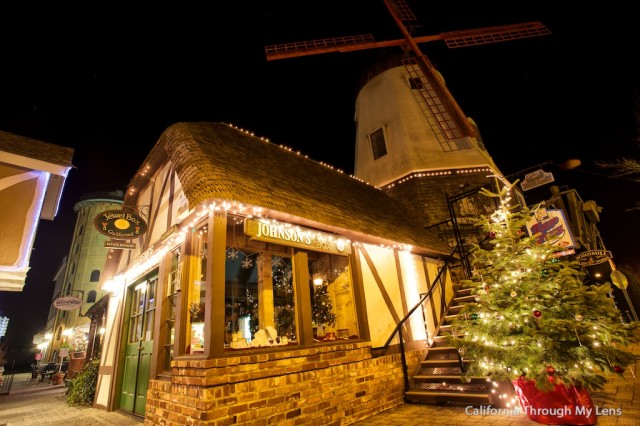 Next, at about 3 hours from LA, Solvang is a great place to stop if you are driving up Highway 101. I recommend grabbing a hotel and spending the night to see all the decorations in this historic little Danish town. You can see my pictures from my time in Solvang for Christmas here or check it out for yourself. Make sure to grab a treat from one of the bakeries; there is a lot of excellent bakeries up there.
So there is my list, I would love to hear if you think I left something off as I am always looking for new adventures. Make sure to leave them in the comments. Also, if you are visiting San Francisco during Christmas, here are a bunch of fun things to do there.