I love seeing the way California celebrates Christmas, even with most places having warm weather and little snow. I also love visiting the small town of Solvang and experiencing its beautiful Danish charm on trips up Highway 101. I was surprised to notice on a recent trip, that Solvang also has a lot of decoration for Christmas, making it a great place to celebrate Christmas time in California by simply strolling the streets at night. Here is the info.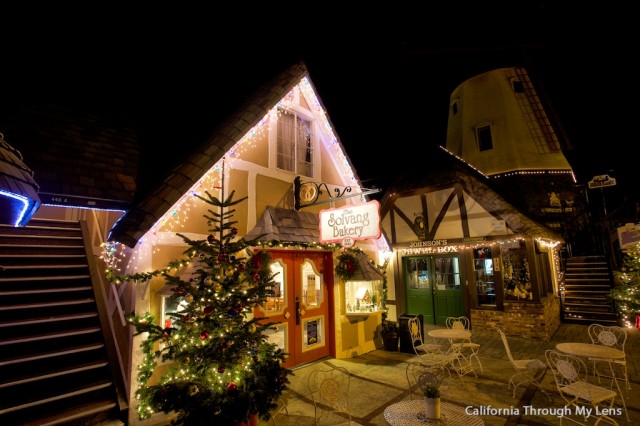 Details
History
 Solvang was founded in 1911 on almost 9,000 acres of the Rancho San Carlos de Jonata Mexican land grant, by a group of Danes who traveled west to establish a Danish colony far from the midwestern winters. The city is home to a number of bakeries, restaurants, and merchants offering a taste of Denmark in California. The architecture of many of the facades and buildings reflects traditional Danish style.
While you can see Christmas all over this town, here are my favorite spots for it.
The Windmill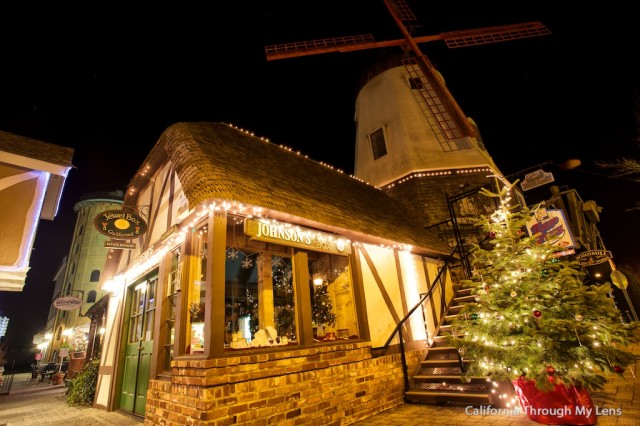 What is known to most as the landmark of this small town, the windmill is a great place to start on your journey. Now while the windmill itself does not have any real decorations, there are a lot of small shops next to it that will help you get in the Christmas spirit.
Copenhagen Drive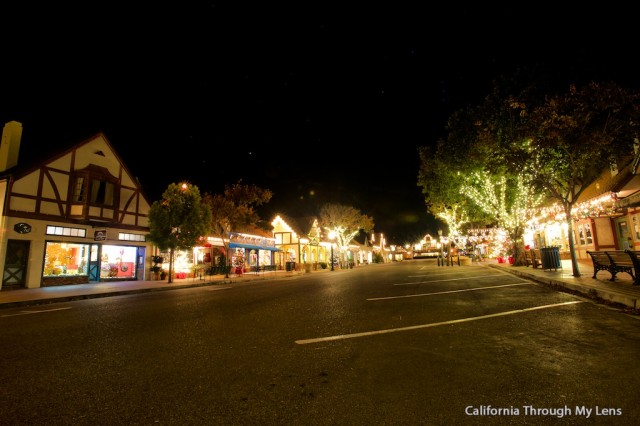 The main road in the downtown area of Solvang, Copenhagen Drive is where all of the shops are, including the famous shoe shop. Most of the stores have their own Christmas Trees outside of the window and are usually decorated beautifully with items that represent the store. A perfect example is the tree with the pretzels hanging from it outside of a bakery (my dog couldn't get enough of this tree).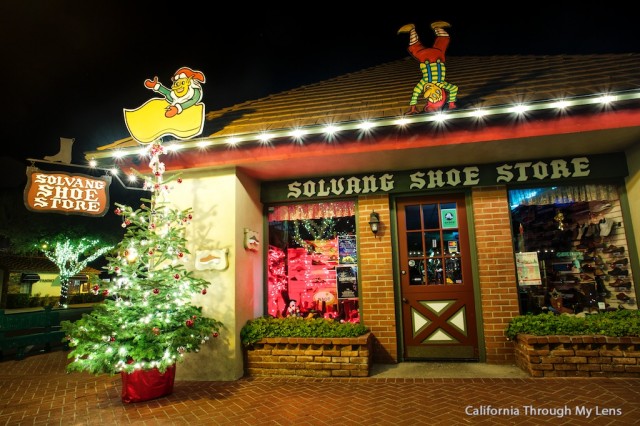 The street itself is lined with beautiful lights as well and makes for a fun or romantic stroll on a cold December night.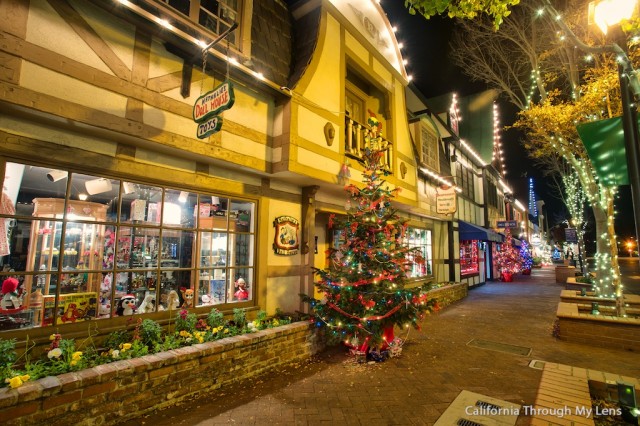 Solvang Park
This small park is known for its Hans Christian Anderson Statue and its clean bathrooms, but at Christmas time even Hans gets some festive trees around him. The gazebos is also decorated up and across from the park on some winter nights there is an ice skating rink.
Alisal Road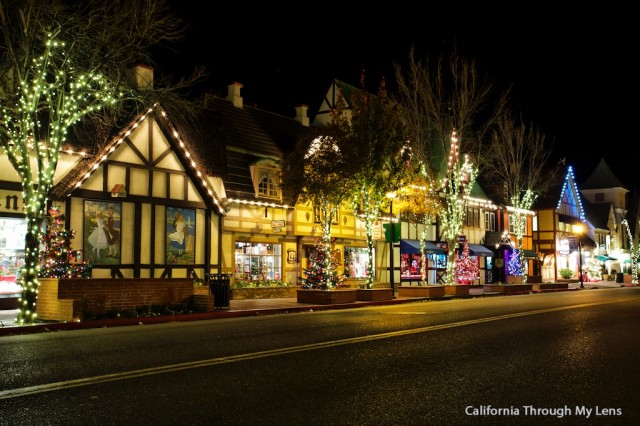 Lastly, this road that connects with Copenhagen Drive and is home to the famous windmill, also has a lot of beautiful decorations lining its street.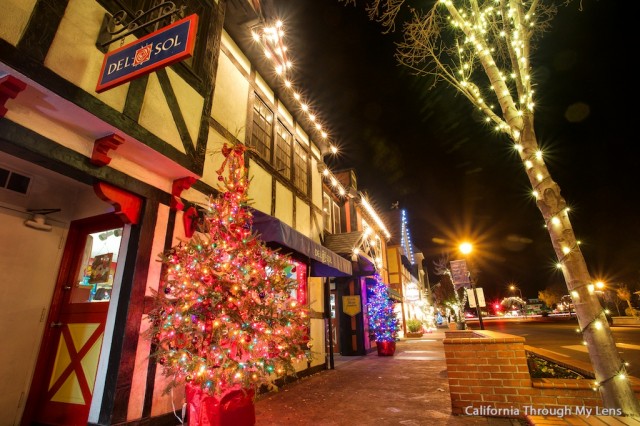 From lights to Christmas trees all of the store owners seem to be involved.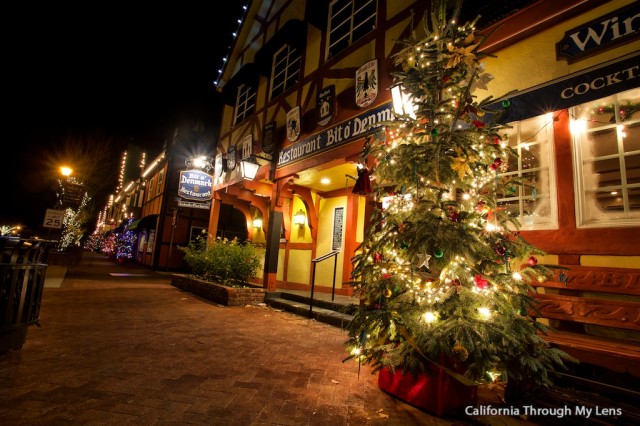 I especially liked the decorations outside of the Bit O' Denmark, one of the most famous restaurants, that has been around for almost a century.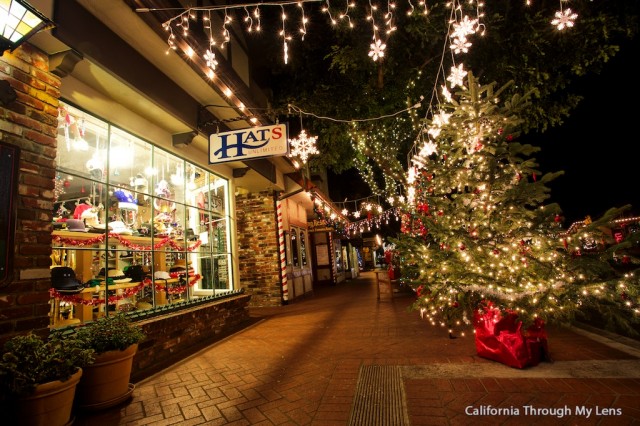 So if you are looking for Christmas spirit and find yourself traveling up the 101, I would highly recommend spending a couple of hours, or a night soaking in Solvang. Check out the rest of the pictures and get directions below.
Photo Gallery
Get Directions