By far, my favorite time of the year is the fall season. For us in Southern California, the fall season doesn't normally mean the changing of colors or dramatic temperature loss, but it does give way to the many great traditions that make me excited for this time of year. Ever since moving to Riverside four years ago, the Mission Inn Festival of Lights has been one of my main traditions during the fall season. It is an extravagant display of Christmas lights that combines with the famous and historic California hotel for a unique night out that is worth the drive to Riverside. It was even on the top ten destinations for holiday lights last year in the whole United States. Here is all the information so you can check it out yourself.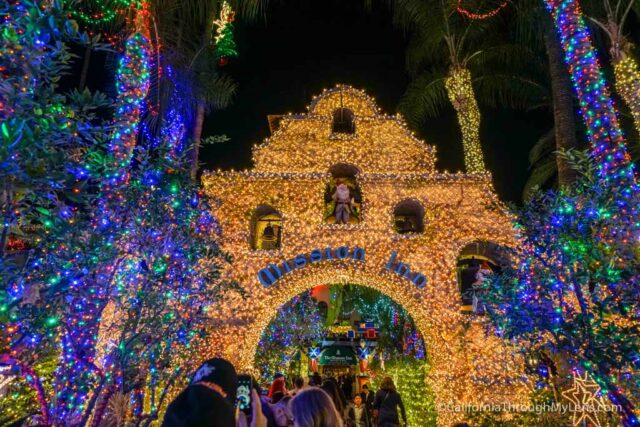 Details
Free
Starts the day after Thanksgiving is crazy busy for opening night
Hard to find parking on the weekends
Some of the dinner places are only open during the weekends and not during the week
Video
Here is a video I made from my 2018 visit.
History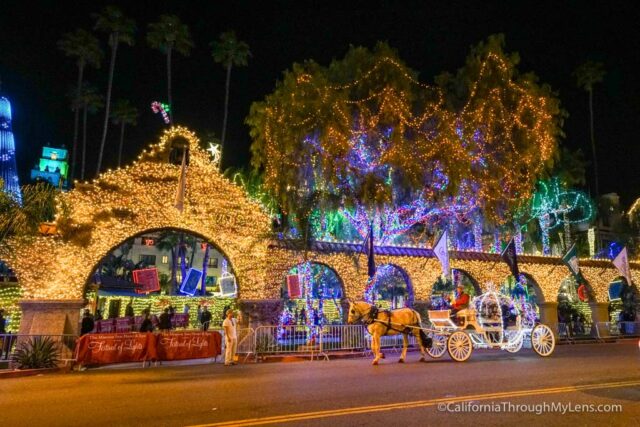 A little history and info on Festival of Lights:
"For 19 years, the Festival of Lights has been well known for its nearly three million Christmas lights, and over 400 animated figures. Although the Festival lasts all throughout the holiday season, the day after Thanksgiving is the lighting ceremony. On this day city officials and the owner of the hotel, Duane Roberts, give speeches before fireworks light up the sky and nearly 25,000 people attend annually to view the unique hotel and its holiday decorations. During the festival of lights, decorations including musical angels, carolers on the balconies, and a Santa Claus climbing the chimney are featured."
Parking
The map below is provided by the city to show where parking is and how much it costs. They haven't made a new one for 2017 so some of this information may be different, but it is still a good guide.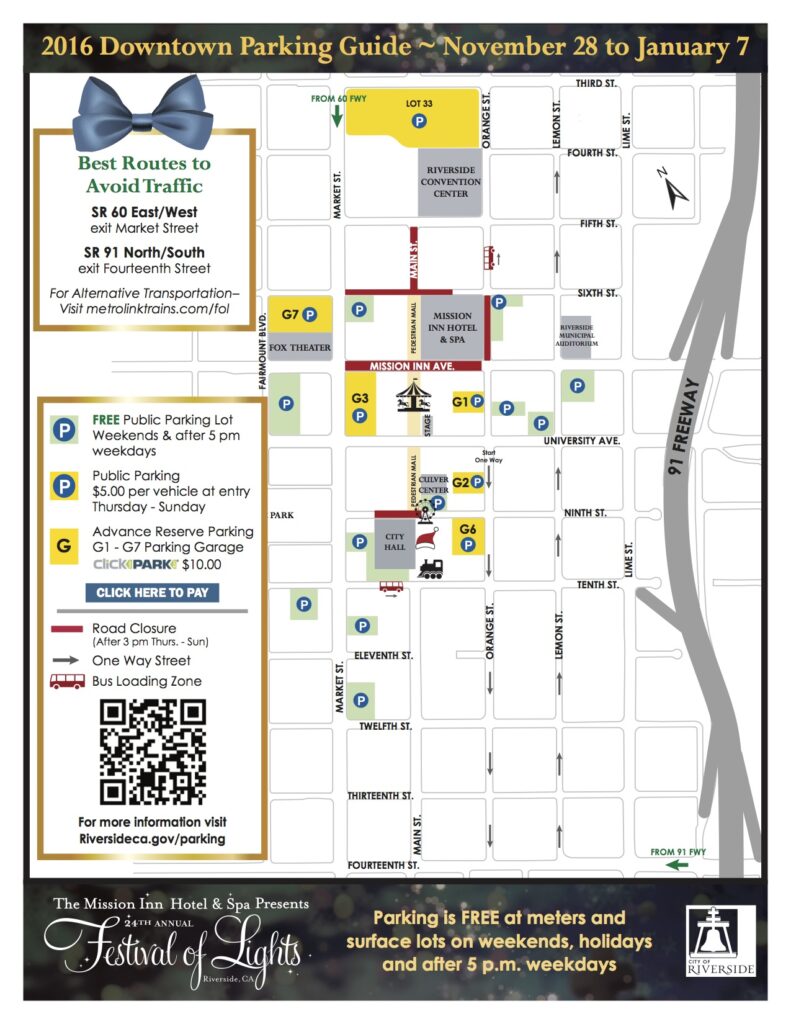 Mission Inn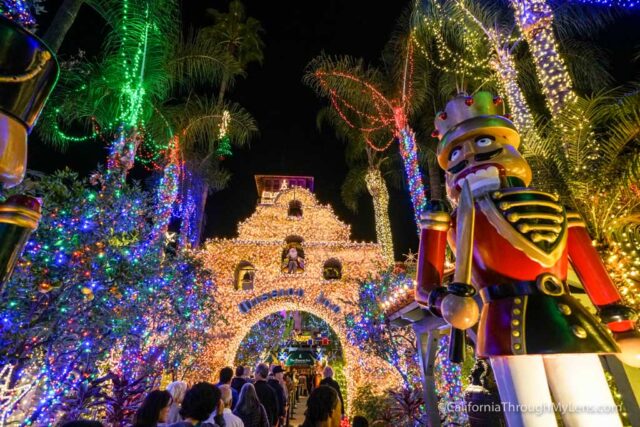 The Mission Inn is, of course, the standout of the festivities. It has an insane amount of Christmas lights covering every inch of its exterior as well as snowflakes blinking on and off on the massive palm trees in the front of the hotel (A truly California addition). You can walk around the entire hotel multiples times and see something new every time. Here is a video I made that shows how awesome it is, but believe me you really need to see this in person to grasp it.
Every year it seems to get more fantastic and it seems like more people show up. Even with all of the people it never seems too crowded on the weekday nights and it doesn't take away from the magic of the decorations, assuming you can find parking. Check out more pictures below.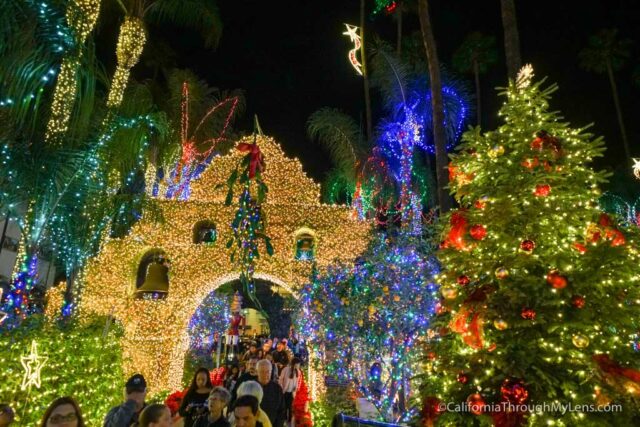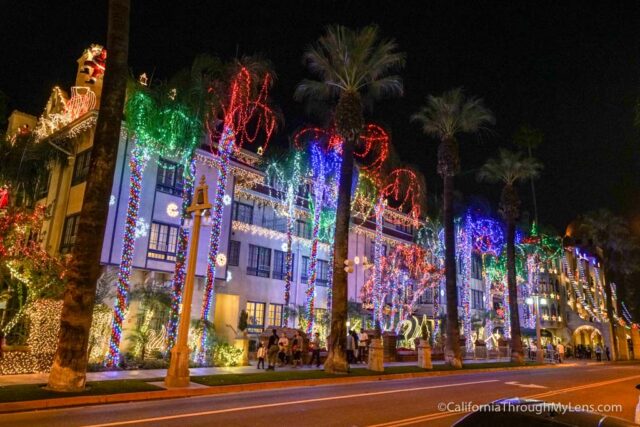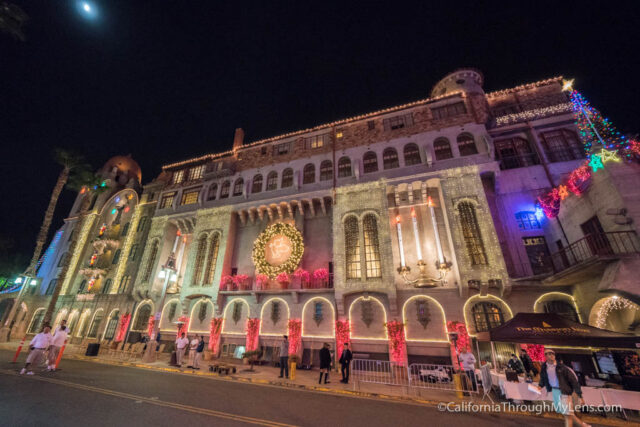 If you get a chance to go in the Mission Inn you can also see the beautiful tree they have in the lobby which is huge and always very well decorated. Often, there is a long line to get into the hotel on weekends and while there is not a ton to do it is still fun to explore. There are a lot of other famous things you can see at the Mission Inn, read about them here.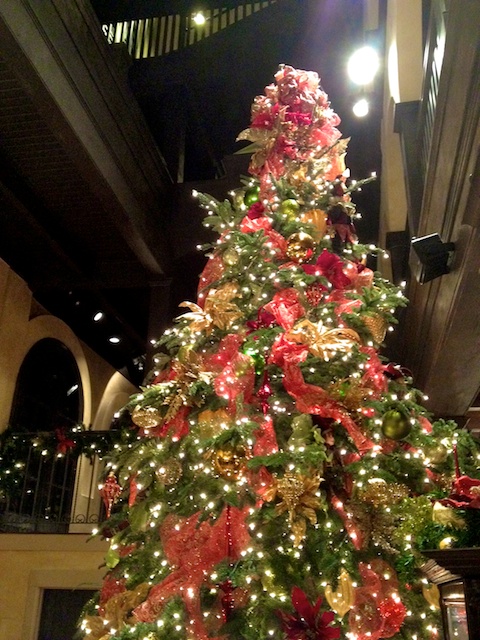 Surrounding Attractions & Food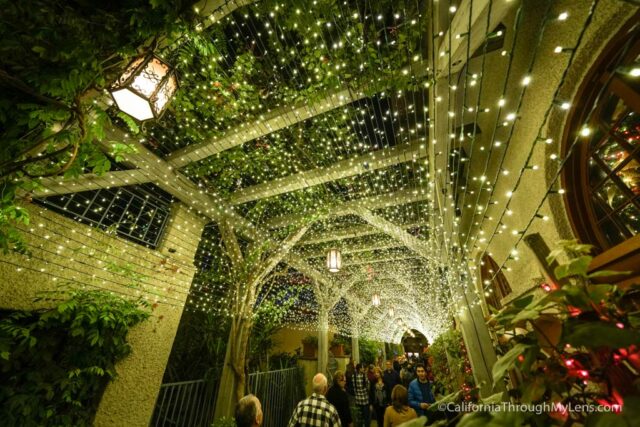 While the Mission Inn is the reason to come, the surrounding activities allow you to make it into a full night. There are many restaurants around the area at which you can get a meal. I personally would recommend Simple Simons as it is one of my favorites in the area and has great sandwiches but it is not usually open for dinner. There is Thai food, pizza, salads and cafes around the area you will be walking. If you are just looking for a snack then there is a cupcake shop, the Gingerbread House, and even a funnel cake stands. You can also go to Salted Pig or Tio's Tacos but both are a little bit away from the Mission Inn area itself. Also, Hero's is a good sports bar nearby and there are Mexican and Italian food spots at the Mission Inn itself.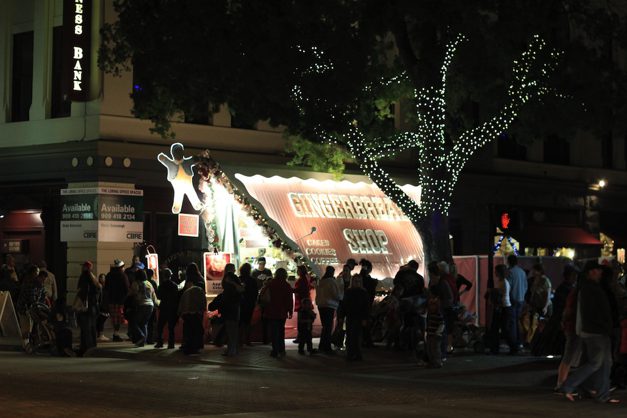 There is also a carriage ride that you can take to see the lights in style. You shouldn't have to wait too long as there were about 6 different carriages running when I was there.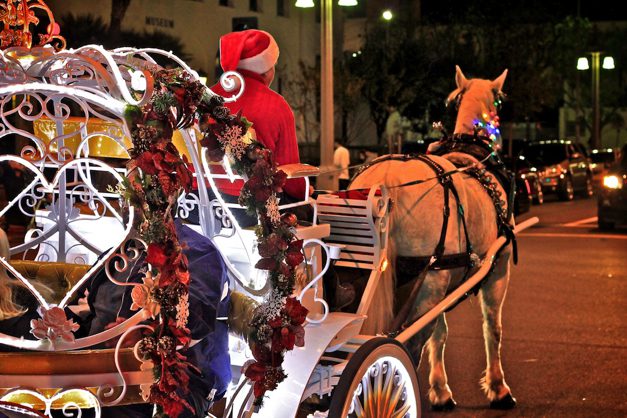 If neither of these sound fun there is a carousel this year and even a Ferris wheel to ride at the end of the main walking area, near city hall.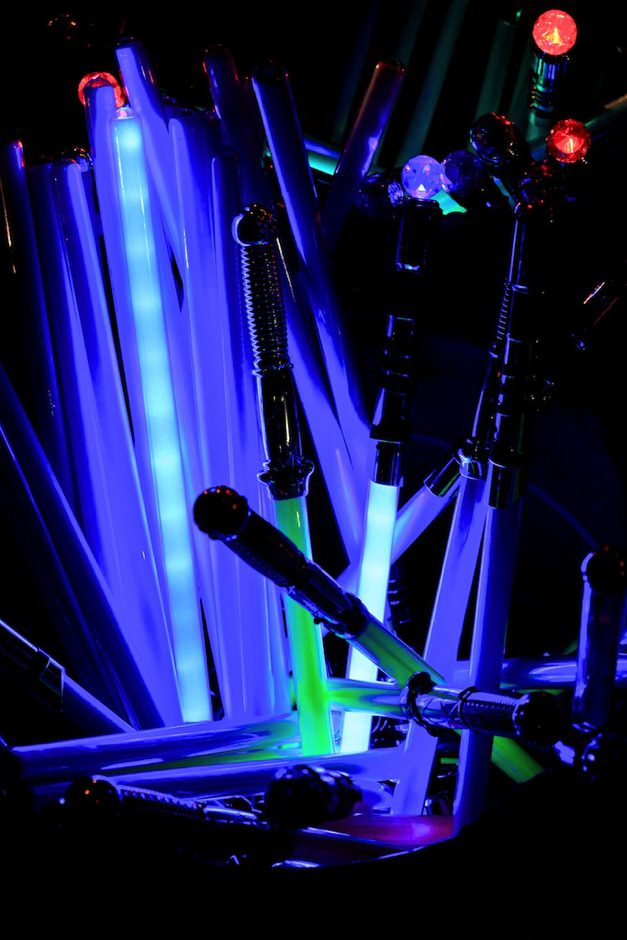 All in all, the Mission Inn Festival of Lights is one of the best reasons to come to Riverside (along with a light up Halloween house and Mt Rubidoux). If you have never checked it out, do yourself a favor and do it this year. Who knows it may even become one of your Christmas traditions as well.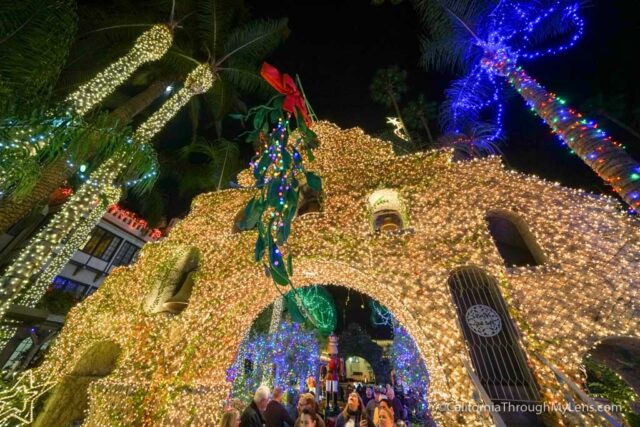 Leave me a comment and let me know what you think or if you have any tips to make the most of your time there.