Halloween Light Show House in Riverside, CA
The Halloween light show house in Riverside is one of the best events in the Inland Empire each Halloween. It normally features about 6 songs all perfectly set up to mimic the music they are playing through the speakers. It is the brainchild of Xtreme Light Wizards, and if you have not seen it then check out all the information below.
Update 2022
They are doing the show Friday  – Sunday. More information on the show can be found on their Facebook page. Here is a video from this year!
Update 2021
They are doing the show this year only on Thursday – Sunday. You can see the times for the show on their Facebook page. You will need to use your radio and tune it to the station in order to hear it and it is still a fantastic show! Here is a video from 2021.
Update 2020
They are doing the show in a remote way, where you can sit in your car and tune to a radio station to hear the music being played from the house. Here is a small clip from this year. You can find all the information on showtimes on their Facebook.
Update 2017
According to their Facebook, the show will not be happening this year.
Update 2016 
 The light show is happening again this year and I got a chance to go for opening night. There are 5-6 songs this year ranging from "This is Halloween" to "Monster Mash" and it is a fantastic show that gets better every year. Here is a video of "This is Halloween" from this year's show. Read all about the last few years below and be sure to check out their Facebook page for up to date changes and showtimes, which are normally three times a night on Thurs – Sun each week leading up to Halloween
Directions and Parking
The house is in the North West section of the Orange Terrace Park near the 8000 Deercreek Dr in Riverside, CA and it is really hard to miss as people start to line up for it at 6:30. The parking is easy as there is street parking and a parking lot for the park itself. The Orange Terrace park also makes for a great way to enjoy the show as there is tons of room on the grass. Be sure to check the showtimes on their Facebook though as the show ONLY happens on specific nights.
2015 Recap
This year the show is back and better than ever. All of the information for the show, where to park, etc can be seen below in the 2014 section as it is completely the same. This year the show is only on weekends though so make sure to check the Facebook link above to verify any changes/times.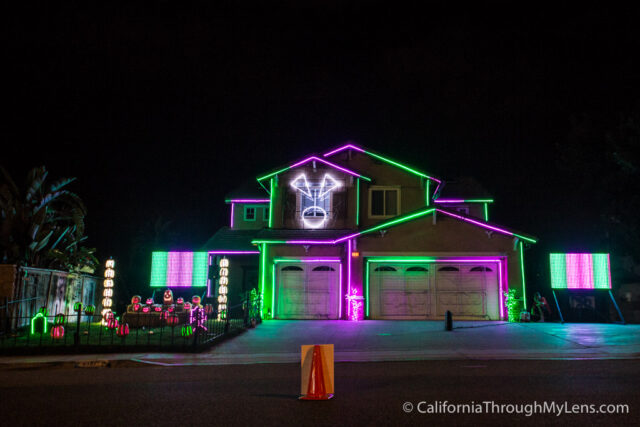 This year there are a few new additions to the show as well, such as the two big LCD screens and one special addition I will let you experience in person. There are 5-6 songs again this year with some great new songs like the Ghostbusters theme song. When I went the shows were at 7 PM, 7:45 PM and 8 PM but make sure to check the link above for up to date showtimes.
Here is a video I shot from the 2015 show of This is Halloween. I think it is fun to watch how much this show has changed over the years as I have videos of the same song below from 2014 and 2011.
This is a fun and free event for the whole family so read all the info below and check the Facebook link to go see it for yourself.
2014 Recap
I went to the show back in 2011 and was blown away by how awesome it was, unfortunately, the HOA wouldn't allow them to do it in 2012 and 2013 but this year, with the help of a friend they were able to make the show bigger and better than ever.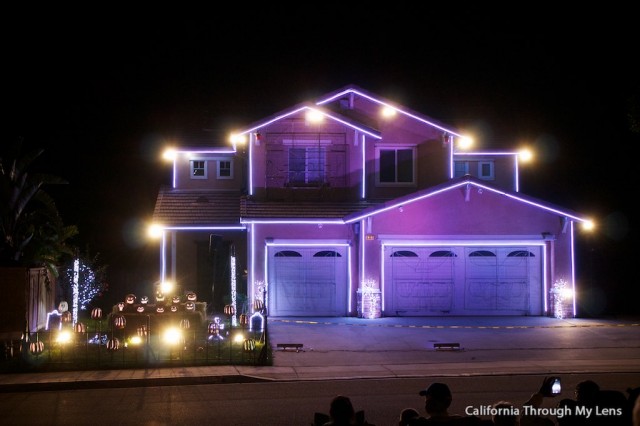 Every night at 7:30 this 30-minute show starts and let me tell you it is awesome. There are 4-5 full songs that are played in connection with the house's dancing lights. It gets packed here as well, with lots of people coming out, but it is usually easy to find a good spot.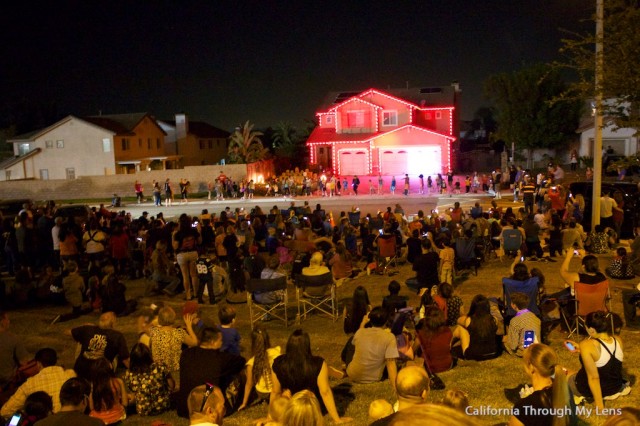 The creator stated that this show will happen every night till Halloween, however I do not know them personally so I cannot guarantee it. It is on Deercreek Drive near Orange Terrace Park in Riverside at 7:30 each night.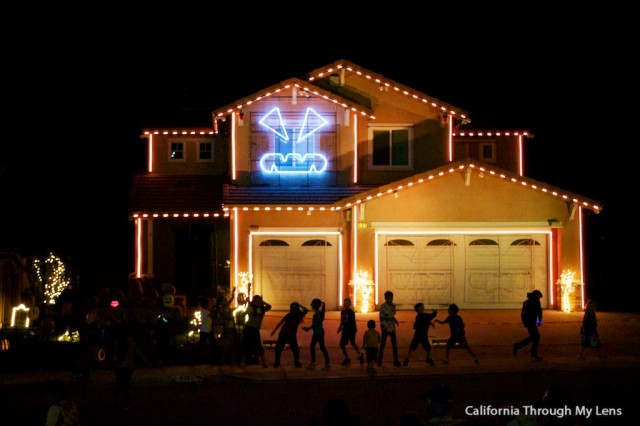 I highly recommend going to get in the Halloween spirit, it is a ton of fun for the whole family. if you want to read my review from 2011 feel free to read on.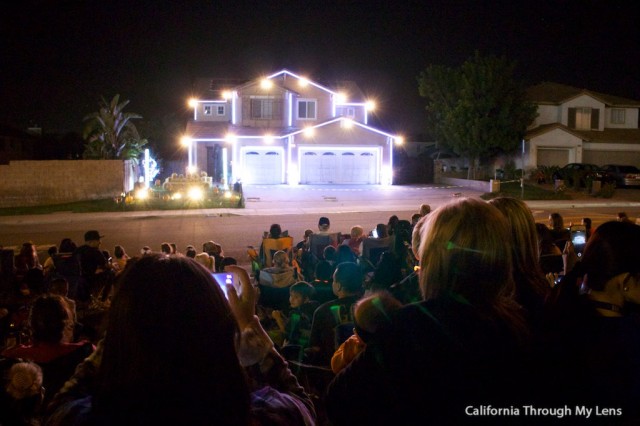 2011 Recap
If you haven't seen the house that set up a light show with the song Party Rock Anthem by LMFAO then you must have not be on the internet much this last week. The story goes like this. A father named Kevin starts creating a light show with his house for his children in 2008, every year after he gets more creative, more subscribers on YouTube and more attention. Until this year. On Saturday he posted a video of the light show he set up to LMFAO's song Party Rock Anthem on YouTube and by Monday he had a million views. At the time of this writing he had 3.4 million views. He has been in the news across the world and the video has become a huge hit with everyone from Time to Good Morning America covering it. However, the best part about it for me is that he lives in my hometown of Riverside, CA. So I braved the 1,500 people that came out to see his show on Thursday and headed over there to take pictures and see what all the fuss was about. Check out the main video that started the sensation below then read on.
Kevin only runs one show every night at 7:30. The local newspaper went on Tuesday night and said there was about 400 people there, when I went there was probably close to 1500. Parking is gone for blocks and people just kept streaming in.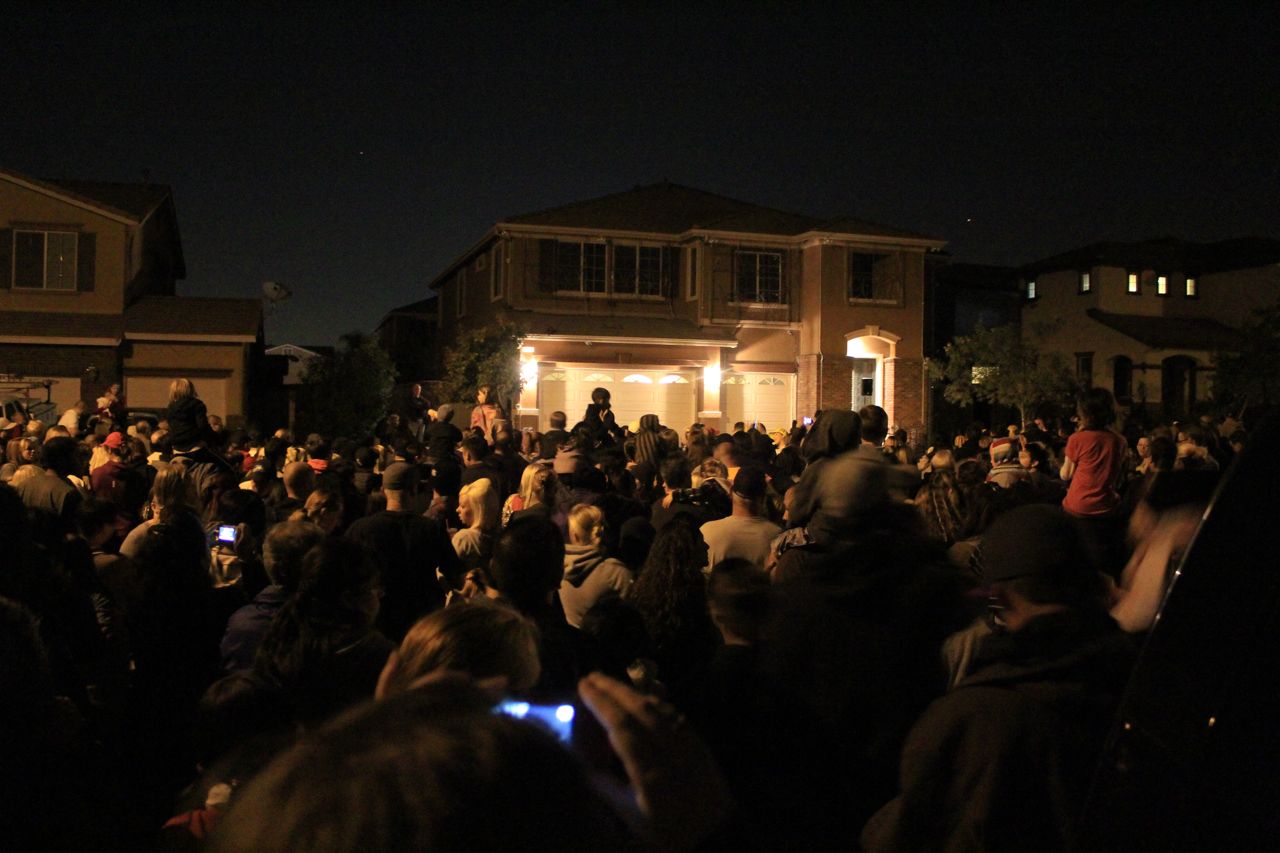 He is only running the show until Halloween night so I imagine it will only get worse leading up to the final night as more and more people find out about it. I say "show" because it starts at 7:30 and runs for about a half hour, featuring light shows for three songs from Nightmare Before Christmas, Thriller by Michael Jackson and then finishing with Party Rock Anthem by LMFAO.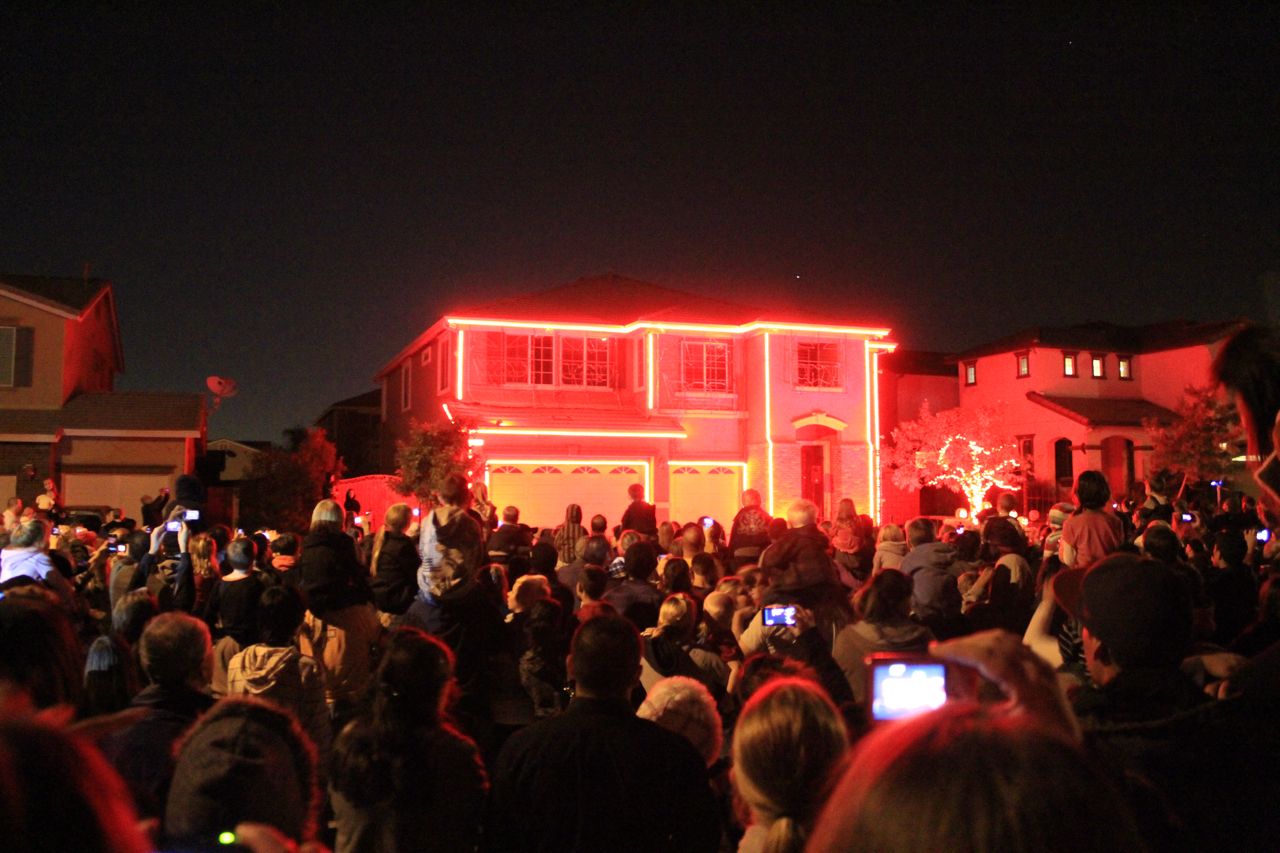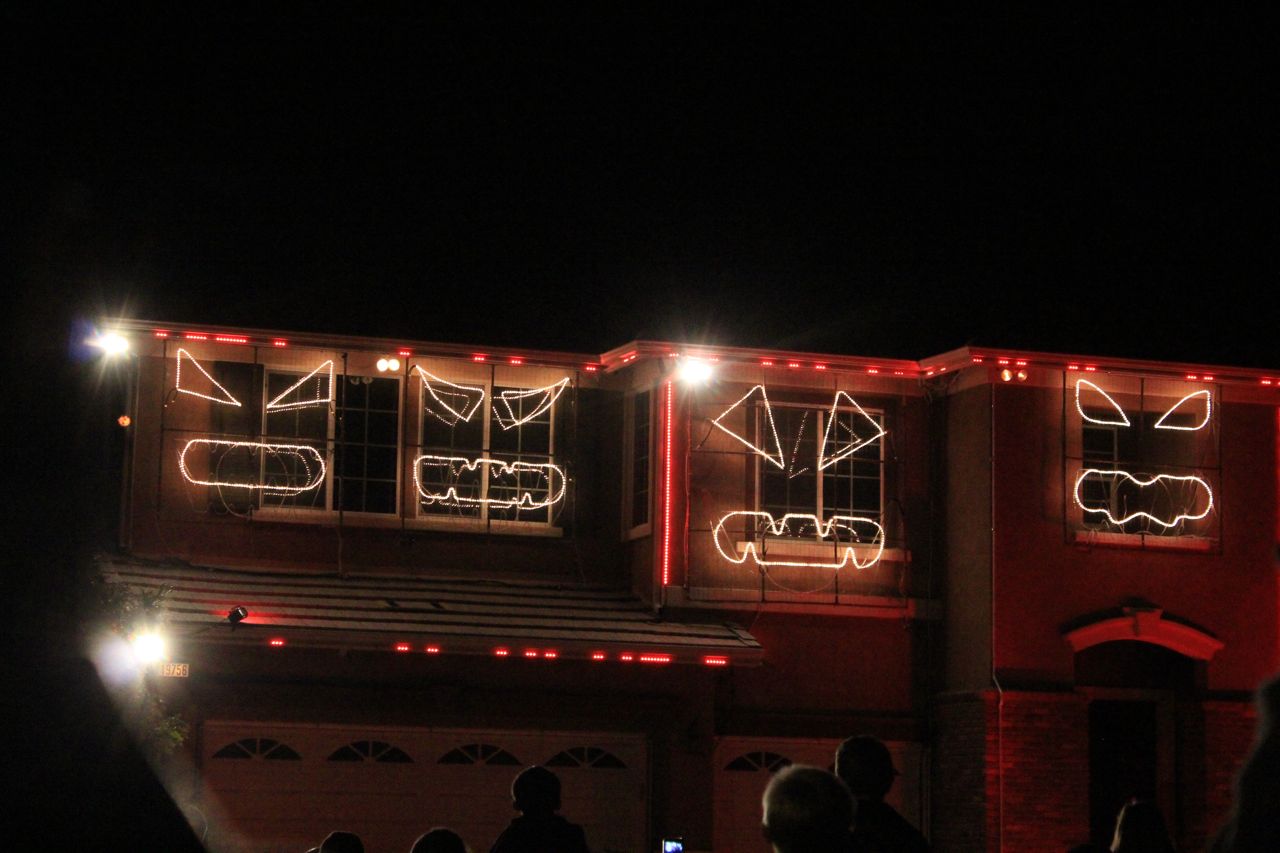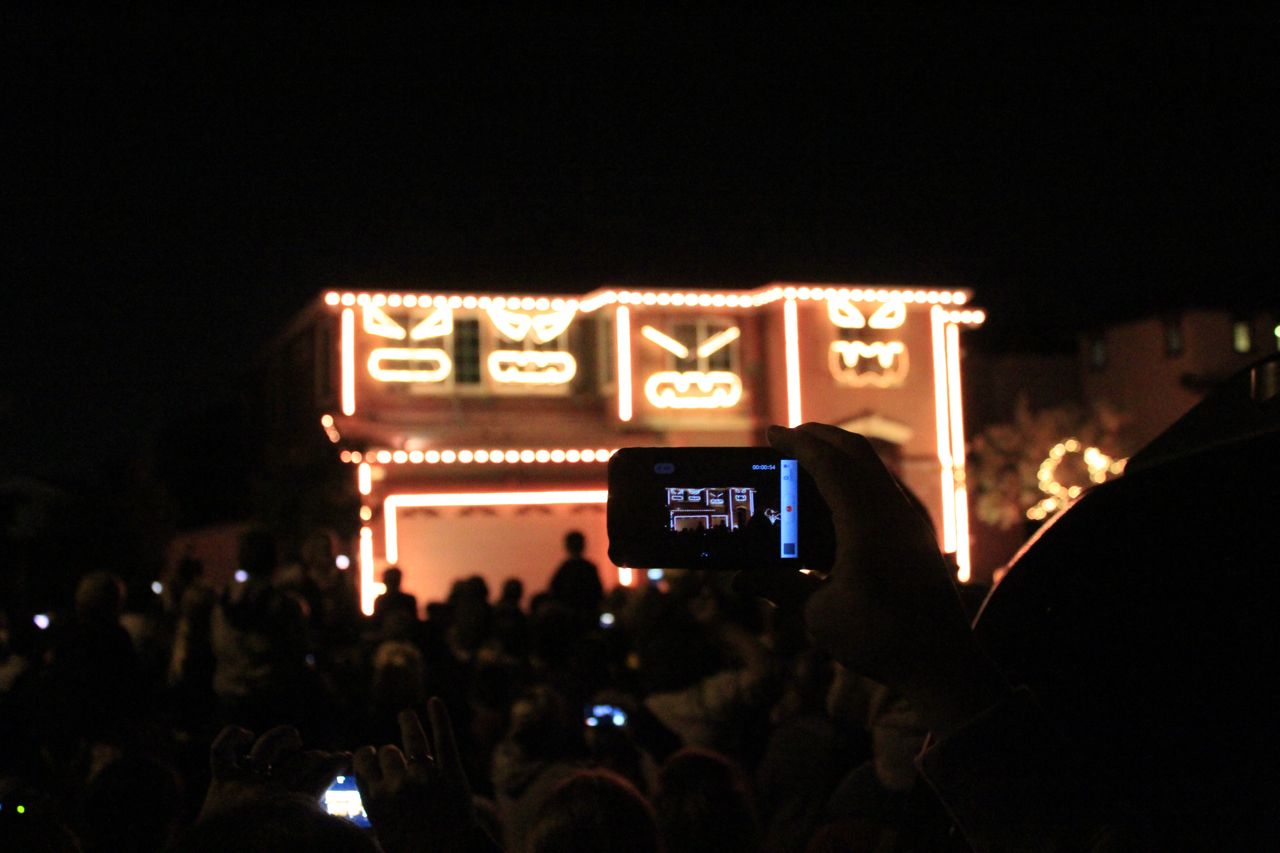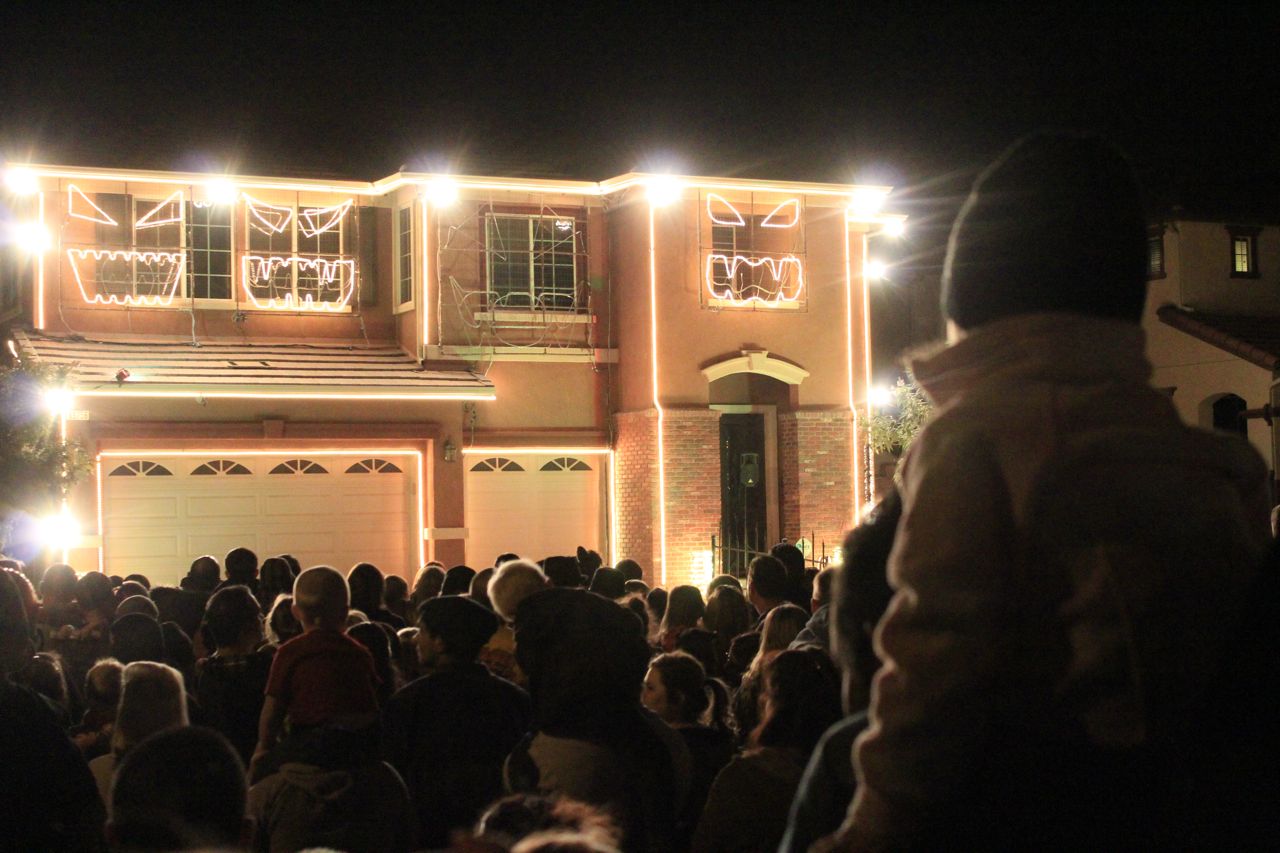 It is a great show that you wouldn't expect to be free and the crowd is cheering and into it the entire time. You can check out my video below to see how different it was when I filmed it then above with no crowd. Also there was a bunch of kids that came out and danced that I believe were from the house with robot outfits and such on, it was a blast. First is LMFAO – Party Rock Anthem, second is This is Halloween from Nightmare before Christmas and the third is Thriller by Michael Jackson.
If you are in Riverside I am sure you know someone who knows how to get here. I wont post the address online as Kevin asked for people to leave it off since thousands more would show up to the already crowded experience; however, if you know where to go I would highly suggest you pencil this into your weekend, it is a whole lot of fun. Check out Kevins YouTube as well and subscribe to his videos.
Update: Christmas Light House
I just wanted to update this post to show the awesome Christmas light show he made for the song "I'm Sexy and I Know It" by LMFAO. It is really well done and is fun to see the characters with their Santa hats. There is no live show though! So do not try to seek out his house or anything like that, just enjoy the video to help get you in the Christmas spirit.
Make sure to leave me a comment below.