24 Hours in Death Valley: How to Explore the Park in a Day
Death Valley National Park is a pretty daunting place to plan a trip to. Most people have heard about the insane heat and are not that familiar with the desert, so they never make the trip to this magical spot. I hope this post helps to clear up the common misconceptions about Death Valley and shows you that it can be relatively easy to navigate even in a short period of time. This post only scratches the surface on what you can see in the park, but it should get you excited for more exploration. So without further ado, here is how to spend 24 hours in Death Valley.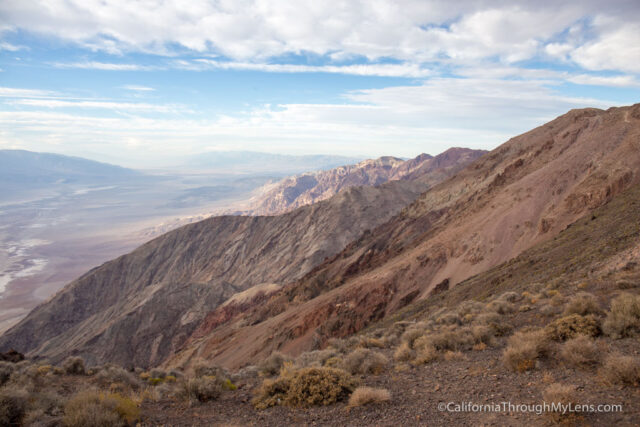 Details
24 hours does not include travel to and from the park
Camping is around $15 a night
Bring a lot more water than you even think you will need. It can be in the 100s well into October, depending on the year.
Don't do this during the summer, it is an entirely different beast to be in Death Valley during the summer, and you would not want to do as much as we did in this post.
Video
Here is everything I will talk about below in video form so you can see it, then learn how to do it yourself.
The Itinerary –  Day 1
Opera House – 3 PM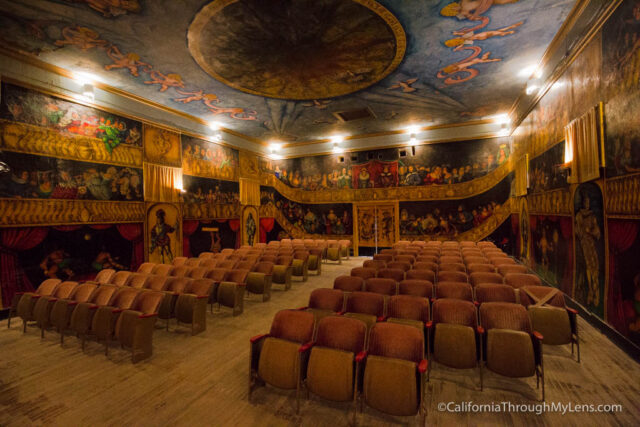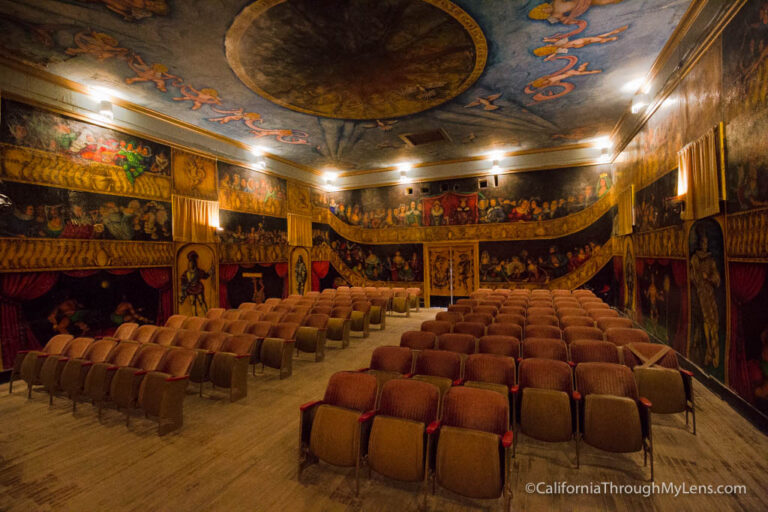 Located on the outskirts of the park, in the town of Death Valley Junction, the Amargosa Opera House is a pretty spectacular place to visit. This historic and "haunted" building still holds productions monthly. Read more here.
Dante's View – 4:30 PM
As the park's best viewpoint, Dante's View is something that everyone needs to experience once. This vista looks down on the Badwater (the lowest point in North America), providing some pretty staggering views. Read more here.
Zabriskie Point 6:15 PM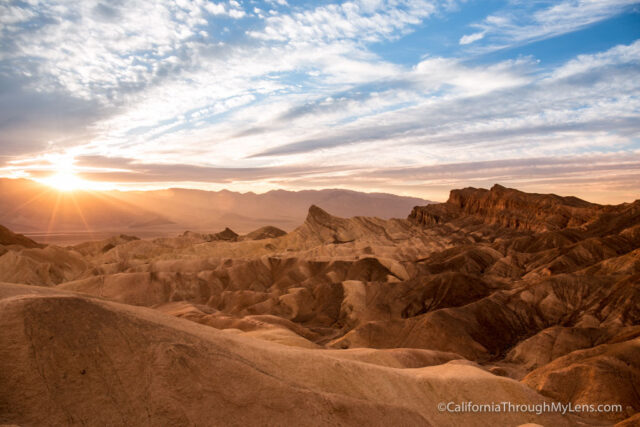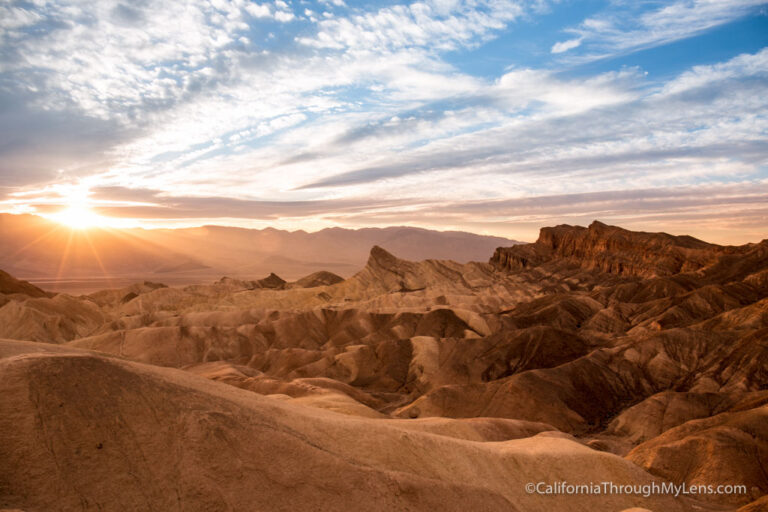 Zabriskie's Point is my favorite spot for sunset in the park. There will be a lot of other people there with you, but it is worth it to see the last light play off the Red Cathedral and the hills below. Read more here.
Dinner – Corkscrew Saloon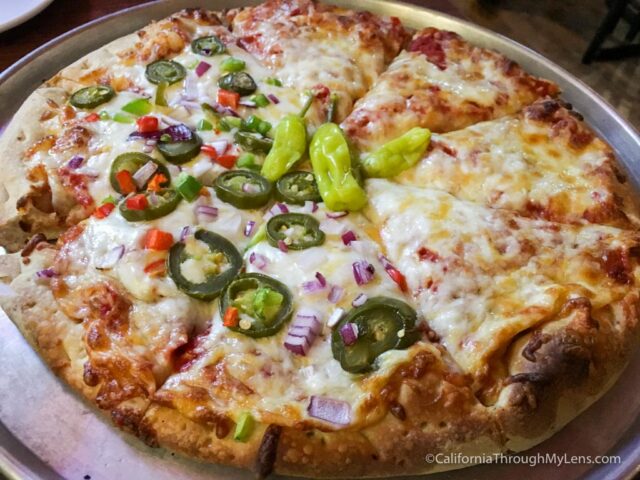 There are two restaurants in the Furnace Creek section of the park. I prefer the Corkscrew Saloon as it has pizza you can share with your group and deep fried appetizers. It's a good spot for a meal and drink in the park.
Camping – Furnace Creek Campground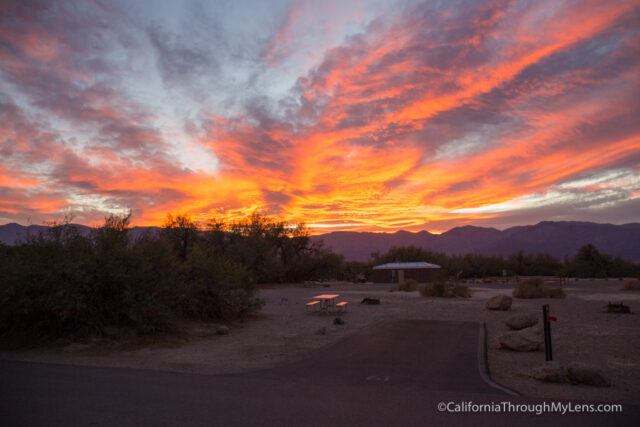 I have camped here multiple times, and I am always impressed. The sites are well spaced out, and the bathrooms are clean. Plus, it is a great central location to stay in Death Valley.
Day 2
Mesquite Dunes 6:00 AM (or whenever sunrise is when you go)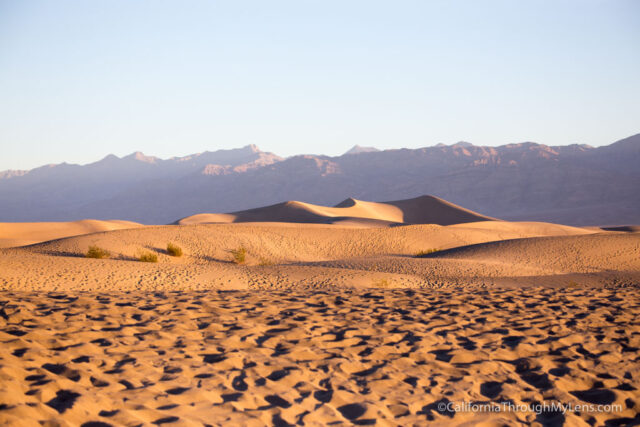 The Mesquite Dunes are my favorite spot for sunrise in the park. Many people choose to go to the viewpoints above, but the sun is behind you there. At the dunes, the sun rises from the side and casts a magnificent light on the massive dunes in front of you. If you are feeling ambitious, you can hike to the top of them as well.
Salt Creek and Breakfast – 8 AM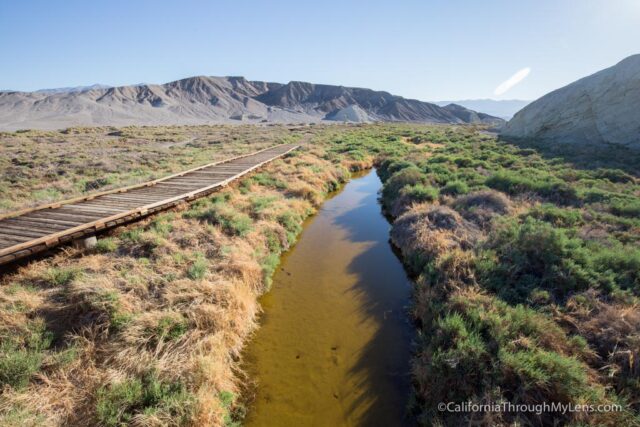 After sunrise, head over to Salt Creek and check out the one place in Death Valley that has water year round. I was surprised when I went at the end of the summer and still saw water there. You can see the endangered pupfish here as well, but I didn't see any when I went. There is a picnic bench near the trailhead where you can eat breakfast if you brought some. Read more here.
Harmony Borax Works – 9:15 AM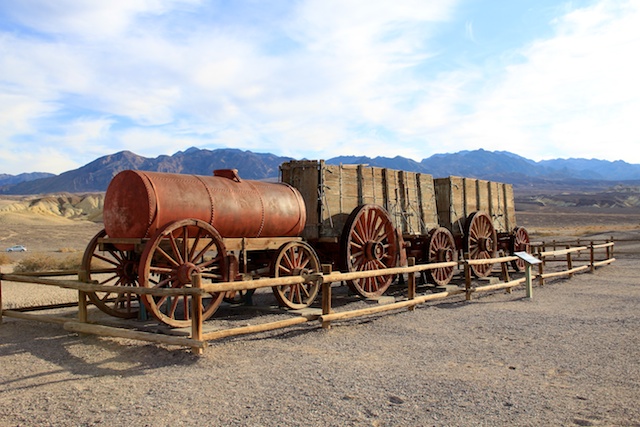 Harmony Borax Works is an excellent spot to learn about the mining and mule team history in Death Valley. There are a couple of ancient relics here as well as some ruins from the mining operations. Read more here.
Visitor Center – 9:45 AM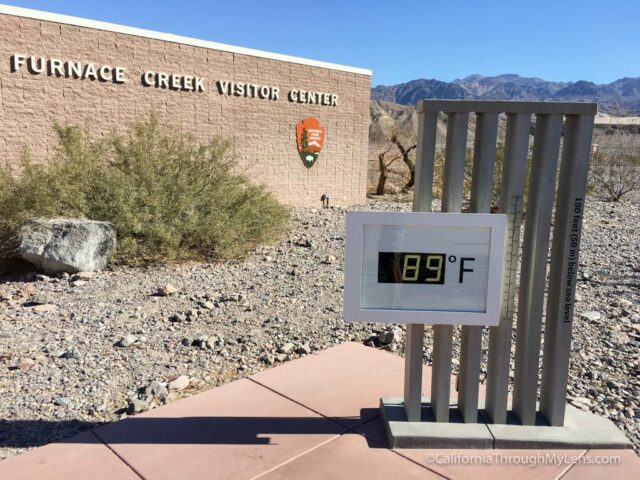 Before heading south, stop by the visitor center. Here you can learn more about the park and take a picture with the large temperature display.
General Store – 10 AM
Next to the visitors center is the general store and gas station, and I recommend you stock up on both before continuing. The gas here is expensive, but it beats getting stuck somewhere. Also, grab lots of water at the store as you never want to run out in Death Valley.
Golden Canyon – 10:30 AM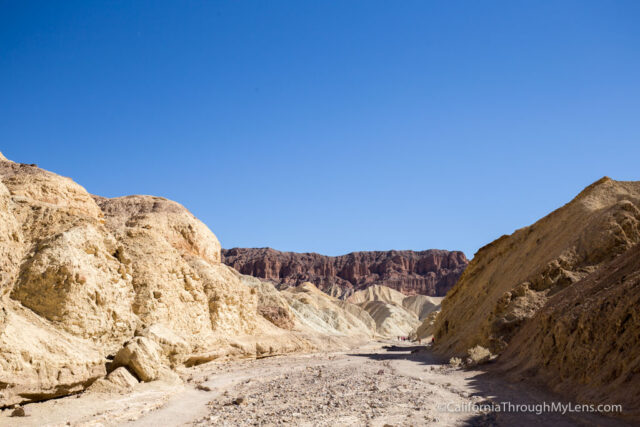 Golden Canyon is the park's most popular hike, so you want to make sure you take the 3 mile round trip trail to see a unique canyon. This is also a location where a few scenes from the original Star Wars were filmed, so that is another big reason to hike it. Read more here.
Red Cathedral – 11 AM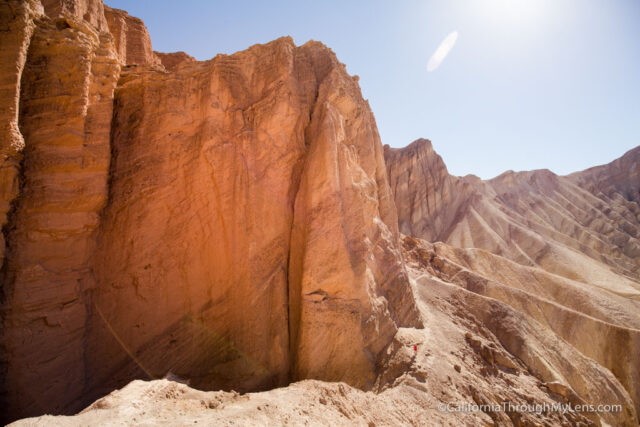 At the end of the Golden Canyon trail, you will see the Red Cathedral, a magnificent mountain that has a dramatic red hue. It is a great endpoint for the hike, and you don't want to miss it.
Artist Pallet – 12:15 PM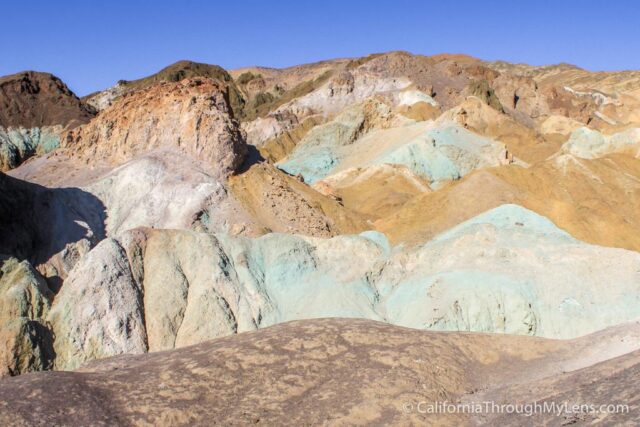 Artist Palette is one of those places that is hard to believe until you see it. The way the mountains are clothed in deep blues, purples, and greens from the chemicals in the dirt is super impressive. You can even walk around and experience it from up close. Just going on the drive without getting out of your car is worth it, since you don't want to miss this spot. Read more here.
Devil's Golf Course – 12:45 PM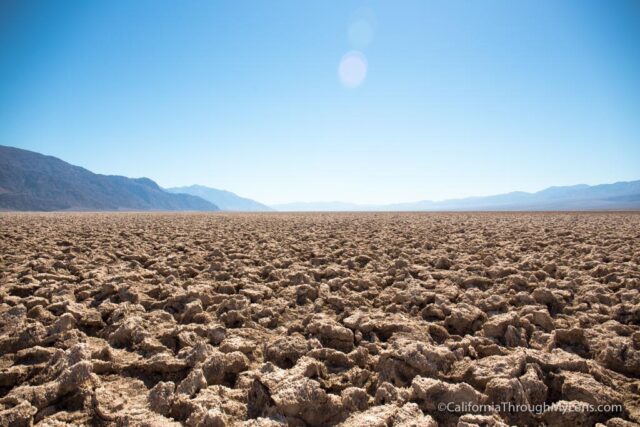 The Devil's Golf Course is a massive field of saline formations that are jagged and weirdly shaped. It is one of those places where you just need to see it up close. They are hard to walk on, so you won't spend much time here, but it is worth the stop. Read more here.
Natural Bridge – 1:15 PM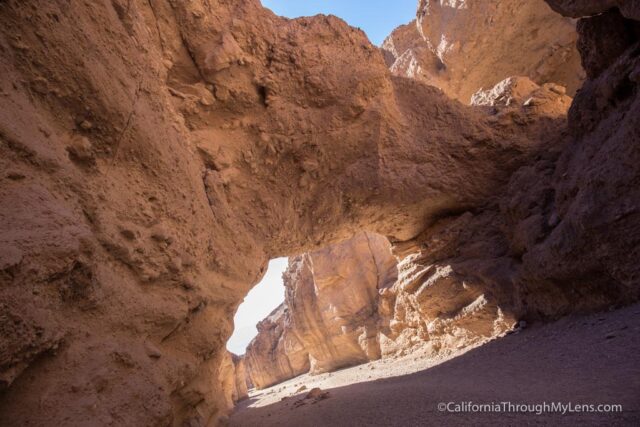 A short, half-mile round-trip hike will bring you to this mud/stone bridge that looks like it is just about to fall every time I see it. The bridge is impressive, as it is tall, thick and unlike other places you will see in the park. Read more here.
Badwater – 2 PM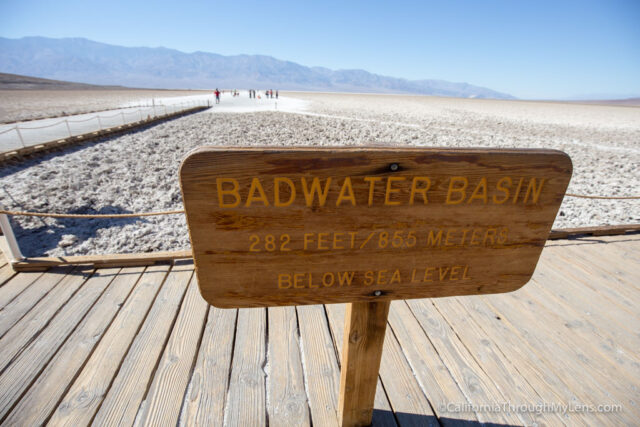 Badwater is the second to last stop in the park, and it is one of the most popular. This area is the lowest point in North America, and it is crazy to stand there and see the sea level sign on the mountain behind you. Take your time to walk out on the salt flats and take it all in. Read more here.
Ashford Mill – 3 PM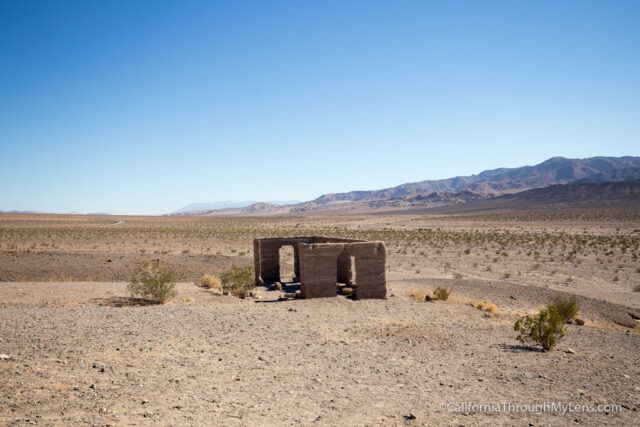 Ashford Mill is the ruins of an old mine processing area, and it is a place you will only spend a few minutes at. It is on the outskirts of the park, and it marks the end of your 24 hours in Death Valley. Read more here.
Video
There are plenty more things to do in this fantastic National Park, so be sure to check them out here. Also, let me know what your favorite spot is in the comments.