17 Things to do in Lake Tahoe in the Summer
Lake Tahoe is one of my favorite areas in all of California. It is such a beautiful place in both the winter and the summer, but I prefer the summer since you can be out on the lake or hiking in the mountains. While this is not a complete list of places to explore, it does feature some of my favorite in the Lake Tahoe area. The list goes in a clockwise manner and let me know what your favorite is in the comments.
Video
Here is a video I made showing all of these stops as well.
Emerald Bay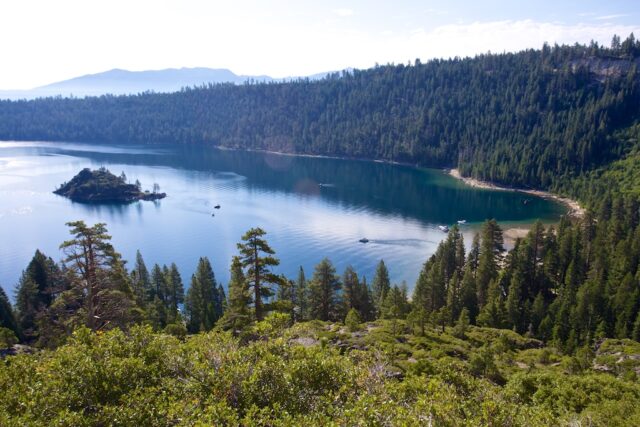 No trip to Lake Tahoe is complete without visiting Emerald Bay; it is one of my favorite places in the whole state. This beautiful state park can be seen from the many viewpoints, or you can take the half-mile trail down to the beach itself. When you get down there, you can visit Lower Eagle Falls, tour the historic Vikingsholm castle or rent a kayak and head over to Fannette Island. I have spent many summer days here, and I always love coming back. Get there early on the summer weekends if you want to get parking though.
Eagle Lake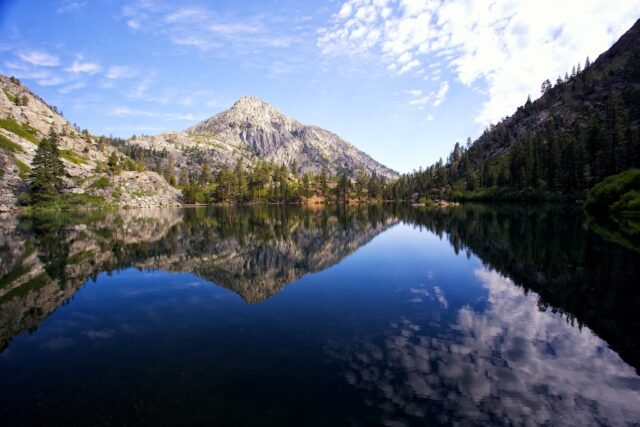 Located across the street from the parking lot for Emerald Bay, this trail is an amazing way to see one of Tahoe's other beautiful lakes. On the path, you will cross Upper Eagle Falls and then eventually reach the stunning Eagle Lake. It is a great half day hike where you can bring a lunch and just sit at Eagle Lake and enjoy the view.
D.L. Bliss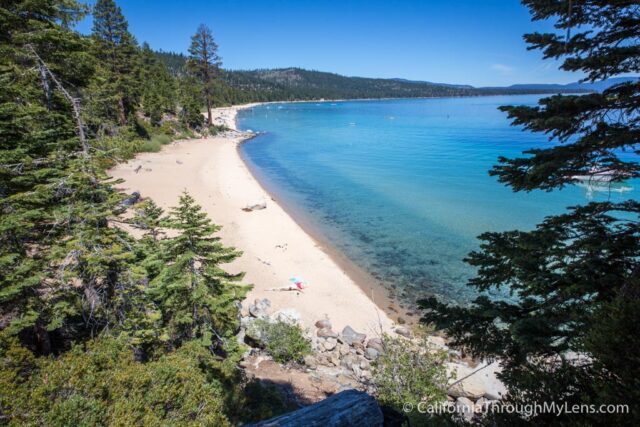 Only about 5 miles from Emerald Bay, DL Bliss is another popular state park. There is a large campground here, and the beaches themselves are right next to the parking area, which makes them a favorite summer spot. The beaches are beautiful and well worth getting there early to enjoy. There is also a short trail in the park to a balancing rock if you want to stretch your legs.
Rubicon Trail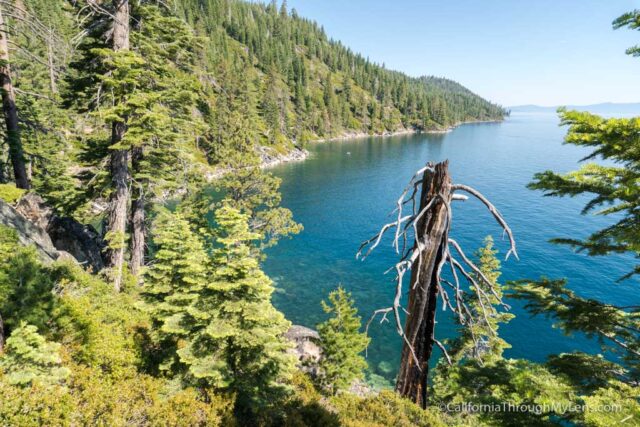 The Rubicon Trail leaves from DL Bliss and heads 5 miles back to Emerald Bay. It is one of the most beautiful trails in California with amazing views of the lake pretty much the entire way. Do note that the trail is 10 miles round trip, unless you have two cars and can park one at DL Bliss and the other at Emerald Bay, making it a nice one-way hike.
Sugar Pine State Park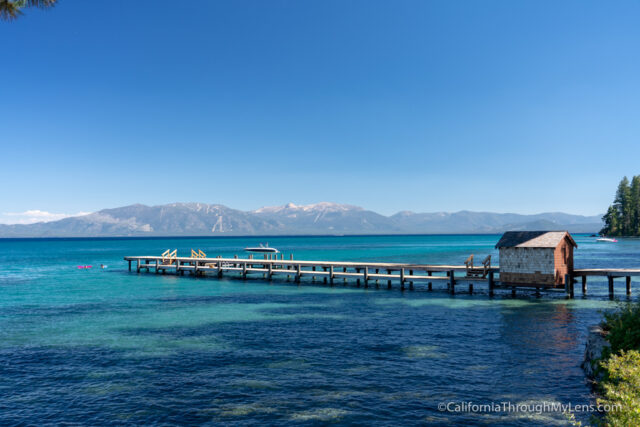 Where the last two parks were mainly hiking and outdoor attractions, Sugar Pine Point State Park has many historic houses, including a lodge/mansion in the middle that you can tour. The house has been meticulously kept up, and it is a lot of fun to see and to hear about all of its unique history. There are also a half dozen or so other buildings in the park that you can see, including two old boathouses.
Gatekeepers Museum and Tahoe dam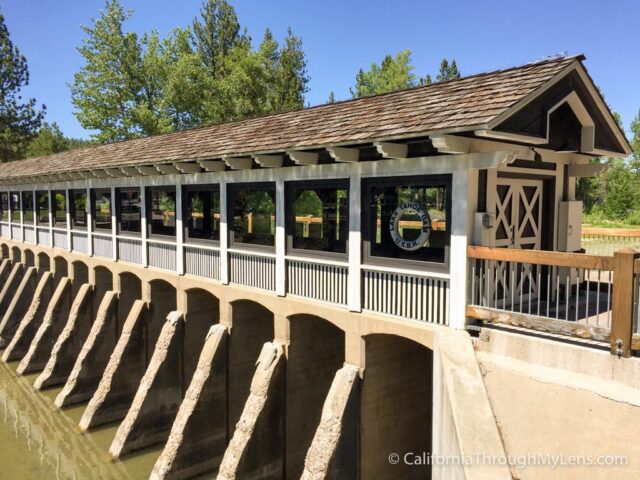 In the town of Tahoe City, this concrete dam was built in the early 1900s and has 17 bays that regulate the water. It is an impressive dam that you can walk around and peek into. Next to it is the Gatekeepers Museum, which is a reconstruction of the old gatekeeper's cabin, and it has a bunch of exhibits on Tahoe's history that are worth checking out.
Olympic Valley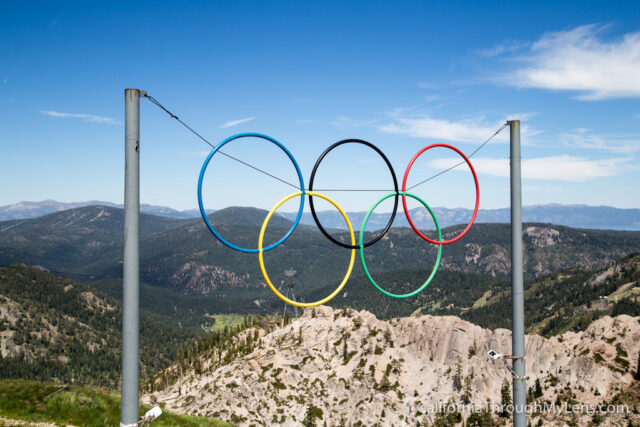 Take a short excursion over to Tahoe's Olympic Valley, which hosted the 1960 Winter Olympics. It is a fun, small town with a large central area featuring shops, hotels, and restaurants. You can also take the gondola up to the top of the mountain where they have a museum dedicated to the Olympics and large Olympic rings. Its a really popular area in the winter but it is fun to check out in the summer as well.
Truckee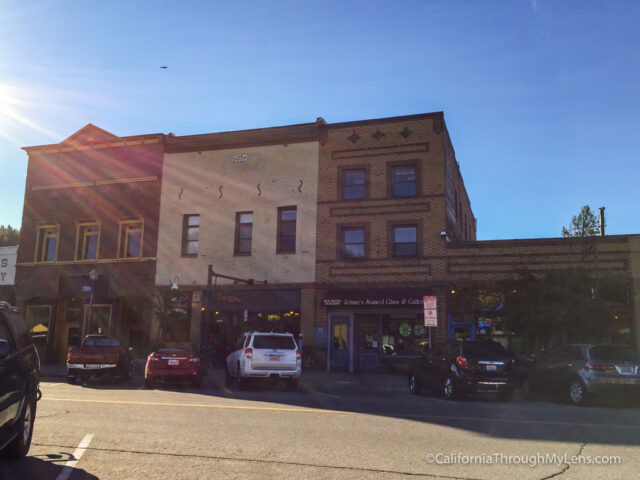 Before heading back to Lake Tahoe, consider going up to the town of Truckee. This small town has a lot of great attractions like the Donner Memorial Park, multiple lakes, the historic Donner Summit Bridge, and the train tunnels. There are a lot of things to explore around Truckee, and the downtown area features some great restaurants as well.
Magic Carpet Golf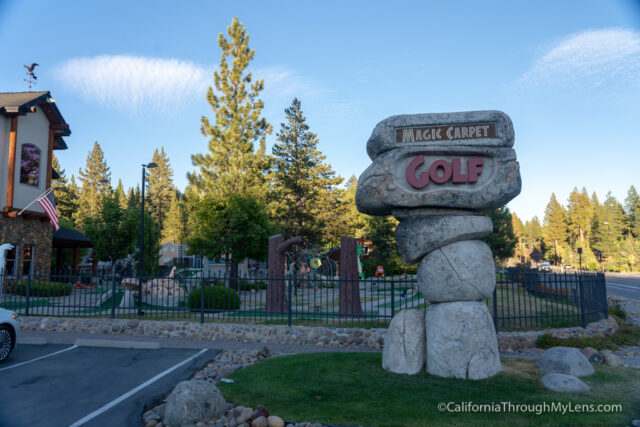 Heading back towards Lake Tahoe, if you are looking for a fun stop for the whole family, check out Magic Carpet Golf. There is one in south and north Lake Tahoe. I love mini golf myself, and this is one of the better ones I have been to with lots of things to interact with while playing.
Speedboat Beach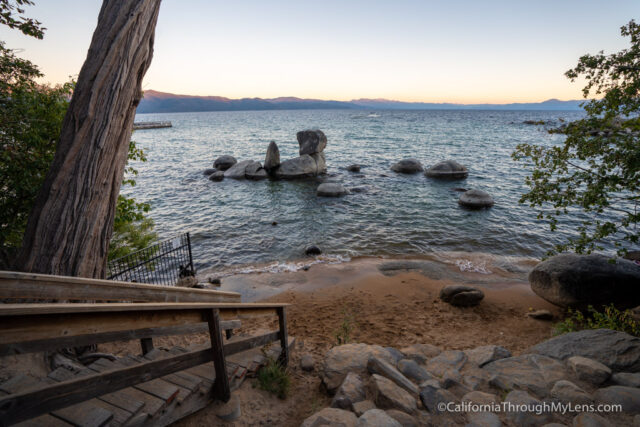 Speedboat Beach is a small neighborhood beach that I would recommend if you are into kayaking. The beach itself is tiny and somewhat hard to get to and park at, so it is not great for a day spent relaxing in the sand. However, there are a lot of unique rocks out in the water, so if you have your own kayak, it can be a beautiful place to explore.
Sand Harbor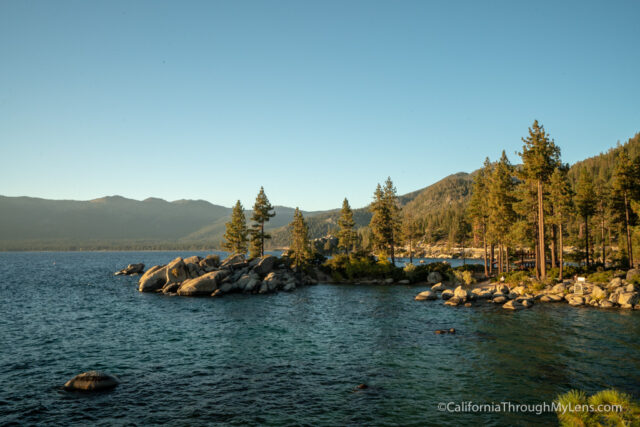 Sand Harbor is my favorite spot in the northern part of Lake Tahoe. This state park, on the Nevada side, is a beautiful place to explore with some excellent short trails, a large sandy beach, and smooth rocks to photograph. It is especially a great spot at sunset when the sun is lighting up the rocks and setting behind the hills across from the lake.
Cave Rock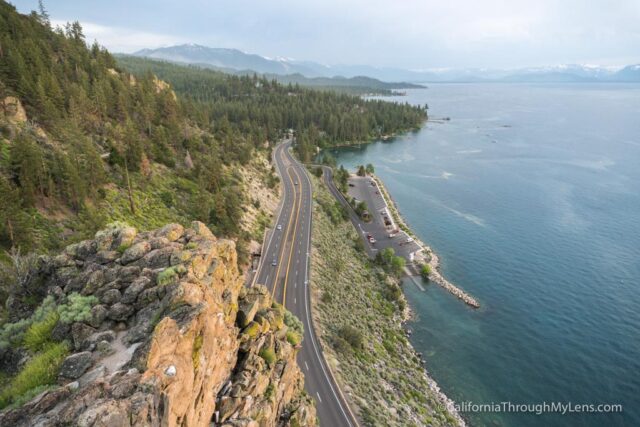 Cave Rock is the massive rock you with the tunnel that you drive through on the east side of the lake. This spot is a great short hike with nice views, but there are only a few parking spots, so you may have to wait for one to open. The area is especially fantastic for sunset as the hike is pretty short, and it has a high vantage point over the water and the road below you.
Heavenly Gondola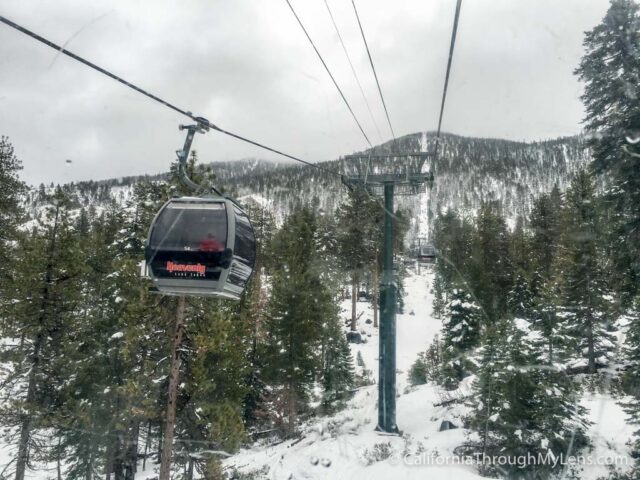 The next stop brings us to South Lake Tahoe. Heavenly is the main ski resort in this part of Tahoe, and during the summer, the gondola runs to the observation deck and activities area at the top of the mountain. It is pretty pricey, but just going to the observation deck provides fantastic views down over Lake Tahoe. At the top of the mountain, there is a lodge with a restaurant and bar and many activities during the summer. My favorite is the alpine slide, as it is a lot of fun to speed down the mountain on a track like this.
Eat in South Lake Tahoe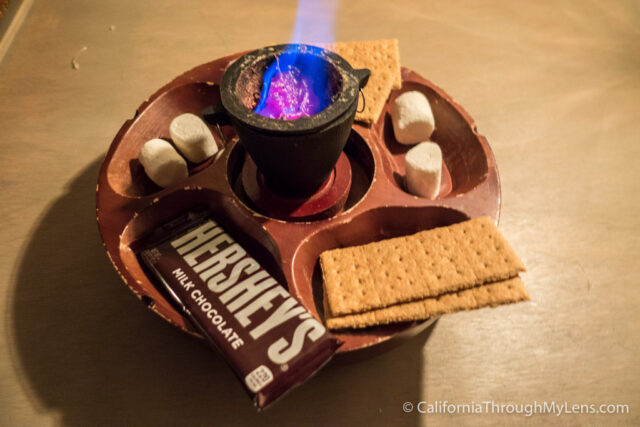 My next recommendation is to have a meal in South Lake Tahoe as there are a bunch of great restaurants. A few of my favorites are Heavenly Donuts at the bottom of the lift, Macduff's for pizza and bread pudding, Freebirds for açaí bowls, and The Loft for their tableside s'mores. There are many other great options though, and let me know what your favorite is in the comments.
Tallac Historic Site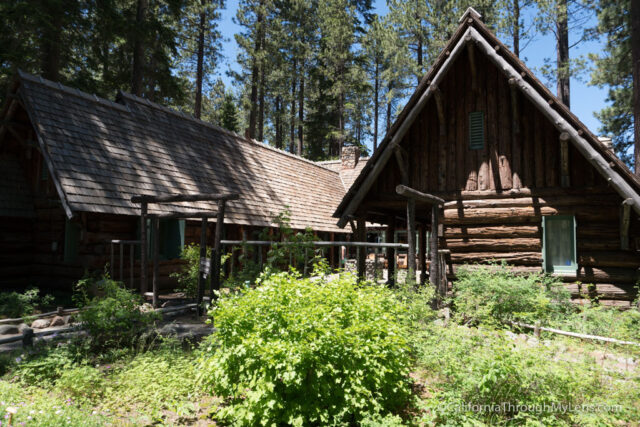 The Tallac Historic site houses the Pope-Baldwin Estates, which are an interesting part of Tahoe's history. There is a museum you can check out with information on the family, a docent lead house tour, a blacksmith shop, and a walkway that takes you past where the hotel and casino were. If you are into history, then it is a good stop.
Glen Alpine Falls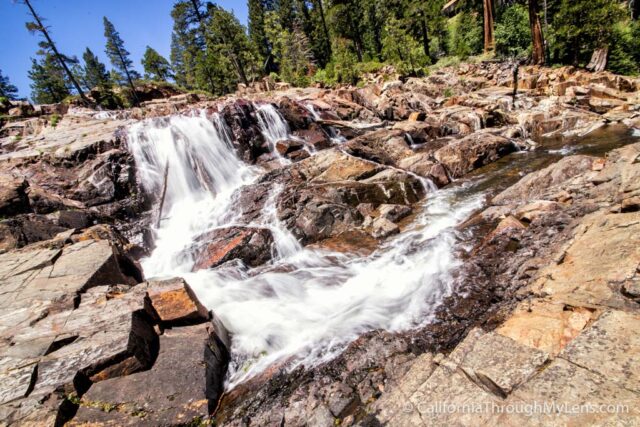 Fallen Leaf Lake is a small community up by one of the large lakes in the area. It is accessed via a one-lane road, so the drive is slow going, but at the south end of the lake, there is an impressive waterfall known as Glen Alpine Falls. I have been many times, and it is always worth the effort, especially in the spring when the falls are flowing.
Cascade Falls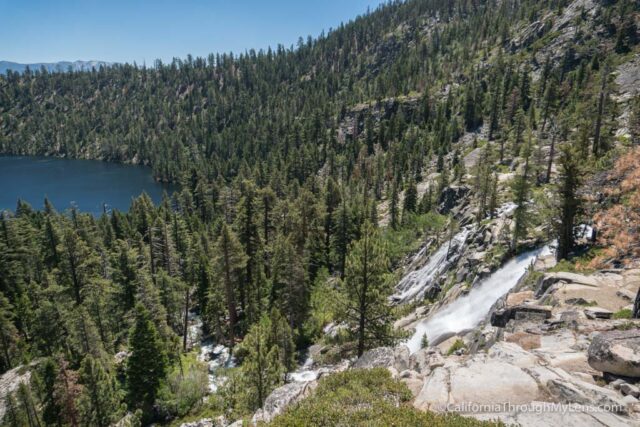 My last recommendation is a hike to Cascade Falls. As you can tell, I like hiking and waterfalls, so I try to find many of them during my travels. This hike is almost back to Emerald Bay, and it is only 1.5 miles round trip. The hike takes you above Cascade Lake and down to the southwest side, where there is a beautiful waterfall. The waterfall itself is great, but the views of the lake are what put this trail above many of the others.
There you have it, my list of 17 spots to see in Lake Tahoe. Let me know what I left off in the comments.