Queen Mary Christmas (Formally Chill) in Long Beach (Closed)
Queen Mary Christmas is the winter wonderland that they create in the shadow of the historic boat each and every year. I have been going since its creation and look forward to seeing what they have in store each Christmas. The highlight was the unique dome that housed all of the ice sculptures (no ice sculptures anymore, the last one was in 2017). Add to that the food, rides and ice tubing and you have the recipe for a great whole family adventure. You can read about each of my yearly visits to this fun attraction below. Update 2023 – This is no longer open and I am not sure if it will come back in the future.
2017 – Ice Adventure Park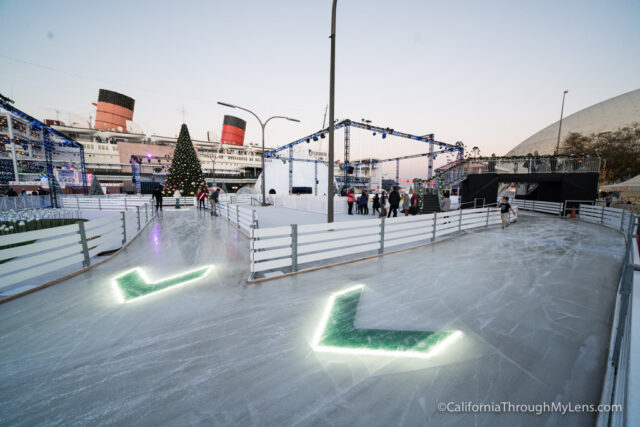 This year they decided to go with an ice adventurer park that was based on one like it in Austria. It has everything from ice tubing, ice biking, ice bumper cars, ice skating and even ice shuffleboard.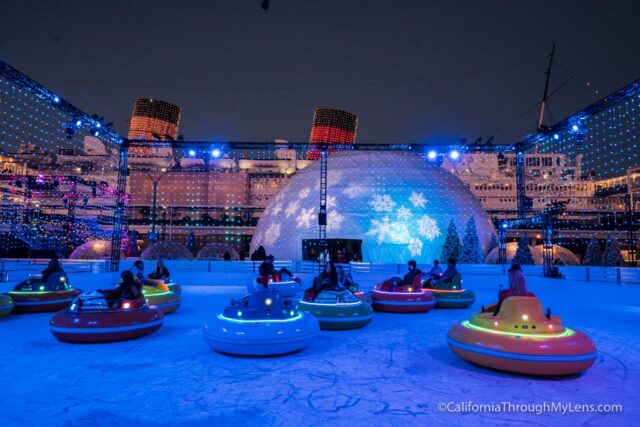 The best part about Chill this year is that they have an awesome ice rink where it is not just the traditional circular rink but it has paths so you can ice skate around most of the Chill area on a more narrow lane. It is a lot of fun to skate on paths like this and it gives you a unique experience at the event.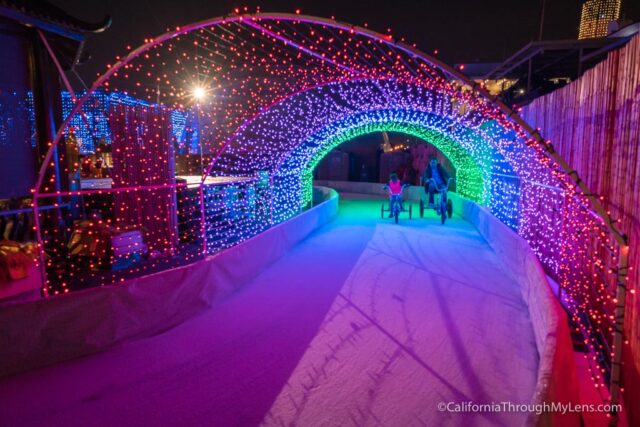 Also, the ice tricycles and the ice bumper cars were fun additions that I had never done before. Here is a video they made of the experience this year to give you more information.
https://www.youtube.com/watch?v=N3OLagJJhYE
2016 – Alice in Wonderland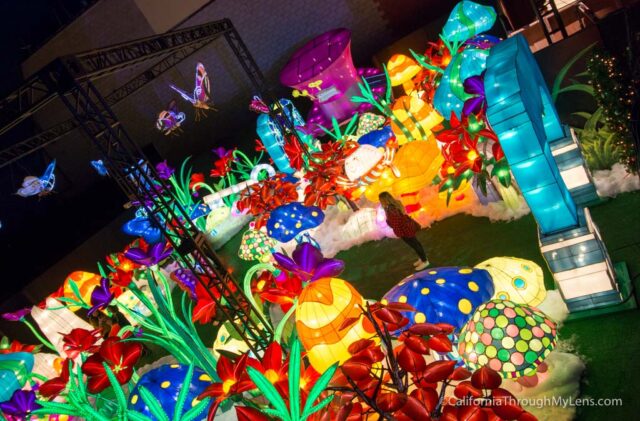 I got a chance to attend Chill at the Queen Mary opening night this year. It has a lot of the things I love, such as ice tubing and ice skating in the shadow of the historic boat. This year they swapped the ice sculptures for an interactive Alice and Wonderland exhibit which you can engage with using the hats with RFID chips. It is fun to walk through and see the screens and lights moving around you. There are actors around the exhibit from the Alice in Wonderland story, which I am sure would be fun for kids. I will say that I missed the ice sculptures though as it was just a really unique way to spend a cold Christmas night. Here is a video we made from the exhibit, which will let you see if it is a good fit for your family.
Update 2015 – Chill officially opened November 21st and I was able to attend opening night to see what new attractions and ice sculptures they had in store for this year. This year was one of my favorites as it seemed like they upped the ante on both the ice sculptures and all of the activities that surround it. Here is a little information on this fun Christmas attraction and you can see information on previous years below.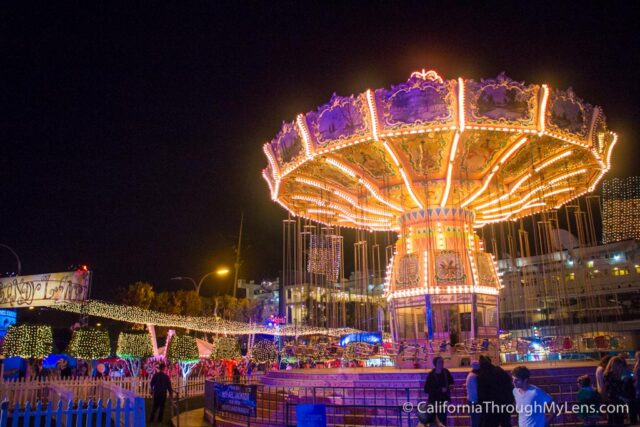 This year the Queen Mary brought in a massive swing ride that sits right in the middle of the main courtyard area. It was really pretty to see the lights from the ride and the lights from the Queen Mary itself behind it. They also have a fun paintball attraction where you can shoot paintballs at yetis to protect Santa's candy.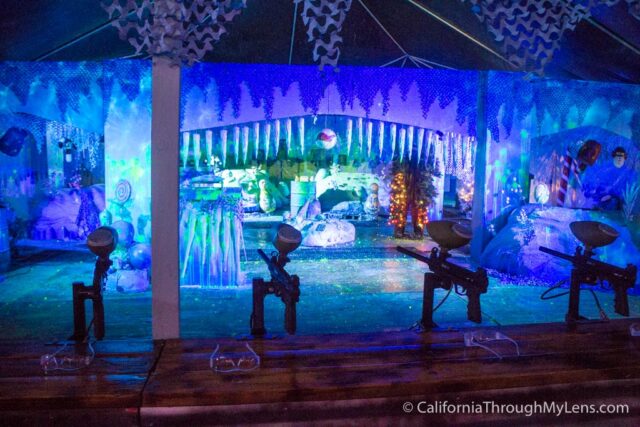 The ice kingdom this year is completely themed around the famous Charles Dickens classic "A Christmas Carol."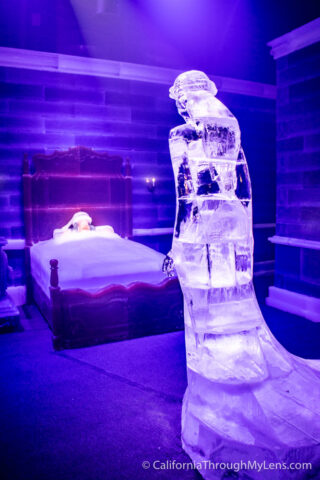 90% of the ice sculptures that greet you are inspired by that story and they really are amazing this year, complete with ice brick walls as well.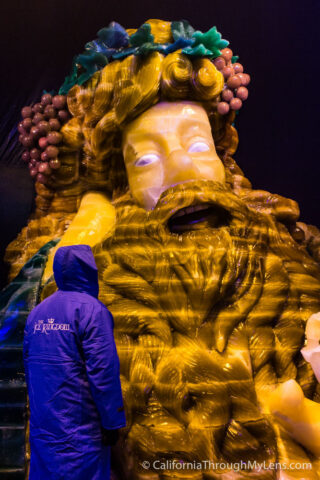 I was really impressed by the level of detail these sculptures displayed. It is always good, but I thought this year was one of the most impressive for sure.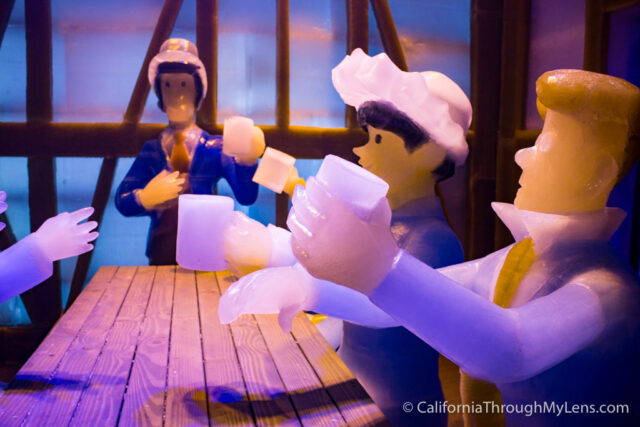 Of course, they still have crowd favorites like the ice slide which I love doing every year.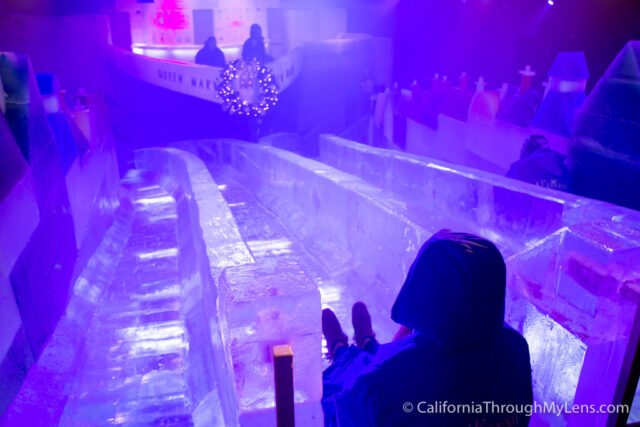 This is my fourth year going to Chill and for me, attending this is one of the things that starts to put me in the Christmas spirit each year. If you want to see what the previous years looked like then be sure to keep reading below.
Update 2013 – I got a chance to check out the 2013 version of Chill this past weekend and it was just as fun as the year before! They have the worlds largest rocking horse, ice skating, tubing and a massive snowman bounce house to go with the exhibit itself. Here is a video I made on my time there.
2012 Update
All of the below information is for the 2012 version of Chill, but should give you a good understanding of how it is.
From the first time I heard about this unique exhibit a couple of weeks ago, I knew I had to check it out. I mean how often do you get to walk through an area made completely of ice in the warm winter of Southern California. The new exhibit, called Chill, provides an amazing escape for all members of the family by transferring the Queen Mary's dome into a winter wonderland that needs to be experienced. Here is a little information on the Ice Kingdom.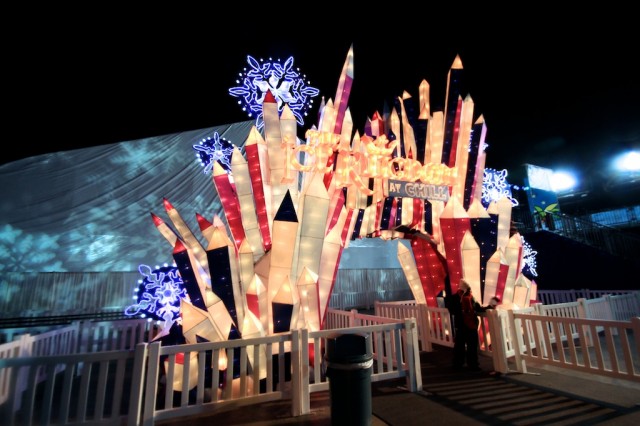 Holiday-inspired scenes, made from more than two million pounds of sparkling ice, fill a 13,000 square-foot igloo to bring a winter wonderland to Southern California. Featuring a walk-through Fairytale Castle, Ice Cave, Santa's Toyland, Nativity Scene and 24-foot-tall Queen Mary Ship and Slide, these exhibits are sure to mesmerize guests of all ages. Each exhibit is handmade and meticulously created by an international team of expert ice sculptors and enhanced with stunning lights and colors to create a visually enticing
experience unlike no other. Here is a top down view of the area.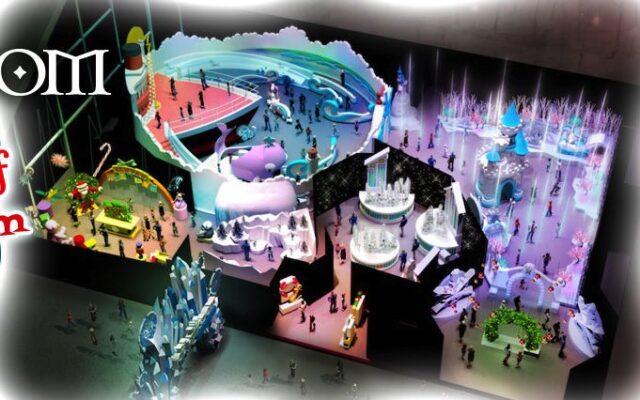 When I got to the entryway for the dome I was greeted by the vastness of the area that housed the ice kingdom. It was larger than I imagined it being, and there were even a series of walkways to prepare for the inevitable lines an event like this is sure to bring. Luckily I was there in the morning and the wait was less then 5 minutes.
When we turned the corner to the entrance I saw the parka counter and I asked what the weather was in the dome currently. She informed me it was a cool 7 degrees and I immediately wrapped the parka around me to protect my camera and body from the cold.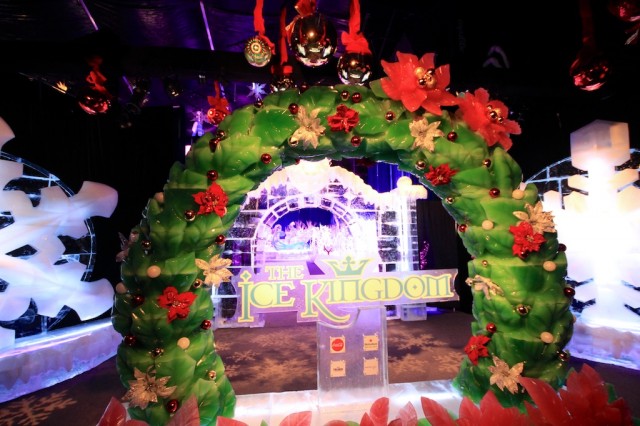 As soon as you walk in you are greeted by the uniqueness of this exhibit. There is the Ice Kingdom wreath in front of you, 6-foot ice flowers to either side and in the distance is the ice castle that you can walk completely through.
From there you proceed into an ice replica of the Queen Mary ship floating on ice waves with an ice whale. The ice whale also doubles as a slide for young children, while the deck of the Ice Queen Mary is a slide for older kids and adults.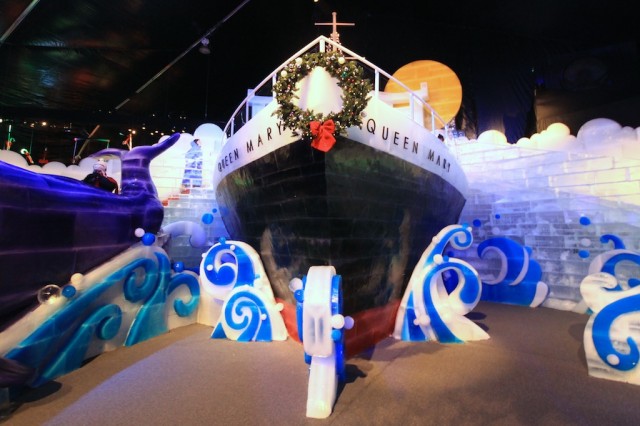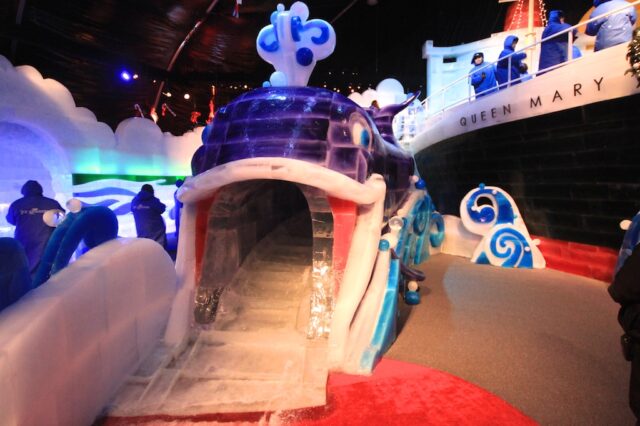 The parka keeps your clothes from getting wet so the slide is definitely a fun thing to do. While it is short, there are two lanes so you can race.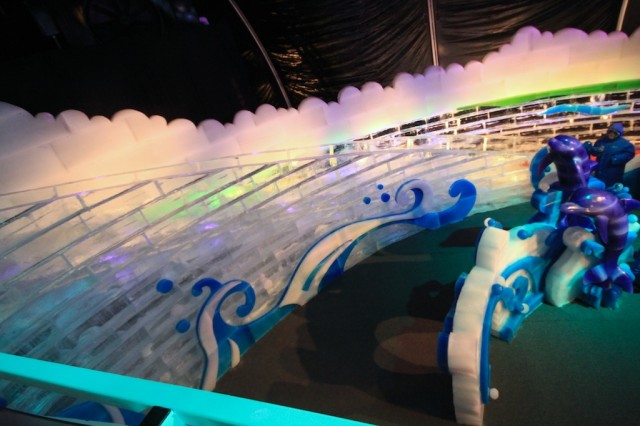 The next area is Santa's toy land with elves working, nutcrackers and many different ice animals.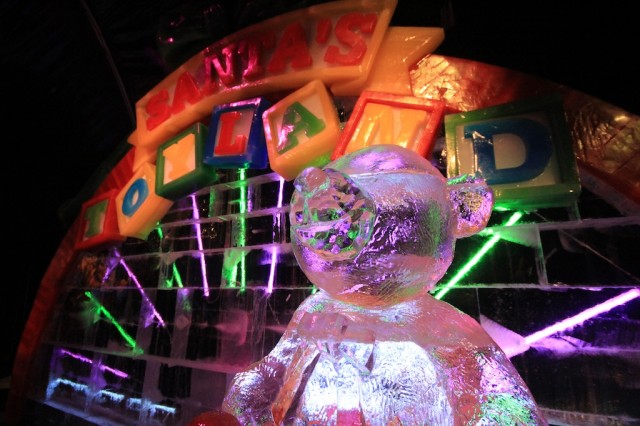 My favorite by far was the panda.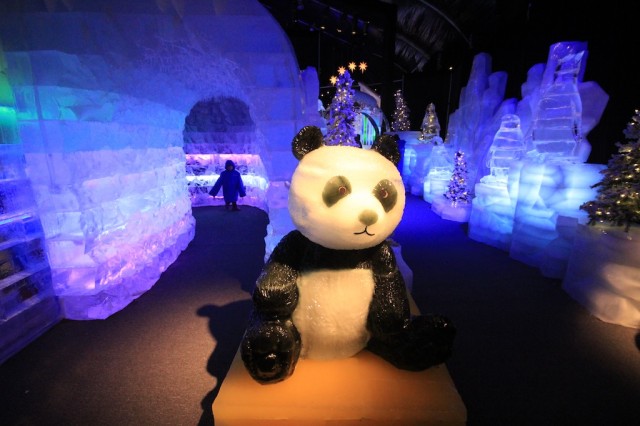 Most of what you have seen so far has been colored ice, but when you move onto the next area you will see a penguin scene where all of the penguins are made from a clear ice. I really liked this as it made the ice look more real and the level of detail was stunning.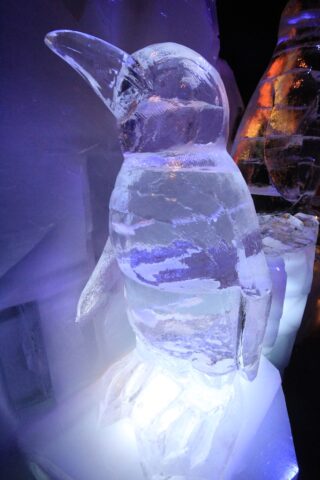 The last area of the exhibit is the nativity scene of baby Jesus. This area was truly amazing as it was meticulously created to have the baby in the manager with the wise men visiting and even a couple of camels and donkeys there as well. It was really beautiful, look at the mane on the donkey, how you do that with ice and make it stay is beyond me.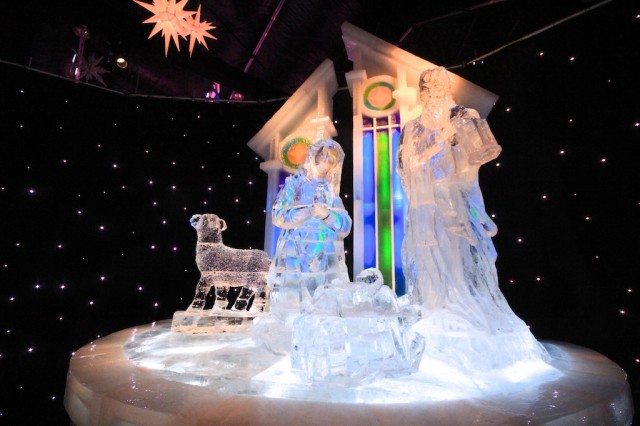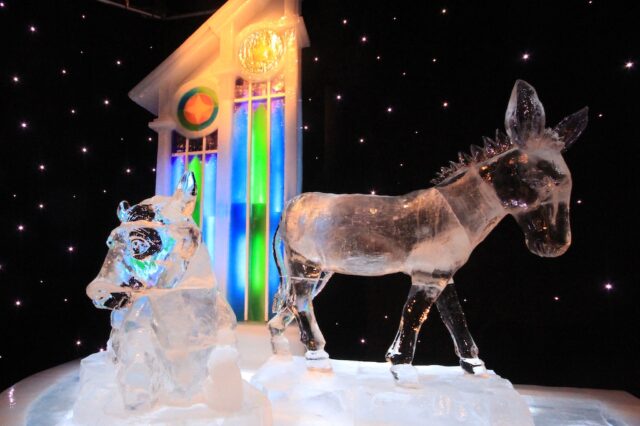 After that you can proceed to the exit to leave the ice kingdom. It is crazy the difference in weather when you walk out. It feels as if you have walked into a heater and my camera was fogged over for 5 minutes after leaving the dome. Make sure you keep your camera warm while in the exhibit as many cameras will have trouble in temperatures this cold. I just kept mine in the parka until I wanted to take a picture.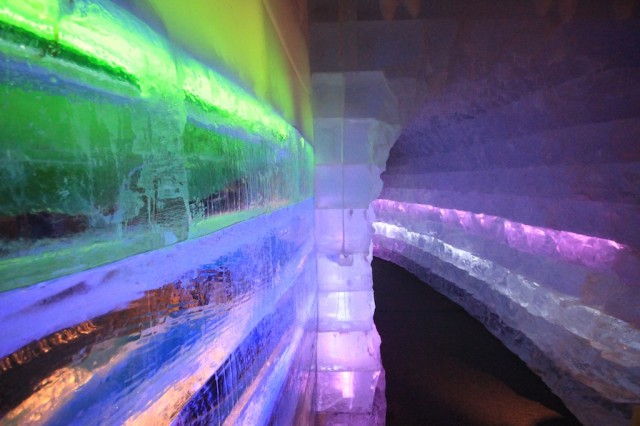 At 24 dollars for an entry, this event can be a little expensive for a big family. That being said, I have lived in California almost all my life and have never seen a display of ice sculptures like what they had at Chill. I even had a couple of friends with me and they all agreed that is was a really amazing exhibit. I would recommend it as a fun family outing for Christmas time.
If you have been let me know in the comments.