The Sandwich Spot: The Best Place for Cheap Lunch in Palm Springs
If you are looking for a good place for a cheap lunch in Palm Springs, then look no further than the Sandwich Spot. This small restaurant has a big menu and a lot of charm, including suckers you can take when you leave, sun brewed ice tea, and a couch you can sit on while you wait for your food. Add to that the fact that they make fantastic sandwiches, and this is an easy recommendation for lunch in Palm Springs. Here is all the information.
Details
Cost: ~$11 for a sandwich, chips, and drink
Hours: 11 AM – 6 PM
Location: 240 N Palm Canyon Dr. Palm Springs, CA 92262
Information from my visit in 2015 and 2018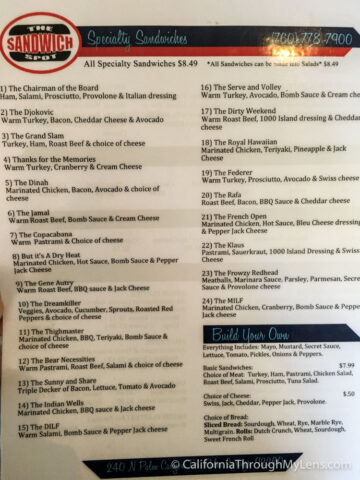 The restaurant is located a little off Palm Canyon Drive, the main street in Palm Springs, right next to a parking lot with all-day parking. If you come around lunchtime, it is always packed, but it is worth the wait. If there is not a table available, you can always take it to-go and sit on a bench on Palm Canyon Drive as well.
The Food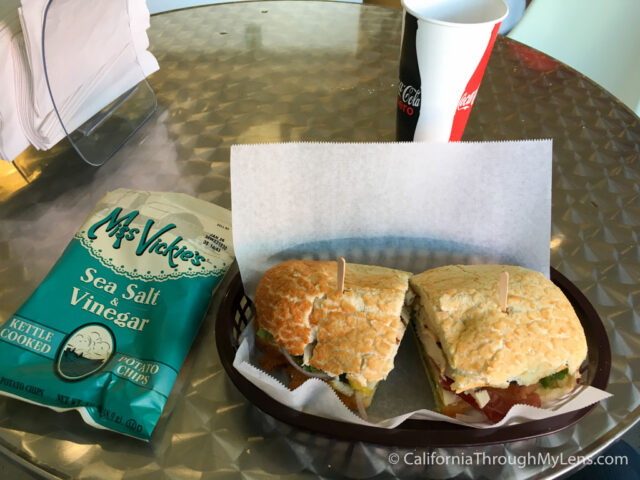 I asked for a recommendation and was told the "Dinah" was the most popular, so I went with that. My wife went with the "Dreamkiller," which was a vegetarian option.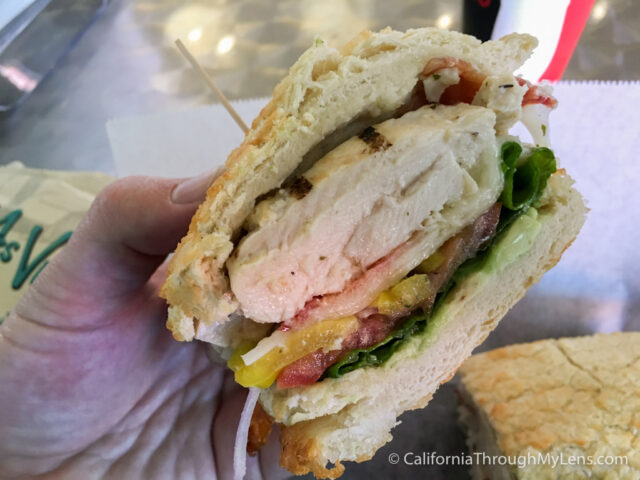 The Dinah – This sandwich had chicken which was marinated perfectly and was nice and juicy. They also have a home-made sauce they aptly called "bomb sauce," and it adds a sweet tang to the sandwich. Add to that the Dutch crunch bread that is home-made and packs a great flavor and crunch, bringing the sandwich to life. I was impressed by how much I liked this sandwich as it didn't look like it would be as good as it was.
The Dreamkiller – My wife was a big fan of this sandwich cause it had a good selection of roasted veggies that went well with the aforementioned bomb sauce. She also got the Dutch crunch bread and agreed with me that it was fantastic.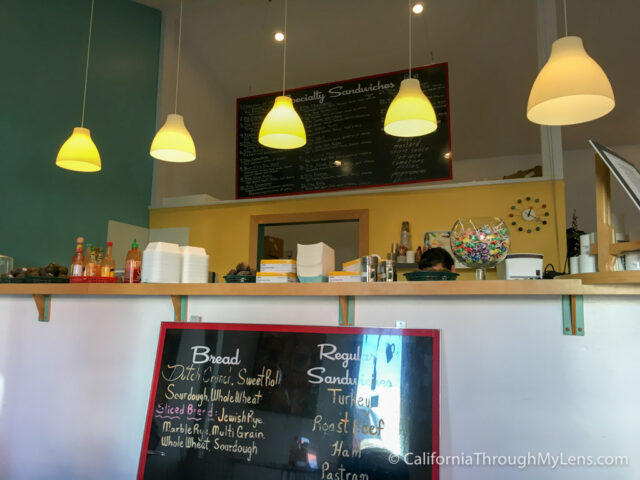 They also have a few different chip options for your meal, and for drinks, they have a sun tea and one of those soda dispensers with the 100 options. All in all, this is a great lunch spot in downtown Palm Springs that I highly recommend. Do yourself a favor and check it out when you are exploring the city. Let me know your favorite sandwich below.