Shields Date Gardens in Indio
For over 80 years, the giant knight outside of Shields Date Gardens has been attracting weary travelers of Highway 111 as they make their way through the desert. Their groves of trees grow many different kinds of dates, and their date shakes are a welcomed treat for any who are a fan of the unique fruit. On a trip through the desert recently I pulled in for a quick taste, here is the review.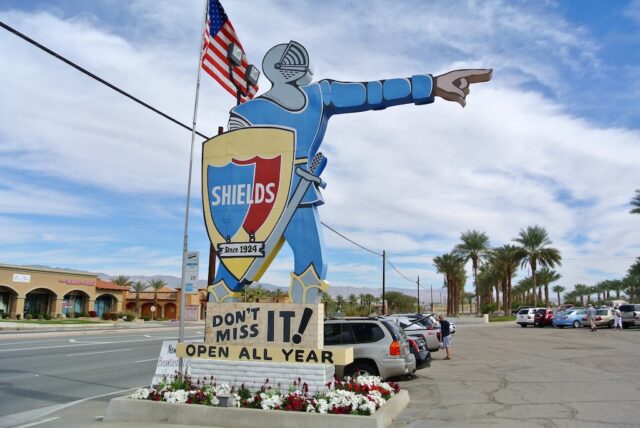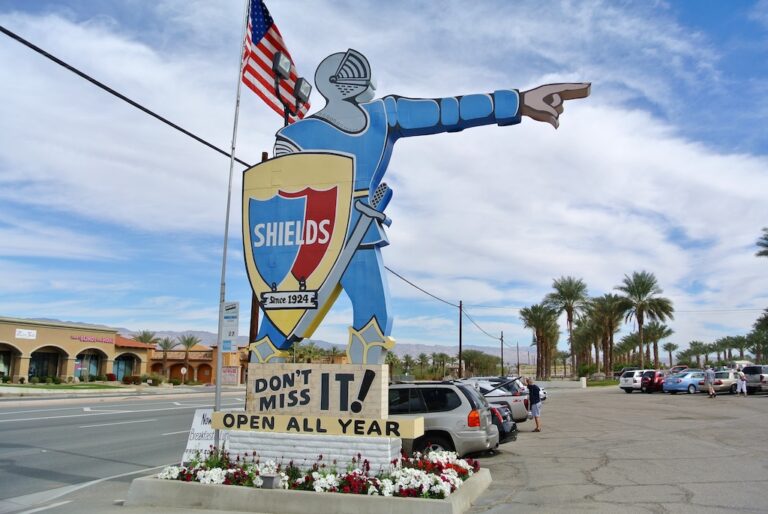 Details
Open 9 am to 5 pm daily

Cafe hours daily 6:30 am to 2:30 pm for breakfast & lunch
The movie plays in the theater all day
This post is from 2014
History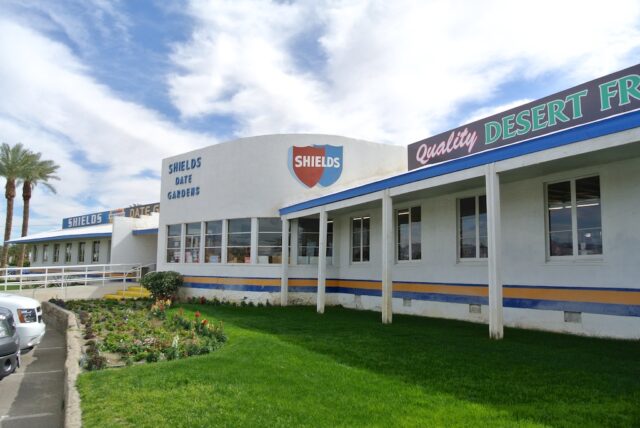 Floyd and Bess Shields came to the California desert in 1924 and started Shields Date Garden, working long and hard to build up their business and educate their customers about date culture. In the beginning, Mr. Shields would give his lecture in the garden. As the popularity of his lecture grew, Mr. Shields incorporated a slide show, then recorded his presentation in conjunction with the slide show so that the show could be run several times a day. Today, the 15-minute film Romance and Sex Life of the Date shows continuously during store hours, where you can still hear Mr. Shields talking about his favorite subject: the Date. 
Floyd was a pioneer in the date business, breeding his own varieties of dates, such as our famous "Blonde" and "Brunette" dates, that are exclusive to Shields Date Garden and grown nowhere else in the entire world. He also invented the Date Crystal, a blend of dates turned into a dry product that can be used in cooking, on cold cereals, and in everyone's favorite: date shakes. Date Crystals do not need refrigeration, and when kept in a moisture-proof container will last for many years— without preservatives.
The Store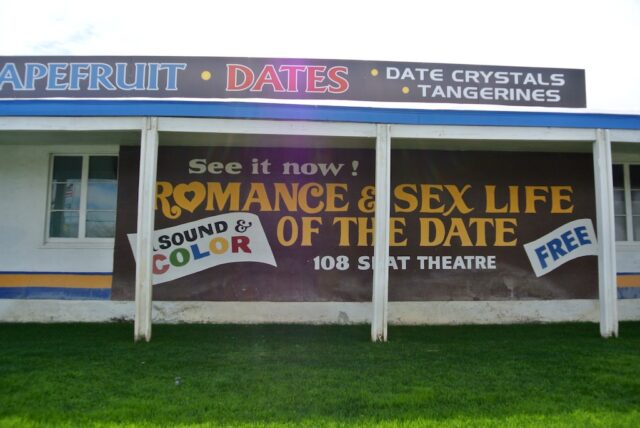 The store is filled with all of the food you would expect at a stop like this. It has everything from the dates mentioned above to candies, syrups, and drinks.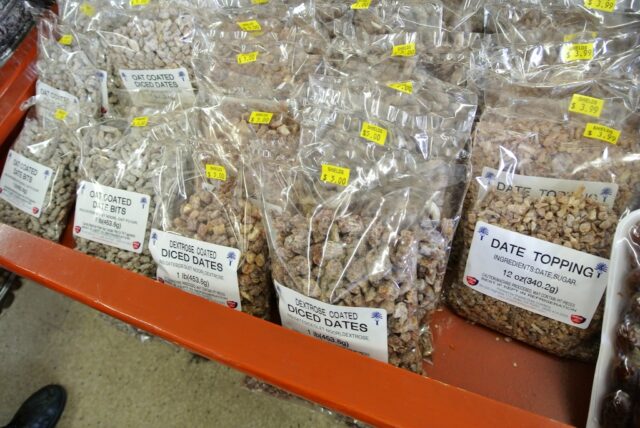 If you are not as familiar with dates, there is also a large sample section where you can try the different types, and even some of the date inspired loaves of bread and treats.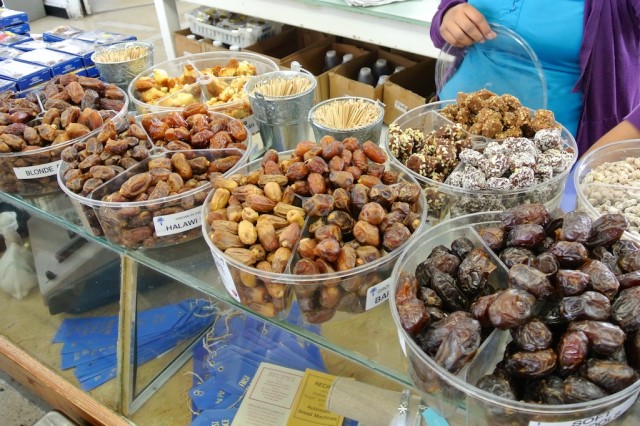 I was not too familiar with dates beforehand, but I enjoyed trying new ones and found out that the blonde was my favorite. Dates really are a weird little fruit; however, after sampling a plethora of them, I ended up liking more then I disliked. They do some unique stuff with the dates as well, such as cover them in sugar, bake them into bread, etc.
The Ice Cream Bar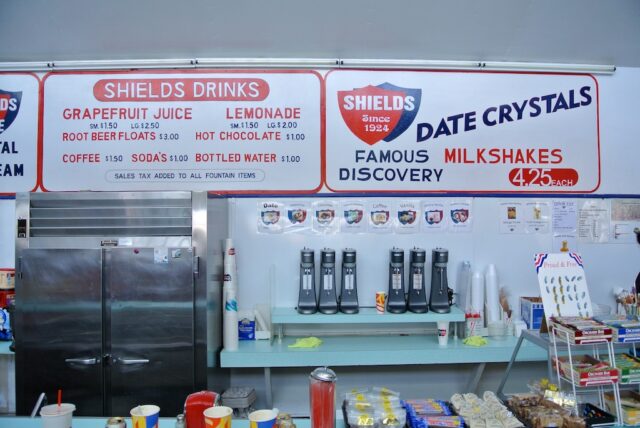 The ice cream bar at Shields has only a couple of different choices you can make. There are single scoops of date ice cream with the date crystals created here, or you can go for the date shake, which comes in only one size and costs $4.25 (as of 2014). I decided I couldn't stop here without trying it, so I grabbed one. I would say this was better than I anticipated it being; the taste of the dates is a little strange, but overall, I enjoyed it. It had a pretty unique flavor, and it is worth a try if you have never experienced it before.
The Theater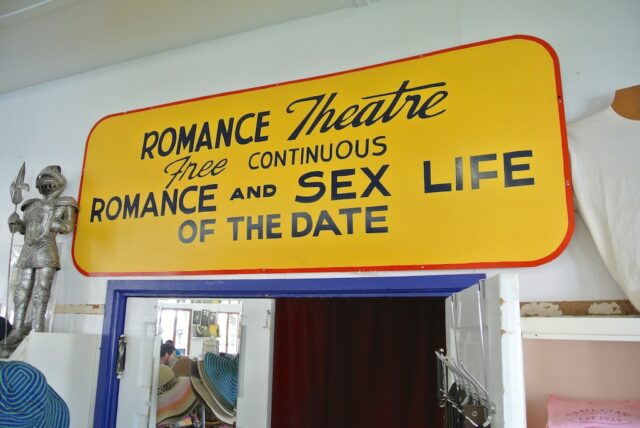 If you have heard of this place, then I am sure you have heard of the theater, which shows the reproductive life of dates movie. It sounds much crazy then it is. The movie, made in the 90s, is just about the history of the area and about how hard it is to grow the dates and to actually get them to grow correctly. I found it an interesting stop while enjoying my shake but did not make it through the whole movie.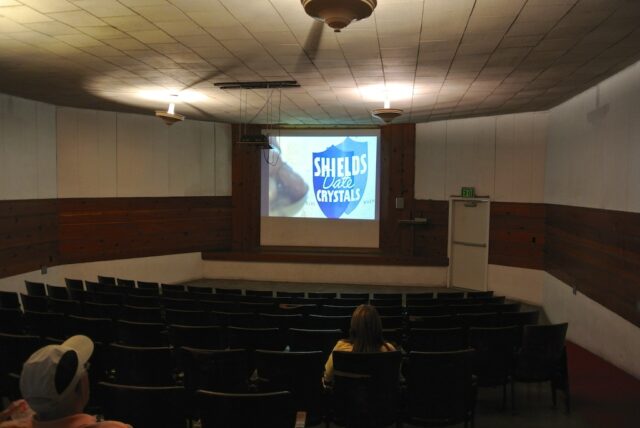 Cafe and Walk
I didn't get a chance to eat at the cafe, but a couple of the people I talked to said it was good. There is also an optional walk through all of the trees, but it cost 5 dollars, so I did not go on that either. One of the exciting things about the trees is that they mount the ladders to them, so when you are in the cafe, you will see all of these trees with ladders stuck to them for easy access to the dates.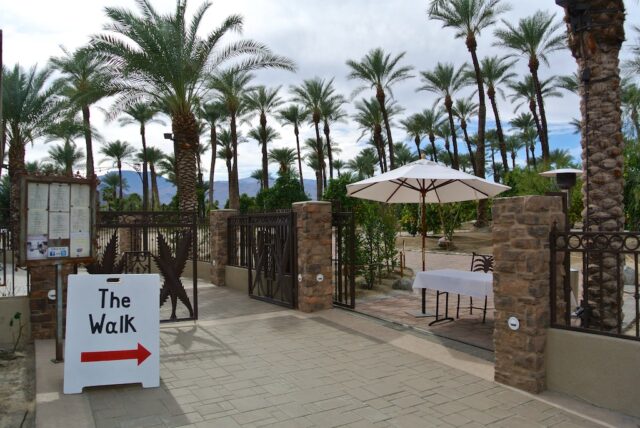 All in all, this is an excellent stop on Highway 111, and I would recommend it. It has a lot of things to experience and see, and even if you are just looking for a bathroom, it's worth stopping in. Let me know if you have been in the comments and let me know what you thought of the date shake as I would love a second opinion.