Old Place Restaurant: Amazing Steak & Cinnamon Rolls in Agoura Hills
I love breakfast food, and I could eat it for every meal of the day. From donuts to cereal to eggs and bacon, it is all good. So when I get a tip that there is a good breakfast place, I have to check it out. Even if the place mentioned above is hidden in the hills above Malibu, far away from my usual stomping grounds. I decided to make a day out of it and went to Old Place, Peter Strauss across the street, the hindu temple and Leo Carrillo, but I digress, this is a review of Old Place in Malibu. Update – Since the original post, I went back for dinner too, see that review at the end.
Details
Cost: $10-15 a person
Hours: Closed Monday – Wednesday, Thurs – Fri: 5-11PM, Sat- Sun: 9AM – 4PM, 5PM-11PM
Very small, expect to wait for a bar seat or call in advance to book one of the three booths they have.
I wrote this in 2016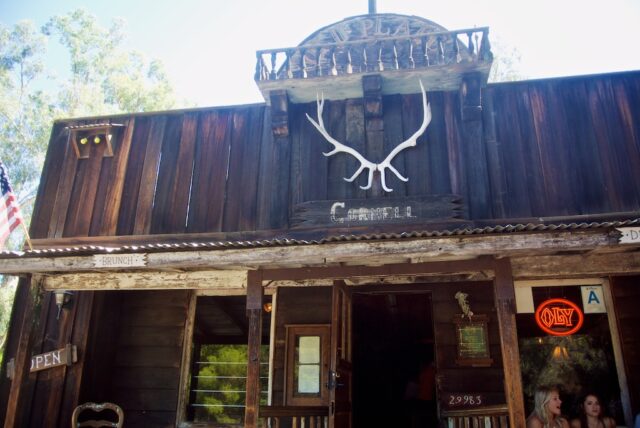 I can't stress this enough, if you want to eat here, you should call ahead. This place is small and popular, which is a sign it is good, but also a sign that you can't show up and expect to get in.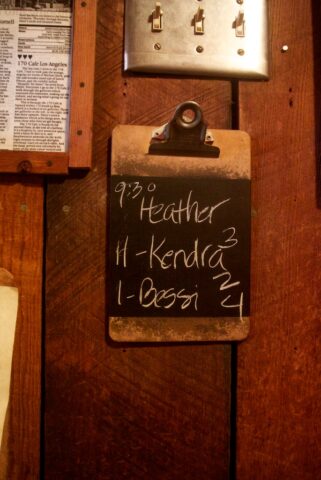 We called ahead and got a small table in the back but still had to wait about 30 minutes before we were seated.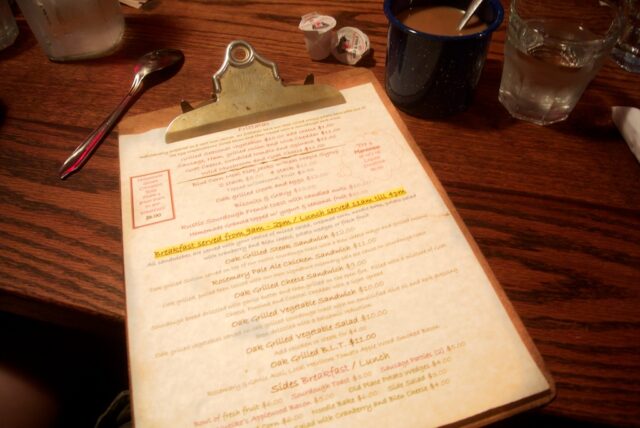 The interior of the restaurant adds to the charm as it feels like it is full of history, a spot that you don't want to tell others about as it will somehow take away from its charm. I have heard all sorts of stories about Hollywood's elite coming here back in the '60s-'70s and while I don't know if any of it is true, if the walls could talk, I am sure they would have a lot to say.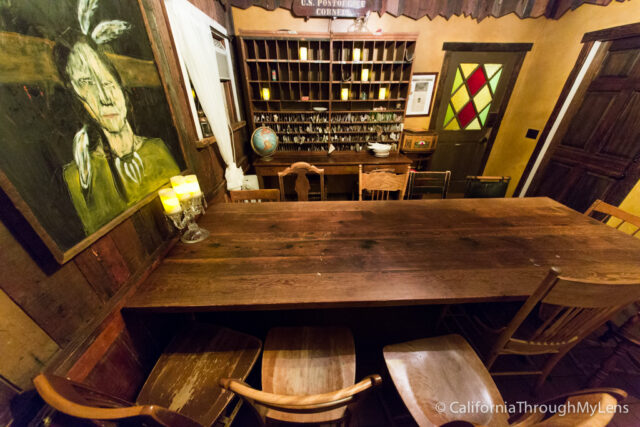 Pro tip – If you have a big party, call ahead and book the mailroom (above photo). It is a fun little room in the back that was the actual post office for the town back in the early days of the area and still retains a ton of that charm.
The Food – Breakfast
We sat down to look over the menu, but I knew what I was getting before I even saw it. I had been told they made cinnamon rolls on a skillet, and I couldn't think of anything else.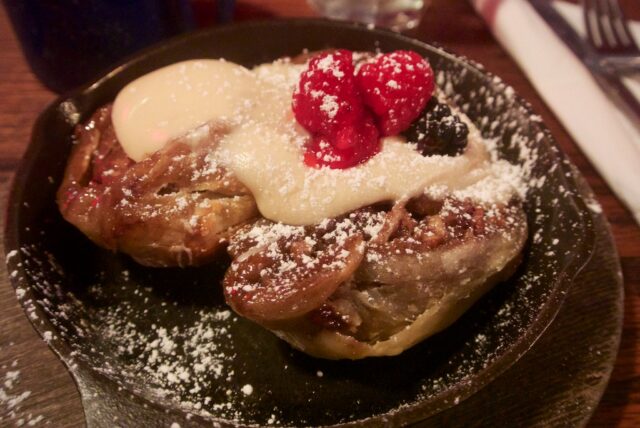 While waiting for the food, we got to take in the awesome decor in the back of the restaurant with their eclectic wall full of old snowshoes and tools. I loved this place more as I sat there.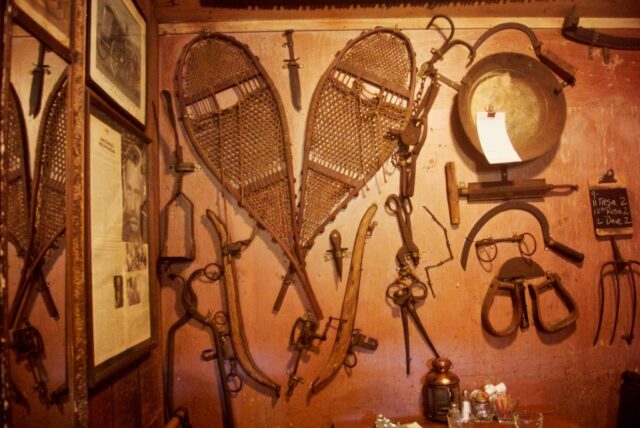 When the food finally arrived, my mind had to do a double-take with the awesomeness that was the skillet of cinnamon rolls sitting right in front of me, topped with mixed fruit.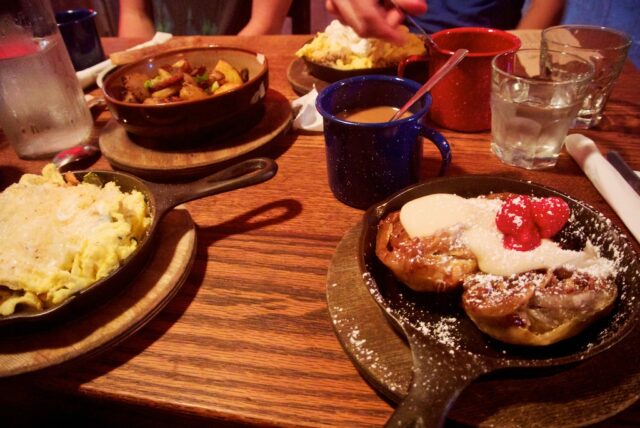 I am happy to say that it was as good, if not better than I expected. There was so much to love in this meal, be it the perfect crispness of the sugary icing or the way the flavors of the fruit and bread got to know it other on my plate. I was in foodie heaven.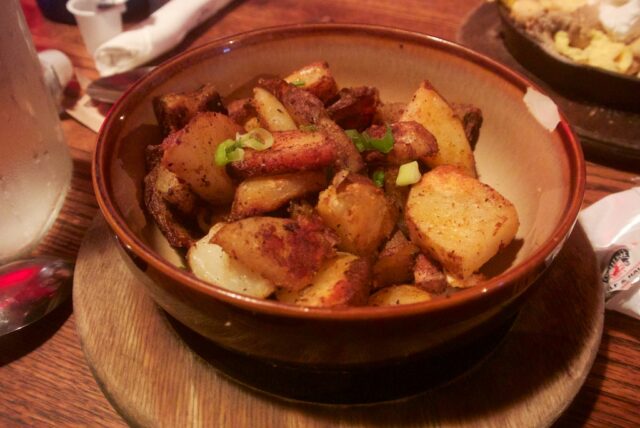 Others at my table ordered everything from the blue cornmeal flapjacks to the grilled vegetable frittatas, and the overall consensus was that this place was excellent. We took it all in as we destroyed our food and coffee like we had never eaten before, and when it was over, I was sad to leave. It was like an old part of the world I had transported to, one where 15 people could sit at the same bar for breakfast and where reservations were posted on the wall on pieces of paper.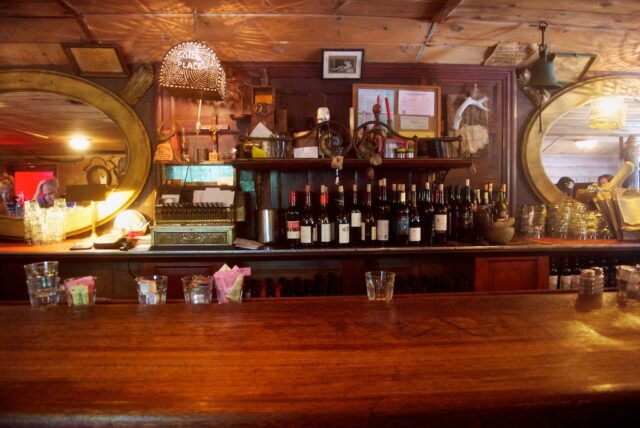 The Food – Dinner
Dinner at the old place rivals breakfast, and honestly, it might even be better. There are only 8-10 different things on the menu, but when my party of 8 went, everyone was utterly impressed with their meals.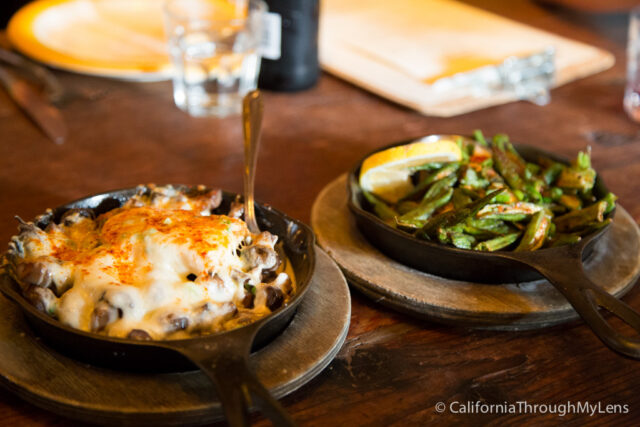 For appetizers, we went with the mushrooms, okra, and the mac and cheese. I would easily say the mushrooms were my favorite as they were cooked in a skillet and doused with cheese.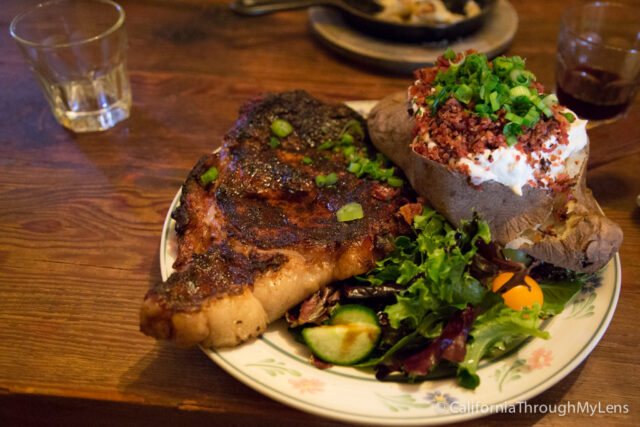 For dinner, I had to go with the Rib Eye. I am a huge fan of steaks and had heard that the one here was a force to be reckoned with. I am happy to report that it was flawless. Honestly, I only ate a few bites of the potato and almost none of the salad because I couldn't stop eating the steak. It was one of the best I have ever had.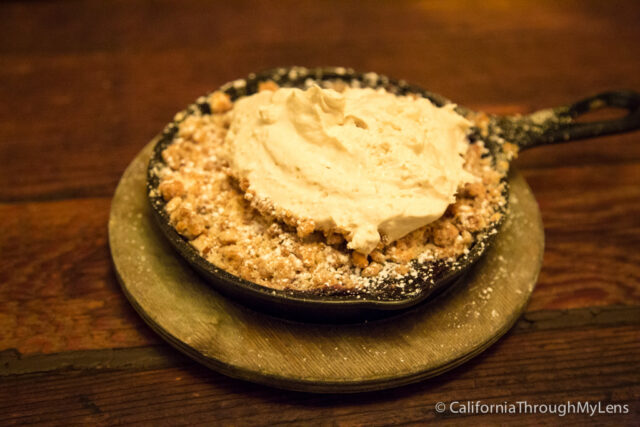 Lastly, my table decided to share one of their cobblers, also prepared in a cast-iron skillet. We were all so full, but the 8 of us figured we could each have a bite. It was a fantastic choice as the homemade cream and the cobbler was a perfect exclamation point on the night.
As I walked out the door I was greeted by a peacock that was wandering the parking lot, and I thought to myself, I probably won't have an experience like this again for a while.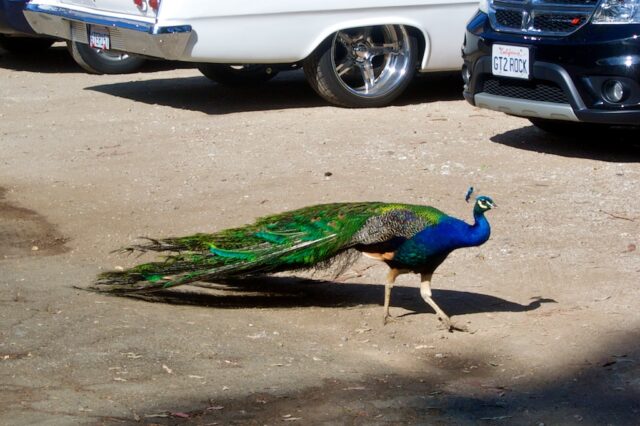 Old Place is a fantastic spot, one that I could not recommend more. It can be a little pricey for dinner, but every time I have been, it has been entirely worth it. Just remember to call ahead, so you don't have to wait. That being said, if you do have to wait, you can pop into Cornell's Wine Room next door, which is a beautiful place for a wine tasting, as you can see from the below photo.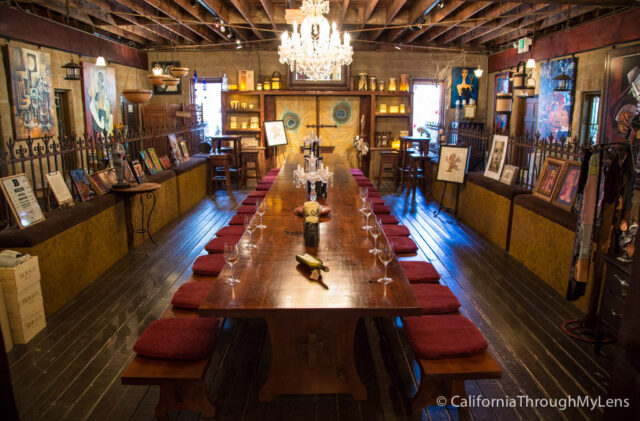 Let me know what you think of this restaurant in the comments.
Get Directions