Homewood Suites Conejo Valley Hotel Review
If you are looking for a good jumping-off point in the Conejo Valley area of Agoura Hills and Thousand Oaks, then the Homewood Suites is a great spot to consider. These rooms are massive and make you feel at home with full kitchens, a couch, and even a desk. I could have stayed for another week when I went, and it is a great way to have a home base while exploring the many impressive attractions in the surrounding area. Here is my full review.
Details
Location: 28901 Canwood Street, Agoura Hills, California
Amenities: Wifi, Continental Breakfast, In-Room Kitchen, Pool / Spa, Fitness Center
Information from my visit in 2016
Getting There
Homewood Suite is located right off the 101 on Kanan Road. It is in the same center as a Trader Joes and Jinky's Restaurant.
The Hotel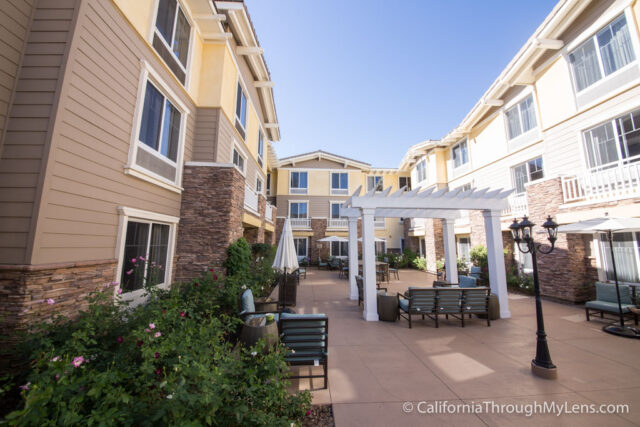 The hotel has lots of parking for guests, and the property itself is quite large with 3-4 buildings that house the rooms. The lobby is big and inviting, with coffee always available and a lot of seating for work or breakfast.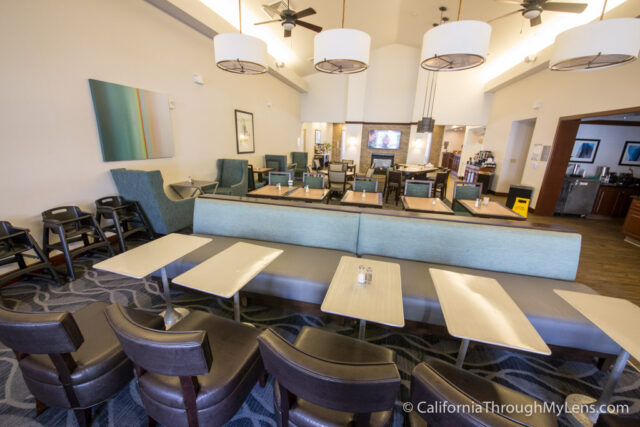 The continental breakfast that was included with the stay was good and had oatmeal, eggs, bacon, fruit, and other choices.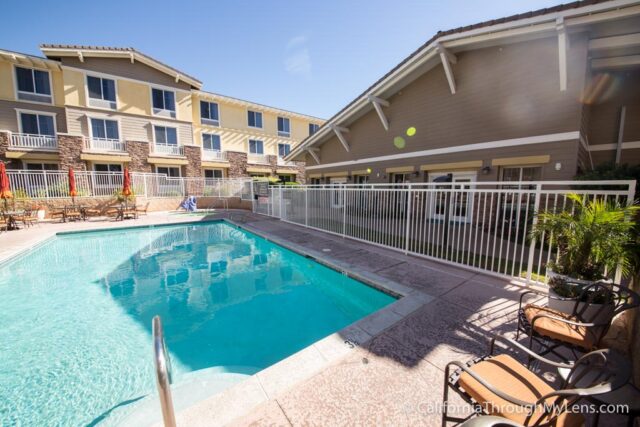 The pool is located out the back of the lobby and is large enough that it never felt too crowded, especially since I was the only one in it when I went in. There is a spa as well.
The Rooms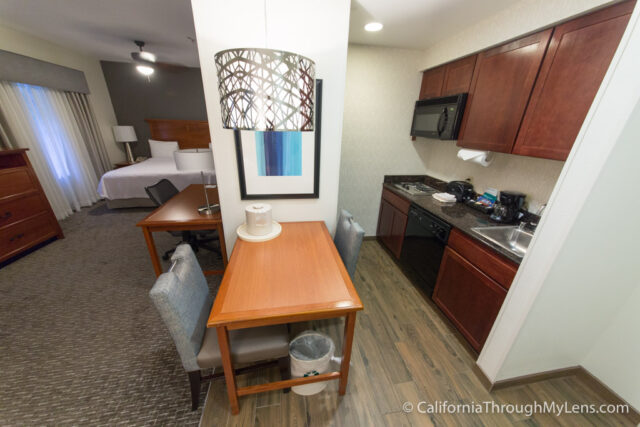 Like I said above, the rooms are massive. The one I stayed in had a King bed, full kitchen with refrigerator, couch, TV, desk, and bathroom.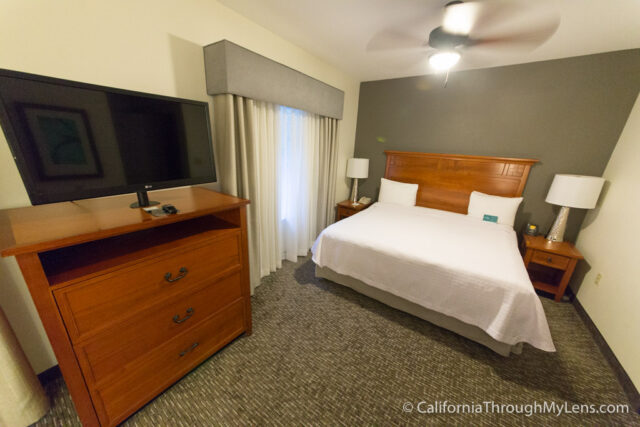 It was a nice addition for a hotel to have a fridge and kitchen so that I could make my lunch and have cold drinks in the room when I came back from hiking.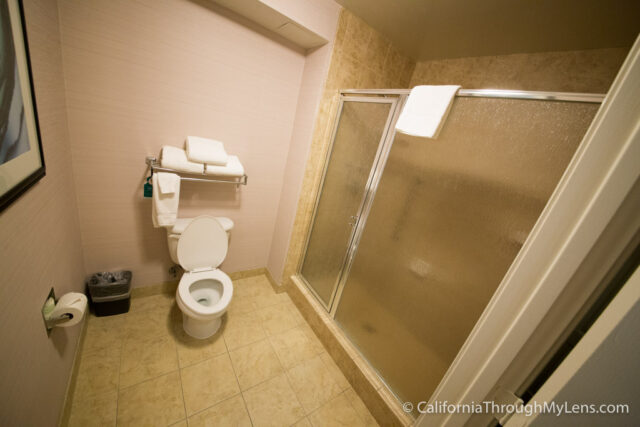 The bathroom was nice as well, with a large stone shower and a separate sink outside the bathroom itself.
Attractions Close By
Of course, you don't want to spend the entire time in the room, so here are some of my favorite spots to see around the area. You can also check out my full guide here.
Ronald Regan Library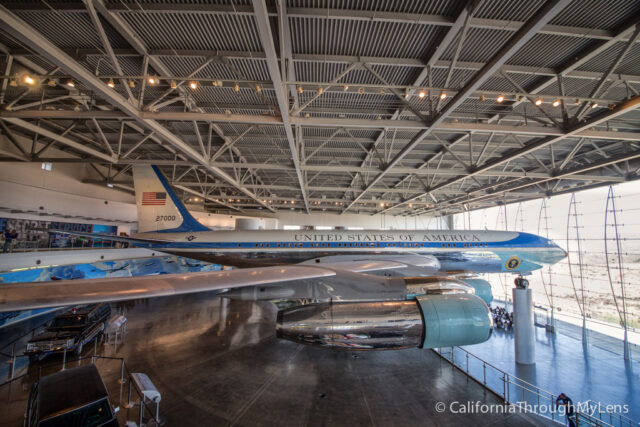 About 20 minutes away from the hotel, the Regan Library is a fantastic place for a half-day adventure. There is so much to see at this museum, from a piece of the Berlin Wall to Air Force One. Read about it here.
Malibu Creek State Park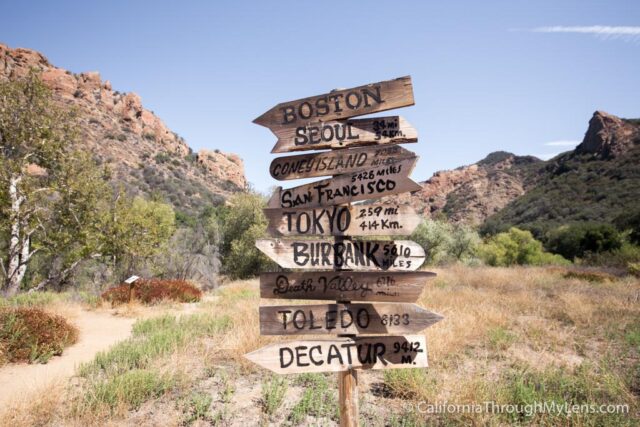 At less than 15 minutes away, this is a great place to hike. I have hiked to the MASH film location here and hiked up the Pluma Creek trail over the mountains to PCH.
Paramount Ranch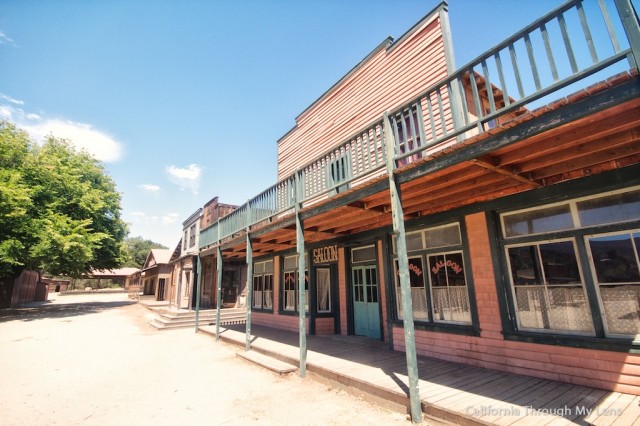 The beautiful and well maintained Paramount Ranch is a great spot to explore film history and even to see some happen right before your eyes, if they are filming when you are there. For added fun, rent an electric bike to ride it over to the ranch. Read more about it here.
All in all, the Homewood Suites is a fantastic hotel for exploring in the Conejo Valley. It has enough amenities to make you feel at home and a location that keeps you off the freeway as much as possible. Let me know your thoughts in the comments.