Thomas Hill Organics: Great Brunch in Paso Robles
The city of Paso Robles, on California's Central Coast, has become one of the most popular wine regions in the entire state. Because of that, there are a plethora of new restaurants that are making some great food in the city. You may recall my time at Hatch and Pasolivo, but during my last trip I had really wanted to try the popular Thomas Hill Organics. This farm to table spot lived up to the hype and was an excellent place for brunch on a busy Sunday morning. Here is all the information.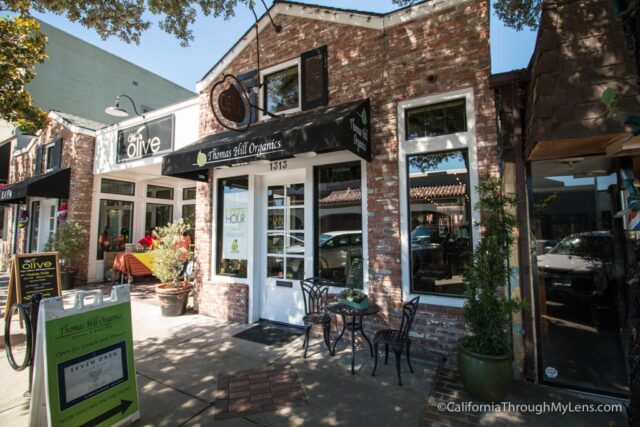 Details
Cost:

$15 -$20 for brunch, more for dinner
Hours: Different daily for lunch and dinner, check their website
Location: 1313 Park St, Paso Robles, CA 93446
This information is from my visit in 2017
Getting There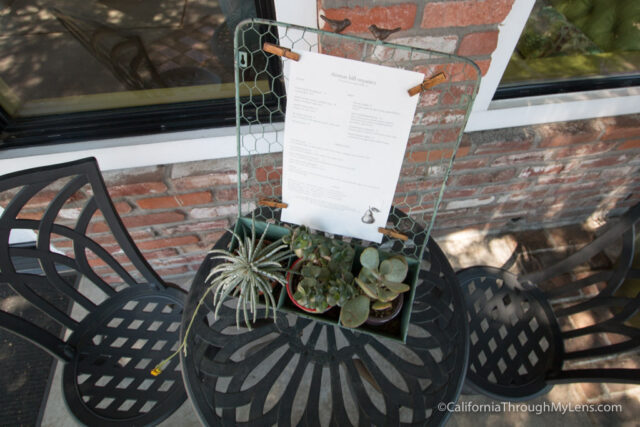 From Highway 101 North, get off on Paso Robles St and head straight. From here, turn left on 13th St then right on Park St. You can find parking along the street and can walk to the restaurant from here.
The Restaurant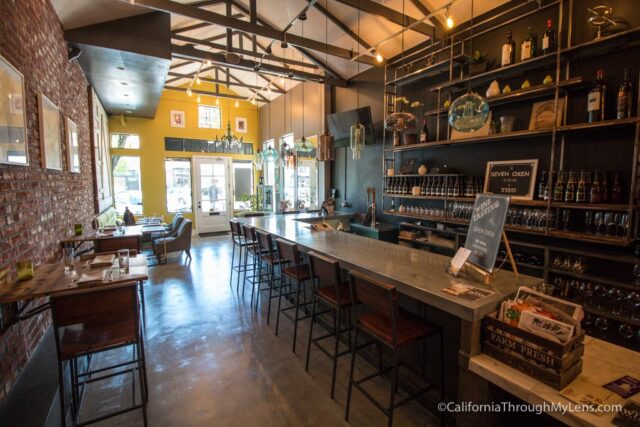 The restaurant is in a quiet little spot on Park St, and while it looks small from the outside, there is a good sized patio in the back.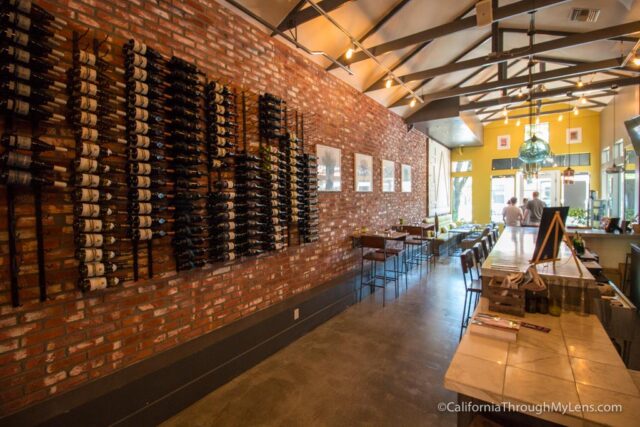 The interior has wine on the walls, a big modern bar, and a few small tables along the inside.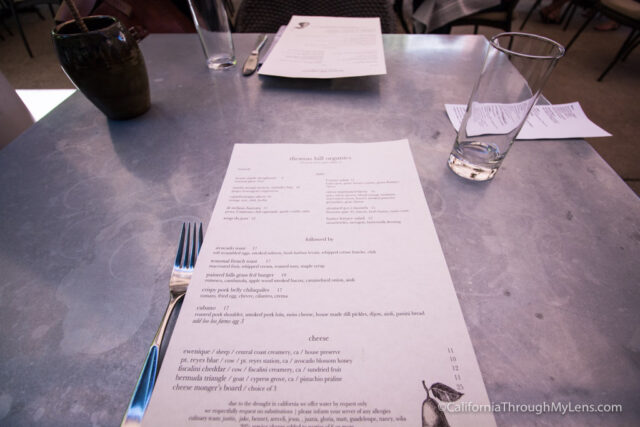 Proceed to the back of the restaurant, and you will see a patio with a dozen tables that can seat many different party sizes. I got a reservation on Sunday morning for brunch because there was a festival in the city, but most weekends, you can get a seat relatively fast, depending on your party size. The menu is all farm to table dishes grown in the area, and while it is pretty small, there are a lot of great options. Here is what we chose.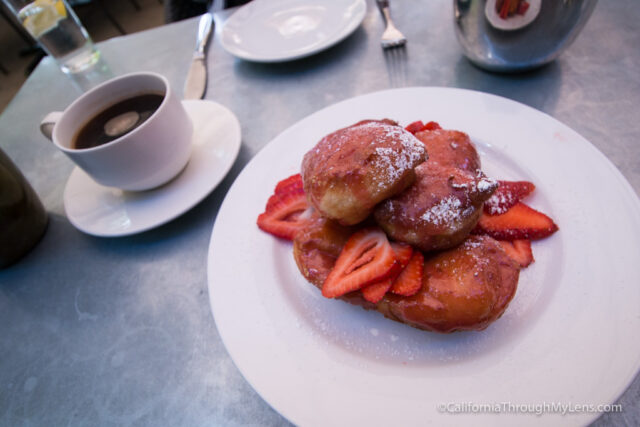 House Made Donuts – These pastries had a funnel cake type texture, were lightly drizzled with strawberry syrup, and then topped with powdered sugar and fresh strawberries. It's a great appetizer as it is light and not too filling. It doesn't have that heavy feel in your stomach when you eat them, and they go great with coffee.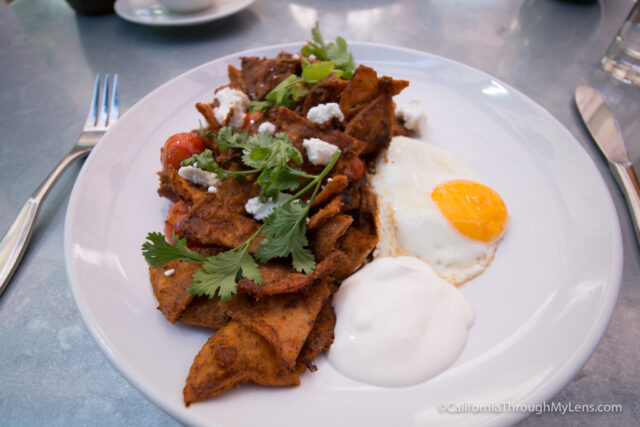 Pork Belly Chilaquiles – The dish had an ample portion of pork belly sitting on a bed of chips with roasted tomatoes and chevere. An egg was added to the side with a dallop of creme fraiche. The salty pork belly, savory chips, sweet chèvre, and fresh tomatoes all come together to create a taste that is the definition of brunch. I especially liked the tomatoes, which you would expect to be good at a farm to table restaurant like this.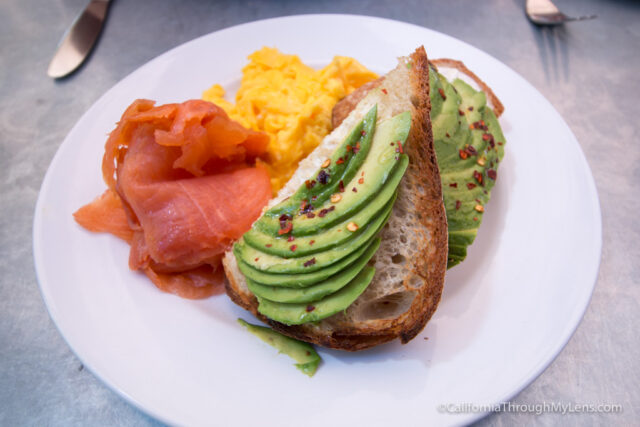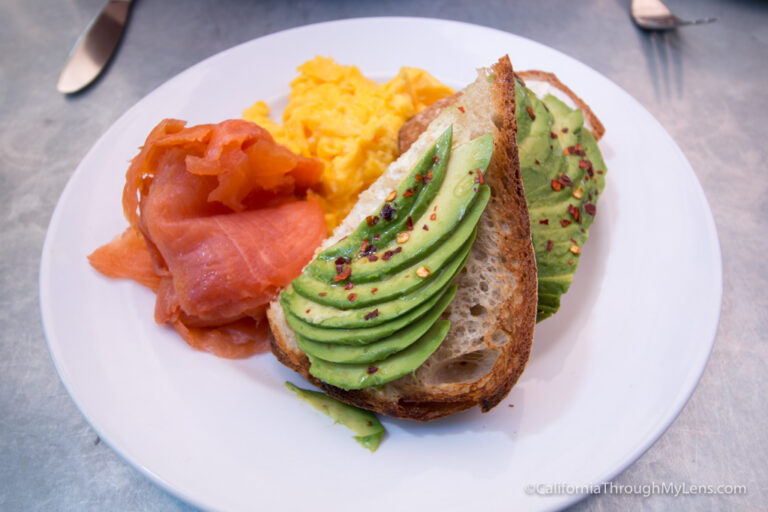 Avocado Toast – This plate had lots of avocado with chili flakes on top. The bread had a light creme fraiche spread on it that you almost don't notice. The scrambled eggs were fluffy and a great addition to the toast, as is the ample portion of smoked salmon on the side. Again it is a nice fresh dish, which seems to be the way to describe everything here. It's not the best avocado toast I have had, but it is above average.
As you can see, this is a fun spot for brunch in the city of Paso Robles, and the fresh ingredients and excellent preparation will have you coming back for more. Let me know what you think in the comments.