Sapphire Falls Rancho Cucamonga CA Hike Photos
This information is on the old trail that is now off-limits. Read the last section to see where the new trail starts.
Update August 2013: Multiple people have told me the trail is currently closed "due to high fire danger," I have not been myself but figured I would pass on the info as there are a lot of other great trails in Southern California. Please let me know if you go, and this is not the case.
Located in the foothills of Rancho Cucamonga, Sapphire Falls is a beautiful waterfall that is easy to hike to and has a rope that allows you to climb up it. All of these things make it a must-see during the spring months. Make sure you plan lots of time for it as well as you can swim to your heart's content, and if you can climb the waterfall you can even continue walking to a second waterfall. Update June 2012 – The way written about in this guide is closed and can result in a ticket. View the comments and the update at the bottom for a better layout of how to get to the falls the cities approved way, but be very careful as others are reporting this way is very unsafe and requires climbing. I have not done it myself, so make sure you do not do anything dangerous.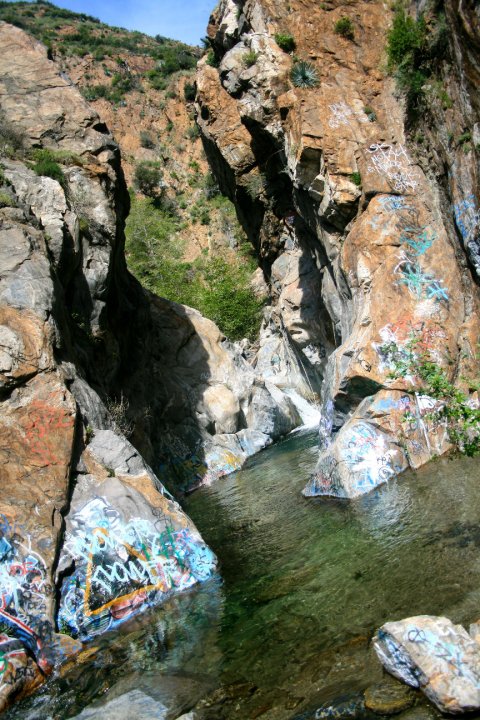 The Hike
To start the hike to this waterfall you should be able to use Google Maps directions to it below. It is located right off the freeway, and you pretty much follow a huge wash the entire way there. The hike is relatively easy, so if you are in decent shape, you should be able to make it up there in around an hour. Along the way, there are a lot of different things to see, such as a human-made waterfall, old abandoned mine areas, and graffiti layered broken down structures.
As a fan of urban decay and a fan of hiking, it is bittersweet for me to see how much this trail has been destroyed by people not cleaning up after themselves and tagging everything. Sure it makes for some interesting sites, but overall this trail has so much graffiti and trash it is sickening.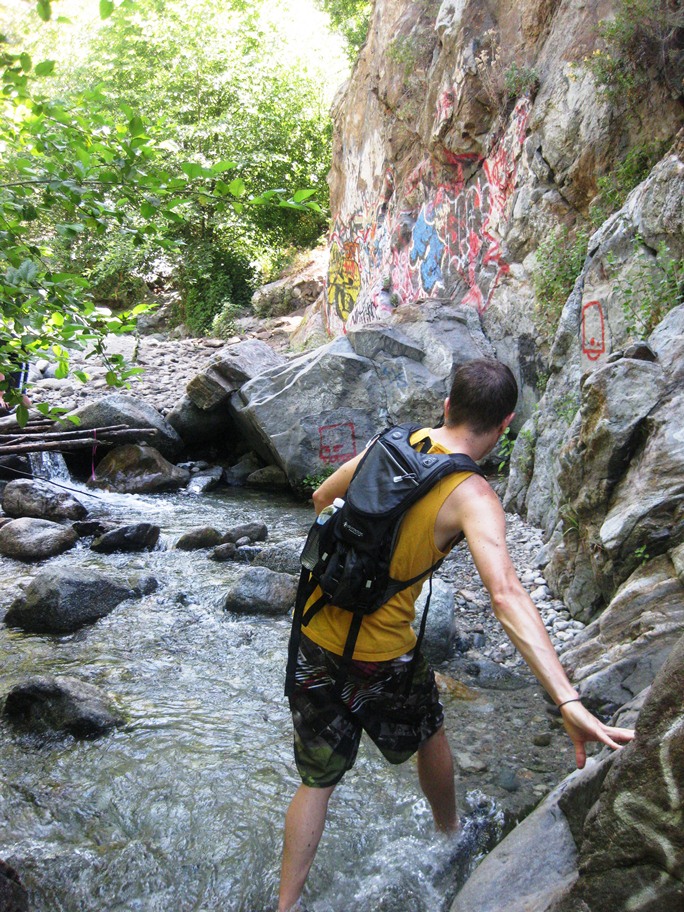 The trail itself has many water crossings, so make sure you wear shoes that are good for the water. Also, this is best done on a warm day as you will get wet, plus being hot is a better excuse to jump in the water and cool off. On the weekend we went, there was probably a good 20 people up at the falls. Even though this is a lot, there is still a good amount of room for everyone to relax and enjoy themselves.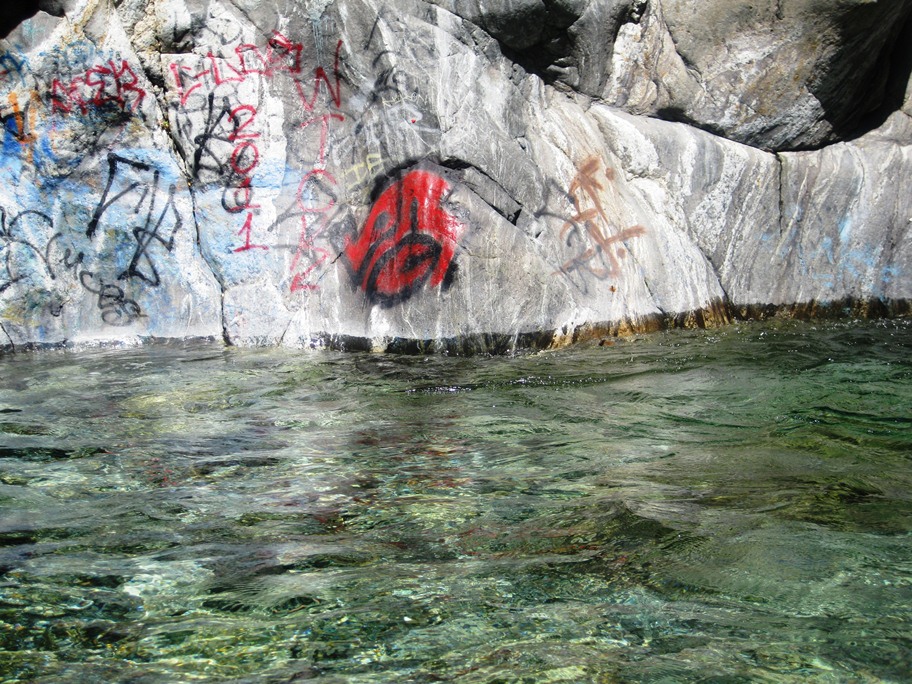 The Waterfall
Make sure if you plan to climb to the top of the falls that you are in shape. There is a rope on the base that you can grab and navigate your way to the falls, where you can pull yourself up if you have the upper body strength. Below the falls, the water is too deep to touch, so you have to pull yourself out of the water and stay away from the waterfall that has a lot of force to push you down. Of the people I saw attempt it, I would say only 50% were actually able to do it.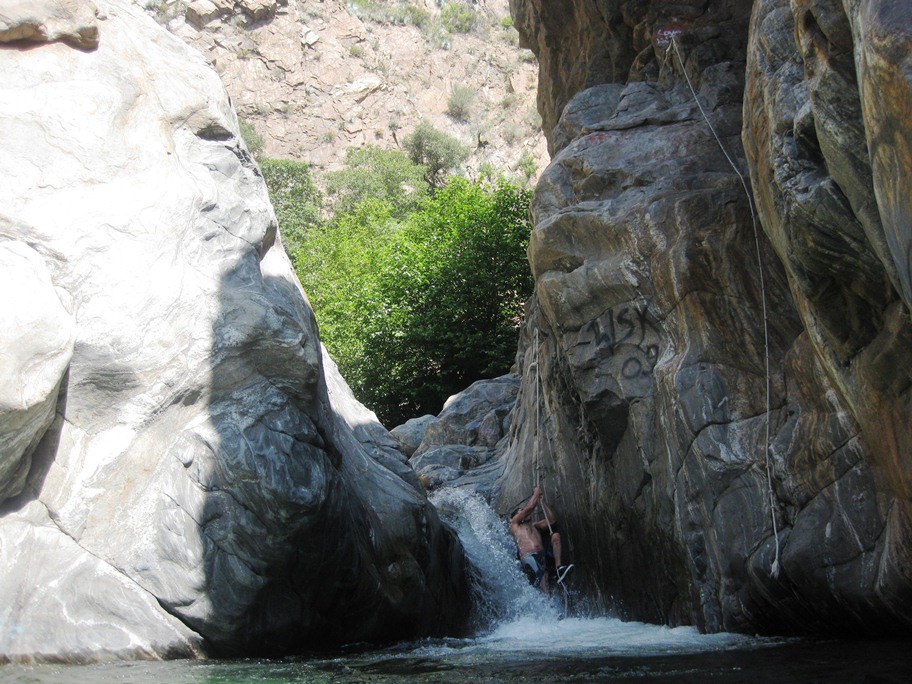 If you can make it up the falls, you can proceed to the next waterfall, which is equally remarkable, or you can simply enjoy yourself and take a slide down the waterfall into the water below. Make sure if you plan on visiting Sapphire Falls that you give yourself time to hang out as you are going to want to.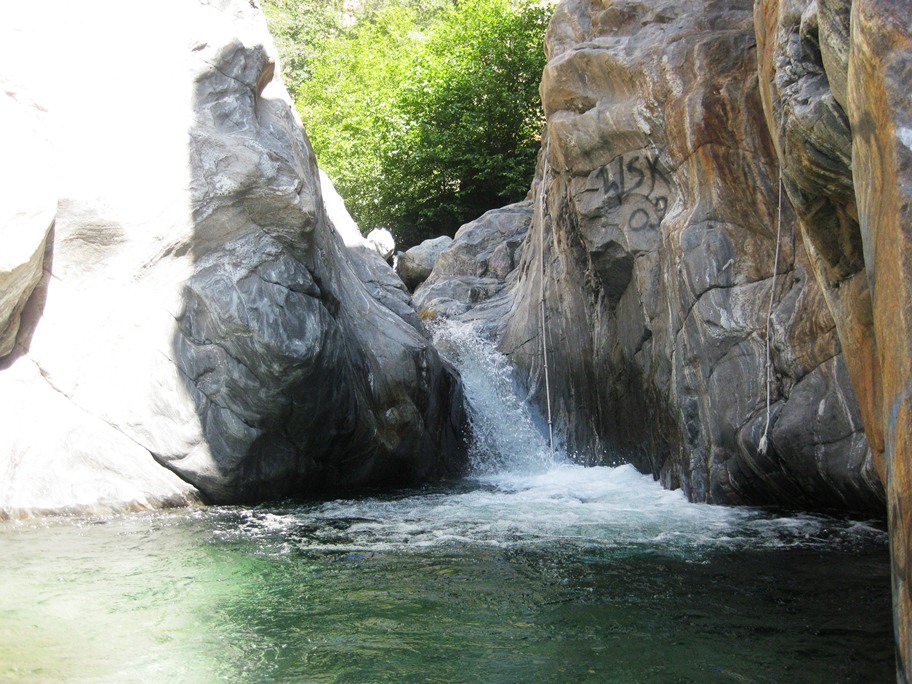 All in all, I can't think of many better things to do in Rancho Cucamonga during the summertime, so if you live in the area, make sure you make it a point to visit the beautiful Sapphire Falls.
Update (Main Trail Closure & Approved Entrance Area)
Update August 2013 – Multiple people have told me the trail is currently closed "due to high fire danger," I have not been myself but figured I would pass on the info as there are a lot of other great trails in Southern California. Please let me know if you go, and this is not the case.
Update (6/18/2012) –  In researching this issue, I found this page from the city of Rancho Cucamonga. There is an approved entrance, and it is described as the following.
 "If you are visiting Cucamonga Canyon, you will most likely enter through the City of Rancho Cucamonga.  The only legal way to enter or leave the canyon is on Skyline Road.   Skyline Road is located at the top of Sapphire Road and runs north from Almond Street.  All of the land to the west of Skyline Road and south of the second forestry gate (including the wash) is private property.  If you utilize private property to enter or exit the canyon, you are subject to arrest or citation for trespassing.  The police department is working in the canyon every weekend to enforce all laws."
Here is the map that outlines it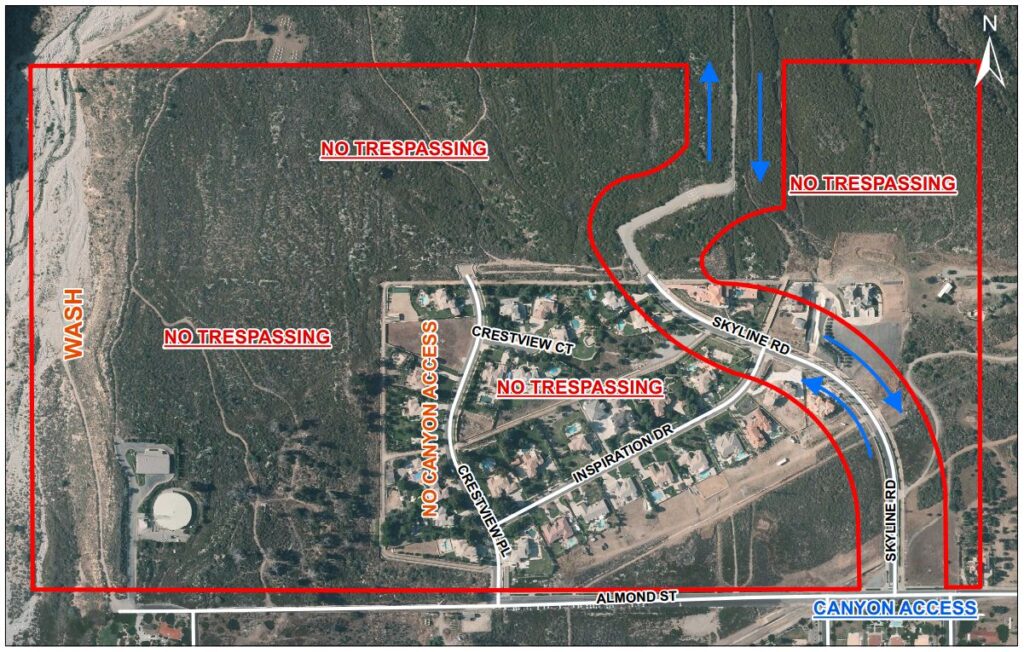 I haven't taken this trip yet, but hopefully that helps clear up the confusion!
Previous Update (5/28/2012) – The main trail is now closed. You can take the alternate trail mentioned below, but I have not done it yet to document how it goes.
Dee from the comments does say there is another way to get there though; you can check out his comment below
"The falls are not closed you just cannot enter from the bottom because it is private property.  Go up skyline as mentioned above.  At the low rim, take the dirt trail back down to the left around the canyon to the creek.  You can go north or south to the lower three falls. Beware that if you are not physically fit enough to pull yourself up the 1st fall, your reach on the south side using hands only (concave at that point)  with the falls pushing you back don't attempt it.  You will be forced to continue down onto the private property to get back out, risking the $600 ticket."
I can personally attest to climbing up the waterfall being a difficult task, so if you do this, know that in advance. Always make sure to read the comments below to get updates from gracious readers that keep informing us of the status of the trail!