One of Amie's favorite things to do is take in all that the fall season has to offer. Decorations, pumpkin spice lattes, cornucopias and even pumpkin patches. Because of this we made the trek out to Yucaipia last weekend to go to one of the larger pumpkin patches in the area, the Live Oak Canyon Pumpkin Patch.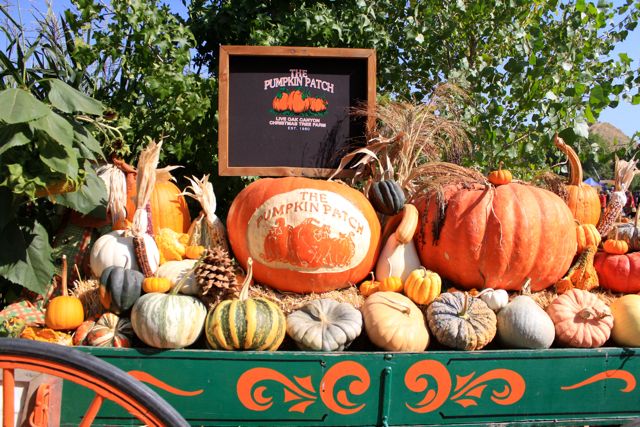 This pumpkin patch sets itself apart from the competition by offering a huge area of activities that make picking out your pumpkin a whole day family affair. Literally they have it all, including a monkey that shakes your hand for a dollar, fifteen different pumpkin varieties, the grim reaper to take pictures with and a quad race that children can participate in. A little history is as follows:
"Live Oak Canyon Christmas Tree Farm is a family owned and operated farm. Established in 1980 by brothers Gregg B. Palmer and David L. Palmer. Starting with dry brush and rolling hills they have turned 45 acres of the farm into a brilliant green landscape of Christmas Trees, Pumpkins, Gourds, and more."
The Pumpkins
Now I know it seems trivial to talk about the pumpkins at a pumpkin patch, but Live Oak Canyon really has every type of pumpkin you can imagine. From the white pumpkins that are sweet to the taste, to the ugly ones with warts, to the giant 60 pound pumpkins and even the fairytale pumpkins that look like they are from a Disney movie, you can find one that will match your personality.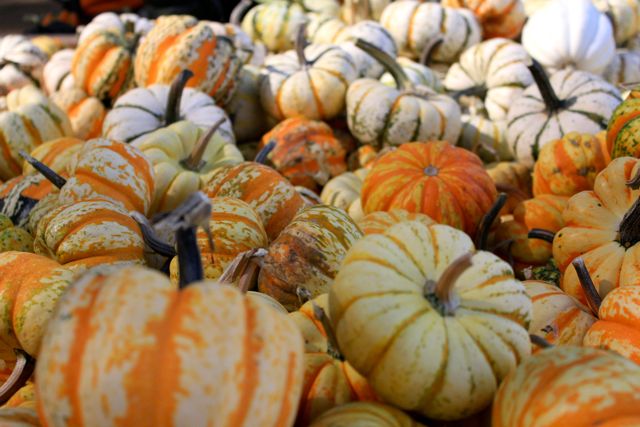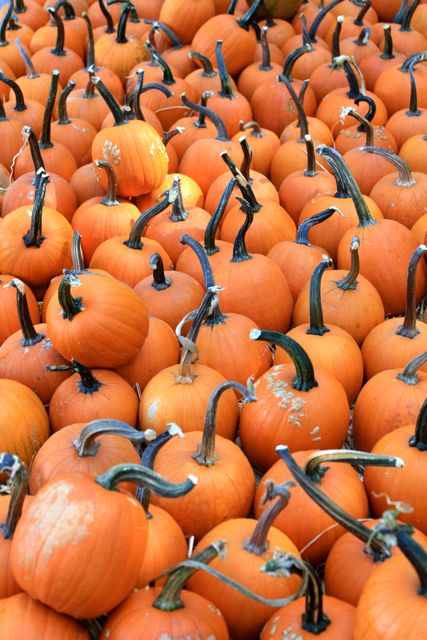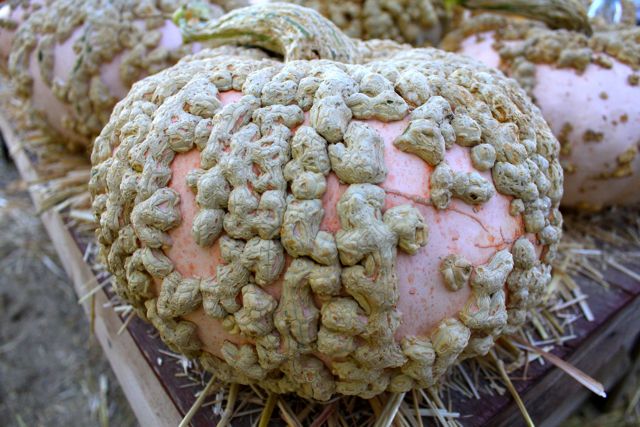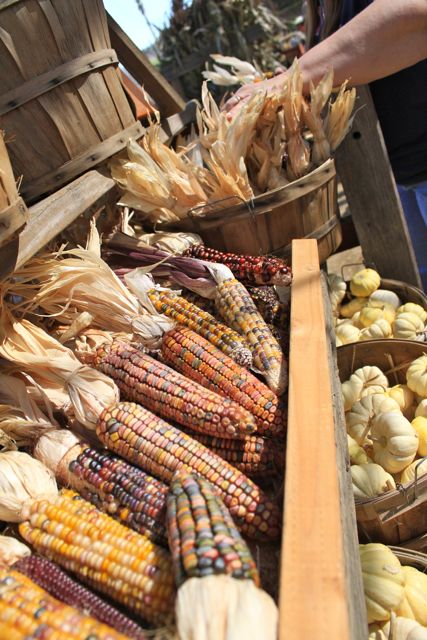 We spent at least 30 minutes just walking up and down the aisle and taking in all the varieties. The prices are not to bad either as they are sold by the size so the smaller it is the cheaper it is. They also have a wide selection of gourds, Indian corn and squash as well.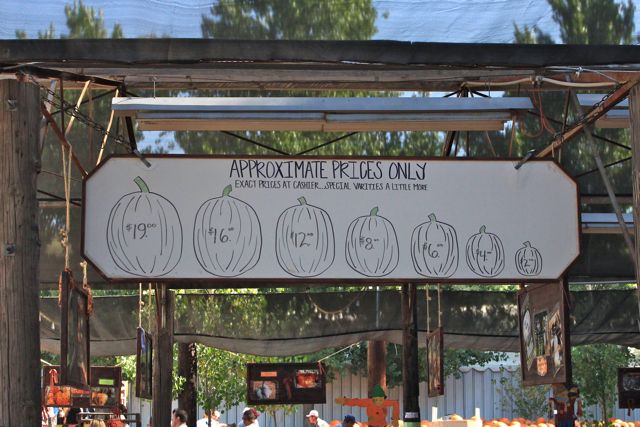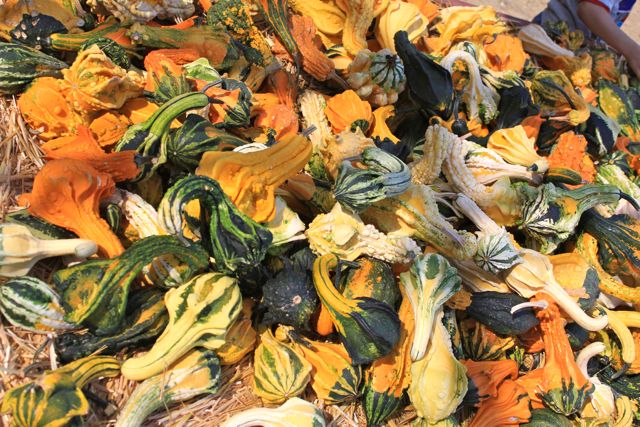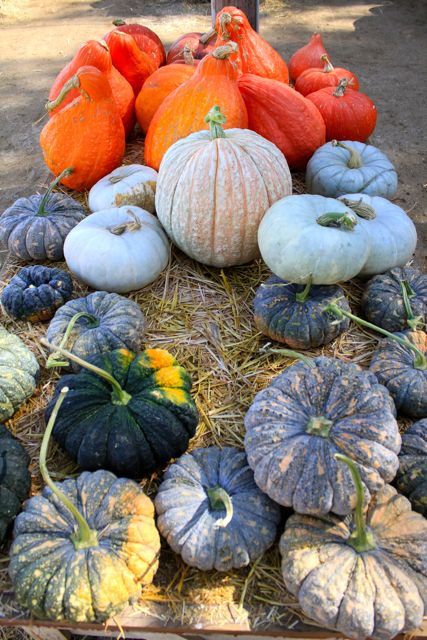 The Attractions
After checking out the pumpkins you can walk around to the rest of the park which features four inflatable bounces houses and slides, a quad race, different colored sunflowers, a petting zoo, a corn maze, fair food and a monkey that shakes your hand for a dollar. The monkey was extremely funny to watch as he sat with his owner and when someone came up he would take a dollar from their hand then put it in his pocket then give them a hand shake. Made me wish I had a trained monkey as this guy was getting dollars like it was going out of style, Amie couldn't give him a dollar fast enough.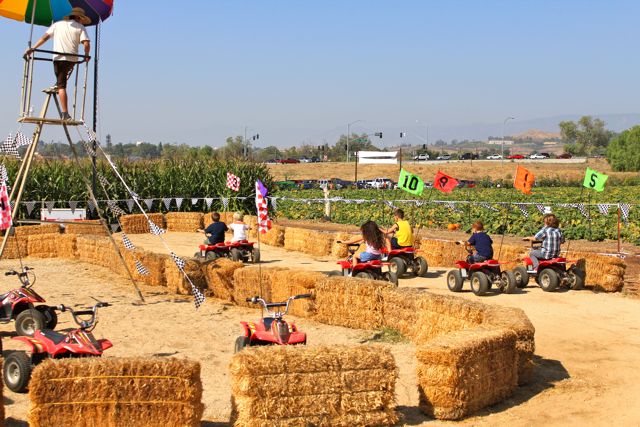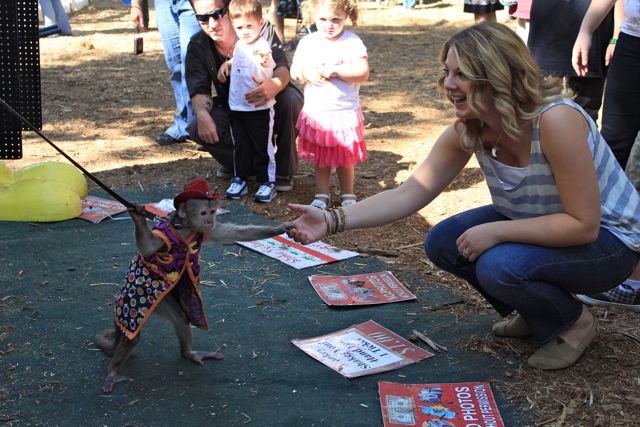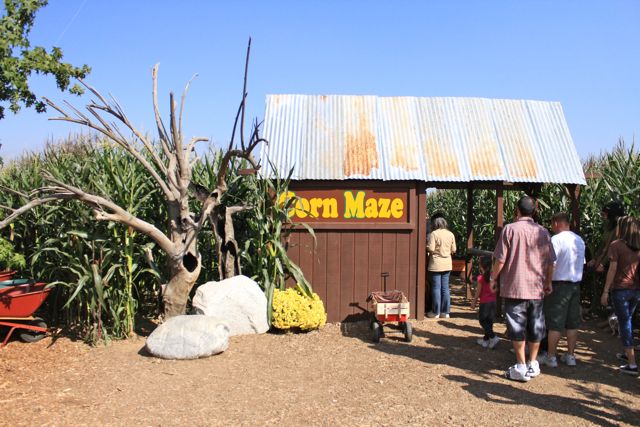 All in all you can do worse then spending a day at the Live Oak Canyon Pumpkin Patch. There is enough entertainment for the kids, while still having interesting stuff for adults. One thing to note, we went on a Saturday and it was pretty crowded, it's to be expected but if you have the time I'm sure during the week is better. Make sure you head over to Yucaipia before Halloween is over to check it out. You can get directions and see the rest of the pictures below.
Big thanks to Brandi for reminding me about this place. If you have something you think I should check out, hit me up via the contact page or by leaving a comment.
Get Directions