Alamere Falls Hike in Point Reyes National Seashore
Alamere Falls is one of California's most beautiful waterfalls and one of the Bay Area's most popular hiking trails. It is easy to see why, as the trail has a little bit of everything, from coastal views and shaded forest areas to a waterfall that lands directly on the beach at the end. If you want to hike here, do note that it is a relatively long walk, so make sure you are prepared with water and food for a full-day adventure. Here is all the information.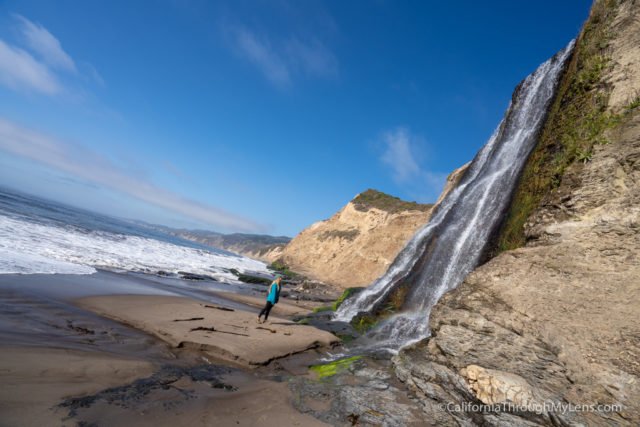 Details
13 miles if you take the long way, 9 if you take the shortcut (which is not recommended by the park service)
1,500 feet of elevation
An hour and a half drive from downtown San Francisco (it seems closer than it is)
I did this hike in 2019
Read more about my favorite spots in Point Reyes National Seashore here
Getting There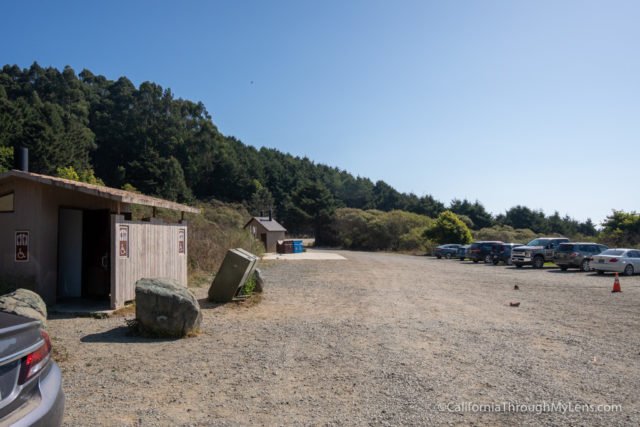 From San Francisco, you will head north across the Golden Gate Bridge and take the exit for Highway 1. From there, you will go past Muir Beach and Stinson Beach till you get near the town of Bolinas. I am not putting exact directions here as I recommend you load up directions on Google Maps to the trailhead before you leave San Francisco, as you will probably lose service on the way to the trailhead. The last few miles of the drive are on a dirt road, but it was very well maintained when we were there. Eventually, the road will end at the Palomarin Trailhead parking area, which is the starting point for this hike.
The Trail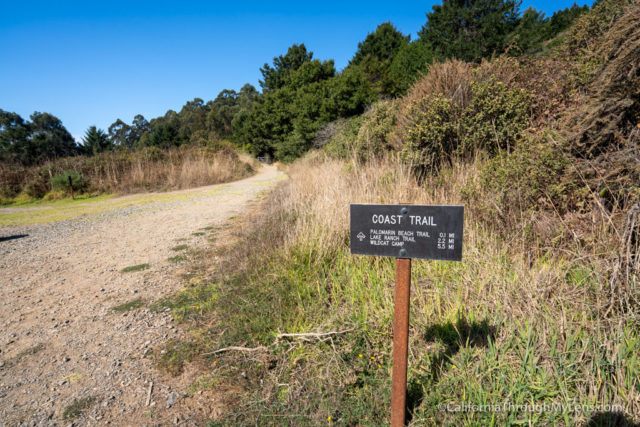 The parking area has bathrooms and signs talking about the trail (which connects with many other trails that go through Point Reyes and is a good jumping off point for longer adventures).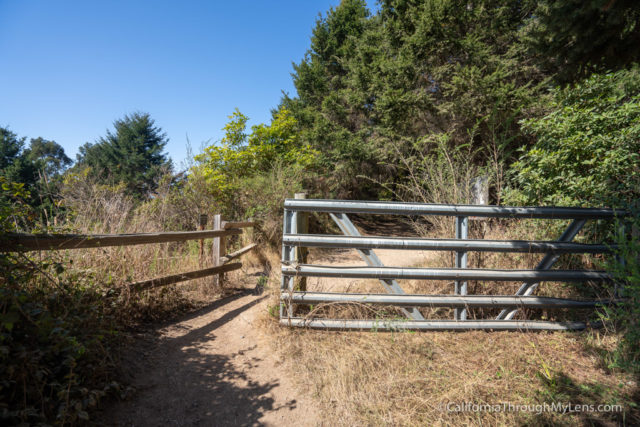 Leaving from the parking area, you will head out on a well-maintained dirt road that goes immediately into a beautiful shared grove.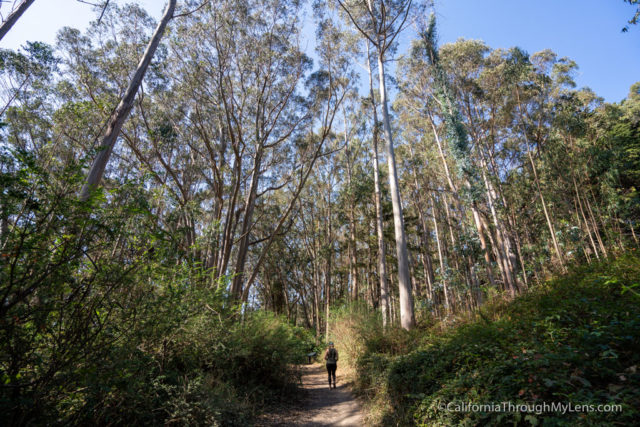 The trail is relatively flat for the first two miles, going in and out of the shade, but when you are in the sun, it is direct and hot, so note that going in.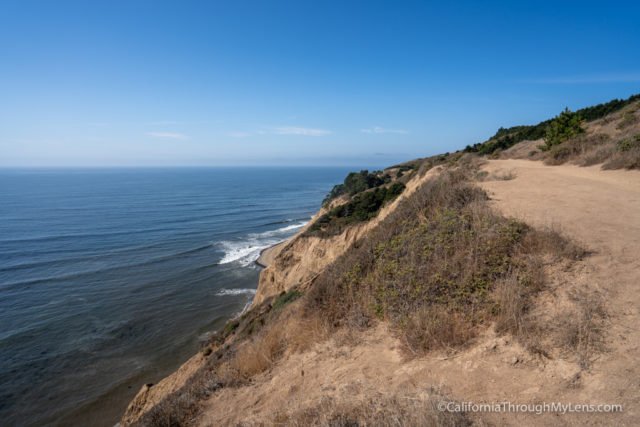 The path then bends around and gives you some of your first coastal views. These views are one of the best things about this trail.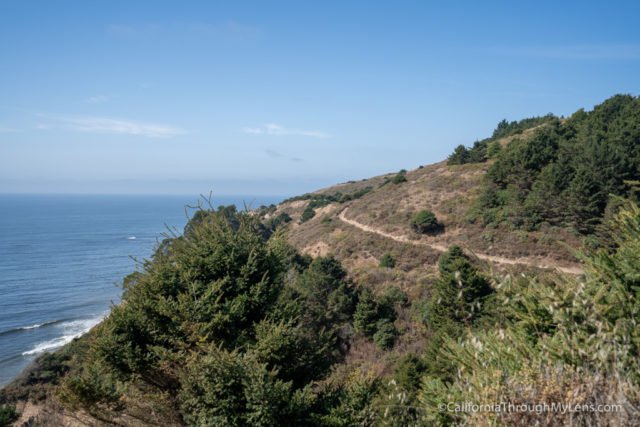 From here, the trail stays along the coast for about a quarter of a mile before heading inland again and then back out along the coast for a little longer.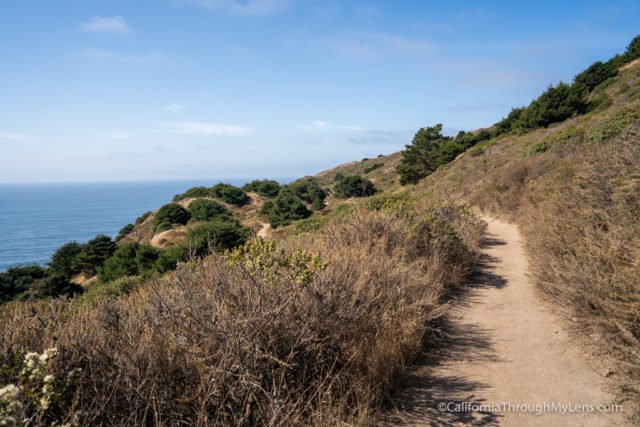 Take in the views here because when the trail heads back inland, you won't see the coast again until the end of the trail.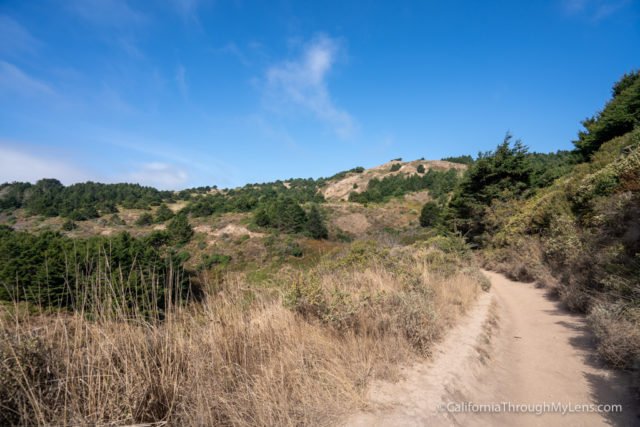 Also, this is where the trail goes uphill, and it is not very shaded, so it can be pretty hot as you head up.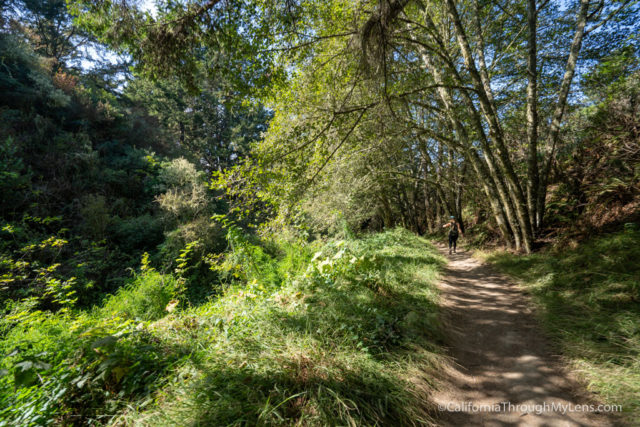 Once you get to the top of the uphill section, you will be back in the shade as you continue over the hill and into another forested area.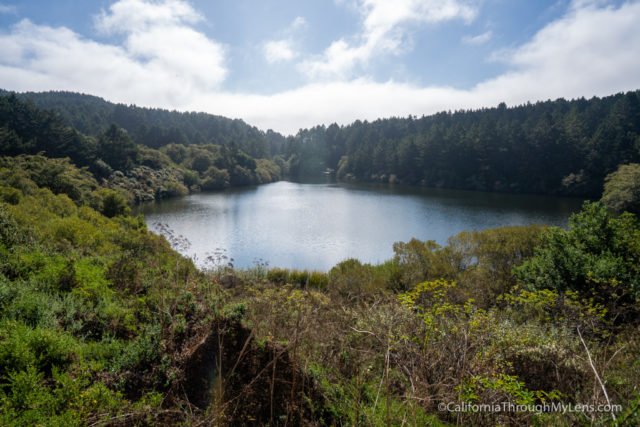 Here is where you will pass your first of two lakes on the trail, Bass Lake. It is a beautiful spot to stop for some photos and to have a water break as you will surely see other people soaking it in.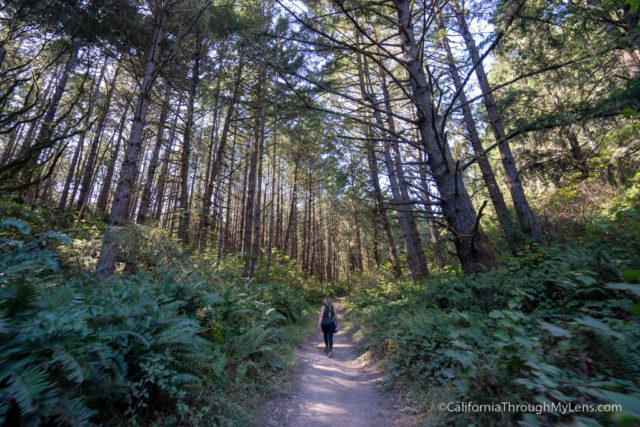 The trail is basically all downhill from here as you make your way to the falls.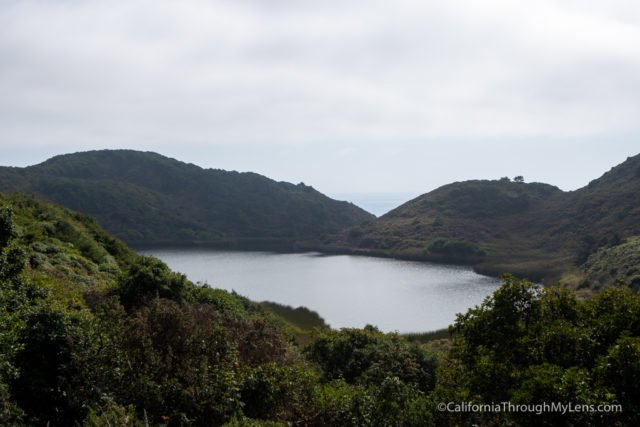 Eventually, you will pass a second lake, Pelican Lake, which is another beautiful stop.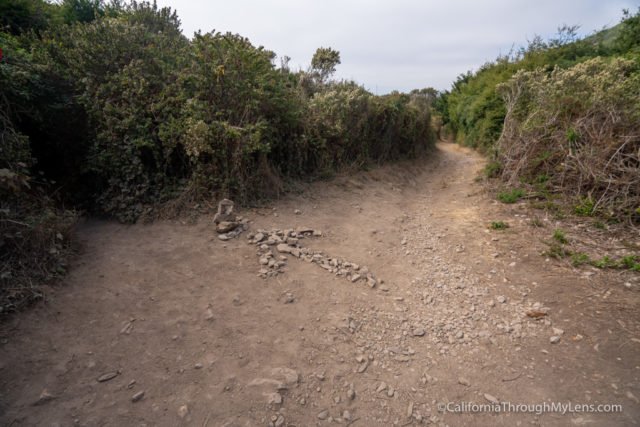 From here, you need to have your AllTrails app if you want to take the shortcut as it is very easy to miss. If you want to continue on the long trail, then you will keep following the coastal trail to Wildwood Camp. This is the official trail, which I learned after I went, but we did not take this trail when we went, so I cannot comment on it. Read this post on my friend's blog about this full trail and note that the National Park Service does not recommend that you take the shortcut.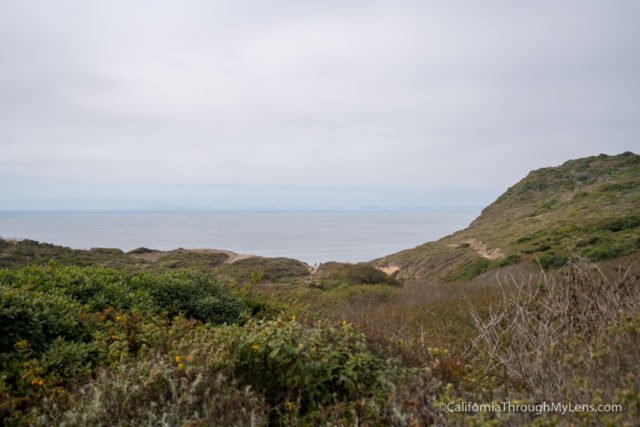 From the split, the trail heads into an unmaintained area with low hanging plants and narrow paths. It is easy to follow, but do watch out for poison oak in this section.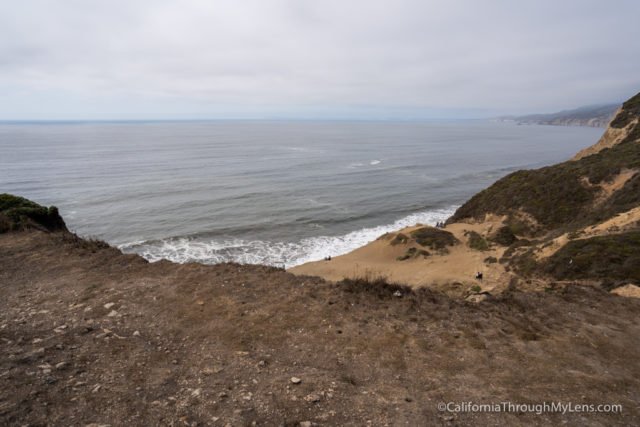 As you make your way through the covered portion, you will eventually come out on the other side and see the overlook for the top of the falls.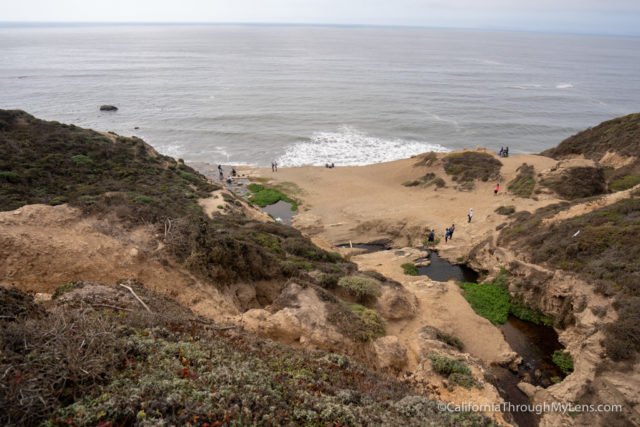 From here, you can see the tiers of Alamere Falls, and you can decide if you want to go further.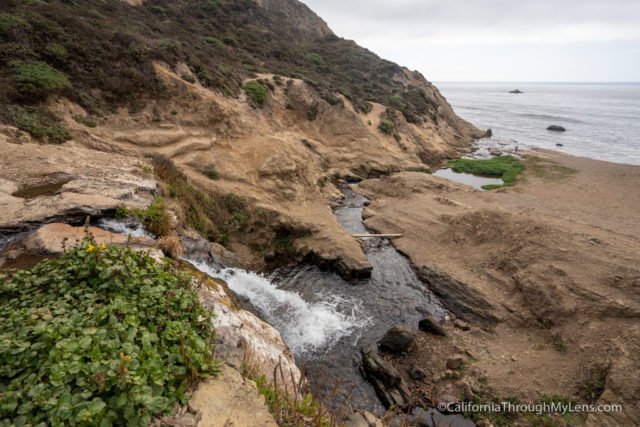 Note that if you go further, you need to be very careful! This section is steep and slippery, and I would not recommend even trying it after the rain.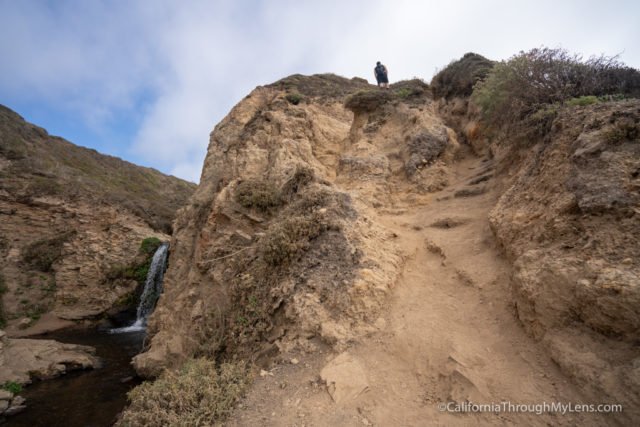 When we went, it was dry, and the trail was not too hard to traverse, but if you are not sure on your feet, you do not want to go this way.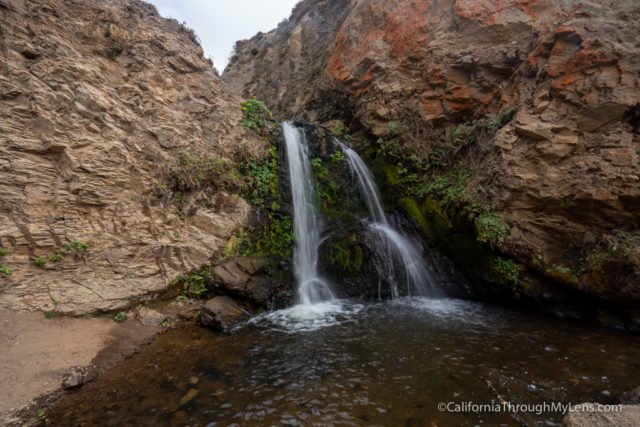 After making it down the first section, we got to see the first of the waterfall tiers.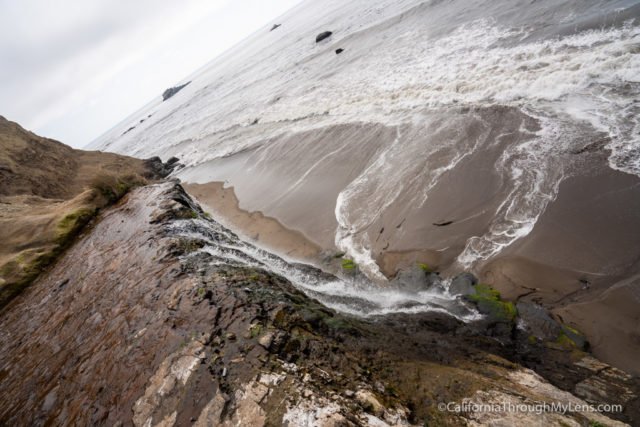 This is also where you are at the top of Alamere Falls, and many people stop here and don't continue down to the beach.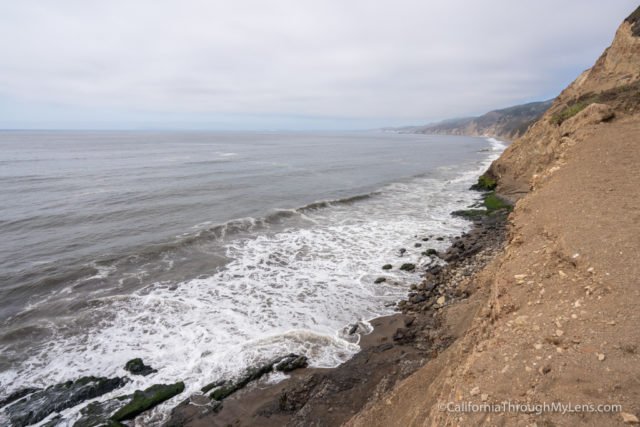 If you get a photo from the top of the falls, do not go close to the edge as it is constantly crumbling, and we saw pieces fall off when we were there.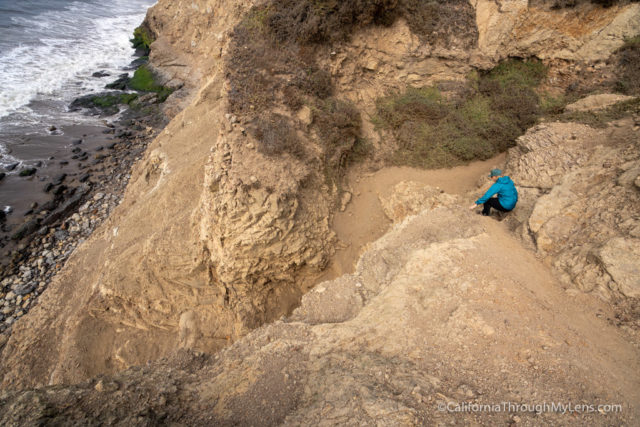 If you want to head down to the beach, then you will continue on the path to the right.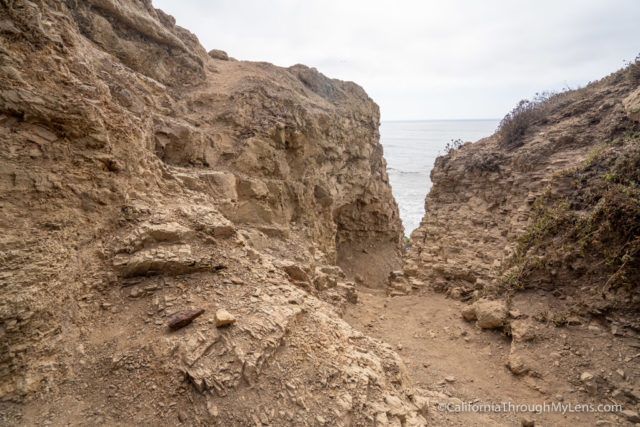 This is the most sketchy part of the hike as the rocks are very loose, and it is easy to lose your footing. Also, there are large sections where you have to sit down to reach where you are going. People hurt themselves weekly here, so know that going in and do it at your own risk. That being said, I saw kids and a dog at the bottom of the trail (I wouldn't bring either myself though).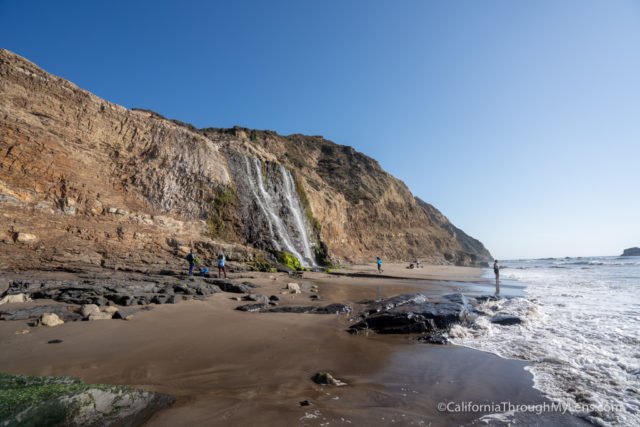 After making it down to the beach, you will be greeted with a fantastic view of the waterfall falling directly onto the sand.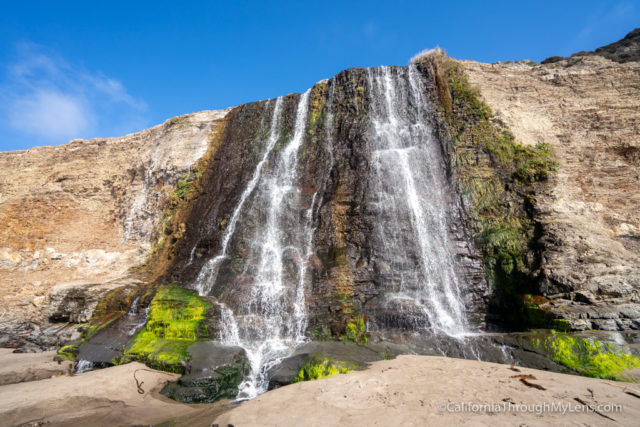 It is pretty incredible, and Amie and I spent a good hour and a half down here just walking around and taking it all in from the different angles.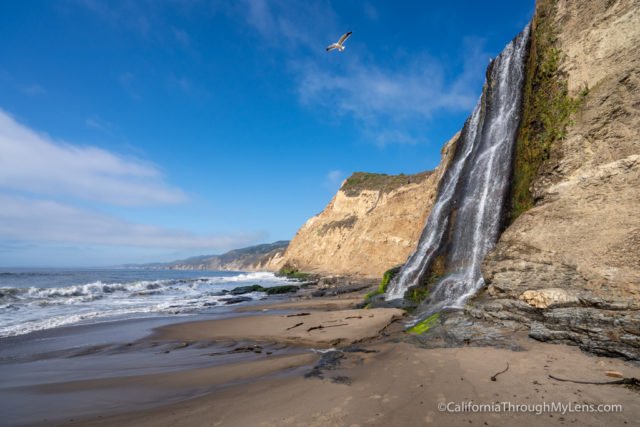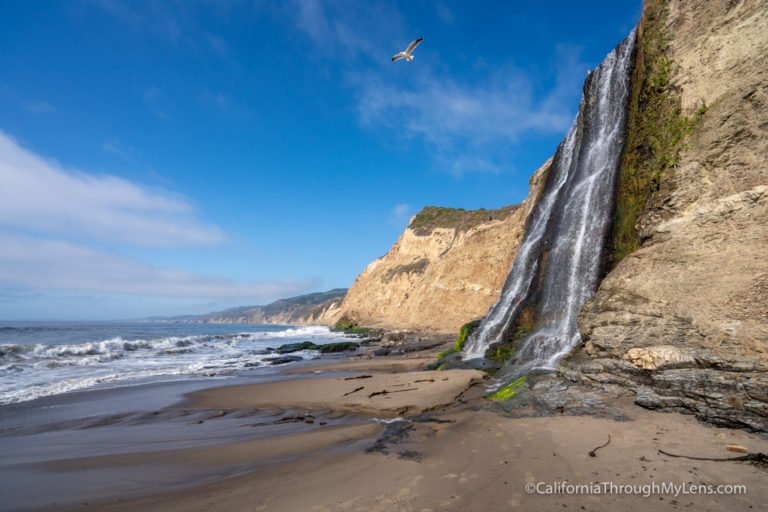 I had seen pictures before, but I couldn't believe how amazing it was to see in person, and it is undoubtedly one of my favorite waterfalls I have seen in California.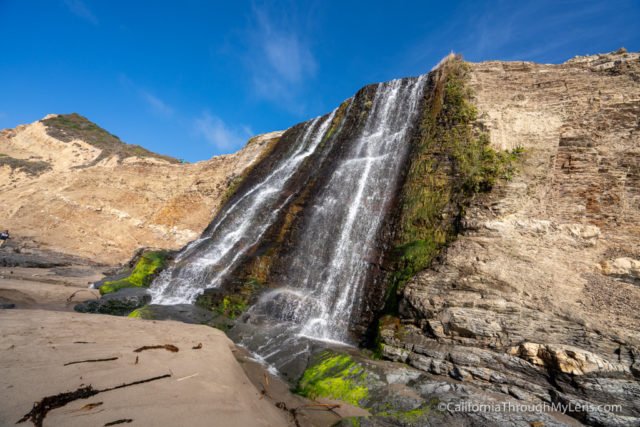 Be sure to check the tide scheduled before you go. If you go with a high tide that is 4-5 feet or more, you will probably not be able to go to the beach, and you definitely won't be able to hike there from the long way.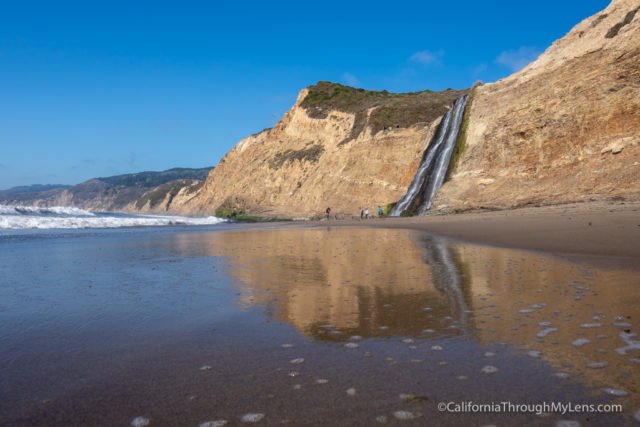 When we went the tide was around 3 feet, and we had limited access to the beach but enough to take photos and enjoy it. I would recommend you go for a lower tide like 2-3 feet or less if you really want to enjoy it.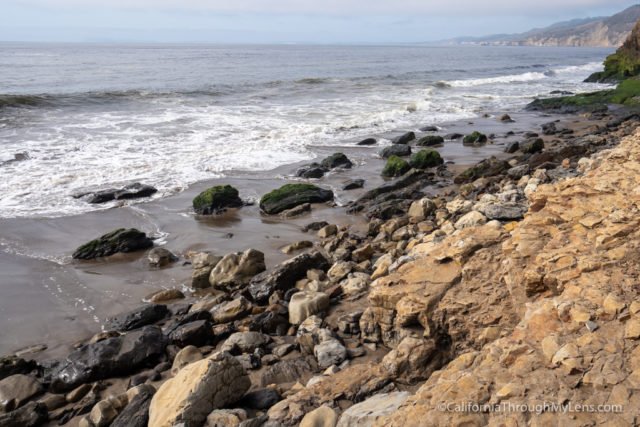 After finishing our time on the beach, we still had to climb out of the two steep and slippery sections. Again, take your time as it is sketchy to make it back up. If you take the longer trail, you will walk along the beach, and you can avoid this section as well. All in all, this is an amazing hike and one that I highly recommend you see. Let me know what you think in the comments!