Biking to Wineries in Yountville with Napa Valley Bike Tours
If you are looking for a great way to stay active while in the Napa Valley and still trying some fantastic wines, I would recommend a bike tour. Whether self-guided or with a group, biking through Yountville and exploring the region and its many trails makes for a great half or full-day adventure. We did a self-guided tour and had a blast, here is all the information if you want to do it as well.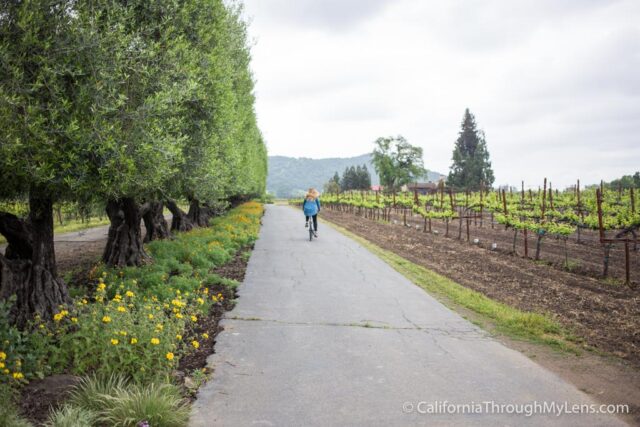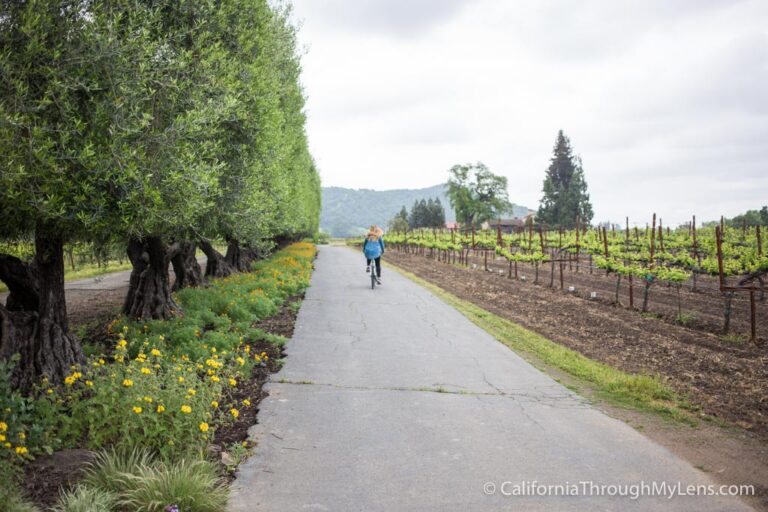 Details
Cost: Self-Guided – $108, includes lunch dropped off for you at a winery (as of 2016)
Wine tasting fees not included
Office Location: 6500 Washington Street Yountville, CA 94599
This information is from my visit in 2016
Getting There
The office is located right behind Bistro Jeanty in the back of the parking lot. It is off the main road in Yountville, Washington St.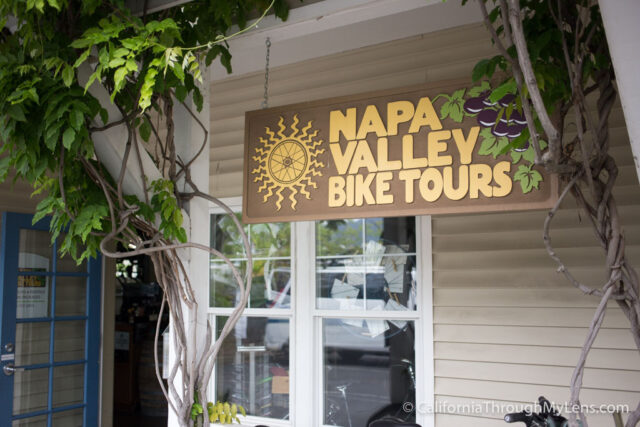 After checking into the office, you will be fitted with a bike and a helmet and shown the different trails on a map you take with you. They were super helpful in talking us through my options and letting us know what path worked best with the wineries we wanted to visit. I ended up staying on the blue trail, which was about 10 miles and was flat pretty much the entire way.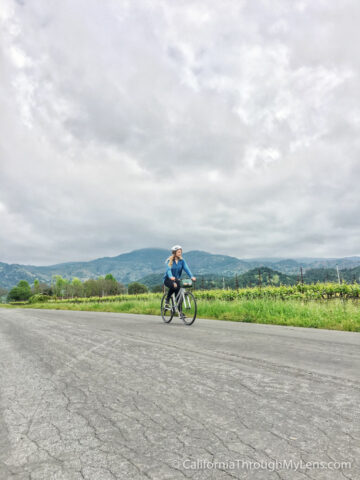 The bikes are nice with lots of speeds, which makes riding much more straightforward. My bike was a great height for me, which is a plus since I am 6'3, and my wife's bike was right for her at 5'4. We set out on the trail and instantly felt at ease since most roads had bikes lanes that you could ride along or limited traffic.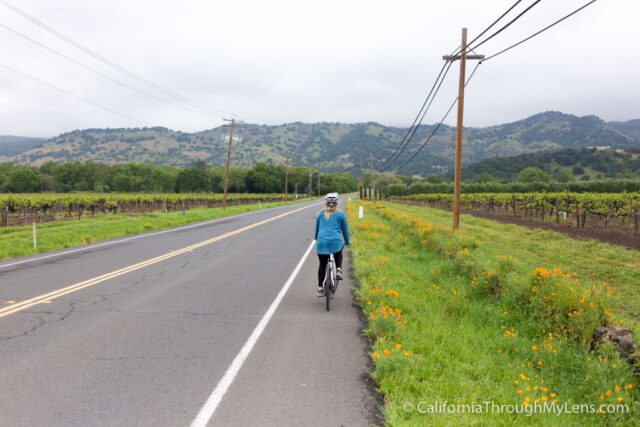 The road was beautiful since it was spring and the flowers were blooming, we pulled off a few times to see the poppies that were growing on the side of the road and of course to marvel at the dozens of acres of vines.
Winery 1 – Cliff Lede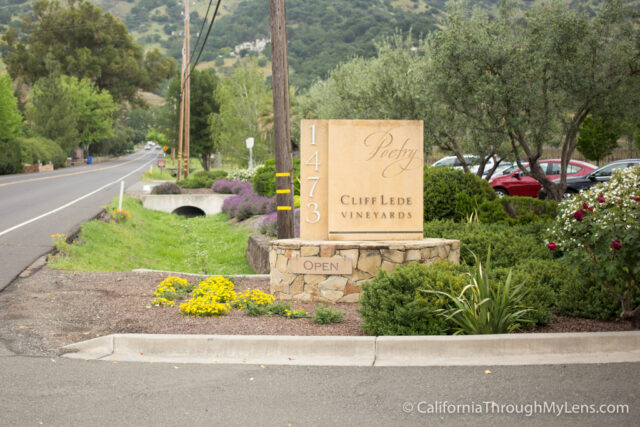 The first winery we went to was Cliff Lede, which is right near the Silverado Trail, and that has a rock influence I was excited to explore. We sat for a tasting at the outdoor tables that overlooked the gardens and the art on the property.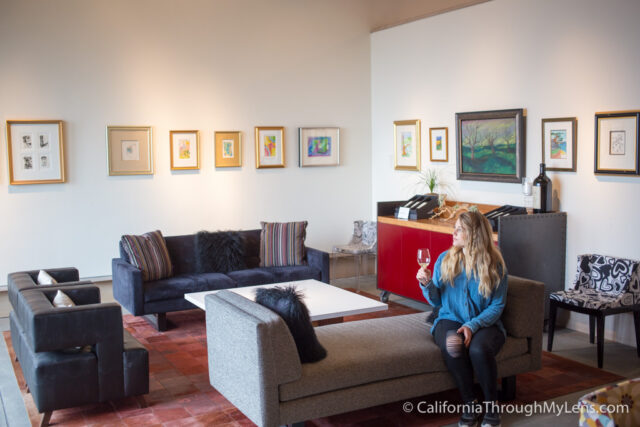 We also went into the member's area, which has different pieces of rock and roll art, such as art from Jerry Garcia of Grateful Dead fame. My favorite piece was one that he painted and which his dog traversed, making footprints along the corner of the art piece.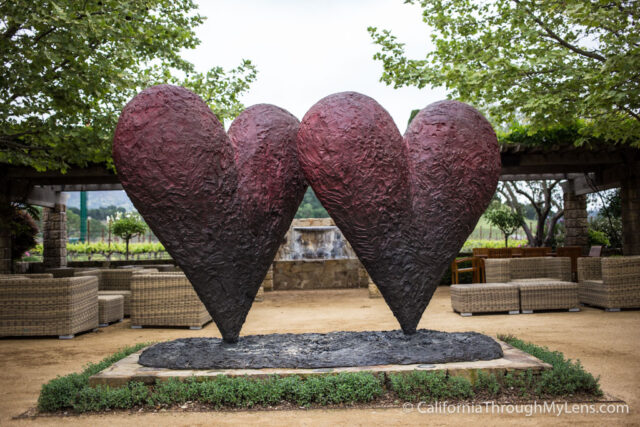 The bottles at the winery also have the rock vibe with one bottle a year being influenced by the part of the vineyard it came from (each plot has a different rock song name). After spending 45 minutes here, we hopped on the bike and set out for our second winery.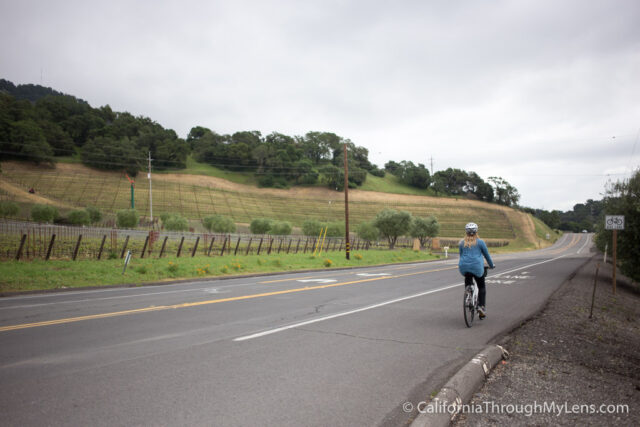 For this part of the ride, we went along the Silverado Trail. This is a famous road for driving as it goes through the Napa Valley without stoplights. Even though the bike path is wide on this road, note that it still can be a little intimidating if you are not used to biking. We did okay though and pedaled for a while before arriving at Bell Cellars.
Winery 2 – Bell Cellars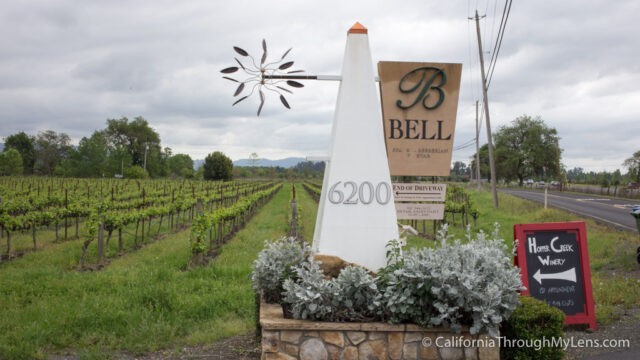 This winery was located at the end of a long road and is by appointment only. I loved this spot though, and suggest you visit if you are looking for a lovely winery with great people. You can read my full post on it here.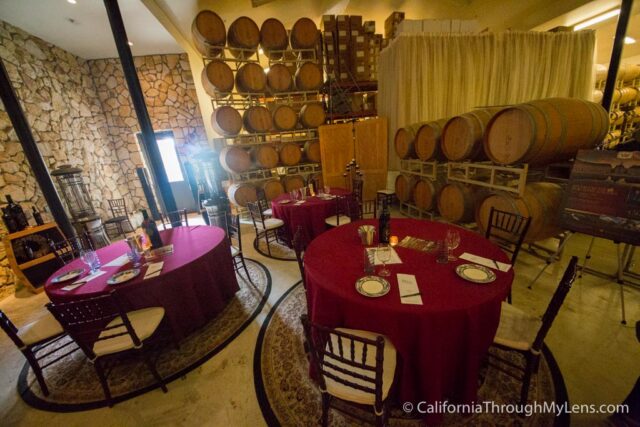 The winery is immaculate with a few beautiful tasting rooms, two bocce ball courts, and a large patio where you can sit and relax while looking over the vineyard. The terrace is where we had our lunch delivered, and it was a great spot to relax and eat.
Lunch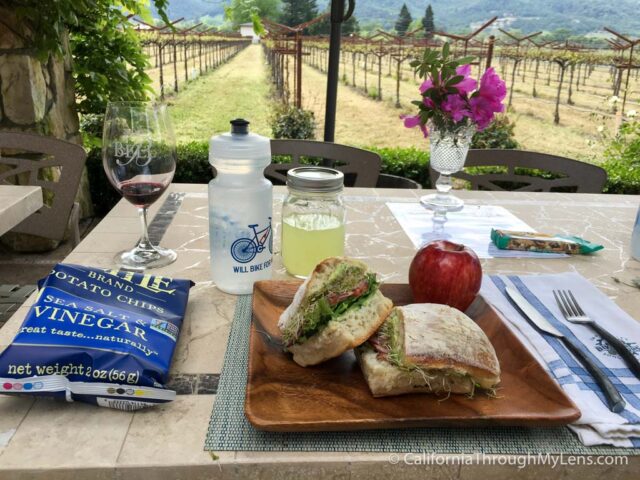 Another place where Napa Valley Bike Tours succeeds is with the lunches they provide. You pick your sandwich and side when you get your bike in the morning, then when you get to the specific winery you wrote down, the lunch is there waiting for you. The lunch is not the traditional picnic lunch; they had the sandwiches, side, trail bars, lemonade in mason jars, cloth napkins, silverware, and Dove chocolates. I was incredibly impressed as I was envisioning a brown paper bag lunch with a sandwich in it. After you are done, you just put the trash in a trash bag, and they take it away.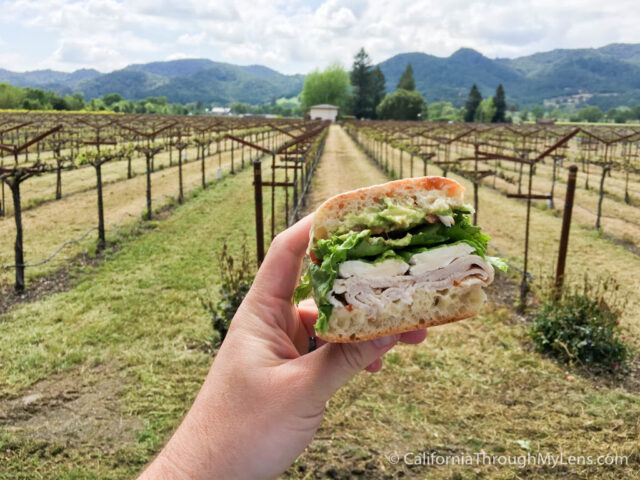 We also bought a bottle of wine on the trip, and they came and picked that up for us as well; it was waiting for us back at the office when we dropped the bikes off. After lunch, we started our way back to the shop. Along the way, we stopped at a few vineyards to take pictures and just enjoy the sun that had finally come out. It was a fun way to explore the area, and it felt nice to be burning calories while visiting wineries. I highly recommend you check it out if you are looking for a unique experience in the valley and let me know what you think in the comments.