Black Star Canyon Falls: One of Southern California's Best & Most Elusive Waterfall
Located in the hills of Orange County, Black Star Canyon Falls is one of Southern California's most beautiful waterfalls. The problem with it is that it only flows after a lot of rain since the area that feeds it is relatively small. This makes it an elusive waterfall to see, and one that hasn't been flowing much over the last five years due to the California drought. Since 2017 was such a great year for rain, I set out to hike it a few days after a good storm. It was a fantastic experience with a ton of water flowing, but it is relatively difficult and not a hike that should be taken lightly. Here is all the information so you can do it yourself.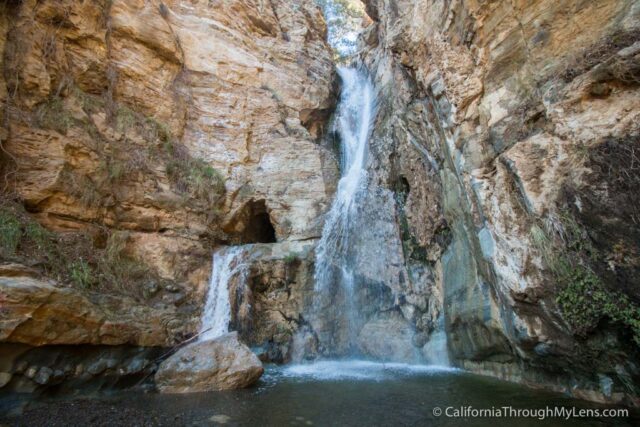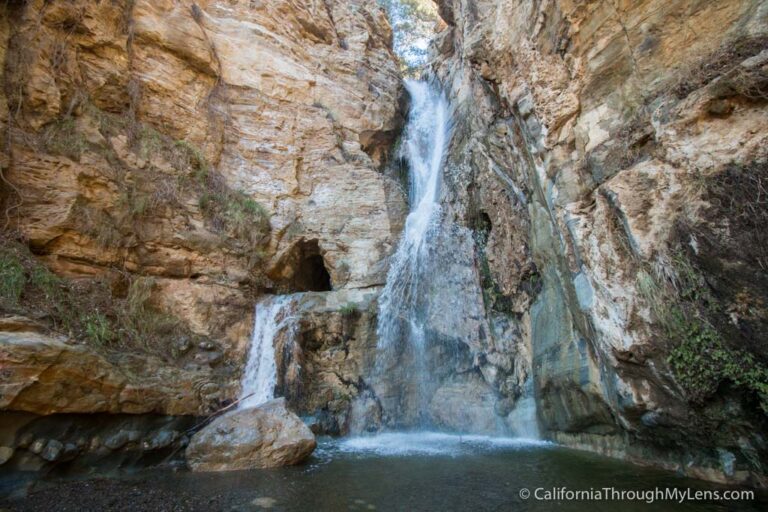 Details
7 miles
800 feet of elevation
5-6 hours to hike
Requires a lot of crossing streams, finding the best route and rock scrambling
Watch out for poison oak is it all over! Learn more about it here
Trailhead Address: 13333 Black Star Canyon Rd, Silverado, CA 92676
This information was from my hike in 2017
Getting There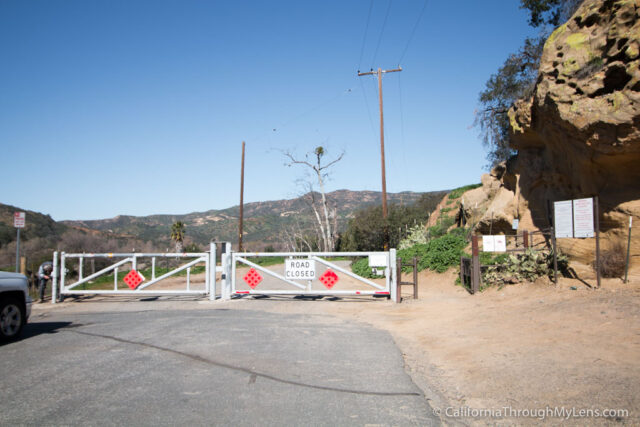 Located off the toll road (Highway 241) at Santiago Canyon, you will drive this road for a few miles and then turn left onto Silverado Canyon, then another quick left onto Black Star Canyon Road. This road ends at a gate, and you can park along the side of the road. If you visit after a good rain, then there will probably be a lot of people there with you.
The Trail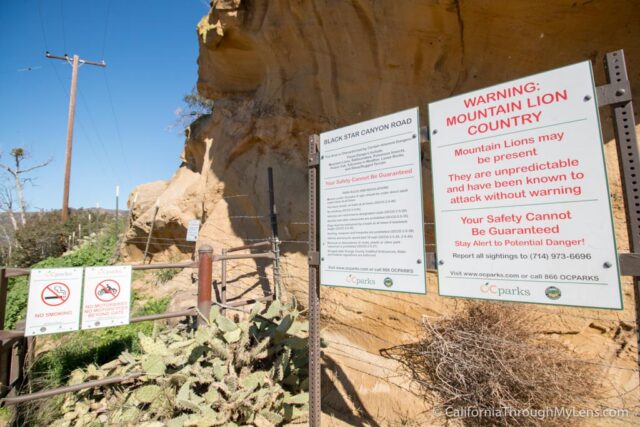 After passing through the gate, you will be on a long straight road for about 3/4ths of a mile.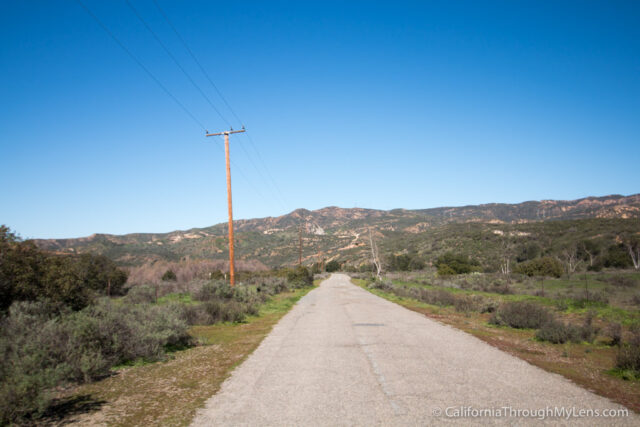 From here, there is a sign that says 4.1 miles to the waterfall. I have no idea what that was referring to since it was not 4.1 miles from here.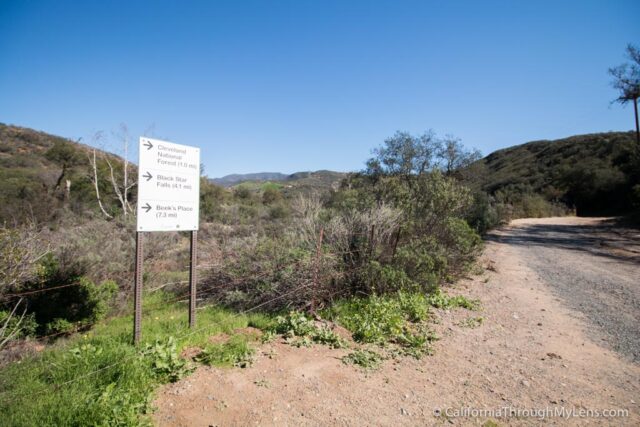 The trail then bends right and continues the slow walk on the dirt road.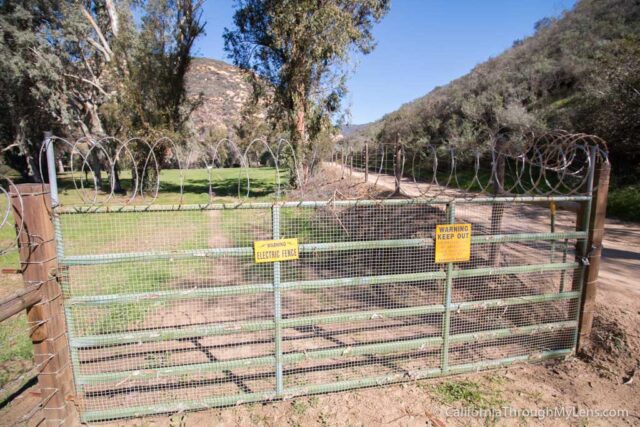 You will start seeing a few private residences out here as well with electric fences and padlocks to keep people out.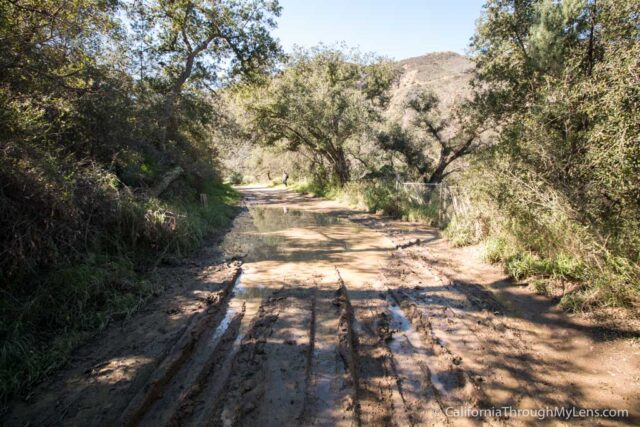 The road can also be muddy and full of ruts after rain, so be careful.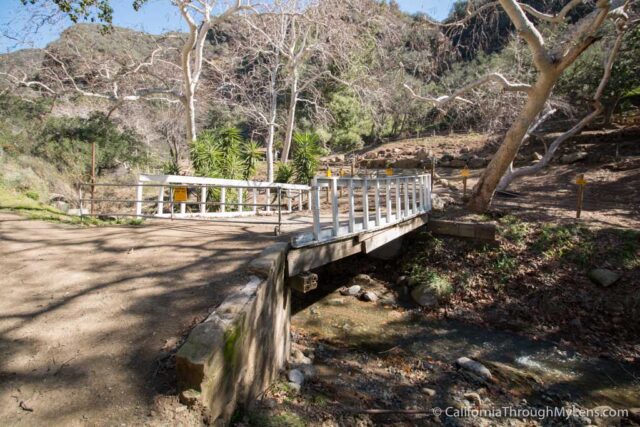 The path continues to cross a few different bridges over the creek.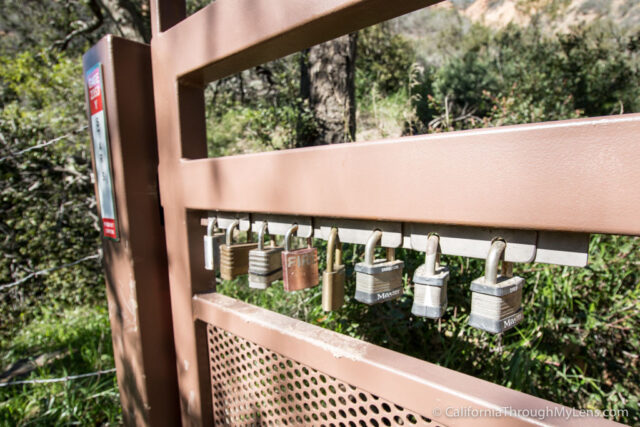 I especially thought this gate was funny because it had like seven padlocks to get in.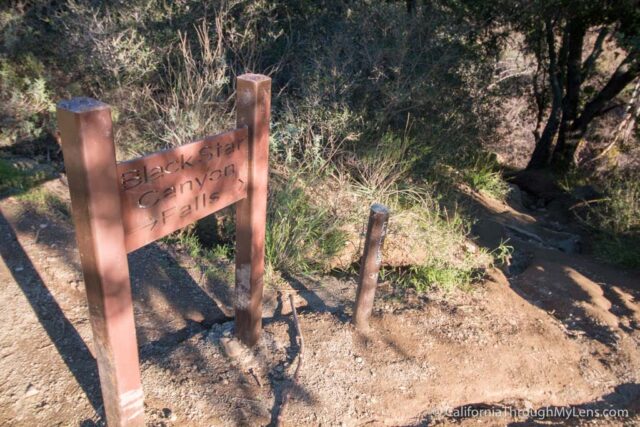 After 2.5 miles, you will make it to a bend in the trail. There is a sign that tells you the falls are down from here. I would recommend grabbing a GPS track for this hike and putting it on your phone as it is nice to have something to follow, especially when you are in the canyon.
The Canyon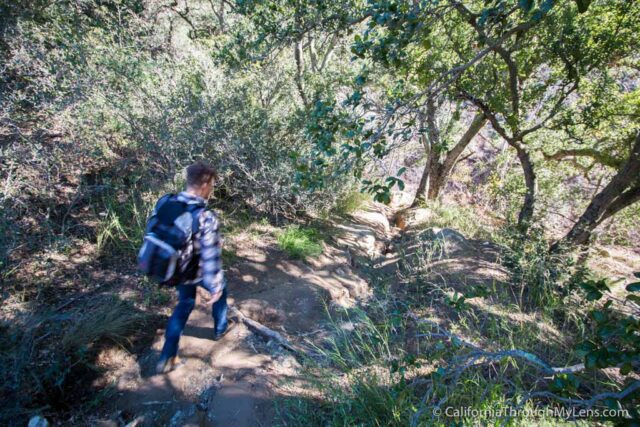 From here, the trail heads down to the stream, and you will be following the stream for the next .8 miles to the falls.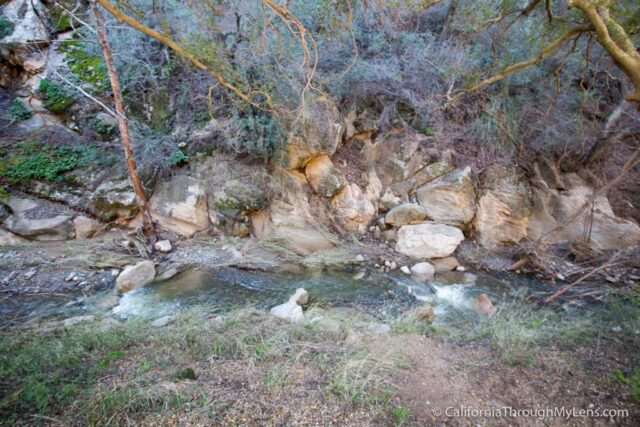 While that seems short, it will easily take you longer than the 2.5 miles coming in did as there is no real trail.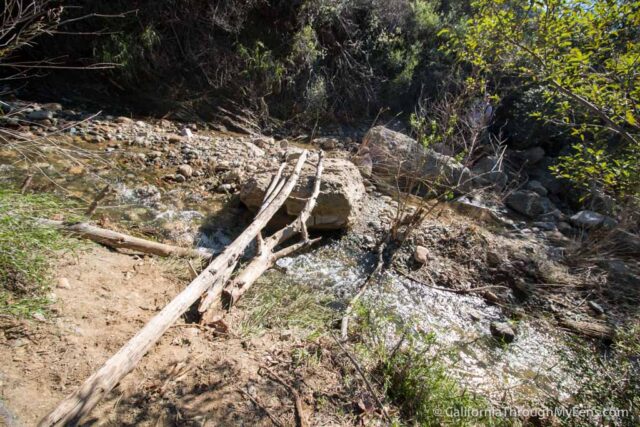 You will be crossing back and forth over the river, looking for the best path onward, and I can't recommend anything about the trail other than just to pick what looks like the best way to you.
Also, if it is a nice day, consider just walking through the water when you cross as it is much easier then trying to find the best rocks to use to jump across. The path is beautiful, with lots of small waterfalls and rushing water.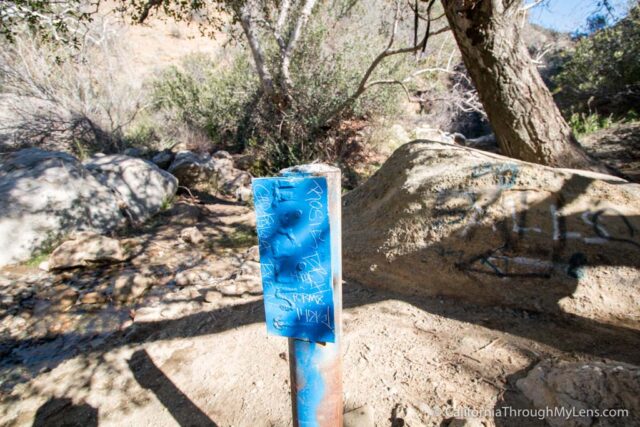 After .5 miles, you will get to a split in the trail, and there was a little blue sign when I went. From here, you will want to go left to continue.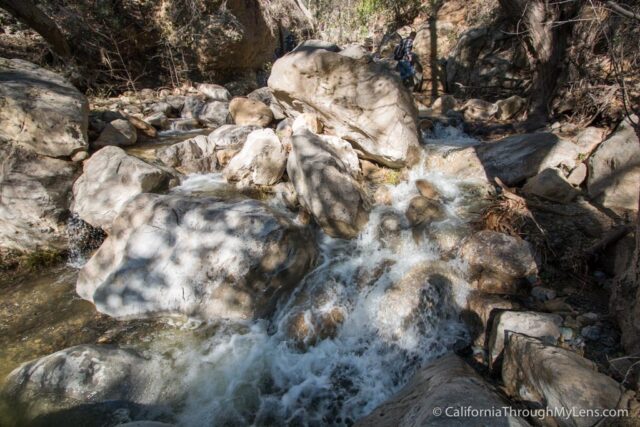 This is where the trail gets tough, as the last .25 miles are pretty much all scrambling up rocks.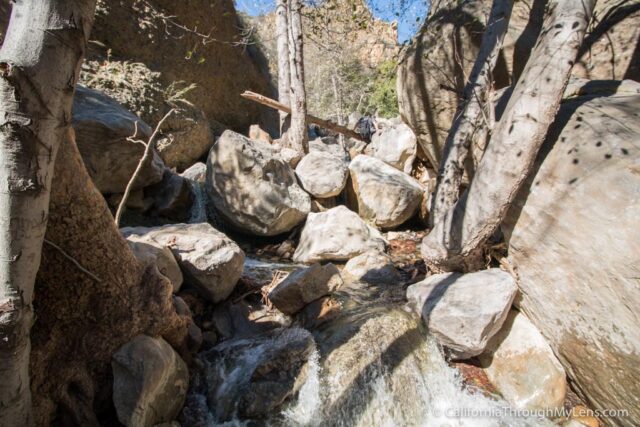 Some of them are easy to pass by, but some require a little bouldering to get past.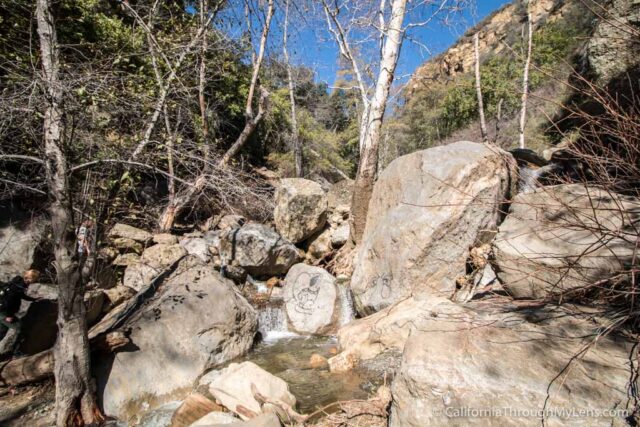 This part takes a long time as you are not only route finding but also trying to climb and pull yourself up rocks.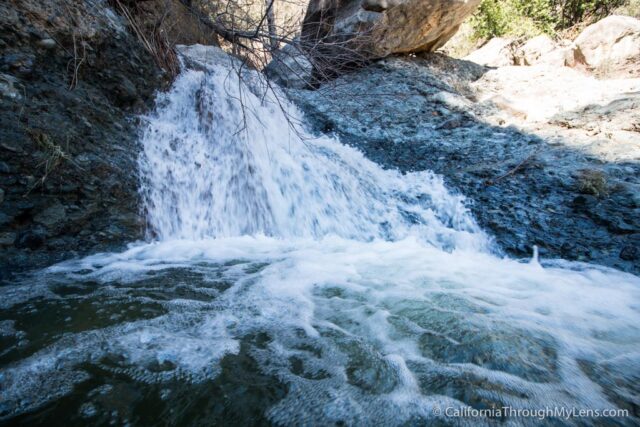 It's not that difficult, but it shouldn't be taken lightly, as you will be tired and don't want to slip on the large rocks.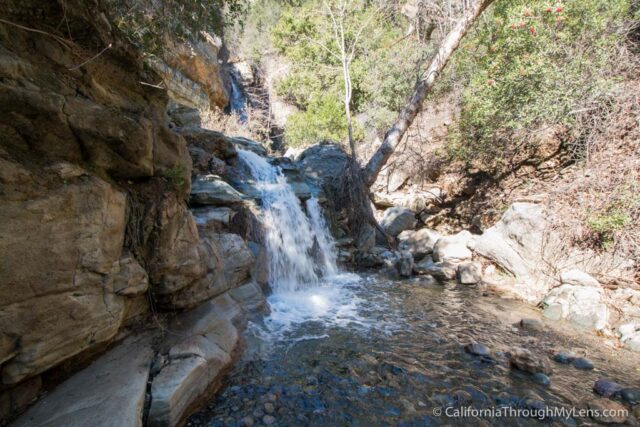 After navigating the rocks, you will get to one last section with a decent 20-foot waterfall and some scrambling before making it to the base of the falls.
Black Star Canyon Falls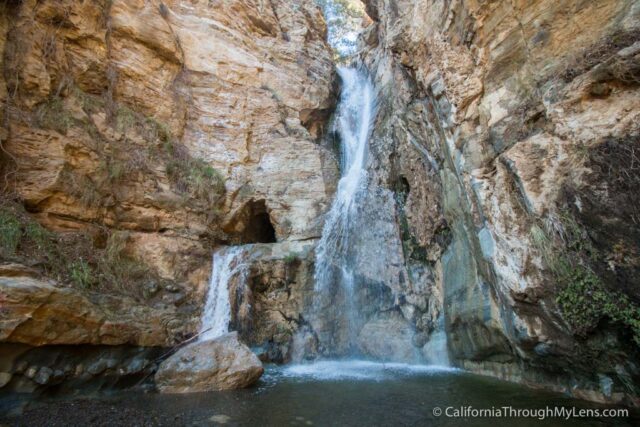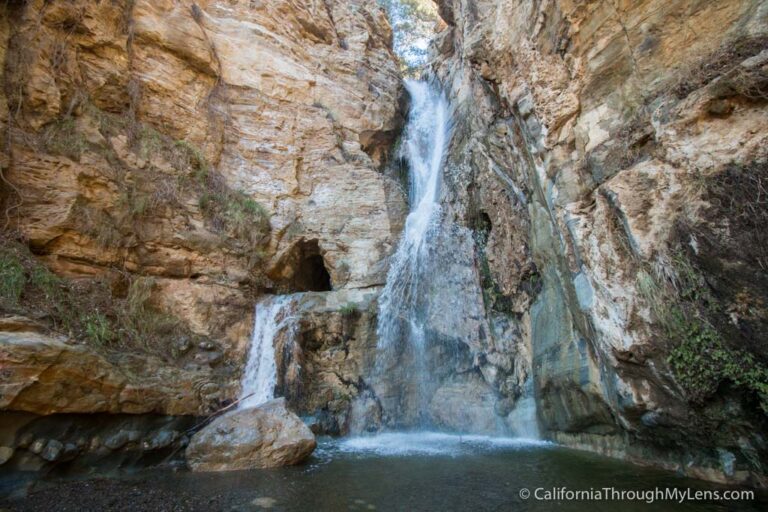 Reaching this elusive waterfall makes all the work you put in to get there worth it, as it is imposing.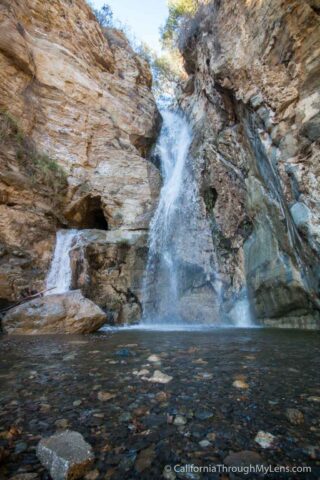 The water cascades down the central falls and into a smaller, man-made hole, making it unlike any other waterfall I have seen with the two outlets.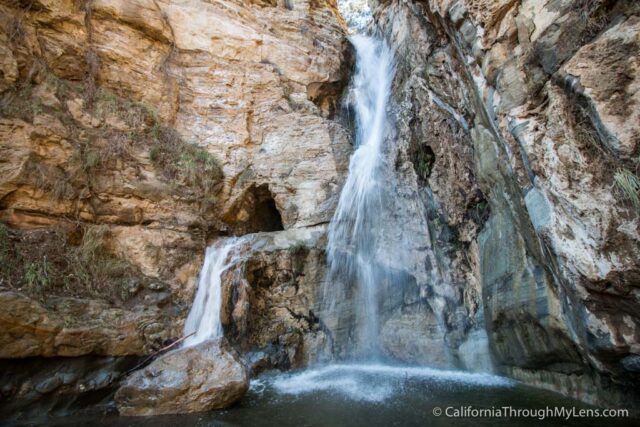 I spent a good 30-45 minutes just walking around the waterfall and taking it in from all angles.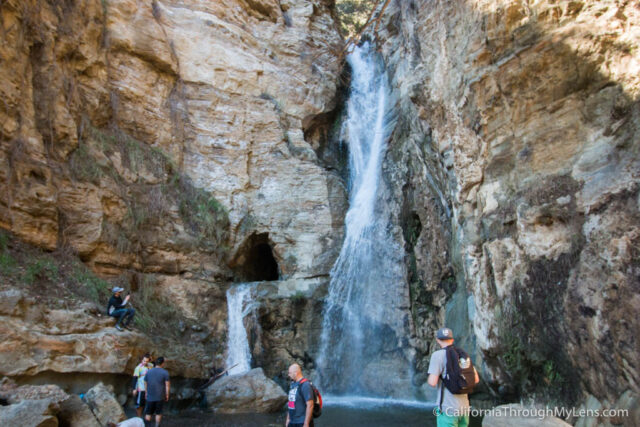 There was a decent flow of people coming up to it but never more than 8-10 at the waterfall with us. I have heard it is double or triple this on weekends though.
Caution: I know you will probably ask if you can climb into the smaller hole, and I would highly caution you not to. It is incredibly sketchy even for good climbers, and while I was there, I saw a young woman make it up only to fall 20 feet onto the rock below on the way down. She left with bruises and cuts, but it could easily have been a ton worse, and you do not want to risk this in an area so remote. So please do not take the risk to do this.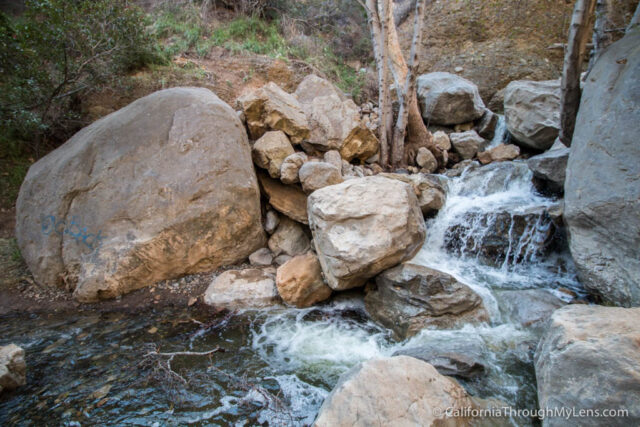 After spending some time exploring the waterfall, it is time to make your way back, which is just as precarious as the way there.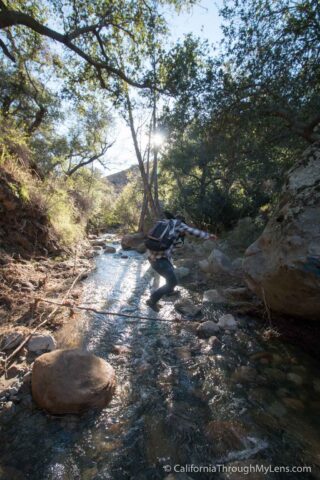 Be careful as you scramble along the rocks and take a moment to look for the best routes. Don't miss the turn where you leave the canyon and go back to the dirt path again.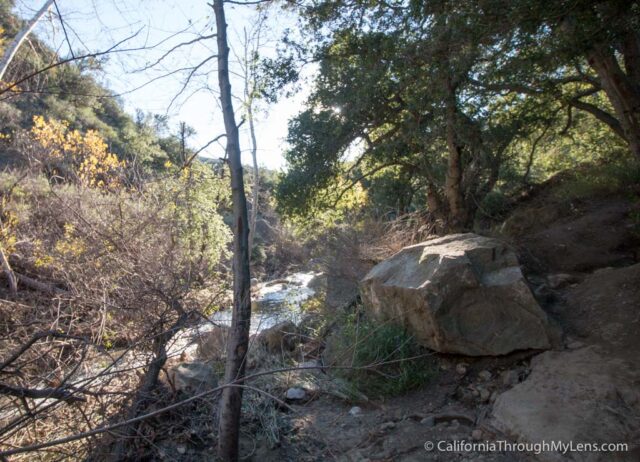 On the way back, I was surprised by how many people were starting the hike with less than an hour left before sunset. I don't want this post to be all cautions, but I would recommend giving yourself time to hike the water portion in the light as it would be pretty nuts to try to navigate in the dark.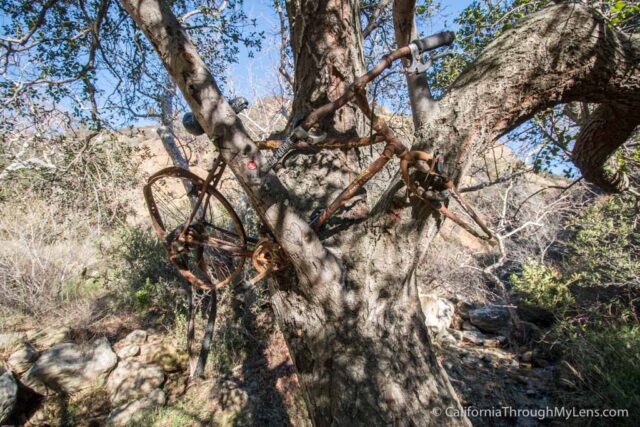 Video
Here is a video I made of the hike.
All in all, this is a fantastic hike that easily lived up to my four years of expectations and waiting. I recommend you check it out after a good rain as it one of the most impressive SoCal waterfalls. Read more about other waterfalls you can visit here.